Let's cut straight to the chase: the Exped Typhoon 25 is a great low-priced option if you're looking for a reliable waterproof hiking backpack that doesn't need to perform on the toughest terrain or in the worst weather.
What Exped have produced here is a lightweight, reasonably robust and stylish waterproof pack with a good roll-top closure. It's ideal for use on day trips for everything from hiking and cycling to climbing and commuting.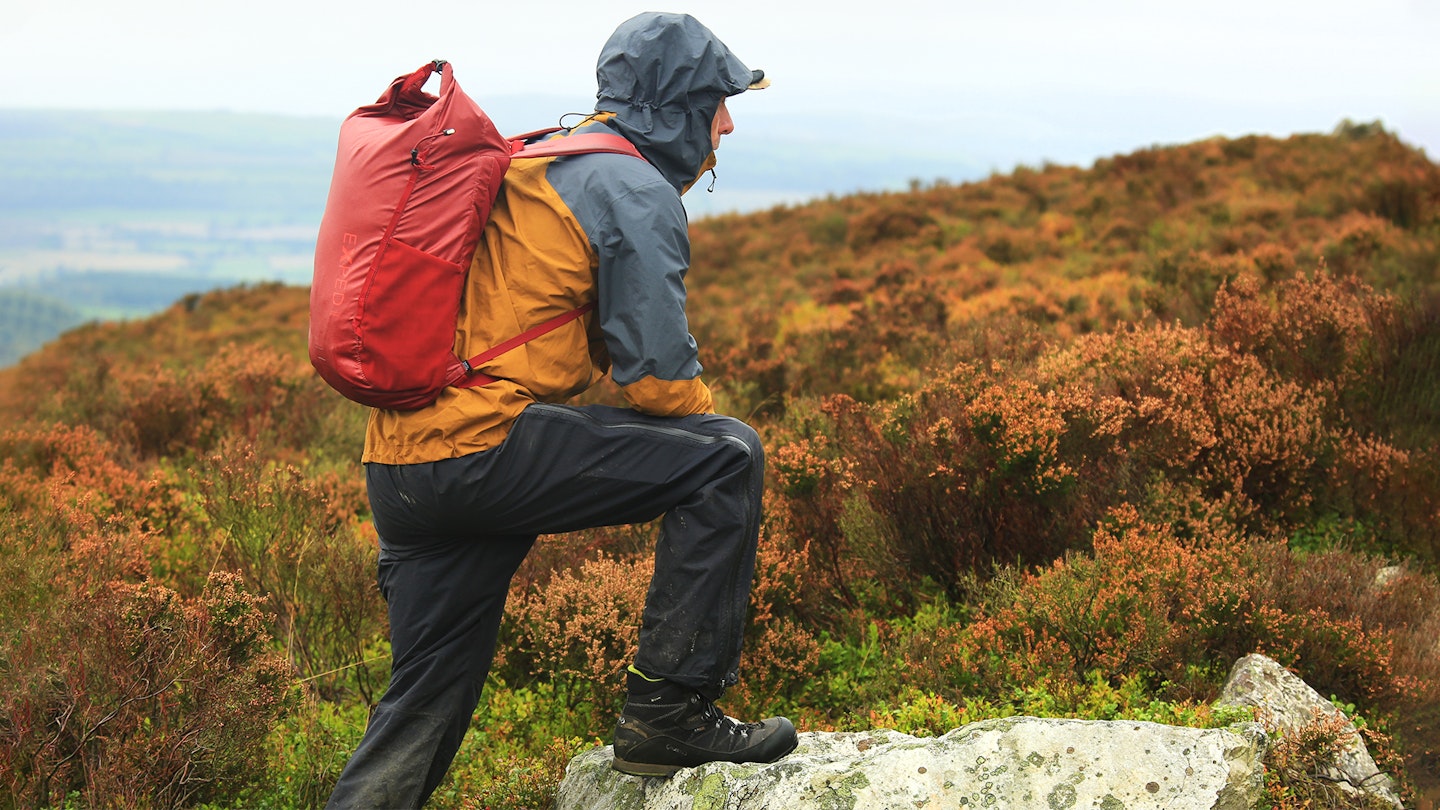 Exped don't make any overly bold claims about the Typhoon's waterproofing capabilities, but from our testing experience the performance is very solid in terms of keeping the contents of the pack dry.
There are plenty of nice little features on this pack too. We like the gear attachments, the mesh back panel, and the inner lining that you can turn inside out and pull out of the pack for quick drying. Read on for our full review…
Highly Recommended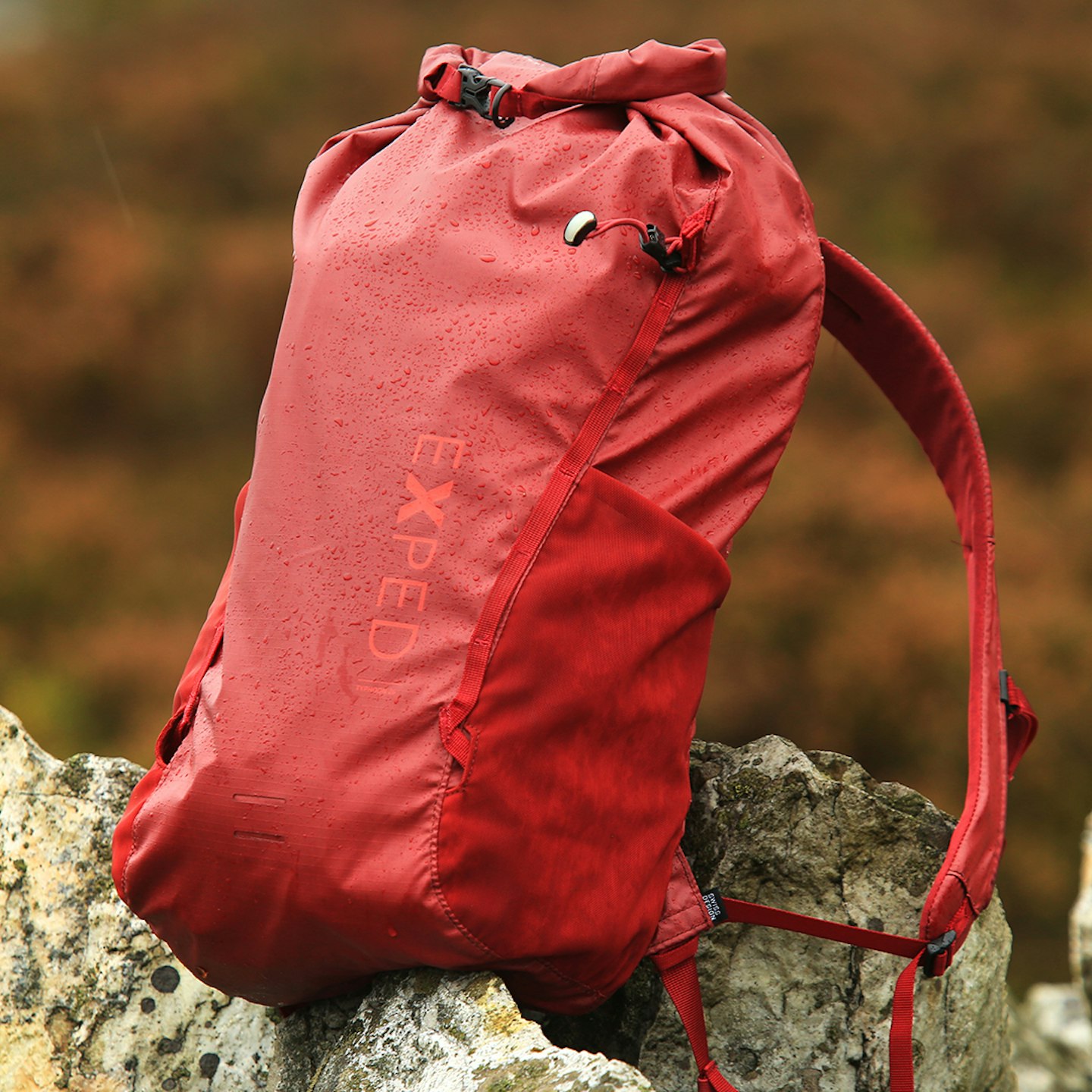 LFTO
Pros
Superb value
Reliable waterproofing
Clever internal liner
Cool design
Cons
Comfort decreases when full
Waterproofing
After testing the Exped Typhoon 25 in fairly brutal weather conditions over the past couple of months, we're more than happy to recommend this as a good waterproof pack. Its main outer fabric is 210D recycled nylon, which is PU coated with a 1,500mm water column (hydrostatic head).
Exped also include a thin polyester internal lining – also PU coated with a 3,000mm water column. Neither are hugely impressive numbers when it comes to waterproofing, but together they form a good rain-repellent barrier. In our experience, it does a solid job of keeping everything inside dry.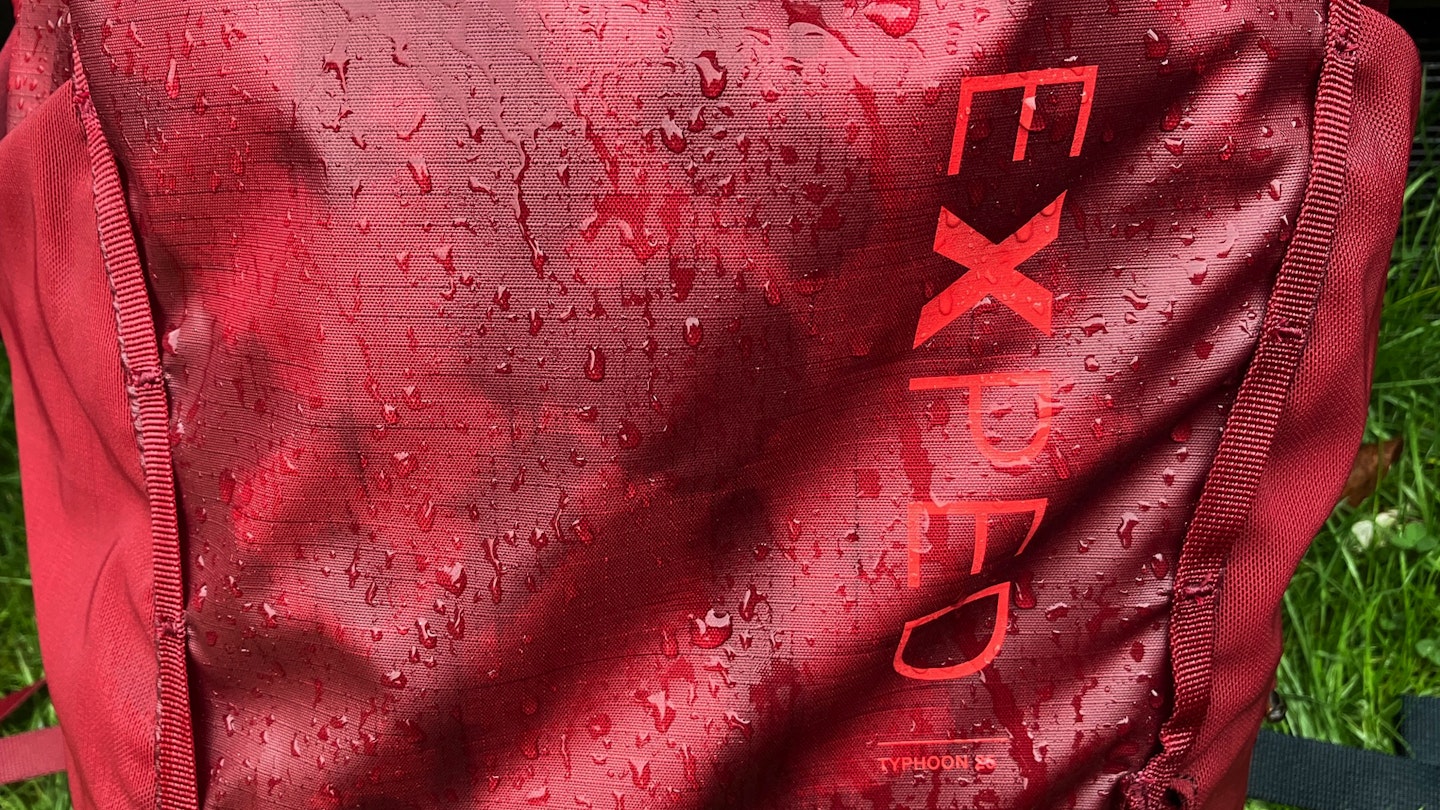 We've hiked with this pack in the wet and wild hills of Snowdonia, walked along muddy local trails in dull drizzle, and even (intentionally) left it lying outside in the garden for 9 hours of torrential rain. When it does get drenched, the outer fabric beads well and doesn't seem to hold too much water.
We have noticed a little bit of dampness just beneath the roll-top closure where the fabric has bunched up and folded against itself while closed, but the main bulk of the pack and its contents have always remained dry.
Comfort
There are some good points to pick out about the Exped Typhoon 25 in terms of comfort, including the lightly padded mesh back panel which allows a bit of venting.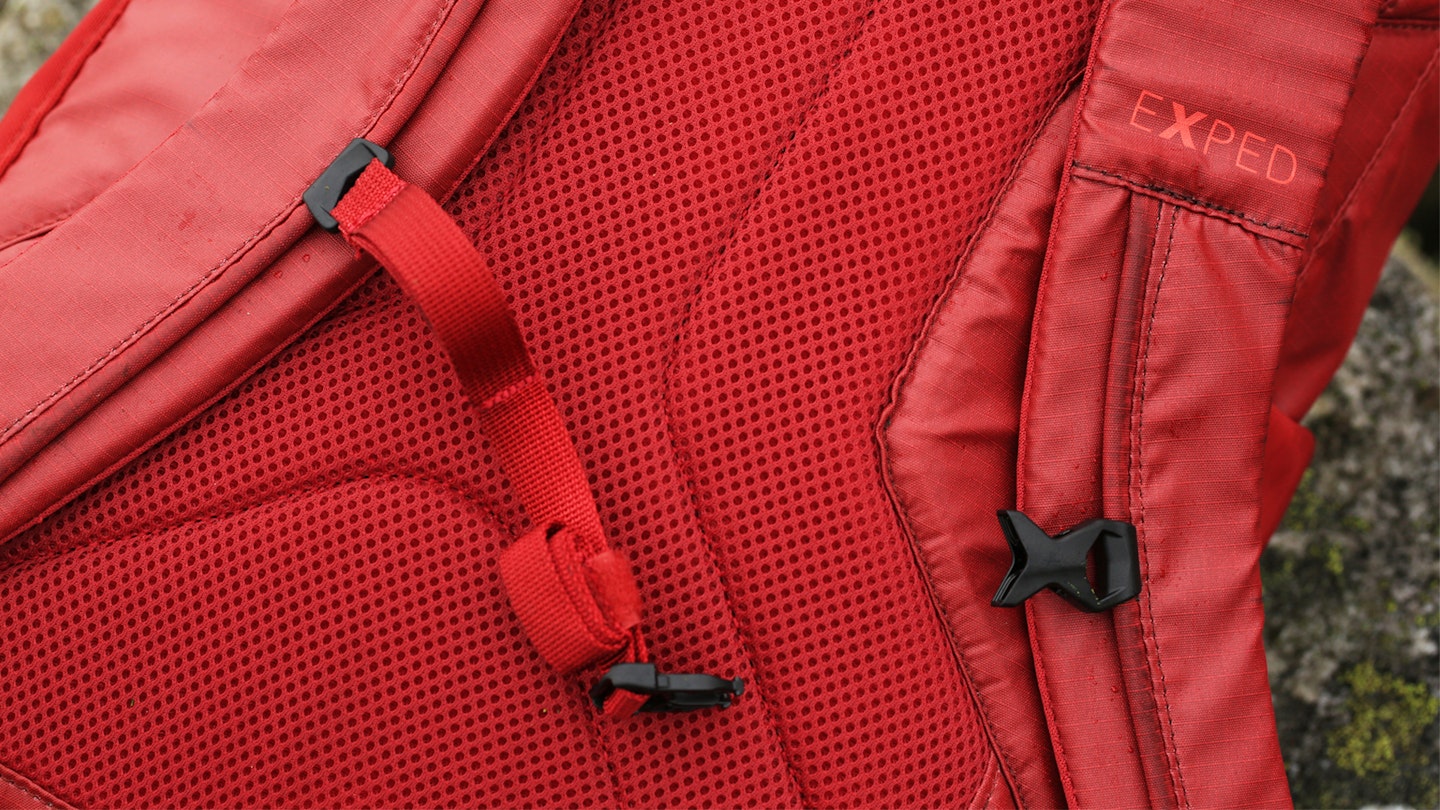 The shoulder straps also have light padding to stop them cutting into you when the pack's fully loaded. As with seemingly most waterproof packs, though, you don't get a lot of support from the hipbelt. It's just a thin, adjustable, removable fabric strap with no padded hip fins for comfort around the waist.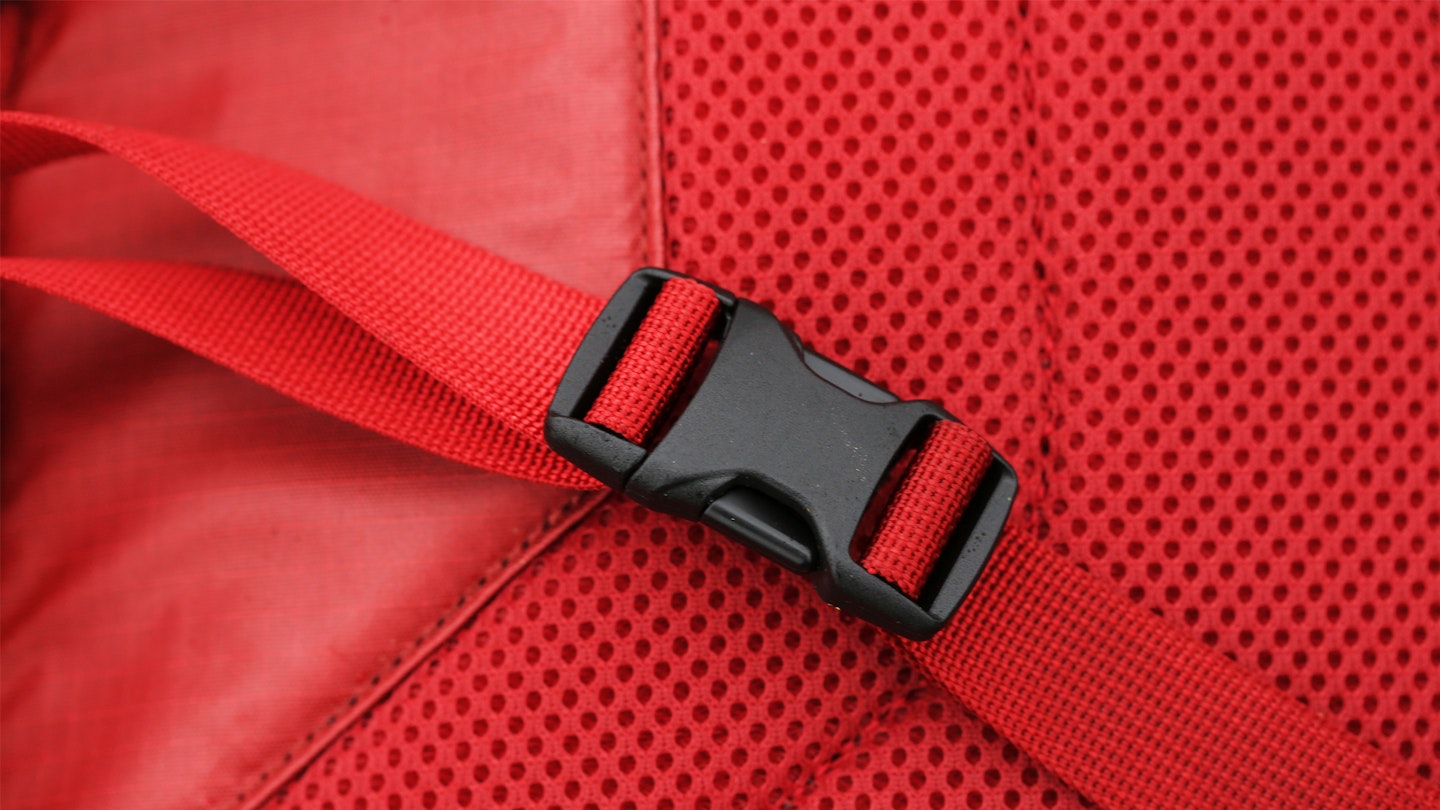 Our other gripe on comfort is that the Typhoon 25 tends to take on a barrel-like shape when fully loaded. The pack panel itself also turns quite rounded in that scenario, which means it doesn't sit flush against your back. So while we wouldn't describe it as uncomfortable to wear, this is an area where it loses out to to a few of its rivals.
Features
Like many waterproof packs, the Exped Typhoon 25 has a roll-top closure at the top. This completely seals up the main chamber while also providing easy access when open. It's easy to use and seems to form an effective barrier from the rain.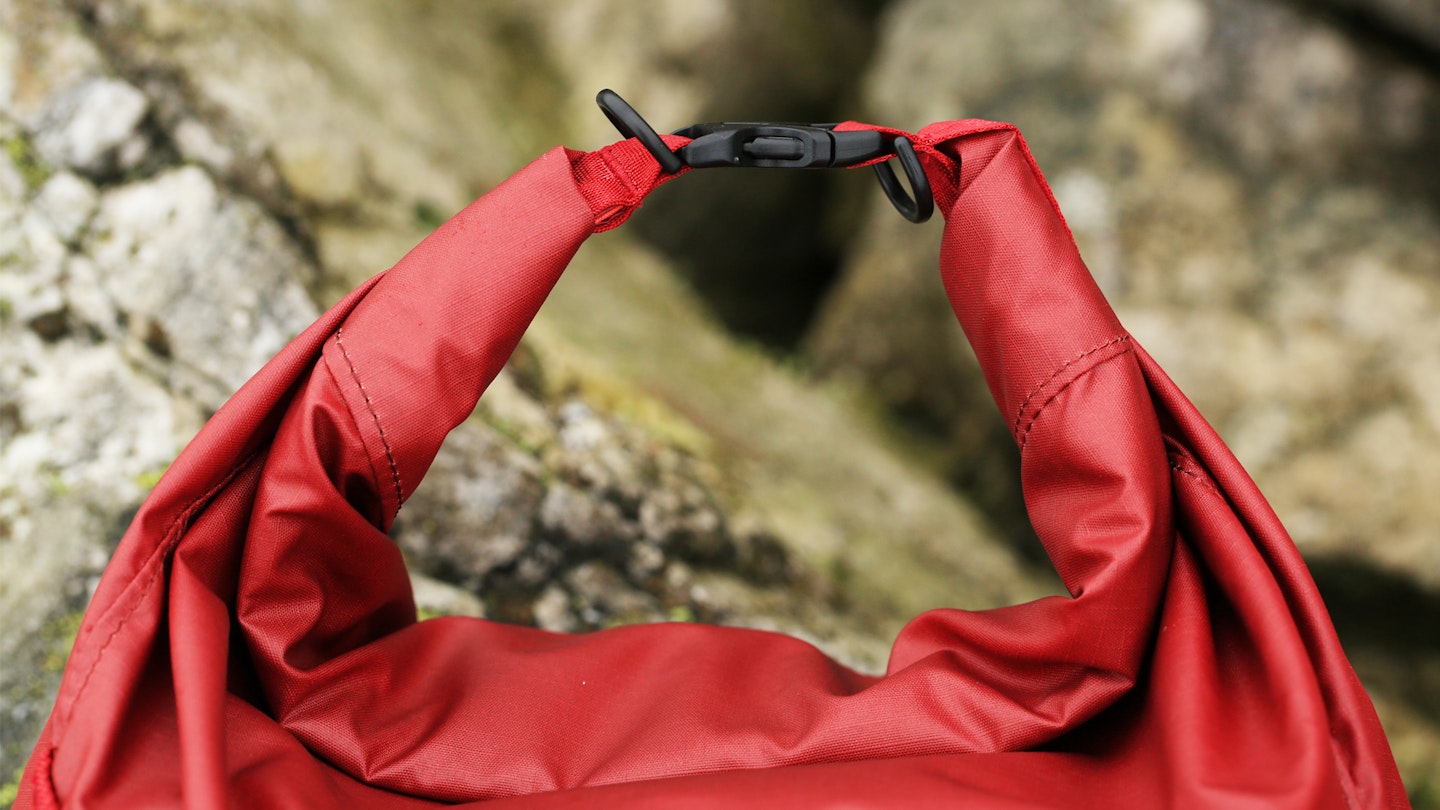 Our favourite feature is the seam-taped liner, which is attached to the inside of the pack and acts almost like a big internal dry sack. This gives a second layer of protection for the contents, which sits beneath the ripstop nylon outer, and can be turned inside out and pulled out of the Typhoon when not in use for quick drying and easy cleaning.
On the outside of the pack you get daisy chain gear loops, plus attachments for things like walking poles, ice axes, helmets and bike lights. There are also two stretchy side pockets on the outside which are a good size for water bottles, maps and flasks. Plus, there's a small zipped internal valuables pocket with a key clip.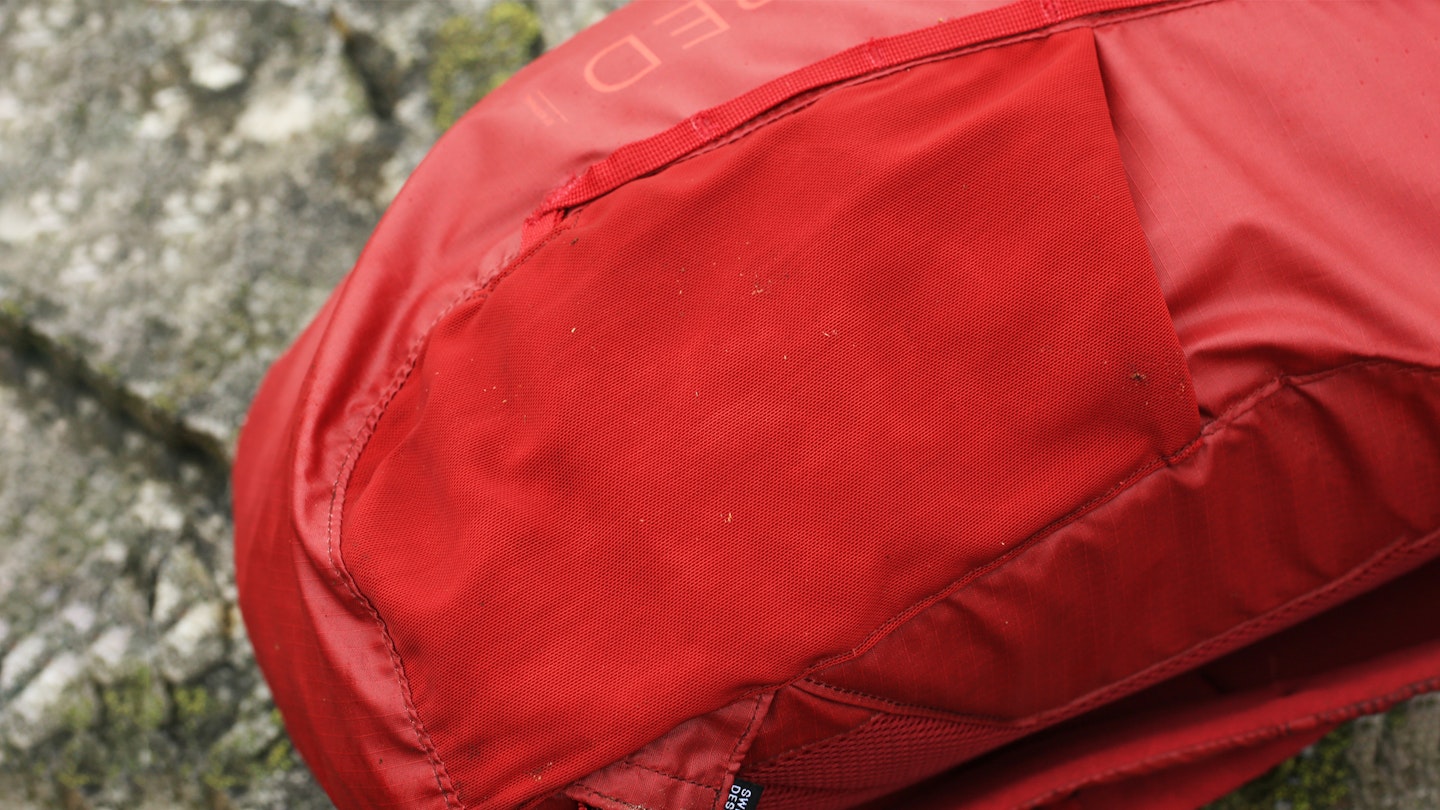 Capacity
One of our favourite things about this style of pack is the cavernous-feel of the interior. The Exped Typhoon 25 is basically one big waterproof sack with shoulder straps and a thin back panel, which means you can stuff it full of lots of kit.
We tested the load capacity of this 25-litre version by jamming two thick winter sleeping inside it, and the Typhoon handled them easily. We'd say this is good size for lots of day-to-day outdoor activities, such as hiking, biking and even water sports, as long as you aren't carrying loads of specialist kit or planning on staying out overnight.
There's also a 15-litre version of the Exped Typhoon waterproof pack, if you'd prefer something smaller.
Durability
We've only used this pack for a couple of months and haven't spotted any obvious durability issues. The fact that it's fairly light on features means there generally aren't too many things that could go wrong with it.
The outer fabric is ripstop nylon and described as 'abrasion resistant.' It feels fairly robust, but don't expect the same sort of rugged durability here as you'd get from more expensive and technology-packed alternatives, like the Ortlieb Atrack or Osprey Transporter WP.
Price and competition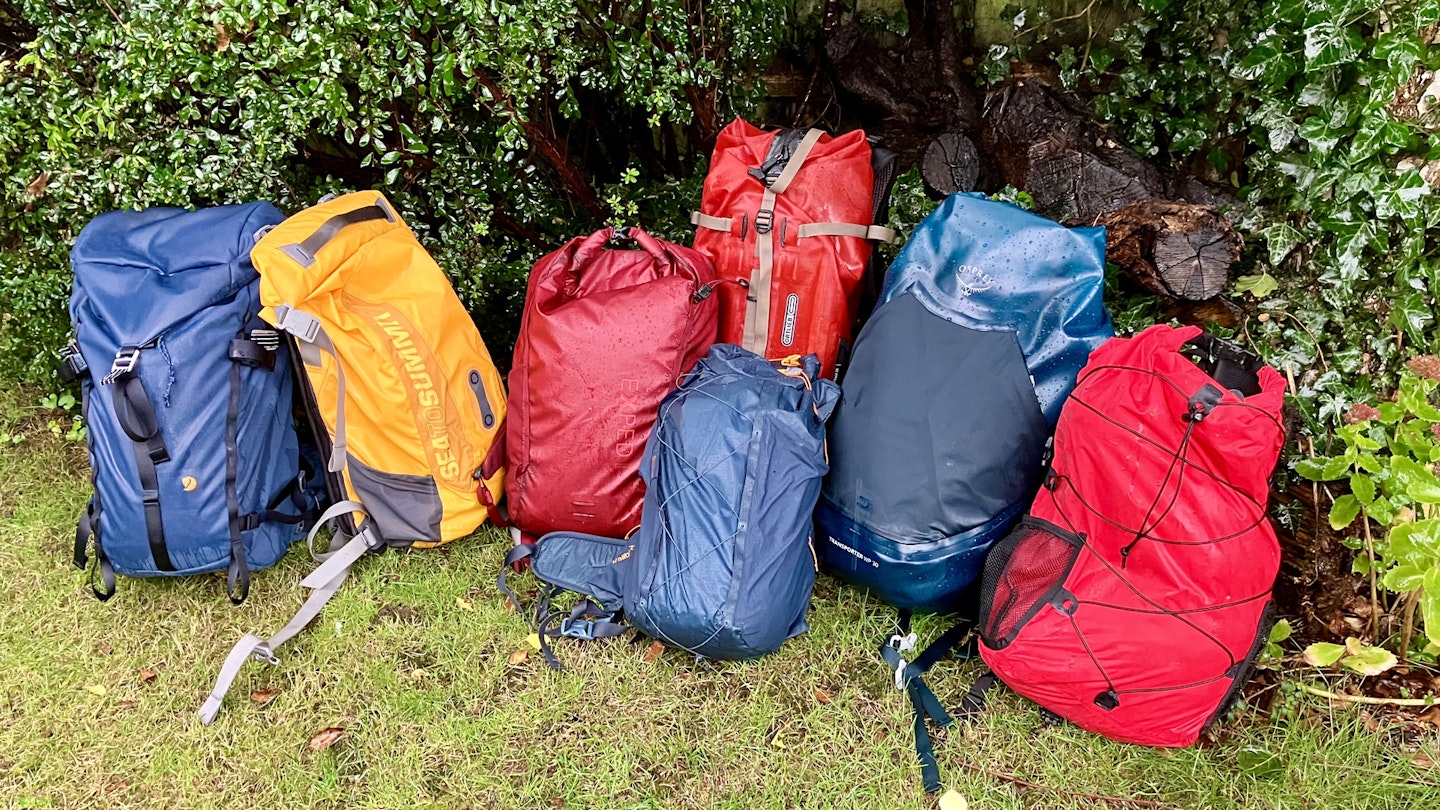 With a £60 RRP, there aren't many waterproof backpacks than can compete with the Exped Typhoon 25 in terms of value. The Alpkit Gourdon range is the closest competitor we've reviewed in terms of price (the 25L version is £40), but we believe the Typhoon has the edge in terms of overall feature set and performance.
If you do want to beef up a few elements of your waterproof pack in terms of comfort, durability and overall performance, the Sea to Summit Rapid 26L Dry Pack is worth a look.
Verdict
The Exped Typhoon 25 is a good choice if you're looking for excellent value and reliability in an everyday waterproof backpack.
The waterproofing is good, it has some really nice and useful features, and it looks great. Plus, you can choose from four colours (dark lava, coral, lichen and bluebird).
How we test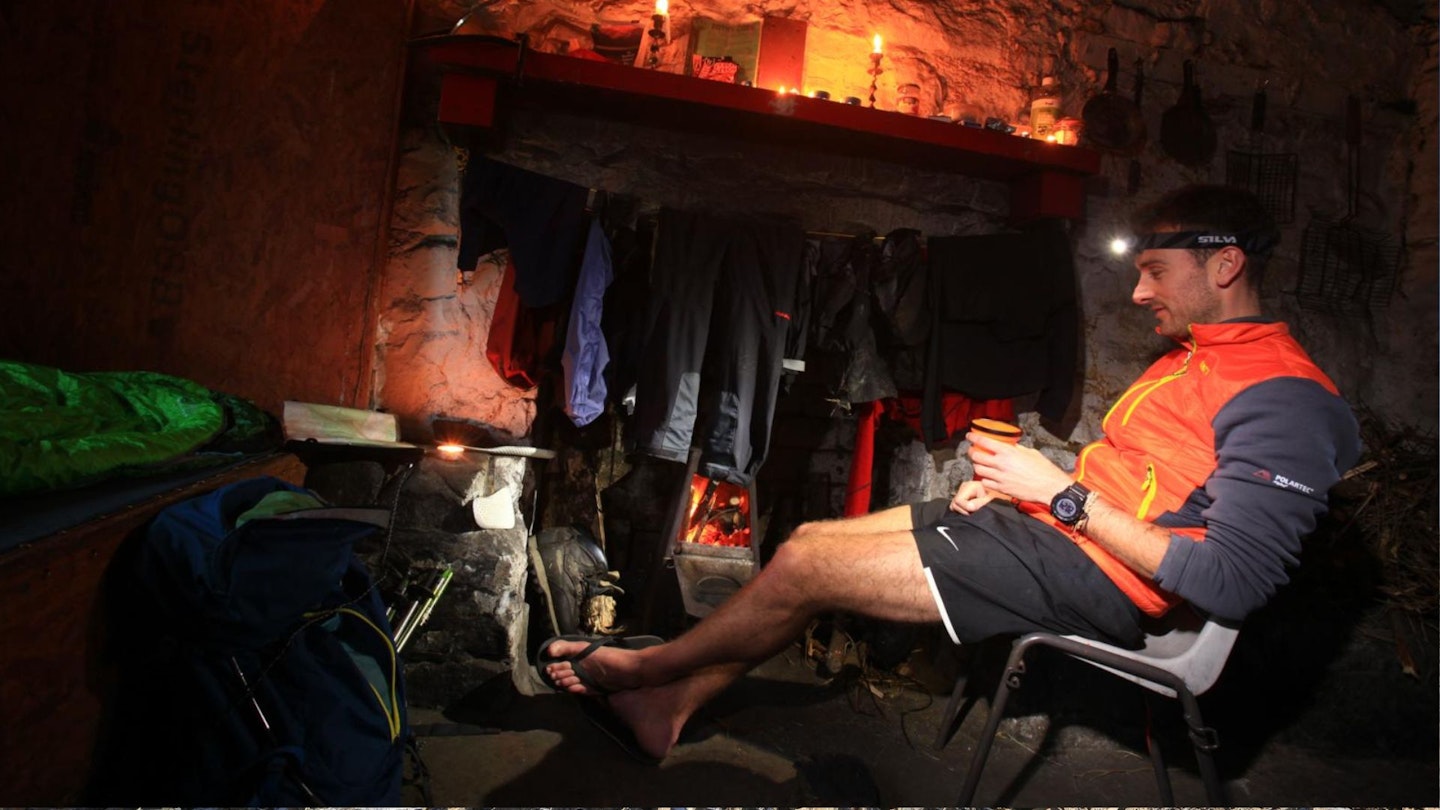 The Exped Typhoon 25 was tested on hikes in the hills of North Wales in typically gloomy and drizzly October weather, and then on local trails when heavy rain and strong winds battered Britain during the autumn storms. This gave us the opportunity to test in the conditions it was designed for, and on a wide variety of terrain.
Your tester Oli Reed is the editor of Live for the Outdoors and Trail magazine. Oli's a lifelong hiker who's climbed hills and mountains everywhere from the Lakes and the Dales to the Dolomites and Yosemite. He loves a night in a tent somewhere wild, is rarely seen wearing long trousers, and can usually be spotted walking, cycling or paddling along a trail or river with his two young boys in tow. Which also makes him our go-to tester for family outdoor kit.
CLICK HERE for more information about how we test gear at LFTO.