The Storm 500-R head torch is a seriously impressive accessory. This high power head torch has delighted our testers and winning an accolade in our 2023 Trail Gear of the Year Awards, proving itself to be as hardy as they come. Perhaps hardier, in most cases; this smart bit of gear has a sturdy and waterproof construction that can withstand some serious conditions.
Durability aside, it's the strong array of features that make this one of the best headtorches for 2023. So lets dive a little deeper and take a look at our top pick.
The Storm 500-R in Detail
The powerful and multi-functional Storm 500-R is one of the brightest and best-equipped headlamps in the Black Diamond range. It has an array of features, including a dimmable main spot beam with a piercing max output of 500 lumens. It also has a secondary white flood LED, plus red/green/blue light modes for map-reading and night vision use. There's also a button lock to prevent accidental operation and a battery level indicator.
However, the niftiest feature is Black Diamond's 'powertap' function. With this, you can instantly switch from your chosen light setting to maximum power (and back again) by simply tapping the side of the headlamp. This is great for night navigation when you want to check what's down the trail before returning quickly to your saved brightness setting.
In use, the Storm is reasonably light and compact, with a soft and comfortable low-profile headband made from recycled fabric. It's powered by a built-in, high-capacity lithium battery that gives great burn times. It's recharged via a micro-USB port on the side of the light unit. Admittedly, the built-in battery means it lacks the versatility of some hybrid rivals that allow you to swap in either a rechargeable battery pack or AAAs. But that's about its only shortcoming, so this is an excellent all-round headtorch.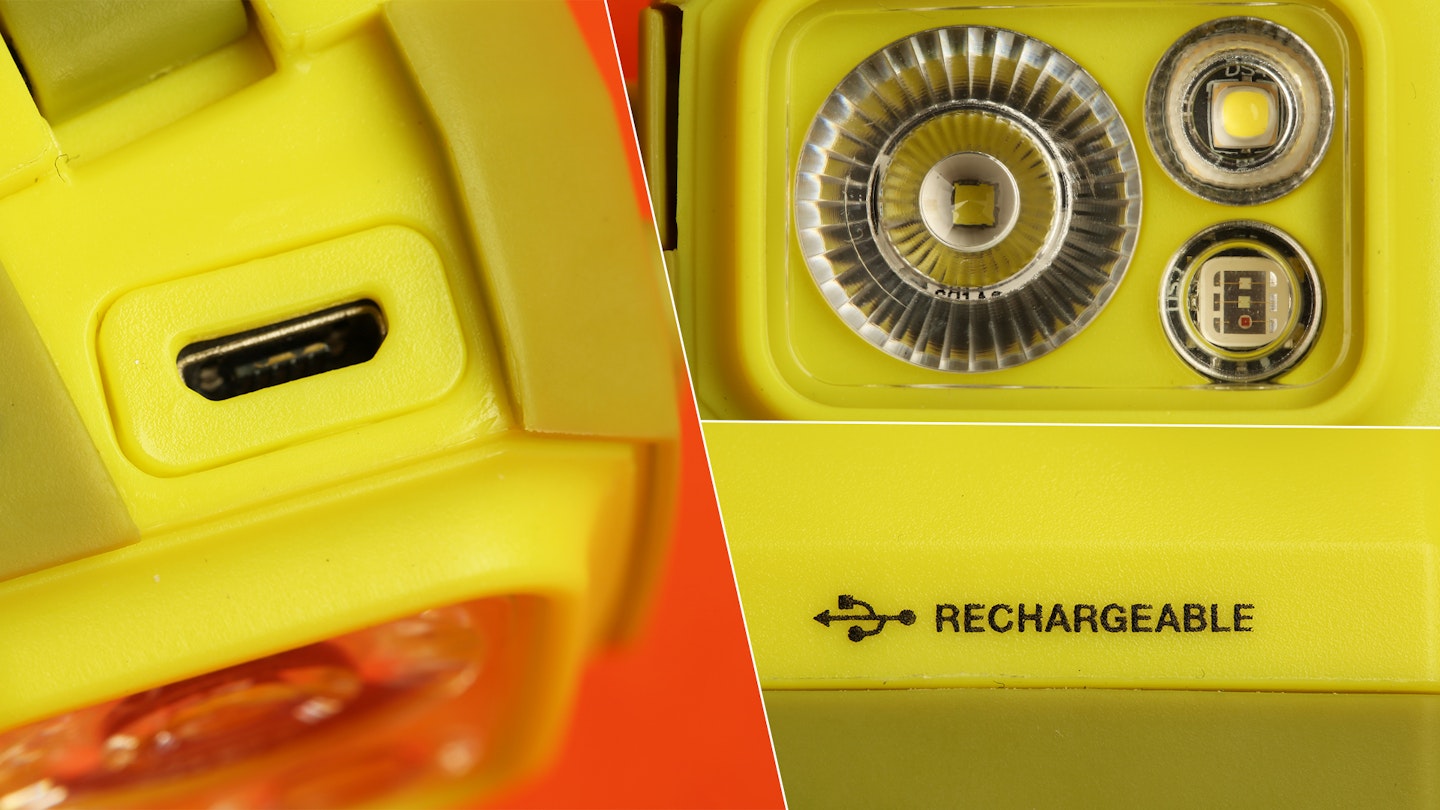 Our Three Favourite Things
Functionality
This headtorch pretty much does everything you could want in terms of outdoor illumination. It has a dimmable main spot beam and a secondary white flood light, as well as red, green and blue light modes (useful for preserving night vision as well as making your tent look cool). The maximum output is a very decent 500 lumens, which you can instantly switch to simply by tapping the side of the light unit.
Battery life
The Storm 500-R boasts a built-in, USB-rechargeable lithium-ion polymer battery with a large capacity of 2400mAh. That's higher than most rivals, which translates to superior battery life and longer burn times. There's also a blue LED battery level indicator on the underside of the light unit, so you'll never be plunged into darkness without warning.
Waterproofing
Most headtorches use the industry-standard IP (Ingress Protection) rating to demonstrate their ability to resist dust and moisture. The Storm 500-R is rated IP67, which means it is fully dustproof and waterproof enough to withstand immersion for 30 minutes in up to 1m of water. That's superior to most rivals, which tend to be only splashproof or rainproof.
Pros
Light modes for map reading
Very bright
Great weatherproofing
Cons
Ergonomics take getting used to, hybrids can be more versatile