Every day of good adventure should end with a well-earned, restful sleep – not shivering until 3am in a woefully thin cocoon. That's why finding the right sleeping bag is essential. A high-quality 3-season sleeping bag will guarantee a good night's sleep for most of the year. It'll keep you warm, cosy and comfortable, and ensure you're well-rested for the adventures ahead.
A 3-season sleeping bag is the most popular sleeping bag in terms of seasonality because it is designed for use between early spring and late autumn. Compared to a winter sleeping bag, they're pretty versatile. But covering a broad seasonal range, there are naturally a great many types and styles of 3-season sleeping bag.
We've conducted our latest 3-season sleeping bag group test, including models from a range of price points and designs in order to establish which is best for you.
Our shortlist
Sea to Summit Spark SpIII - Best in Test
Snugpak Softie 6 - Best Value
Sierra Designs Cloud 800 20 Degree - Best ventilation
Rab Alpine 600 - Best for warmth
Mammut Perform Down -7C - Best for comfort
Therm-a-Rest Parsec 20F/-6C - Best for lightness
Mountain Equipment Glacier 450 - Best for durability
The North Face Blue Kazoo Eco - Best for sustainability
The best 3-season sleeping bags
Description
This premium bag from Aussie brand Sea to Summit is stuffed with hydrophobic goose down for
Pros
Extremely light and packable
Very warm
Moisture-resistant down
Cons
Expensive
No internal pocket
Delicate fabrics
Description
The Softie 6 is the 'civilian' version of Snugpak's renowned Kestrel bag, much loved by soldiers
Cons
No draught collar or internal pocket
Simple hood and footbox
Not as warm as others here
Description
US brand Sierra Designs has built a great reputation for its unique and unconventional zipperless
Pros
Roomy
Warm
Comfortable
Good ventilation
Cons
Design won't suit everyone
No internal pocket
Requires a good mat
Description
This bag is stuffed with 650-fill power down, which is a slightly lower fill power than the other
Pros
Great features
Warm
Comfortable
Women's version available
Cons
Not as light or packable as some
Description
This 700-fill power duck down bag is well designed and well built, with chevron shaped baffles to
Pros
Great features
Warm
Comfortable
Cons
One size only
Down fill is not moisture-resistant
Description
We're big fans of Therm-a-Rest's ultralight Hyperion -6 sleeping bag here at Trail – in fact, it
Pros
Lightweight
Warm
Moisture-resistant down
Great features
Cons
Expensive
Requires a good mat
Description
The Glacier 450 is an extremely well-made bag that uses 700 fill power duck down housed in a
Pros
Durable fabrics
Warm
Women's version available
Description
The trusty Blue Kazoo has been a staple of The North Face product range for more than two decades.
Pros
Recycled fabrics and fill
Warm
Comfortable
Women's version available
Cons
Short side zip
Down fill is not moisture-resistant
What to look for in a 3-season sleeping bag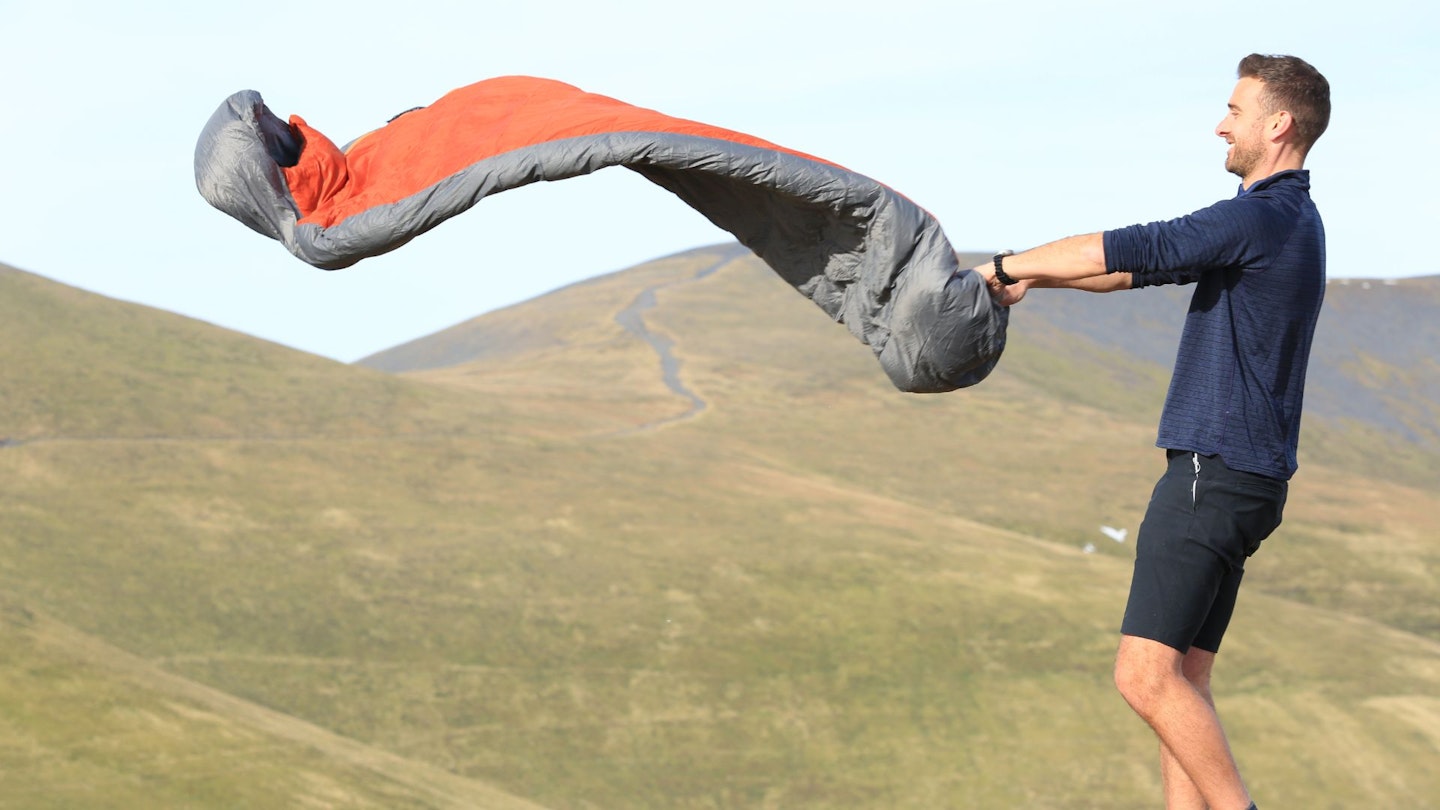 Construction
Most down bags use a box-wall construction, which traps the fill inside brick-shaped baffles. Larger baffles give more space for insulation to loft, but smaller baffles can stop the fill from migrating. Angled baffles and zoned construction can reduce cold spots. Synthetic bags often use a baffle-free construction that features a single sheet of insulation.
Cut
Most bags are available in different lengths or widths, as well as women-specific fits. 'Performance mummy' bags are slim fitting and highly tapered to save weight and boost warmth. Some may find them restrictive though.
Fabric
Shells and linings are usually made from nylon, though cheaper bags use polyester. Durable water-resistant (DWR) coatings are often applied to protect the fill. Areas particularly prone to damp, like the base, foot and hood may have additional protection.
Fill
Down offers superior warmth-to-weight compared to synthetic fills, but synthetic bags are cheaper, easier to look after and remain warm when wet. Some down bags now have hydrophobic fills or coatings to improve performance in damp conditions. Down quality is measured by fill power (FP), but don't forget to also look at the total weight of down fill in a bag when assessing its warmth.
Hood
An insulated and closefitting hood makes a big difference in cold conditions. Look for a bag with hood drawcords so you can adjust the fit, but ensure they are comfortably placed and easy to use.
Pack size and weight
A lightweight sleeping bag with a small pack size is easier to stash and carry around in your rucksack. Look for a bag with a compression stuffsack to really cinch down the pack size.
Shoulder baffle
A neck or shoulder baffle helps to lock heat in by preventing warm air from escaping around the face.
Storage sack
In addition to a stuffsack, many bags now come with a larger cotton storage sack that allows the bag to loft and breathe when not in use. This prevents musty odours and damage to the fill caused by long-term compression.
Temperature rating
Most bags give a comfort limit, a lower limit and an extreme limit. The comfort and lower limits are the best indicators of a bag's realistic temperature range, but they should only be used as a guide.
Zip
A full-length zip allows you to vent heat and makes getting in and out easier, though a shorter zip saves weight. Zips usually have a baffle to prevent cold spots, but make sure it doesn't snag. Note that if you are right-handed, a zip on the left side is generally easier to use and vice versa. If you're a side sleeper, make sure the zip won't end up underneath your body, as this can be uncomfortable.
Sleeping bag care and cleaning
Cleaning sleeping bags and storing them correctly when not in use are both very straightforward but need to be done correctly in order to enjoy many years of use. Head to our guide on cleaning and caring for insulated gear to find out how.
Get half-price digital OS Maps. Trail and Country Walking magazine members get 50% off an annual subscription to OS Maps for 12 months. Find out more here.
Don't forget to subscribe to the Live For The Outdoors newsletter to get expert advice and outdoor inspiration delivered to your inbox!