Winter days are short and the nights are long, but you can still light up the trails with these tips from these expert Inov-8 ambassadors and athletes.
Running in the dark is not for the faint hearted, but with daylight hours being sparing and most of us spending those at work, doing some night runs are unavoidable if we want to stick to our run training goals.
That being said, caution must be practiced, especially when sharing the roads and paths with other pedestrians, bikes and cars. Even if your off-road wanderings are deserted, extra caution needs to be taken to avoid any roots, holes and obstacles in your path as your range of vision will be greatly reduced.
Aside from investing in a good-quality running headtorch, make sure you're dressed for the part. We're talking florescent and reflective winter running jackets, some nice warm running leggings, a base layer for insulation, and winter trail running shoes that can cope with some seriously muddy and wet terrain.
That's our two cents, now let's see what the experts think when it comes to running in the dark…
10 tips for running in the dark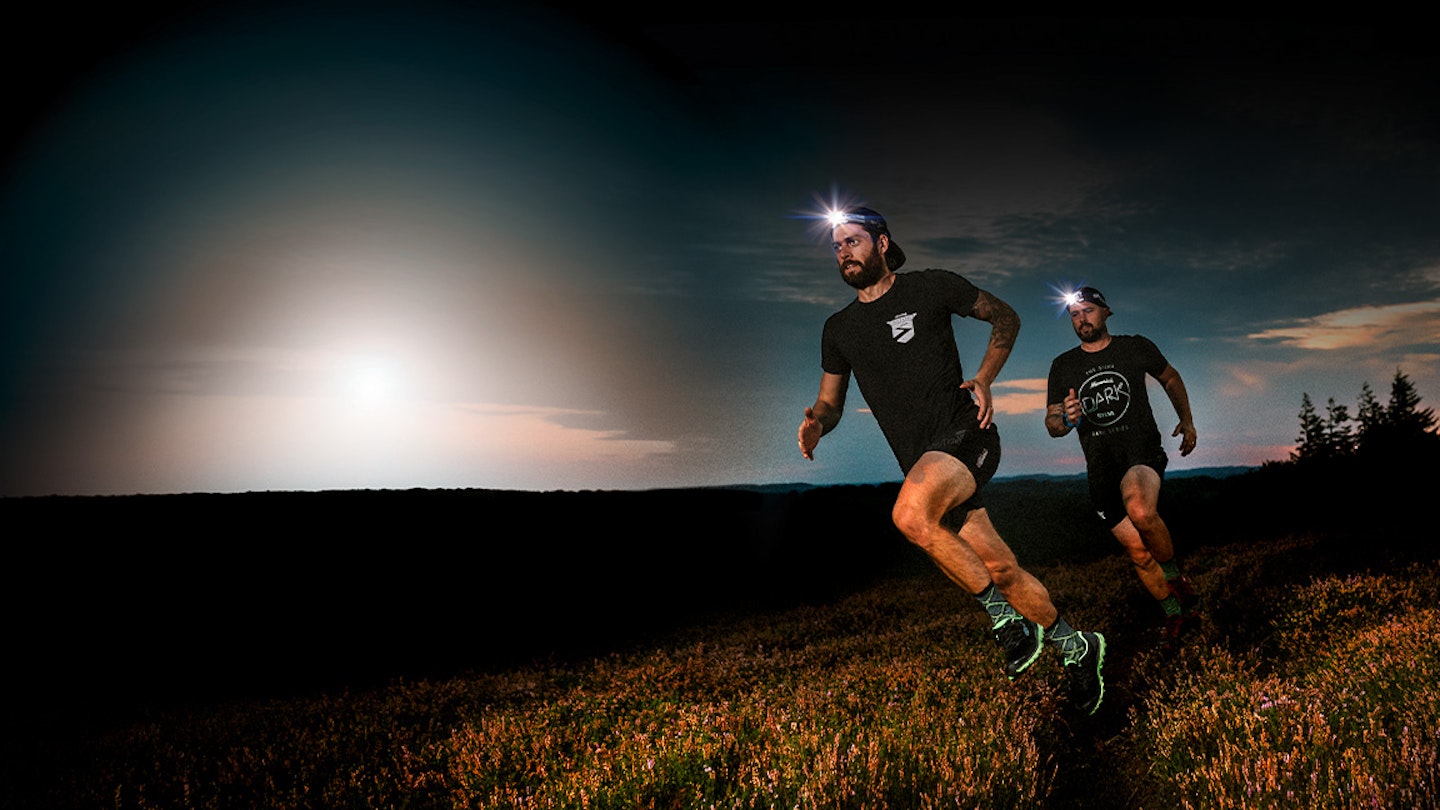 Win the mental games
Trail runs in the dark are pretty epic and can make you feel invincible. It's just you, the moonlight and the twinkling stars. But sometimes your imagination can run wild.
You think there's someone chasing you, but in reality it's just the sound of your own breath you can hear. That said, always be on high alert and aware of the environment around you. Just don't let your mind play tricks on you! Heidi Davies, European mountain running bronze medallist
Take a spare headtorch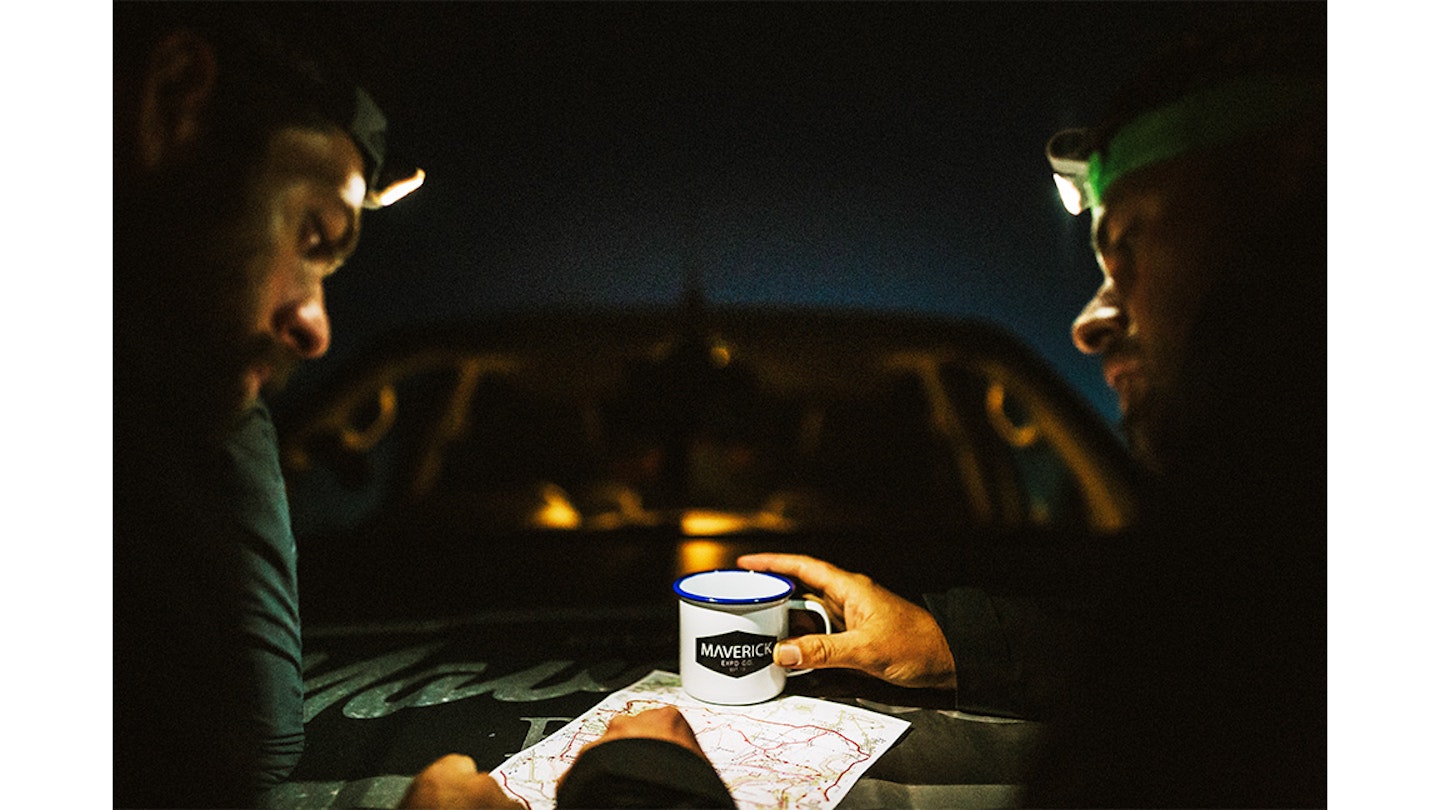 You can never completely trust your running headtorch to guide you home safely from the trails or mountains – even if you remembered to fully charge the batteries prior to use. I find that the weather, especially strong winds and plummeting temperatures, can make my head torches act funny.
On (almost) all night runs I carry a spare with me. I made the mistake of not doing so at the recent Trail Running World Championships. My head torch gave up after 90 minutes – the battery life was supposed to be treble that. I was forced to do some of the race in the dark, relying only on the light of competitors around me. Eirik Haugsnes, Skyrunning specialist based in Norway
Turn off the central heating
The hardest part of night running, especially in winter, is actually getting changed into your kit and leaving the house. It's easy to make excuses and give up before you've even started. I have to play some serious mind games with myself in order to get a session done.
One of my tricks is to keep the front room of my home as cold and uninviting as possible. The central heating is almost always turned off. That way, when I get home from work I want to go back outside just to stay warm. Plus, I save money on the heating bill!
A quick turnaround is also important. I allow myself 15 minutes, maximum. I have all my kit laid out in advance and never allow myself to sit down. Ben Mounsey, Great Britain international mountain runner
Leave speed to the daytime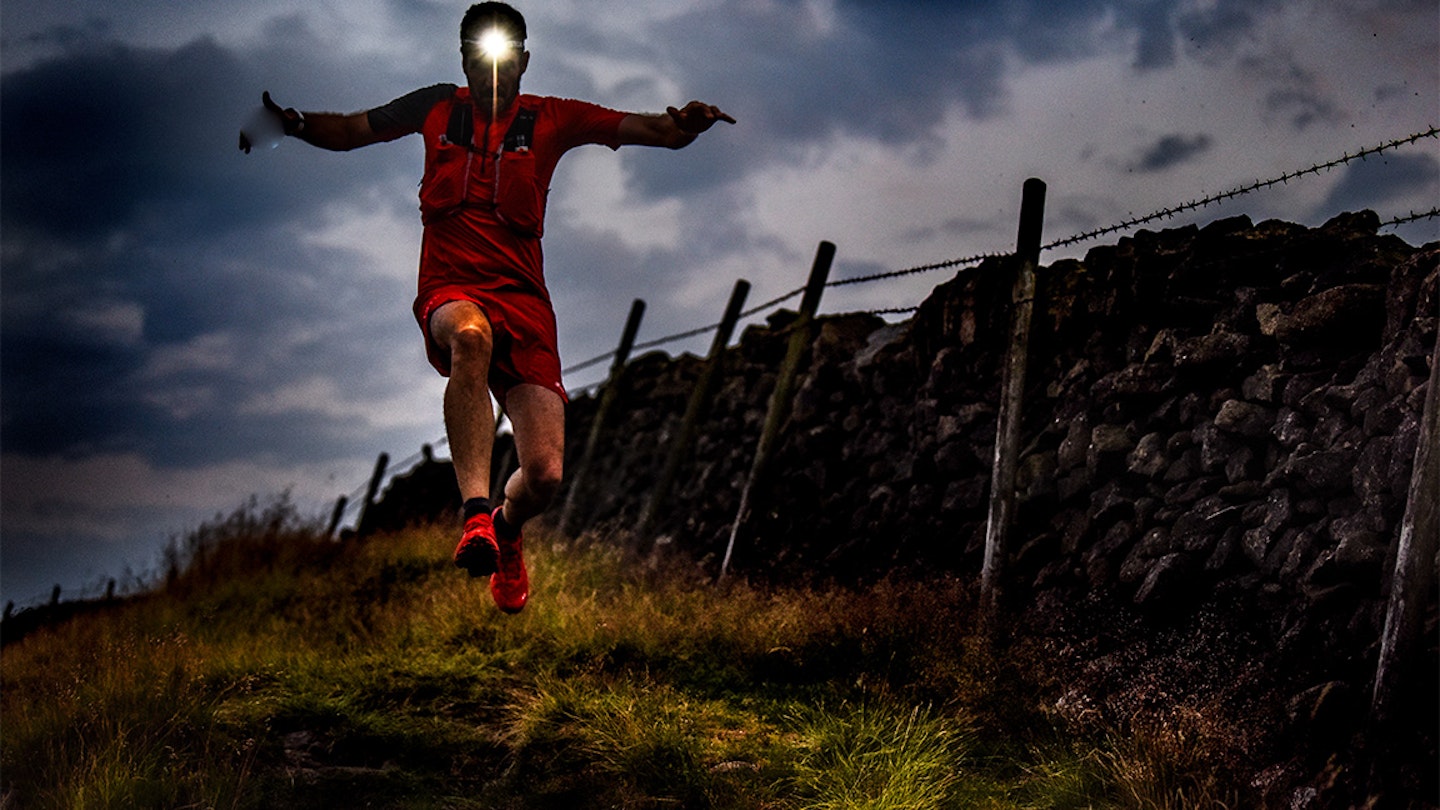 Unlit roads aren't the place to be smashing out 10x400m reps at maximum VO2 effort. While a head torch may give you good visibility, it will never be as good as sunlight. Depth perception is compromised, so what may look like a small pothole or puddle may result in an express ticket to the Tarmac!
On trails, shadows can magically make a small divot look like an open-cut mine. Stick to easy aerobic runs so you have more reaction time to avoid visual illusions. Brendan Davies, Australian international ultrarunner and coach
Think of the rewards
Winter divides the good runners from the okay runners. When it's dark and blowing a gale outside, it's tempting to laze on the sofa in front of the television rather than do hill repeats.
But it's exactly these moments that decide what position you will finish in races once the season eventually starts. Everyone goes out running in good weather. Not everyone goes out running in foul weather. These sessions are worth double. Damian Hall, UTMB top 10 finisher
Have fun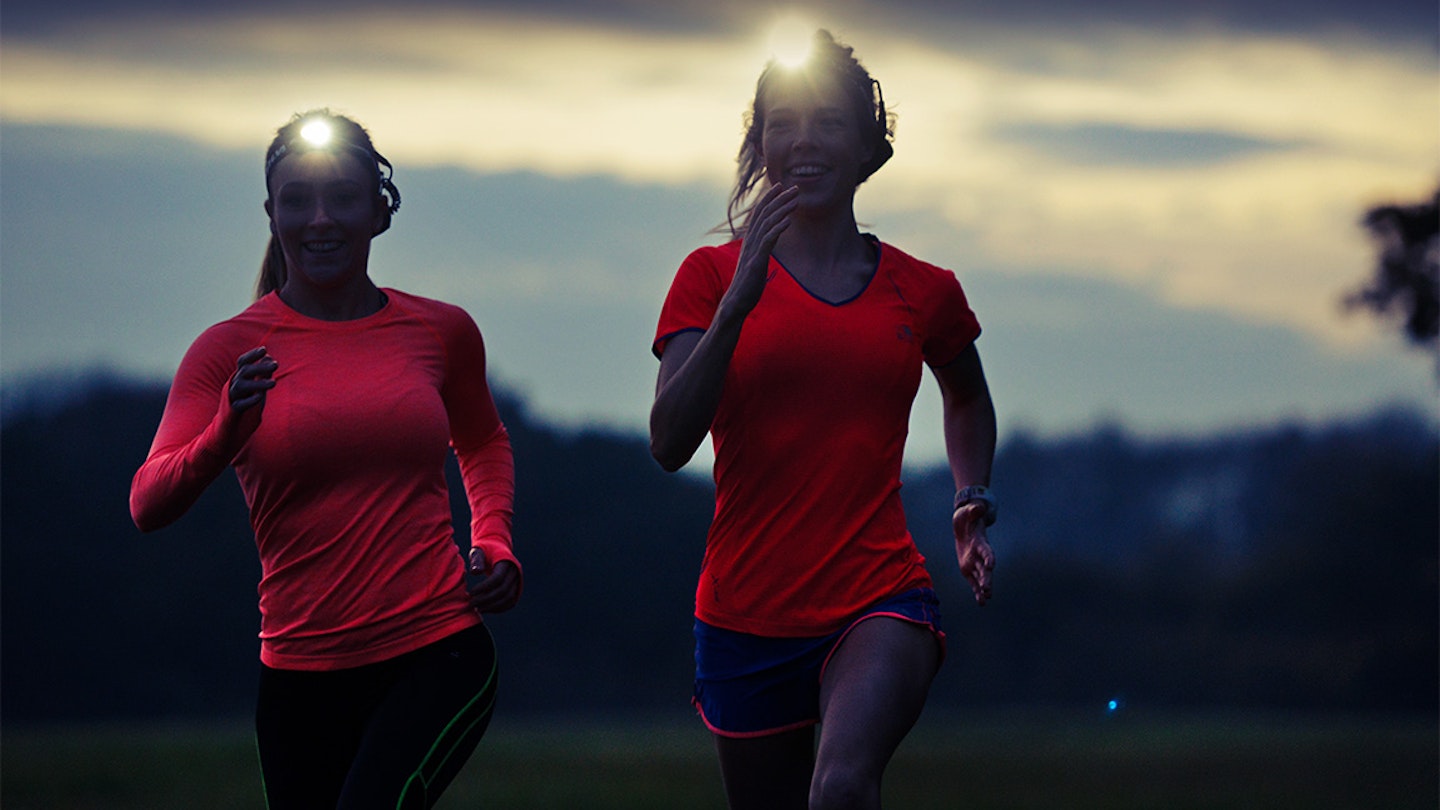 Running in the dark with friends isn't only safer – it's also a lot more fun. Take the opportunity to wind your mates up, or enjoy the nocturnal surroundings of your everyday running route, maybe you'll even see something different. Mary Wilkinson, winner of 10 Great Britain mountain running vests
Beat the car lights
If you're running down a country lane or a quiet back road where you've managed to get your eyes accustomed to the failing light or surrounding gloom, it's a bummer when a car's headlight blows your night vision.
Not any more! Try closing one eye and keeping the other open. When you open the eye that was closed it should have retained its night vision and will allow you to continue running without a loss of night vision. Ben Abdelnoor, UK fell and ultra runner
Always run off-road
Running on roads on dark winter nights can be dangerous. Why risk your life with the newfound popularity of texting and driving? Trails have wild animals, rocks, roots, snow and other treacherous items to contend with, but nothing some quality underfoot traction can't solve.
Snow-covered or icy trails will make you work harder, thus increasing your aerobic capacity, therefore making you a stronger, fitter runner! Peter Maksimow, US international trail runner
Loop the loop
Rather than head out on a large circular loop, why not find a 2 or 3-mile trail loop that you can repeat laps on? This provides the opportunity for 'escape routes' should you develop an injury, or encounter any other problems.
Mix things up by throwing in some uphill and downhill sprints, and also try repeating your loop clockwise and anticlockwise. It may sound tedious, but it's remarkably effective and keeps you safe. Dave Archer, top marathon runner now obsessed with trails
Top image: Ben Winston
Don't forget to subscribe to the Live For The Outdoors newsletter to get expert advice and outdoor inspiration delivered to your inbox.
For the latest reviews - including extra photos and kit that won't appear online - pick up a copy of the current issue of Trail Magazine.