Merrell says the Nova 3 (women's version called Antora 3) is its best-selling trail running shoe. For the Nova 3 to enjoy such success it much be the result of an enviable recipe.
Our mission has been to find out, not so much what the recipe is, but how it translates to performance and comfort in the Nova 3.
Merrell has been with us since the early 1980s, initially making a name for itself in hiking footwear – which it has continued – but has since been elbowing its way into the trail running shoe market too.
Upon first glance, the Nova/Antora 3 appears to be a reasonably versatile option aimed at those taking up trail running thanks to a moderate price and a decent set of features. We've been testing the Nova 3 to see if our initial impressions are accurate.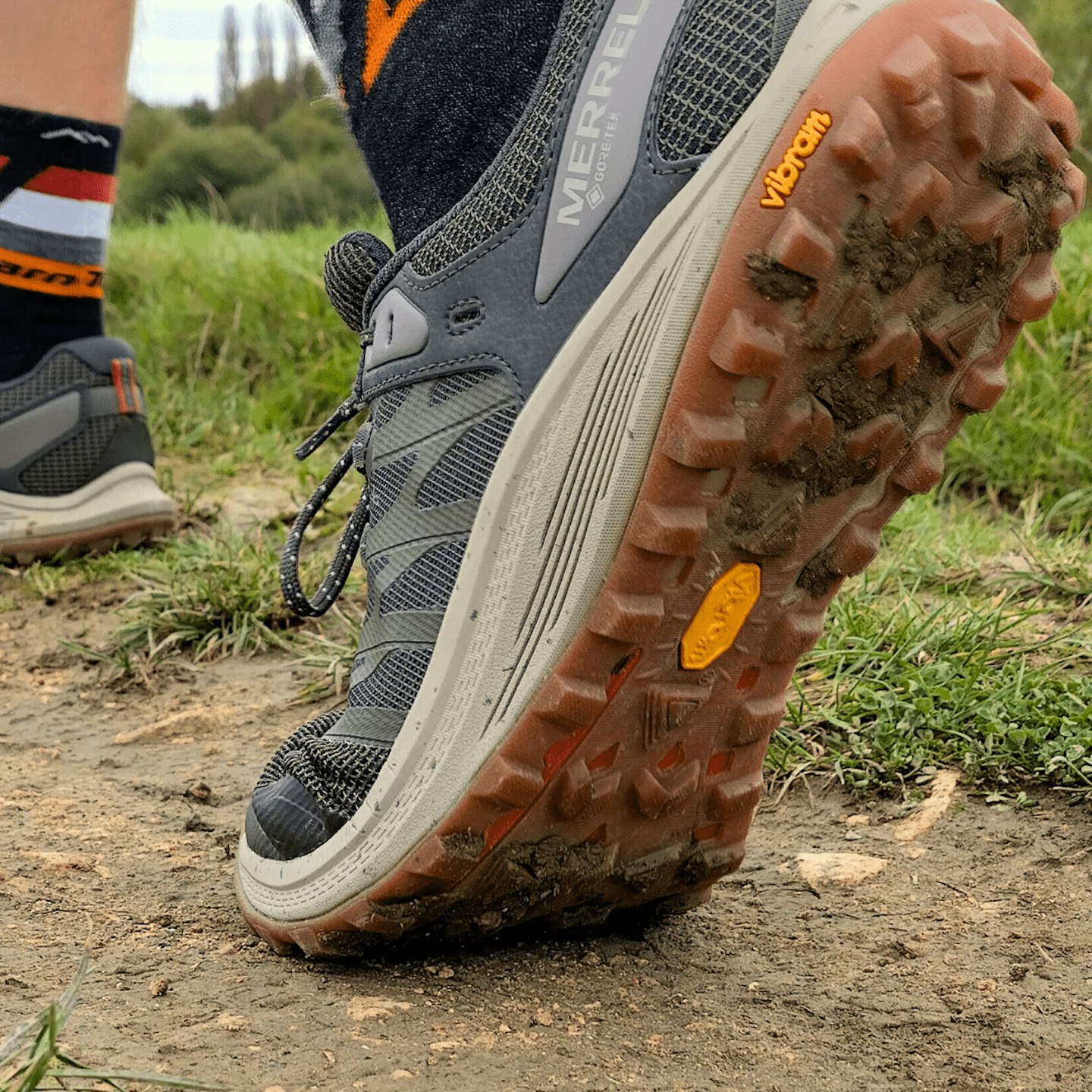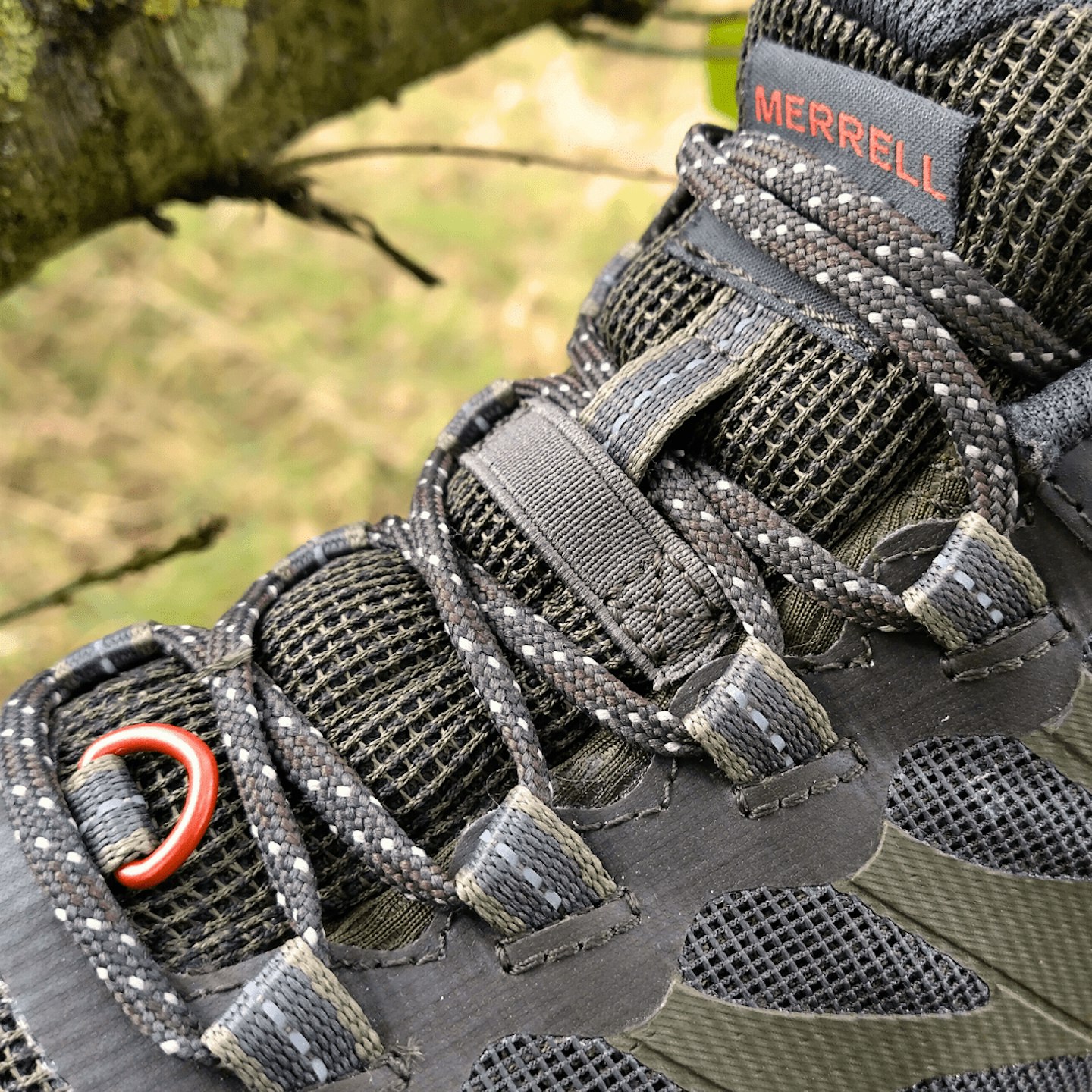 Description
Pros
Excellent fit
Good price
Waterproof and non-waterproof versions
Uses fair amount of recycled material
Design and features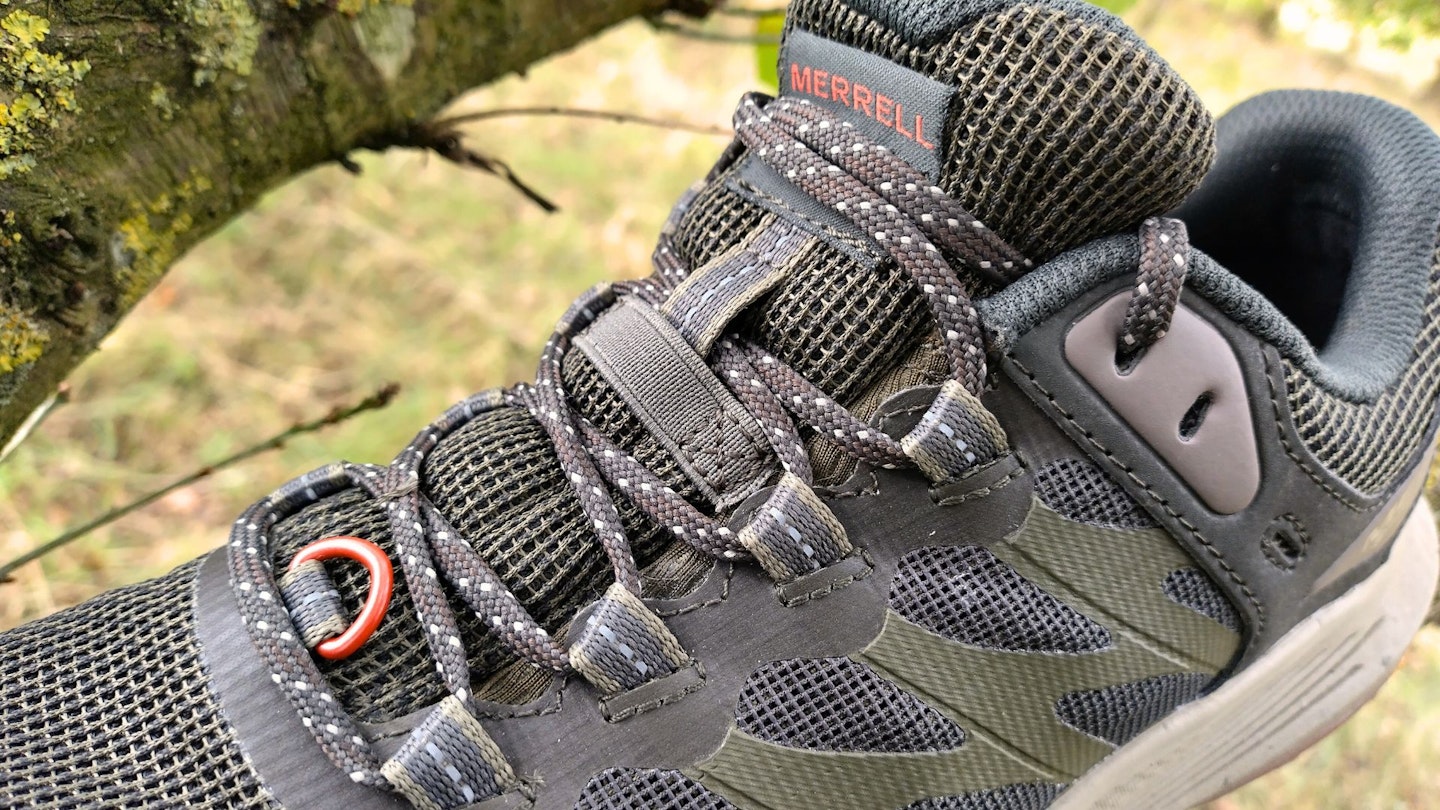 With the Nova/Antora 3, it seems as though Merrell typed 'trail sports shoe' into an AI generator, which in turn spat out this design.
There's nothing outrageous or particularly exciting about the Nova 3, but nor does it appear to be substandard. You could almost call it generic. It has a Vibram outsole with 4mm lugs; neutral support design with a moderately cushioned midsole; mesh upper that can be had with or without a Gore-Tex-liner; and a decent range of colours and sizes.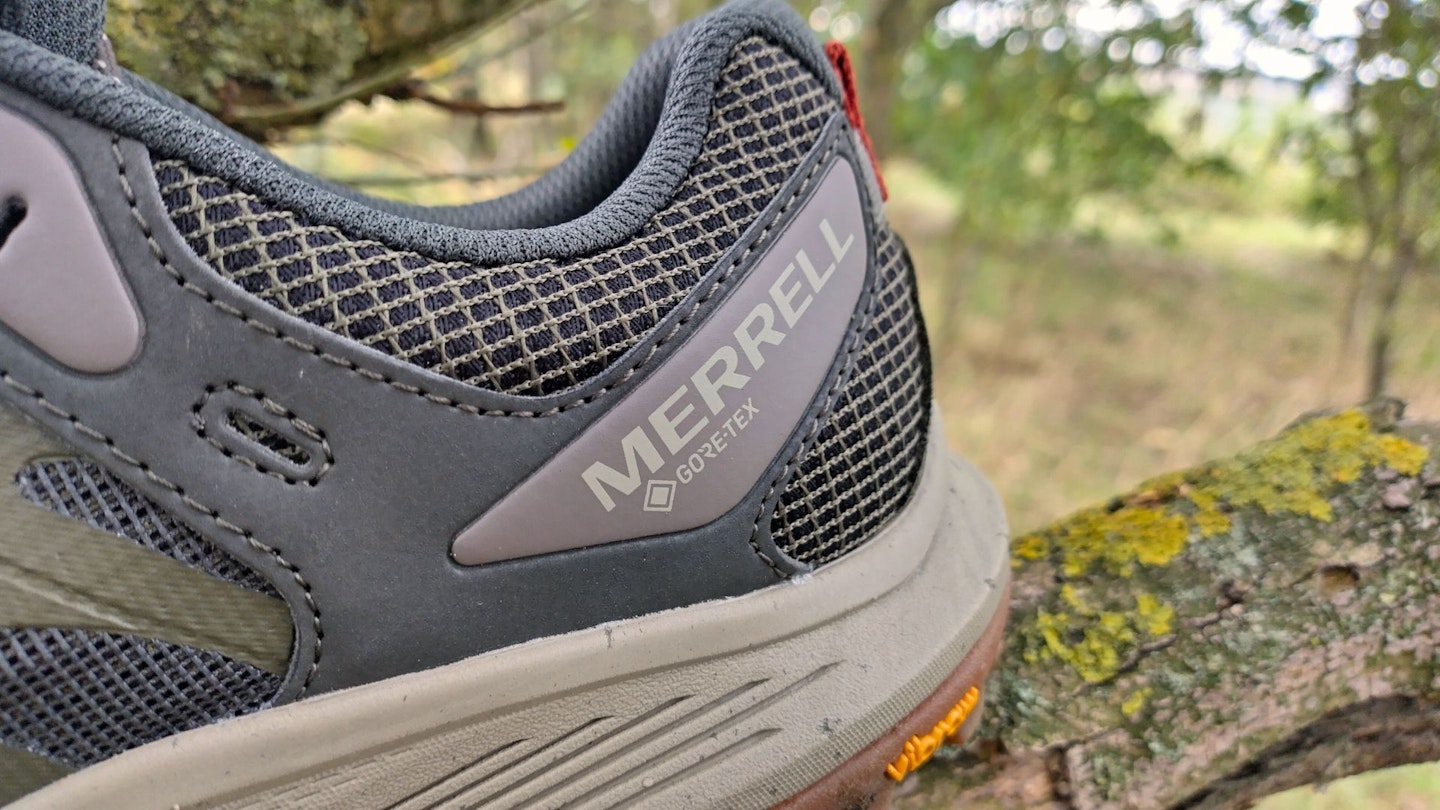 One design feature that's indicative of the Nova 3's pretension as a trail running shoe for new trail runners is the 8mm drop. This larger drop suggests the Nova 3 is for those that tend to strike the ground heel first when running.
The 8mm drop comes from a stack height of 29/21mm and Merrell says the midsole is made to give durable shock absorption, while also adding cushioning pods in the heel and forefoot, and a rock plate.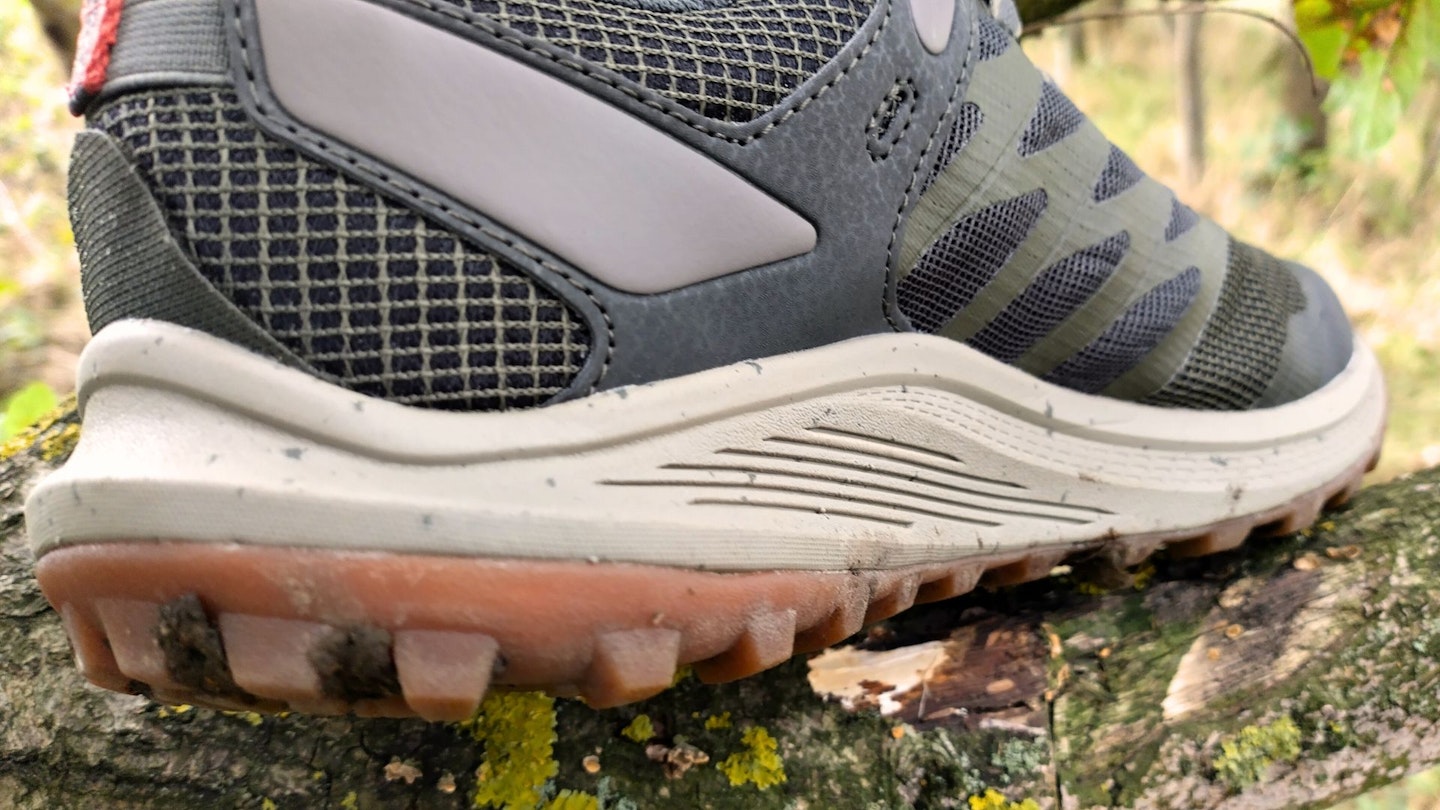 With all the bits pieced together, the Nova 3 weighs in at about 300g per shoe (the Gore-Tex lining makes a negligible difference).
Performance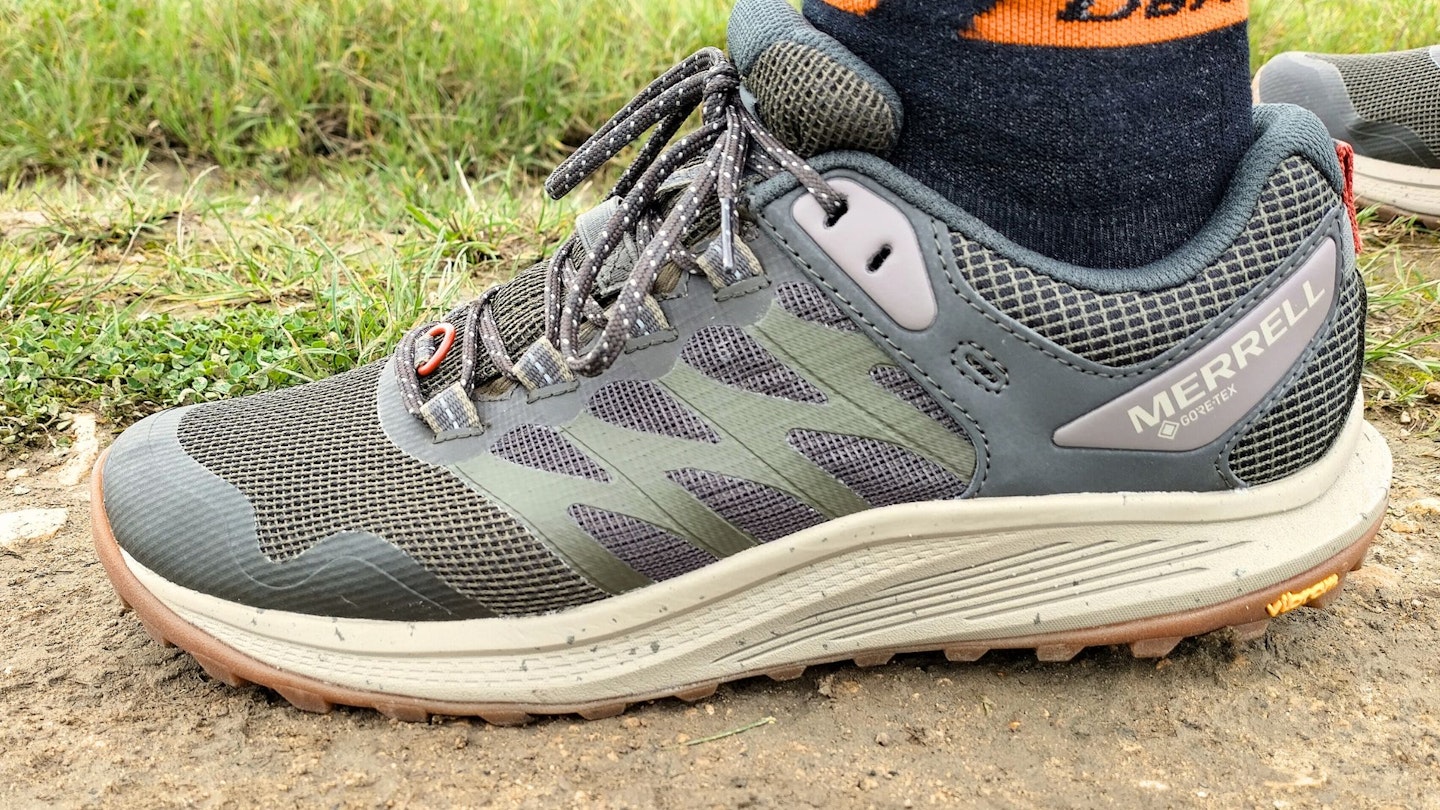 We were impressed with the fit of the Nova 3 (we tested the GTX version). The shoe cradles the heel nicely, with ample padding around the collar, while the toebox is roomy and wide.
On the move, it became evident the Nova 3 doesn't possess the plushest midsole around. So, if you run on routes that involve a fair amount of hard-packed ground or paved paths, you might want to look elsewhere. However, on slightly softer ground, the Nova 3 is comfortable for short and medium distance runs.
The waterproof GTX version we tested kept water out effectively, but overall we think the non-waterproof version is the way to go. It's a lot more breathable and also £25 less expensive.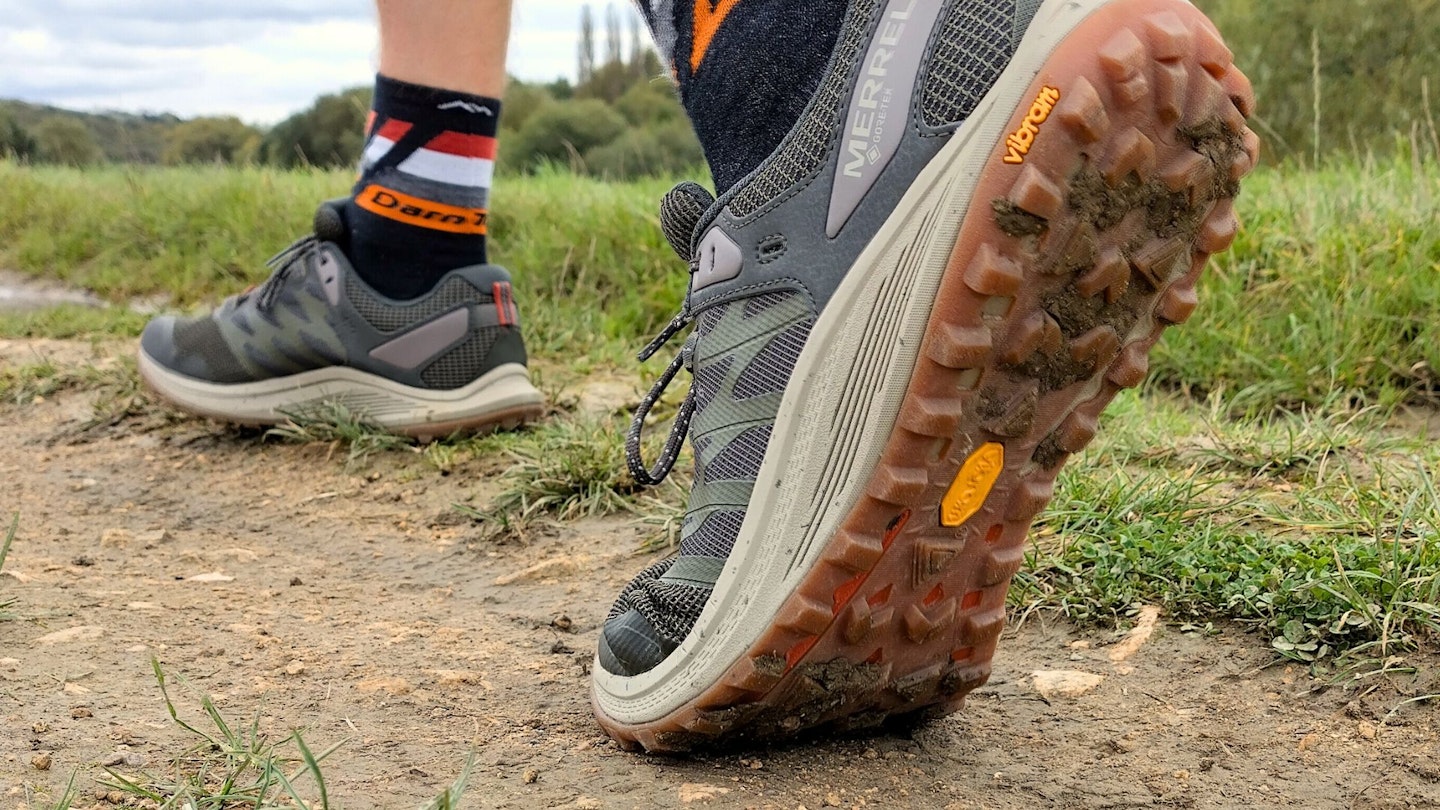 Given this shoe bears a Vibram sole, you'd take reliable grip almost as an assumption. It therefore came as a surprise to us that the Vibram TC5+ outsole used on the Nova 3 slipped and struggled on damp, hard-packed terrain – especially with protruding rocks and stones. That's a big issue, because that sort of terrain makes up a very large fraction of many (if not most) trail runners' staple routes.
It fared a lot better where tracks featured loose dirt and gravel, but struggled again when mud made an appearance. We've not encountered such issues with Merrell footwear before – by and large their outsoles have been very reliable.
On the terrain it prefers, the Nova 3 feels agile. We liked the confidence the toe protection gave us too.
Sustainability
The Nova 3 is made from quite a lot of recycled material but we've said before that Merrell has been quite vague about its overall sustainability goals, and that it's not been rated very well by independent industry watchdogs like Good On You, and the Fashion Transparency Index.
And so the trend continues. The 2023 Fashion Transparency Index (which reviews and ranks 250 of the biggest and most influential fashion brands and retailers on their 'public disclosure of human rights and environmental policies, practices, and impacts, across their operations and supply chains') has once again rated Merrell in their lowest score bracket.
Merrell is owned by Wolverine Worldwide and in its latest annual Corporate Responsibility report (2022), Merrell is mentioned a lot in its work on diversity, equity, and inclusion. But there is little detail regarding sustainable materials or emissions reductions. For example, Merrell has pledged all its products will 'contain' organic, recycled, or renewable materials by 2025 but doesn't specify what 'contain' means.
On the plus side, Merrell has launched ReTread, which is it's recycling a resale program. One of the key aspects of sustainable practices is circularity so, hopefully this is a program Merrell develops in a big way.
Price and competition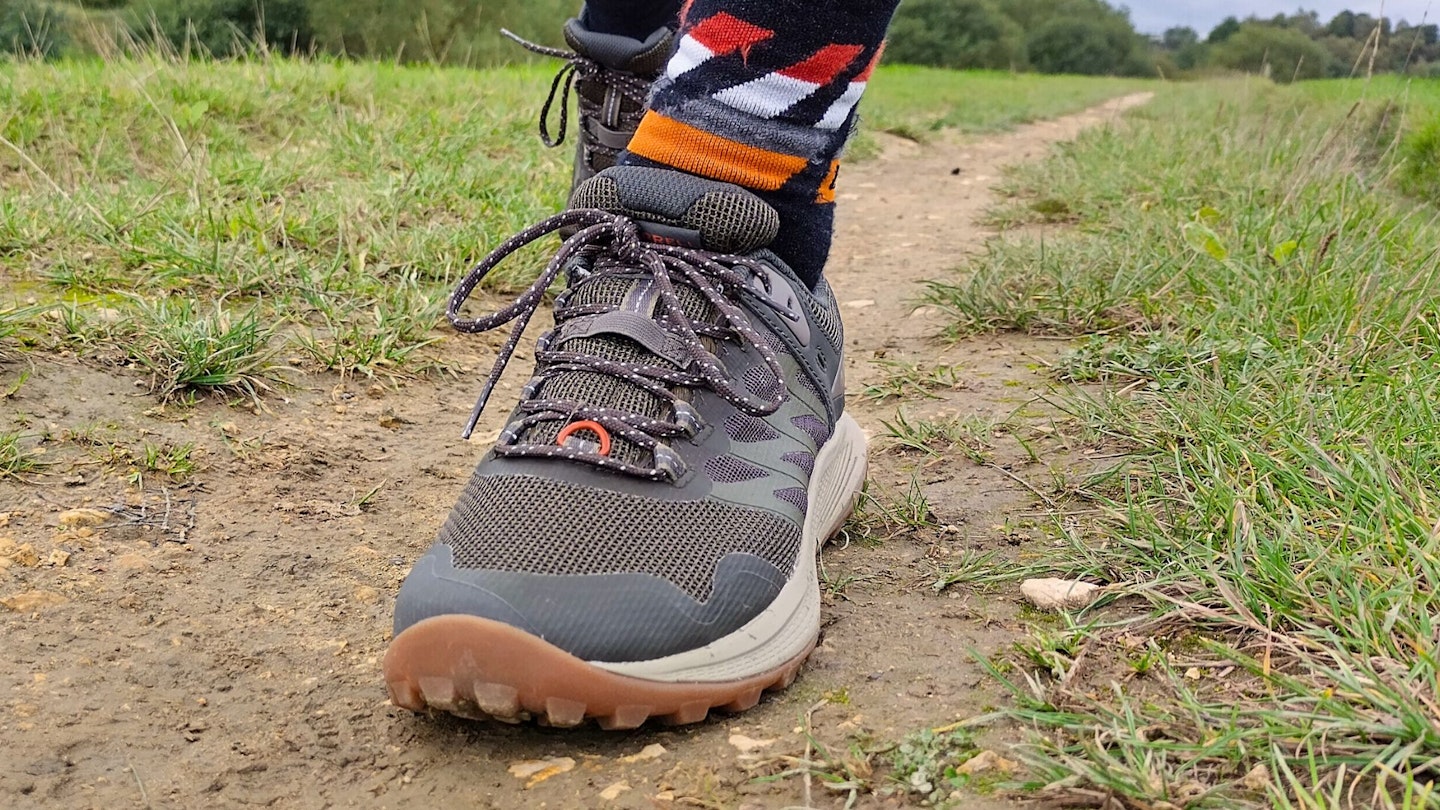 Whether in its GTX or standard version, the Nova 3 is well priced, but there is no shortage of competition. One of its direct competitors is the Salomon Sense Ride 5. It features the same stack height and drop as the Nova 3; it's intended for similar terrain; it comes in Gore-Tex and non-Gore-Tex versions; the Sense Ride 5 even comes in at a similar price.
We found the Sense Ride 5's Contragrip outsole offers much more reliable grip over a range of surfaces. It also felt a bit more agile and responsive. Although, the Salomon Sense Ride 5 does have a narrower fit, which won't suit everyone.
Have a read of our roundup of the best road-to-trail running shoes for further options.
Verdict
The type of shoe that the Nova/Antora 3 is aiming to be is one that appeals to many of us, whether as a multi-purpose outdoor shoe, trail running shoe for training, or a runner's first pair.
And although we think the Nova 3 is impressively comfortable to wear, it's let down substantially by an outsole that doesn't grip particularly well on ground you'd expect it to be at home on. It's not a bad shoe but we think there are other options that offer a better all-round package.
How we test
The trail running footwear we test undergo thorough, real-world testing. As soon as they arrive with us, they get allocated to one of our experienced gear testers who take them through their paces over a range of off-road terrain and distances.
We consider myriad factors when testing and reviewing trail running footwear, from the obvious, such as comfort and performance, to the less obvious and intricate, such as sustainability.
For all the latest news, tips and gear reviews, sign up to the Trail Running Newsletter.
Chris Williams is a Digital Content Writer for Live For The Outdoors. He trained as a journalist in New Zealand and has been working on Live For The Outdoors since 2021.