Waterproof trail running shoes can be rather divisive. 'It just keeps the water in,' say some. We're not going to wade into the perpetual squabble, but we are going to introduce the La Sportiva Cyklon Cross GTX, which takes trail running shoes' weather protection up a notch.
The La Sportiva Cyklon is one of the brand's prime mountain running shoes. And the Cyklon Cross GTX takes that Cyklon base and adds to it a Gore-Tex membrane and an integrated water-repellent gaiter to adapt it for winter running.
That sounds like quite a good idea, but is it? We've been using the Cyklon Cross GTX in the north of England over the winter to find out.
Features and design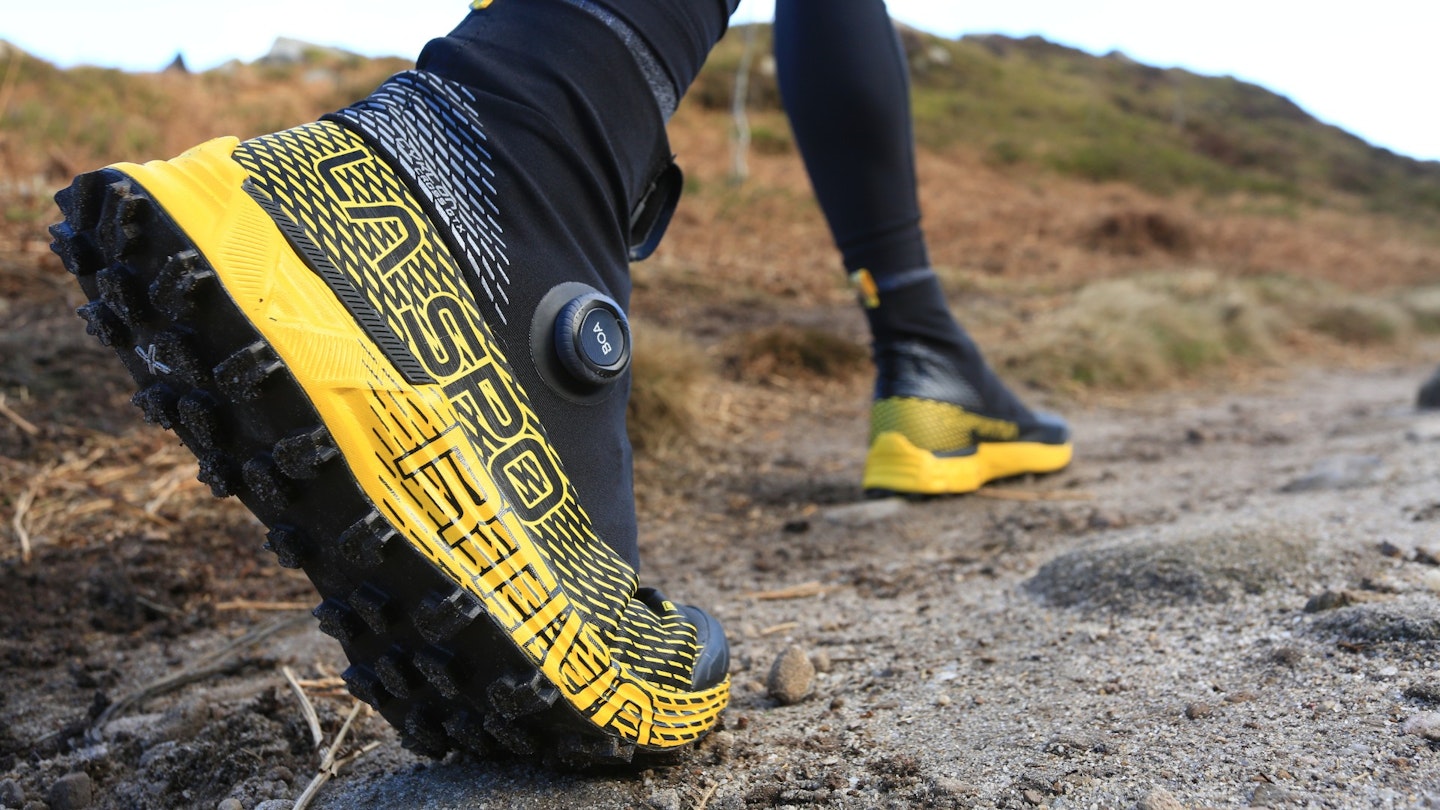 Makers of performance footwear often like to have an aesthetic edge or distinct style. Brands such as Hoka and Salomon do this very well. And La Sportiva's Cyklon Cross GTX has come barging onto the scene with its integrated gaiter.
In profile, the Cyklon Cross GTX looks rather outrageous. But contrary to this, it blends with full length leggings and hardly stands out any more than any other trail running shoe.
The Cyklon Cross GTX is for the winter. The built-in gaiter is the giveaway. Peel it away this shoe's water-repellent outer skin and still has the same body as the regular Cyklon, albeit with a Gore-Tex membrane.
One of the key features on this shoe is its BOA lacing. The regular Cyklon has this too. Like Salomon's Quicklace system, BOA is all about super speedy lacing without losing sight on its primary task of holding foot and shoe in a comfortable embrace.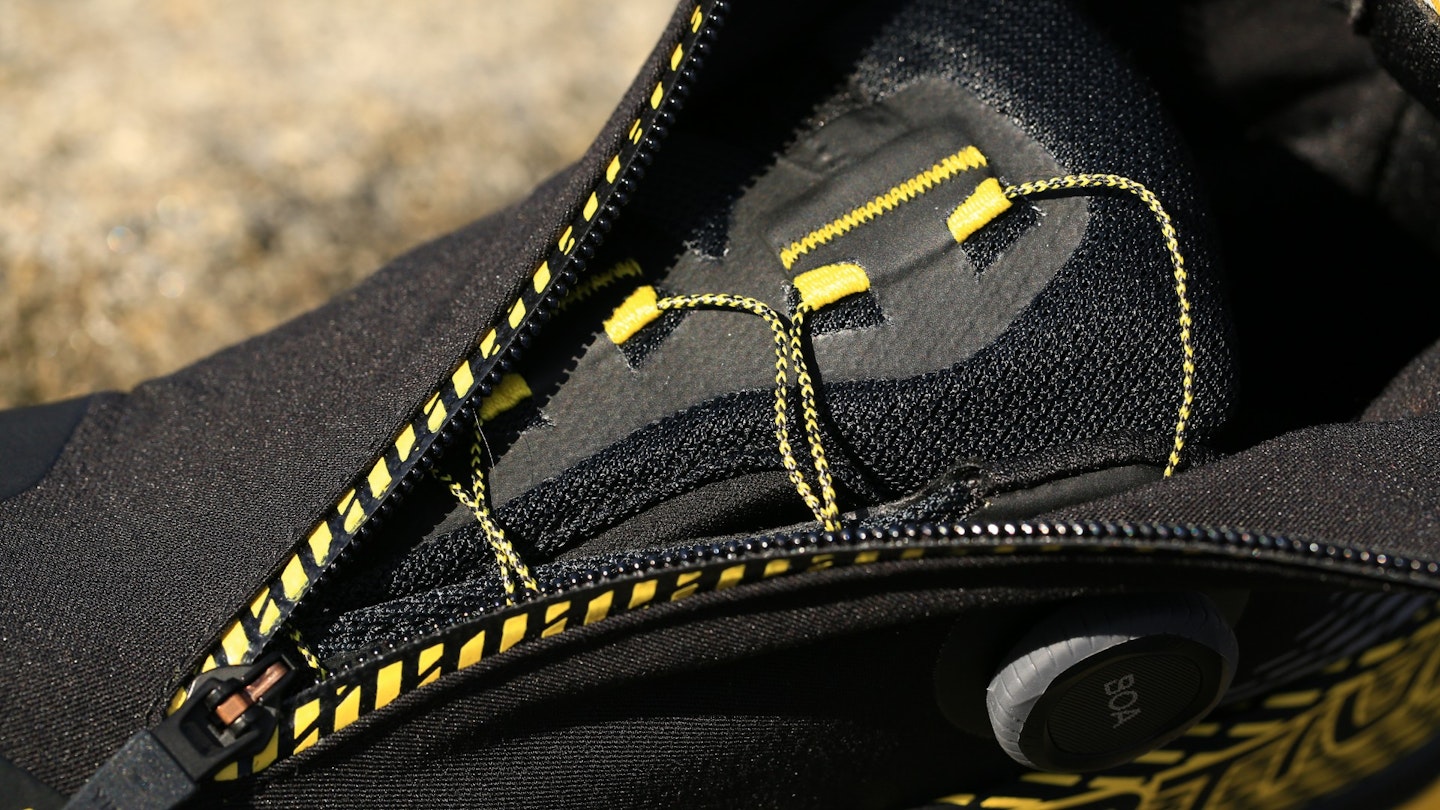 Performance
Adding an integrated gaiter to the Cyklon Cross GTX might make it appear rather daunting and specialist and suitable only for the most achieved trail runners, but this isn't the case.
Following testing across hard-packed trails and soggy moorland, we've been wooed by this shoe. It's a stellar winter trail running shoe. The reason for this comes down to versatility.
Through puddles, water rolls off the gaiter in beads. It's hugely advantageous over non-gaited trail running shoes with waterproof membranes. And with the BOA system, you quite literally dial in your fit.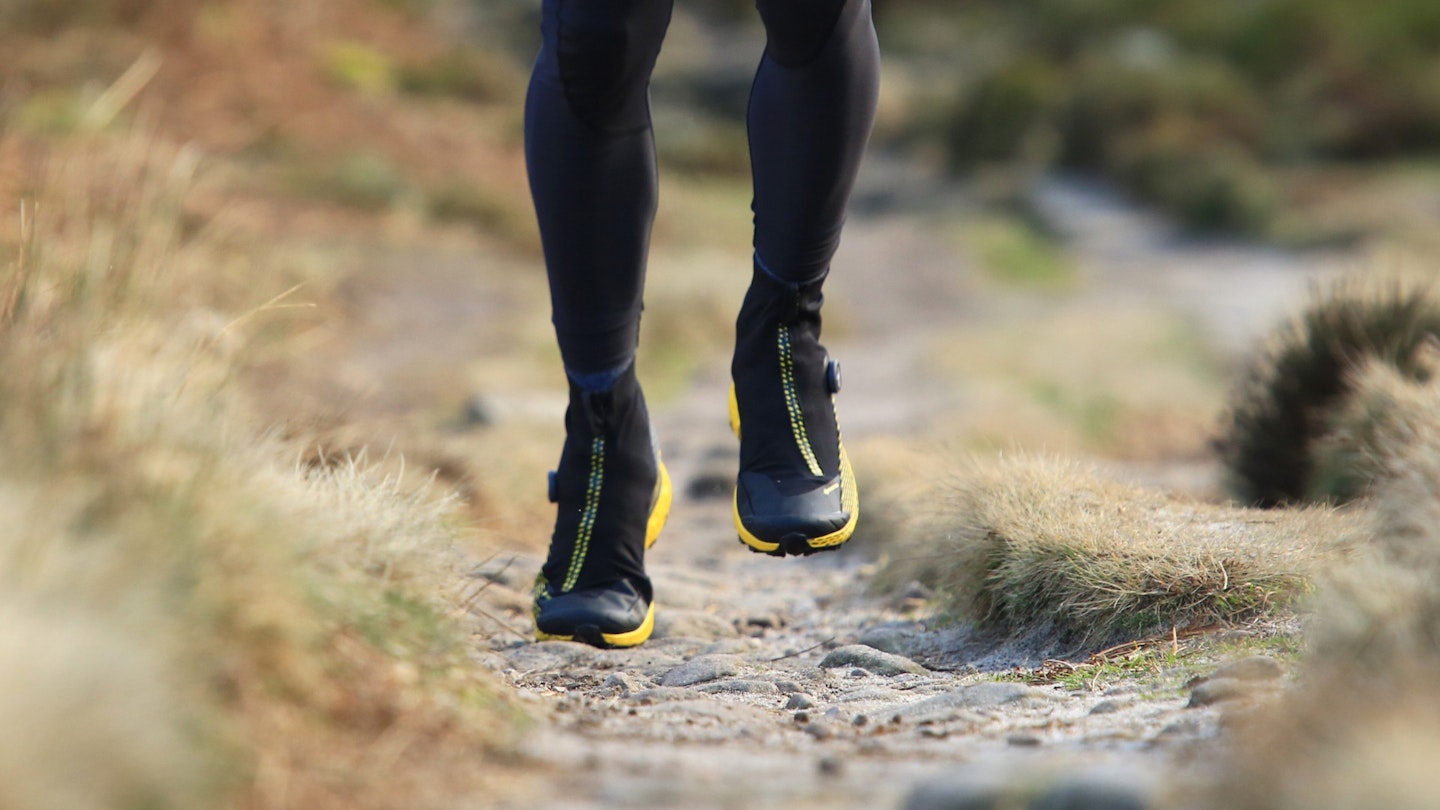 What about the underside of the shoe? The Cyklon Cross GTX outsole is made from La Sportiva's FriXion White. FriXion is a collection of five types of La Sportiva sole compound. Each has a different balance between durability and grip. FiXion White is the 'Super Sticky' compound, with moderate durability.
FrXion White and the Cyklon Cross GTX's lug pattern is a wonderful pairing. Mud, rock, paths – this is an outsole for all types of offroad terrain. This extends to snow and ice because you can attach La Sportiva's AT Grip Spikes to the Cyklon Cross GTX.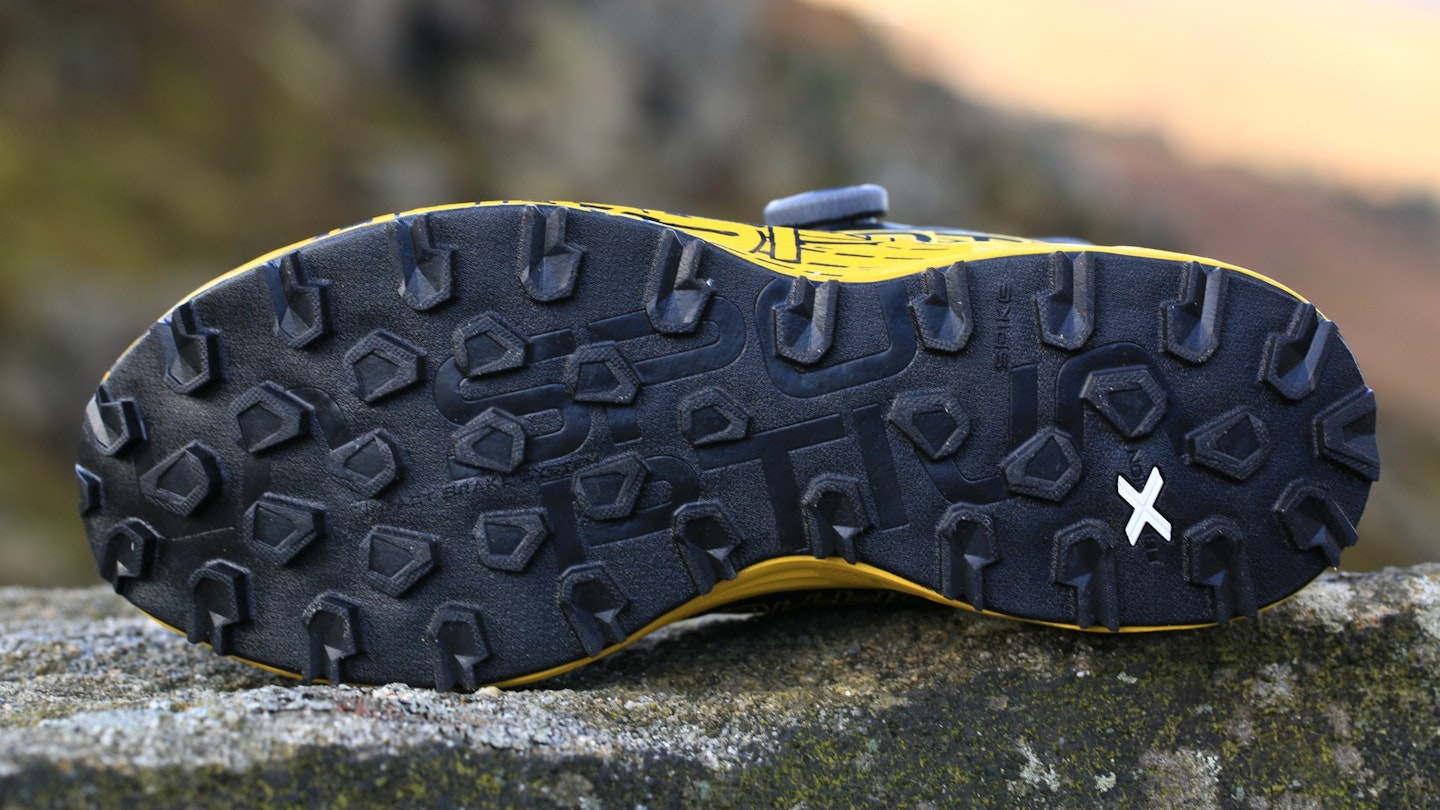 The midsole is surprisingly spongy and provides lots of comfort for long distance runs. However, the Cyklon Cross GTX doesn't have much of a stiffened toe cap. So while it has underfoot cushioning, there isn't a huge amount of protection further around the toe.
In terms of fit, the Cyklon Cross GTX has a high volume. A high volume means a wider fit. This is because it's angled towards long distance running and races.
Sustainability
La Sportiva continues to make most of its products in its Fiemme Valley factory at the foot of the Dolomite mountains.
La Sportiva has been a bluesign partner since 2012, and in its latest sustainability report (2021), it points out examples of bettering its manufacturing processes, such as reducing waste. Its use of raw materials is dropping, most noticeably leather.
There is a growing collection of 'eco' labels and materials from and used by La Sportiva, such as FriXion Eco and P.U.R.E recycled down. La Sportiva has an international network of authorised re-solers too, which includes the UK.
However, the Cyklon Cross GTX doesn't carry any of the brand's more eco-friendly labels.
Price and competition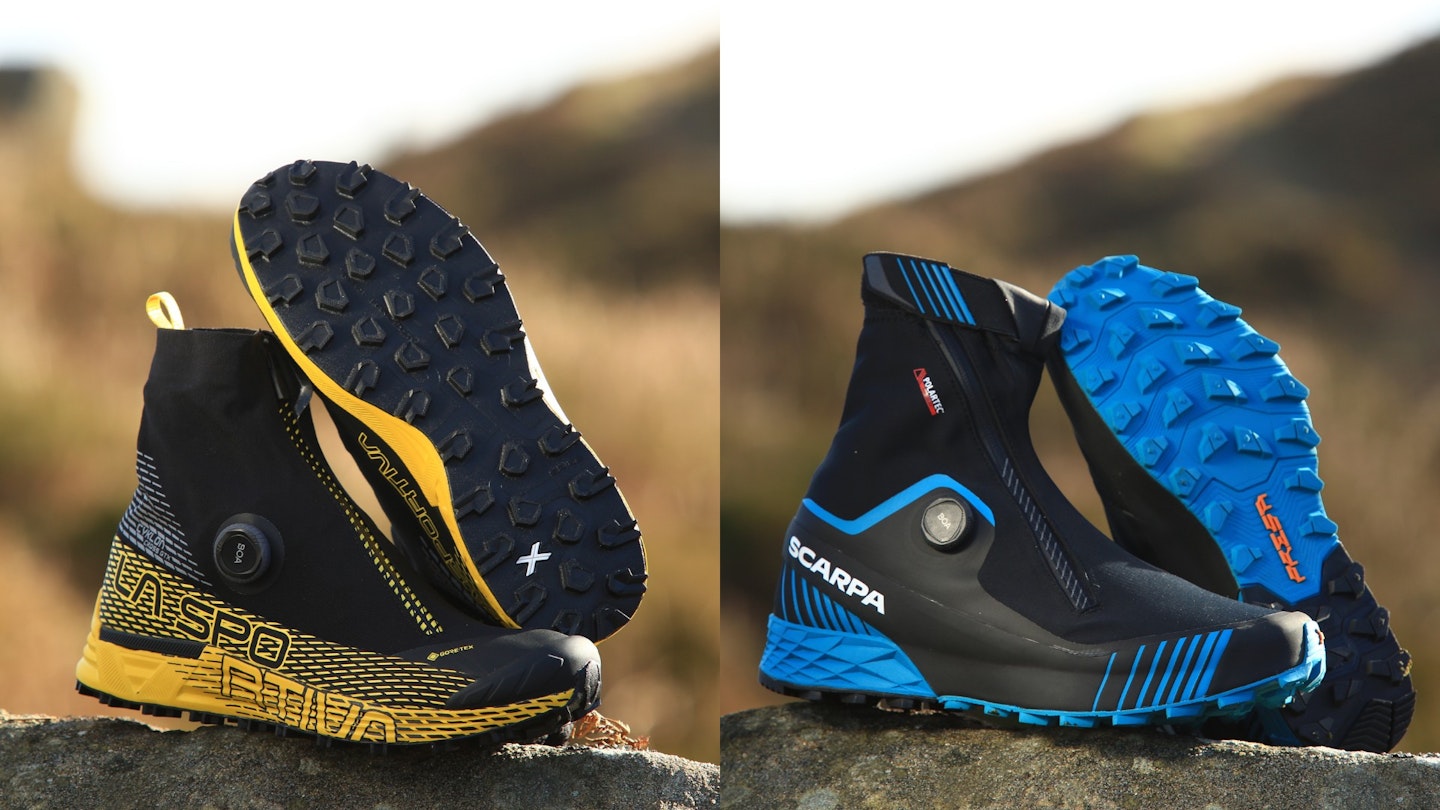 One of the Cyklon Cross GTX's closest rivals is the Scarpa Ribelle Run Kaibra G. Like the Cyklon Cross GTX, Scarap's winter running shoe has a built-in gaiter and uses BOA lacing.
There's a lot of tit for tat between these two. The Cyklon Cross GTX is less expensive, but the Scarpa has a better gaiter (it's taller and made of Polartec Windbloc). The Scarpa's outsole is even better suited to snow and alpine conditions, but the Cyklon Cross GTX can be used with spikes.
Overall, we think the Cyklon Cross GTX is better value. Its gaiter is still very good and is a bit more versatile.
Verdict
The Cyklon Cross GTX is a very impressive trail running shoe. Designed for the cold months of the year, it's great to use for all offroad routes, from wet grass to hard-packed trails and mountain paths.
It certainly sits at the top end of the trail running shoe price range, but it's one of the most feature-rich models on the market. And those features are very useful, rather than gimmicks.
Quality 4/5 | Comfort 5/5 | Performance 5/5 | Value 3/5 | Sustainability 3/5
Overall score: 80%
Pros: Versatile, excellent debris protection, incredible grip, perfect for British terrain
Cons: Minimal toe protection, quite expensive
Don't forget to subscribe to the Trail Running Newsletter to get expert advice and inspiration delivered to your inbox.