The Hoka Zinal 2 is an upgrade for one of Hoka's most popular trail running shoes. Lighter and less deeply cushioned than the models for which Hoka is best-known, it's agile, breathable and extremely adaptable. Our expert tester Nick Hallissey puts the Zinal 2 through its paces…
We used to joke that Hoka was incapable of making a 'normal' shoe. The brand's USP has always been those thick, super-cushioned midsoles that lift your foot about a mile into the air and pamper it with a colossal shock arbsorber. (See the Speedgoat range for evidence.) If Hoka ever made a running shoe that looks like anyone else's, we chortled, the world will end.
Well Hoka has. And the world hasn't ended. In fact, it's a slightly better place because of this shoe.
In fairness, this isn't the first time. The original Zinal was a big hit, stripping back the majority of that Speedgoat-y cushioning and creating something lighter and nimbler. But this new one goes further, stripping out yet more weight, adding more aggression and traction, and also some extra flourishes that really make a difference on the trails. Here's the breakdown...
Pros
Incredibly lightweight
Aggressive outsole with great traction
Still has decent cushioning
Close fit and firm lacing
Stretch knit collar to keep out debris
Cons
Plasticky upper can affect breathability
Still too cushioned for some trail purists
Sits very low round the ankle
On the pricey side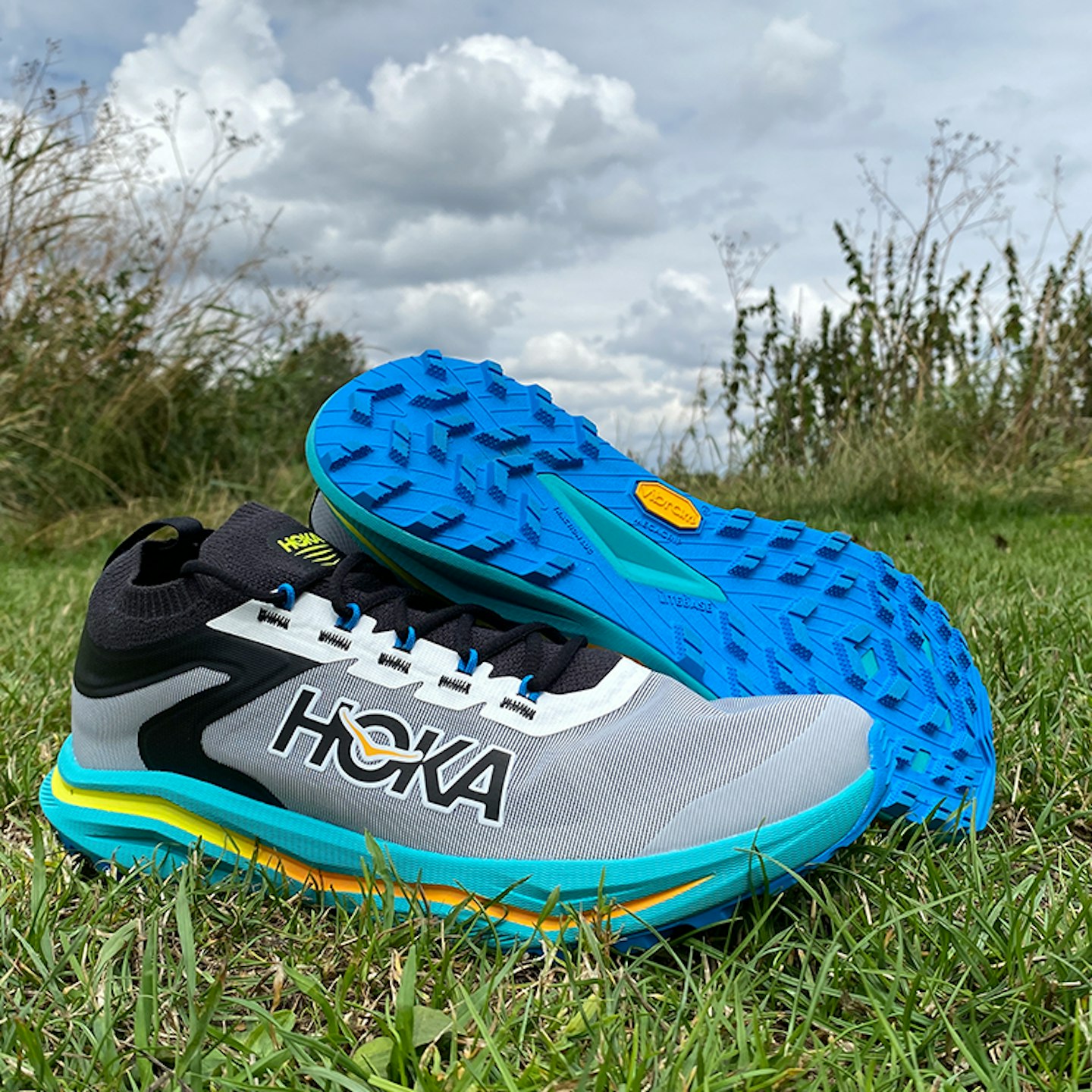 Design and features
There are several key changes from the original Zinal. It's lighter (217g in men's 9, as opposed to 252g on the old one). It has a reduced heel drop and taller, more aggressive lugs. And – perhaps the biggest structural change – it has a stretch-knit collar which acts as a gaiter, and a completely integrated tongue
Together these changes (plus the basic design virtues of the original) make this a really impressive shoe for shorter distances on the trails. The aim, says Hoka, was to improve responsiveness and energy return. We'd say they have succeeded: this an agile ride with plenty of rebound.
But it also retains Hoka's emphasis on comfort. While the shoe has indeed stripped out the bulk of Hoka's customary cushioning, there is still plenty of shock-absorption through the midsole. Although, some trail purists may feel it's still too luxurious, there is a little ground-feel, but not enough for those with a more barefoot inclination. If you're a minimalist runner, you're better off considering options like the Vivobarefoot Primus.
Helpfully, Hoka grades its cushioning as either Responsive, Balanced or Plush. The Zinal is definitely right down at the Responsive end.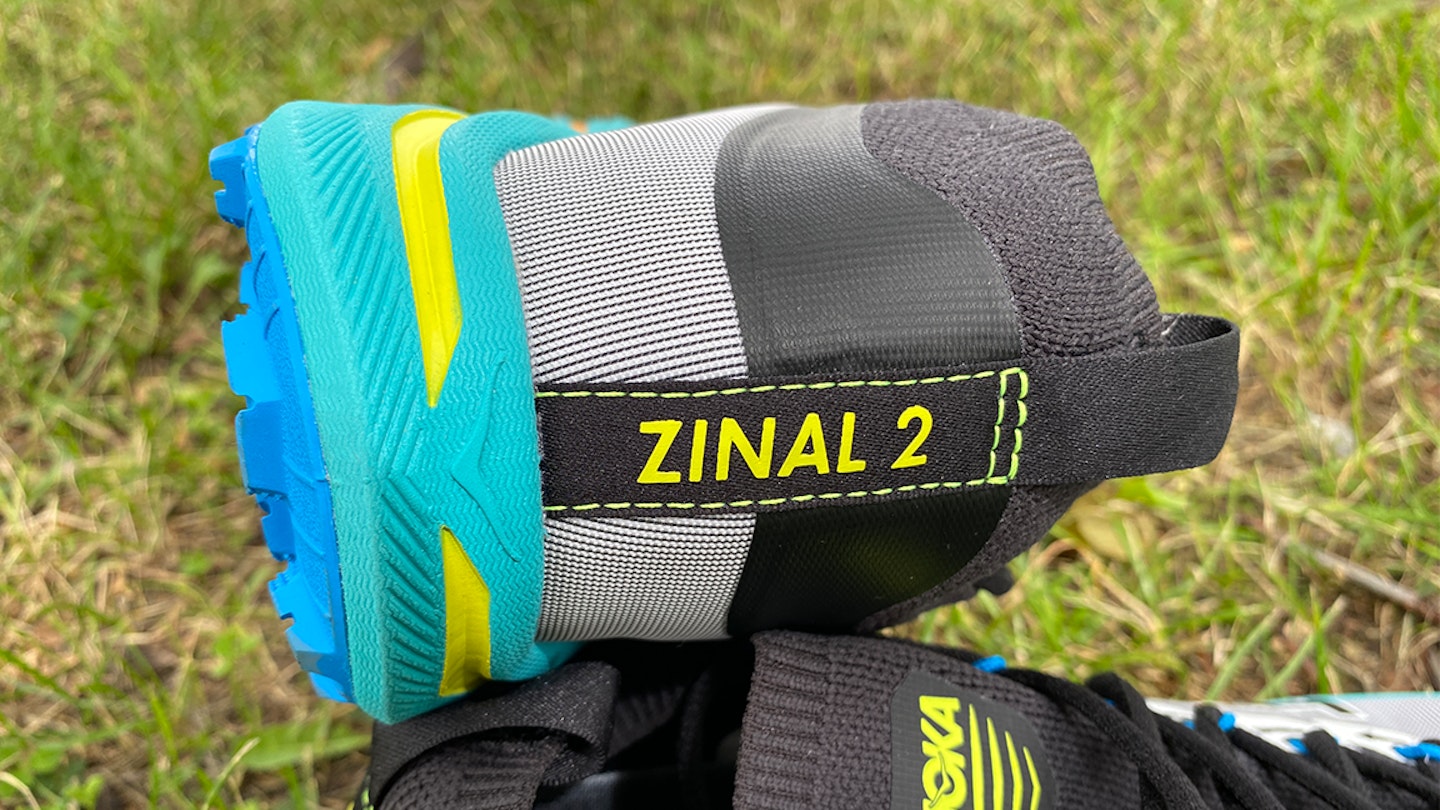 The other key benefit is grip. We've run in the Zinal 2 over granite, sandy heathland, woodland floor and muddy field, and it digs in beautifully over all of them. Vibram calls this outsole a Megagrip, and it's not hard to see why. Key to that is the longer lugs (up to 5mm, from 4mm on the old version), which also have tiny nobbled edges. These face forward on the rear lugs, backwards on the front lugs, and sideways on the ones in the middle, adding precious extra directional traction on whichever part of the shoe happens to be striking the ground.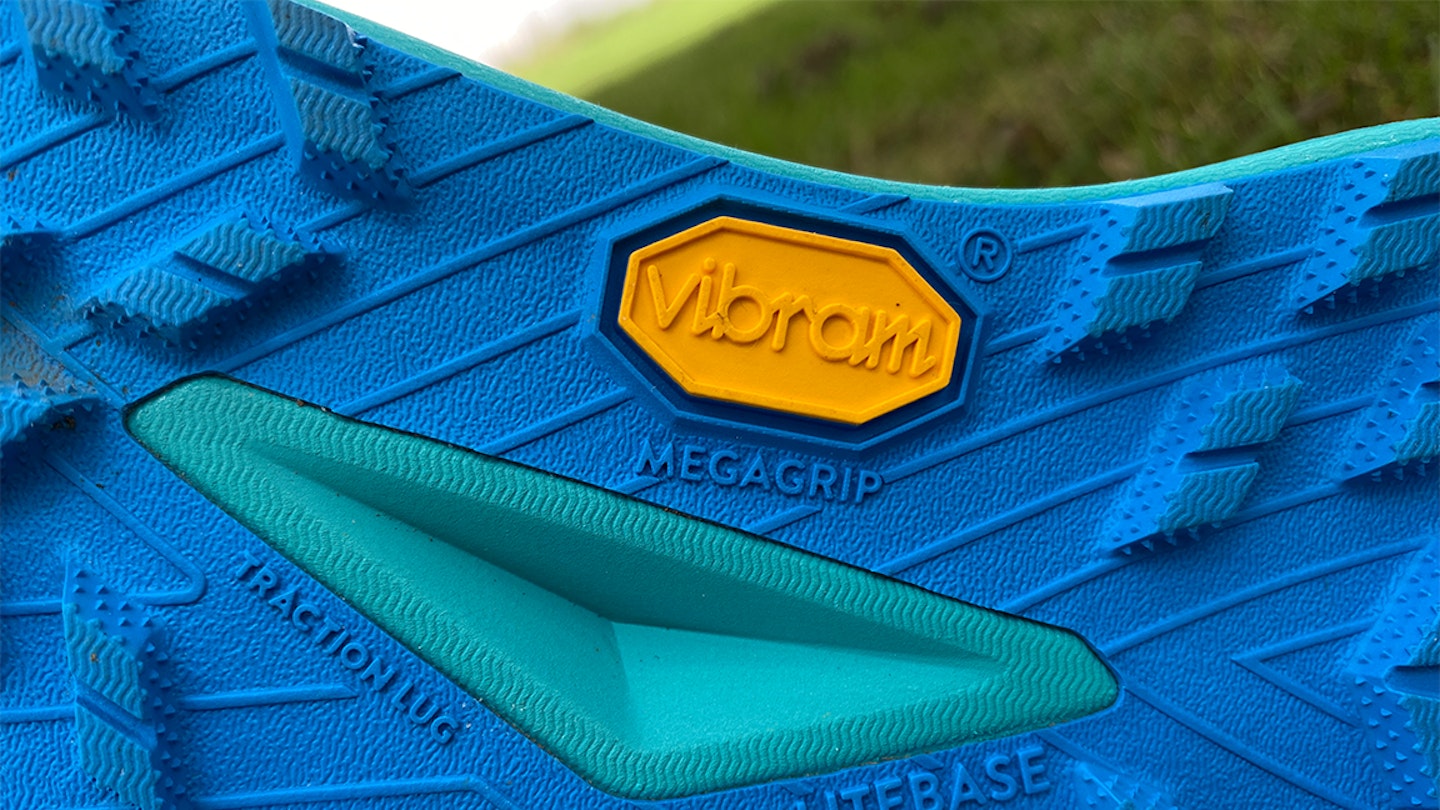 But perhaps my favourite design upgrade is that the stretch-knit tongue is now fully integrated into both the upper and the collar. This gives one smooth, complete surface, with no overlap between tongue and upper. It means you can just slip the shoe on incredibly easily. But it also makes the shoe a sealed unit around your ankle, because the tongue flows into the collar (also stretch-knit) which acts as a gaiter to keep out mud and – more importantly – tiny stones. If you hate getting stones in your shoes, these may be the pair for you.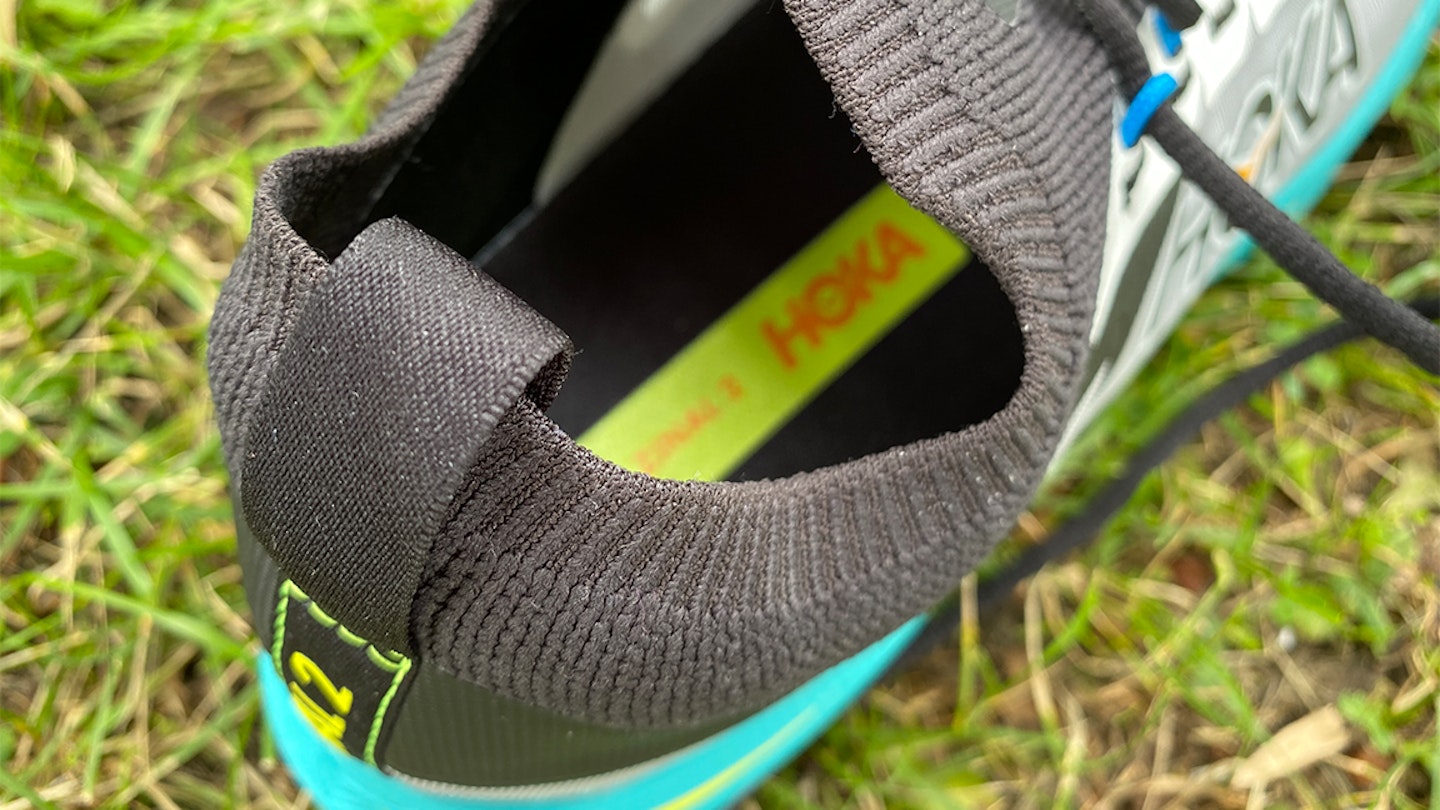 Performance
Hoka says the Zinal 2 is specifically geared towards shorter trails. Oddly, they don't really explain why. I'm guessing they feel that if you want to go further for longer, you'll want a tougher, more cushioned shoe, or even an ultra trail running shoe.
This lighter shoe, shorn of that extra heft seen in more cushioned/longer-distance options, is therefore most primed for shorter runs. Although how short is short? The Zinal is perfect for a gnarly five or 10km, but you could also quite happily do a half-marathon in it without feeling too beaten up.
Crucially, it does seem to be able to go anywhere. Sand, chalk, mud, limestone, tree roots, gritstone: it seems to attack them all with equal vim. Yes the lug pattern will clog up over really stodgy clay, but that'll happen with any similar outsole.
There's no real weatherproofing, but that stretch-knit collar may prevent a bit of water/snow ingress, if not a lot. And our feet have usually dried out within a few minutes after we've taken them through a stream, or been out in heavy rain. Overall, the performance of this shoe is pretty much flawless.
Fit
Mostly great, with some quirks. First off, I love the way the upper closes snugly over my foot. It's a close fit (and true to my size); I'd call it glove-like. And the paracord anchors (those loops for each lace) keep the lacing nice and taut. We haven't encountered any blisters or hotspots in almost two months of regular use. Nor any heel slippage.
The stretch-knit collar creates a good close seal around the foot (as long as you've chosen the most suitable size for you, of course) and it does indeed keep out the grit over long distances.
We find the forefoot a little more constrictive than some of its peers, though. If you're wider of foot, you might want to go up a half-size. Meanwhile, the 'vamp mesh' upper material is oddly crinkly and feels a bit plasticky, though not in a way that impedes breathability (this is a very breathable shoe). But it does feel slightly more compressive than the softer, more flexy materials used on lightweight rivals like the Adidas Ultraboost.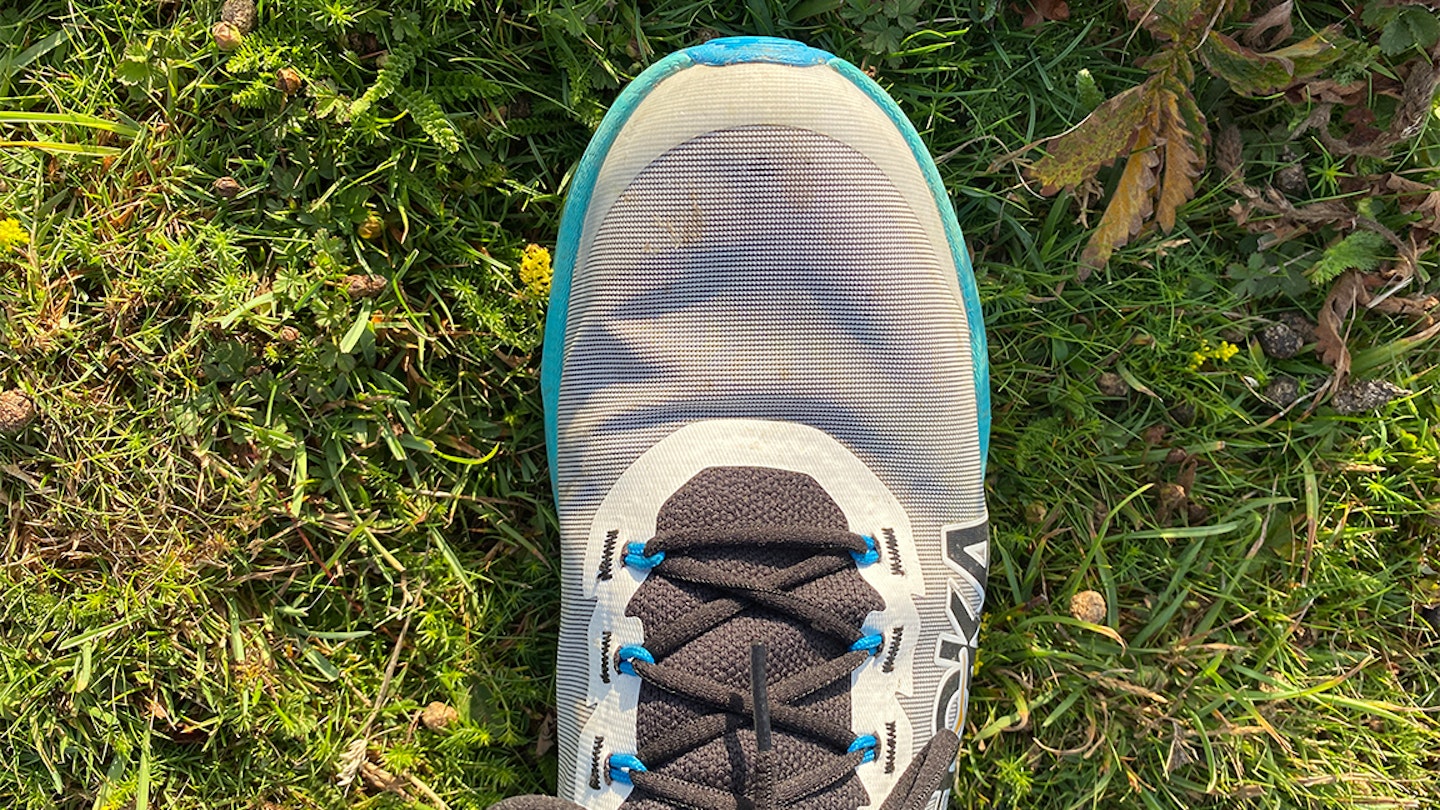 The shoe is extremely low-profile, and sits lower around our ankle than we usually like. But although the lowness is noticeable every time we go to pull the Zinal 2 on, it's quickly forgotten as soon as we're running.
Lastly, it has one little Achilles' heel – literally. The pull-tab on the rear of the shoe is sewn into the stretch collar, and there is an exposed seam that sits against the Achilles tendon. If you're wearing standard crew-length running socks it's fine. But if you wear super-low/invisible trainer socks, there's a danger of rub. We recommend trying it on with your trainer socks to see how they sit together.
But these are very small considerations. Overall, the fit of this shoe is fantastic.
Sustainability
A lot of good things here, including: 37% recycled polyester vamp mesh, 76% recycled polyester collar knit, 40% recycled polyester heel counter and 87% recycled strobel board (insole). Plus, Hoka's website has loads of information about their sustainability strategies, across both human and environmental streams.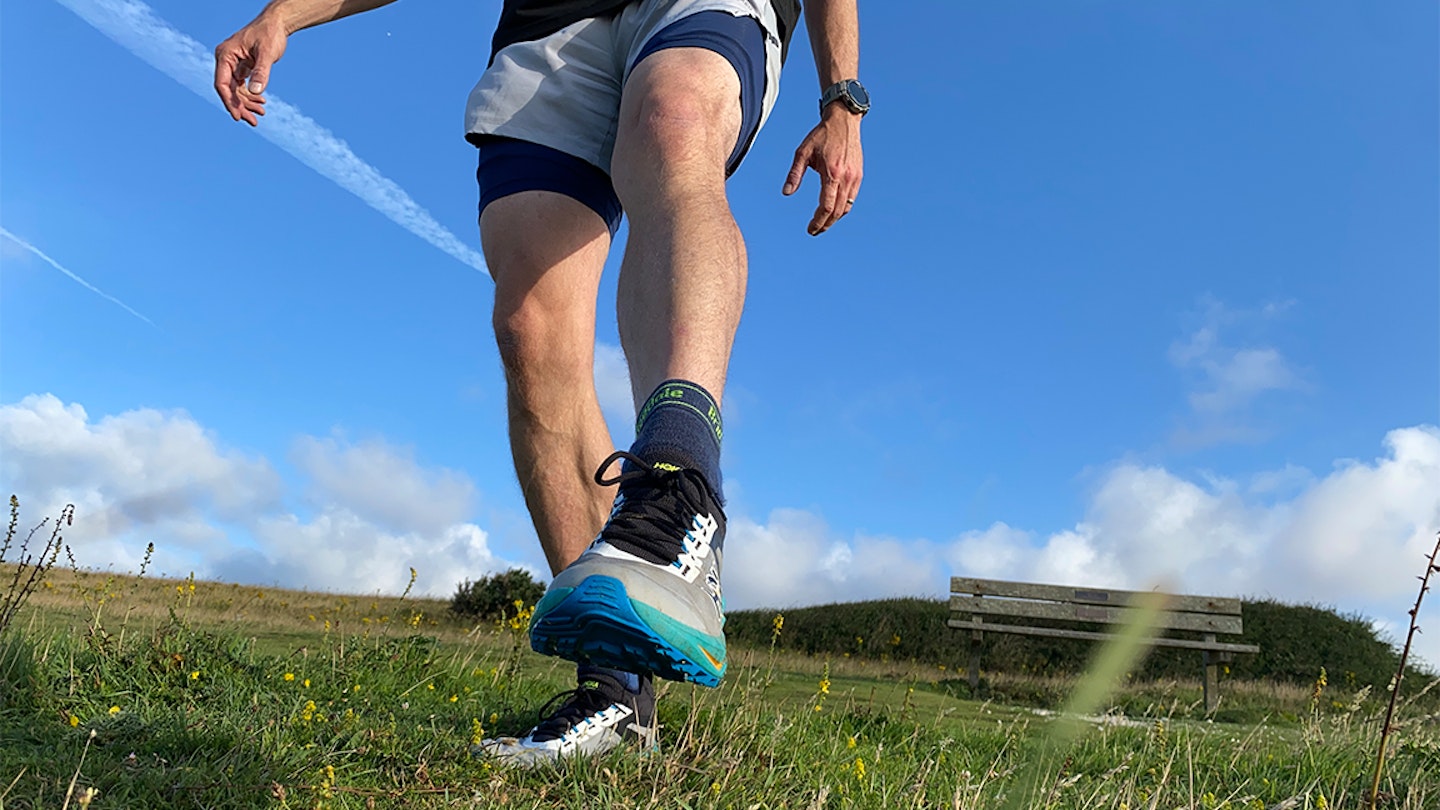 Meaning
A little reminder because we love the name: Hoka is short for Hoka One One, which is a Maori phrase meaning 'fly over the earth'. (The 'One One' is pronounced 'onay onay'.) And Zinal? It's a village in the Swiss Alps, not too far from the Matterhorn – and home to the famed Sierre-Zinal trail racing series.
Price and competition
The RRP is £160. Not a lot of discounting at the moment, but given the levels of comfort and the attention to detail on show here, I think the price is pretty fair.
Competitors might include the Adidas Ultraboost Light(£170), Brooks Glycerin GTS 20 (£165), Salomon Pulsar Trail Pro 2 (£160) and Hoka's own Stinson 7 (£160) – or Speedgoat 5 (£140) if you want something more cushioned.
Verdict
Hoka's top line for the Zinal 2 is that it's 'a veritable paring knife for the trail'. It's a nice line, implying precision, sharpness and versatility, all of which the Zinal 2 offers in spades. It's impossible to overstate the confidence I feel when I run in these, and I am by no means the slickest or most technical of runners. So if you're a cordon bleu chef of trail running, this might be exactly what you need to cook up an unforgettable run or two. (I apologise for that. But Hoka started it.)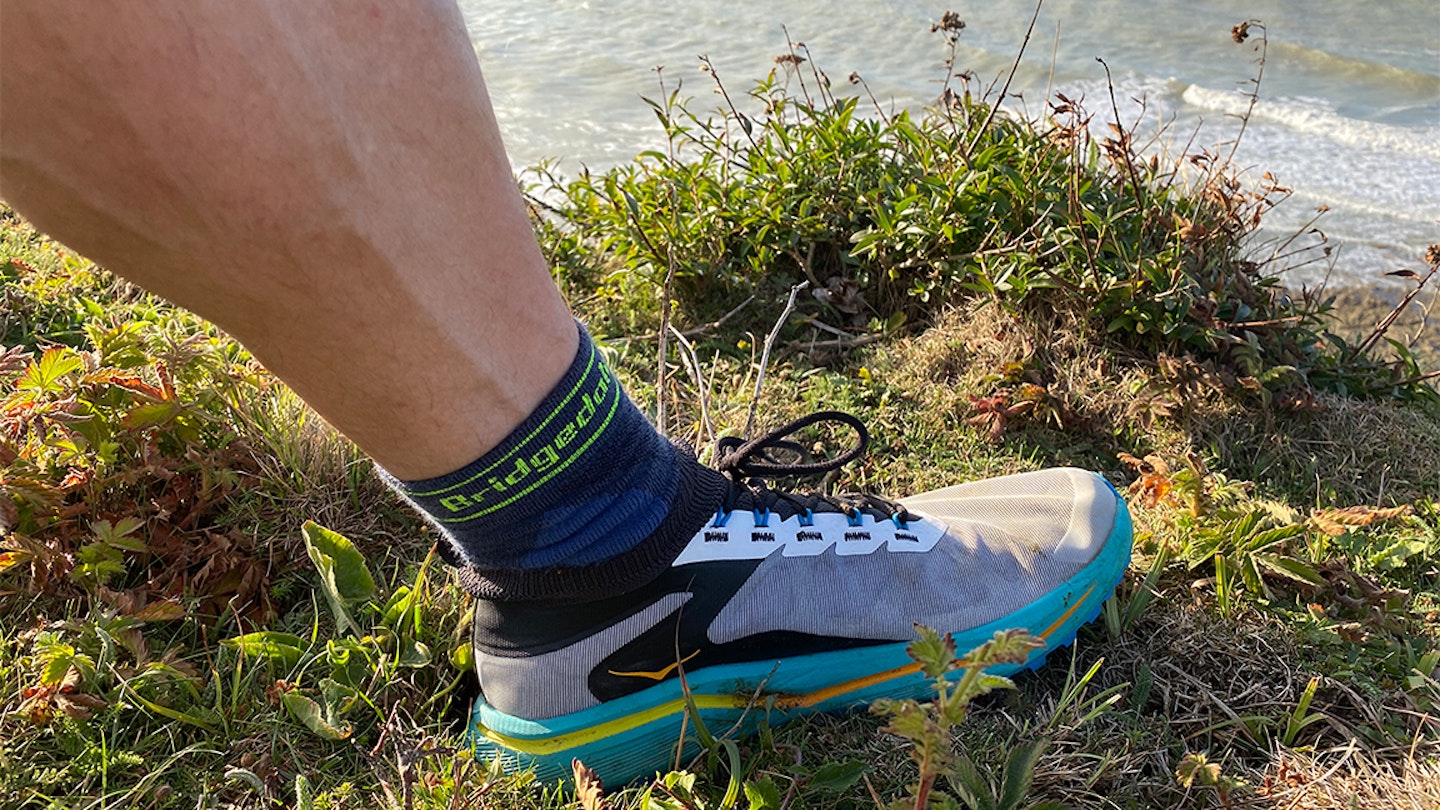 How we tested
We've used the Hoka Zinal 2 for a few months, over a wide range of off-road terrain and distances. Spending a longer period of time using the shoes has allowed us to get a true understanding of how well they perform, their durability, and what kind of runner they would best suit.
For all the latest news, tips and gear reviews, sign up to the Trail Running Newsletter.