Trail running can encompass multiple different types of off-road terrain. But you can master each one if you have the right Inov-8 shoe for the job, helping you to carve your own path on the trail.
Trail running is all about getting out in nature. It has multiple physical and mental benefits compared to running on roads, pavements, tracks or treadmills. These include improving strength, agility, flexibility and balance, while relieving stress and improving mood. It's also a great way to inject a little fun and adventure into your regular exercise routine.
But running off-road comes with more challenges too. You'll need to negotiate different types of surfaces, from hard-packed trails, to muddy ground. Technical terrain can be uneven, involving loose rock or scree, tangled tree roots and steep gradients. All this means that trail runners require footwear that provides more reliable grip, foot protection, and stability than a typical running shoe.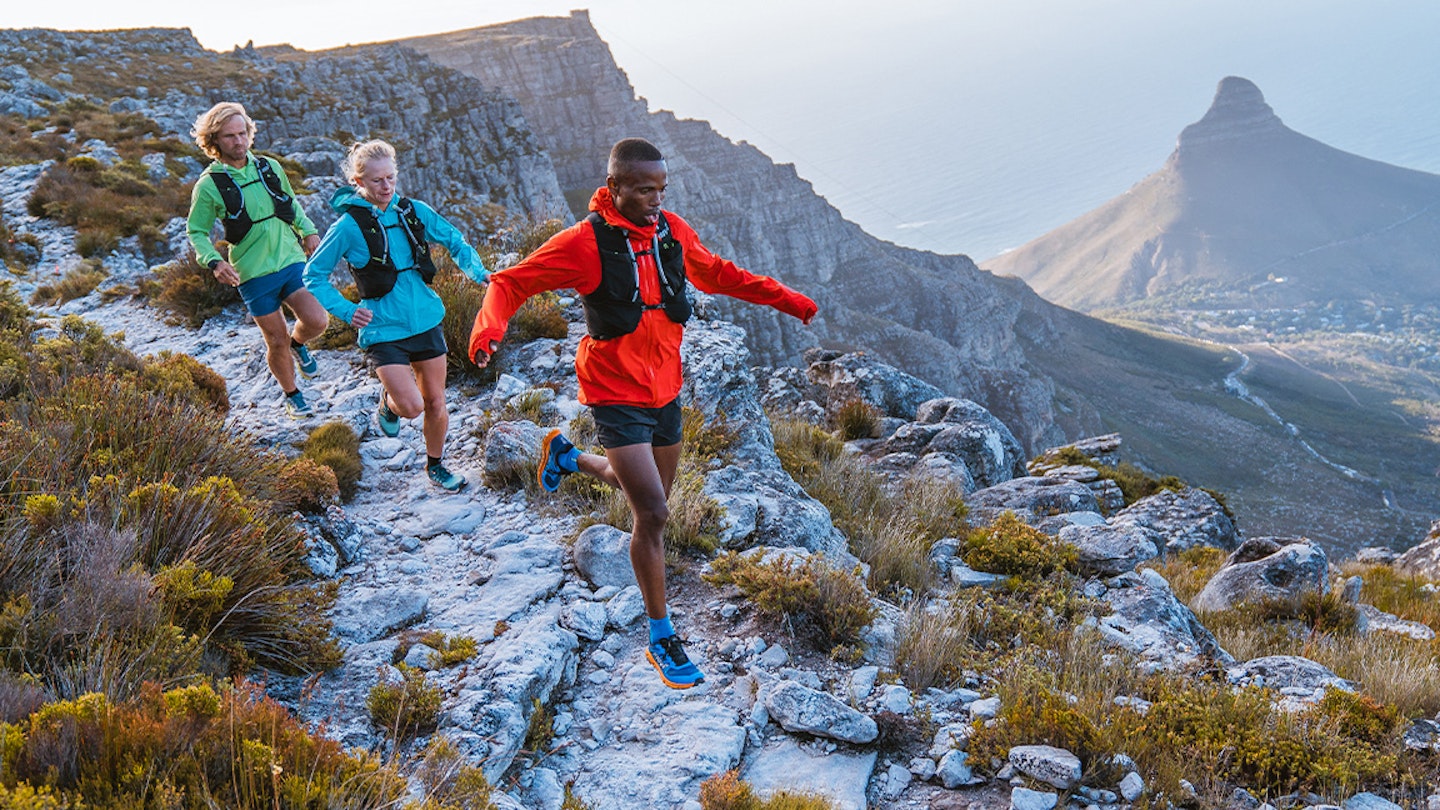 Whether you're running in parks and green spaces, along footpaths and bridleways or in the hills and mountains, having the right tool for the job – that is, the right shoe for the terrain you're tackling – will help to increase your skill and surefootedness on the trail. You'll also run faster and more efficiently. But how do you pick the right shoe for you?
Inov-8 has the answer. Forged in the fells and mountains of the Lake District, the brand has two decades of experience in trail and off-road running. A renowned world leader in grip, it has established an enviable reputation for fast, light and innovative footwear. And the brand's wide range of footwear includes shoes that are suitable for all levels, terrains and gradients.
That's why we've worked with them to put together this guide on how to choose the best trail shoes to tackle any terrain.
Which Inov-8 shoe is best for which terrain?
When choosing trail running shoes, it's important to consider the main types of terrain you intend to run on. This can vary greatly depending on the area where you're running, but here we've covered the most common types and which trail shoes we'd recommend for each.
Terrain: Hard-packed trails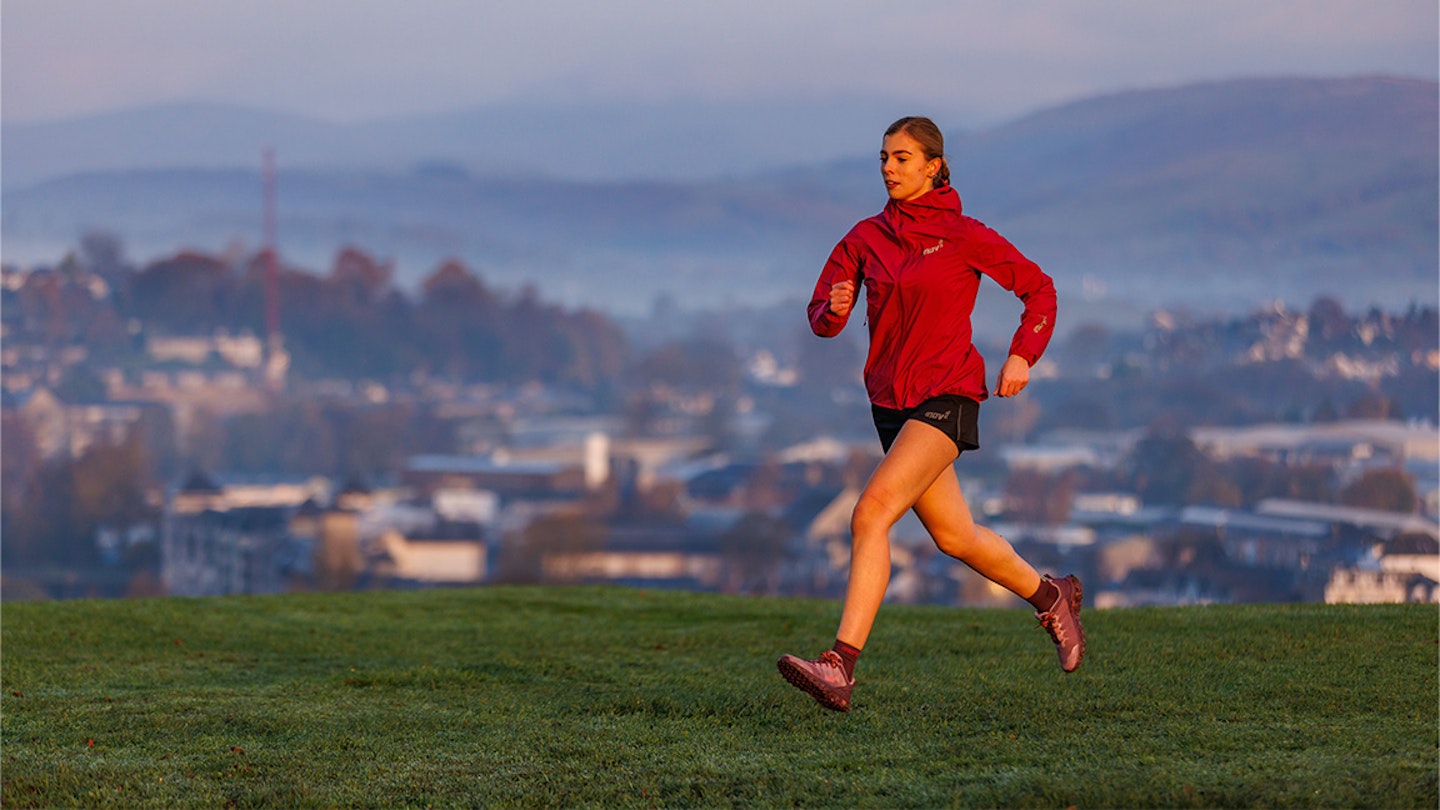 Hard-packed trails include dirt tracks and gravel paths. This type of terrain can be found throughout the UK, from Parkrun courses, to marked trails through country parks and urban green spaces. The best trail running shoes for such conditions are versatile, cushioned, and not too aggressive road-to-trail shoes, like the Inov-8 Parkclaw series.
Light yet supportive, these hybrid running shoes balance comfort, cushioning and grip – perfect for runners who are transitioning from the trail to the road, allowing you to enjoy adventures from your door.
Inov-8 Parkclaw G 280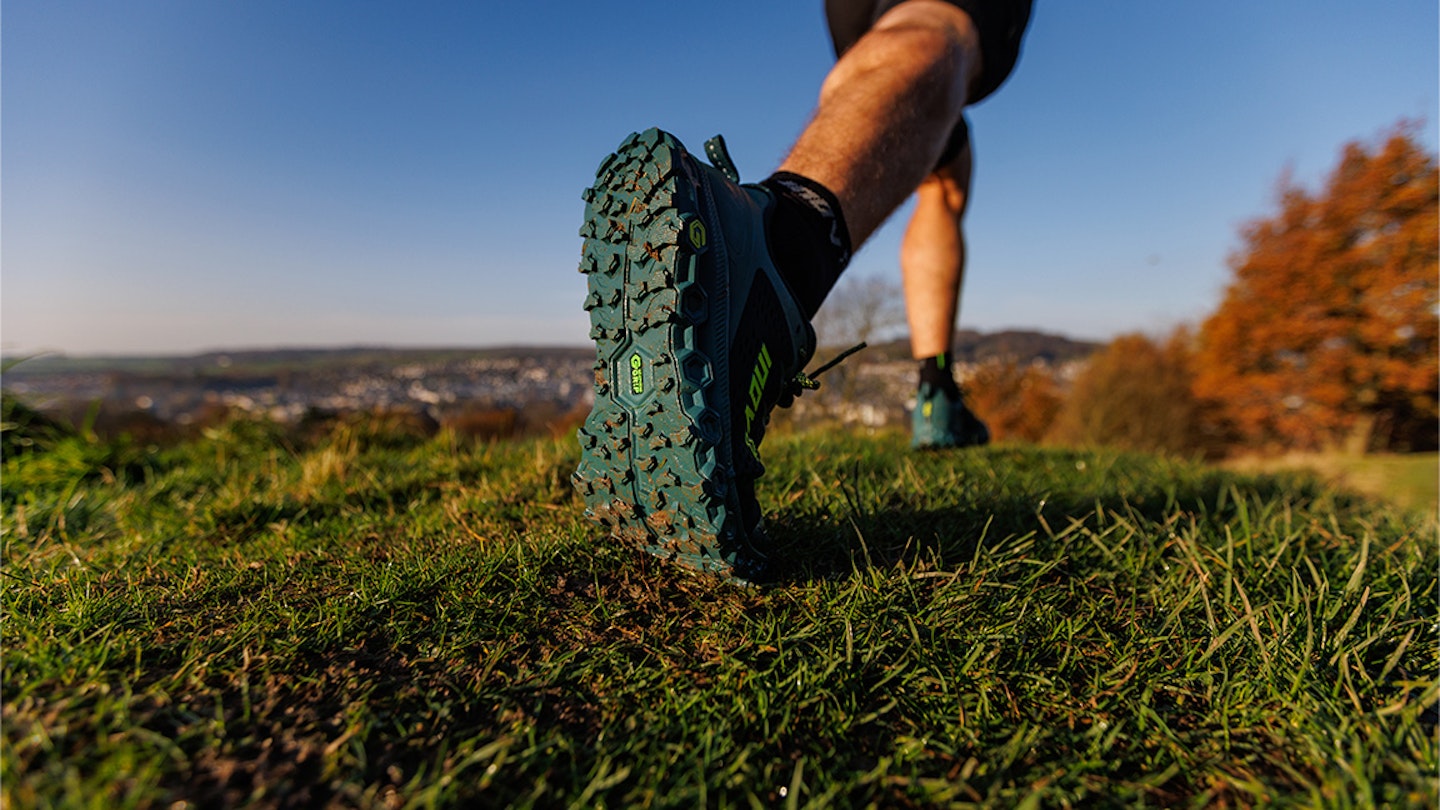 The ultimate road-to-trail running shoe, the Inov-8 Parkclaw G 280 features Graphene – the world's strongest material – in the rubber outsole and foam midsole. The result is heightened performance and enhanced durability.
Its G-GRIP rubber outsole boasts 98 lugs per shoe – all 4mm in length – providing great grip alongside a smooth feel on hard-packed surfaces. The G-FLY foam midsole has an 8mm heel drop, delivering cushioned comfort plus 25% more energy return for a fast-feel stride.
Due to the use of ultra-durable Graphene, both outsole and midsole should retain their incredible powers for longer. The upper is made from a light and breathable mesh, while the super-springy boomerang footbed is designed to deliver yet more bounce and cushioning.
Terrain: Rocky trails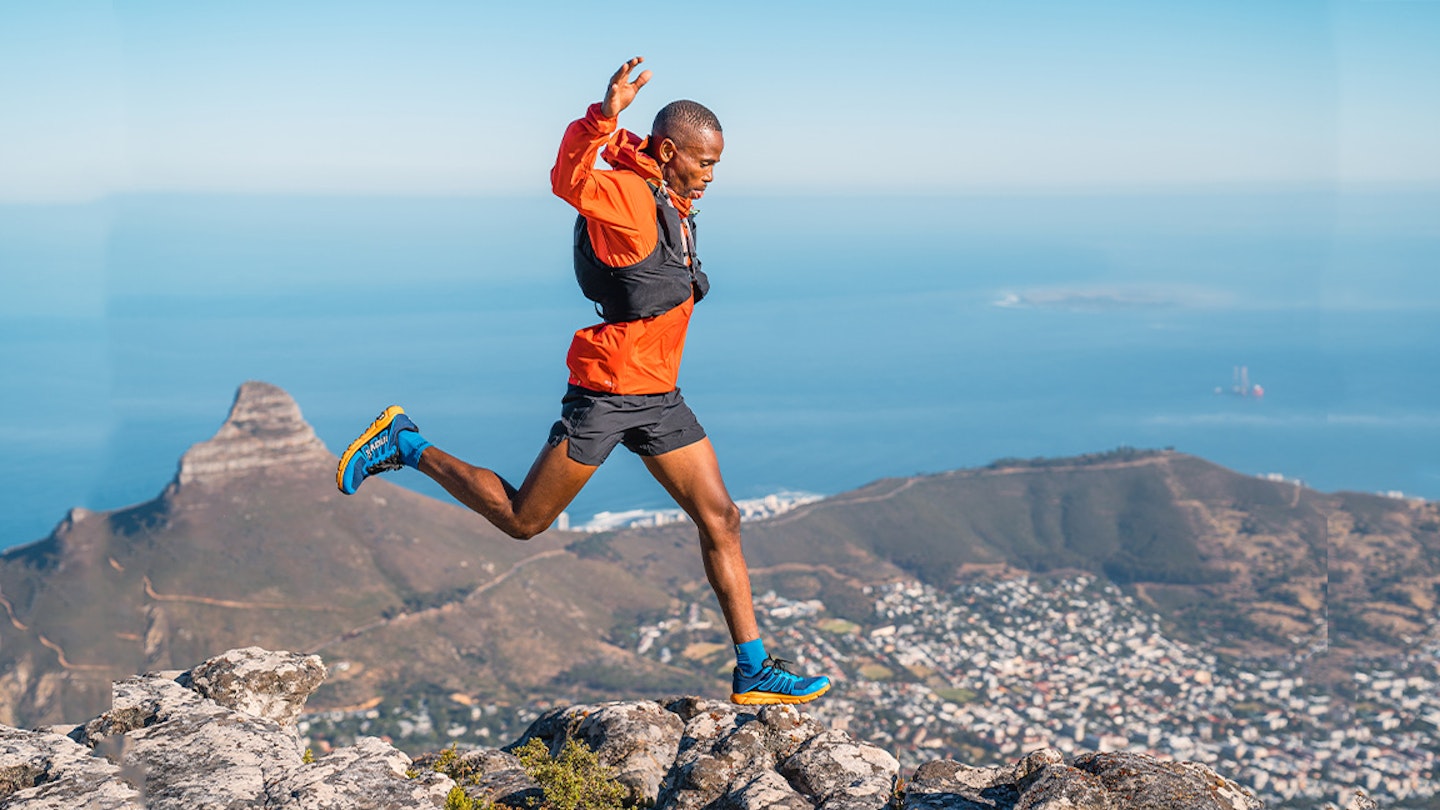 Rocky terrain characterises many fell and mountain routes, while longer races like mountain marathons and ultra races often involve tackling multiple miles of steep, rocky paths. For these conditions, you'll want a superlight shoe that delivers plenty of cushioning with a fast, responsive ride, plus good traction for wet rock – like the Inov-8 Trailfly series.
Inov-8 Trailfly G 270 V2
The Trailfly G 270 V2 is a multi award-winning trail running shoe that's a go-to speedy ultra distance running shoe. The latest model has been improved to give a better fit, greater comfort, and longer-lasting durability, thanks to the redesigned upper.
While greater stretch and breathability in the forefoot, plus an improved ankle cut and extra heel padding aim to increase comfort and hold. A more cushioned, slimline tongue further enhances fit. Inov-8 says that the new lightweight mesh upper material has been lab-tested and proven to be 25% more durable than its predecessor.
The rest of the shoe is still built on snappy Powerflow Max foam cushioning with a super-springy Boomerang footbed and fast-feel, zero-drop positioning. Underfoot, you get super-tough 4mm Graphene-enhanced G-Grip rubber lugs.
Inov-8 Trailfly Ultra G 280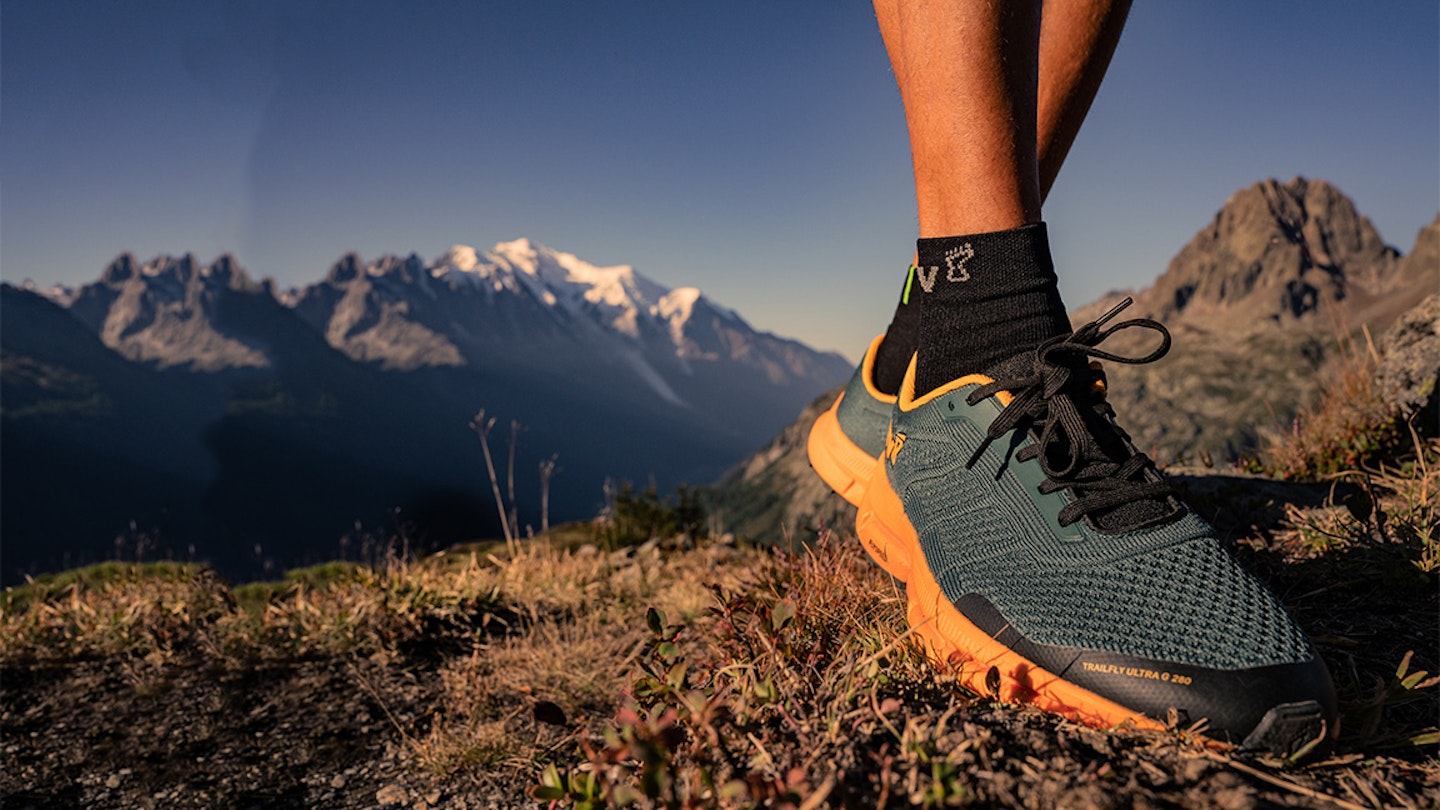 For even more bounce, there's the new Trailfly Ultra G 280. This shoe has been engineered to give trail runners the ultimate comfort in long-distance performance, whilst still feeling lightweight and controlled underfoot. Boasting a new nitrogen-infused midsole foam that is light and sustainable, it aims to ensure runners feel connected to the trail thanks to a unique combination of flex and spring, while cushioning your every step.
Terrain: Muddy trails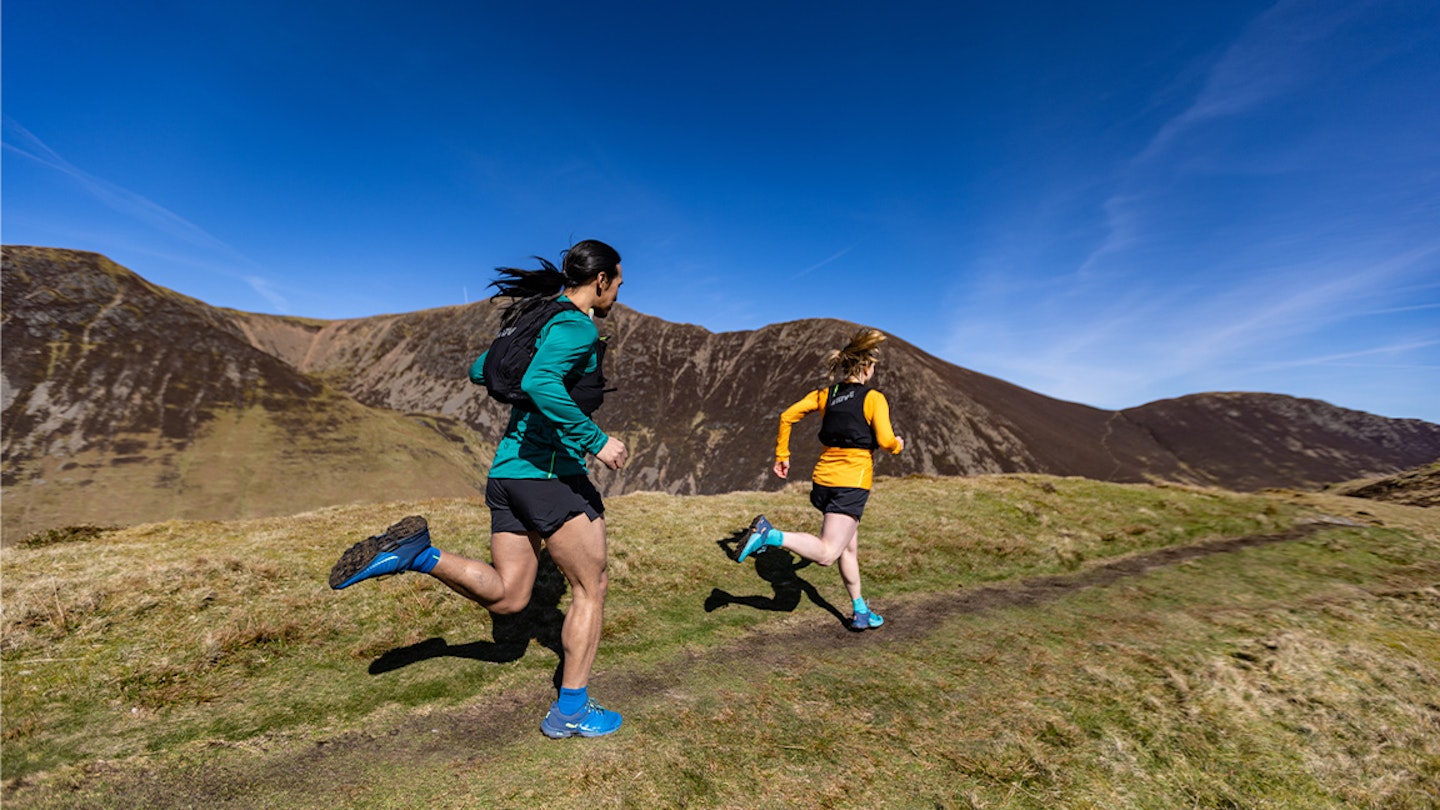 Muddy trails can be sticky, slithery and unstable, which makes reliable traction essential. This is typical terrain across much of the UK, from Lake District fells to Scottish bogs. To conquer these soft, sloppy trails, you'll need a shoe with a more aggressive tread that will grip without clogging, like those in the Inov-8 Roclite series.
Inov-8 Roclite G 275 V2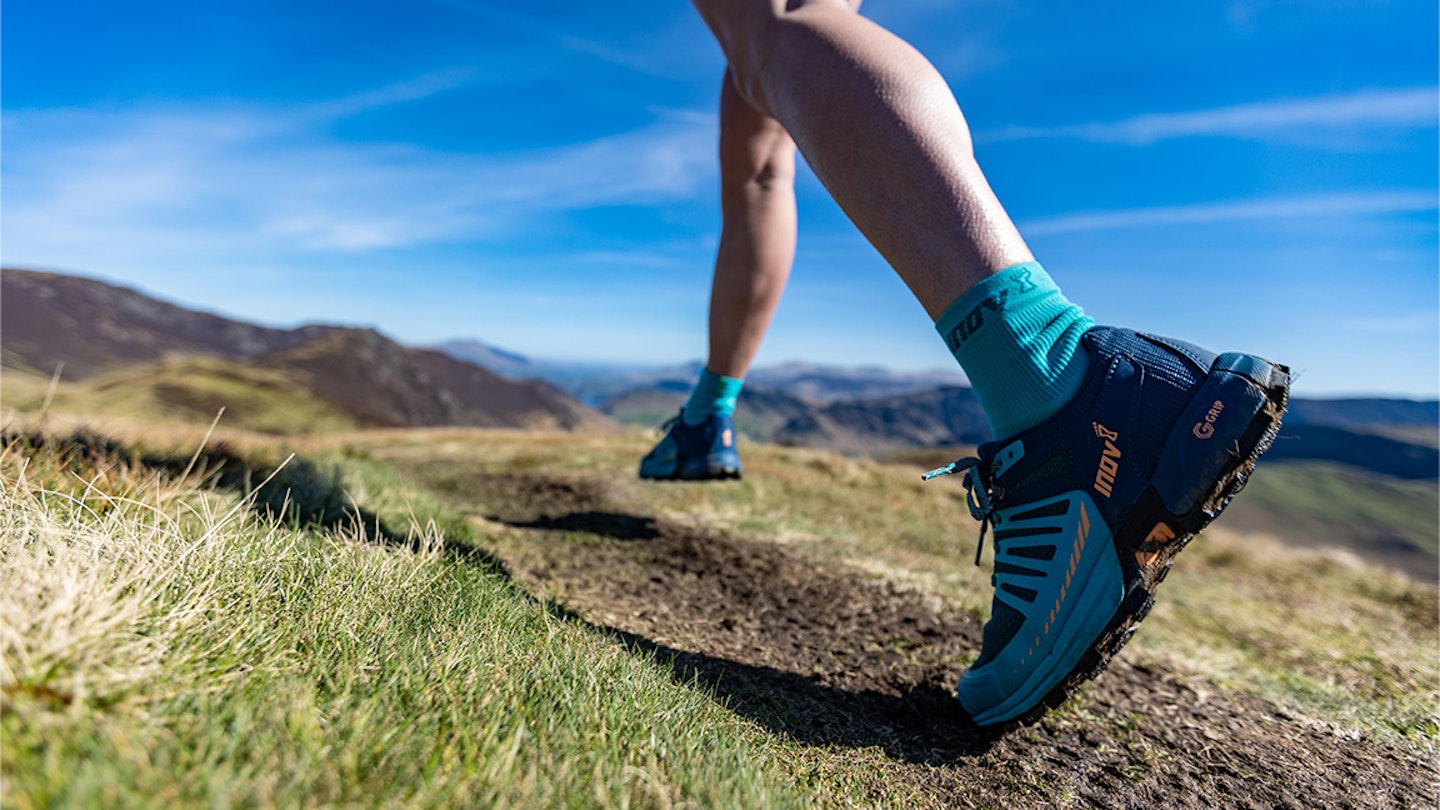 Renowned for its versatility, the Roclite G 275 V2 trail running shoe performs brilliantly in the sticky stuff but can also handle dry, dusty tracks. Grip-hungry 6mm lugs dig into soft ground, yet hold firm on harder terrain. The rubber is also infused with Graphene for hard-wearing, long-lasting performance.
The latest version also features upgrades in the midsole and uppers. The midsole is built from Powerflow Max foam for greater comfort, cushioning, and energy return. Below the foam, a flexible rock plate delivers stable underfoot protection, while above it sits a super soft and bouncy boomerang footbed.
The upper has been redesigned to give a better locked-in fit, with a new tongue and a wraparound Adapter-Fit cradle system that connects the midfoot to the heel. Tighten the laces and the cradle tightens too, pulling everything together for a secure fit that also adjusts to the natural movements of the foot.
Lastly, the mesh material that covers much of the upper is now 25% stronger than its predecessor and made of a tighter – yet still highly-breathable – weave that gives greater durability and repels more grit.
Inov-8 Roclite Ultra G 320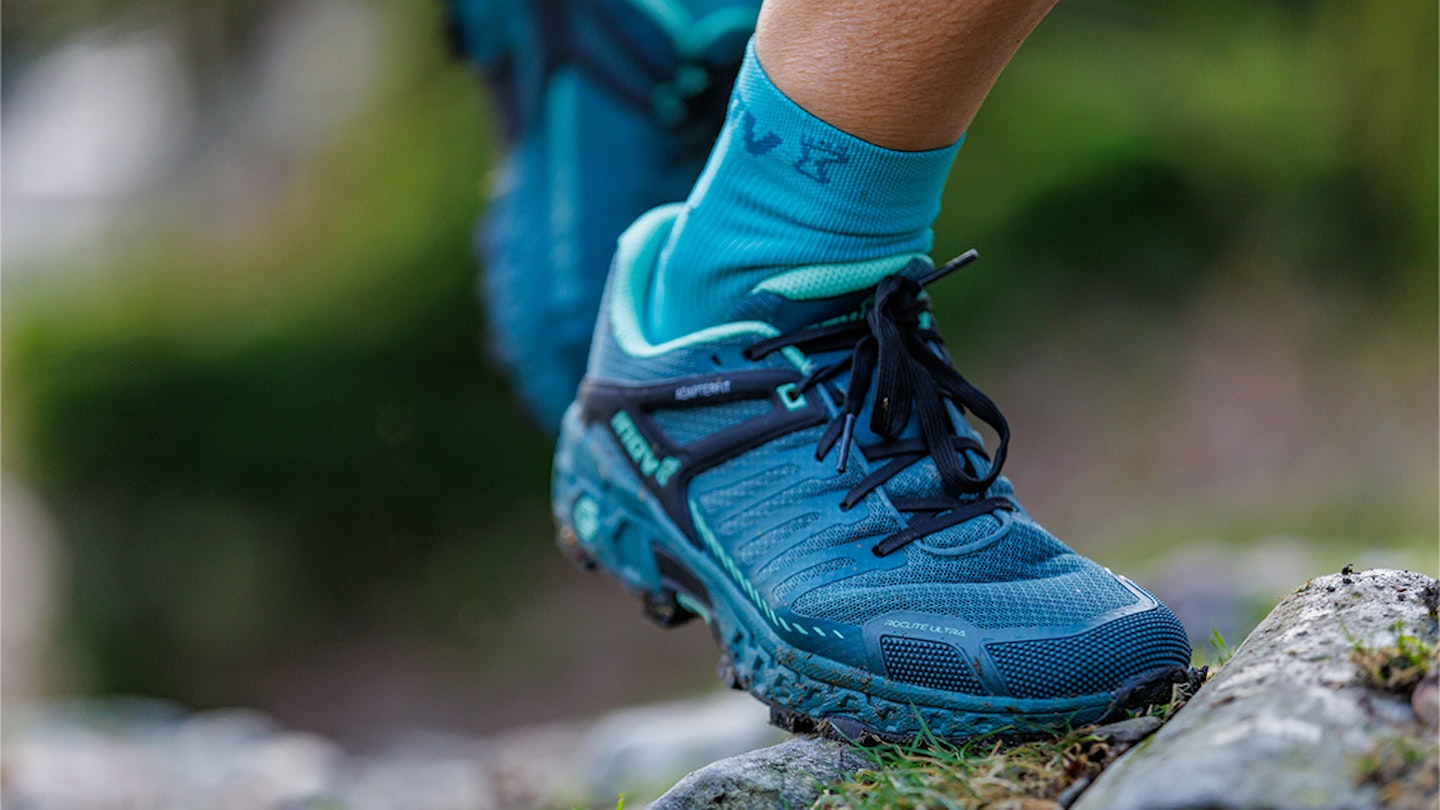 The first Roclite shoe to feature Graphene in both the rubber outsole and foam midsole, the Roclite Ultra G 320 gives all-terrain grip for longer runs and adventures when extra cushioning is desired. Like its stablemate, it is equally happy on or off trail, with versatile 6mm Graphene-enhanced lugs.
G-Fly Graphene cushioned foam provides greater energy return that's designed to last for longer, while a super-tough new mesh upper, improved locked-in fit, flexible rock plate, and reinforced toe bumper all work together to keep feet secure and protected.
For all the latest news, tips and gear reviews, sign up to the Trail Running Newsletter.