The humble women's running legging should offer a perfect blend of performance and comfort. Running leggings are designed to provide support and flexibility during runs of any intensity or distance. In this article, we've gathered run tights from the best brands in the biz, bringing you our honest recommendations for running.
A staple in any woman's wardrobe, a good pair of running leggings, along with running shorts, will also double-up as your go-to tights for hikes, that early-morning yoga class, and even popping to the shops. Of course, running leggings should above all be primed for a run, with sublime breathability and no-budge features. But the best leggings will also be versatile.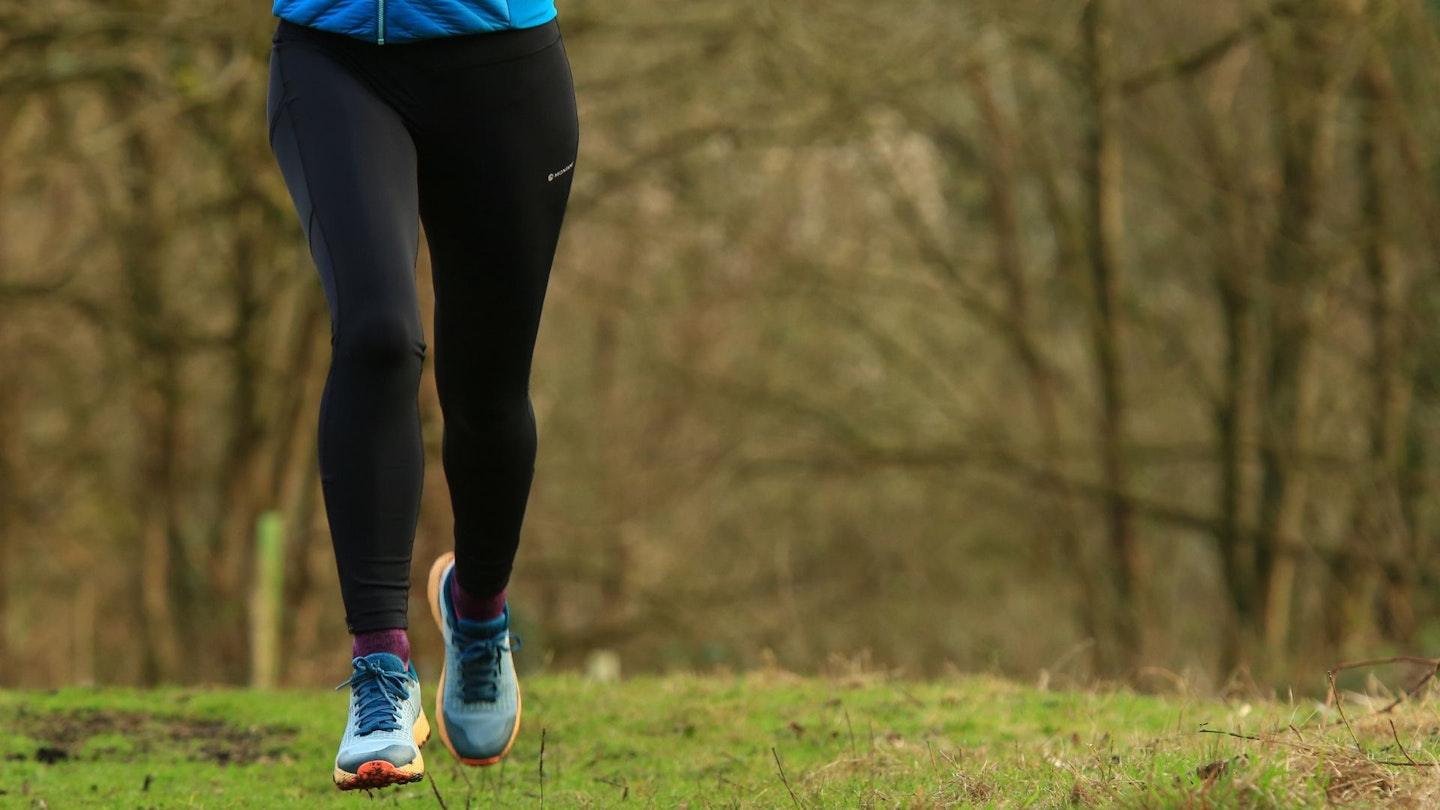 Our shortlist
Montane Slipstream Trail Running Tights – Best in Test
Decathlon Emboss Trail Running Long Leggings – Best Value
BAM Flexa Seamless Running Leggings – Best for sustainability
Under Armour Rush SmartForm Ankle Leggings – Most comfortable
On Running Performance Tight – Most versatile option
Badass Mother Runner Leggings – Most colourful
Ronhill Tech X-Tights – Recommended for weather protection
Rab Talus Tights – Recommended
Hoka Performance Tight – Recommended
Let's not also forget the need to look good! Yes, feeling stylish does make you run faster, it's proven. That's why we've rounded up our favourite running tights that are flattering yet comfortable, while remaining practical for multi-activity use.
Best women's running leggings
Best in Test
Description
The running equivalent of a high-end sports car, you can see that Montane has paid real attention
Pros
Unrestrictive
High waistband with drawstring
Loads of storage
Made from eco-friendly re-generated nylon
Zips and anti-slip hem at the ankles
Cons
Minimal reflective details
Come up a tiny bit large
Best Value
Description
We were thoroughly impressed by the Decathlon Emboss leggings, especially considering their
Pros
Exceptional value
Pockets galore
Ankle zips
Uses recycled material
Cons
Less breathable than some
Best for sustainability
Description
On first view, we wondered if these BAM Flexa leggings were actually a base layer, as the soft
Pros
Made from sustainable, degradable materials
Super soft and comfy
Good for sensitive skin
Minimal seams
High-waisted
Cons
No pockets
Retain water
Sizing comes up large
Most comfortable
Description
Sliding on the Under Armour (UA) Rush SmartForm Ankle Leggings, we were immediately struck by
Pros
Lightweight and breathable
Super comfy waistband
Phone pocket that stays up!
Cons
Could use more secure pockets
No eco credentials
Most versatile
Description
The On Running Performance Tights are some of the more versatile running leggings we've come
Pros
Made from 75% recycled polyester
Secure phone pocket and rear zip
Silky smooth and versatile design
Cons
Less affordable than others
Weather protection
Description
These Tech X Tights from Ronhill provide a good fit with generous leg length. A high, thin
Pros
High-waisted with added security of a drawstring 
Cosy, breathable material that holds its shape and stays in place 
Reflective detail
Cons
One pocket that doesnt fit a phone 

Gets wet and stays wet 
Bobbling after one wear
Most colourful
Description
A brand designed by a mum struggling with her mental health, the print alone of these Badass
Pros
Great value for money 
Great fit 
Attractive fun and design
Thick, high waist band 
Loads of pockets
Cons
The design may not be everyone's style
Recommended
Description
The Rab Talus leggings are true to size, flattering, and contour the body perfectly. They form a
Pros
Effective moisture-wicking
Reinforced material
carbon-neutral company
Recommended
Description
The Hoka Performance Tights are attractive, blissfully soft, smooth, and thick, making them
Pros
Super soft and form-fitting fabric
Made from 75% recycled materials
Three useful pockets
Cons
Slightly thicker than others
Key features to look out for in women's running leggings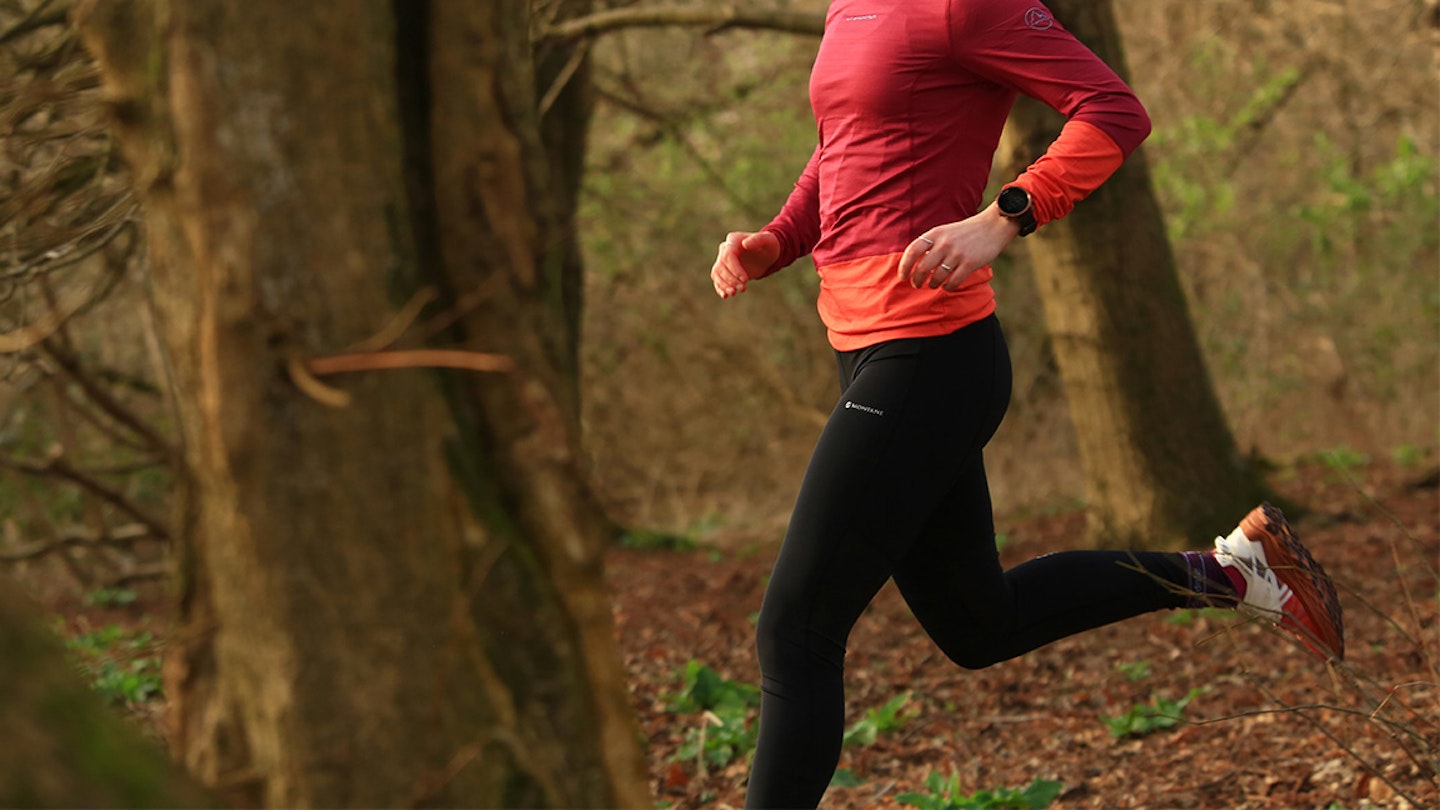 Leg length: Running leggings come in full, 7/8, and 3/4 lengths. Full-length is generally best for winter because it provides more coverage. By contrast, 3/4-length is better in milder conditions. And 7/8-length occupies a happy mid-ground, angling towards versatility. They are often a good option for those of shorter stature too.
Materials: Polyamide or polyester fibres intertwined with a stretchy material like Lycra is what the vast majority of running leggings are made of. Given this widespread use of synthetic material, buying leggings that use recycled fabric is always better.
Sweat-wicking: Running leggings are typically made from moisture-wicking fabrics, such as polyester or nylon blends, which efficiently draw sweat away from the skin to keep you dry and comfortable when running.
Compression: Many running leggings provide graduated compression, which aims to improve blood circulation and reduce muscle fatigue. Compressive material also provides support and reduce bounce as you run.
Breathability: The fabrics used in running leggings are often designed with breathable panels or mesh inserts, typically behind the knees or along the sides. These promote airflow to regulate body temperature during particularly hot runs.
Flexibility: Running leggings are normally designed with four-way stretch capabilities, allowing for unrestricted movement. This ensures full range of movement when you run, which is key.
Waistband design: Wide and elastic waistbands with drawstrings are common in running leggings, providing a secure fit and preventing them from slipping down during exercise. Women in particular tend to prefer a high-waisted and wide waistband, which should add support and comfort to your run.
Pockets: Some running leggings feature discreet pockets, strategically placed to hold small essentials like keys, energy gels, or a smartphone. Many also have larger pockets situated on the leg, or at the rear, to slide in your smartphone. We would advise the more pockets the better!
Anti-odour technology: Certain leggings, and indeed general sportswear, incorporate anti-odour treatments to fend off bacteria and keep the leggings fresh even after sweaty runs.
Reflective elements: Safety is a priority in running gear. Many leggings incorporate reflective elements, such as strips or logos, to enhance visibility during low-light conditions.
For all the latest news, tips and gear reviews, sign up to the Trail Running Newsletter.