The Shokz OpenFit running earphones join a long dynasty of Shokz open-ear headphones made for use during exercise. For the first time, Shokz have developed a new look for running earphones with the release of the OpenFit. But are they worth spend? We put the OpenFit to the test…
If you're familiar with Shokz as a brand (previously Aftershokz), then you'll know that they were key in introducing the concept of bone conduction audio to the sporting sphere. They did so with the popular release of their first mono-design headphones, which they named Aftershokz. These were ideal for running as they provided listeners with noise isolation without noise cancellation, meaning it was still possible to hear and maintain awareness of your surroundings when running. A big safety tick.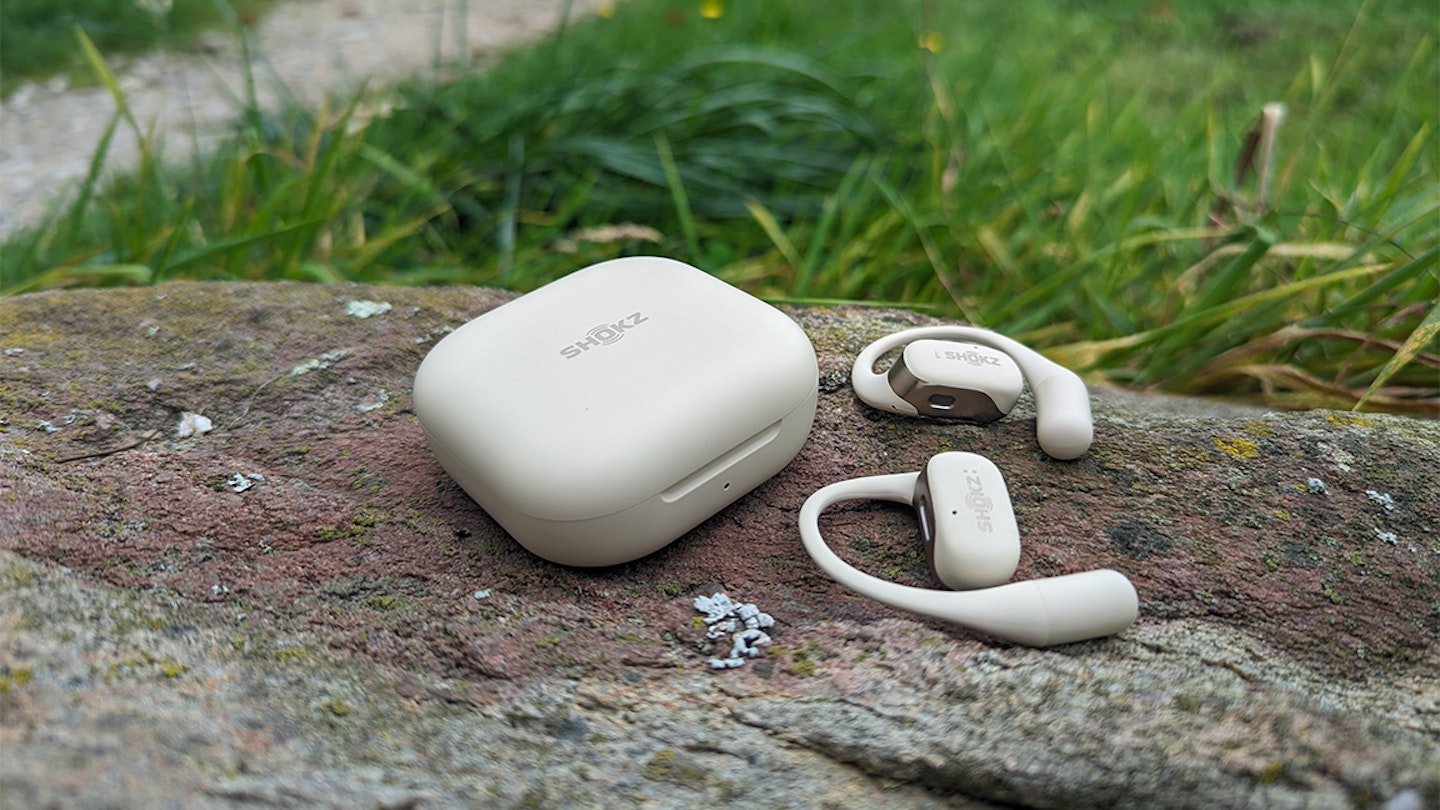 The headphones were so popular that they're still the favourite of many sportspeople and winners of our best in test running earbuds, though they've had a couple updates and now go by the name of OpenRun.
No one would blame you for assuming that the OpenFit is more or less the same deal: bone conduction, but split into two earbuds. But you'd be wrong. The OpenFit concept is centred around the same open-ear design, but instead of bone conduction they use their 'DirectPitch' open ear technology.
Pros
Great audio quality
Still hear surroundings for safety
Stay in the ear comfortably
Customisable audio
Two separate earbuds versatile for everyday use
Cons
On pricier end
Touchpads highly sensitive
No way to switch off when not in case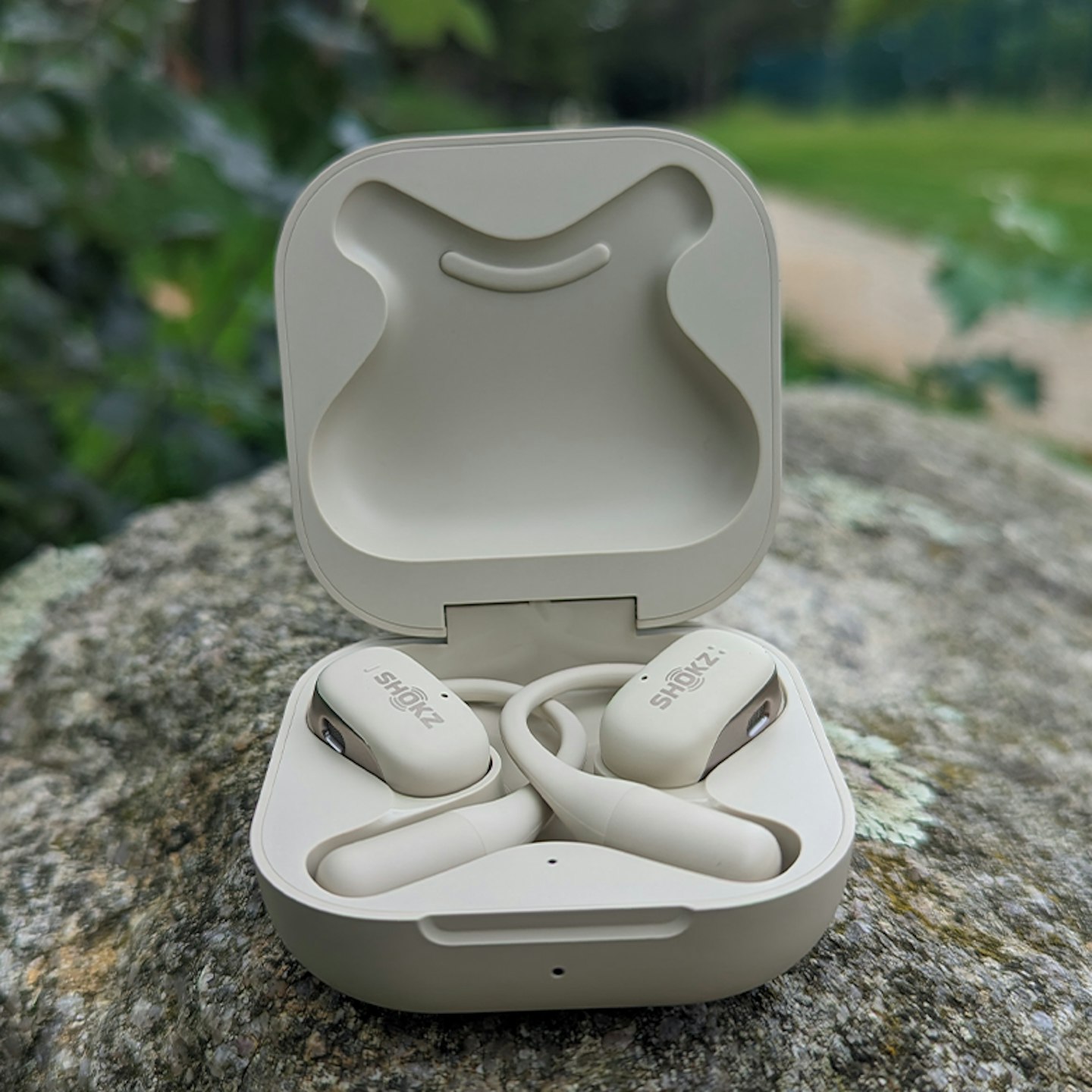 Features and design
The OpenFit earbuds have an arched design that hooks over the ear, with the audio-playing 'bulb' positioned just above the ear canal, without going inside like your standard earbuds. The earphone's end part then wraps over the top of the ear and tucks away behind the earlobe. Bluetooth 5.2 connects the earbuds to your phone for audio playing and there's also the Shokz app for further personalisation.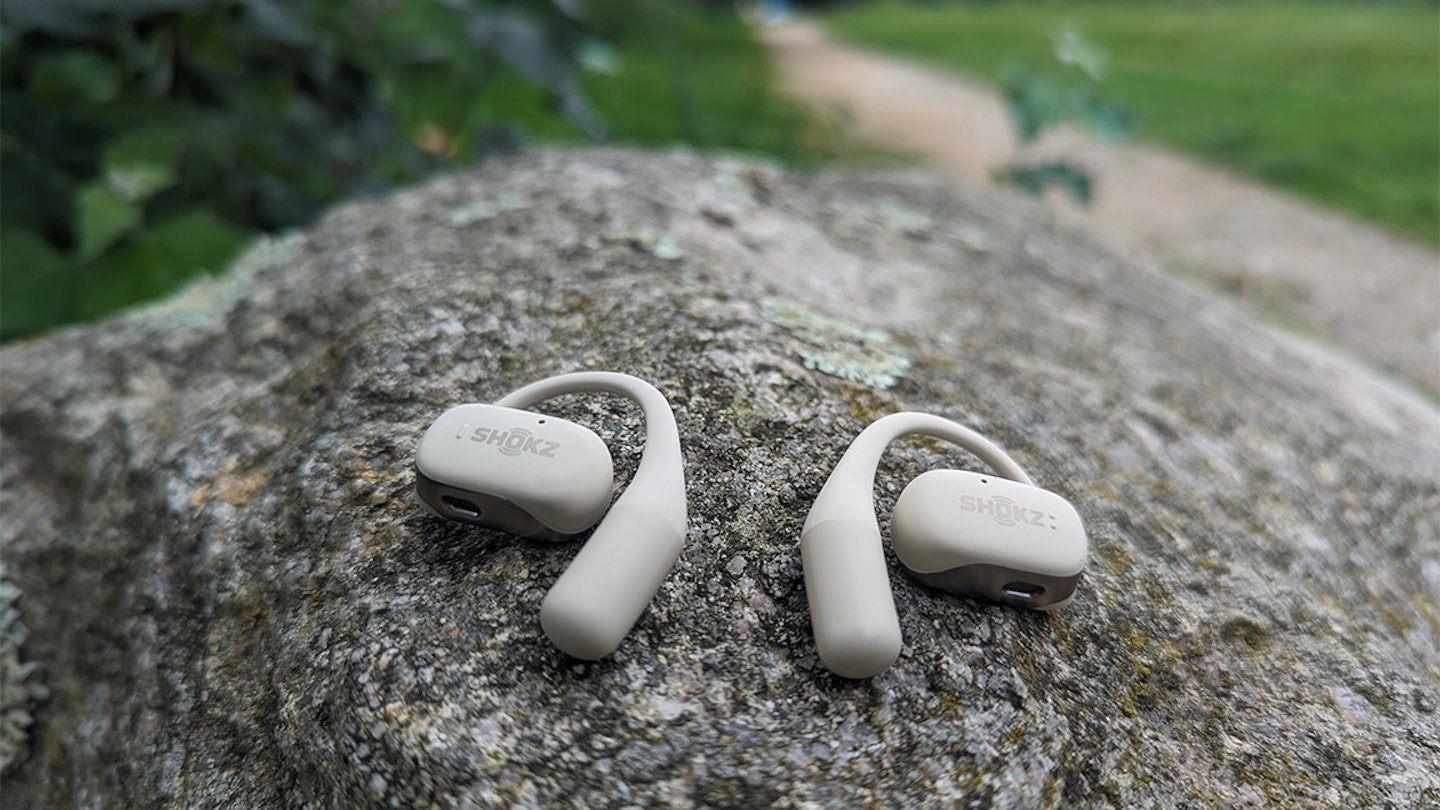 To charge, pop them in the provided case where the magnetic charging strips automatically line-up and start re-juicing the earphones. Combined with the case, Shokz says the earbuds hold up to 28h of charge, and around seven hours without. The case takes two hours to re-charge via USB-C and a five-minute charge results in an extra hour of playtime.
When it comes to the technology at play here, Shokz says that their DirectPitch audio system precisely directs sounds waves through the ear by use of varying pressure distribution. The result being a high-quality 'enhanced audio experience' that immerses the listener into the music.
To compare, their products typically use bone conduction which rather than transmitting audio through air, relies on vibrations sent through the cheekbones to the inner ear, bypassing the eardrum. Having used both systems, the DirectPitch does seem to have a very similar result to bone conduction when it comes to maintaining that situational awareness, just with less vibration. Yet the audio seems clearer and crisper, potentially down to the 18x11mm dynamic driver and range control which can adjust the equalisation (EQ) to the listener's tastes.
Unlike other earbuds we've tested, the OpenFit support mono audio listening, so you can only wear one earbud if you wish. To pair the earbuds with a new device, it's a simple tap and hold on the bud section.
Performance
Each earphone is slim at 8g and ergonomic, creating a perfect balance to fit over the ear without bounce or discomfort. Since they don't actually go inside the ear, there's no need to find the right sized earbud, and no falling out when they get sweaty. We love that the open-ear set-up results in no uncomfortable pressure points. You forget you're wearing them, and don't inhibit the use of glasses or running sunglasses.
We can't stress enough the importance of being able to hear your surroundings as you run. It's downright dangerous to do sport outside with earbuds that don't afford you this awareness. As expected, it can be hard to hear audio when running in very loud environments. But you can't have it all and stay safe. On those quieter country roads and trails, the OpenFit's rich sound quality really gets to flourish.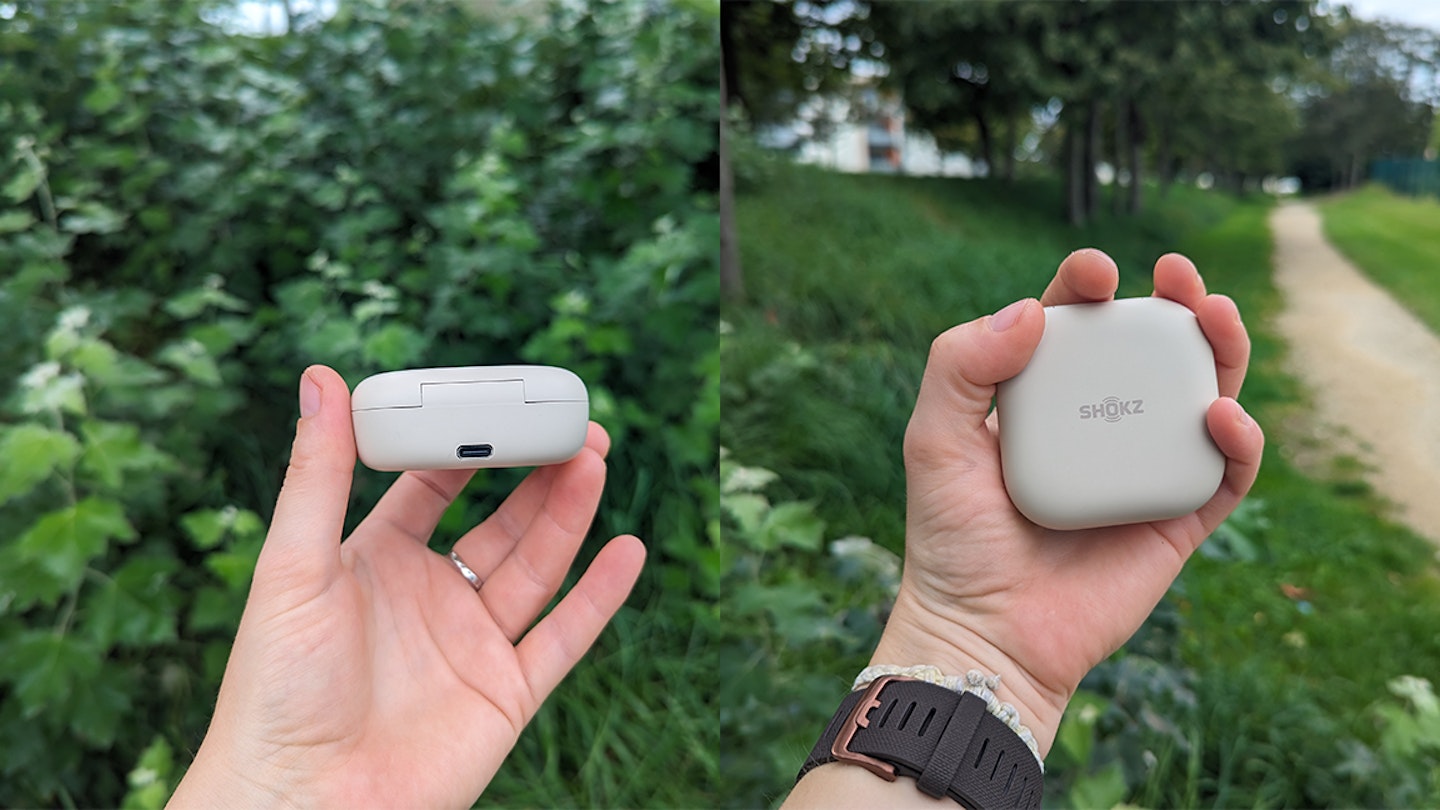 The included charging case is a smooth square that sits in the palm of your hand. It's not as dainty as others and the glossy inside makes it look a little cheap, but it's easy enough to slot in the earbuds and recharge. We're testing the beige version, but there's also a matte black colour option.
It might seem inconsequential if you don't have long hair, but we like how you don't need to tie your hair up with the OpenFit. Other Shokz headphones have a mono-unit design linking across the back of the head, necessitating the hair sit at a certain height so as not to get in the way. All this means is that you can slip them on and go right away, and they're more versatile for everyday use; taking calls and listening to tunes.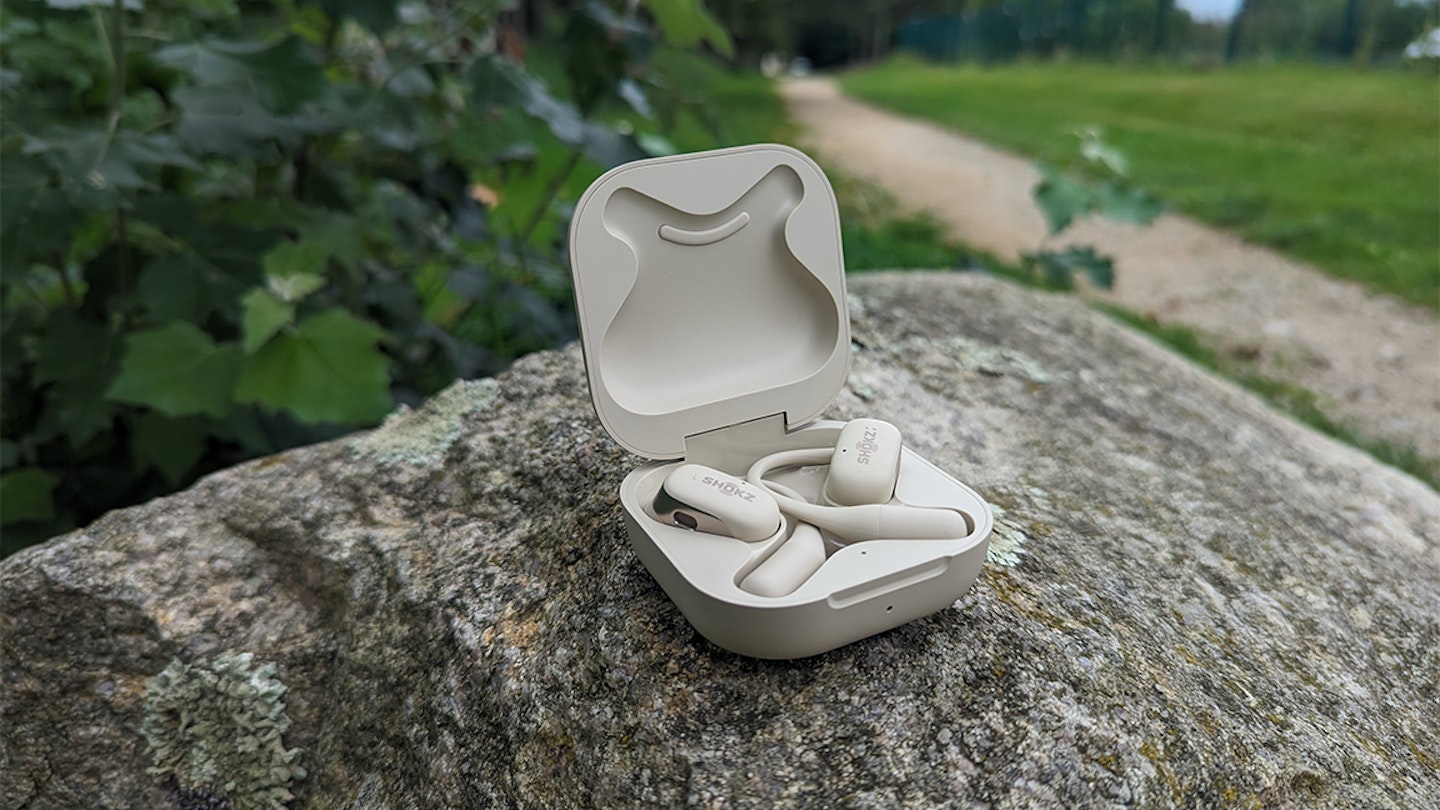 Listening modes can be changed via the Shokz app, where you can select extra emphasis to be applied on the bass, treble, or vocals if you wish. The app's where you can also customise the touch controls. They're extremely sensitive, so it's worth being aware of this if you do need to adjust them mid-run.
The earbuds come calibrated to play/pause with a double tap and to change track by a tap and hold. We're more interested in having the controls switch off the headphones when not in use, but there's no way to switch the earbuds off when they're outside the case, which can drain the otherwise decent battery.
Made from PC and silicone, the earbuds have a IP54 ingress protection rating, which means they're built to protect against dust ingress and splashes of water from all directions. That means they're not waterproof, though they stand up fine to sweat and drizzle. We'd just be cautious powering them up during heavy rain.
Sustainability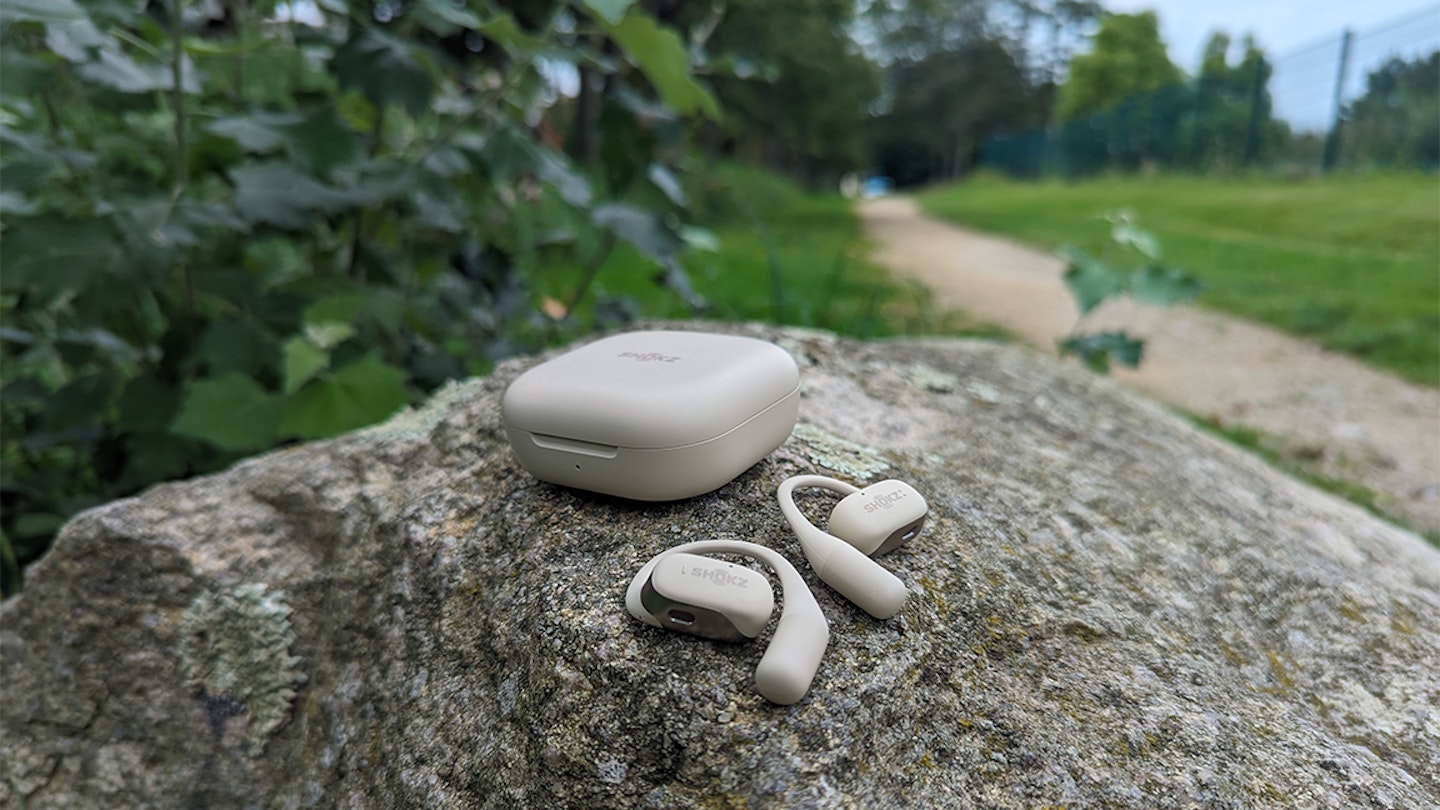 As you may guess with audio and tech brands, it's not as easy to use sustainable and eco-friendly materials in products. That's not to say that it can't be done though, with many companies adopting tree-planting policies and carbon-offsetting as a norm.
Shokz have no information on their website about how sustainable their practices are, nor is it mentioned whether the OpenFit are built from sustainably sourced materials, or in an eco-friendly manner. Though, it's safe to assume they're not made from biodegradable materials, like with some of Majority's earbuds. As pioneers when it comes to audio technology, we hope that Shokz will also look towards pioneering a path towards a greener modus operandi in the near future.
Price and competition
There's no beating around the bush, at £179 the Shokz OpenFit is not the most affordable option when it comes to running earbuds. But for the price you get a charging case, USB-C cable (no plug though), and two earbuds that fit seamlessly around any size ear and are probably the most comfortable we've come across.
Shokz have developed a new technology in DirectPitch air conduction that offers high quality audio while maintaining that open-ear design, which they've debuted with the OpenFit. While materials used include highly durable carbon fibre wrapped in a soft liquid silicone that sits against the skin.
If you like the sound of the Shokz, but your budget just won't stretch it, there are plenty of other wallet-friendly options (the best of which appear in our running earphones article).
Verdict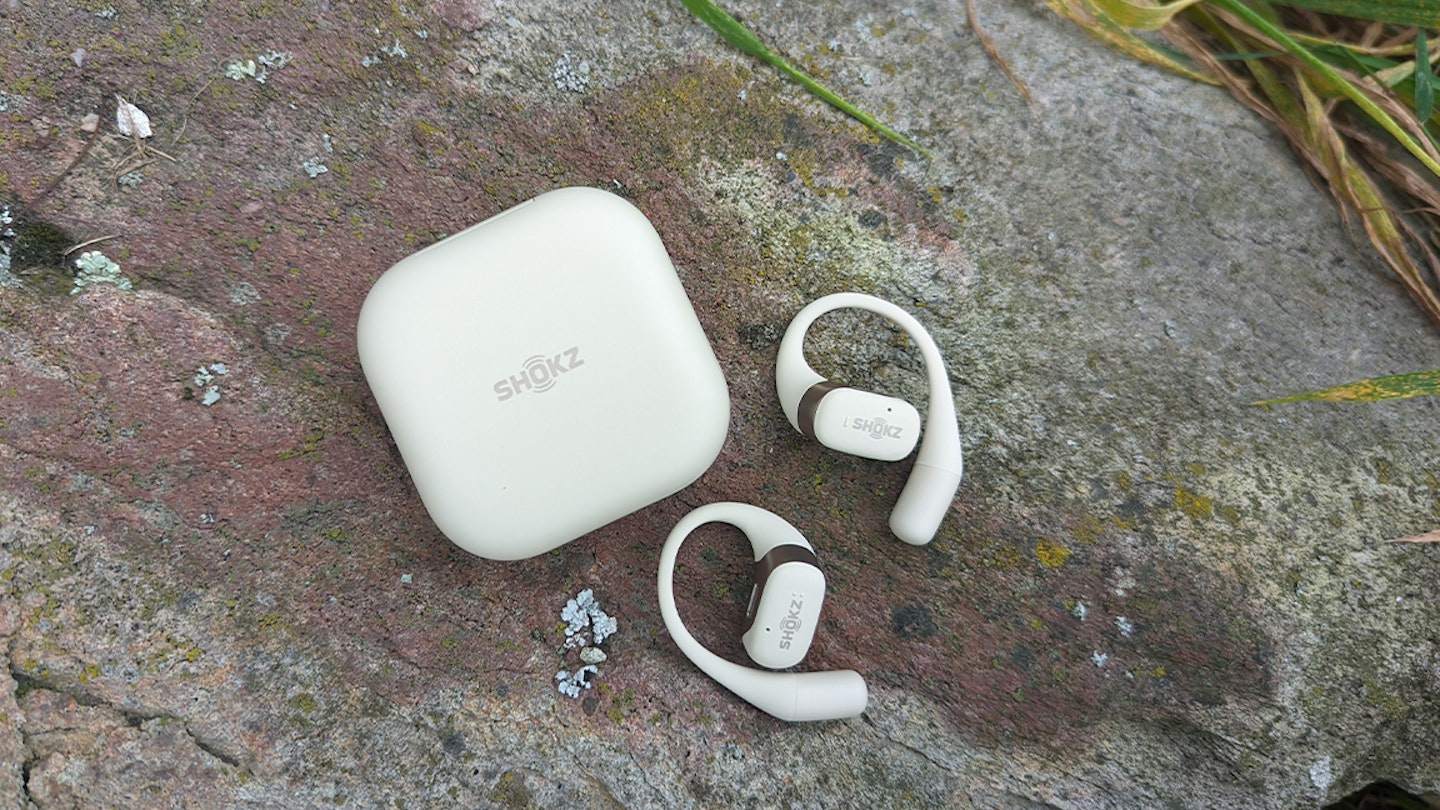 Overall, we enjoyed testing the OpenFit simply because they are highly intuitive to use, have a completely faff-free set-up, and offer a good amount of playback time per charge. Thanks to the open-ear design, you can run in security knowing that you're remaining aware of your surroundings. That's not to the detriment of sound quality, which is top-notch and customisable via the app. The Shokz OpenEar are the pair of earphones we'd reach for during fair weather runs, as well as to keep us company during long journeys.
For all the latest news, tips and gear reviews, sign up to the Trail Running Newsletter.