Did you know that you can actually waste energy when you're running from squinting against the sun's rays? The best running sunglasses will not only make running in bright conditions more comfortable, but also make you a more efficient runner.
When it comes to running sunglasses, it's all about the lens. To pick the right sunnies for you, consider firstly two things. One, what conditions are you likely to be wearing them in? For instance, do you run purely on trail, in overcast conditions, in forests, or maybe along exposed paths by the beach? These different conditions will elicit different lens types for optimal running vision and eye protection.
If your route has bright light conditions, you'll need a lens with minimal light transmission. If it's also a route that has plenty of reflective surfaces such as large stretches of water, metal, snow, or tarmac, then a polarised lens will reduce the harshness of this glare. While if you're partial to some technical trails, then a brighter hue like a rose tint will increase the contrast and make smaller details easier to spot.
The last key thing to consider is the kind of style and fit you're after. Of course, a good pair of running sunglasses should feel light and immovable on your face, which is normally achieved through grippy coatings or sleeves on the frame and a minimalist build.
However, sunglasses shape and profile largely comes down to personal preference. Consider if you like a smaller lens that doesn't ellipse your whole face, or if the wrap-around pro style suits you better and you prefer that bit more coverage that comes with it. Do like a frame-free lens silhouette, or prefer the structure provided by a full frame? Ultimately, the choice is yours.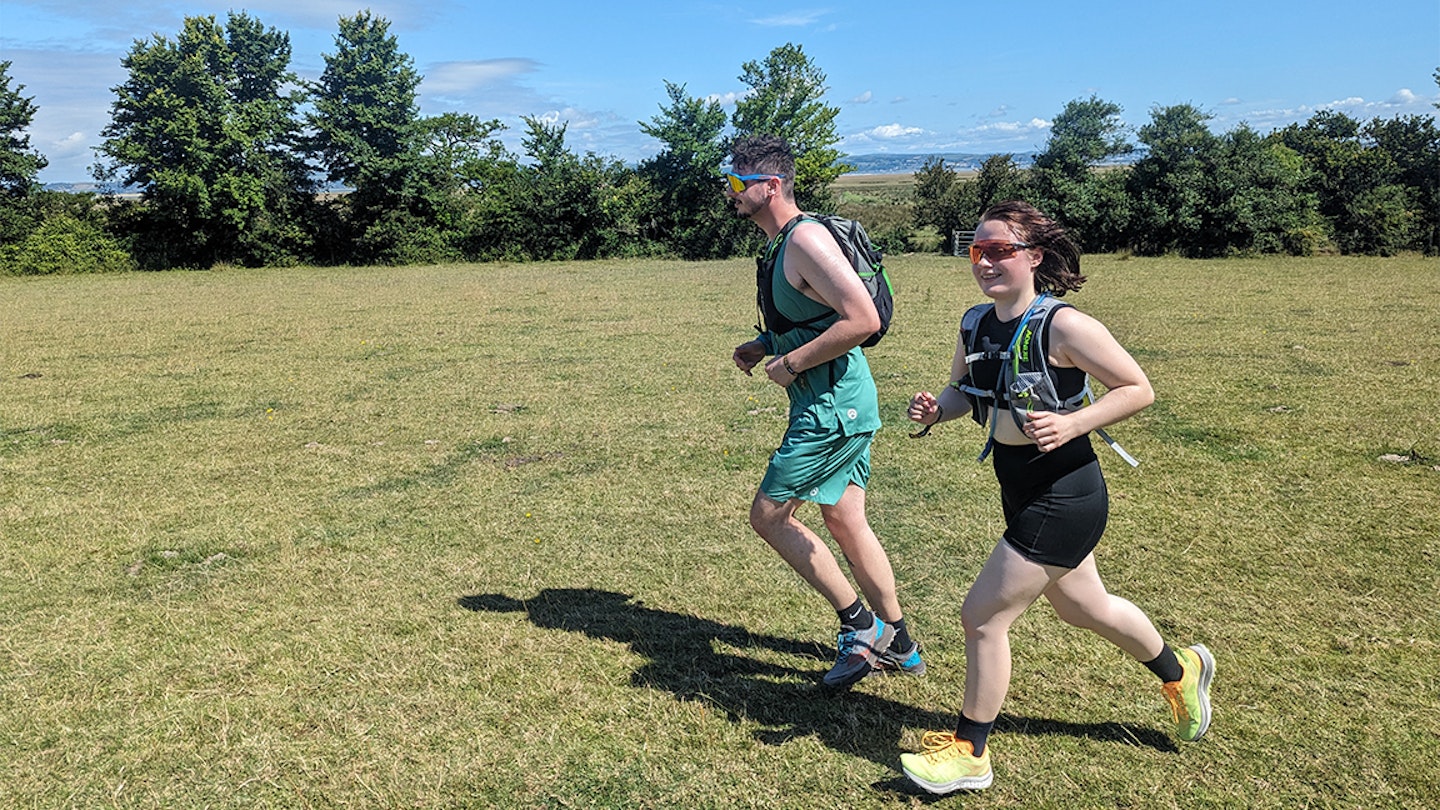 Best running sunglasses at a glance
Best on Test – Goodr OG Whiskey Shots with Satan
Best Value – Decathlon Runperf 2
Best lens coverage – SunGod Ultras
Best high performance – Dynafit Ultra Evo
In this guide, we talk through the key features of some of our favourite sunglasses for running. We've tested a range of running sunglasses in different styles, sizes, and with different lenses, to give you a good idea of the front runners when it comes to protecting your eyes on the trails. We've made sure to include some affordable options, as well as put to the test those in the high performance end of the market. Here are our findings...
Best running sunglasses in detail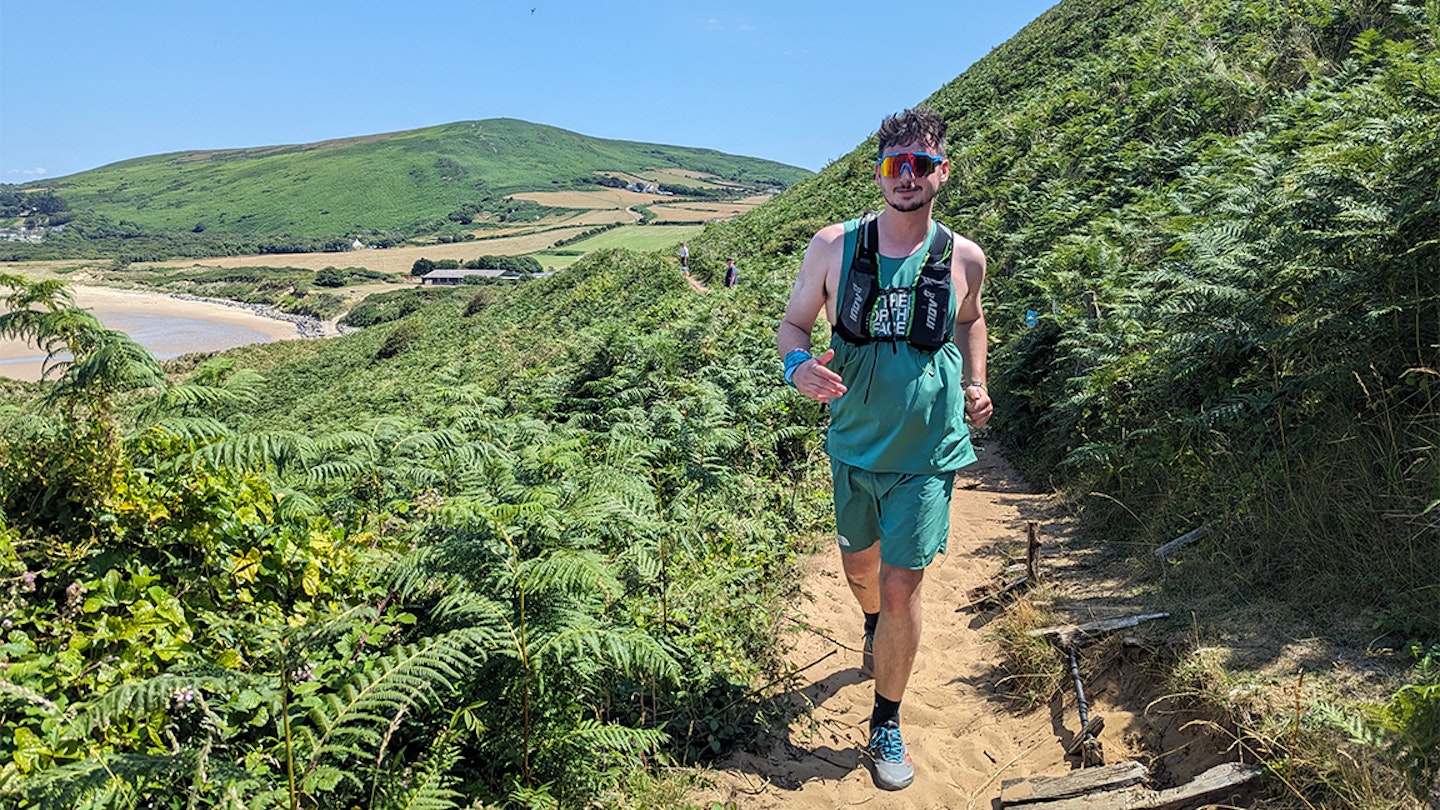 Best in Test
Description
Goodr is a sunglasses company committed to producing affordable and functional sunnies, as
Pros
Comfortable one-size sunnies
Mirrored and polarised lens
Lightweight
Great value for money
Cons
Coverage not as wide as a wrap-around lens
Best Value
Description
The Decathlon Runperf 2 are a simply designed pair of running and cycling sunglasses. They've got
Pros
Great value for money
Slight wrap-around form
Adjustable nose bridge
Cons
Mirrored style just for effect
Best lens coverage
Description
The SunGod Ultras have to be one of our favourite sunglasses to run in. It's all down to the
Pros
Great wrap-around lens coverage
Sits comfortably on the face
Grippy arms keep them in place
Cons
Not everyone will be a fan of the large profile
Best for high performance
Description
If you're going for the ultra sporty look, the Dynafit Ultra Evo fits the bill to a T. The Evo has
Pros
Wrap-around style equals lots of protection
Structurally rigid and strong frame
Well ventilated with no fogging
Cons
Large profile won't be for everyone
Recommended
Description
The Oakley Encoders are performance-focussed sunglasses made for functionality across various
Pros
High contrast lens equals great clarity
Great ventilation
So comfortable and lightweight you forget you're wearing them
Cons
Not for super bright conditions
Recommended
Description
The SunGod Tempests are built to last. Designed with SunGod's 8KO lenses which aim to provide
Pros
Great for larger faces
Versatile style doubles up as an everyday look
High-performance build with mid-range price
Cons
Might be too wide for small faces
Not as much coverage as a wrap-around lens
Recommended
Description
The Goodr Bosley's Basset Hound Dreams running sunglasses have the exact same construction as our
Pros
Double up as everyday sunnies
Polarised and UV400 protection
Lightest on test (21g)
Affordable price-point
Cons
Less coverage than others
What sunglasses are best for running? Key features explained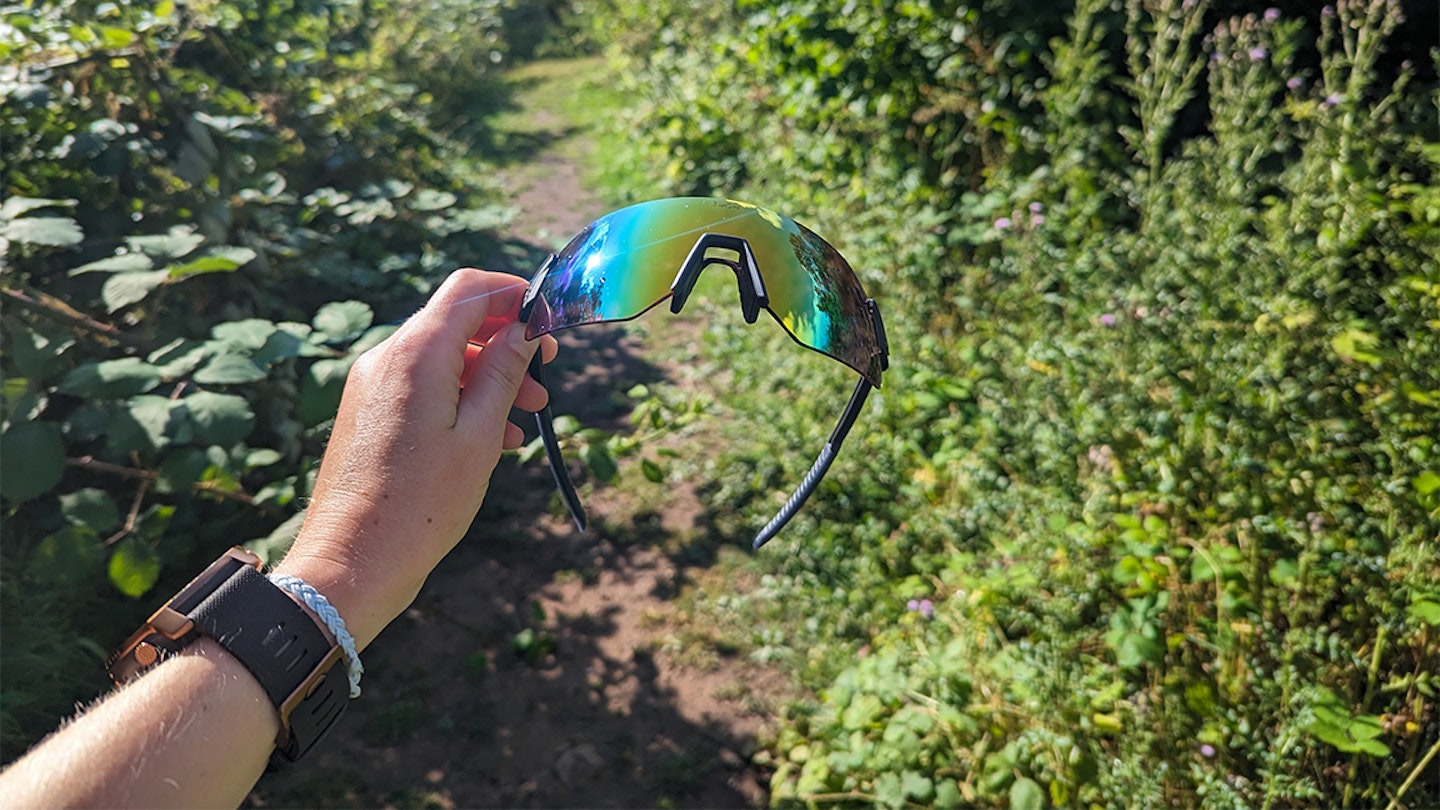 Lens – When it comes to your sunglass lens, you want to get it right. Most running and sports sunglasses lenses will be made from lightweight polycarbonate or polyurethane, while some will have additional coatings like those for anti-fog and anti-scratch. Polarised lenses are best for running in bright conditions where there's glare from reflection off lakes, the sea, or certain road surfaces. These lenses are made to reduce glare, as well as protect the eyes from UV rays. The UV protection is the most important though, so make sure your chosen sunnies have a minimum of UV400 protection.
Frame – The frame of your sunglasses should be grippy and rigid, while remaining as lightweight as possible. These days, many glasses follow a minimalist style with no framing around the lens, or a half-frame style, again to cut down on the grams.
Adjustability – Most sunglasses should have some level of adjustability, and that will normally be found in the nose piece. The glasses will either come with a nose bridge that can be bent to the right size, or multiple sizes to choose from. Not all sunnies will offer this though, with our best overall Goodr glasses coming as a one-size-fits-all pair. It's that their grippy frame coating and ergonomic design which helps them sit at just the right place.
What's the difference between UVA, UVB and UVC rays?
There are three main types of UV radiation. Ultraviolet A (UVA) radiation has the longest wavelength with the lower amount of energy of the three types, so manages to penetrate the earth's atmosphere and through the skin's dermis. Approximately 95% of the UV radiation that reaches Earth is UVA rays. Some Ultraviolet B (UVB) rays also get through, though not as much since the wavelength is shorter. Then there are Ultraviolet C (UVC) rays, which are the most harmful, but don't penetrate the earth's atmosphere. The highest UV protection rating available for sunglasses is UV400, which block 99-100% of the sun's rays.
What colour lenses are best for trail running?
The colour of your sunglass lens isn't simply for style purposes. A darker lens may feel gentler on the eyes in really bright lights, but could lack clarity when the sun goes in and it gets darker. Whereas, rose-tinted lenses can increase contrast, bringing clarity to those more technical sections on the trail.
Are polarised sunglasses better for running?
Polarised sunglasses refer to the extra glare protection added to a lens for running in bright conditions. Polarised sunglasses are particularly useful if you tend to run along routes that have lots of reflective surfaces, like stretches of water, the road, and cars. If you stick to trails 100% of the time and don't tend to hang out by a large body of water, then you're less likely to need polarised lenses.
Are photochromic lenses good for running?
Photochromic lenses are light-adaptive, meaning they're translucent in dark light conditions, and turn a darker tint when the lighting gets brighter. They're useful for people who don't want to swap between glasses, especially if lighting conditions are constantly changing. You can even get prescription photochromic lenses.
In theory, a photochromic lens for running sounds great, and it will work well for some. But some lenses tend to not get completely dark in bright conditions, and even then, the running conditions may well call for a brighter lens for high contrast. You can't control when the lens transitions. It can take up to a minute for the lens to transition and this is slowed down by the cold. They can also be more costly than your standard sunnies.
How we test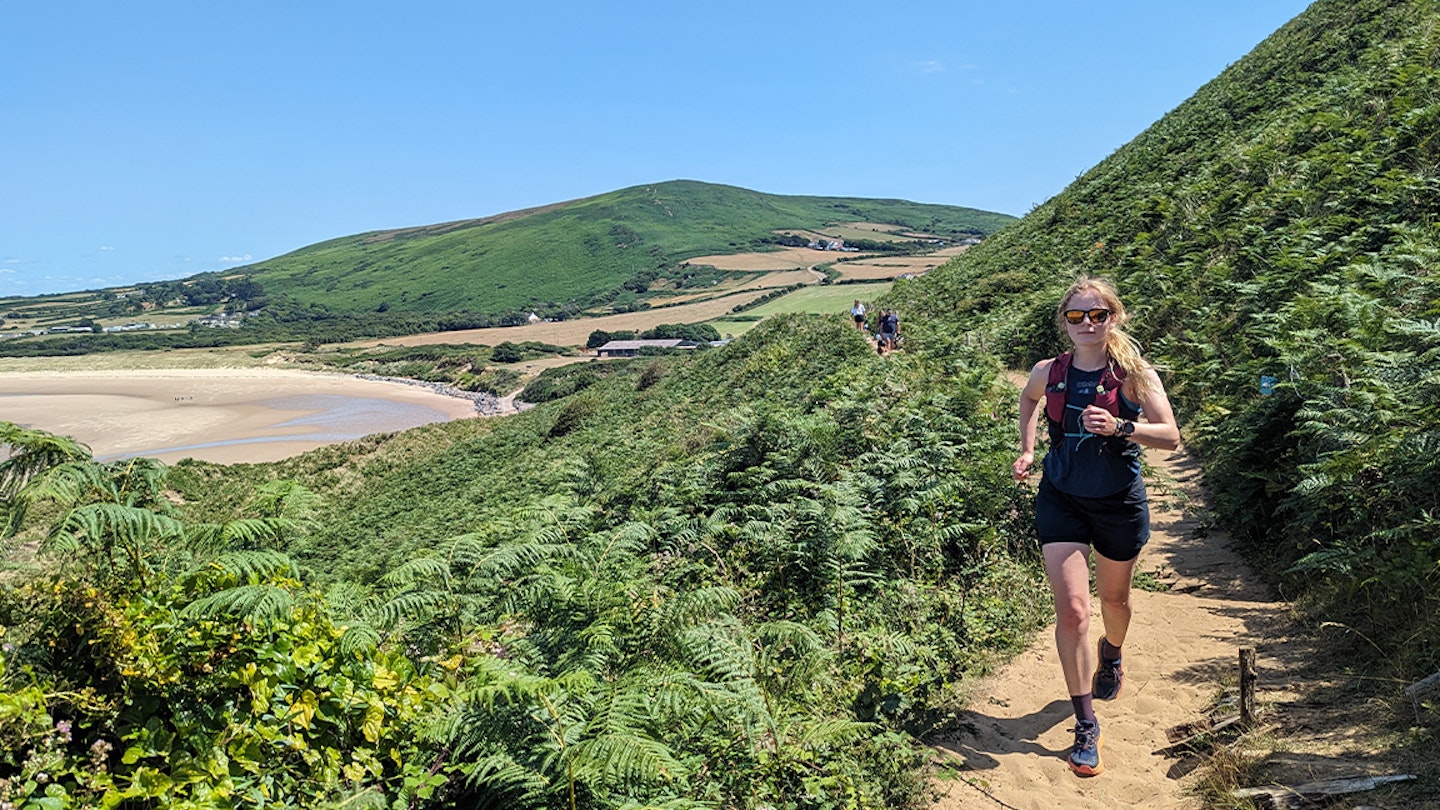 The running sunglasses we test are worn during runs across a range of light conditions, distances, and climates. As soon as we get our hands on them, we're testing not only their run-specific capabilities, but the durability of their materials, versatility across a range of conditions and adjustability for different head shapes.
We consider multiple factors when testing running sunglasses, but most of all whether they protect your eyes from the sun's harmful rays and stay on your face during movement. Then, there's the less obvious but also essential factors of comfort and style which are also considered.
Kate Milsom is a Digital Content Writer for Live For The Outdoors. She specialises in running journalism and run gear testing and has a background in triathlon and cycling.
For all the latest news, tips and gear reviews, sign up to the Trail Running Newsletter.