Wireless running earbuds allow you to listen to music or your favourite podcast as you run. They differ from your run of the mill headphones as they must be both comfortable and have certain safety features which allow you to remain alert on the road and trail.
If you like listening to your favourite tunes as you run and swear by a bit of music motivation to get you through an endurance effort, then you should be using run-specific earphones. By this we mean that they should be noise-isolating, but not noise cancelling.
For your safety, it's important to still be able to hear oncoming cars or other trail users. Hence why bone-conducting earphones, which work by transmitting sound vibrations along your cheek or ear, are increasingly popular amongst athletes these days.
Your chosen running earbuds should also feel lightweight and comfortable, sitting firm and stable in or around the ear, depending on the design.
Last but by no means least, the earbuds should have good connectivity and emit good-quality sound. Let's avoid that awful tinny music we all listened to off our flip-phones back in the day! These days, earphone music quality is only getting better and better.
Here are our favourite running earbud options we've hand-picked based on their performance, comfort, value and quality.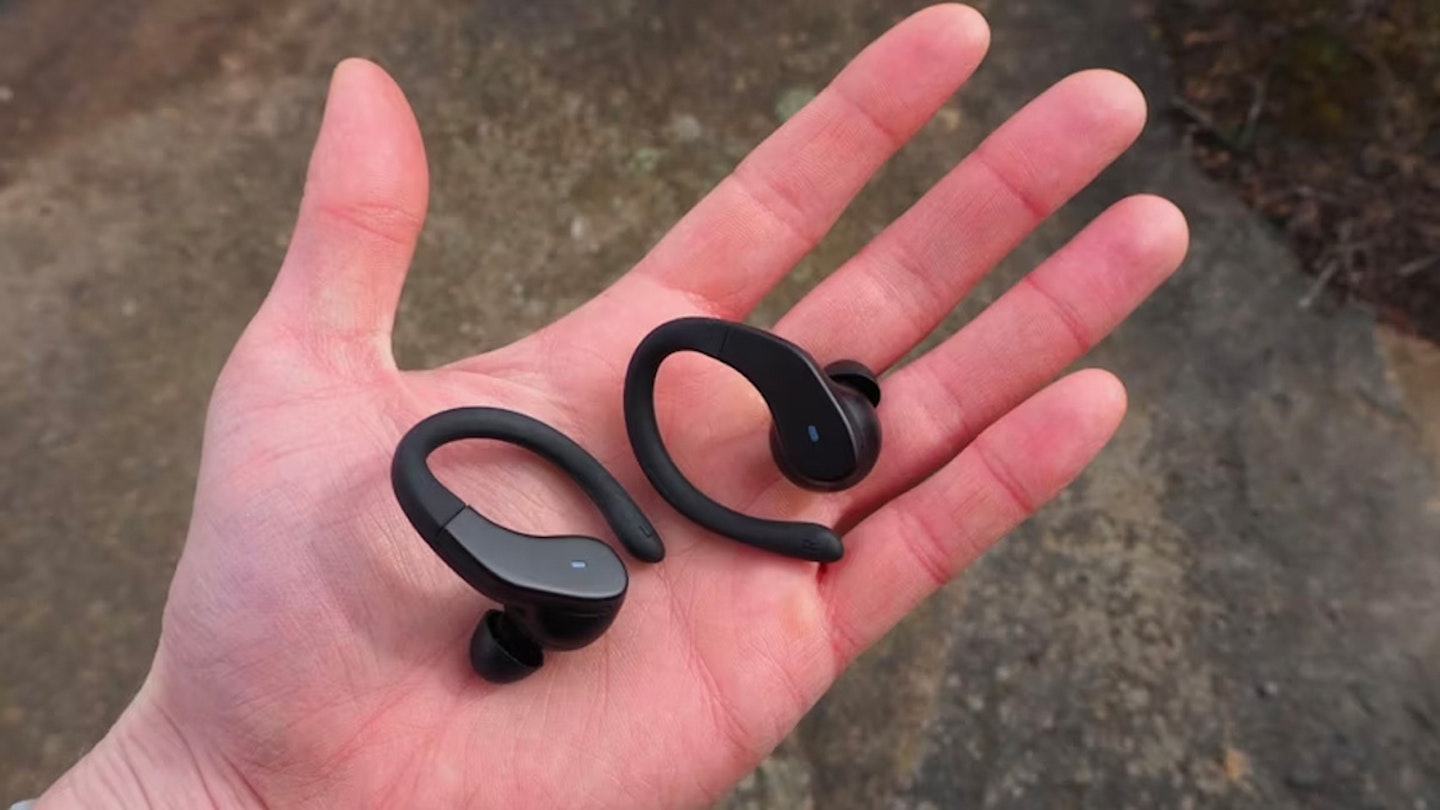 Our shortlist
Shockz OpenRun Mini – Best in Test
JLab Go Air Sport – Best Value
Jabra Elite 7 Active – Best for versatility
Shokz OpenFit – Best new technology
1More Aero Dynamic – Best everyday earbuds
Majority Tru Sport – Recommended
Soundcore Sport X10 – Recommended
One Odio OpenRock Pro – Recommended
All of our chosen options are completely wireless, meaning that Bluetooth connectivity is needed via a smartphone. You'll need to carry your phone with you in a running belt or running vest, which you can also stash with mid-run snacks (a win-win situation).
Of course, there are other key features you should look out for in running earbuds, which we've listed at the end of this article**.**
Best earbuds for running
Best in Test
Description
Shokz, formerly AfterShokz, is a leading brand in the world of wireless, bone conducting
Pros
Complete stability and comfort
Long-lasting battery
Quality audio but can still hear surroundings
Easy to use and good connectivity
Cons
Plus volume button close to off button
Not as suited to non-sport use as others
Best Value
Description
Budget friendly, a secure fit, and remarkably good sound quality; the JLab Go Air Sport earbuds
Pros
Very secure fit
Exceptional battery life
Well-balanced sound quality
Cons
Bulkier than other choices
Very few advanced features
Best for versatility
Description
The Jabra Elite 7 Active has become one of our favourite running earbuds to use. Jabra's whole
Pros
Good quality audio
Extremely lightweight
Easy to use and quick-charging
Highly versatile - can use for everyday as well as sports
Cons
Earbuds can fall out when super sweaty
Description
The Shokz OpenFit running earphones represent a new direction for Shokz, who are known for being
Pros
Great audio quality and technology
Situational awareness unobstructed
Highly comfortable 'hardly there' feel
Best everyday earbuds
Description
These lightweight and stylish earphones are ideal for lower-intensity runs and everyday use. The
Pros
Comfortable for hours
Companion app allows custom setup
Microphone retains clarity in noisy environments
Cons
Low-range sound can be quite muddy
Not the most stable choice
Recommended
Description
When it came to the Majority Tru Sport, we wanted to know whether it was really possible to find a
Pros
Great value
IPX7
Competitive run time
One of the best sub-£40 options for sound quality
Cons
If you're set on the longest possible run time, there are better options
Recommended
Description
The Soundcore Sport X10 have an innovative design, durable finish, and excellent audio output for
Pros
Swivel ear hooks are stable and adjustable
Over 32h of play time (with case)
Big bass for running beats
Recommended
Description
If you're after a pair of bone conducting earphones for your runs, then One Odio's OpenRock Pros
Pros
Best battery life we've seen at 46h (with case)
Useful to have bone conducting earphones that aren't connected
Comfortable on the ear
Cons
Less stable than others here
Chunky design a bit cumbersome
What to look for in running headphones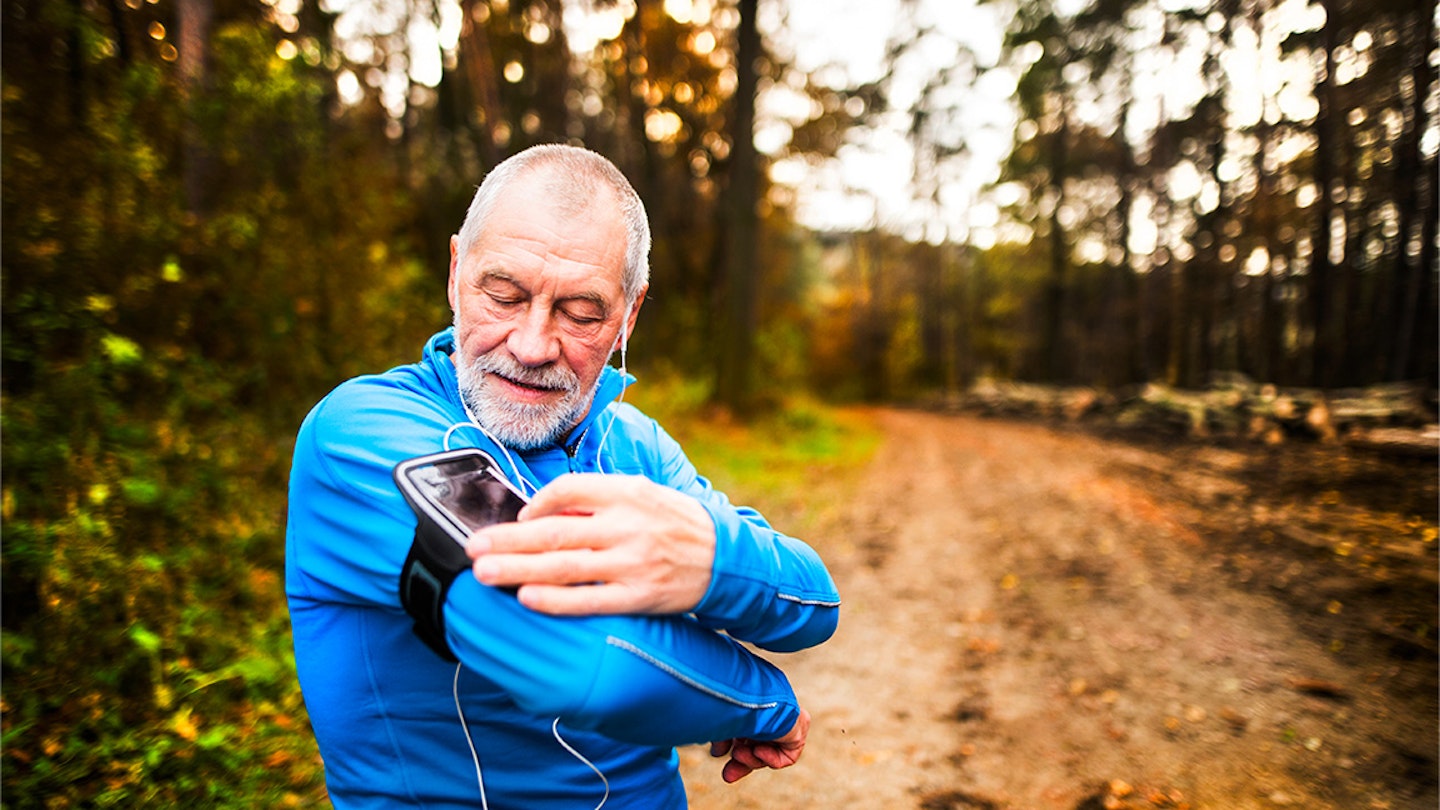 Bluetooth connectivity: Wireless running headphones use Bluetooth technology, allowing hopefully seamless pairing with smartphones, tablets, and other enabled devices. Unlike the tangled, sweaty cables of the past, this connectivity means that you can run wireless and fancy-free.
Secure fit: Wireless earbuds are designed to stay in place as you run. To do this they employ features like ear hooks, rubber earbuds, and specific weighting.  Those with earbuds may also come with different sizes to ensure the best fit. This is key so they don't fall out and get lost in the undergrowth as you run.
Sweat and water resistance: Recognising the intense nature of running, wireless headphones often come with an IPX4 or higher rating. This means they're resistant to sweat, rain, and splashes. Such durability ensures they can withstand adverse weather and rigorous activity without getting damaged.
Battery life: Long-lasting battery life is crucial for wireless headphones. Most models offer several hours of playback time on a single charge, allowing runners to enjoy uninterrupted music during extended runs. Since let's face it, the long run is where you need music the most! Some earbuds also come with handy charging cases, which extends battery life even further.
Audio quality: High-quality sound is essential to properly enjoy your music or audio as you run. No one wants a tinny wailing in their ears. Sounds also need to be loud enough to groove to, without blocking out traffic noise.
Noise isolation: Run-specific earbuds should offer noise isolation technology for a crisper sound. You don't want completely noise cancelling earbuds though, as then you'll be less aware of what's around you, which can prove very dangerous.
Hands-free calling: Many wireless headphones include built-in microphones and controls, allowing you to answer calls, adjust volume, or switch tracks without reaching for your phone. It's not an essential for running earbuds, but could prove useful if you want to use one pair for both running and daily life.
Lightweight and portable: Wireless running headphones are designed with portability in mind. They are lightweight, compact, and easily foldable, making them convenient to carry in your running pack or zip pocket. Many also come with a charging case these days too, to extend battery life and keep them protected from bumps and scrapes.
For all the latest news, tips and gear reviews, sign up to the Trail Running Newsletter.