Hillwalking trousers are an unglamorous piece of kit. Compared to down puffers or waterproof jackets, no-one really gets too excited about a pair of pants. If they're black and cover your legs, that'll do, right? Wrong.
High quality hillwalking trousers are essential to staying safe and comfortable in the fells, and it's surprising just how many pairs of £9.99 Umbro joggers or old denim jeans you see being worn in the mountains. A good pair of walking trousers is even more important in autumn and winter to offer maximum functionality, weather protection and total freedom of movement, enabling you to bag those peaks and smash out the miles no matter how wet, wild and cold it gets.
Key features to look for
The latest trend seems to be towards garish, funky colours – the kind of bright orange or yellow you can see from a mile away – but it's features and fit, rather than contemporary style, that are most important.
Waist design: An elasticated or Velcro adjustable waist ensures a better fit, though some prefer to wear a belt. A lined waistband offers extra comfort and a high rise protects the lower back better, particularly when scrambling or wearing a rucksack.
Stitching: The toughest trousers have double-stitched or even triple-stitched seams in high stress areas for added durability on the hill.
Stretch: Adding elastane (also called spandex or Lycra) to a fabric provides stretch, giving better freedom of movement. Two-way stretch fabrics stretch either vertically or horizontally. Four-way stretch fabrics stretch in both directions, crosswise and lengthwise.
Reinforced panels: High-wear areas like the knees and seat often have thicker, reinforced fabric panels. Many trousers also have scuff or kick patches at the ankle to protect from boots and crampons.
Fabrics: Most technical mountain trousers are made from soft shell fabric, which is a tightly woven nylon or polyester blend with elastane for stretch and a durable water-repellent (DWR) finish. Others are made from robust and breathable polycotton, which can often be waxed for added weather protection.
Ankle cuffs: Adjustable cuffs with a press stud, tab or strap closure and/or ankle zips permit a closer, more streamlined fit and allow trousers to be worn with bigger mountaineering boots.
Pockets: Zipped pockets keep items safe when out walking. Large pockets that will accommodate a map are particularly practical, but make sure they are sensibly placed, so as not to restrict leg movement.
Ventilation: Thigh or lower-leg vents can help to dump heat and can also be unzipped for better temperature regulation if bad weather means you're forced to put on overtrousers.
Lace hooks: Some technical walking trousers have an integrated lace or boot hook at the ankle cuff to help stop debris from getting into your boots.
The best walking trousers for autumn and winter
Mountain Equipment Ibex Pro
Verdict: A genuine upgrade on the Ibex pants, these are our top pick for technical hillwalking or mountaineering in colder weather.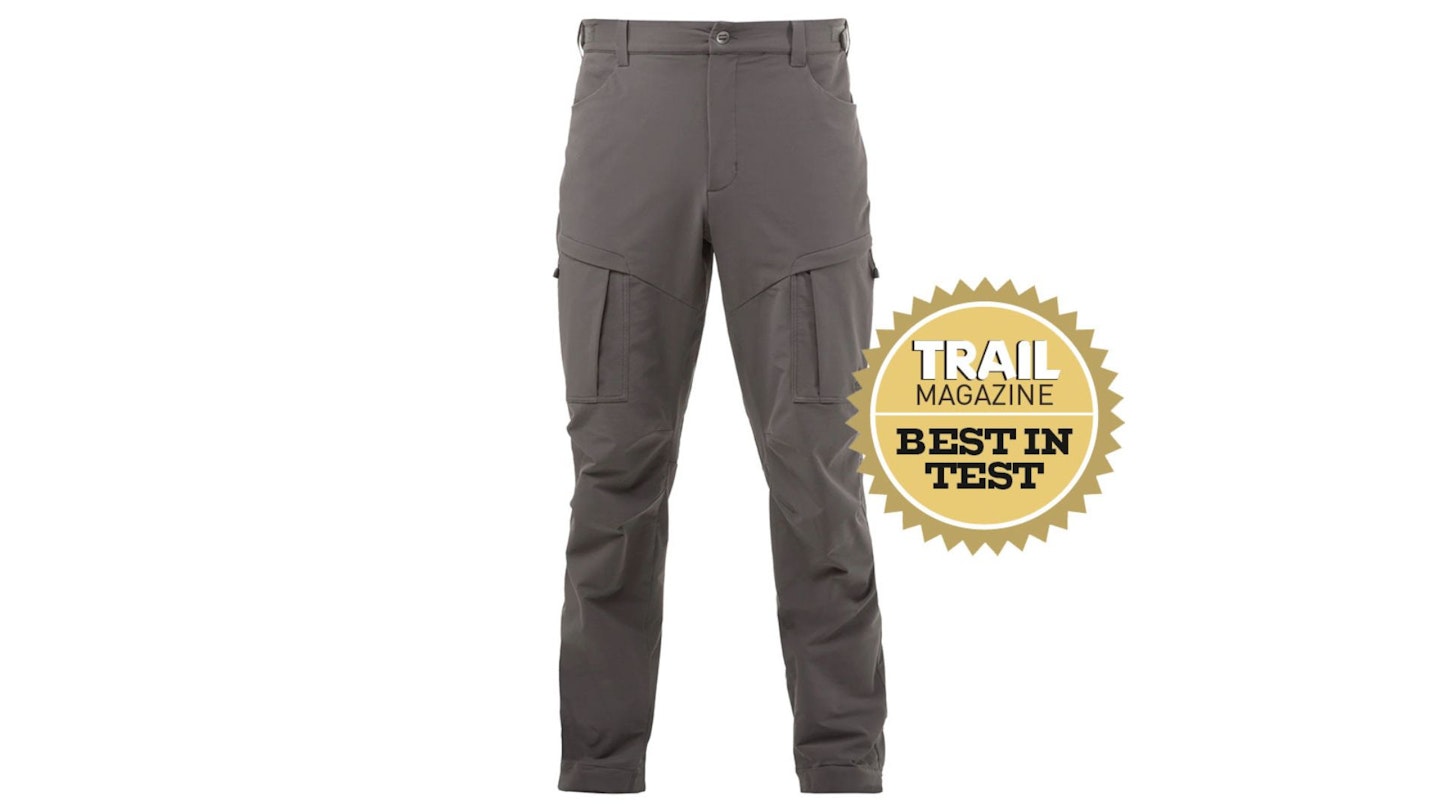 Trail Magazine Best in Test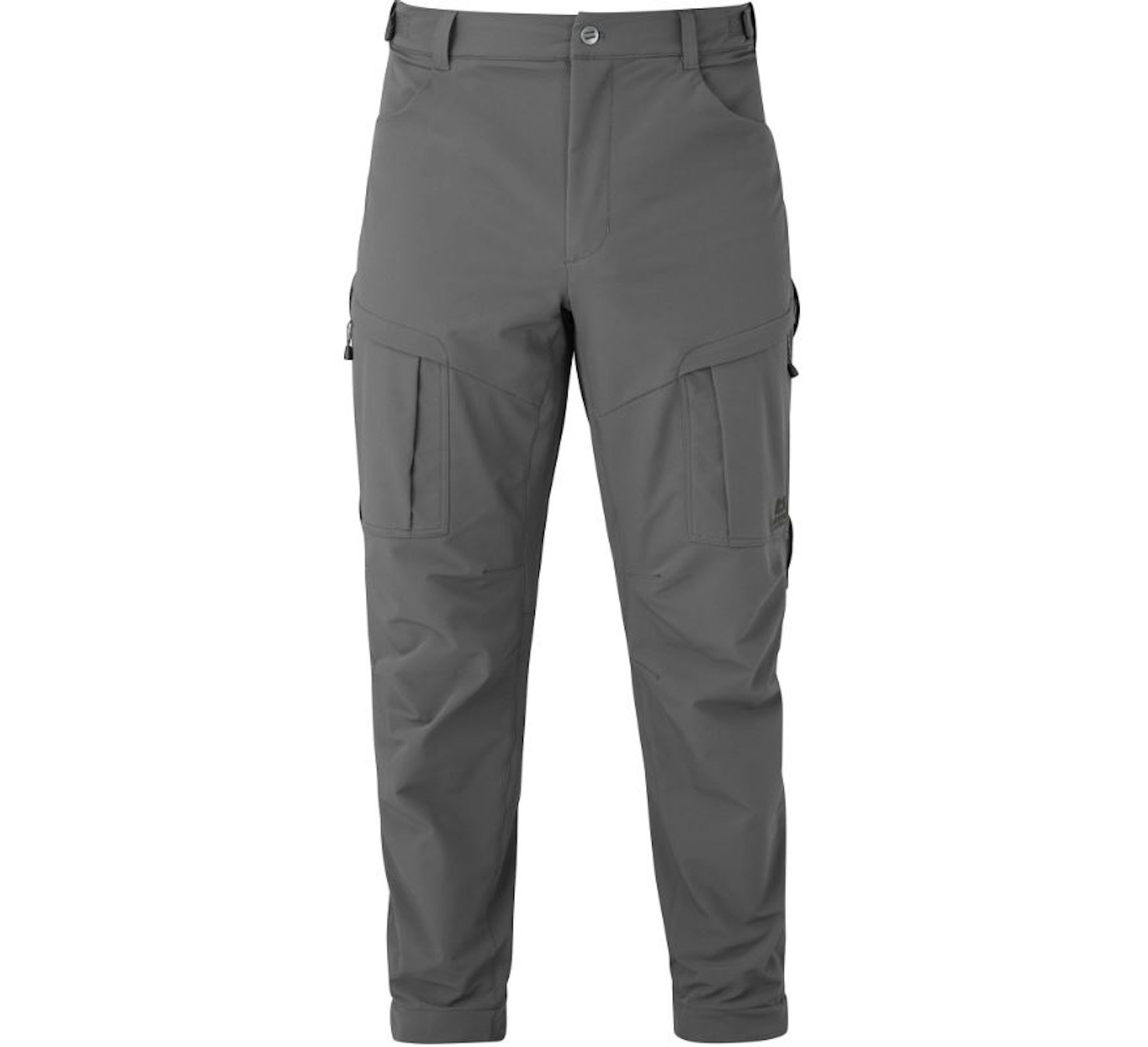 Fit 4/5 | Features 5/5 | Construction 4/5 | Value 5/5 | Performance 5/5
Overall score: 92%
Pros: Protective, comfortable, great features
Cons: No reinforced seams or additional fabric panels, no women's version
Mountain Equipment's Ibex pants have long been a Trail favourite, but we've still moaned about their small pockets, lack of thigh vents and limited ankle adjustment.
Happily, the brand has fixed all those niggles with the release of the new Ibex Pro. The fabric is burlier too. It's still a double-weave stretch soft shell, but in a heavier weight that makes these trousers slightly warmer and tougher. The fit is more relaxed than the slim-fitting Ibex, with a gusseted crotch panel and knee darts for improved articulation. The slightly fussy double press studs and webbing waistbelt have been replaced with a button closure and belt loops, along with side Velcro adjustment.
You also get loads of extra storage, with two roomy zipped thigh patch pockets, plus two open hand pockets and two zipped rear pockets. New zipped thigh vents make it easier to dump heat when working hard uphill. And the ankle cuffs have a press stud cinch with internal hem grips and lace hooks, ensuring a secure seal over your boots.
There are three leg lengths available too, though no dedicated women's version yet – next season, perhaps? They do also lack the double stitched seams and reinforced seat/ knee panels of some even burlier rivals. But otherwise, top marks all round.
Weight 605g | Sizes Men's 30-38in; women's N/A | Leg lengths Short, Regular, Long | Fabric Exolite 250 double-weave soft shell (88% nylon, 12% elastane)
Keela HW Op
Verdict: Not quite as sophisticated as their rivals, but still sturdy and practical outdoor trousers with an accommodating fit.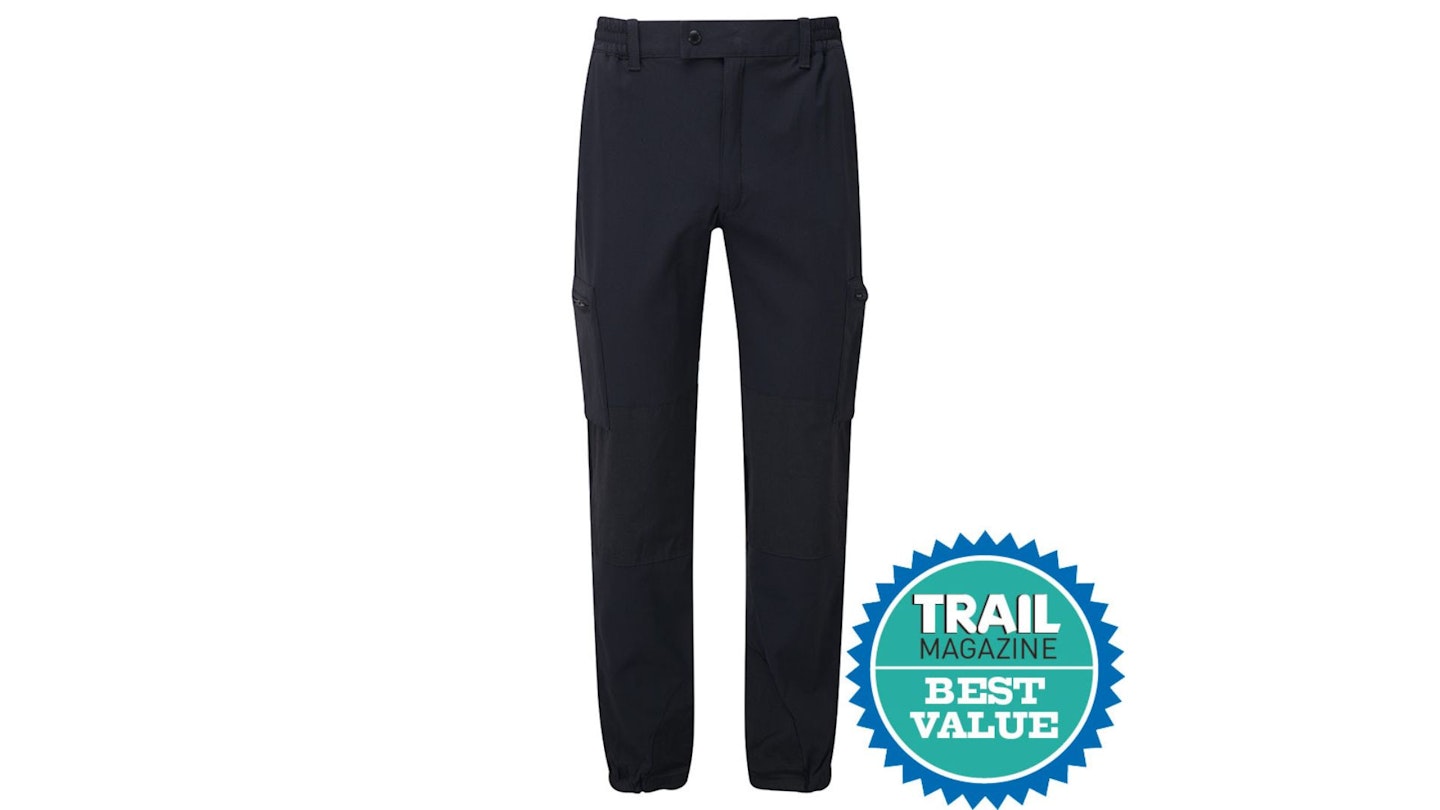 Trail Magazine Best Value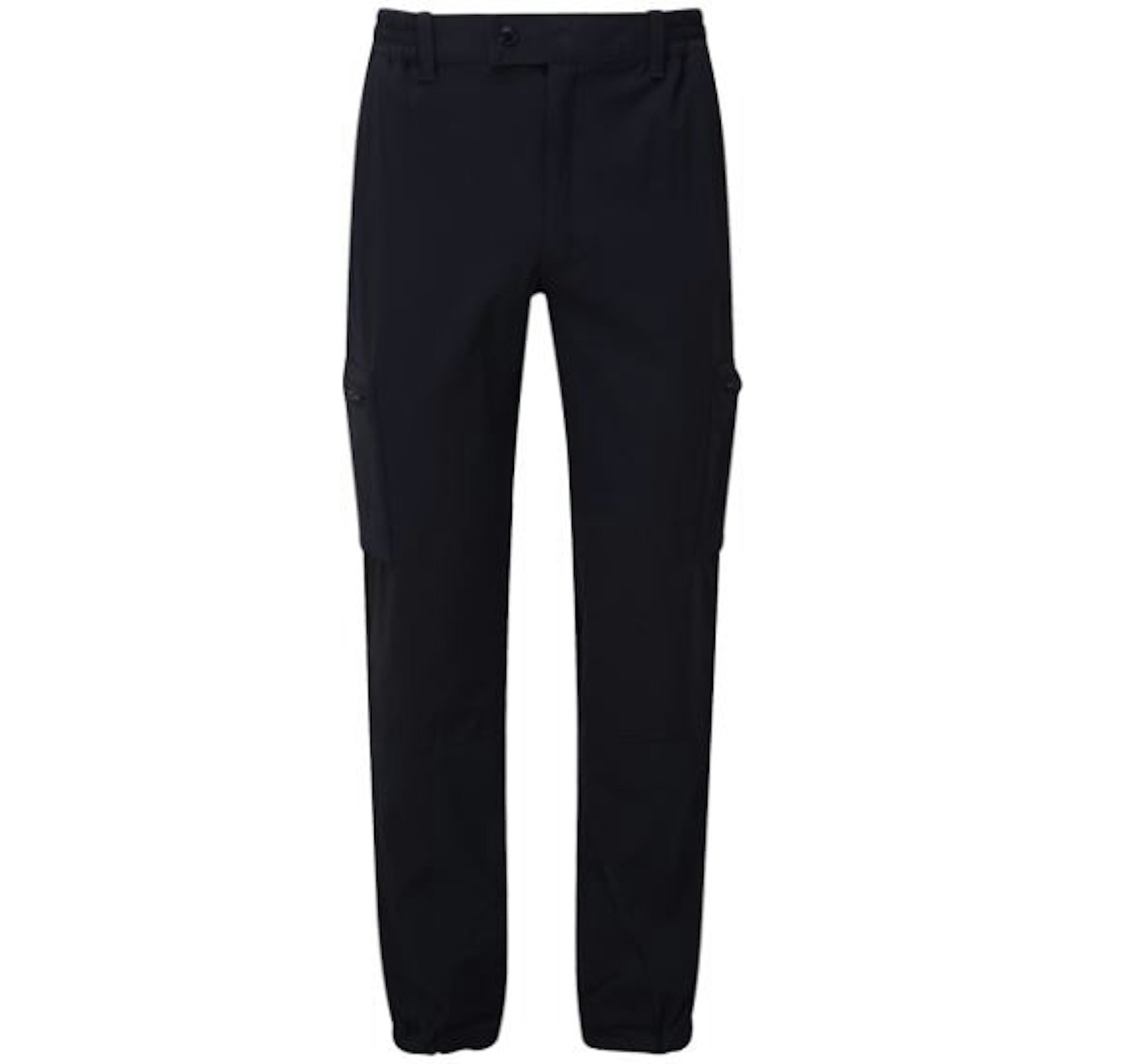 Fit 3/5 | Features 4/5 | Construction 4/5 | Value 5/5 | Performance 4/5
Overall score: 80%
Pros: Protective, comfortable, plenty of pockets
Cons: No leg vents, poor ankle cinch, no women's version
Keela's best-known soft shell trousers are its hard-wearing Scuffers, which work well for general hiking and hillwalking (the team at our sister title, Country Walking, are big fans). But for autumn and winter use, an even more rugged alternative is the brand's HW Op ('Heavyweight Operational') trousers.
They're made from Keela's Stretch-Tec Advance soft shell fabric, a blend of nylon, polyester and elastane that is tough, weather-resistant, quick-drying and flexible. Ripstop overlays at the knees and insteps offer added protection from abrasion.
The HW Op have better storage than most trousers (including the standard Scuffers), with two zipped thigh pockets, two hand pockets and a back pocket with a Velcro stormflap. The hand pockets also have zipped security pockets hidden inside, which are great for stashing keys and other 'mustn't lose' essentials. The lower legs feature ankle zips and a drawcord cinch, though we'd prefer the more user-friendly tabs found on other trousers. Similarly, the HW Op trousers lack the zipped leg vents of some rivals.
Those niggles aside though, these are great value trousers that are extremely comfortable. Belt loops and a half-elasticated waistband keep them where they should be, and that 4-way stretch fabric ensures ample freedom of movement. We'd describe the overall cut as relaxed, which some will like, though others might prefer a slimmer fit.
Weight 615g | Sizes Men's 28-46in; women's N/A | Leg lengths Short, Regular, Long | Fabric Stretch-Tec Advance soft shell (65% nylon, 24% polyester, 11% spandex) with ripstop panels (100% nylon)
Montane Terra Mission Pant
Verdict: Warm and rugged technical mountaineering trousers that are great for the coldest days, though not as versatile as some of their rivals.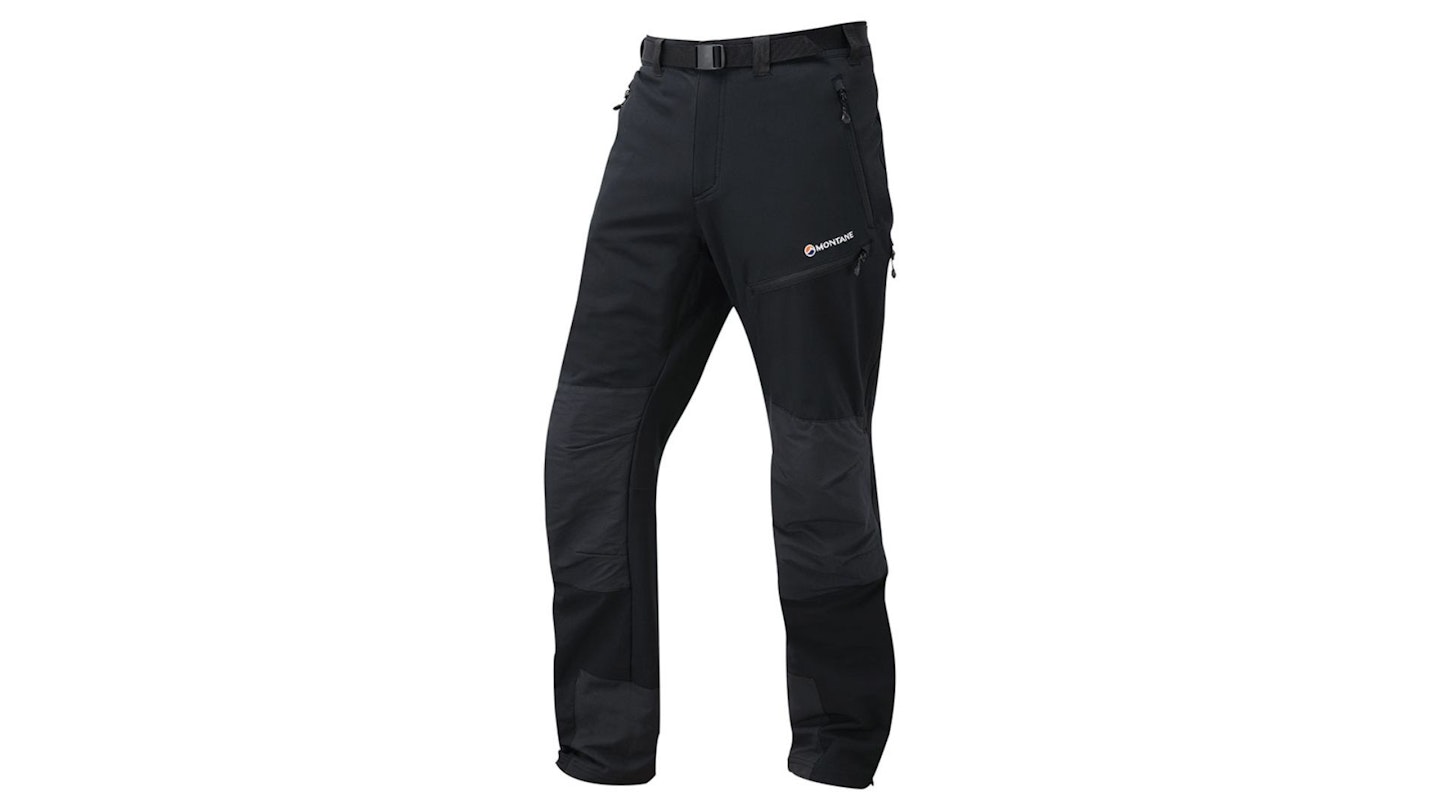 Recommended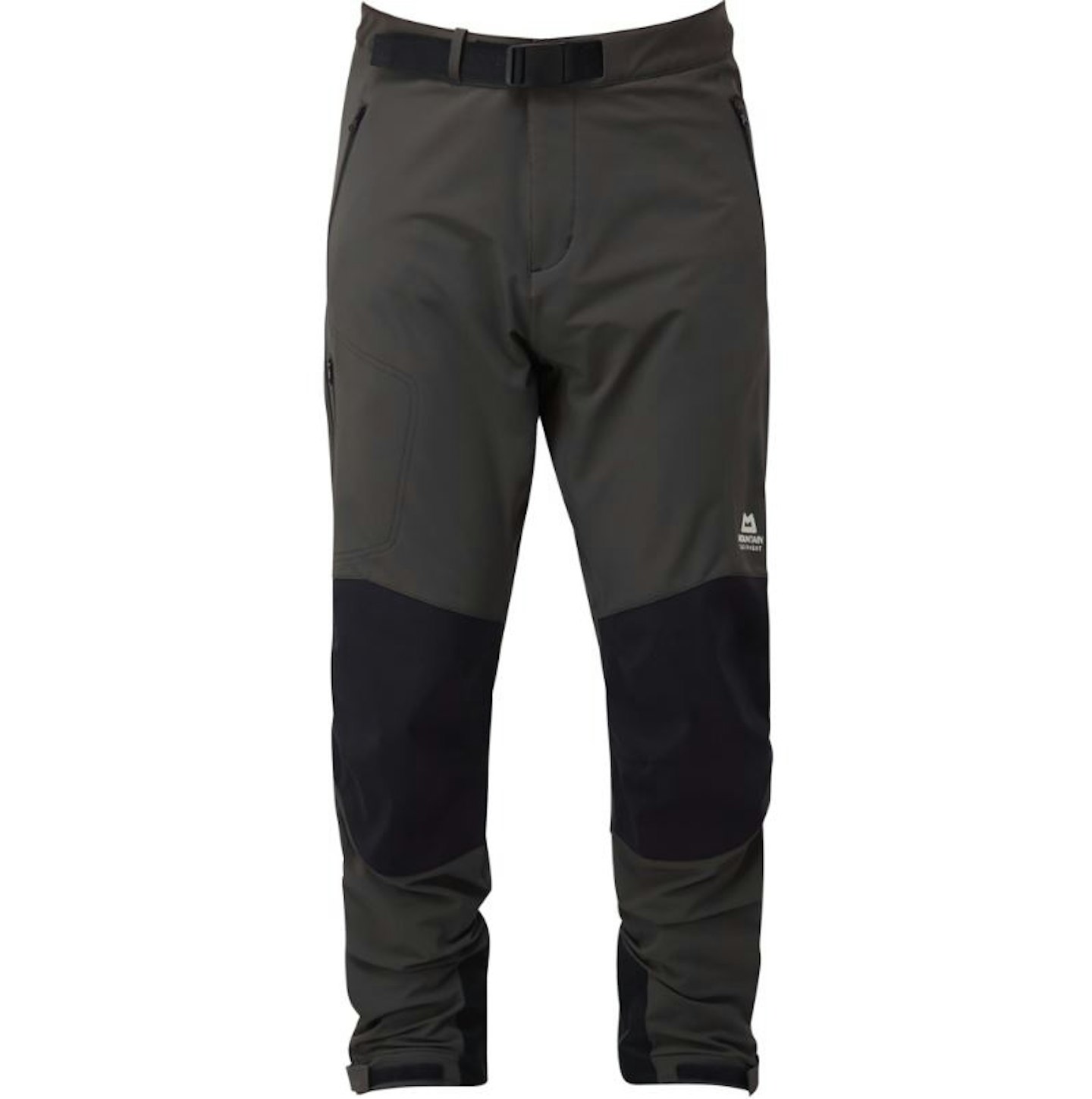 Fit 5/5 | Features 4/5 | Construction 4/5 | Value 4/5 | Performance 4/5
Overall score: 88%
Pros: Warm, protective, comfortable
Cons: No ankle cinch or lace hooks for use with boots
Montane seems to introduce a new type of Terra trousers every month. The latest addition is the Terra Mission for both men and women, which are 'technical mountaineering pants for cold conditions' – out just in time for autumn and winter adventures.
As you might expect, they're warm and tough, being made from densely woven soft shell fabric with reinforced Cordura nylon panels at the knees and insteps. Zipped, mesh-lined thigh vents offer some cooling during steeper ascents. They're comfortable and flexible out in the hills, thanks to a trim cut, articulated knees and plenty of elastane in the fabric blend, which gives them more stretch than the standard Terra pants.
In terms of other features, there are two zipped hand pockets and a single zipped thigh pocket. They have a zip fly and double press stud/button closure, with a microfleece lined waistband for comfort. There's no waist adjustment other than via the fitted belt loops and supplied webbing belt, though at least this ensures a low profile under a rucksack hipbelt or climbing harness.
The lower legs have gusseted zips but lack an ankle cinch and lace hooks – something to consider if you use these in ice and snow.
Weight 590g | Sizes Men's XS-XXL; women's 8-16 | Leg lengths Men's Short, Regular, Long; women's Short, Regular | Fabric Stretch soft shell (92% nylon, 8% elastane) with Cordura panels (93% nylon, 7% polyurethane)
Maier Sports Helga Slim
Verdict: Warm and comfortable, with a trim fit and good eco credentials, but not quite as stylish as some rivals or as rugged as others.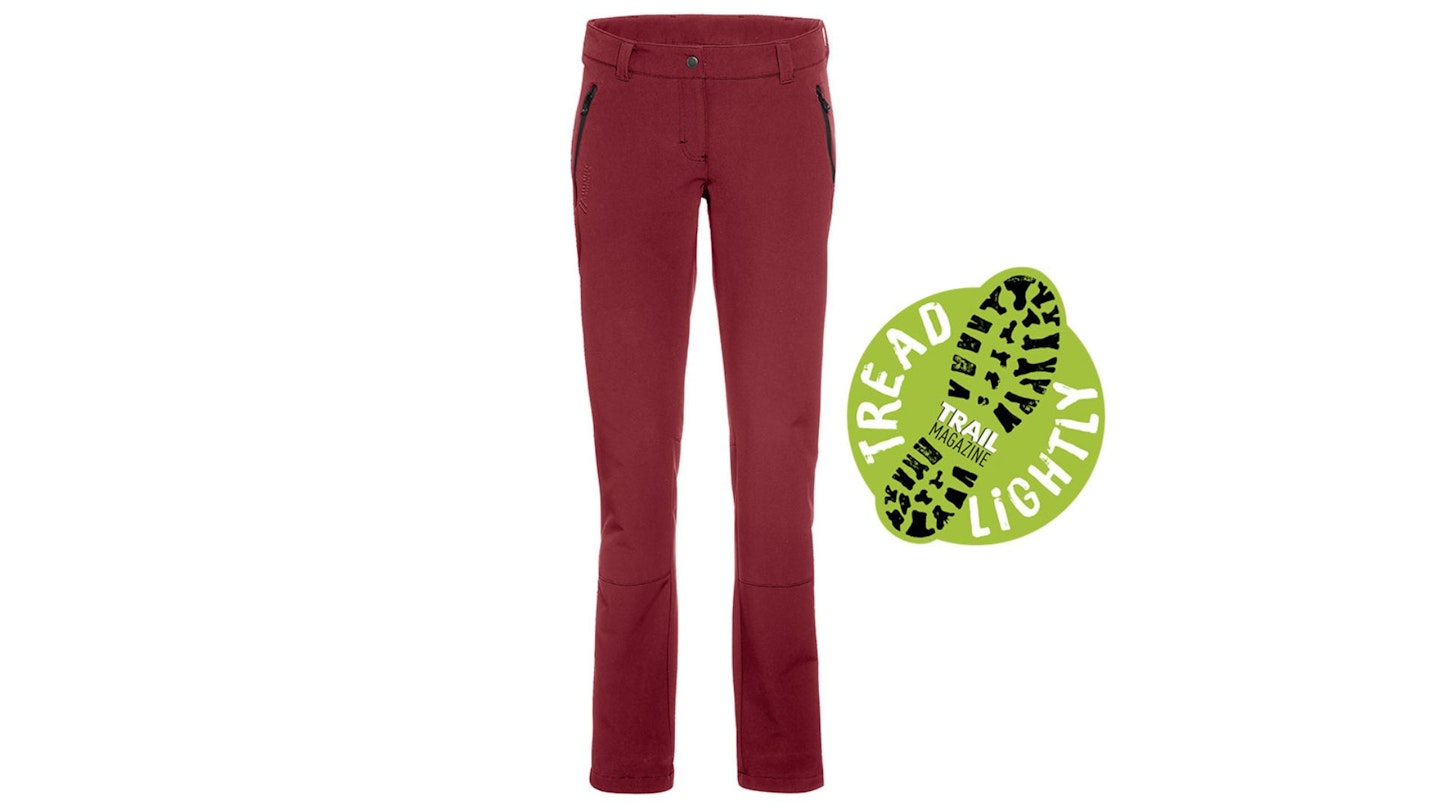 Trail Magazine Tread Lightly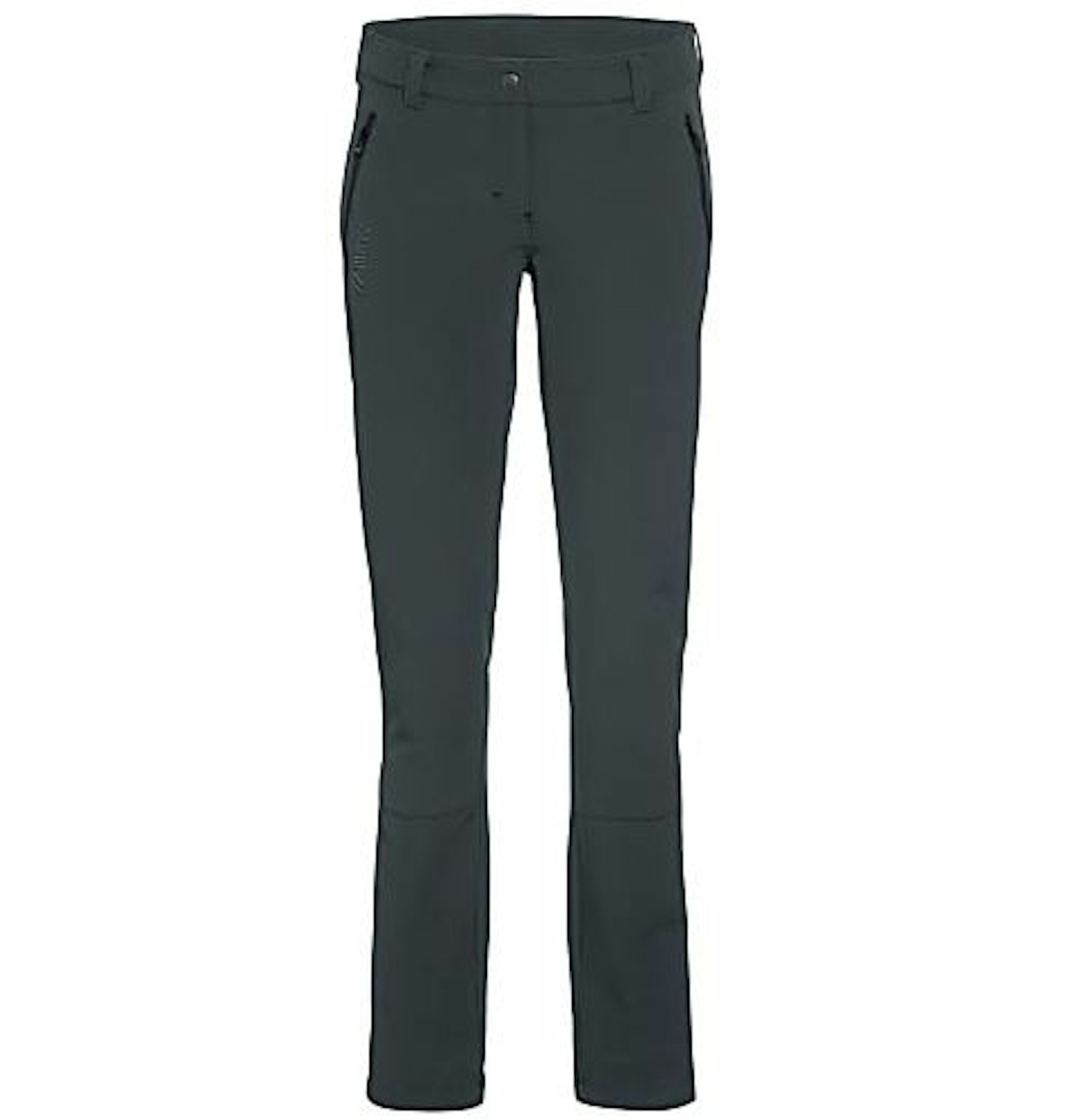 Fit 4/5 | Features 3/5 | Construction 3/5 | Value 5/5 | Performance 4/5
Overall score: 84%
Pros: Warm, comfortable, weather-resistant
Cons: Fabric not the toughest and no fabric overlays at seat, knees or hem
Maier Sports is a German outdoor gear brand that specialises in legwear for hiking, trekking and winter sports. The company prides itself on its 'perfect fit' promise. It offers no less than 36 different men's and 25 women's sizes, including three leg lengths.
The Helga Slim are female-specific, winter-ready stretch trousers. They use a very similar stretch fabric to Acai's Thermal Skinnies, though Maier's fabric is made from recycled polyester – a thumbs up for sustainability.
The cut is slim rather than skinny, but together with the flexible fabric ensures excellent freedom of movement. Features and styling are more akin to those you'd expect to find in conventional walking trousers, with three zipped pockets.
They're also more structured than their skinny-fit rivals, with a little extra room in the seat and thigh, as well as wider ankle hems. This means a few more fabric panels and therefore additional seams, which fortunately doesn't really affect comfort but does add a little weight and bulk.
However, on the hill, they proved to be warm and reasonably weatherproof. The fleecy inner fabric is particularly effective, boosting insulation by trapping air close to the skin, while the windproof face fabric keeps out the chill. We just wish they had some tougher overlays in the seat, knees and instep to guard against abrasion.
Weight 400g | Sizes Men's N/A (the Norit Winter are closest alternative); women's 8-26 | Leg lengths Petite, Regular, Long | Fabric 91% polyester, 9% spandex
Helly Hansen Verglas Tur
Verdict: Comfy and rugged all-round outdoor trousers with the versatility to work well year-round in the hills. But more leg lengths please!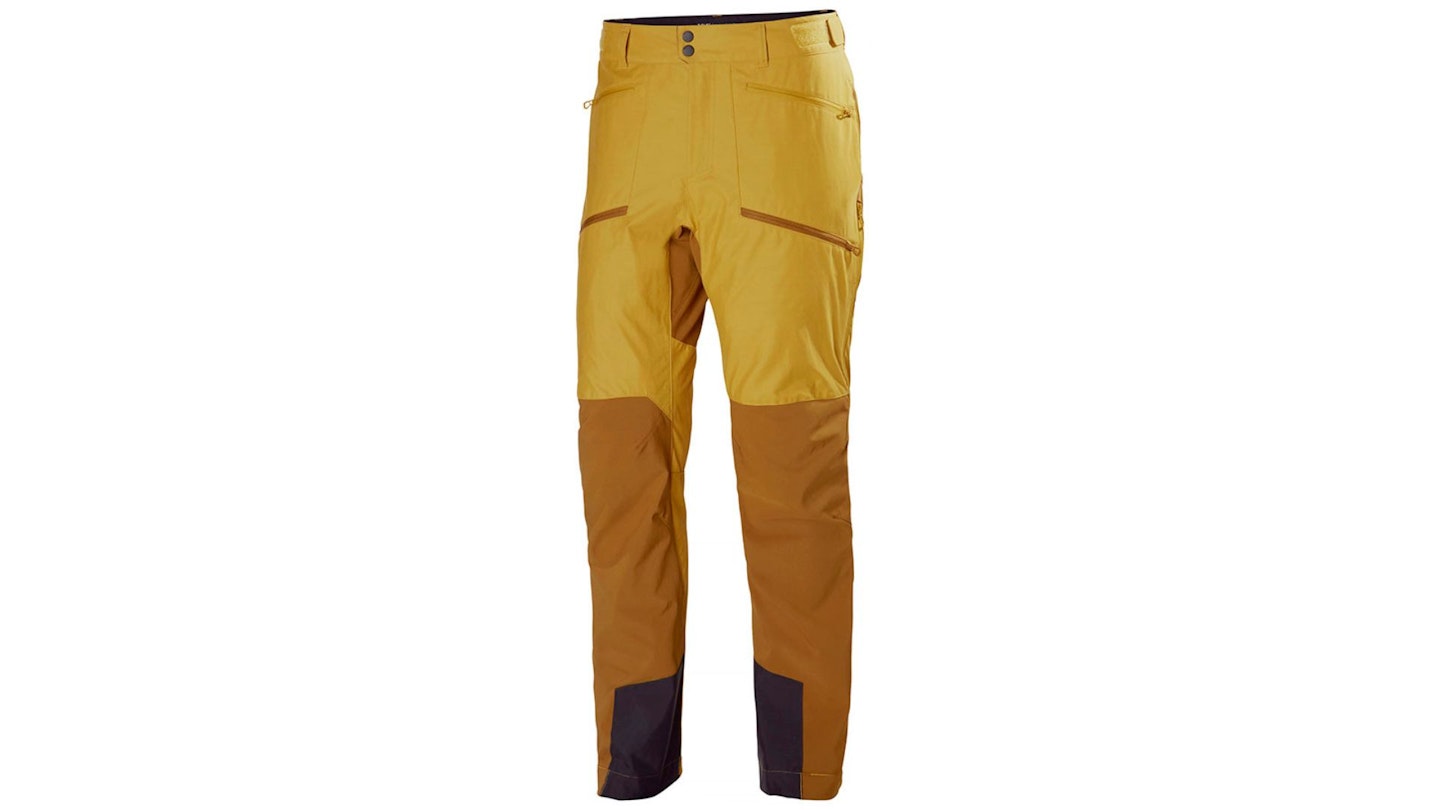 Recommended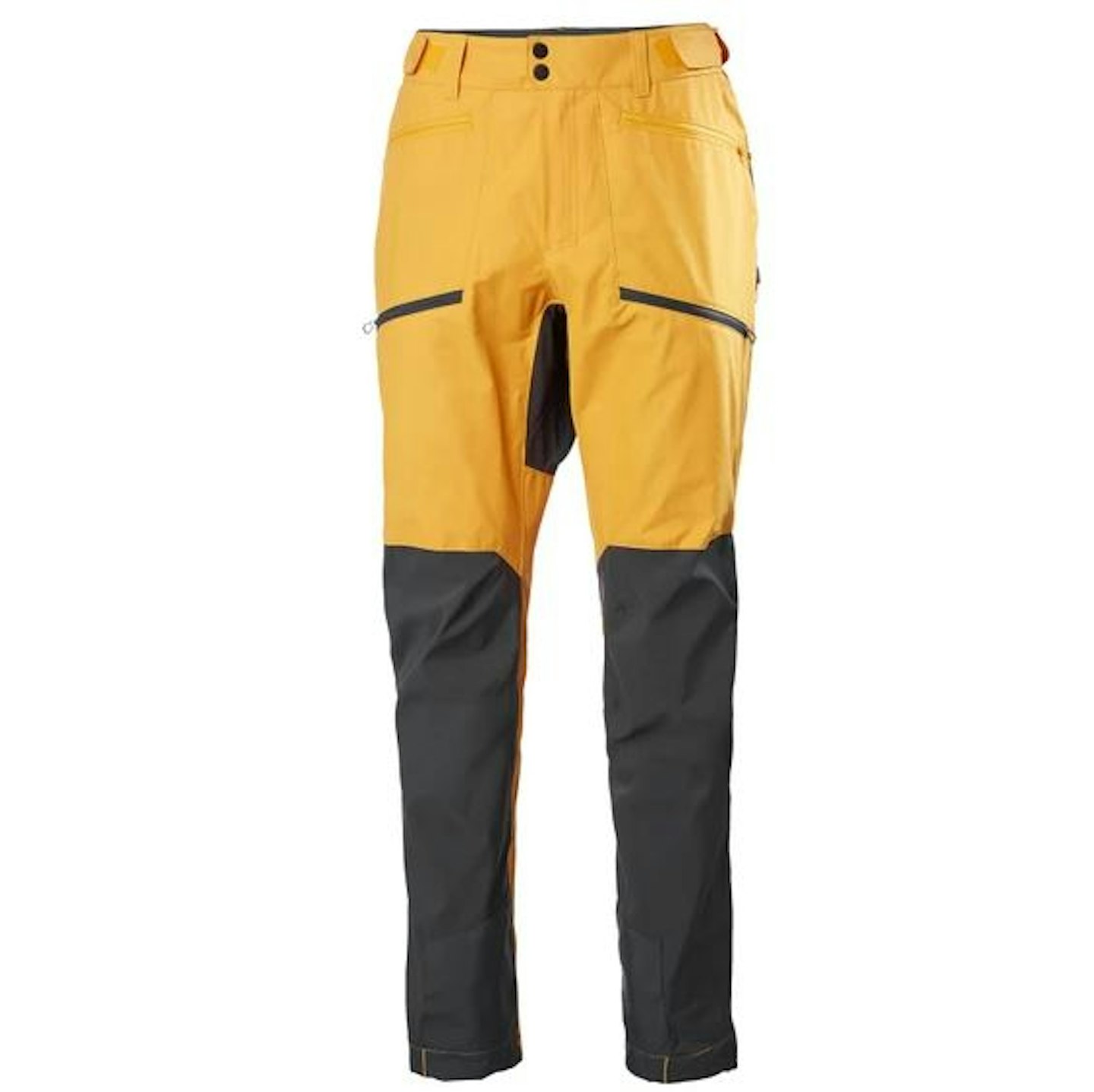 Fit 4/5 | Features 4/5 | Construction 5/5 | Value 3/5 | Performance 5/5
Overall score: 84%
Pros: Protective, comfortable, great ventilation
Cons: Only one leg length, not cheap
Until relatively recently, Scandinavian brand Fjällräven just about had the market sewn up when it came to rugged all-purpose outdoor trousers. Then fellow Swedes Haglöfs and Revolution Race got in on the act, and now those Norwegians from Helly Hansen are muscling in too.
The Verglas Tur pants are basically Helly's answer to another previous Trail 'Best in Test' winner, the Fjällraven Keb trousers, and in many respects, these are even better. They use similar hard-wearing polycotton fabric with stretchy soft shell panels to deliver ruggedness and flexibility in a comfortable, trim-fitting package. They have four angled front pockets for streamlined storage, all zipped for security, though they aren't especially roomy. But they have a very comfortable microfibre lined waistband with belt loops and side Velcro adjustment.
You also get extensive ¾ zipped leg vents, which keep things cool and airy when working up a sweat. That adds versatility for year-round use. The insteps have robust scuff patches to protect against abrasion, plus integrated lace hooks and an elasticated ankle cinch for a secure fit over boots. The cinch isn't the neatest when pulled in tight, but it does the job.
Men's and women's fits are available too – although frustratingly they only come in a regular leg length.
Weight 590g | Sizes Men's S-XXL; women's XS-XL | Leg lengths Regular | Fabric Polycotton (67% cotton, 33% polyester) with stretch soft shell panels (94% polyamide, 6% elastane)
Acai Thermal Skinny
Verdict: Stretchy and comfy skinny-fit legwear with more style than most walking trousers. Warm enough for winter, but not as rugged as others.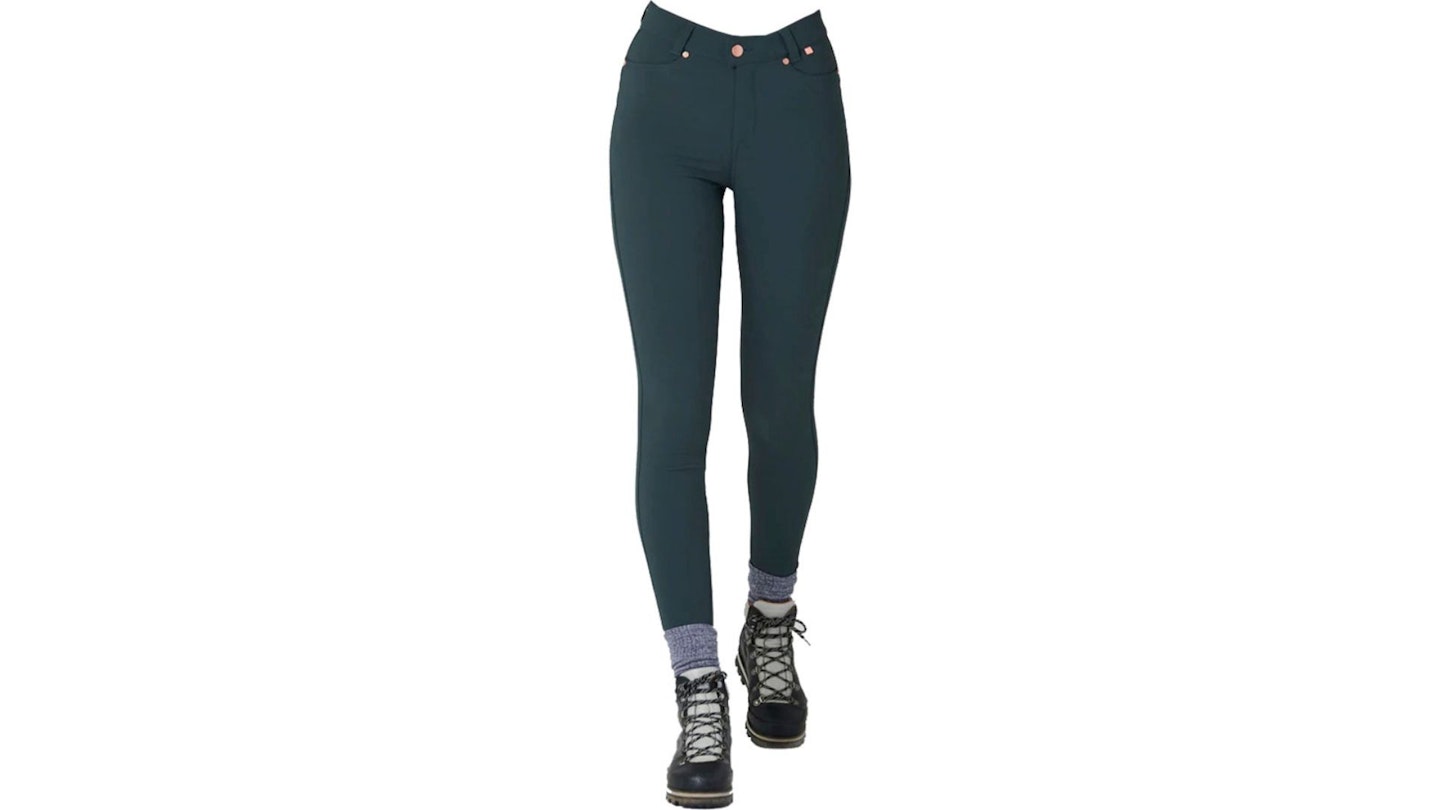 Recommended
Fit 5/5 | Features 3/5 | Construction 4/5 | Value 5/5 | Performance 4/5
Overall score: 84%
Pros: Lightweight, stylish, warm and weather-resistant
Cons: Skinny fit might not suit everyone, fabric not the toughest
Most of our female readers have probably heard of Acai by now – we've already reviewed its lightweight and midweight trousers in Trail. It has probably popped up on your Facebook or Instagram feed too. But if you're still not that familiar with the brand, it's an online-only, direct-to-consumer company that specialises in outdoor legwear 'made by women for women'.
Fusing the contemporary style of skinny jeans with performance fabrics, the Thermal Skinnies are Acai's heaviest-weight trousers, designed for cold weather. They retain Acai's signature casual styling – riveted front pockets, twin back pockets (one of which is zipped), belt loops and a rear leather-look logo patch.
On-the-hill performance is provided by a warm yet stretchy soft shell fabric, lined with a wonderfully soft and fluffy thermal fleece. The trousers also have a durable water-repellent finish for added weather protection. Main seams are double-stitched for strength too.
Ellie loved the fit, which offers excellent freedom of movement, and the high rise to keep your back and tummy protected. She also appreciated the fact that they come in an extremely wide range of sizes, plus four leg lengths.
Her only concern was that although they certainly feel warm enough for winter wear, the polyester fabric doesn't feel as robust as the toughest trousers. Still, provided you're not tackling technical terrain, they should hold up well.
Weight 310g | Sizes Men's N/A; women's 6-22 | Leg lengths Petite, Regular, Long, XL | Fabric 91% polyester, 9% spandex
Fjällräven Abisko Varm Trekking Tights
Verdict: Lightweight, super comfy and flexible, but still not as warm as thicker winter soft shell trousers. Pricey too.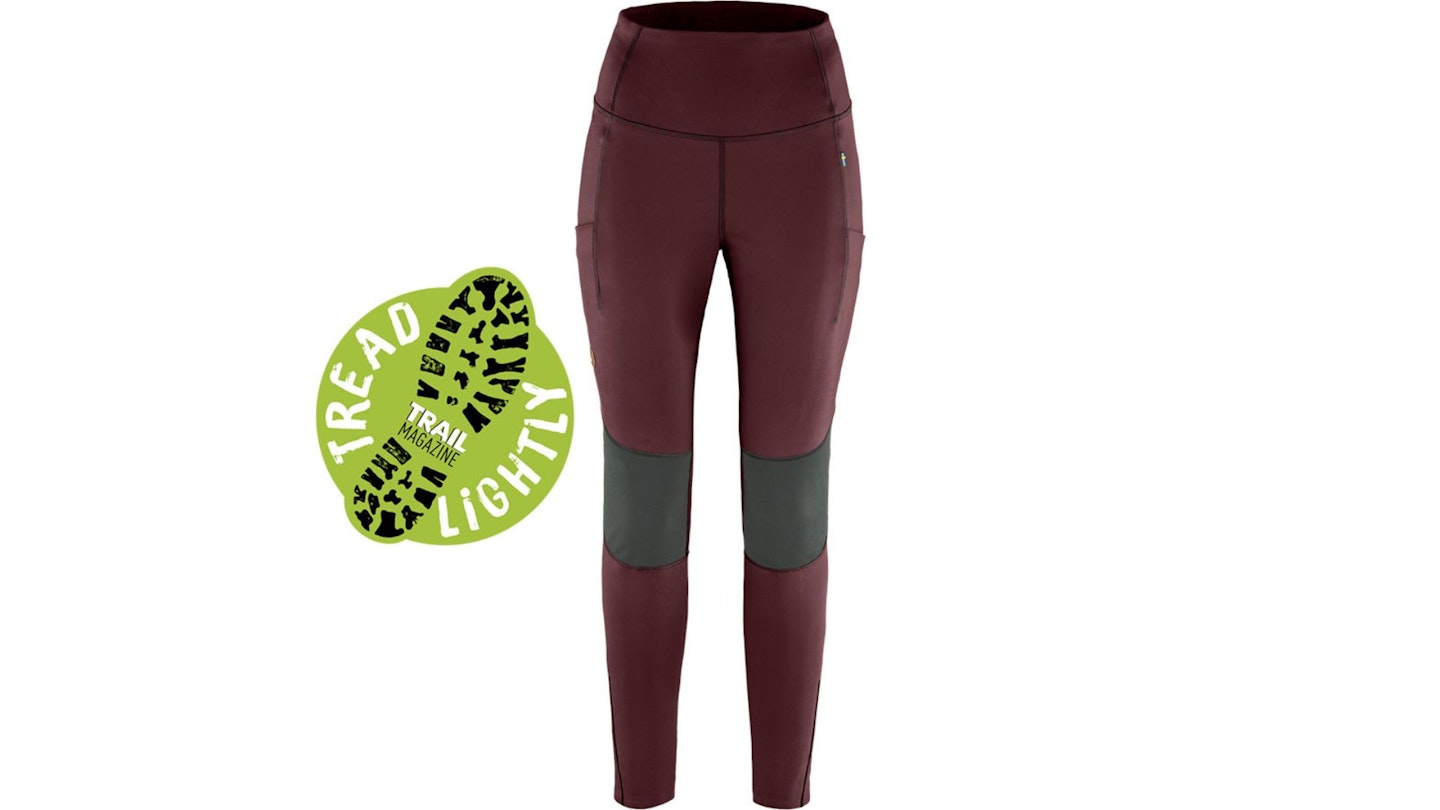 Trail Magazine Tread Lightly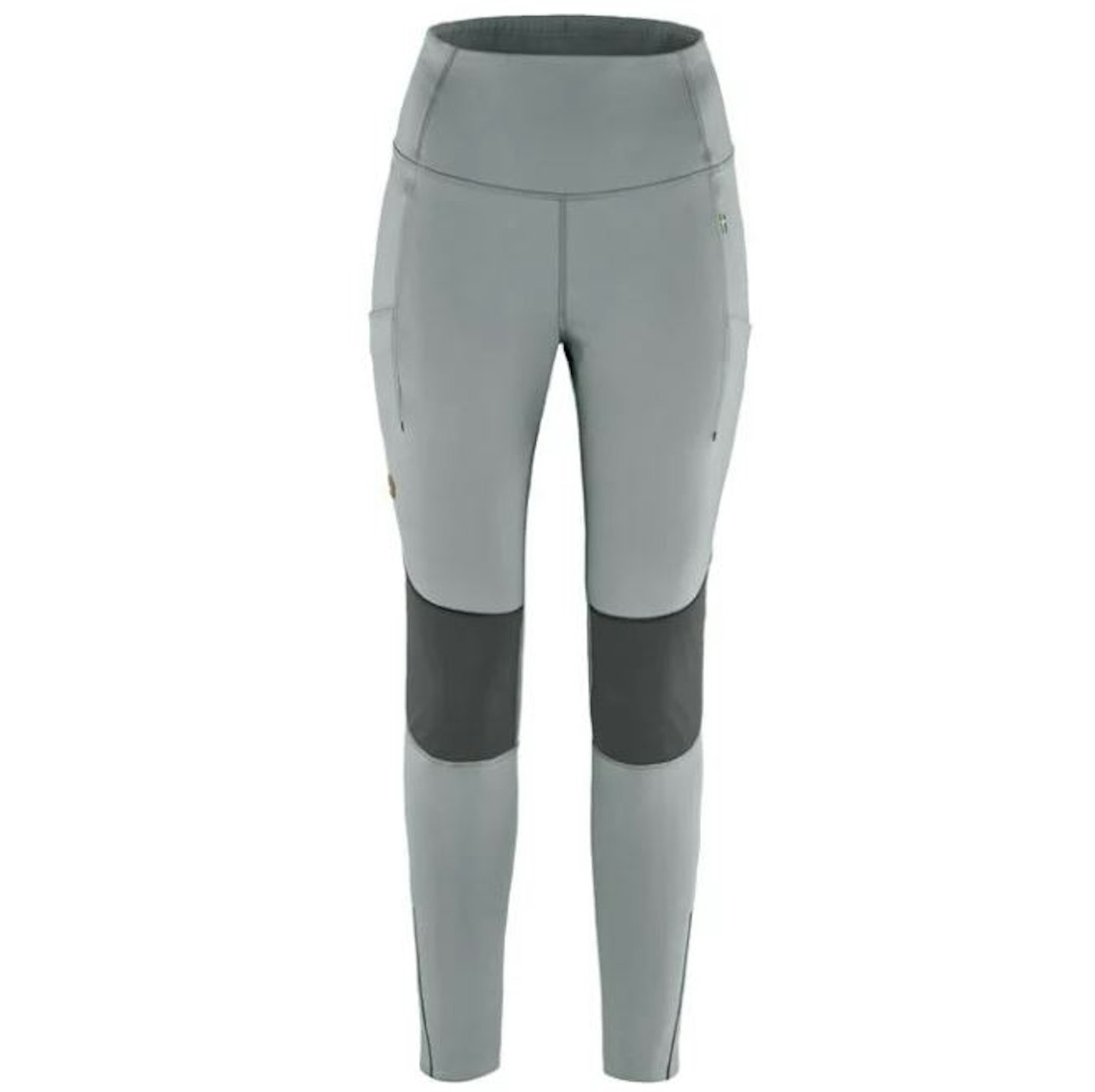 Fit 5/5 | Features 3/5 | Construction 4/5 | Value 3/5 | Performance 4/5
Overall score: 76%
Pros: Lightweight, comfortable, flexible
Cons: No seat reinforcement, expensive
Tights or leggings are an increasingly popular choice for women's outdoor legwear. They're normally our reviewer Ellie's preferred option in the hills for comfort and flexibility. However, most are less well suited to colder conditions.
But the Abisko Varm offer additional weather protection. The front and side panels feature a wind-blocking fabric backed with a waterproof membrane. They also have reinforced, water-repellent Cordura nylon knee panels. So, while not fully waterproof – you'll still need overtrousers in sustained rain – they do offer some weather-resistance.
They are lightweight and quick drying too, yet still deliver good warmth for their weight, thanks to a soft brushed inner. They're still not as thick or as tough as the other women's-specific legwear on test; Acai's Thermal Skinny and Maier's Helga Slim trousers. The main fabric here is also polyester rather than more durable nylon, but it's made from recycled plastic bottles, which is a plus for sustainability. And weirdly, these tights lack the reinforced seat of the standard Abisko Trekking tights, which seems like an oversight.
But Ellie did like the high waist, which wards off chills effectively. No-chafe flatlock seams and loads of stretch also ensure comfort and freedom of movement. It's just a shame the leg pockets lack zips to keep contents dry and secure. Though, they do at least have fold-over fabric envelope closures.
Weight 270g | Sizes Men's N/A (but Men's Abisko Trekking Tights Pro available); women's XXS-XXL | Leg lengths Regular | Fabric 70% recycled polyester, 30% elastane, with front and side panels (85% polyester, 15% elastane) and Cordura knee panels (90% polymide, 10% elastane)
Sprayway All Day Rainpant
Verdict: Great for wet-weather walking in autumn and early winter, enabling you to ditch the overtrousers. Bit short on other features though.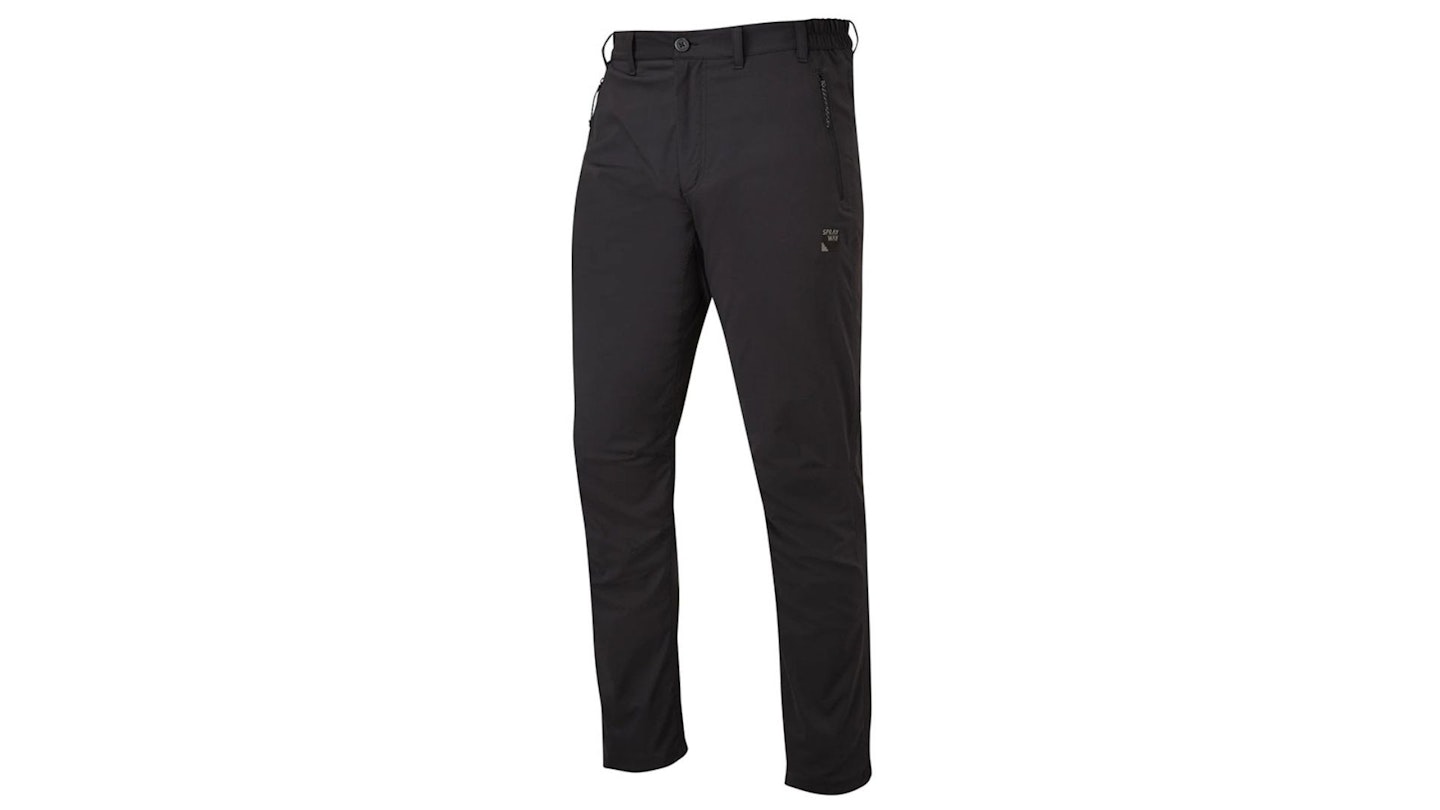 Recommended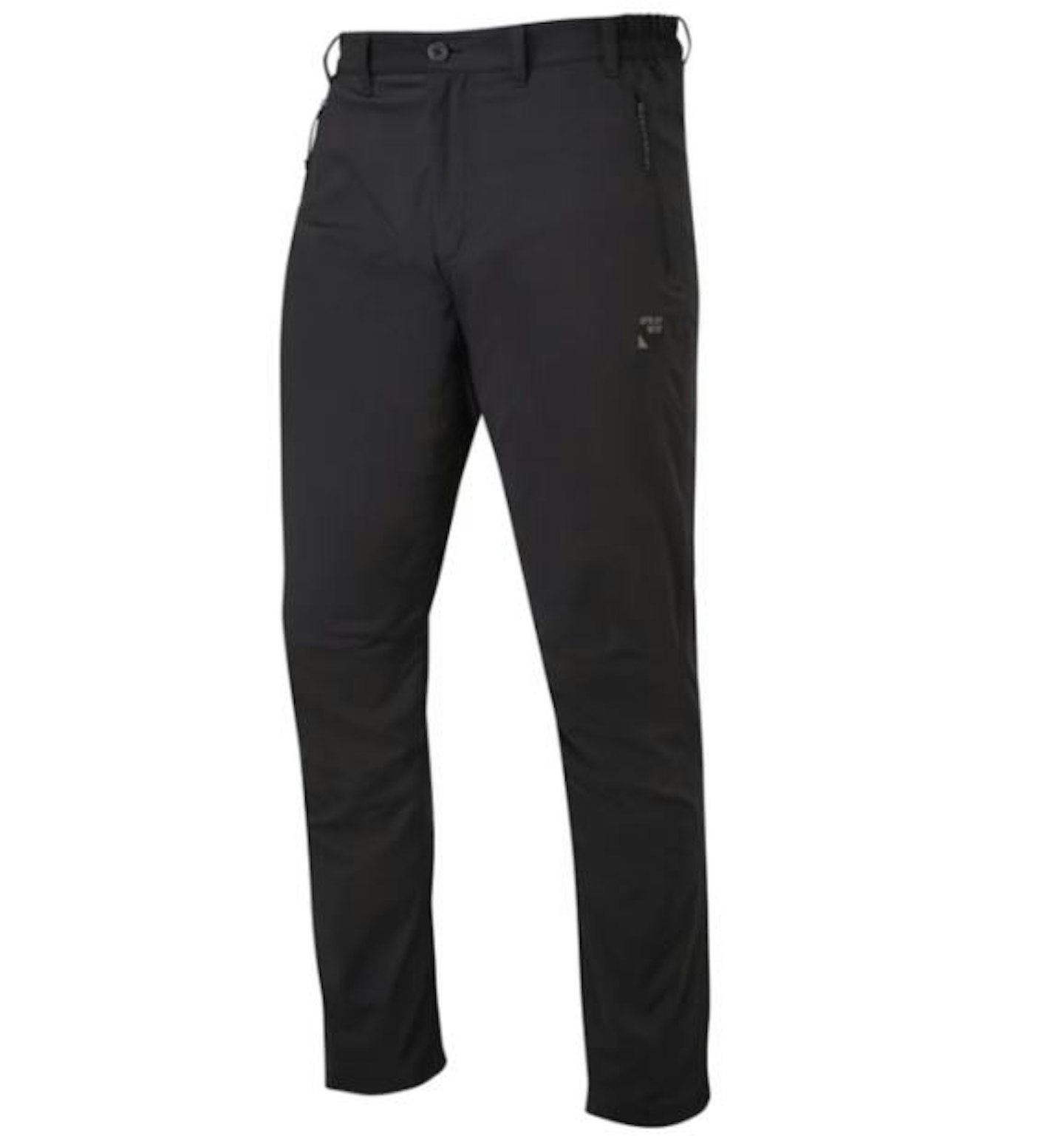 Fit 4/5 | Features 3/5 | Construction 3/5 | Value 5/5 | Performance 4/5
Overall score: 76%
Pros: Waterproof, comfortable, good fit
Cons: Not the toughest, limited features
The problem with almost all walking trousers is that if it starts to hammer down, you still have to put on overtrousers. Even most winter trousers aren't fully waterproof unless you're prepared to slog around in mountaineering pants or salopettes. But Sprayway's All Day Rainpants can be worn come rain or shine.
They're fully waterproof but look like normal walking trousers thanks to a 2-layer construction, which features a stretch nylon face fabric and an inner drop liner. This has a PU membrane and taped seams for a hydrostatic head rating of 10,000mm. It's not a unique solution – Berghaus, Rohan and Craghoppers all have similar trousers – but Sprayway's version are functional and well-priced.
The sizing is generous, but once we dropped a size from a large to a medium, the cut was spot-on. Shaped knees, a crotch gusset and that stretch fabric permit good freedom of movement too.
On the hill, they proved effective and warm enough for use from autumn into early winter. We'd want something more rugged if there was snow and ice on the tops, especially since these have no ankle adjustment. And they do get a bit clammy if you're working hard uphill – it's a shame they don't have leg vents. But for on/off showers, they eliminate the need to second-guess the weather gods
Weight 420g | Sizes Men's S-XXL; women's 8-18 | Leg lengths Short, Regular, Long**| Fabric** 96% nylon, 4% elastane
Don't forget to subscribe to the Live For The Outdoors newsletter to get expert advice and outdoor inspiration delivered to your inbox!
For the latest reviews - including extra photos and kit that won't appear online - pick up a copy of the current issue of Trail magazine!