Easily one of the best hiking footwear models of the moment, the Hoka Anacapa Breeze Low is our latest obsession.
If you're a gym-goer or trail runner, you'll have probably seen HOKA shoes already by now. They're the ones with the highly cushioned and slightly over-the-top outsoles. But if you can get around the unusual look, this style of 'maximalist' footwear is worth trying out.
That goes double for anyone suffering from conditions such as metatarsalgia (ball of foot pain) or plantar fasciitis (heel and arch pain). Or, if you just find yourself footsore at the end of a long day on the trail.
The headline, if you haven't guessed, is that these hiking shoes come from another realm of comfort. A parallel universe where everything is plush, lightweight, and spongey. Plus, they've got some great grip and a durable outside that will withstand a lot of walking. Let's dive in and explore why the Hoka Anacapa Breeze Low is the wildcard winner of our Trail Gear of the Year award.
The Hoka Anacapa Breeze Low in Detail
Let's start with some context. Hoka was originally founded in France in 2009 by two former Salomon footwear designers. Their aim was to build a trail shoe that could conquer downhill Alpine trails. The name Hoka, incidentally, comes from a Māori phrase, 'Hoka one one' which loosely means 'fly over the earth'. When you tell people that, make sure to pronounce it "Ho-kah own-ay own-ay". Otherwise, you may sound like you're talking about a discount code.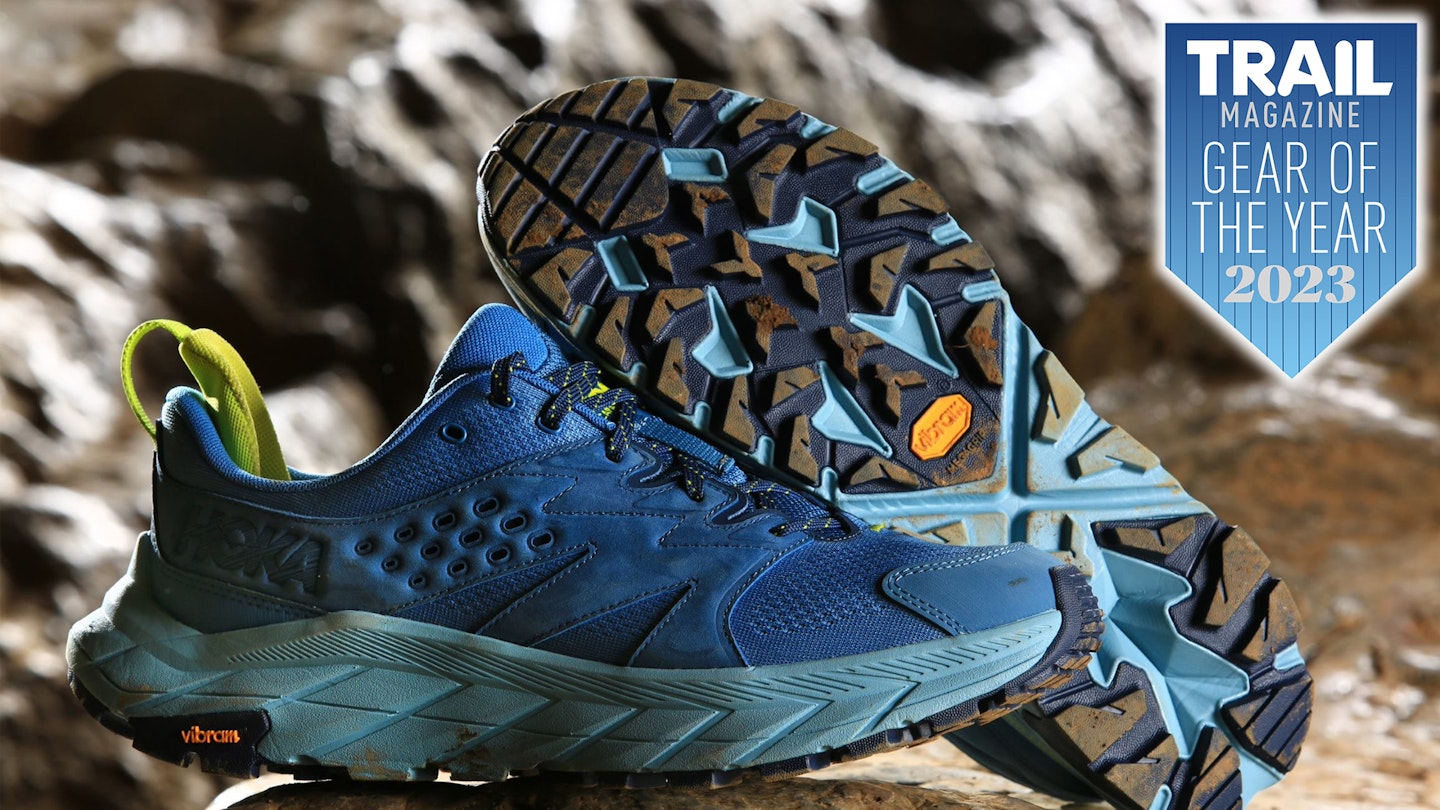 The range now encompasses road, race and trail shoes, as well as one hiking-specific line. That's where we find the Anacapa – available as a low-cut shoe or a mid-cut boot. Having tested both, we prefer the freedom and flexibility of the shoe. In particulaer, we love the super breathable Anacapa Breeze Low; there's also a waterproof Gore-Tex model if you swing that way.
Despite their chunky appearance, they're a lot lighter and more stable than they look. The highly cushioned sole also ensures they're extremely comfortable, and that unusual extended heel promotes a smoother, more efficient gait. Admittedly, there are better choices for scrambly mountain routes, but for big miles on well-worn paths, we loved their plush feel underfoot.
We were also impressed by the Anacapa's eco credentials. The shoes are constructed from leather certified by the Leather Working Group, along with recycled polyester and a liner made from 50% soy-based material.
Our Three Favourite Things
Cushioning
We could have just put 'cushioning x3' here, since this really is the stand-out feature of the Anacapa shoe (and most HOKA footwear in general). It makes for superb all-day comfort, alleviating soreness underfoot even if you're covering multiple miles, and does a good job of absorbing lumps and bumps on the trail.
Weight
Given their chunky build, you'd expect the Anacapas to be fairly heavy. But thanks to air mesh uppers and a spongy compression moulded EVA midsole, they're surprisingly light – tipping the scales at just 289g in a women's 6 or 353g in a men's 8. That'll help ensure you don't feel leg-weary at the end of a long hill day.
Grip
Traction (or lack of) can make or break a walking boot or trail shoe – after all, you want to feel nimble and sure-footed in the hills, not like Bambi on ice skates. The Anacapa's Vibram Megagrip outsole delivers the goods. Despite a pronounced rocker, the broad forefoot and heel puts a lot of rubber in contact with the ground, while the multi-directional 5mm lugs provide plenty of bite.
Best hiking shoe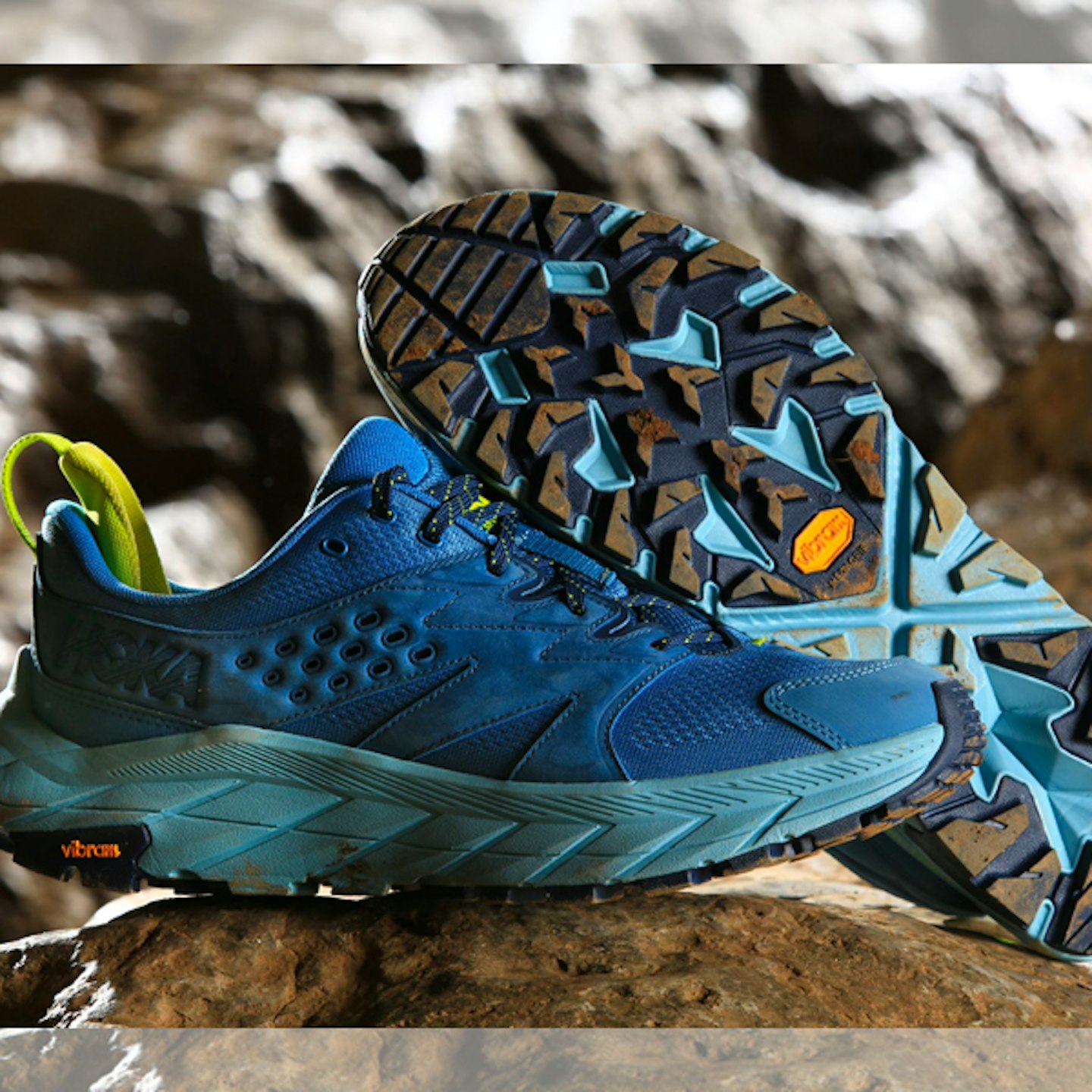 Live for the Outdoors
Description