Meet the well-deserved backpack winner of our Trail Gear of the Year awards. Our testers cannot stop raving about the Atom+ EP50 and its uniquely bespoke approach to design.
While bigger brands remain wedded to traditional backpack styles and designs, Atom Packs is a market disruptor with a cutting-edge, forward-thinking strategy. The Keswick-based cottage business have given a British twist to the US 'thru-hiking' movement. Their ultralight backpacks are highly-customisable, including well-thought-out features and tailored sizing options.
They strike a fine balance between weight, durability, comfort and structure. Each of these elements being of equal importance for a high-performance piece such as this. But is the Atom+ EP50 worth the splurge? Let's dive deeper into why we believe that this is one of the best hiking backpacks for 2023.
The Atom+ EP50 in Detail
The off-the-shelf Atom+ EP50 weighs just 750g – that's up to 1kg lighter than some comparable packs. It delivers a close-to-the-body carrying experience that's so comfy and light-touch you almost forget it's on.
Load transfer is good – courtesy of the removable carbon-fibre hooped frame (55g) and foam pad (15g) – and the materials used (EcoPak EPX200, 210-denier Robic Extreema, Dyneema mesh and 500-denier textured nylon) feel tough enough for extended trail abuse, despite being light. Our favourite features are the shoulder strap bottle pockets, on-the-move accessible side pockets, and huge stretchy stuff pocket.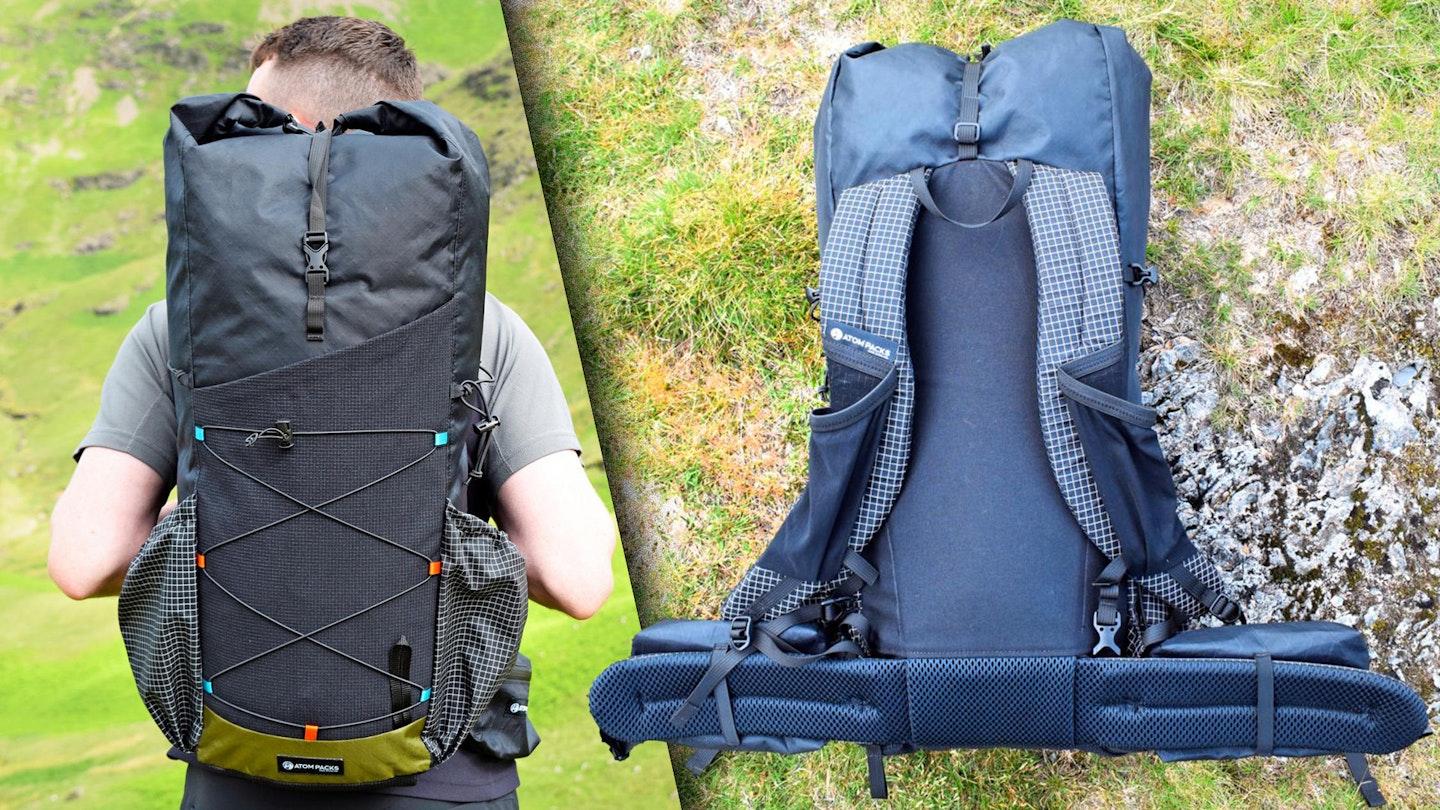 Our Three Favourite Things
Ultra-light design
It would be utterly pointless to buy loads of ultralight camping kit, only to stuff it inside a heavy, chunky, backache-inducing pack. Instead you'll need your actual backpack to be light and minimalist too, like the The Atom+ EP50, which clocks in at just 750g. For extra ultralight points, you can use it as a frameless pack – saving yourself 70g – or if you want an extra bit of structural rigidity and support, simply use the removable carbon fibre hooped frame (55g) and foam pad (15g).
Customisation
Atom Packs are completely customisable. A tool on the brand's website allows you to create your pack just the way you want it, tweaking everything from the size, materials, colours, pockets and straps. Want a tropical teal and deep purple colour scheme? No problem. Prefer Dyneema stretch pockets rather than bullet netting? All sorted. Fancy a Y-shaped top strap instead of a single strap? Consider it done. This modular approach is clever and innovative, and enables you to fine-tune your pack to your exact hiking needs.
British-made
Unlike most major brands, which often manufacture products in China and other parts of South and South-East Asia, these packs are handmade in Atom Packs' premises in Keswick. The handmade approach ensures a more bespoke and personalised approach (although lead-in times can be slow), and there's something heart-warming about knowing some gear is still made in the UK, under the shadow of Skiddaw and the Lake District's majestic northern fells.
Best hiking backpack 2023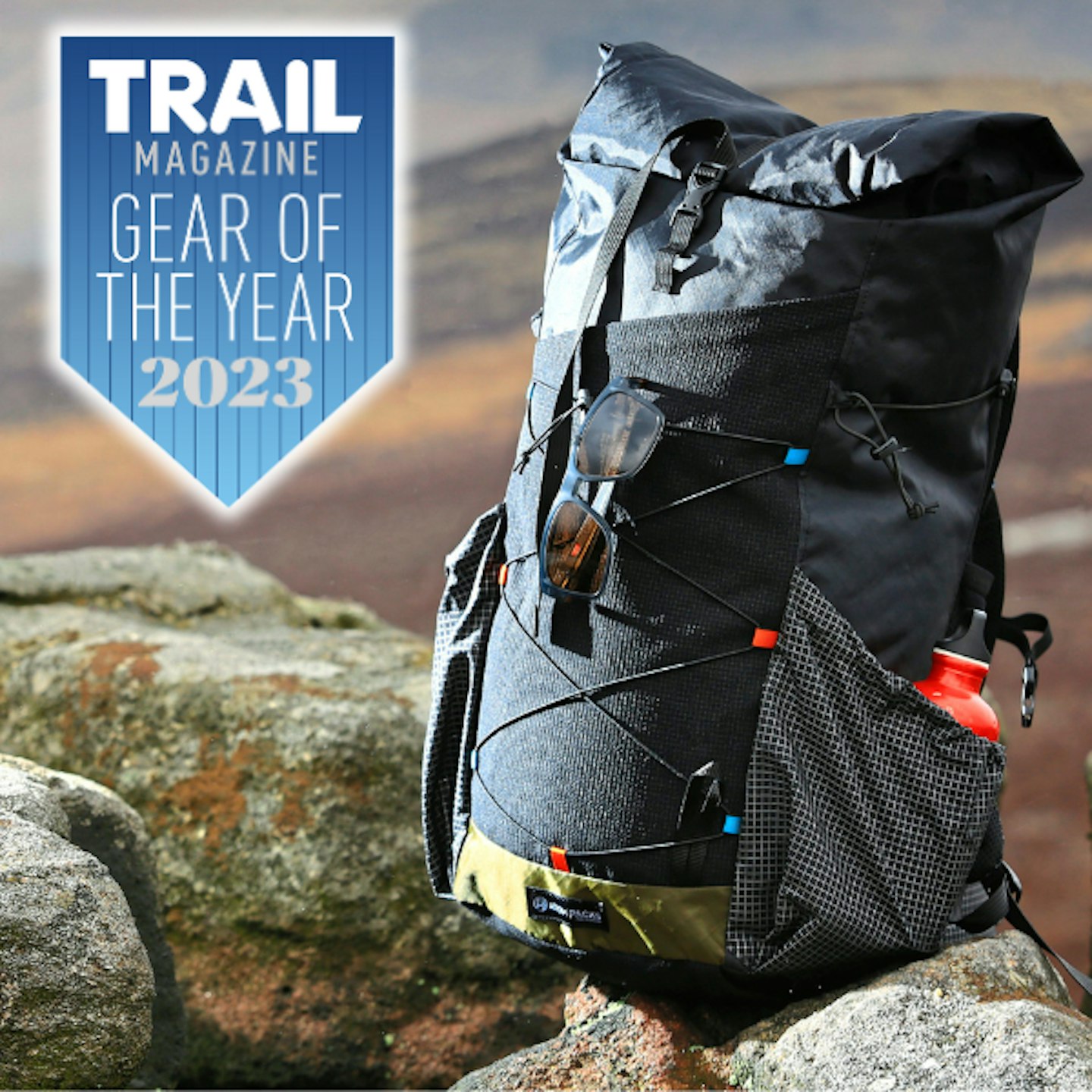 Live For The Outdoors
Pros
Incredibly lightweight
Clever design features
Tailored size options