This sporty-looking hard shell waterproof jacket from Norwegian brand Helly Hansen does everything right. The Odin 1 World Infinity is ultralight, fully-featured, eco-friendly and mountain-ready, it's a top-notch all-rounder with first-rate performance – even if the price is very, well, Scandinavian.
Because of its impressive characteristics, it's our won the waterproof jacket segment in out Trail Gear of the Year awards.
This jacket's top trait is its stellar breathability combined with raw toughness – but there's a whole lot more than that to cover. So, let's dive deeper into why we've picked the Odin 1 World Infinity as our best waterproof jacket for 2023.
The Odin 1 World Infinity Jacket in Detail
First and foremost: we love its sustainable construction. The shell fabric of the Odin 1 World Infinity is partially recycled and strikes a nice balance between weight and strength. Even better, the backer is 100% recycled. Helly Hansen seriously impressed us with their LIFA Infinity technology – a microporous membrane made without chemicals or PFCs. This cleanly produced material offers premium waterproofing (20,000mm), windproofing and breathability (20,000g/m²/24hr). Often, brands' proprietary membrane technology is lacking compared to market leader Gore-Tex, but not so with Helly Hansen's super protective jackets.
The brand is continuing to earn their reputation for producing absolutely bombproof kit. They constructed this jacket with mountain professionals and rescue teams as consultants. All to ensure that it won't let you down in the worst of weather conditions. The Odin is another fine addition to the Helly Tech Professional Collection – a category we admire for its gold standard.
3 things we like
Lightweight construction
Most bombproof waterproofs – which are capable of withstanding the torrential downpours of Britain's mountains – are heavy, clunky and stiff. Not so with this jacket. Weighing just 390g for the men's small, the Odin 1 World Infinity Shell is wonderfully light and comfy. That's especially significant considering the level of protection afforded. It rustles a little but isn't excessively stiff, and delivers a high level of comfort for active adventures.
Innovative features
This jacket features lots of extra bells and whistles compared to your standard hard shell. Nifty features include an emergency whistle attached to the chest pocket and side zips (rather than pit zips) for ventilation when required. You'll also get a built-in RECCO transponder for rescue situations. If you find yourself in a tough spot, rescue teams can locate you by using a RECCO detector. This handy device emits a directional radar signal which will interact with your RECCO transponder and help them zero in.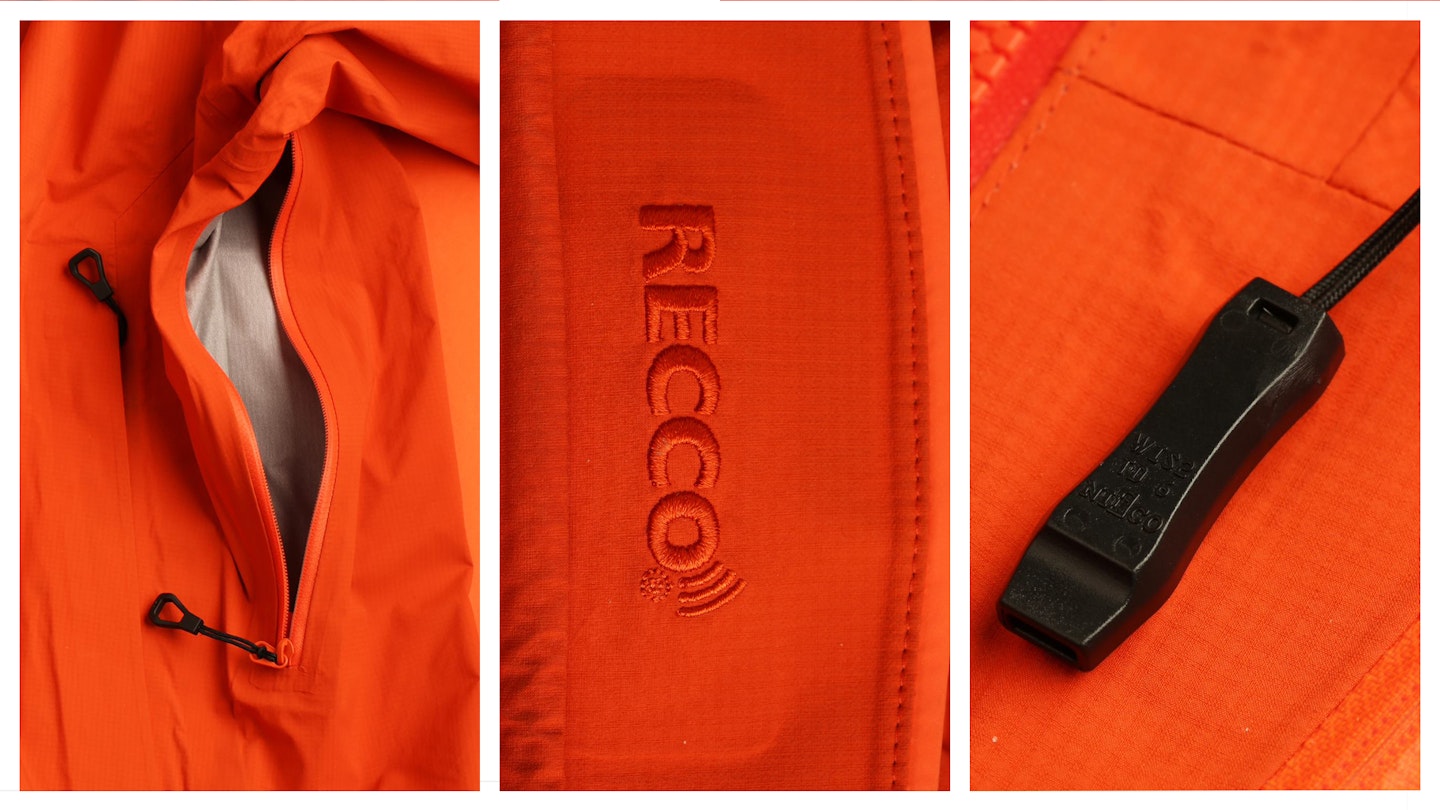 Eco credentials
The Odin 1 World Infinity Shell has a partially recycled shell fabric and a 100% recycled backer, but the biggest innovation is the way Helly Hansen has created a 3-layer construction without the use of chemical solvents. The jacket's membrane also has fewer negative environmental impacts compared to other harmful membrane technologies. This is because Hansen use polypropylene for the construction – an evolution of the same fibres used in their famously tough base layers.
Verdict
While we agree that the Odin 1 World Infinity costs a pretty penny – even compared to other Helly Hansen jackets –we reckon it's worth it. The excellent waterproofing and durability start to make the jacket feel more like a long-term investment, and the comfort levels are what push it over the edge. Your best bet for a better experience on the trails, and for protection from any and all weather is this.
Description
Pros
Eco credentials
Excellent design
Innovative features
Lightweight
Cons
RECCO technology not widely used in UK
Small fitting