Waterproof, insulated gloves are essential for any climber or winter sports enthusiast. To help you choose which pair best serves your needs, we've tested some of the best waterproof gloves available today, covering a range of price points and abilities.
Choosing the right waterproof gloves
In the same way that other waterproof and insulated pieces of clothing vary, so too do gloves. This requires you to think about what you need them for.
If, for example, you want them for watching winter sport or more relaxed winter walks, greater levels of insulation are needed in addition to waterproofing. But the trade-off with larger gloves is reduced dexterity and breathability.
For winter climbers, skiers, and mountaineering, durability, dexterity, high waterproofing and breathability are crucial for you. Gloves bearing these features are lighter and thinner and therefore not great when watching winter sport or undertaking more relaxed walks in the snow.
Naturally, budget heavily influences our decisions but don't let that dictate. After all, while you can get some reasonable waterproof gloves on a budget, you fundamentally want a glove that will do what you need it to. It may well be worth your while paying a little more for a glove that will suit your needs rather than settling on the cheaper alternative that won't be so good.
The best waterproof gloves
Best in Test
Description
Verdict: A good all-round glove for winter but not the warmest option. The cuff isn't the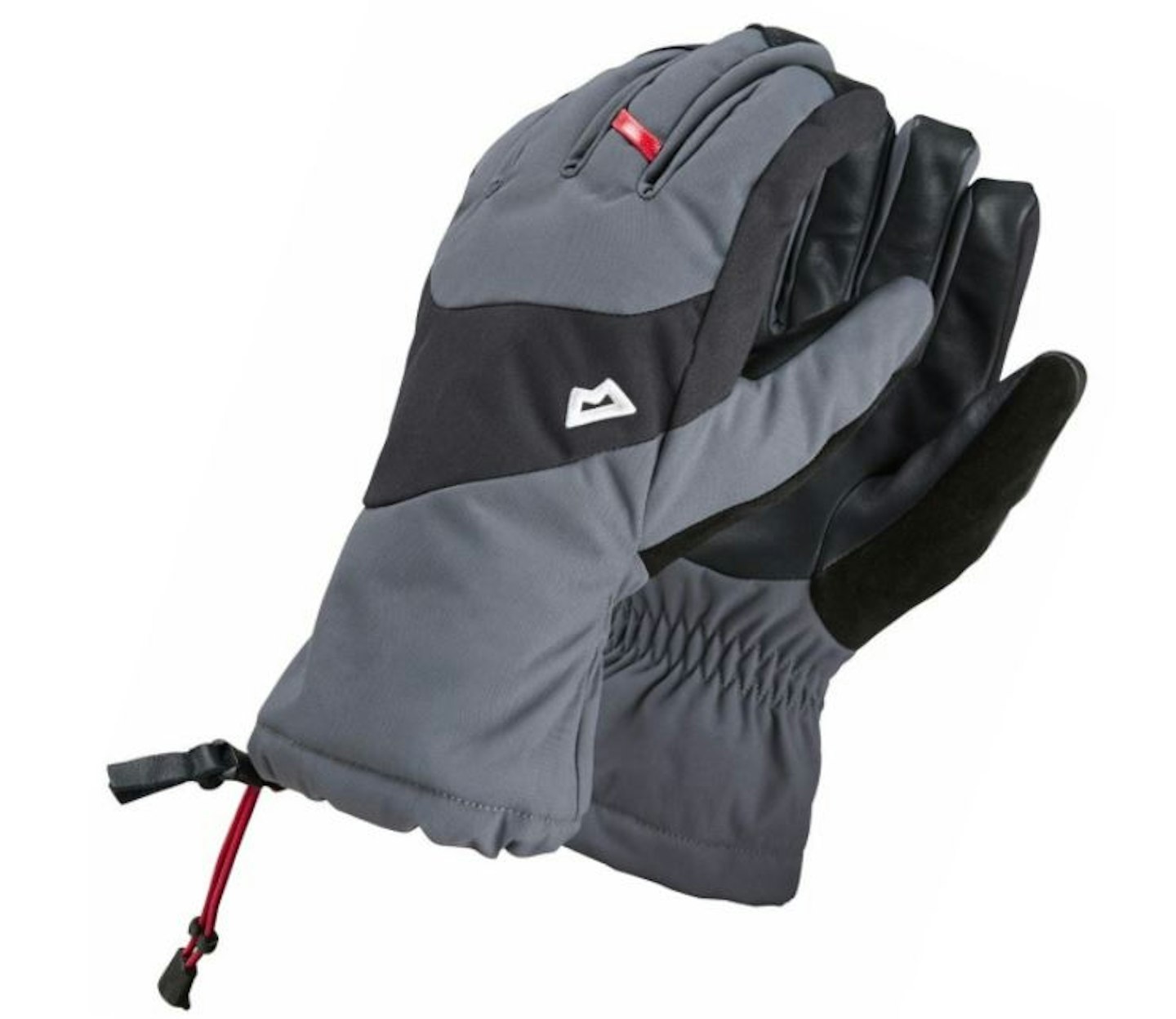 Features: 4/5 | Fit: 5/5 | Weather resistance: 5/5 | Performance: 4/5 | Value for money: 4/5
Overall score: 88%
Pros: Durable outer fabrics, allows good dexterity, muted women's colours
Cons: No wrist leash
This well-established glove offers great comfort and dexterity. It's available in both men's and women's sizes, with the women's range coming in black/grey. That's great if you don't like the typical pinks/purples that many women's products display.
On offer are a Drilite waterproof lining, a leather palm and a fibre pile lining on the back of the hand, with a microfleece lining on the palm. This all adds up to a warm glove with durable protection. The pre-curved fit means they feel natural when the hands are relaxed and the materials don't bunch up when holding things such as ice axes or trekking poles. Also, the lining doesn't get caught when you remove them quickly and doesn't snag when putting them back on.
Although the cuff isn't the longest, you can fit it inside or outside a jacket sleeve. You also get a drawcord to close the cuff. A soft nose wipe is included and there is a loop on both ring fingers to clip the gloves to a carabiner for easy carrying.
On the downside, there's no wrist leash, so you need to keep hold of these when taking them off in the wind to prevent them from flying off the mountain. Also, while warm, they aren't as warm as others here, so you may need something better for really cold days.
The shorter cuff could allow for air gaps around the wrist, which is annoying, but then longer cuffs can be difficult to fit inside a jacket sleeve. Some gloves have an additional adjustment at the wrist, but here you just have elastication, so you need to consider if you need any additional adjustment.
Also, you don't get the touchscreen sensitivity required to operate a mobile phone. But for me, these worked fine on the hill and I really liked using them just as they are.
Sizing: Men's S-XL, Women's XS-L | Weight: 175g (pair, size M)
Best for scrambling
Description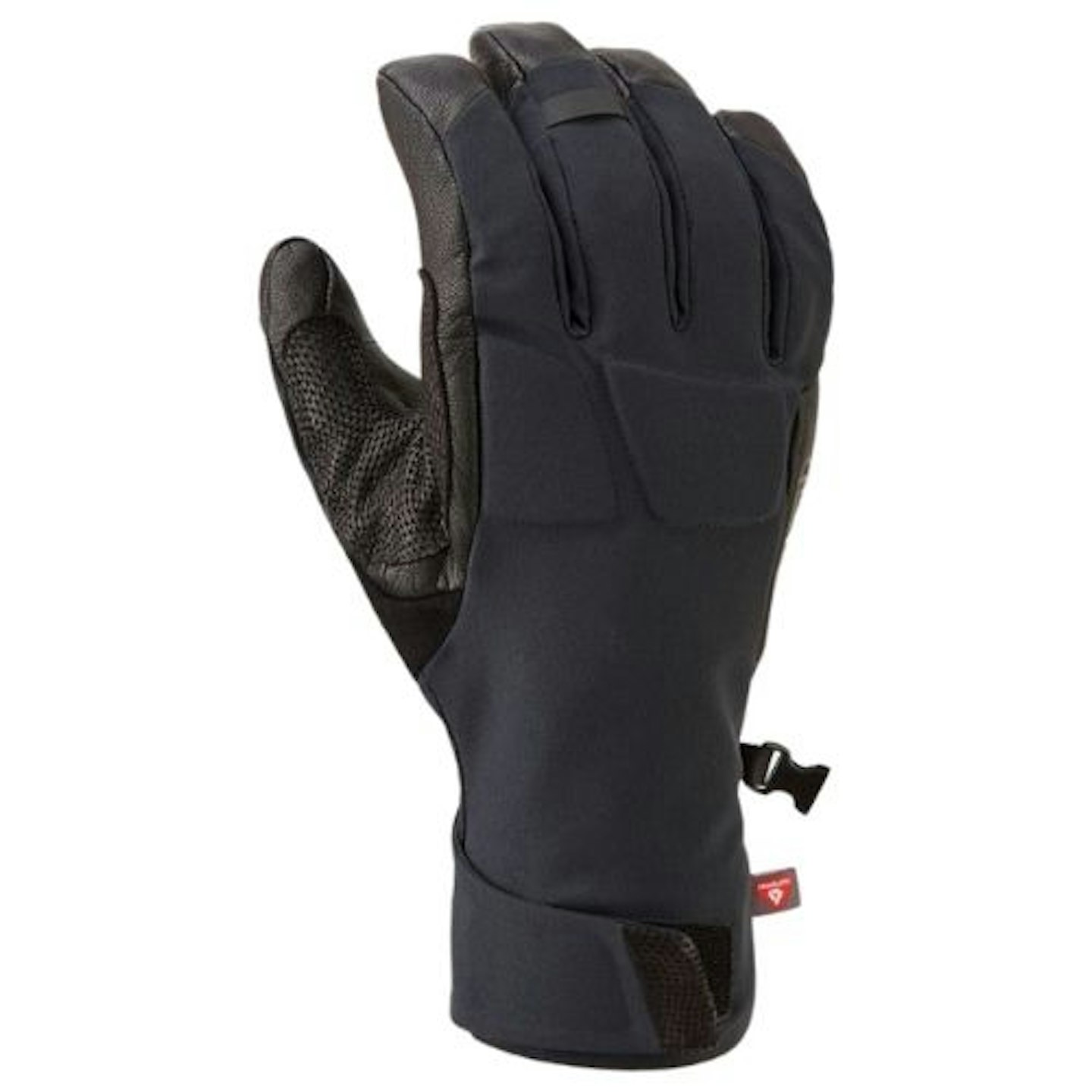 Features: 5/5 | Fit: 4/5 | Weather resistance: 5/5 | Performance: 4/5 | Value for money: 3/5
Overall score: 84%
Pros: Great dexterity, impressive warmth for the weight, durable outer fabrics
Cons: Expensive, unisex fit
The Fulcrum GTX is one of the ultimate winter hillwalking gloves and is ideal for tough days on Scotland's Munros. The super-durable Gore-Tex outer ensures waterproofness, while the strong, Pittards Armortan leather palm and fingers guarantee a durable grip. The thumb also has a much-used nose/goggle wipe – a feature often lacking on lower-priced gloves.
After a few minutes without gloves in cold, wet and windy weather, it's a relief to slip hands into the soft fibre pile lining. The overall fit is precise and the pre-curved palm and fingers allowed your hands to rest or grip in a natural position. We think the wrist leash is super, which keeps the gloves close to hand when removed in high winds.
In pursuit of an ideal dexterity-warmth balance, Rab has used high-performing PrimaLoft Gold synthetic insulation. The warmth of these gloves for the weight is impressive but you will certainly find warmer, albeit bulkier, gloves if that is what you need. Unfortunately, they can't be used with a touchscreen device either, and there's no women's option.
Sizing: S, M, L, XL | Weight 168g
Best budget waterproof glove
Description
Verdict: Good basic gloves that are ideal if your budget is limited and you don't need all the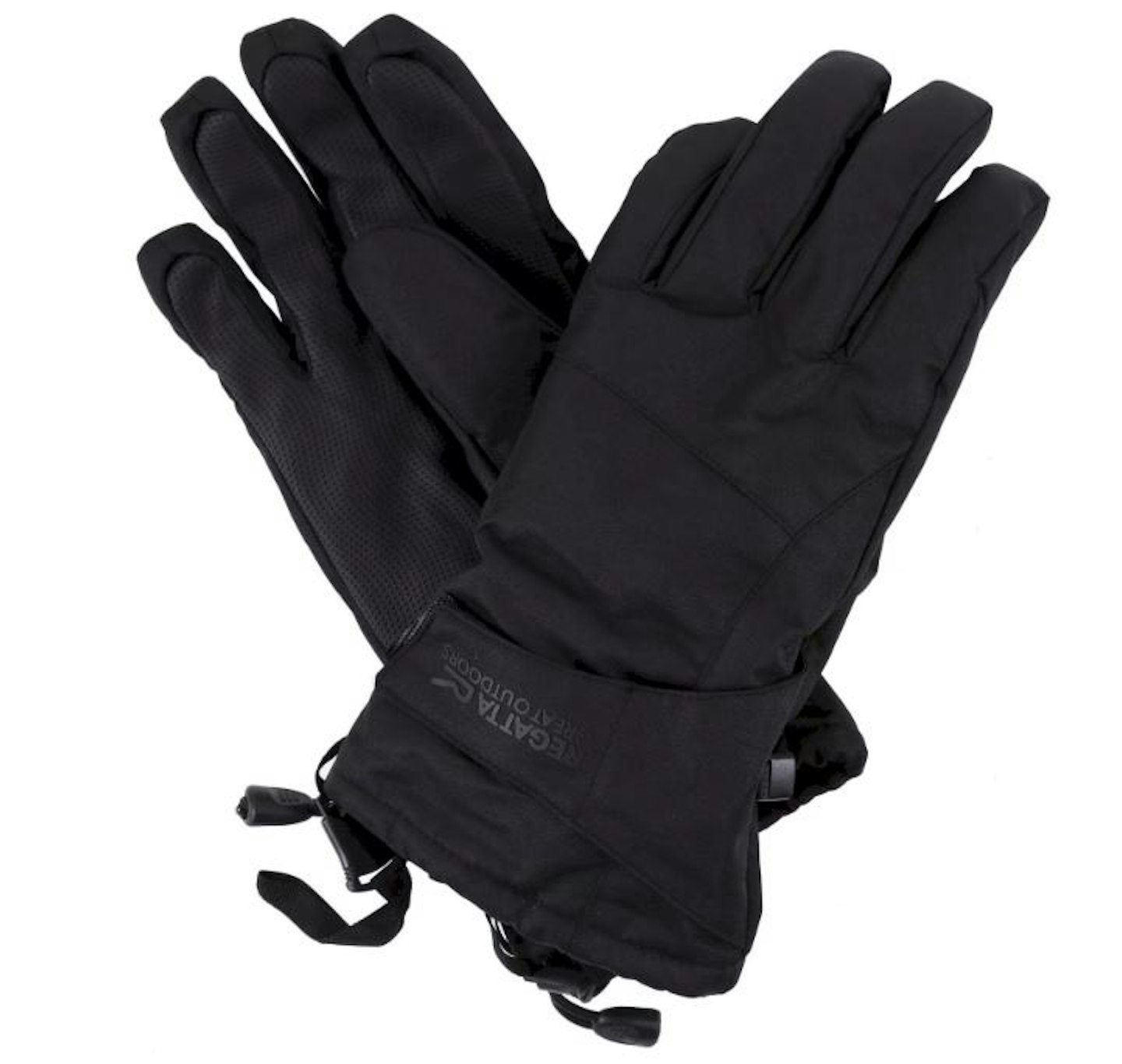 Features: 4/5 | Fit: 3/5 | Weather resistance: 4/5 | Performance: 3/5 | Value for money: 5/5
Overall score: 76%
Pros: Very affordable, decent waterproofing, pre-curved fingers
Cons: Only two sizes, others are warmer, no wrist leash
The low price of these gloves is instantly inviting, and for many walkers. This and the design benefits on offer will more than suit their needs. The waterproof Hydrafort fabric has Thermoguard synthetic insulation inside, so your hands stay warm and dry. There is some pre-curvature to the fingers, which makes gripping ice axes easier and neater. In particular, the thumb fits very neatly and is nicely shaped. One of the crucial features in the Transition III is that these are touchscreen friendly.
For durability, the palm and fingertips have a textured PVC layer. The cuff is a good general length that can be fitted under or over a waterproof jacket, and you get basic elastication at the wrist as well as a cuff drawcord. This all works well, so these gloves are ideal for general walking if you are on a tight budget.
But these gloves come with a number of drawbacks. Therefore, if you can pay more then it is worth doing so. Firstly, they only come in two sizes, so you really must try before you buy. Also, while these are insulated, they are not as warm as some higher-priced gloves. Those suffering from cold hands will want something warmer.
The palm is durable enough for most walkers, but hard users will find leather palms even better. There is no nose wipe – something you may come to miss! Also there is no wrist leash and no wrist cinch strap, all great little details that do make a difference if you are out in the hills regularly.
Sizing: Unisex S/M, L/XL | Weight: 144g
Recommended
Description
Verdict: Buy these if you want a low-priced glove that is ideal for walking with touchscreen
Features: 4/5 | Fit: 3/5 | Weather resistance: 5/5 | Performance: 3/5 | Value for money: 4/5
Overall score: 76%
Pros: Decent price for Gore-Tex, pre-curved fingers, touchscreen compatible
Cons: Not as durable as others, annoying fingertip seams
These attractively priced gloves feature a Gore-Tex Active waterproof lining to keep your hands dry from rain and sweat. They also have polyester hollow fibre insulation for warmth. Instantly comfortable when you first slip them on thanks to a brushed microfleece lining, the pre-curved fingers improve grip on ice axes or poles and the palm has a PU layer for durability.
Impressively, these gloves work with touchscreen devices, and the cuff length is good, which fits inside or outside a jacket. Less impressive are the fingertip seams, which are just at the point you want to touch things. This really affects dexterity, and if used regularly this area would be less durable than other designs. The thumb shape was also not very close-fitting, with a square seam that again raised dexterity and durability concerns.
Sizing Unisex S, M, L, XL, XXL | Weight 165g
Don't forget to subscribe to the Live For The Outdoors newsletter to get expert advice and outdoor inspiration delivered to your inbox!
For the latest reviews - including extra photos and products that won't appear online - pick up a copy of the current issue of Trail magazine.