While we give plenty of thought to hiking base layers, very little attention is given to hiking underwear, even though we need to be equally picky.
Some might say we're being fatuous and that it doesn't matter what underwear you wear on a hike. But pick an inappropriate pair and you'll be inviting walking discomfort to pay you a visit.
Underwear for hiking, and sports use in general, needs to possess a number of key characteristics in order to provide all-day comfort in demanding, sweaty conditions. These include breathability, chafe-free construction, and temperature regulation. Other properties like odour control are also very useful. Really, it's the same sort of approach one takes to a similar situation with hiking socks.
Best hiking underwear at a glance:
Best for winter: Aclima WarmWool Boxer Shorts – View on Aclima
Best for summer: BAM Regular Fitted Air Bamboo Boxers – View on BAM
Best bra for hiking: Runderwear Balance Sports Bra – View on Runderwear
This guide recommends the best hiking underwear for men and women, plus the important things you need to know when buying underwear for hiking.
Best hiking underwear for men
Best for men's comfort
Description
The main goal of Saxx boxer shorts is to make men as comfortable as possible, whatever they might
Pros
Most comfortable men's underwear
Anti-odour treatment
Large size and colour range
Cons
Could do better on sustainability
Best for winter
Description
Wool might sound like an improbable choice of fabric for comfortable underwear, but the properties
Pros
Temperature regulating
Naturally anti-odour
Good breathability
Women's version also
Best for summer
Description
There are three primary benefits you get from this underwear: comfort, sustainability, and value.
Pros
Highly breathable
Excellent comfort
Sustainable
Best hiking underwear for women
Best for fast drying
Description
Designed for high-activity outdoor adventures, including hiking, running, climbing and more, these
Pros
Great value
Quick drying
Highly breathable
Men's version also available
Cons
Would be good to see recycled polyester used
Best bra for hiking
Description
Born for running, the factors and features that make Runderwear a popular choice for fast movers
Pros
Supportive compression fit
Suitable for hiking and running
Moisture-wicking
Cons
Sometimes patchy availability due to high demand
Could have better eco credentials
Best for hipster-style underwear for hiking
Description
Using a blended mix of natural and synthetic fibres, these hipster pants offer the perfect
Pros
Naturally anti-odour
Moisture-wicking
Soft fabric
Cons
Not especially fast drying
What to look for in hiking underwear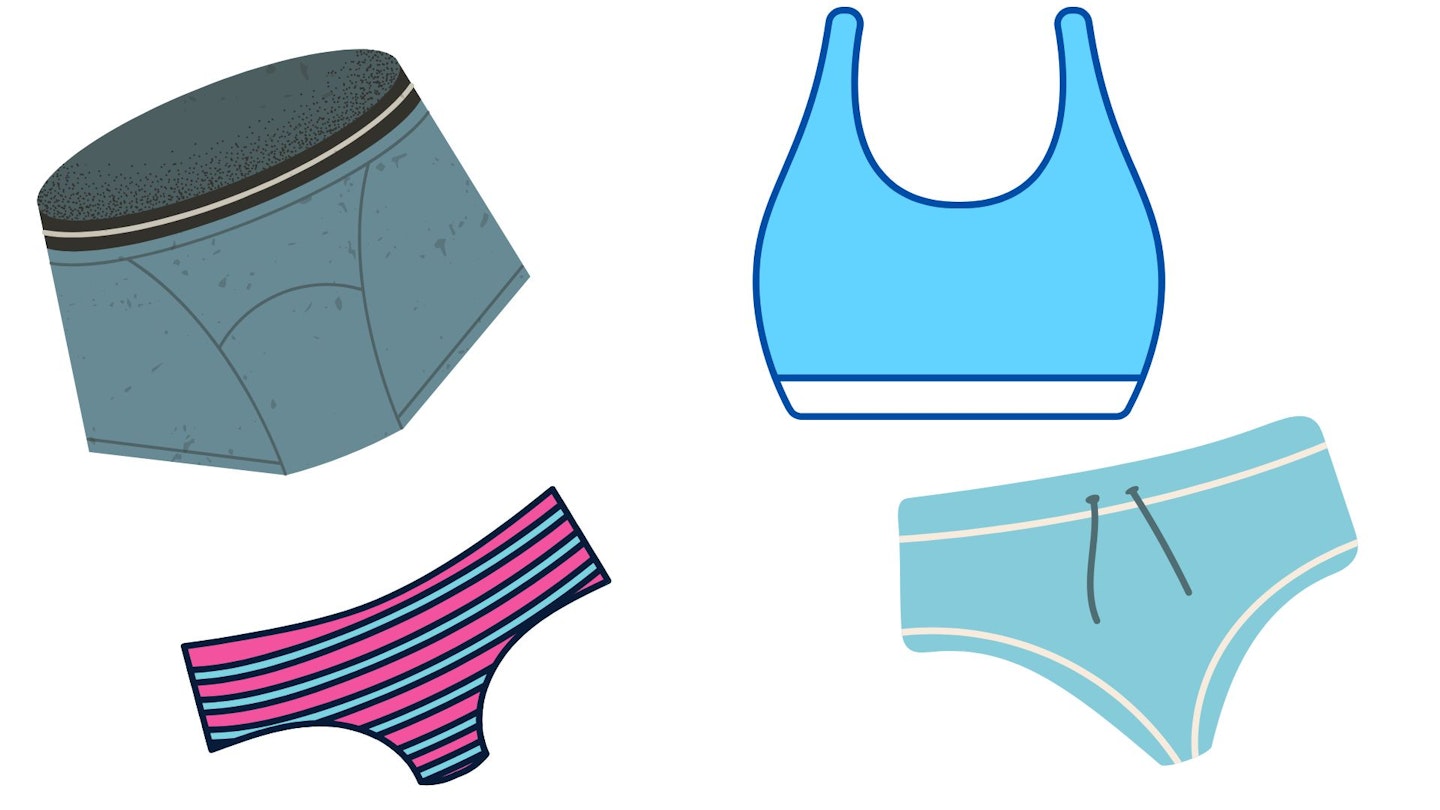 Style: This is entirely subjective. Having said that, we've found boxer brief-style to offer the best comfort for long or intense walking days than Y-fronts and briefs or bikini/thong-style underwear. But as we said, this is subjective. Know what you like.
Material: Underwear for hiking and sports use materials that are breathable and have good moisture control, such as merino, bamboo, nylon and polyester. Merino provides temperature regulation and anti-odour properties, and continues to perform when wet, but is more expensive than other materials. Bamboo is breathable, soft, and a low-impact crop. Polyester is moisture-wicking, fast drying, and often inexpensive.
Winter: When hiking in cold and often wet conditions, you want your underwear to be breathable, have temperature regulation, and ideally still perform when wet. As a result, merino is a great fabric for winter underwear.
Summer: In warm conditions, comfortable underwear needs to be highly breathable, moisture-wicking, and ideally fast drying. Therefore, bamboo and nylon or polyester are good materials for summer hiking underwear.
Going commando: While some hikers proudly do away with underwear, it's not something we recommend. One of the major benefits of wearing tighter or slim-fitting underwear while hiking is preventing chafing.
How we test
Although the most invisible, underwear, along with socks, arguably get the most thorough testing of all the outdoor gear we thrash. We never go commando and are always wearing some form of underwear on our tests and can therefore report back with the upmost confidence how they perform in demanding, real-world conditions.
The underwear recommended in this buying guide has been tested by a range of our gear testers - meet the Live For The Outdoors team here.
Get half-price digital OS Maps! Trail and Country Walking magazine members get 50% off an annual subscription to OS Maps for 12 months! Find out more here.
Don't forget to subscribe to the Live For The Outdoors newsletter to get expert advice and outdoor inspiration delivered to your inbox!