These days it isn't unusual to find sub-two kilogram tents. But finding one that is genuinely three-season ready for under £200 is something of a rarity. If it can deliver, the Wild Country Zephyros Compact 2 will stand out as an exceptional piece of kit in a very desirable class.
About Wild Country and the Zephyros Compact 2
Wild Country is a sub-brand of Terra Nova. But where Terra Nova-badged products sit at a reasonably high price point and are aimed at experienced specialists and enthusiasts, Wild Country offers better value, but not at the expense of quality and therefore caters to a wider customer base.
The Zephyros Compact 2 is, unsurprisingly, a lightweight and compact hiking and backpacking tent that has high weatherproofing designed for 3-season use. It has been designed to cater for two occupants or a more spacious one. Though solo trekkers looking for a more compact version can consider the smaller Zephyros Compact 1.
How we tested
I took the Zephyros Compact 2 on a four-night expedition in the Scottish Highlands (one of which was actually in the Lake District on the way up).
There were two of us using the Zephyros Compact 2 in order to see how it went as a two-person tent. We didn't just lug it from campsite to campsite in the car either, we carried it in a pack along with all our other hiking gear to test how compact it was when packed away.
Waterproofing
There was no mucking about in testing the Zephyros' waterproofing. Our first night was spent next to a stream in a valley in the Lake District, not too far from Britain's highest inn. The ground was already damp when we made camp and ominous gunmetal clouds were looming ever closer. Drizzle was in the air and evolved into steady rain from 11pm and was still falling when we left at about 7am the following morning.
At no point did rainwater penetrate the Stormetx P4000 flysheet of the Zephyros, or its Aquastop P5000 groundsheet. Both of these are seam-sealed but I was still genuinely surprised and impressed by the waterproofing.
In regards to condensation, the Zephyros did rather well. It has meshed ventilation panels on the inner and flysheet (all of which you can close if you wish), plus a partly meshed door. We had at least some breeze on three of the four nights, which allowed good airflow and no condensation in the morning. On the last night of our trip, the air was still and we did wake to a little condensation on the inside of the flysheet.
Pitching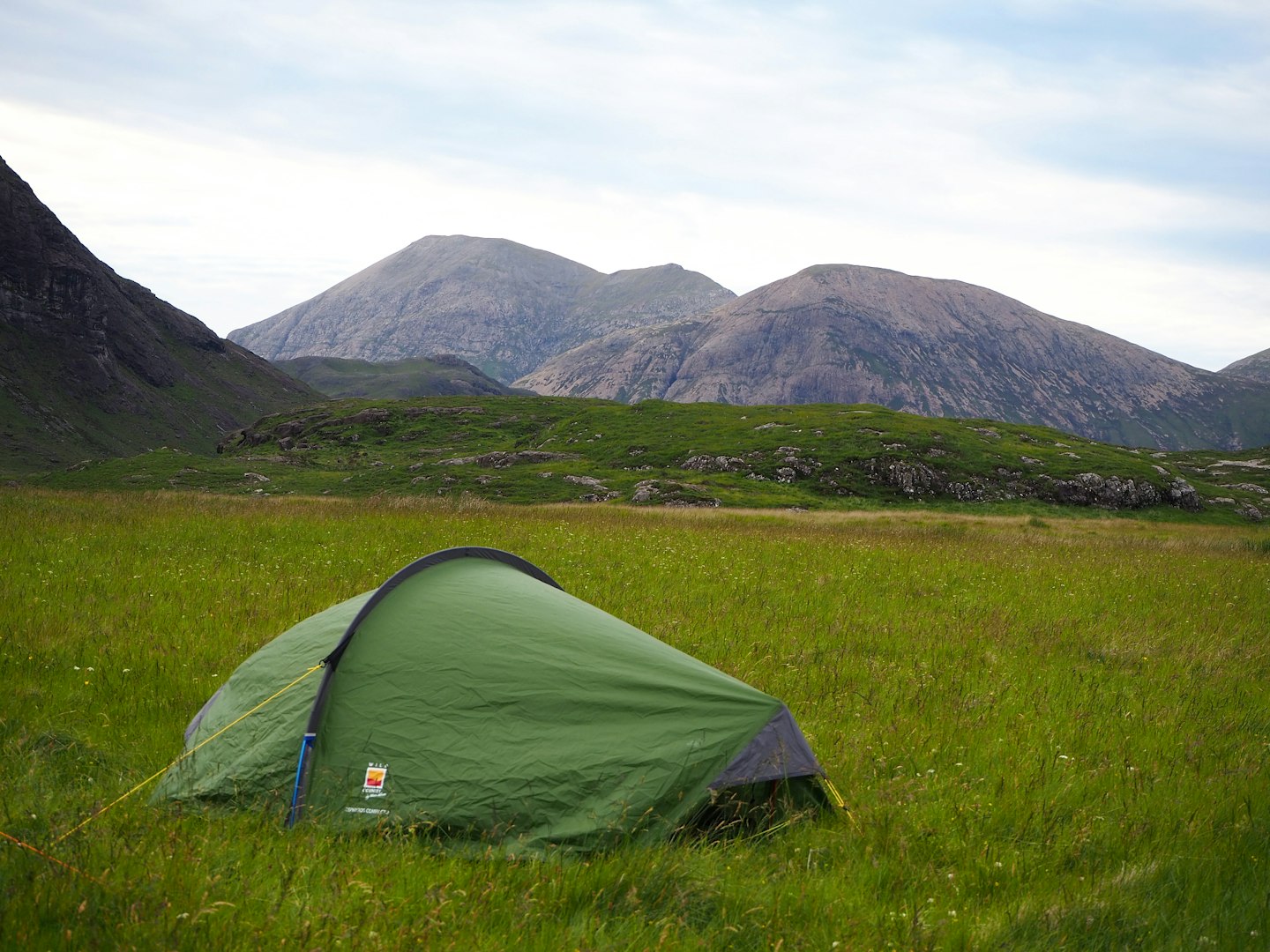 Pitching is very straightforward once you know what to do. There is a single central pole arching over the centre and a small one at each end; put the poles in place; peg out the guylines at each end, at which point the tent will stand up; then peg out the rest of the tent, including the other two guylines. The poles are 8.5mm aluminium alloy and are simply excellent.
The inner comes attached to the flysheet and pitching is a two-minute job with another person or a five-minute one on your own. This was well received by me because it meant that the tent went up in a jiffy and we could enjoy our Spam and Mug Shots (and perhaps a tipple of whisky) beneath the towering Highland hills, momentarily stained pink by the setting sun and with grazing deer nearby.
The ten red pegs are lightweight alloy and are in a V-shape. The ground at our campsite in the Lake District was surprisingly hard, but the pegs penetrated into the dirt fairly easily – certainly more easily than the traditional pegs used by my mate pitching his tent nearby.
The end result is very sturdy and easily capable of coping with tempestuous wind, provided you peg it down properly. Wind gust up the valley in the Lake District during our first night, in addition to the rain. But the Zephyros stood totally indifferent as if the blustery air was merely a zephyr. The Zephyros is every bit the three-season tent Terra Nova says it is.
If you find the flysheet a little slack, make sure that the end poles slope out at about 15 degrees, and on the inside between the flysheet and inner you can make the construction tauter with straps.
Space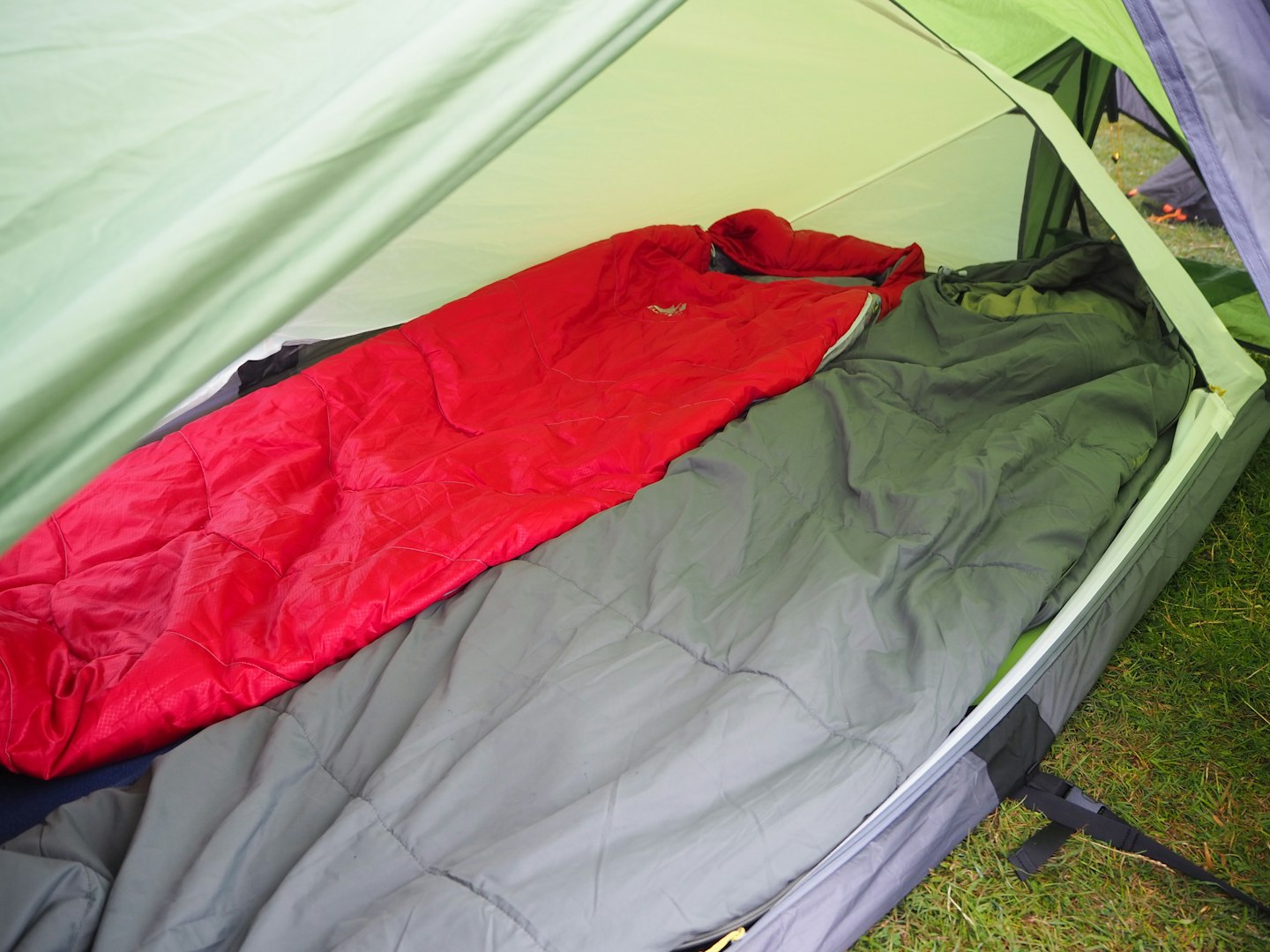 This version of the Zephyros is meant for two people. And it's just as well it has the word 'compact' in its name because when sleeping two, it certainly is that. If I weren't already engaged to the person I was sharing the tent with, there's a fair chance I would've been after that.
Don't be naive. This is a hiking and backpacking tent and was never going to be as spacious as glamping Zempire. The two of us managed OK, I'm 6'2" and my cohabiter is 5'5" (and a bit, she insists). However, we filled the inside, which in itself is fine, but the porch area is not big enough for one let alone two packs. So they had to squeeze inside with us. The porch has enough space for boots, but that's it.
Terra Nova says that the Zephyros is meant for short and medium-length trips for two people, but even with smaller packs, the Zephyros could do with a little more width in the porch. At present it is 30 centimetres wide – another 15 or 20 centimetres would be enough to make all the difference.
As a one-person tent, the Zephyros Compact 2 is good for a trip of any length.
Features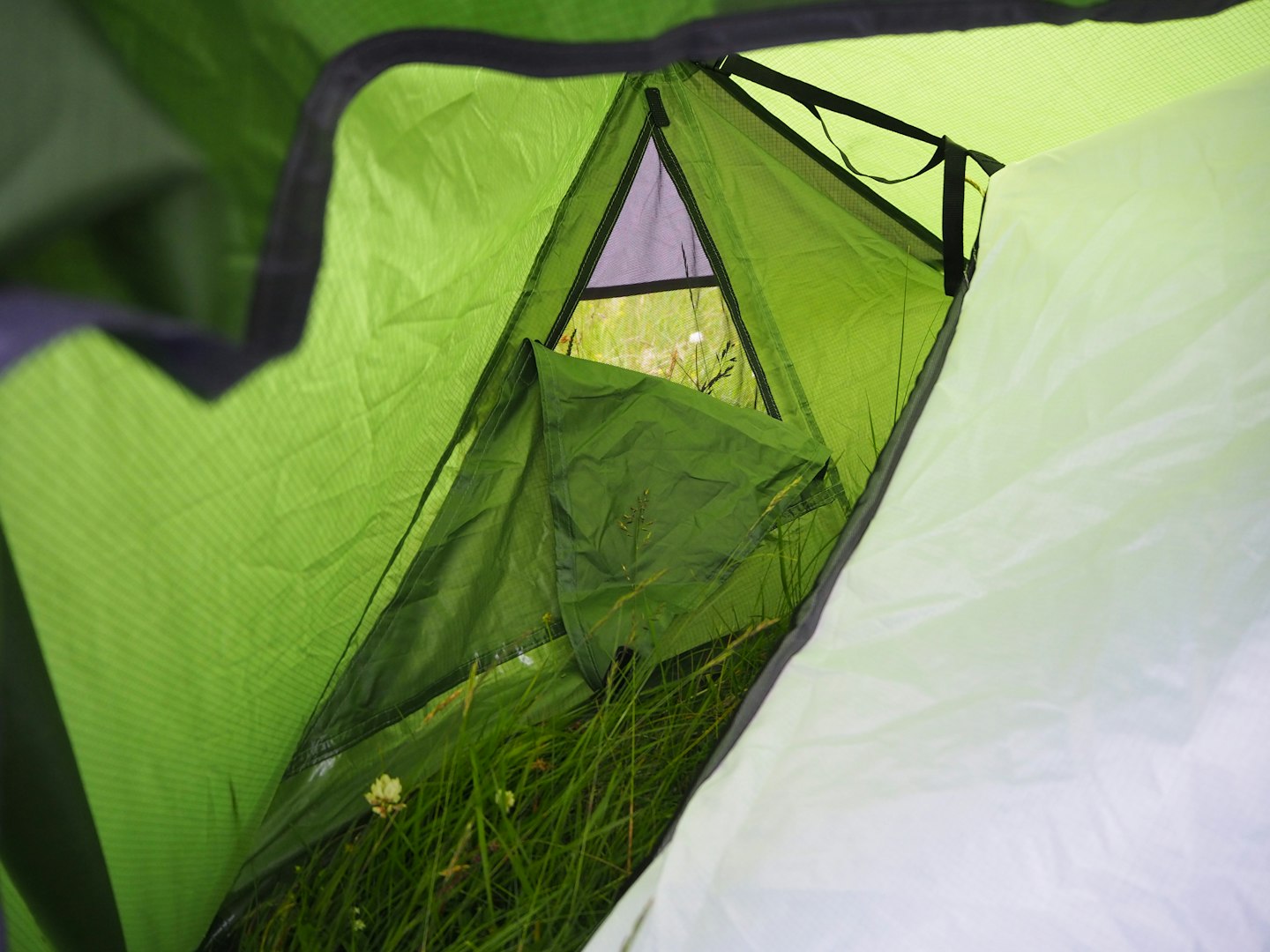 Those with active night-time bladders will be very pleased to hear the Zephyros Compact 2 has a door on each side. My cohabiter was able to slip in and out on a couple of nights without my knowledge. The zips on the doors of the inner tent are superb. They glide easily when pulled from any angle and the doors on the flysheet have useful two-way zips.
I found that the ventilation panels provided an additional service than merely reducing moisture. They also act as a little peephole, allowing you to survey the world outside and check the weather without even sitting up and opening the doors.
Inside the tent, there is a small pocket on the wall that has enough volume for a couple of phones and torches.
As you would expect, the guylines are bright yellow and reflective, and the sleeve for the main pole also bears reflective patches.
Packing up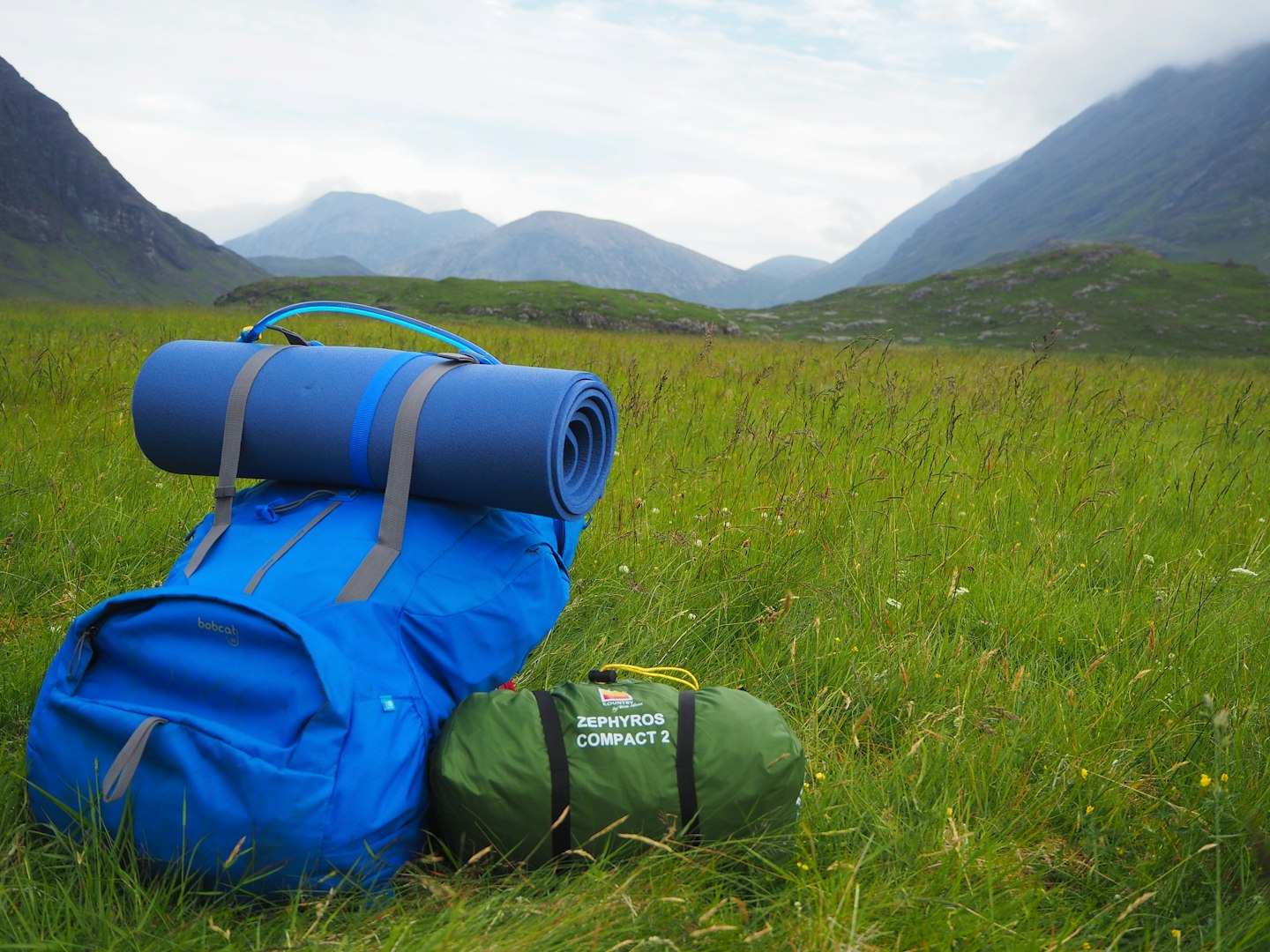 All too frequently, hiking tents are a finger-busting nuisance to pack up because the bags are too small. I am happy to report that is not the case here. Needless to say, I was unable to emulate the flawless folding that goes on when the tent is packaged at the factory. But folding the Zephyros a couple of times and rolling it up with the peg and pole bags is all that is required to pack the tent away neatly and easily in the bag. And the bag itself won't fall apart in five minutes because it opens wide and means you don't have to strain the material each time you're packing up.
Sustainability
One of the places we camped at was a barren and beautiful valley that flowed into the sea, with no evidence of humanity except an old farmhouse, a bothy, oh yes, and a beach completely strewn with discarded fishing ropes, nets, bottles, and other human pollution.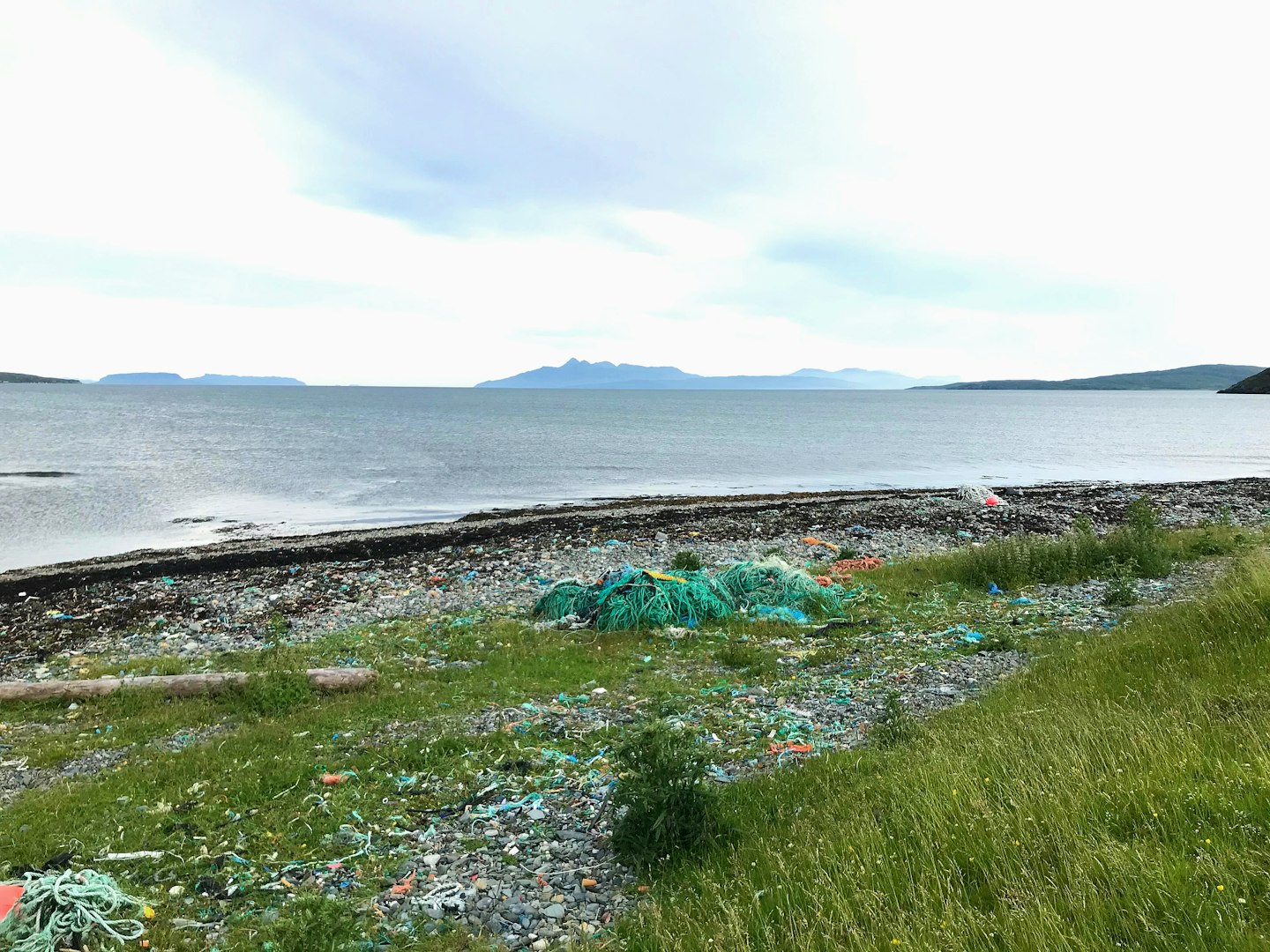 It is therefore incredibly important that we assess the sustainability behind the Zephyros tent and Terra Nova as a brand. I asked Terra Nova about the sustainability of its tents. One of the biggest issues with waterproof outdoor gear is the use of C6 fluorocarbons – a type of PFC – in Durable Water Repellent (DWR) coatings.
Terra Nova says there is no viable alternative at present that is as durable. While that is true, there are other, more eco-friendly options. German outdoor brand Vaude has developed PFC-free DWRs and is using them in its products. Vaude says that its PFC-free DWR isn't as durable as the fluorocarbon alternative and re-waterproofing with a fluorocarbon-free product is necessary. But surely that is a worthwhile interim while a durable PFC-free DWR is developed.
But Terra Nova no longer uses plastic zip pullers and ships customer-ordered tents in recycled cardboard boxes. And in terms of caring for tents during their lifespan (which should be long, given the quality of construction) Terra Nova does well. It offers a full repair service and stocks spares for popular discontinued models. Where its tents are replaced under a warranty, Terra Nova fixes the old tent and sells it on via its factory shop.
Verdict
Overall, I am very impressed with the Zephyros Compact 2. The value for money, quality of construction, lightness, ease of pitching, and performance make for a superb hiking tent. The primary niggle lies in the lack of porch space.
For those after a well-rounded hiking tent for most scenarios, the Zephyros Compact 2 (or 1) is definitely recommended by us.
Pros: True 3-season tent; light and compact; very well made; good value; easy pitching
Cons: Small porch space; not free-standing
Features 4/5 | Design 4/5 | Space3/5 | In use 4/5 | Value 4/5
Overall score 75%
Specs: 1.95kg | 230cm x 130cm x 92cm | 30cm x 19cm packed size | Stormtex P4000 flysheet | Aquastop P5000 groundsheet | Superflex alloy poles (8.5mm main, 8mm end poles) | Tunnel shape
What gear I used with the Zephyros Compact 2:
Description
Full zip, mummy shape sleeping bag. Comfort rating 7deg C, 1.037kg weight,
Description
120cm x 51cm x 3cm. Very light at 460g and compact when packed away at 29cm x 11cm. Nylon ripstop
Description
73 grams, boils one litre of water in under four minutes.
Description
160 grams, perfect for food and can do drinks too.
Description
190 grams, 0.9 litre volume. Sturdy handle and ventilation hole to prevent boil-over.
Get half-price digital OS Maps. Trail and Country Walking magazine members get 50% off an annual subscription to OS Maps for 12 months. Find out more here.
Don't forget to subscribe to the Live For The Outdoors newsletter to get expert advice and outdoor inspiration delivered to your inbox!