Have you ever had a burning desire to sleep on top of your car? Nope, neither had we. But over the past couple of summers, on almost every campsite we've pulled into, we've seen a steady rise in the number of people ditching tents and turning their cars into mini campervans.
In a nutshell, a roof tent is a tent you store on top of your car like a roof box, which then opens up into a tent once you're parked up. There are various styles, ranging from fold-out canvas tents to sturdy, aluminium-cased pop-ups that open at the click of a button. Most come with a fitted double mattress and an attachable ladder for ease of access.
This creates a no-hassle style of camping, where you can pitch up almost anywhere and have your tent ready to sleep in a few minutes later. Add in the fact they don't get dirty because they're pitched about 6ft above the ground, and that they're as quick to take down as they are to put up, and all of a sudden they start to look quite appealing.
For a roof tent newbie, the range of options and prices (anywhere between £500 and £3000) can be bewildering. Our first experience was using the Tentbox Lite last summer. There are three styles in the Tentbox range – Lite (50kg), Classic (64.5kg) and Cargo (64kg) – all of which can be attached to any vehicle with roof bars fitted. We chose the lightest and cheapest option and were pleasantly surprised by how simple it was to fit and operate, and also how comfortable the whole experience was.
Five things you need to know about the Tentbox Lite
Simple set-up
The Tentbox Lite arrives boxed up, so firstly you need to unpack it and attach the fixing rails and telescopic ladder. You then lift it on to your roof bars and attach it using four brackets that screw upwards into the base. That whole process takes about an hour, but the fixing rails and ladder then stay attached, so you won't need to do it all again.

Easy pitching
Once you've arrived at your camping spot and found a flat place to park (very important, or you've got a sloping bed), you take off the tough PVC travel cover, unbuckle a few straps, fold out the tent, extend the ladder, and you're good to go. We even store our sleeping bags flat inside it, so the whole thing's ready to sleep in once folded out.
Comfy bed
You get a comfortable 6cm memory foam mattress (which fills the whole interior) that comes as part of the tent, so no need to inflate air beds.

Useful extras
There are doors at both ends, windows at the side and a skylight on the roof, so there are plenty of options to let light and air in. You also get a few internal pockets to stash your valuables, plus a boot bag that attaches to the base of the tent and hangs outside.
Any drawbacks?
It's pretty expensive at £995, and at 50kg it's a heavy beast, so you need two people to lift it into place and a garage or large shed to store it in, if you don't always keep it on your car. The walls are also single skin, so we got a fair bit of condensation build-up during the night.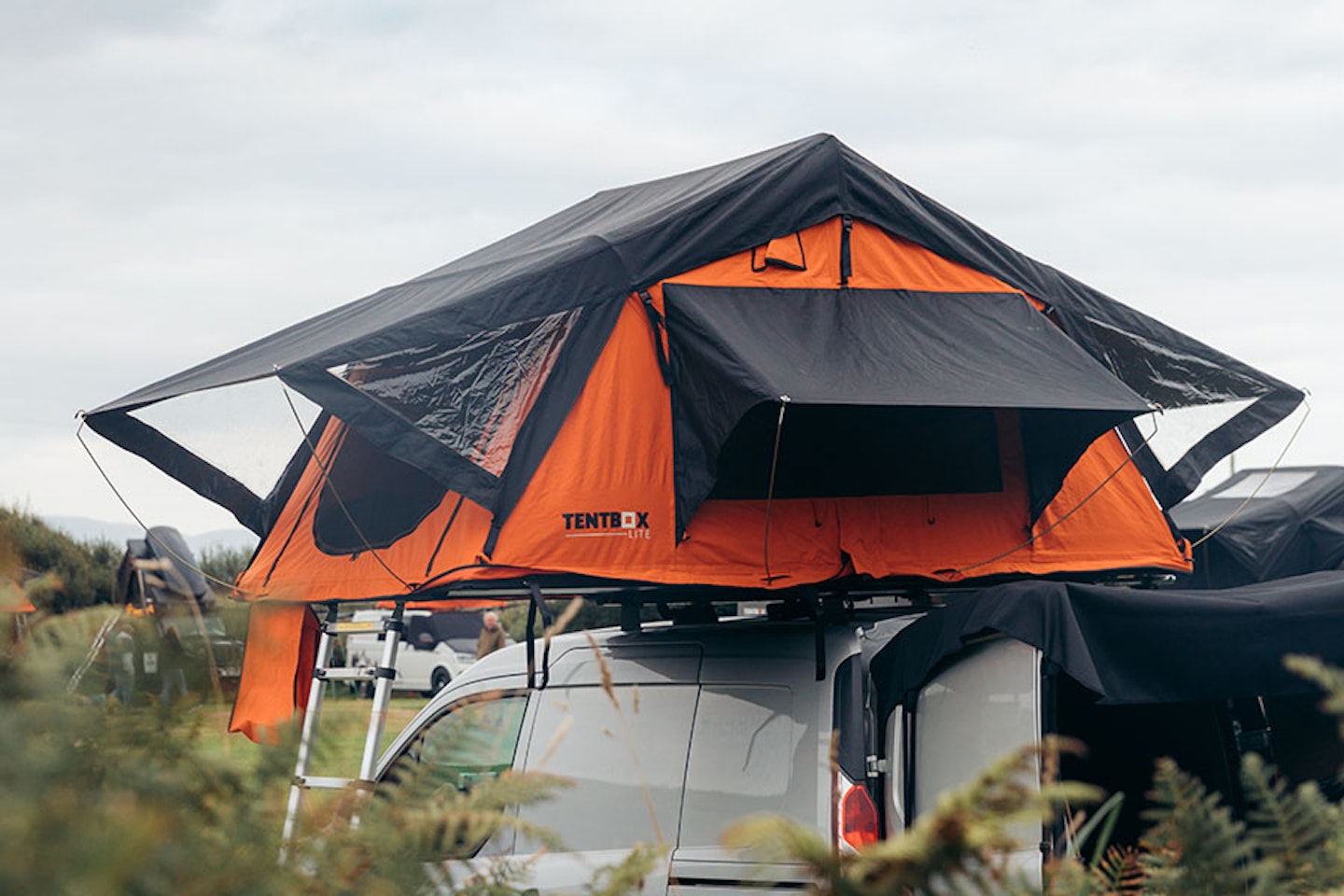 Tentbox Lite specs
Price £995 | Weight 50kg | Sleeps 2 people | Set-up time Around 5 minutes (once it's attached to your roof) | Materials 280gsm ripstop canvas with 2000mm PU-membrane; 600D polyester rain hood covers on windows and doors | Frame Aluminium | Mattress 6cm memory foam | Ladder Telescopic aluminium
Trail verdict
Lots of fun, mostly hassle-free and turns your car into a mini campervan. Just make sure you have the space to store it when it's not in use!

Don't forget to subscribe to the Live For The Outdoors newsletter to get expert advice and outdoor inspiration delivered to your inbox!
For the latest reviews - including extra photos and kit that won't appear online - pick up a copy of the current issue of Trail magazine!