First, a little lesson in labels. Swedish tent master Hilleberg divides its range into four labels: black, red, yellow and blue.
Blue Label tents are large or modular group tents, so let's put those to one side. Yellow Label tents are Hilleberg's lightest, created for the warmer, snow-free months; your typical 3-season backpacking tents. Red Label tents are tougher, with a balance of strength and weight that makes them suitable for year-round use in all but the very worst conditions. But if you intend to be out camping in those very worst conditions, you'll be needing a Black Label tent. Built to be Hilleberg's strongest and most adaptable tents, Black Label products are for use anywhere, during any season, and in any weather.
The current Red Label incarnation of Hilleberg's Soulo 1-person tent has been used in big mountain climbing and polar expeditions, so already has a reputation as a hard-as-nails tent. But now, an even tougher Black Label Soulo is available, although scarce in supply. It will come with 10mm poles and 1800 Kerlon 1800 outer tent fabric (which has an 18kg tear strength), compared to 9mm poles and Kerlon 1200 fabric on the Red Label version. These burly additions add 400g to what was far from a lightweight tent to start with. And the price? Well, that's going to be a deal-breaker for a lot of campers. But here's the thing; if you camp throughout the year in inhospitable places regardless of the weather, your tent could literally be your lifesaver. If you see a tent as an investment in your own security as well as future adventures, the Black Label Soulo could be just what you've been looking for.
6 things you need to know about the Hilleberg Soulo Black Label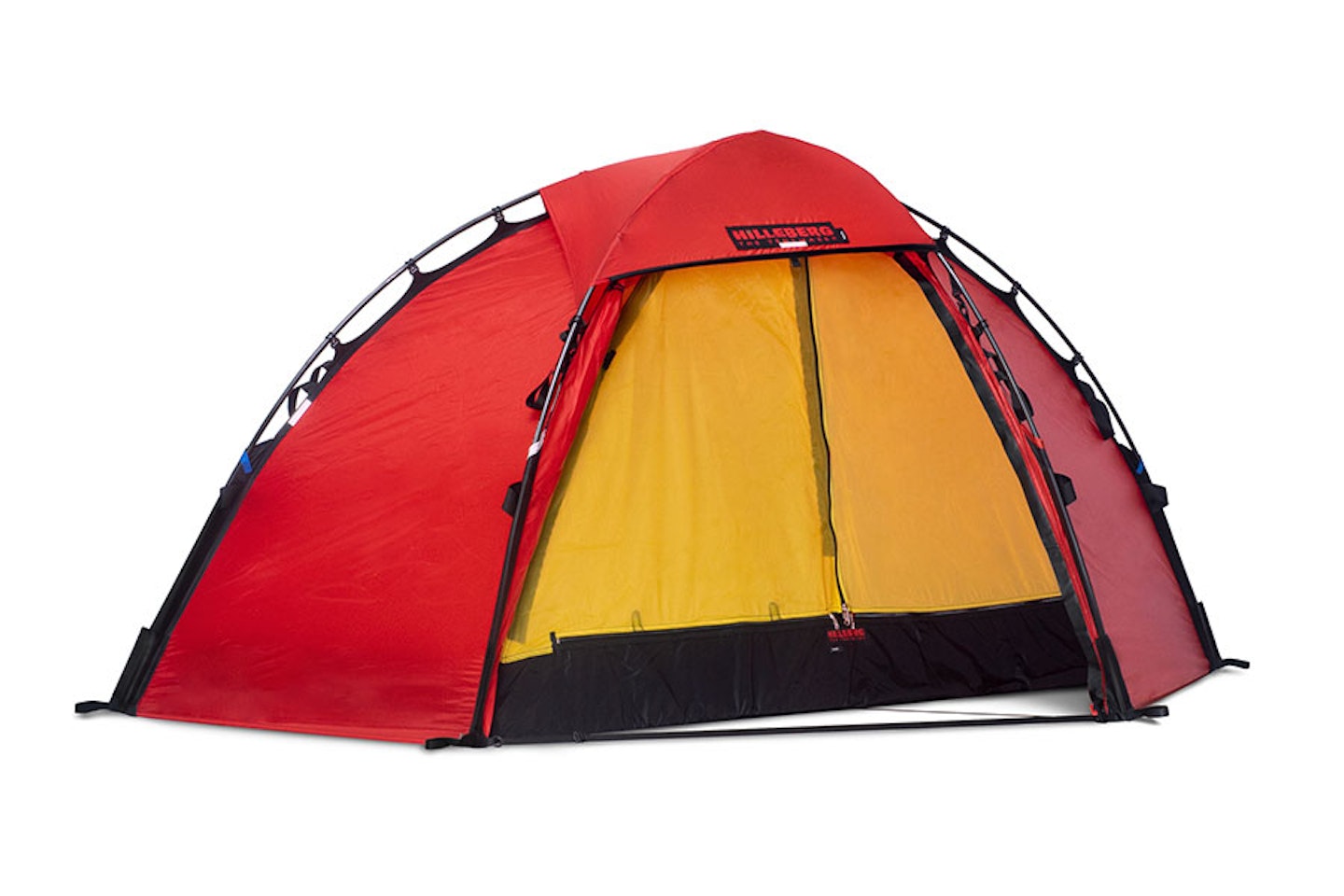 Fully free-standing
The dome configuration (inclusive of porch) means the entire tent can be moved around to find the perfect pitch before pegging it out. Its structure also provides outstanding snow-load handling capability.
Weatherproof construction
The flysheet extends right down to the ground, while any mesh areas are backed with adjustable fabric panels to keep out the weather.
Tough fabric
The Kerlon 1800 fabric of the flysheet is a 40 Denier High Tenacity Ripstop Nylon with a 5500mm hydrostatic head. The inner tent also uses 40 Denier Ripstop Nylon, while the floor is highly puncture- and abrasion-resistant 100 Denier Nylon triple-coated with polyurethane to provide a hydrostatic head of 20,000mm.
Quick pitching
To make sure the tent is up and you're out of the weather ASAP, the intuitive pole system combines short pole sleeves with clips for strength to enable fuss-free pitching.
Roof vent
An adjustable vent in the roof of the outer tent helps ventilate the Soulo to prevent condensation build-up. It is operable from both inside and outside the tent and can be closed with a snow-proof panel in poor weather.
Linked inner and outer
The flysheet and inner tent are linked together to allow simultaneous pitching. They can also be separated for use individually, while an optional Soulo Mesh Inner Tent adds even more versatility.
Specs
Price £840 | Packed weight 2.8kg | Inner tent area 1.9m² | Inner tent height 95cm | Porch area 0.6m² | Poles 3 x DAC Featherlite NSL 10 mm poles | Pegs 12x Y-Pegs | Colours Green, Red or Sand
Trail verdict
For wild campers who require a reliable solo shelter that can handle any weather, anywhere, the Black Label Soulo is the answer.
Tent care and cleaning
Like any product that uses a technical fabric, hiking tents needs to be cleaned and cared for in order to remain effective in keeping out the weather. Grangers and Nikwax both offer effective water-based, PFC-free tent fabric cleaners and proofers that, when used together clean a tent's fabric and revitalise its water repellency.
Recommended
Description
Use at a ratio of one capful (50ml) to 2.5 litres of water. Rub solution over the fabric with a
Recommended
Description
Protects and against UV as well as rain. After cleaning, spray this evenly onto the damp fabric
Recommended
Description
Spray evenly over the fabric (the recommended usage is 50ml per square metre) and work in with a
Recommended
Description
Apply this to a damp, cleaned fabric. Recommended usage is the same as the SolarWash (50ml per
Get half-price digital OS Maps. Trail and Country Walking magazine members get 50% off an annual subscription to OS Maps for 12 months. Find out more here.
Don't forget to subscribe to the Live For The Outdoors newsletter to get expert advice and outdoor inspiration delivered to your inbox!