If you're sleeping out in the hills then you'll need some specific kit to help keep you warm and comfortable. Chief amongst that gear is a good sleeping bag.
There's actually quite a lot of variation for something which is essentially a human-sized sock. From the shape of the bag to odd things called 'baffles', there are many different sleeping bags out there.
Don't be confounded, it's really not too complicated. This guide will help unveil the mysteries and ensure you get a good night's sleep.
Sleeping bag diagram: the parts that make a sleeping bag
Although sleeping bags range from summer camping use to Arctic winter, they still share some fundamental features. Key to finding the right sleeping bag for you is understanding the parts that make a sleeping bag.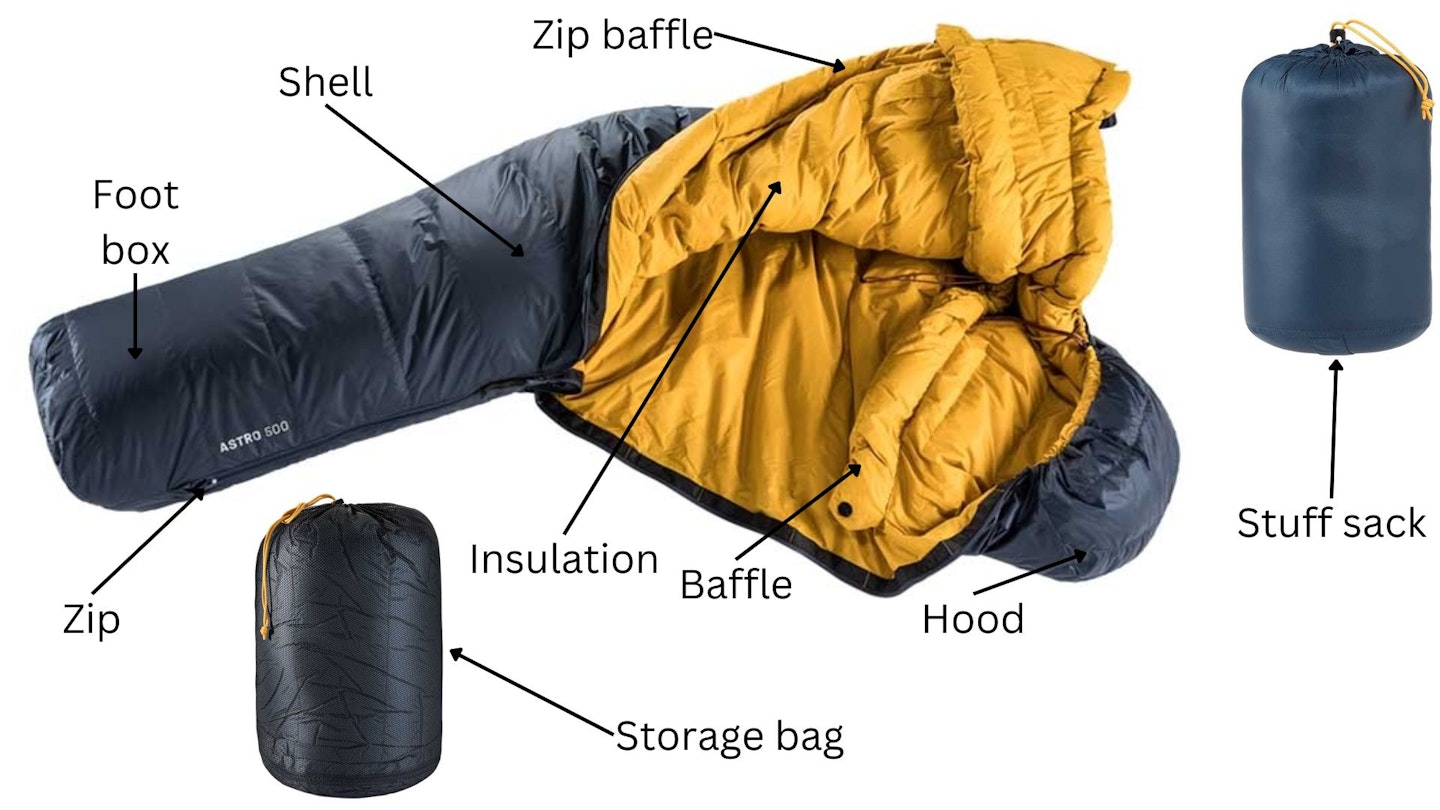 Shell: The outer material of the sleeping bag. It varies in weight and toughness depending on the sleeping bag's intended purpose. Some shell fabrics are treated with a Durable Water Repellent (DWR) coating to help keep the moisture at bay.
Zip baffle: A draft stopper the runs along the zip to prevent heat escaping.
Hood: A hood is really important when camping in cold temperatures. A hood should be adjustable and fits snug around the head for maximum efficiency.
Baffle: Internal neck/shoulder baffles (also referred to as draft excluders) create a warmer area around the shoulders. Internal baffles aren't seen on all sleeping bags.
Insulation: The beef of the sleeping bag. Made from down feathers or a synthetic version, the sleeping bag insulation traps your body heat within the cocoon, keeping you warm. We'll take a closer look at insulation further below.
Zip: Sleeping bags have one of three zip lengths: full-length, three-quarter, or half-length. Half-length zips help keep the sleeping bag more thermally efficient and lightweight. Full-length zips make a sleeping bag easier to get in and out of, and easier to ventilate. Two-way zips let you vent the sleeping bag in a more personalised way.
Foot box: The foot box can vary in shape. So-called 'trapezoidal' foot box designs let feet rest in a more natural position, which aids comfort. Contoured foot box shapes increase the thermal efficiency of a sleeping bag by reducing the amount of empty space.
Stuff sack: The stuff sack compresses the sleeping bag down as much as possible. Thus, you use a stuff sack while on a trek, to make them as compact as possible.
Storage bag: Like insulated jackets, sleeping bags are best stored in a non-compressed state. That's why sleeping bags usually come with a larger storage bag. If your sleeping bag doesn't have one, an old pillow case will do.
Temperature ratings explained
All sleeping bags have temperature ratings. These can be located just inside of the sleeping bag zip, and sometimes on the stuff sack. Of course, these ratings are given online too. Temperature ratings indicate the minimum or maximum temperature at which the bag will keep you comfortable. Many sleeping bags incorporate their temperature rating into their name (e.g. Deuter Orbit -5°). The stat you'll see most heavily promoted is the lower comfort limit. This shows the lowest air temperature that the bag is designed to handle.
A sleeping bag will also have a comfort and extreme rating too. The comfort rating is based on what an 'average' adult woman being comfortable. The extreme rating refers to the lowest survival temperature for an 'average' adult woman.

Only use these figures as a rough guide though. There is no universal testing method for it, and crucially, every person deals with cold differently.
Sleeping bag shapes
The shape of a sleeping bag heavily influences how it performs. It's therefore an important consideration when matching a sleeping bag to your personal needs.
Mummy: With a tapered fit, mummy sleeping bags are wider at the shoulders and narrower at the feet. The idea is to balance comfort and thermal efficiency. Generous shoulder width allows the user to lie flat but the tapered shape removes unnecessary empty spots within the sleeping bag. The tapered shape also reduces weight and bulk. But these do feel quite restrictive to sleep in.
Rectangular: This boxier shape is much more spacious than a mummy-shaped sleeping bag. Thermal efficiency drops and bulk increases considerably with this shape, but there are situations where that's not a big issue, such as summer camping.
Semi-rectangular: Predictably, many people desire the increased thermal efficiency and compactness of a mummy-shaped sleeping bag but still want some extra room within it. Thus, semi-rectangular sleeping bags exist, which are balancing act between mummy and rectangular sleeping bags.
Women's: Sleeping bags designed for females exist because females sleep colder than males. To address this, women's-style sleeping bags have added insulation around the feet and hips. Women's sleeping bags are also a bit narrower in the shoulder and a bit shorter in length.
Insulation: what type do you want?
This really comes down to a simple choice between down or synthetic. Here are the pros and cons of both.
Down insulation
Made from goose or duck plumage, down is the lofty, fluffy stuff underneath the feathers. Down is the lightest and most efficient form of insulation. That is, it has the best warmth-to-weight ratio you'll find anywhere. Down is also the most compressible and therefore great for stuffing into your backpack.
There are different grades of down, measured in fill power. A higher fill power rating (e.g. 850) means the down is 'fluffier' and better at insulating than down with a lower fill power rating (e.g. 600). A smaller volume of 850-fill down is needed compared to 600-fill in order to insulate to the same level. Therefore, an 850-fill sleeping bag can be lighter than a 600-fill sleeping bag but still be just as warm. You might see fill weight around too. This simply refers to the amount of down used.
The drawbacks are that down is more expensive and loses its insulating qualities when wet. To address the threat of moisture, many brands add a hydrophobic treatment to their down-insulated products, so they remain fluffy if the sleeping bag gets damp.
If you do opt for a down sleeping bag, make sure the fill is RDS certified. It's also worth pointing to the longevity of down. Taken care of properly, down-filled products last for decades.
Synthetic insulation
Synthetic-filled bags use an artificial version of down, usually made from polyester. It's made leaps and bounds over the last few years and now top-end synthetic sleeping bags almost perform as well as down. Although, in general they are typically bulkier, heavier, and don't have the longevity.
Sleeping bags with synthetic insulation are cheaper than down equivalents and naturally don't absorb water. This makes them a good choice for the wet conditions usually found in Britain.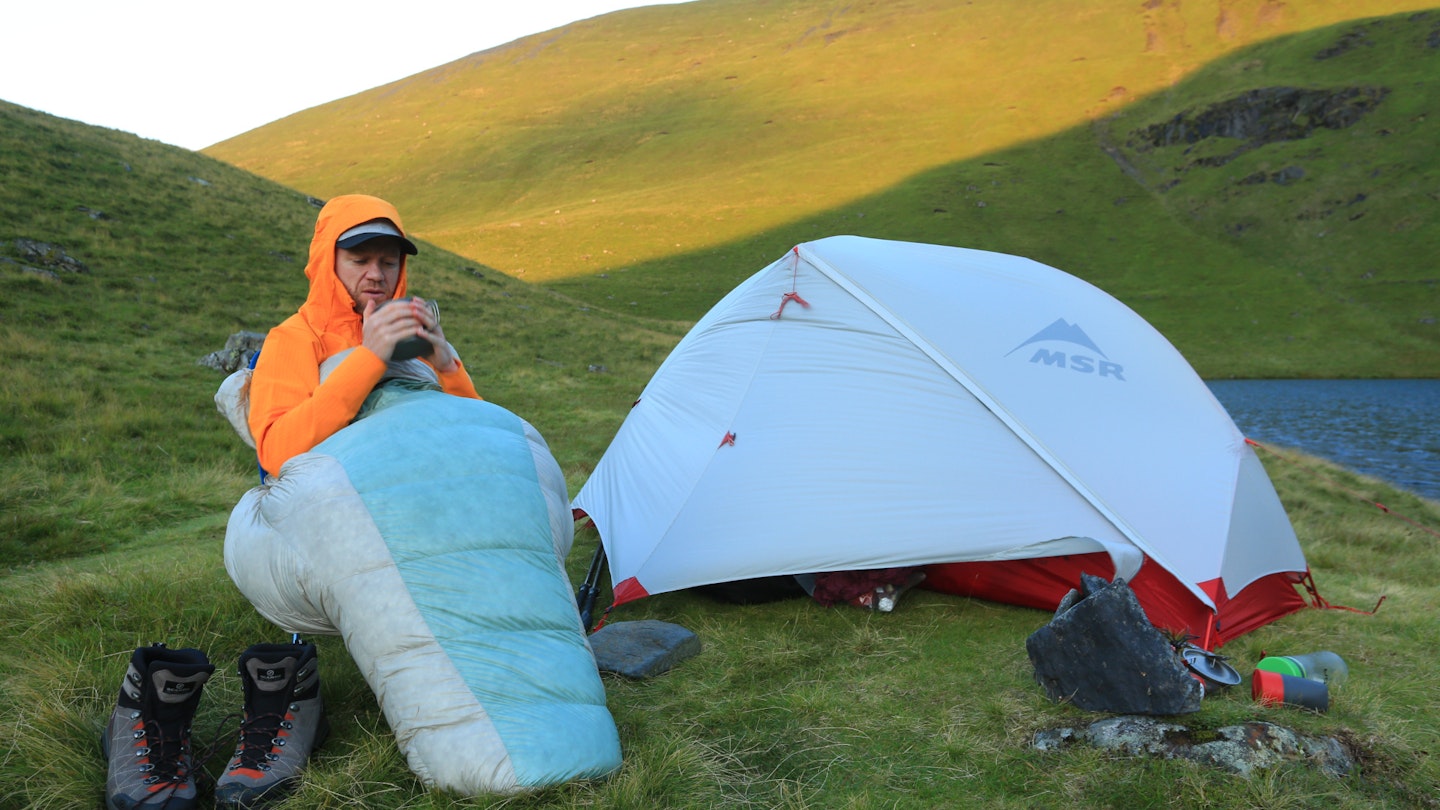 What time of year are you camping?
Sleeping bags tend to be broken into three categories: summer, 3-season and winter. All three types are pretty self-explanatory, with summer bags lighter and less insulated; 3-season bags slightly thicker to keep you warm through spring, summer and autumn; and winter bags bigger and bulkier to cope with serious sub-zero mountain conditions.
Always check the packed size
If your camping is limited to campsites then the packed size of your bag isn't crucial, but if you're sleeping wild then it's a big deal. Most websites will list the packed size of their sleeping bags, but it's even better to head into a gear shop and check them out for yourself. You should get a compressible stuff sack with your sleeping bag that allows you to pack it down small, plus a larger storage sack to let it loft and breathe at home.
Construction is key
The better the construction method of your sleeping bag, the less opportunity there will be for the insulation to migrate and leave cold spots. Down bags use internal fabric baffles (dividing walls between the insulation) of various shapes and sizes to trap the down where it is needed most. Larger baffles give more space for insulation to loft, smaller baffles help stop the fill from spreading out. Synthetic bags are usually made from one or two layers of insulation attached to the inner and outer materials.
Summary: key features to consider
Insulation type: Down is long-lasting, lightweight, compressible, and very warm. But it's expensive and doesn't cope in the damp without a water-repellent treatment. Synthetic insulation is cheaper and better in the damp. But it's generally heavier and bulkier, although the gap is closing.
Fill power: If opting for down insulation, this is important. The warmth of down depends on the 'fill power', with ratings ranging from about 600 to 900. The higher the number, the better the down insulates. Just remember that a balance of fill power and fill weight is needed depending on your circumstances. For example, a super light 900-fill down sleeping bag won't be as warm as a bulkier sleeping bag with lots of 600-fill down. But with 900-fill and 600-fill sleeping bags of the same weight, the 900-fill bag will be much warmer.
Zips: A full-length zip allows you to vent heat and makes getting in and out easier. A shorter zip saves weight and aids thermal efficiency.
Fabric: Shells and linings are usually made from nylon, though cheaper bags use polyester. Have a look at the shell fabric and decide if you need a tougher shell fabric or something lighter. Think about whether you need a DWR coating too.
Cut: Mummy, semi-rectangular, or rectangular? Which is best for you? Most sleeping bags are also available in regular and long lengths, as well as women's specific fit.
Shoulder baffle: An extra neck or shoulder baffle helps to lock heat inside the bag.
Hood: An insulated and close-fitting hood makes a big difference in cold conditions. Look for a sleeping bag with hood drawcords so you can adjust the fit.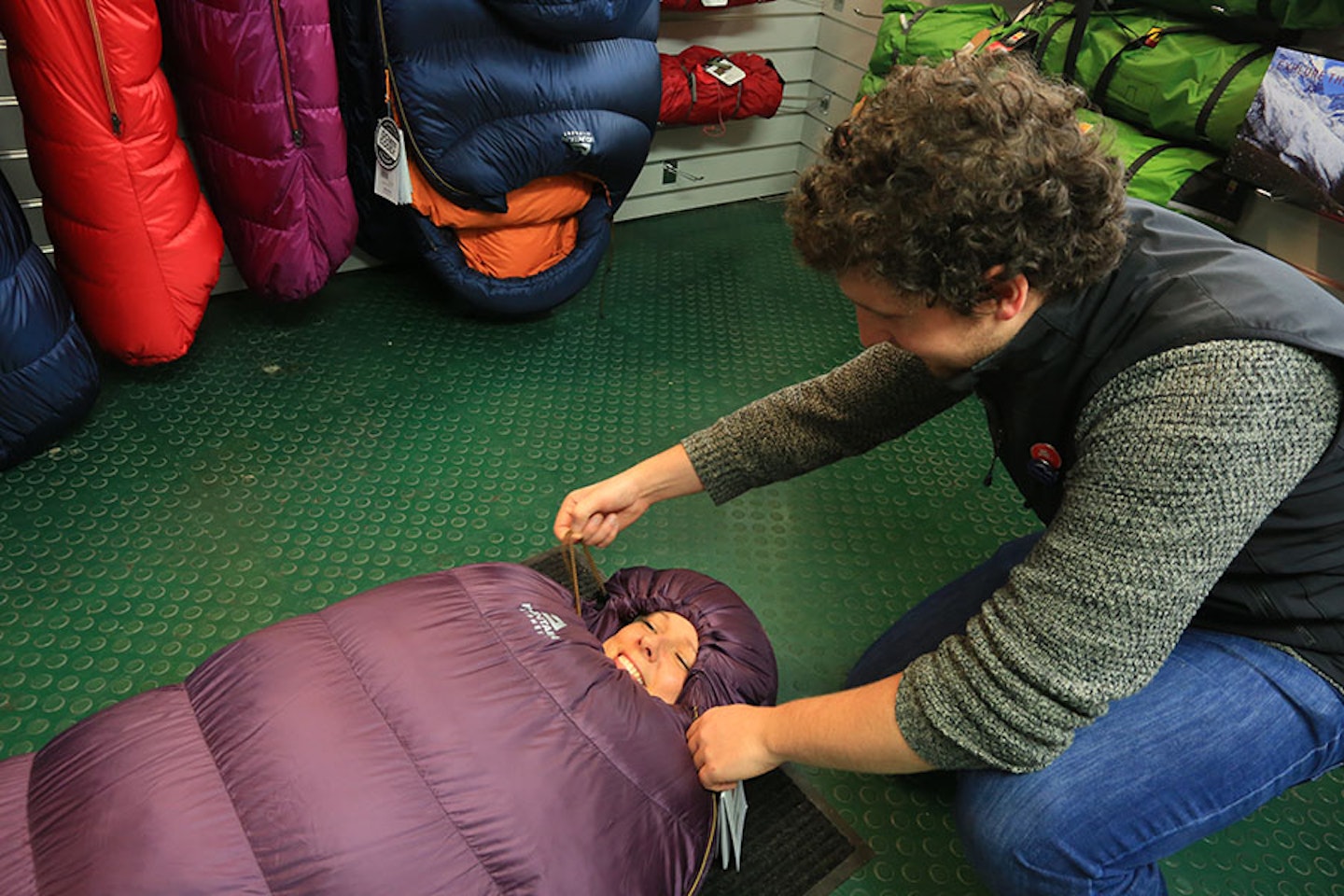 Get half-price digital OS Maps! Trail and Country Walking magazine members get 50% off an annual subscription to OS Maps for 12 months! Find out more here.
Don't forget to subscribe to the Live For The Outdoors newsletter to get expert advice and outdoor inspiration delivered to you inbox!