If you're an off-road runner who values cushioning and comfort from footwear, you may have hit the jackpot with the Saucony Endorphin Rift. We've been testing this new release for a couple of months and it's a fun, speedy, grippy shoe that's perfect for trail runners.
Straight out of the box, there's a lot to like about the Saucony Endorphin Rift. Like seemingly all Saucony footwear, it's lightweight and nimble. The outsole grip is aggressive enough to handle mud, grass, rock, and loose trails, while the midsole cushion as you strike the ground is very impressive.
The 6mm drop from heel to forefoot creates a nice forward rolling sensation as you run, and the bumper around your toes is good without feeling too clumpy and restrictive.
For a bit of context - these shoes were tested by our editor Oli, who broke his left leg so ridiculously three years ago (don't ask) that it needed two operations, four chunky screws, and one large metal rod to put it back together. So as a result, cushioning is high on the priority list when looking for new trail running shoes!
Here's the full review…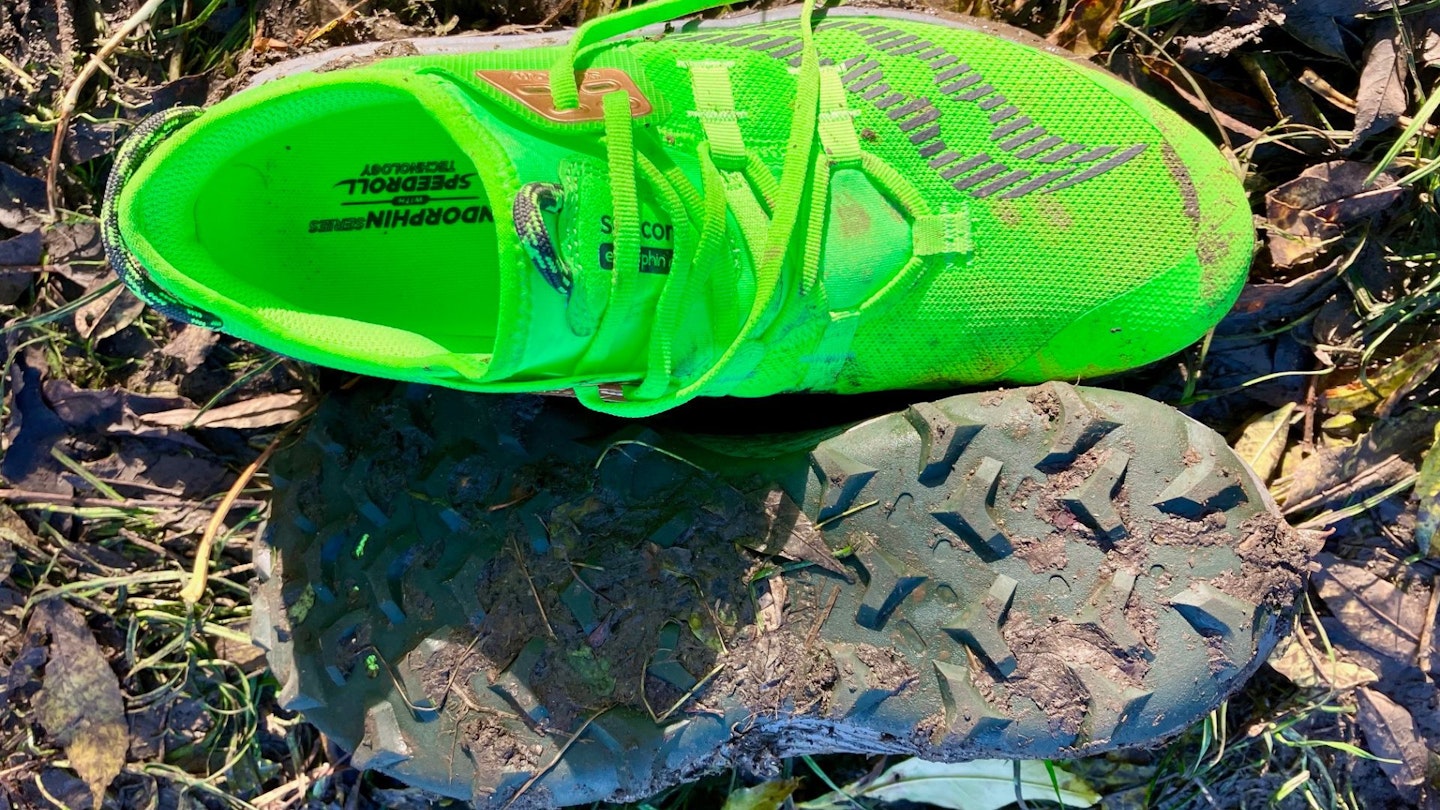 LFTO
Pros
Comfy, bouncy midsole
Sock-like fit
Grippy outsole
Breathable mesh upper
Forward-rolling sensation
Cons
Won't suit minimalist runners
Design and features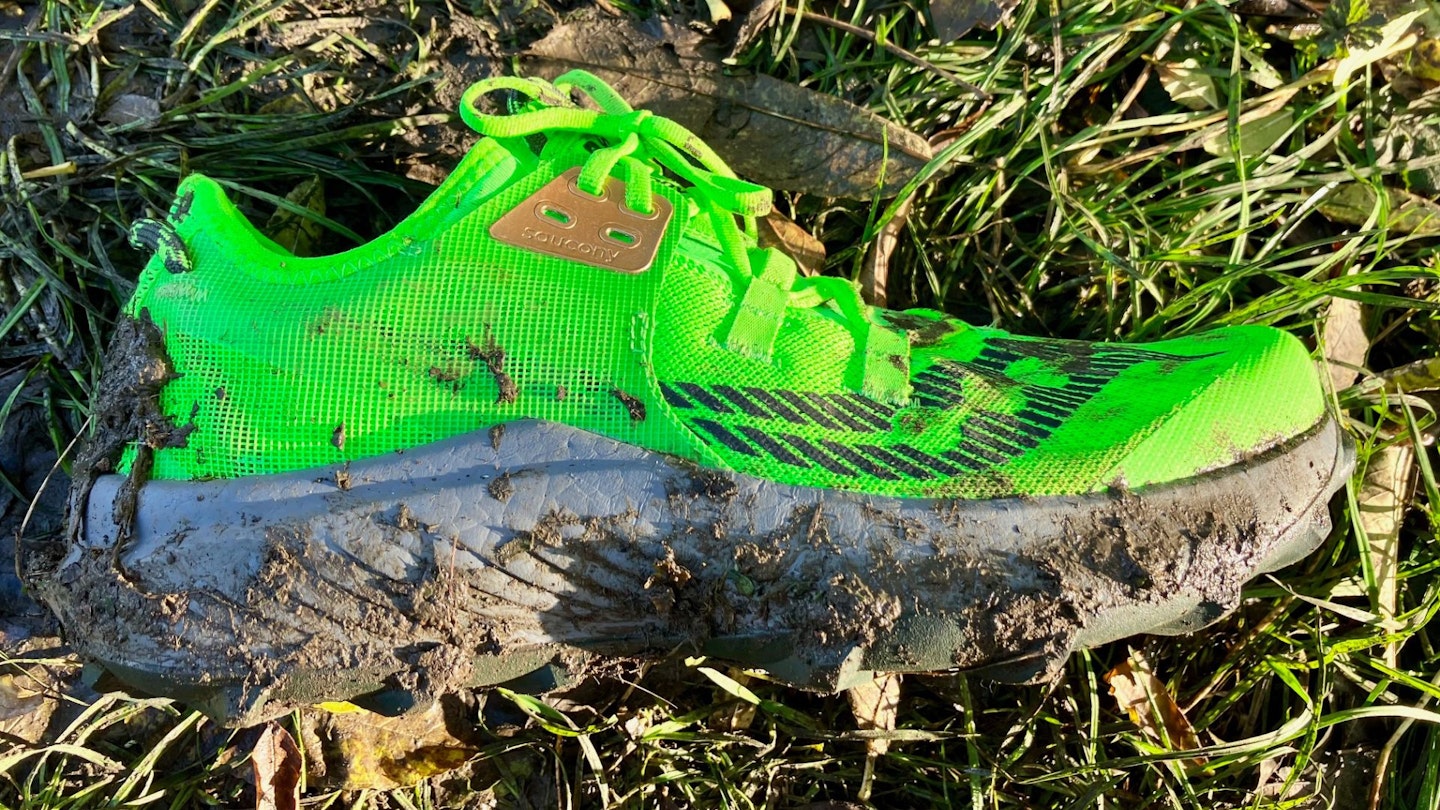 Upper
Let's firstly start with that striking upper, in its catchily named 'slime' colouring. The Rift provides a soft, stretchy, and breathable mesh over the forefoot. Meanwhile, a reinforced toe-bumper and a solid heel collar at the rear provide good support and stability.
The toe-box is slightly narrow and tapered, so don't expect the sort of splayed out feeling for your toes that you may get with something like an Altra trail running shoe. But it doesn't feel too tight either. The Rift provides a racing fit and is true to size, moulding around the top of the foot like one big stretchy sock.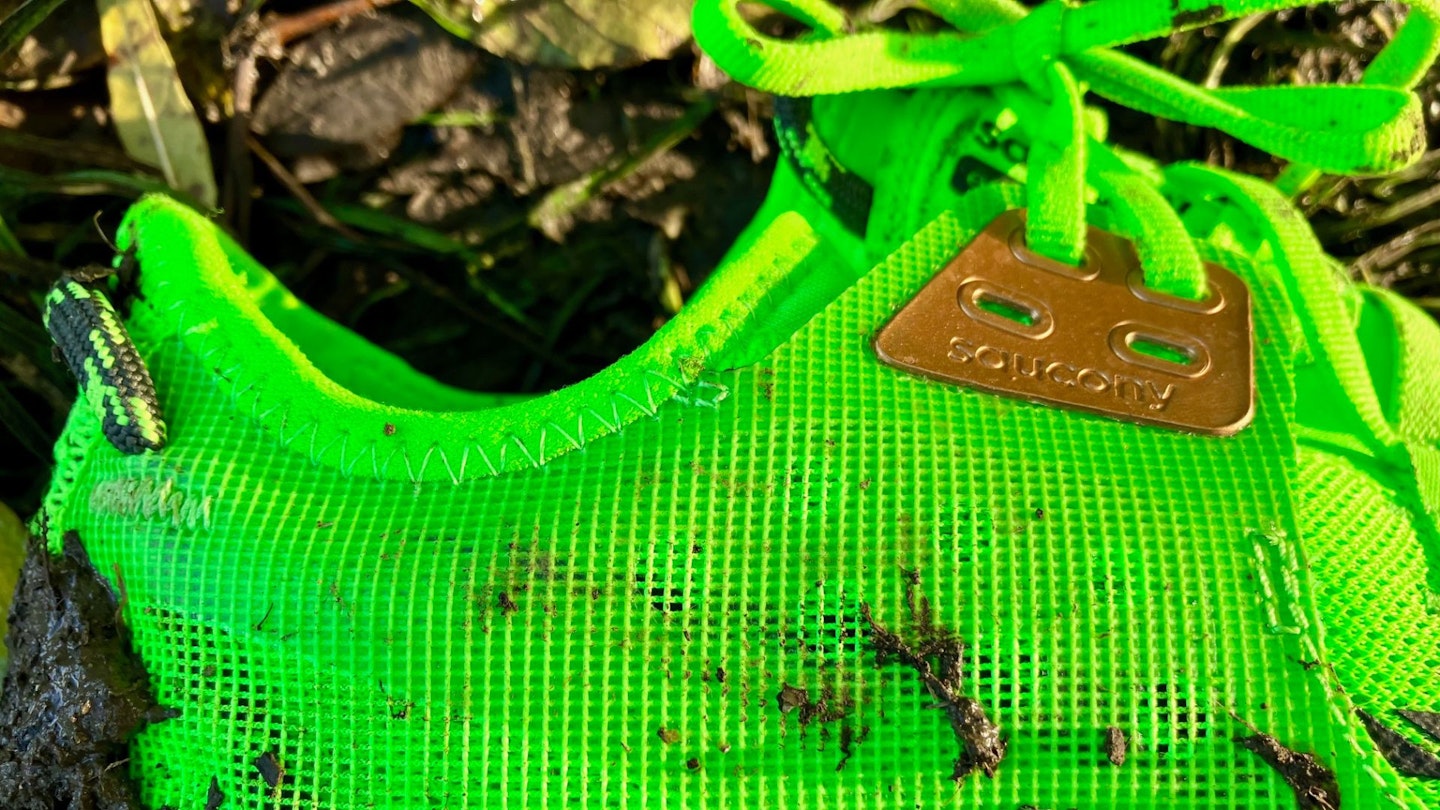 An overlay in a more rigid mesh wraps the upper part of the shoe and connects the two highest lacing points, allowing you to tighten and securely lock your foot inside if needed. We found the fit snug enough without needing to tighten the laces too much, but it's a useful feature.
Midsole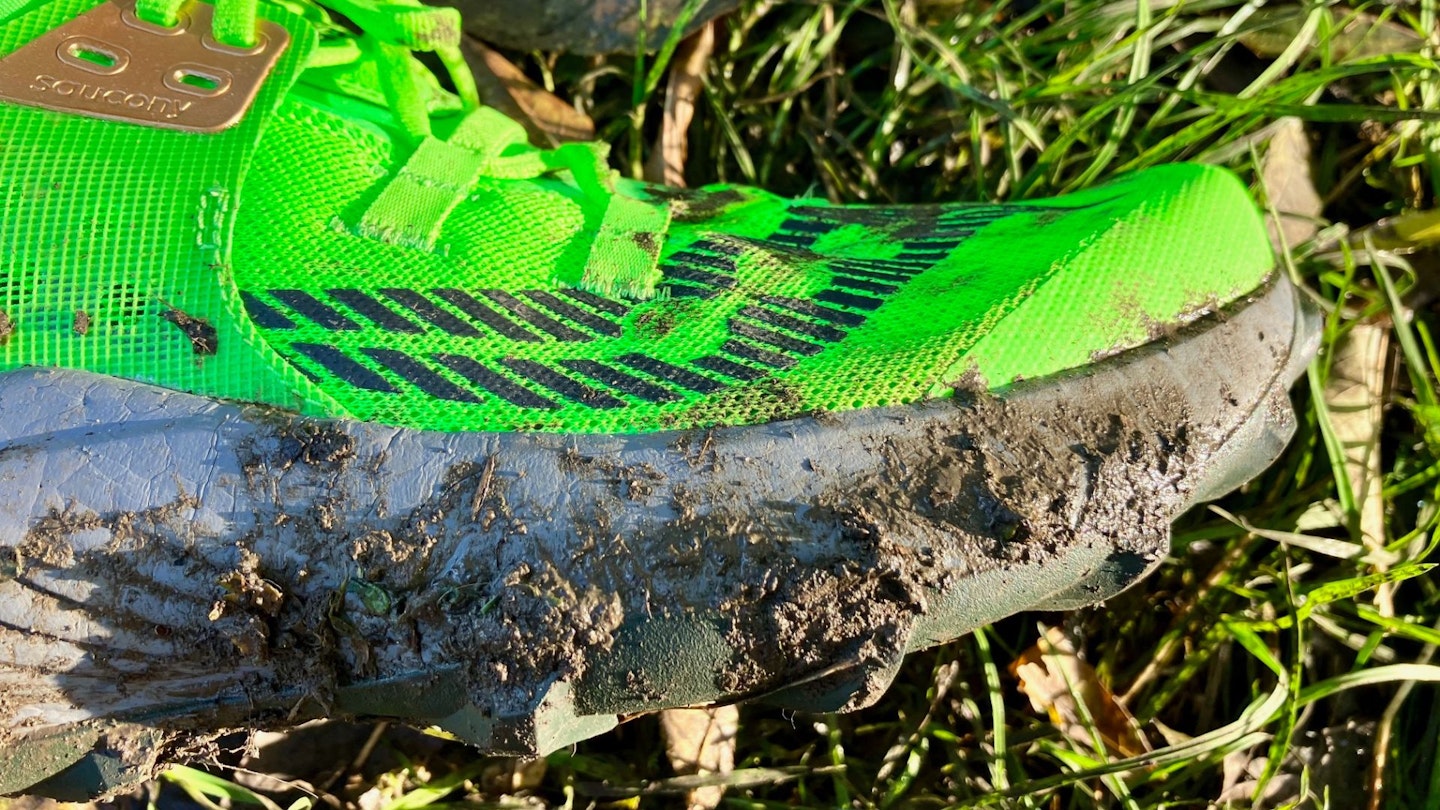 The springy midsole is possibly what we love most about the Rift. Constructed of PWRRUN PB foam, you get a great bounce as you run and a softness that's very noticeable when your foot strikes the ground. It's also loaded with Saucony's SPEEDROLL technology, designed to propel you forward as you run.
The midsole's raised on both sides in a rocker shape which aids propulsion and encourages a more efficient stride. It also creates a nice, cradled feeling around your foot, adding a sense of security as you run.
Outsole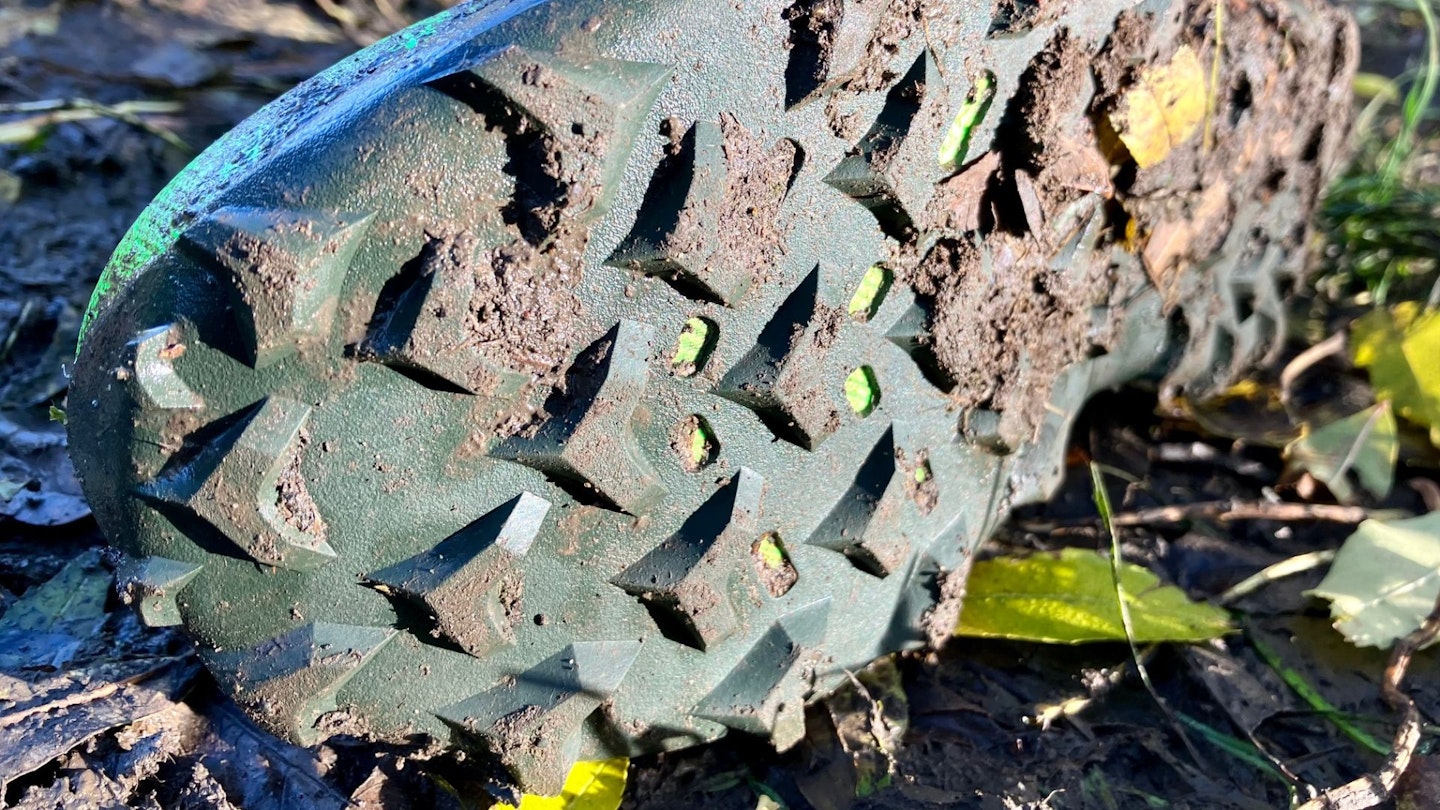 The outsole is fairly aggressive, with PWRTRAC rubber and 4.5mm arrowhead lugs. The grip it provides felt fine on our late summer and early autumn off-road runs, where we came across plenty of wet ground and churned up trails.
One pet hate of ours with trail running shoes is a narrow lug pattern that collects and retains mud. But the lugs are quite widely spaced on the Rift, so this hasn't been an issue. Though they can pick up a bit of debris, this usually becomes displaced pretty quickly as you keep moving.
The outsole also feels comfortable when running on roads or pavements. The Rift certainly isn't a shoe recommend for running long sections on tarmac, but it's more than capable of handling road-to-trail stretches.
Performance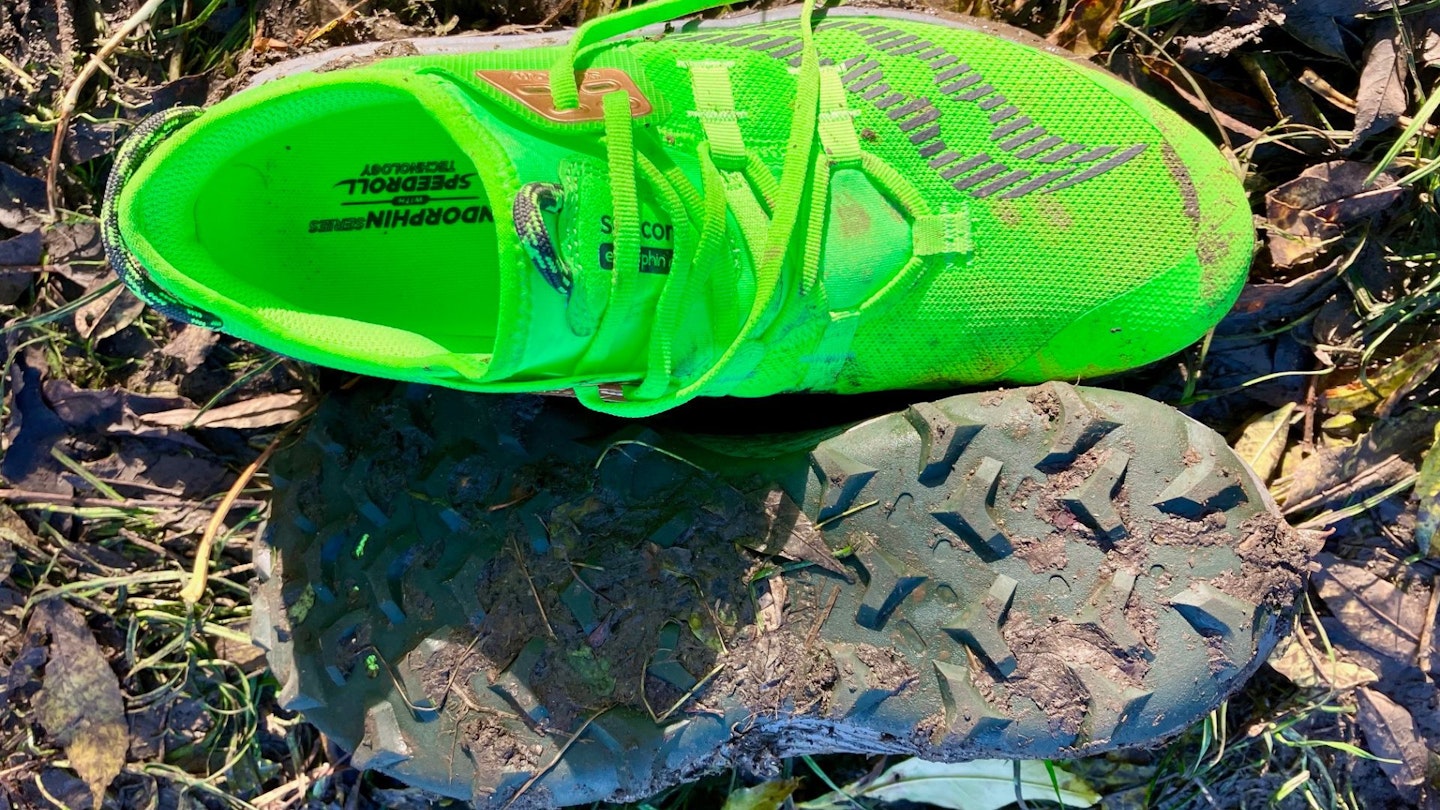 If you haven't already guessed, we've been very impressed with the overall performance of the Saucony Endorphin Rift. Throughout a wet and wild autumn in Britain, it's delivered everything we've wanted from a trail running shoe.
It feels light and fast, the stretchy sock-like fit of the upper providing a really snug feeling around the forefoot and that midsole coming through in terms of comfort, bounce, and energy return.
We can't yet comment on long-term durability, but there's nothing to suggest from our early impressions that it isn't built to last. We've used our pair on rock, grass, mud, tarmac, and compacted trails at parkruns and despite that lime green upper losing a bit of its sparkle, the Rift remains in mint condition. It feels strong, well-designed, and well-constructed.
Sustainability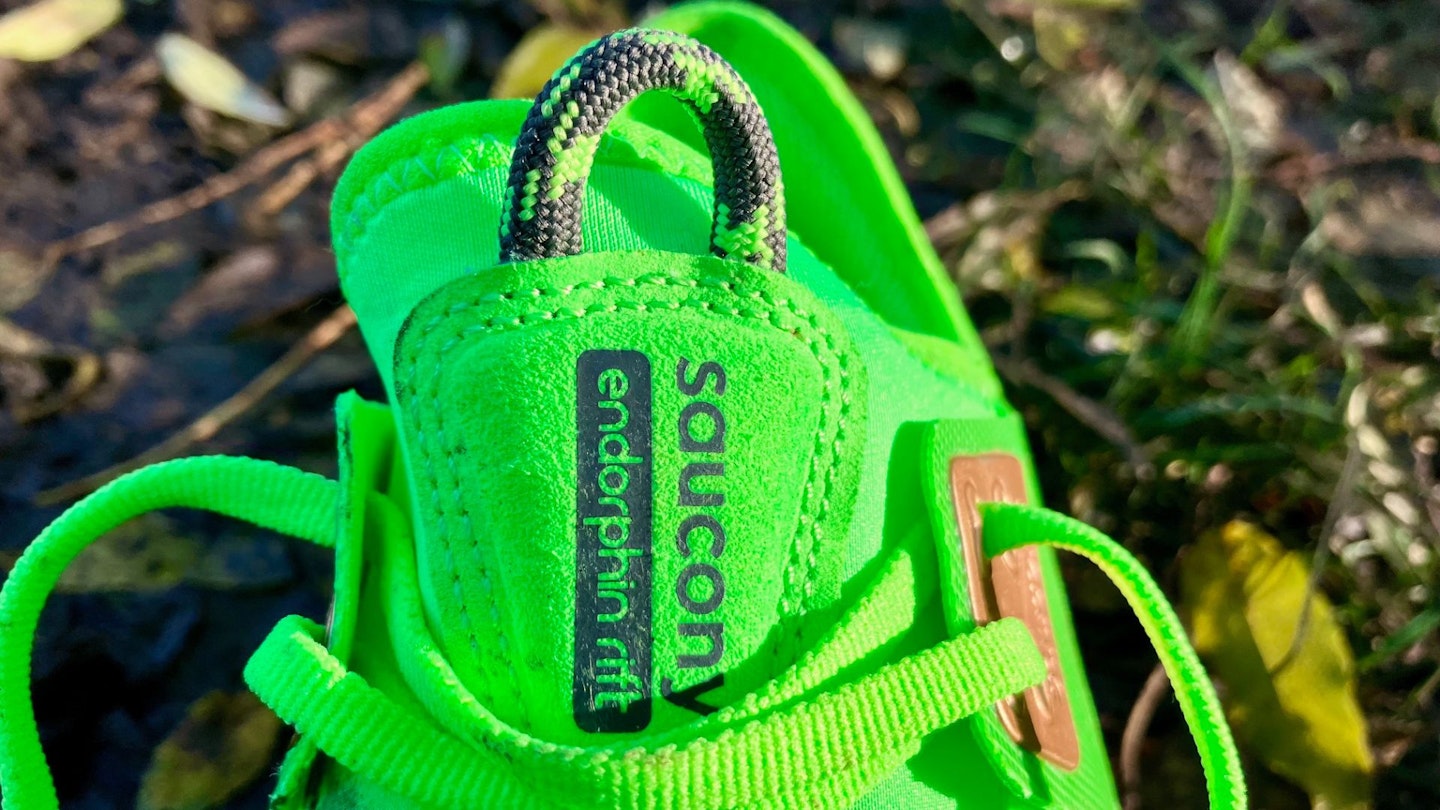 Saucony is a brand that takes sustainability seriously. So much so that they've recently started producing fully vegan shoes. As a result, most of the key new releases in their running range (including the Endorphin Rift) are now 100% vegan.
Saucony also use a high proportion of recycled materials in their shoes, making them one of the leading brands in the running world when it comes to sustainability.
Verdict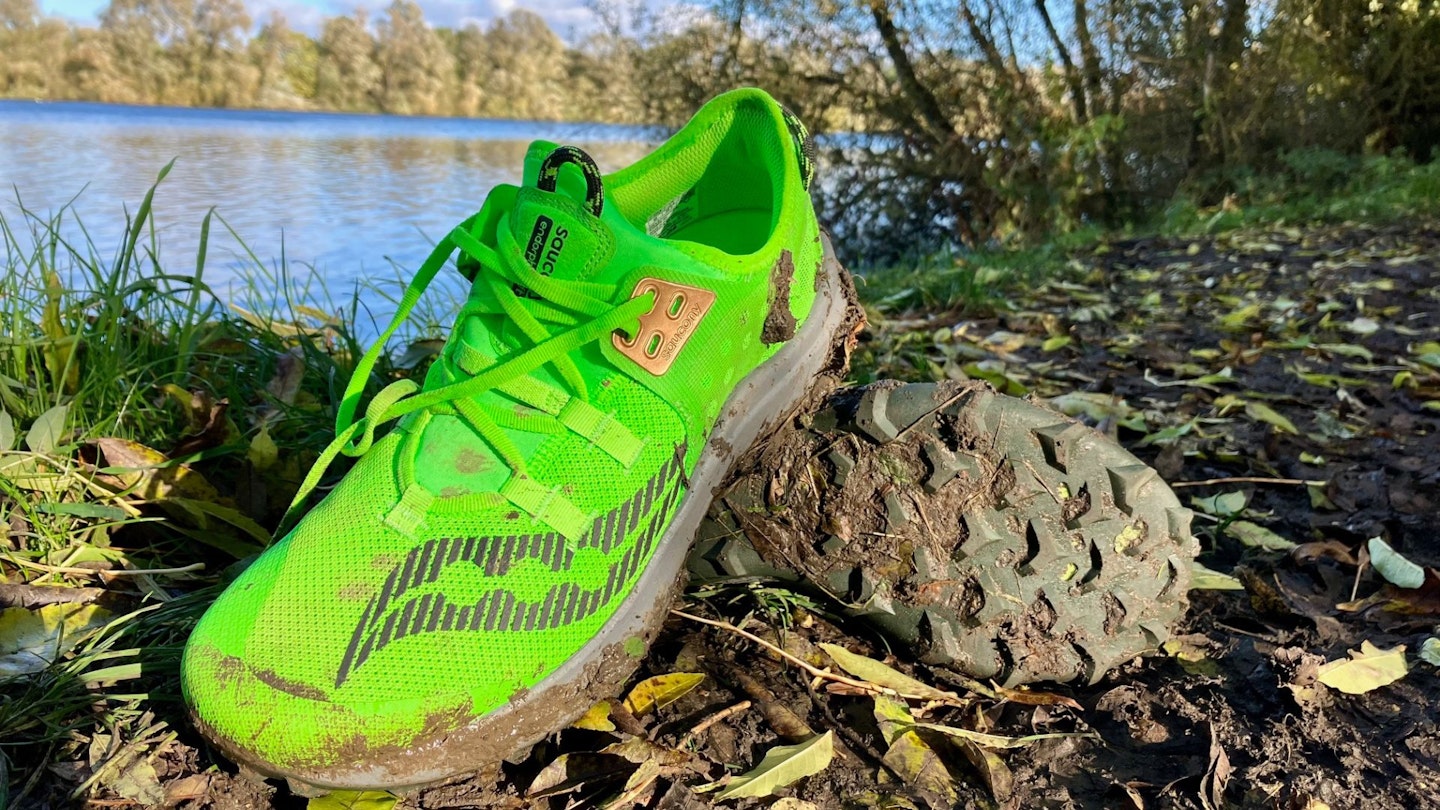 The Saucony Endorphin Rift has a little bit of everything for trail runners – superb comfort, good speed, decent grip, and the kind of build quality that suggests good durability and longevity. We can see ourselves running many miles over many months in these shoes.
How we test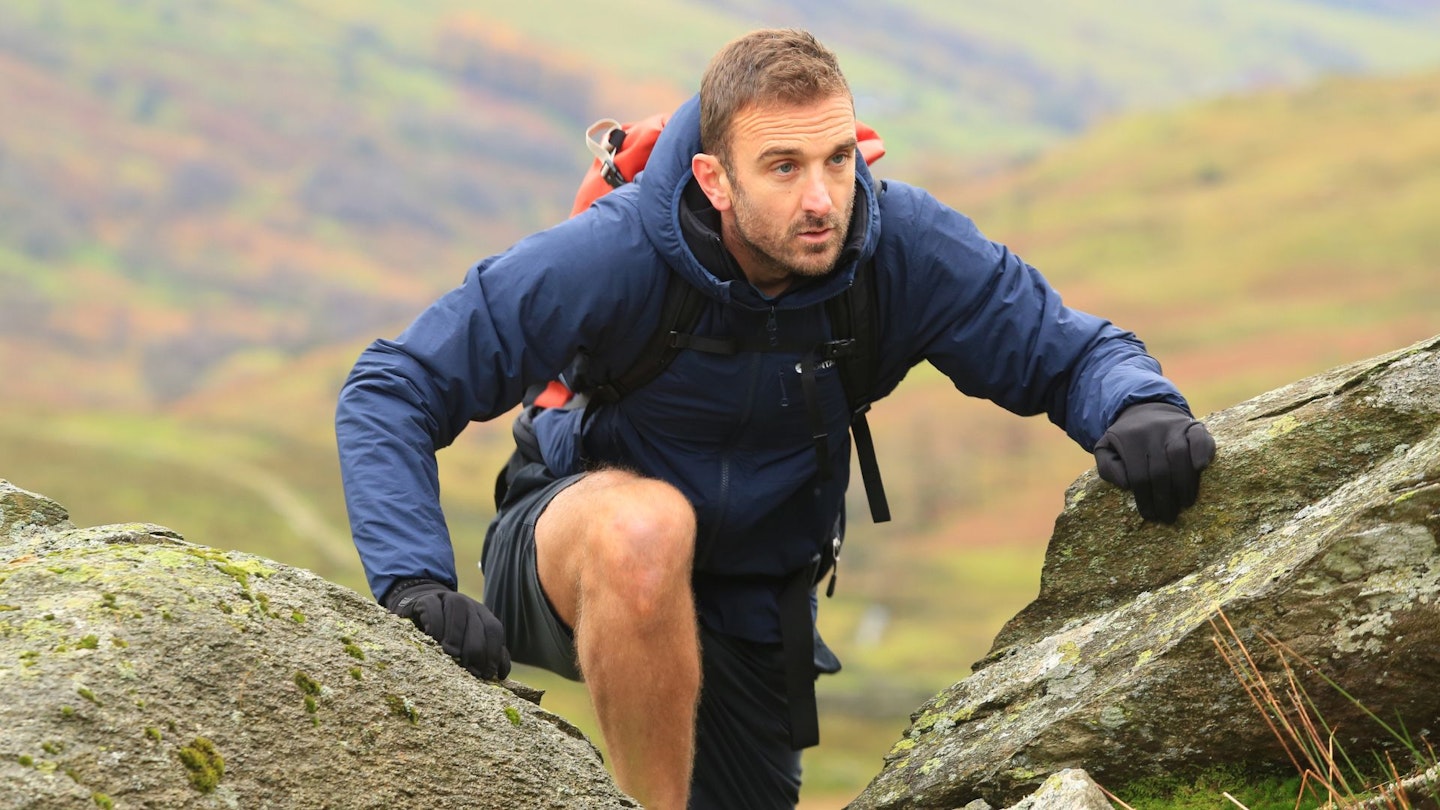 These shoes were tested by Oli Reed (above) on a mixture of local trails around the gravel pits and nature reserves of Cambridgeshire, as well as on some very wet mountain terrain in the Lake District.
They performed fairly well everywhere, although we did find them quite slippy on wet rock when running around Red Screes near the Kirkstone Pass. But having said that, these were the kind of conditions that would make top-of-the-range hiking boots skid too.
For more details on how we test, CLICK HERE.
For all the latest news, tips and gear reviews, sign up to the Trail Running Newsletter.