The Blissfeel Trail is lululemon's first-ever pair of trail running shoes, the brand having previously stuck to sleek sportswear, plus a few gym and road trainers. After a claimed four years of development, the Blissfeel Trail is launched on the basis of providing a 'women-centric' fit to your everyday, neutral road to trail running shoe.
After first stepping foot in the road running shoe market only last year, lululemon are looking to expand all things trail with this shoe. To bookmark the shoe's launch, they even sent 10 women on a six-day ultramarathon earlier this year. And you guessed it, they wore the Blissfeel Trail. With a spotlight on the immense grip and excellent fit, the Blissfeel Trail is supposed to provide a, well, blissful trail running experience. Here's what we really think of the Blissfeel Trail…
Pros
Road to trail entry shoe
Versatile
Good visibility
Mid price-point
Cons
Not super run-ergonomic
Lack propulsion
Could do with more cushioning
Design and features
Though it is lululemon's first foray into the trail running market, the shoe retains strikingly similar features to those of Lulu's Chargefeel Low workout shoe and Blissfeel 2 road running shoe. That's because the shoe is built on the same midsole as the Blissfeel 2. Other similarities include the same hourglass-like shaping encases the forefoot, the shoe cinching in around the midfoot, and out again through the heel. While a similar, striking heel tab juts out to the heavens. All shoes also have some overlay structural support and mesh upper to aid breathability.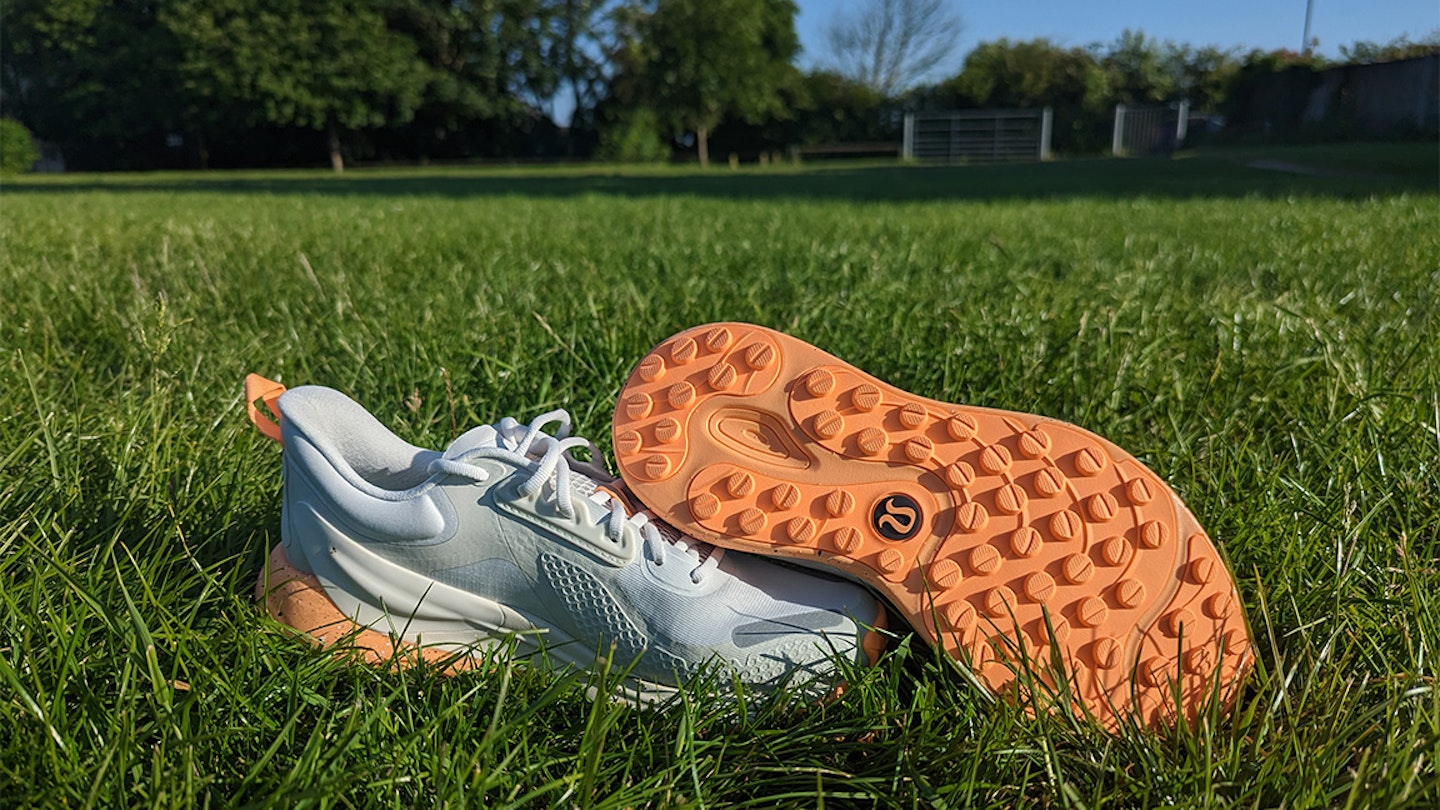 However, the Blissfeel Trail's upper is made to be more durable than its road counterpart, with an extra protective layer to improve longevity. There's also a heel pull tab to help whip off the shoes after a muddy trail session, and a fairly slim rubber toe bumper to protect from unwieldy debris. Obviously, the main difference is the grippy TPU rubber outsole, which sports unique-looking circular lugs of 4mm, which aim to help provide traction and stability over uneven, off-road terrain.
Meanwhile, the moulded heel is designed to hug and secure the foot to avoid heel slippage over varying elevation and uneven surfaces. While the outsole rubber climbs up the heel to produce a slightly extended heel counter for extra stability as you run.
As for looks, we can see the classic lululemon aesthetic running through these shoes. They're relatively simple with multi-tonal colourways, pops of colour, and some stand-out features, as seen in the white/fluro orange we tested (pictured). The Blissfeel Trail also has small reflective detailing to boost security when running in low-light conditions.
Performance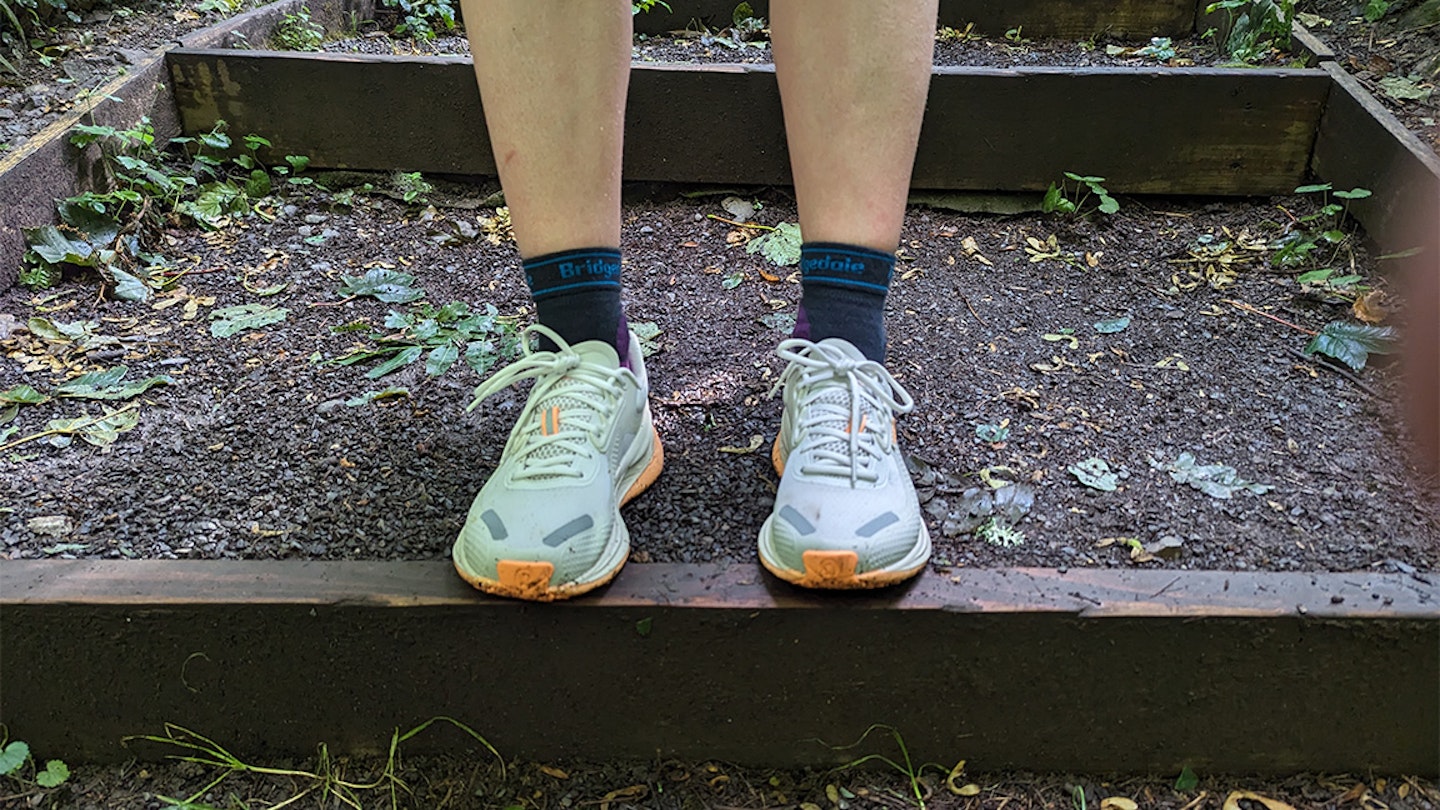 When first lacing up lululemon's Blissfeel Trail shoes, we were surprised at how roomy they feel (see fit for more on this). Their (for want of a better word) figure-hugging shoe does seem to be better suited to the geometry of a woman's foot, which is typically more slender in places.
After the obligatory wince at the first muddy puddle destroying the crisp whiteness (don't worry, there are seven colours ways to choose from), we got into the flow and could immediately appreciate what lululemon was trying to achieve in the Blissfeel Trail. The medium cushioning, medium grip, medium protective elements all point towards a shoe that wants to be your next favourite all-rounder running shoe for out the door sessions that see a mixture of non-technical trail, gravel and road.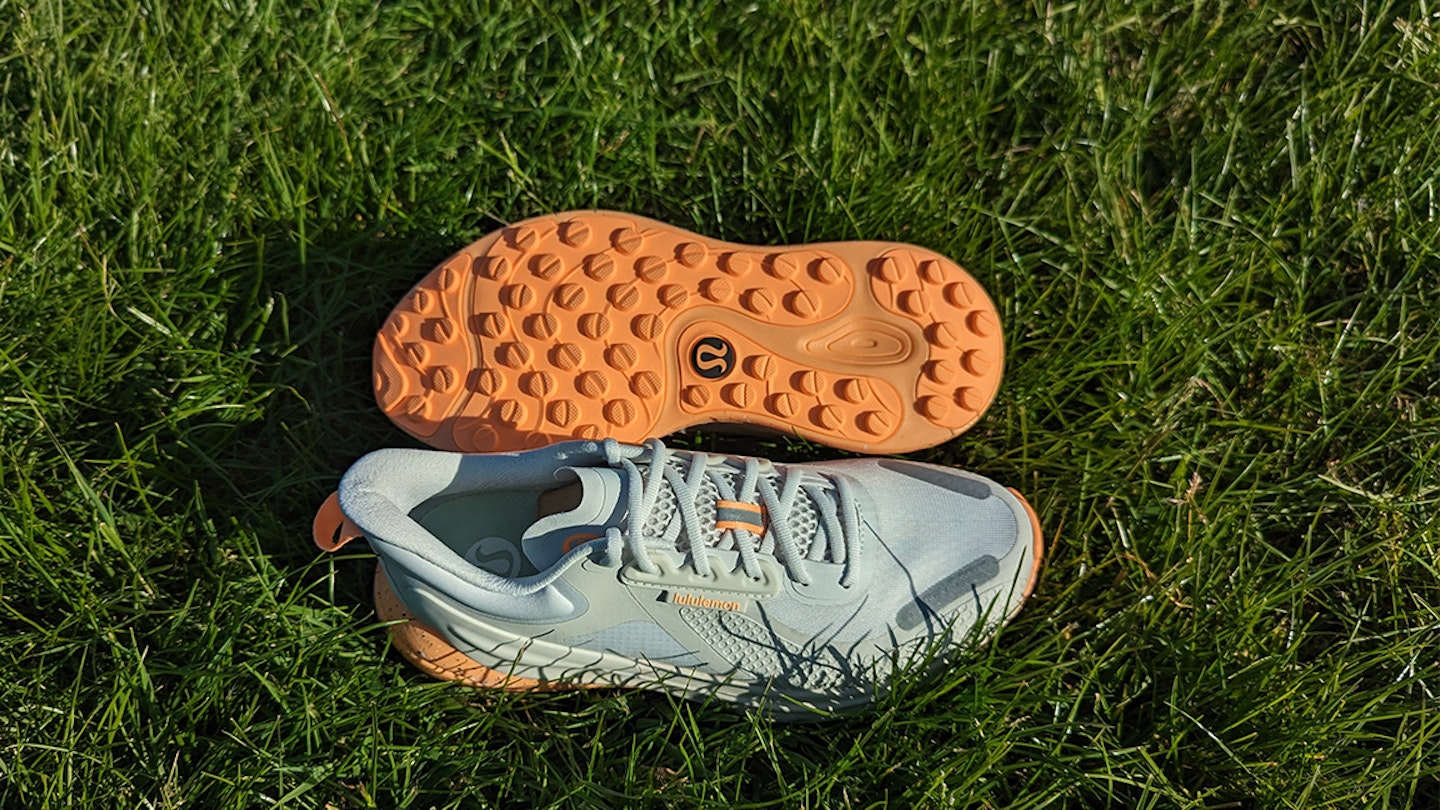 As you'd expect, the lugs offer some slight grip in the mildly muddy stuff, but we'd certainly grab our winter trail running shoes for a run on anything wetter or more technical. We've mentioned there is some cushioning, which is even visible around that cosy heel collar. But there's less so in the midsole, which makes running long stretches on hard packed trail and tarmac a little uncomfortable.
For this reason, the Blissfeel Trail is best suited to shorter distances of up to 10km, errands, and runs across varying terrain, like a jaunt around your local park. Any more than that and their structural support and moderate plushness bridges the gap to rigidity, and the shoe becomes less comfortable to run in. Moreover, without a propulsive rocker element to the midsole such as that seen in The North Face's Summit Vectiv Pro, some of the power created from footstrike to toe off is lost.
Fit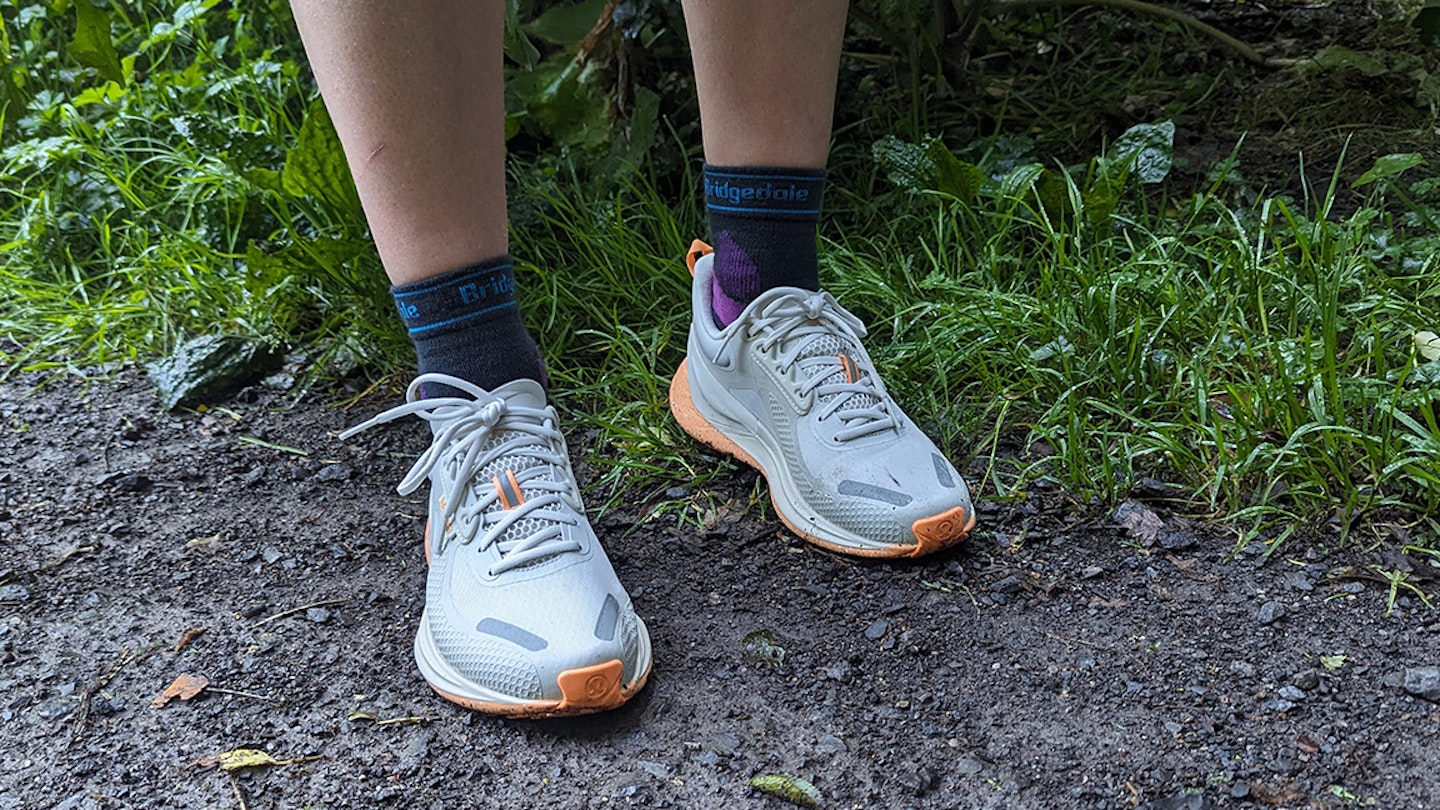 When it comes to sizing, this is where things get interesting. Based on the sizing of other popular brands, the lululemon sizing tool recommends you go up an entire size for a 'true fit'. That took our UK5.5 to a UK6.5, which despite being what was recommended, just felt too roomy for us. This meant the fit was less snug and we benefited less from the cushioning than if we'd picked a closer fit.
Normally the women-specific fit should equal a snugger hold in the heel as women's feet are typically more slender here. The toe box is also relatively roomy and wide, so those who appreciate room for toe splay will not be disappointed. The pointy top part of the shoe is pretty much wasted space, unless you have particularly long toes. To really make the most of what the Blissfeel Trail has to offer, we'd recommend a 0.5 size increase when picking your pair, but no more.
Lululemon says that the fit of the Blissfeel Trail is based on one million Volumental foot scans of women's feet. The Volumental website describes their process of finding a personalised fit as involving scans performed via 3D imaging, use of artificial intelligence and using data garnered from each individual's shopping data.
Sustainability
There's absolutely zero information on the lululemon website in regards to what materials are used to construct the Blissfeel Trail shoes, nor do they point towards any particular sustainability practices.
Price and competition
The lululemon Blissfeel Trail is billed as a road to trail running shoe. It's a pretty mid-pack shoe with some nods to the varied terrain they're intended for in the cushioning and grip provided. At £148 (fluro yellow at £94), they're not at that top pricing range, but still remain a decided investment. So if you're planning on transitioning from road to trail running, there are other options we've really enjoyed that pack a bit more punch, including the Asics Trabuco Max 2. These have a heavenly injection of cushioning yet manage to remain impressively agile. There's also the Salomon Sense Ride 5 that packs an impressive amount of grip and stability.
Is the lululemon trail running shoe any good?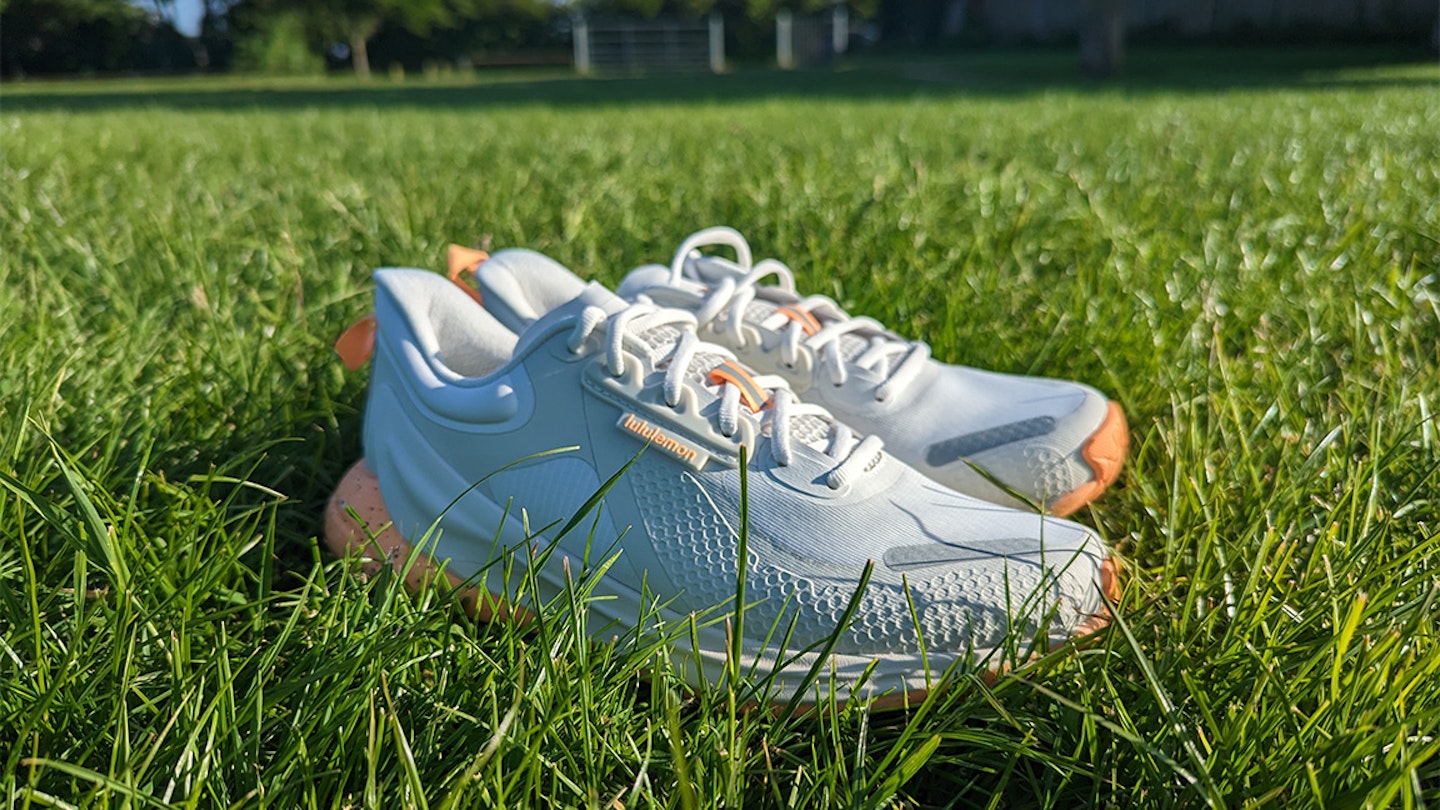 If you're a fan of the lululemon brand, or particularly like the look of the Blissfeel Trail, then you're not going to damage your run training by investing in a pair. As expected in a road to trail shoe, they have some of the cushioning and grip you'd need from a do-it-all trainer. We just found that they lack that certain 'oomph' when it comes to run-specific features that really make your run an easier and more enjoyable experience, especially when it comes to propulsion and agility. But let's not forget that these are first and foremost a shoe to train in, not to race. In fact, they'd be best described as a  - gym to trail - shoe. So, if that sounds like your cup of tea, why not give them a whirl.
How we tested
To fully understand how they'd hold up over a variety of terrain, we tested the lululemon Blissfeel Trail running shoes over tarmac, gravel, grass, mud and more technical trails populated with rocks and routes. We ran the shoes over distances up to a half-marathon, in order to properly recommend the most ideal training distance to use the Blissfeel Trail. In testing we also swapped out the Blissfeel Trail for other similarly priced road to trail shoes for a sold base of comparison.
Kate Milsom is Digital Content Writer for Live For The Outdoors, within which she specialises in trail running content. Kate's also an ultra runner and triathlete, having previously worked on cycling and triathlon publications. Kate has been working for Live For The Outdoors since 2022.
For all the latest news, tips and gear reviews, sign up to the Trail Running Newsletter.