The La Sportiva Jackall II Boa is for trail runners looking for a more unique shoe with some touches of innovation. Made for skyracing, the Jackall trail running shoe is designed to conquer technical terrain with stability and ease.
In this comprehensive review, our expert tester Graham Sleightholme explores the Jackall II Boa's design and features, performance, and sustainability, after putting it to the test over 100 miles on various trails, including a trail marathon.
Pros
Innovative Boa system
Breathable gaiter
Good heel lock
Comfortable
Cons
On the less affordable side
Design and features
The main talking point here is the Boa Performfit wrap dial locking system, with Boa having worked in conjunction with La Sportiva to develop this system. Two dials on the upper have micro adjustments and work to pull in the microfibre flap. You push the dial in, hear a reassuring pop, and then twist to tighten; to release you pull and they pop out. It's simple and very effective. This system locks the heel solidly in place.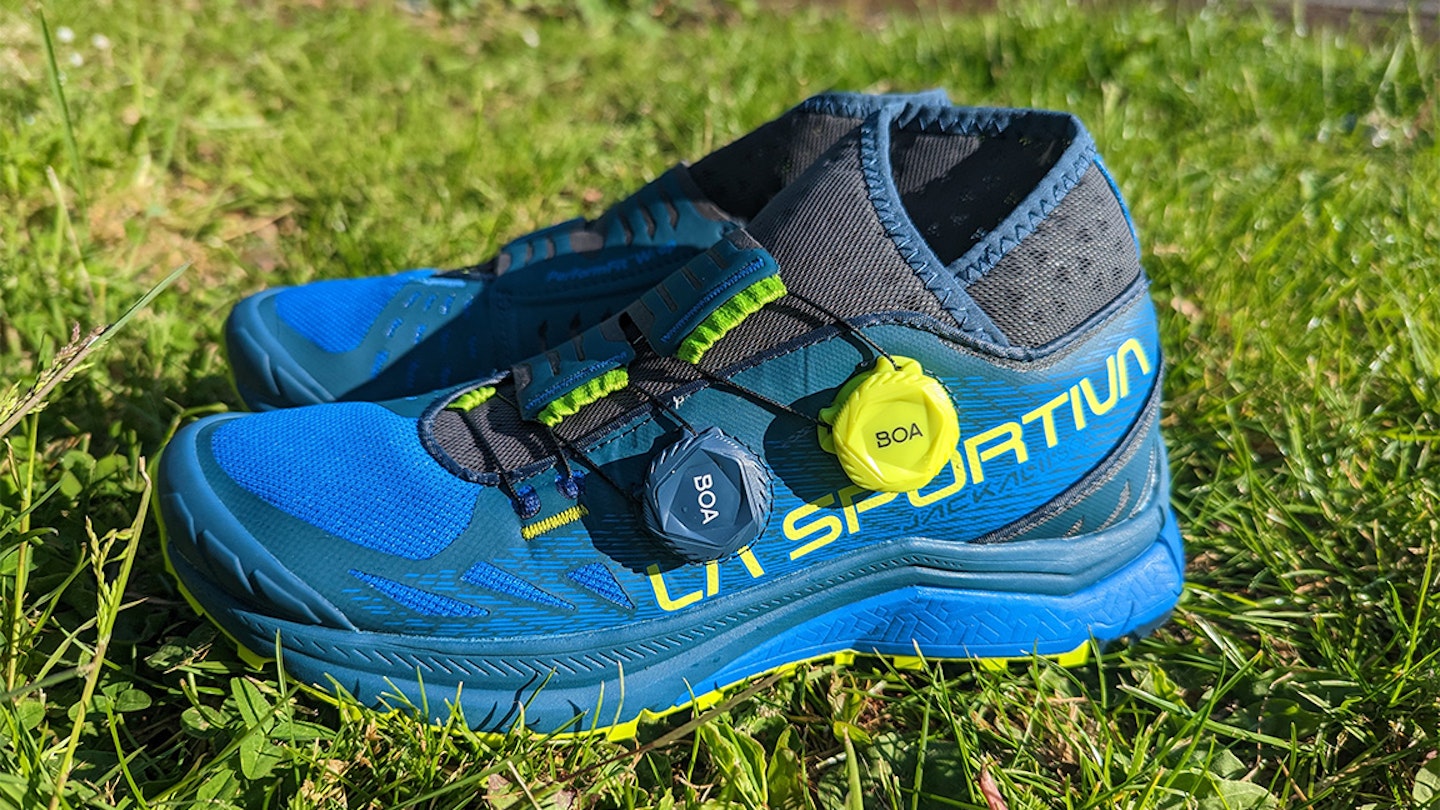 The Boa fit dials allow for a closer fit which does away with worrying about if the shoe runs wide or narrow to a certain extent. It also gives the ability to adjust when deep into a long run when swelling might become an issue. The Locking system is strong and any doubts about it breaking mid run are alleviated by the bayonet and cartridge system which is designed to pop open upon a heavy impact. You can then pop it back in and carry on.  Having ran 100 miles in them, we haven't had any issues with dirt or water affecting the dials.
There's also the SpiyralFit gaiter and tongue made from Ariaprene, which is designed to provide further ankle protection, without inhibiting airflow. The gaiters are another feature that makes the shoes stand out from the crowd.
Performance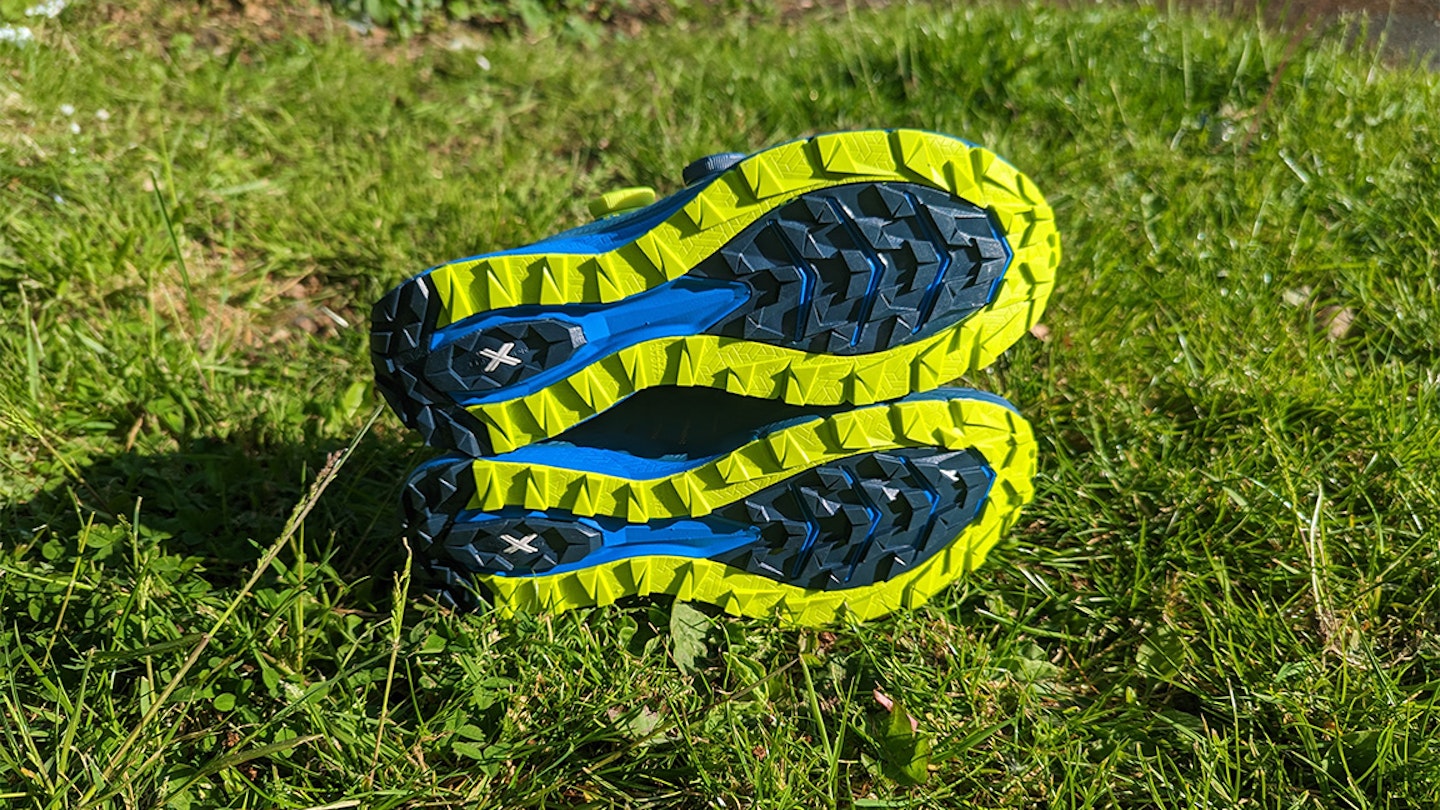 As a first-time user of the Boa dual dial system, putting it to the test was a thrilling experience. The Jackall delivers on both simplicity and effectiveness. The shoe's unique design sets it apart from others, not only in appearance, but also when it comes to performance.
Putting on the Jackall can feel akin to wearing a boot, with the gaiter enveloping the ankle for a snug fit. Once locked in, the heel remains stable, proving the efficacy of the Boa wrap locking system. During extended runs, the front dial can be adjusted for extra room without compromising the heel's position. The gaiter's breathability, combined with its ability to keep out moisture and debris, adds to the overall comfort of the shoe. Any concerns about potential rubbing from the closure wrap were dispelled, as the cushioned tongue provides a smooth and enjoyable running experience.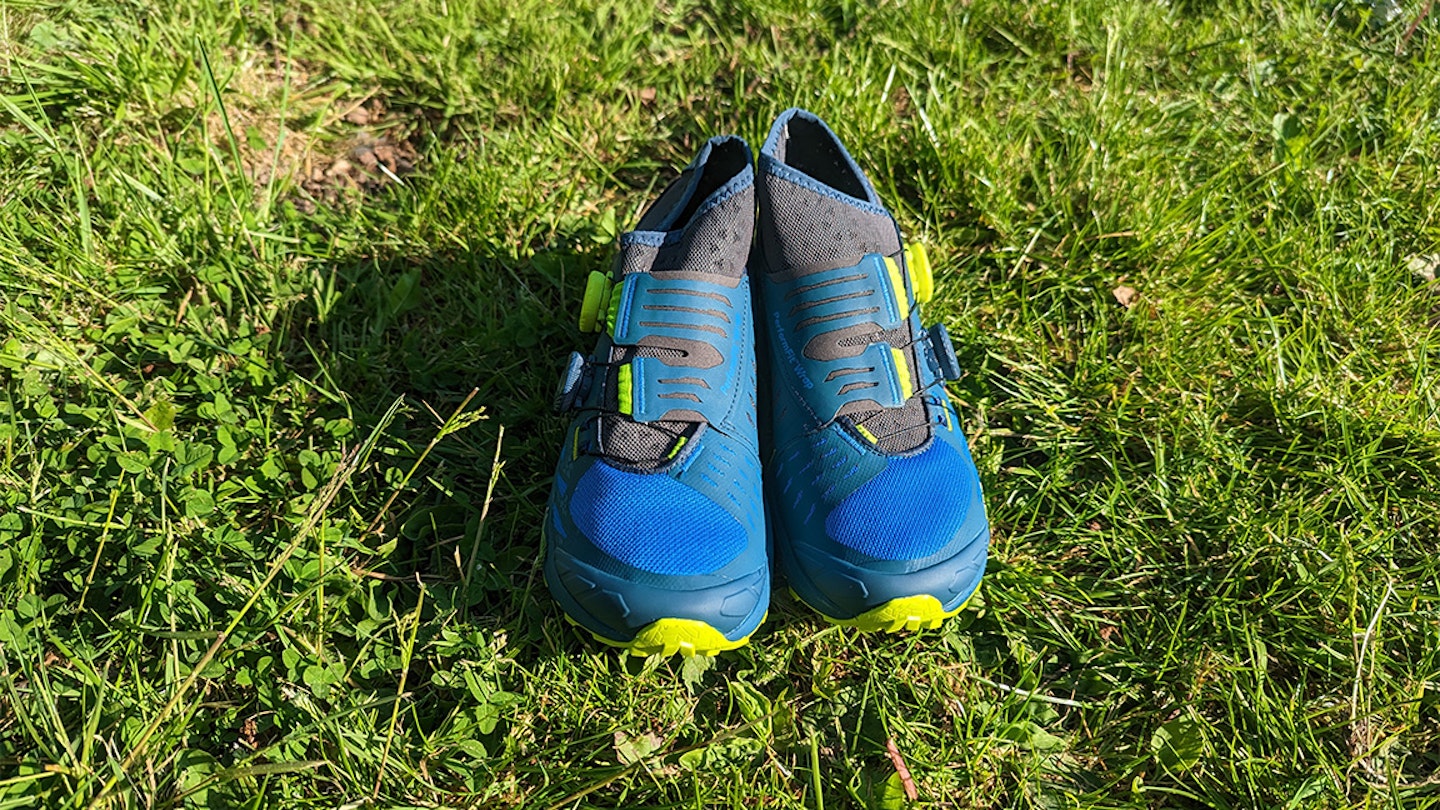 While the Jackall feels more rigid underfoot than other shoes I've tested, this translates to a more efficient stride since less power is lost during foot strike. The outsole also houses a durable rock plate and 3.5mm lugs, giving great traction and protection across technical terrain. The shoe's grip, toe bumper, and added heel lock inspire confidence, making it ideal for ultra-marathons. For those really muddy winter runs though, we'd reach for the Gore-Tex Cyklon Cross from La Sportiva, which also has an integrated gaiter.
Although designed with ultra-marathons in mind, the Jackall also performed admirably during a regular marathon race. It could be psychological, but the gaiter fitting felt like we were picking up our feet with a little less effort than usual.
Sustainability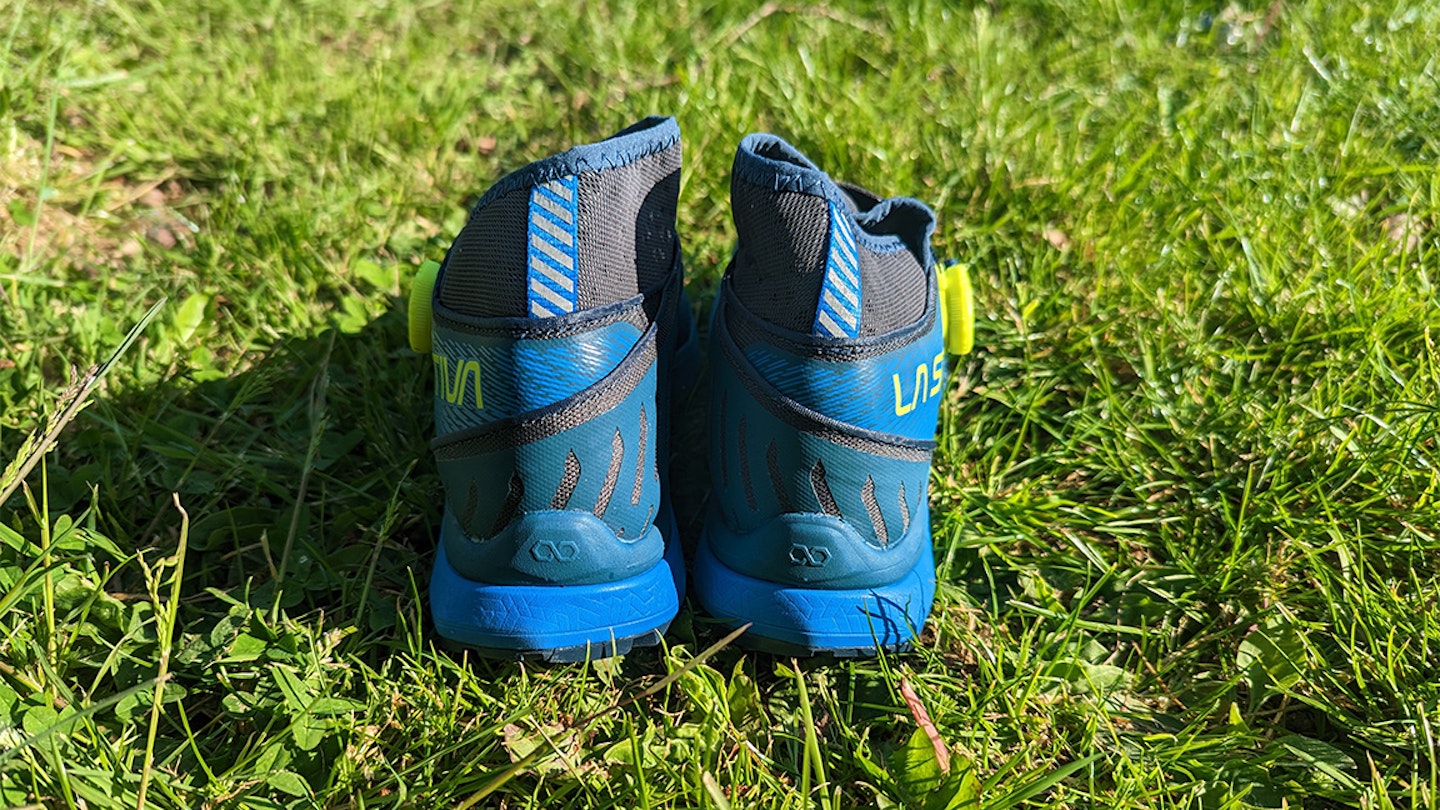 Sustainability is an increasingly critical aspect of modern running shoes, and La Sportiva have made some efforts to incorporate recycled materials into the Jackall. This includes in the mesh upper, shoe lining, laces, and footbed. La Sportiva was one of the first outdoors brands to take an interest in sustainable practices as far back as 2012, here you can read more about their efforts.
Verdict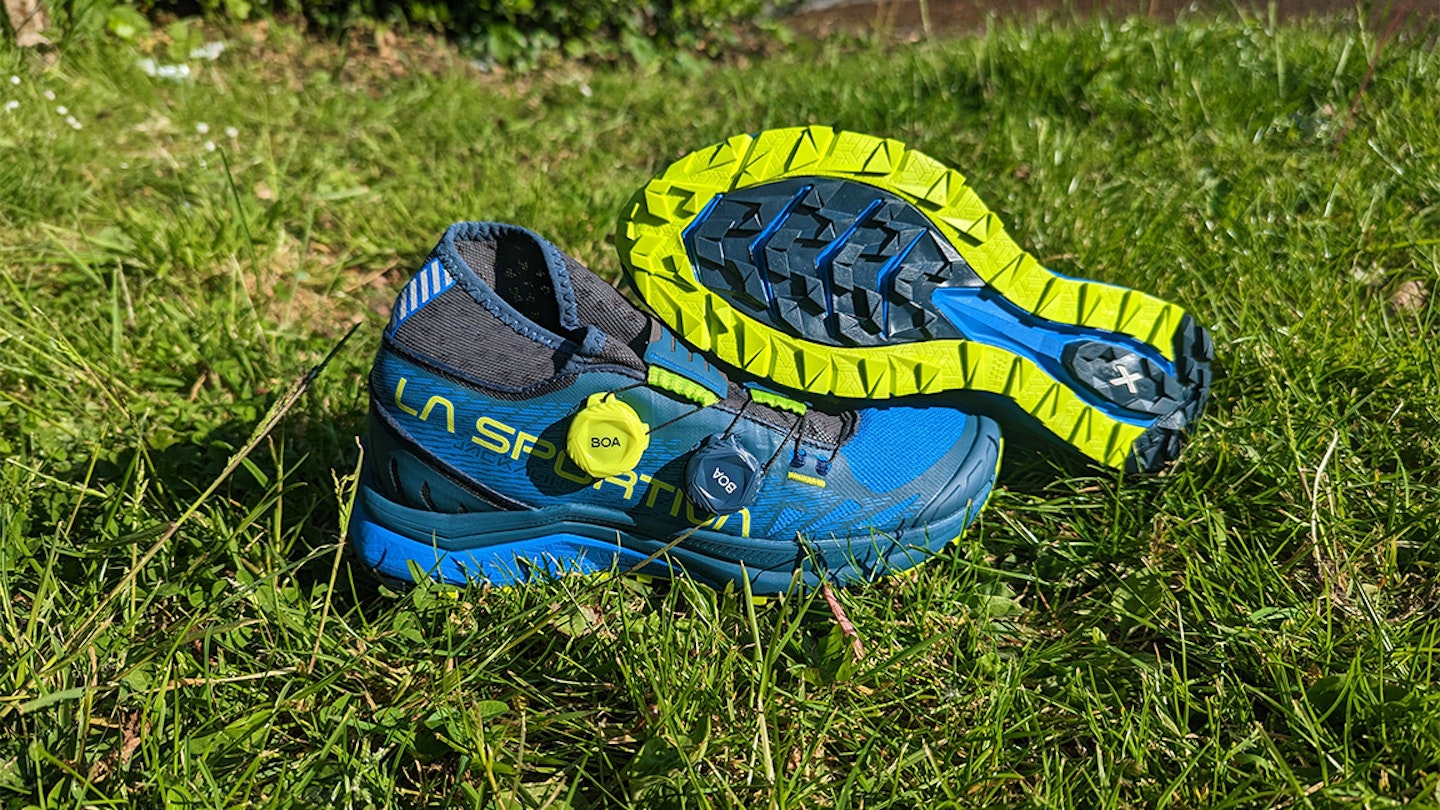 Overall we've really fallen for the La Sportiva Jackall II Boa. Its Boa Performfit wrap dial locking system, standout design, and impressive performance make it a considered choice for those longer distances over more technical terrain. Yes they're very expensive, but we think La Sportiva have latched onto and delivered an idea which will resonate with runners, and see other brands attempt to launch something similar.
Check out the women's version of the La Sportive Jackall II Boa here
For all the latest news, tips and gear reviews, sign up to the Trail Running Newsletter.