On 17 June 2023 Black Diamond athlete Hillary Gerardi set a new women's Fastest Known Time for the ascent and descent of Mont Blanc. Setting off from the illustrious, French mountain town of Chamonix, Gerardi summitted Europe's highest mountain and returned in a total time of 7h 25m 28s.
Gerardi beat the previous FKT by approximately 28 minutes, which was set by Emilie Fosberg (paced by husband and current men's record holder, Kilian Jornet) in June 2018. In some cases such as this where the athlete attempts to summit a mountain as swiftly as possible, there isn't necessarily a set route. Rather, is it up to the athlete and their team to consider the conditions and weigh up their own strengths when choosing the quickest path.
Setting off from Saint Bernard du Mont-Blanc Parish church in the heart of Chamonix at just past 2am, Gerardi's route soon differed from Forberg's in that after reaching Bossons Glacier on her ascent, she continued up North Ridge before reaching the summit, and then took a different path on her descent which took her via Plateaux.
What is an FKT?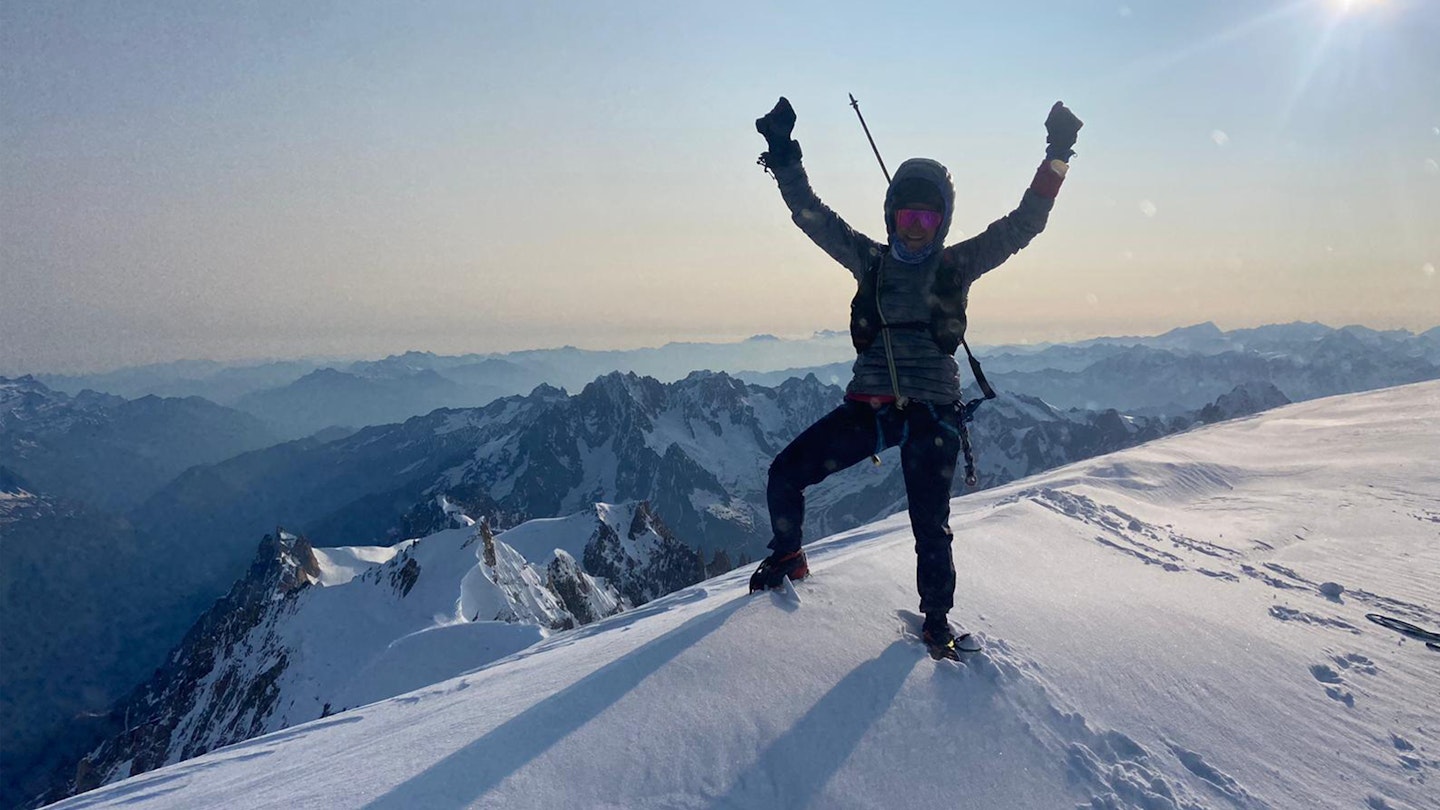 An FKT refers to the 'fastest known time' of a route that's notable and distinct enough that those who follow will be interested in taking on the challenge. An FKT has to be at least five miles in distance or have a minimum of 500ft of elevation, and the athlete must complete it by means of 'self-propelled travel'.
You may have only heard tell of FKTs in the post-Covid era, that's because the challenge of setting an FKT grew 400% in popularity over lockdown. Nowadays, you can even submit an FKT to fastestknowntime.com which will document and verify the achievement. Any FKTs currently in progress are also tracked on the site.
Who is Hillary Gerardi?
Gerardi is one of the world's most accomplished and exciting skyrunners. her long list of course records, ultra running and mountain running wins includes victories in the 120km Grand Raid des Pyrénées in 2015, the 32km Salomon Glen Coe Skyline in 2018, the 90km Marathon du Mont Blanc in 2021 and the 52k Trofeo Kima skyrace in 2022.
How did Gerardi take the FKT of Europe's highest mountain?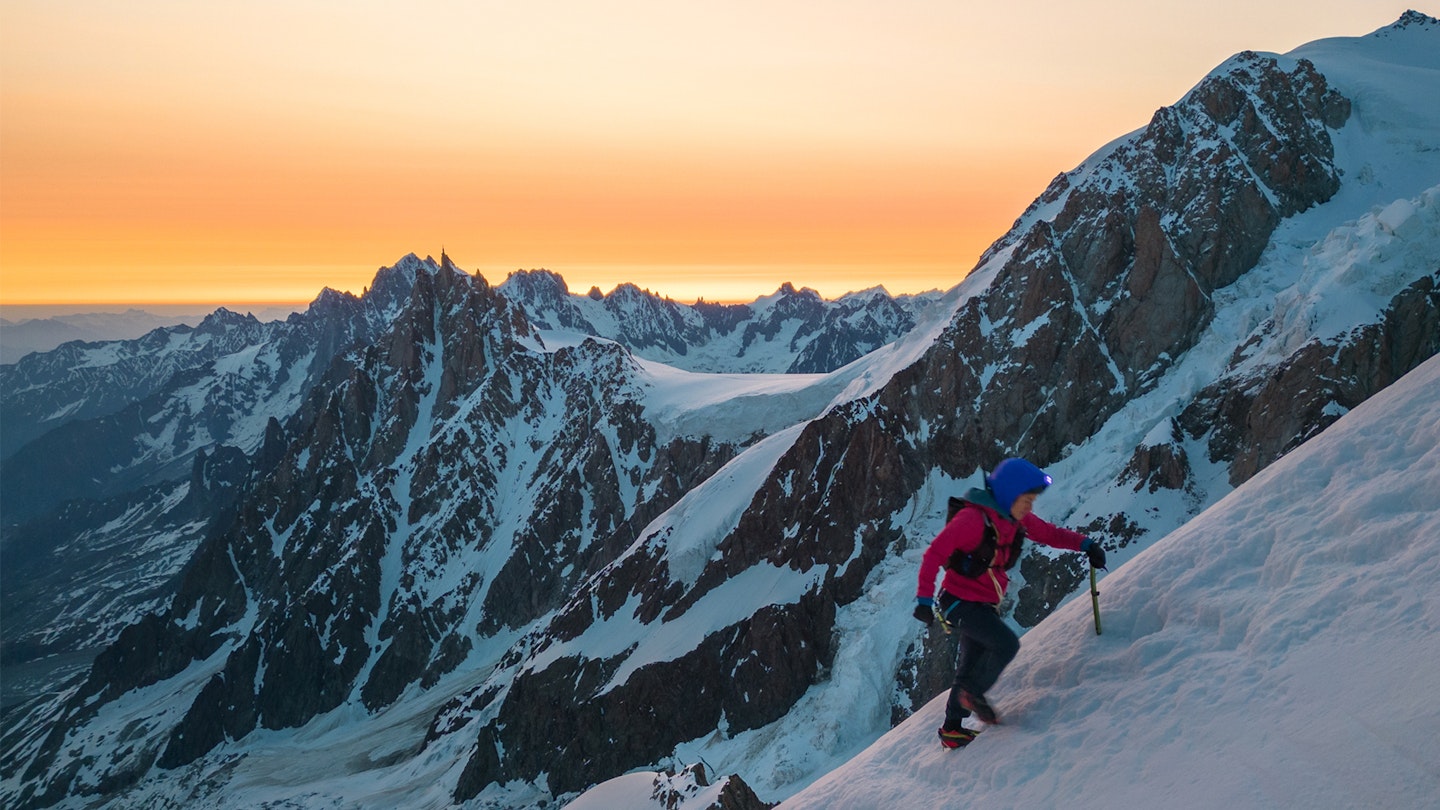 After her amazing feat, Gerardi sat down with kit sponsors Black Diamond to share how the run went and what exactly is needed to take on an FKT of such magnitude.
"Going up and down Mont Blanc as fast as you can occupies a grey space somewhere between trail running and alpinism", Gerardi explains. "In fact, the route can really be split into two parts with the first 1500m more or less falling into the category of trail running or speed hiking and the upper 2300m finding itself solidly in mountaineering."
Such a vast combination of skills necessitates specific training, both mental and physical, alongside a healthy dosing of confidence and luck when it comes to the weather Gods. Gerardi meticulously planned and executed this run alongside her team. There's no doubt that it's going in the record books for some time.
Planning an FKT
"Breaking the objective up into those two distinct parts allowed me to break up my preparation, but also required a bit of thinking outside of the box in the planning", notes Gerardi.
"Initially, I didn't think much about the route that I would take, figuring that I would just follow in the footsteps of Emelie Forsberg and Kilian Jornet's records. But as the season progressed, and I saw how conditions were lining up, I had to think about alternative routes that would be less objectively risky without losing too much time. The route I landed on (the North Ridge), was steeper and a little more technical, requiring a more significant set of equipment."
Gearing up for the attempt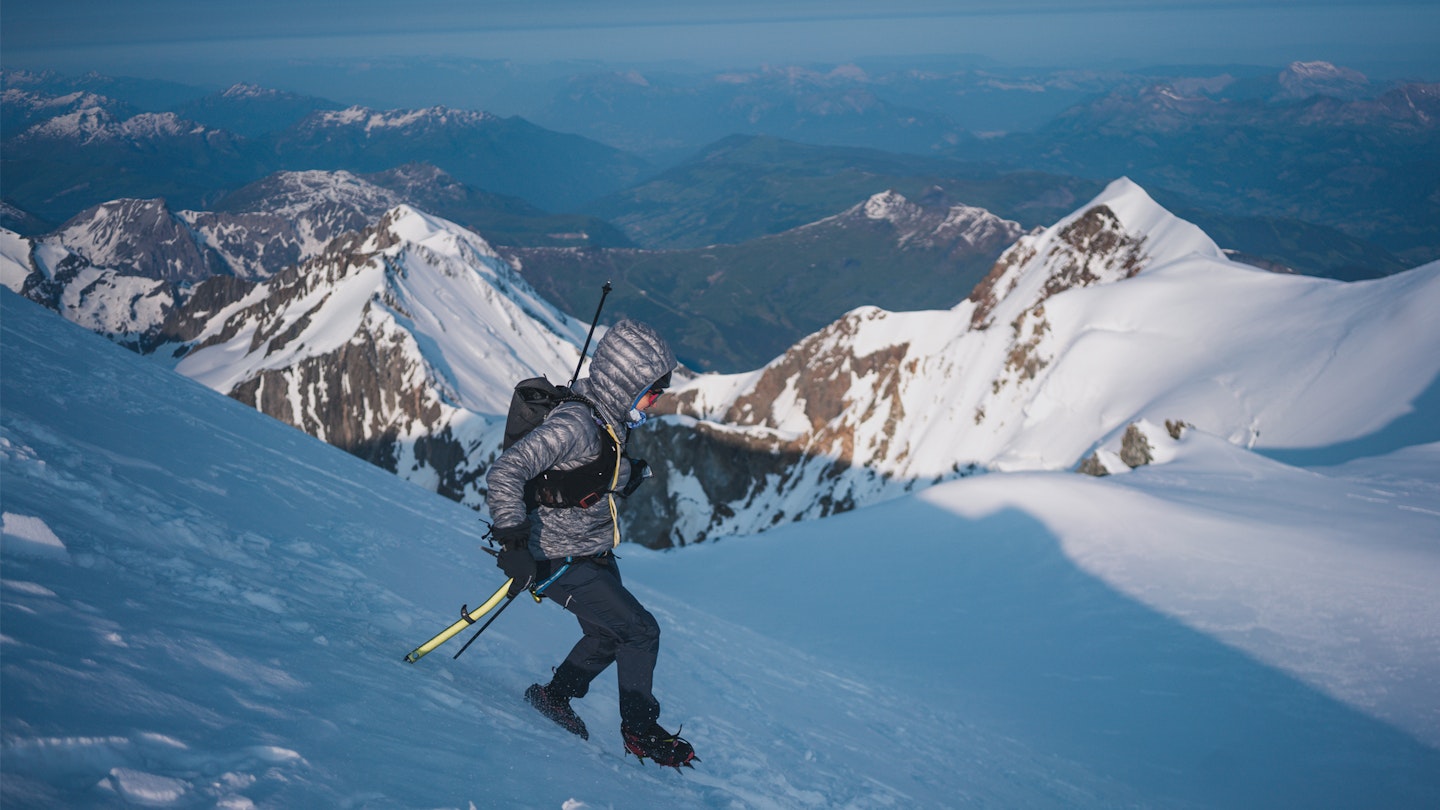 When it came to gear, Gerardi was almost wholly kitted out in Black Diamond kit, who specialise in mountain and climbing gear.
"I had to get a little creative with some of my gear to shave off grams where I could, while maintaining safety - for example, I combined a pair of steel crampons with a pair of aluminum crampons and cut down the center bar so I wouldn't have any excess weight.
"I tested different layering combinations and ways to carry and stow my gear to make sure that transitions would be smooth and practiced."
Contending with climate change
"I've been waiting a few years to be able to try this FKT. Climate change and poor winters have meant that we didn't get enough snow to fill in the Jonction (a key section with a labyrinth of crevasses) enough for a speed attempt.
"Once we finally got enough snow this spring to make it possible, I blocked a two-month period where I didn't plan anything else, just so that I would be ready if the conditions got good. Unlike a race, you can't set a date months in advance - I had to be willing to accept uncertainty and be patient. It was all about trying to get ready and fit and then maintain that, so I'd be able to go when the time came."
Training for an FKT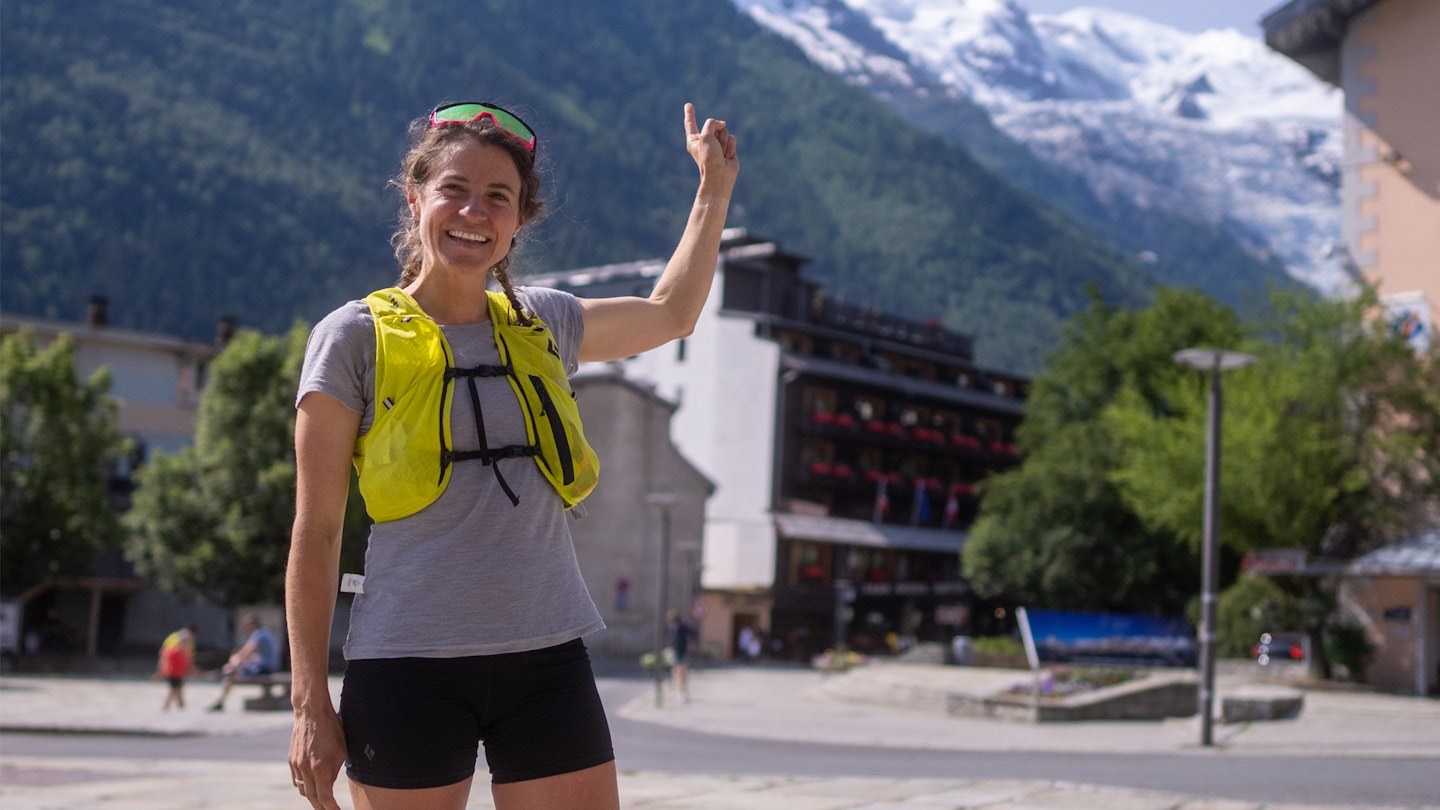 "Any time we go into the mountains, we need to make sure that we are approaching it with respect and humility. Part of that has to do with your preparation: you need to make sure that you are physically and mentally prepared and that you have equipped yourself with the knowledge, skills and gear that will allow you to travel safely in the mountains not just on the best day, but also if things go wrong. You also have to be ready to accept that you may need to adapt your objective, change your plans, or turn around.
"In addition to my regular training, I took a lot of time this spring to revise my technical skills (cramponing, crevasse rescue, route finding, etc.) and spent a lot of time in the mountains to acclimate and feel as comfortable as possible.
"I also was ready to defer to more experienced people than me to help me with decision making: my husband and other local guides and hut caretakers were able to give me up to date information about the route conditions, and a local meteorologist was key to help me find the right window."
Trust in yourself and the process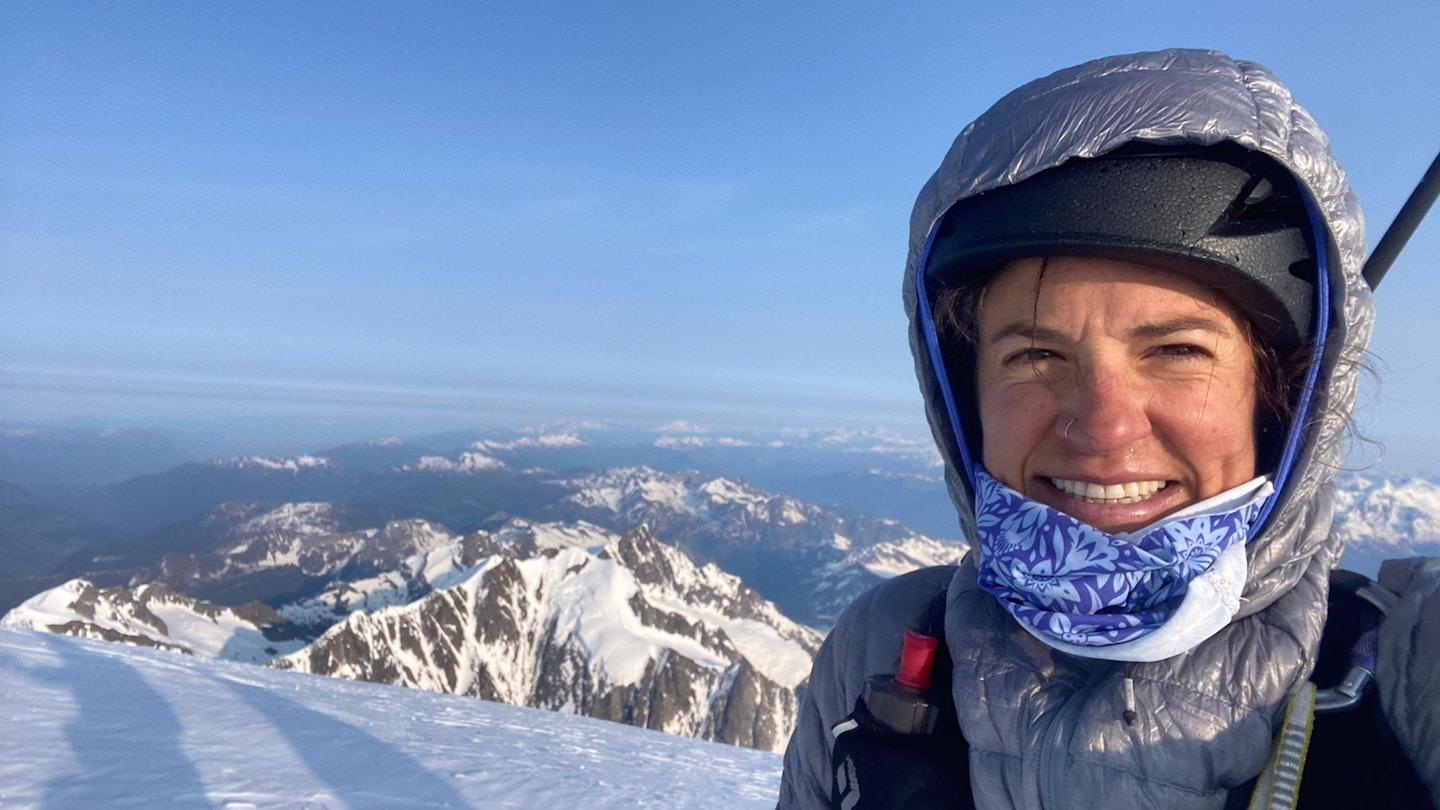 "Sometimes I can really lack confidence in myself and for a long time I was really hesitant about telling people that I was going for the record. It was easy to doubt myself and my own ability, but I had to remind myself that I put in the work, I did the training, knew the route, honed my gear and skills, and had the support of an incredible group of people.
"When I would catch myself questioning whether I had it in me, or if I was legit enough to give it a go, I reminded myself of the training, the work and the accumulated experience, and trusted the process that got me where I am.
"Based on that preparation, I was able to think about 'success' on the day of the attempt in a larger sense: yes, there was a version of success that would have me beating the record. But there was also a version of success that involved making good decisions to keep it safe, turn around if necessary, and take the day as a building block and learning experience in a bigger process of becoming a stronger and more competent mountain athlete."
Gerardi's record-breaking FKT kit list: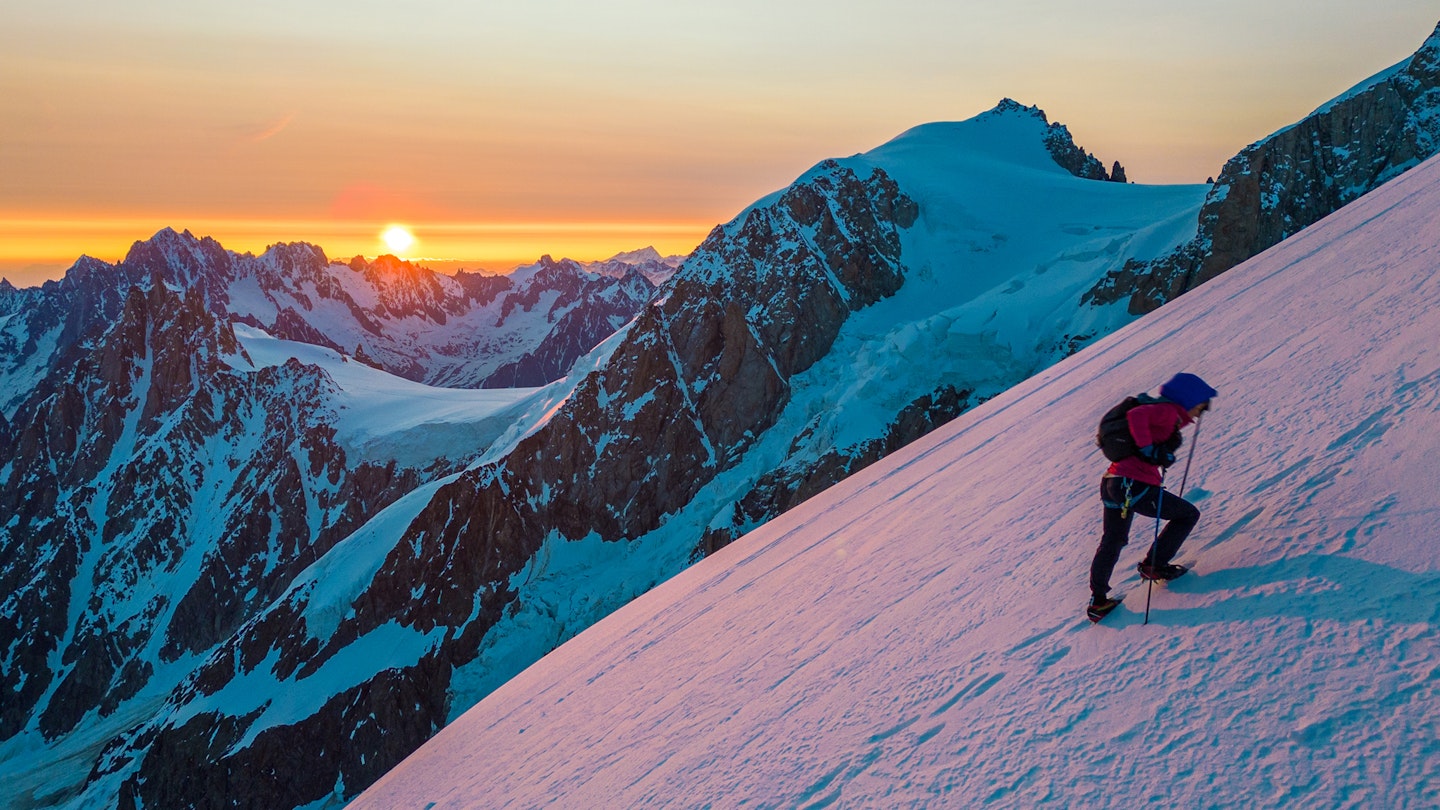 Top image credit: Seb Montaz
For all the latest news, tips and gear reviews, sign up to the Trail Running Newsletter.