Make a good trip GREAT with Trail magazine's pick of the best walkers' accommodation in Scotland.
At the end of a long day walking in the Scottish hills and Highlands you'll want somewhere great to stay that enhances your trip even more!
Tested and reviewed by Trail magazine, we've chosen our favourite cool, quirky, brilliant accommodation to make your trip even more awesome.
Here's our pick of the very best pubs, inns, castles, campsites, cottages and places to stay for walkers in Scotland…
More of the best places to stay for hikers:
Trail's Best Places to Stay in Scotland:
Kingshouse Hotel, Glen Coe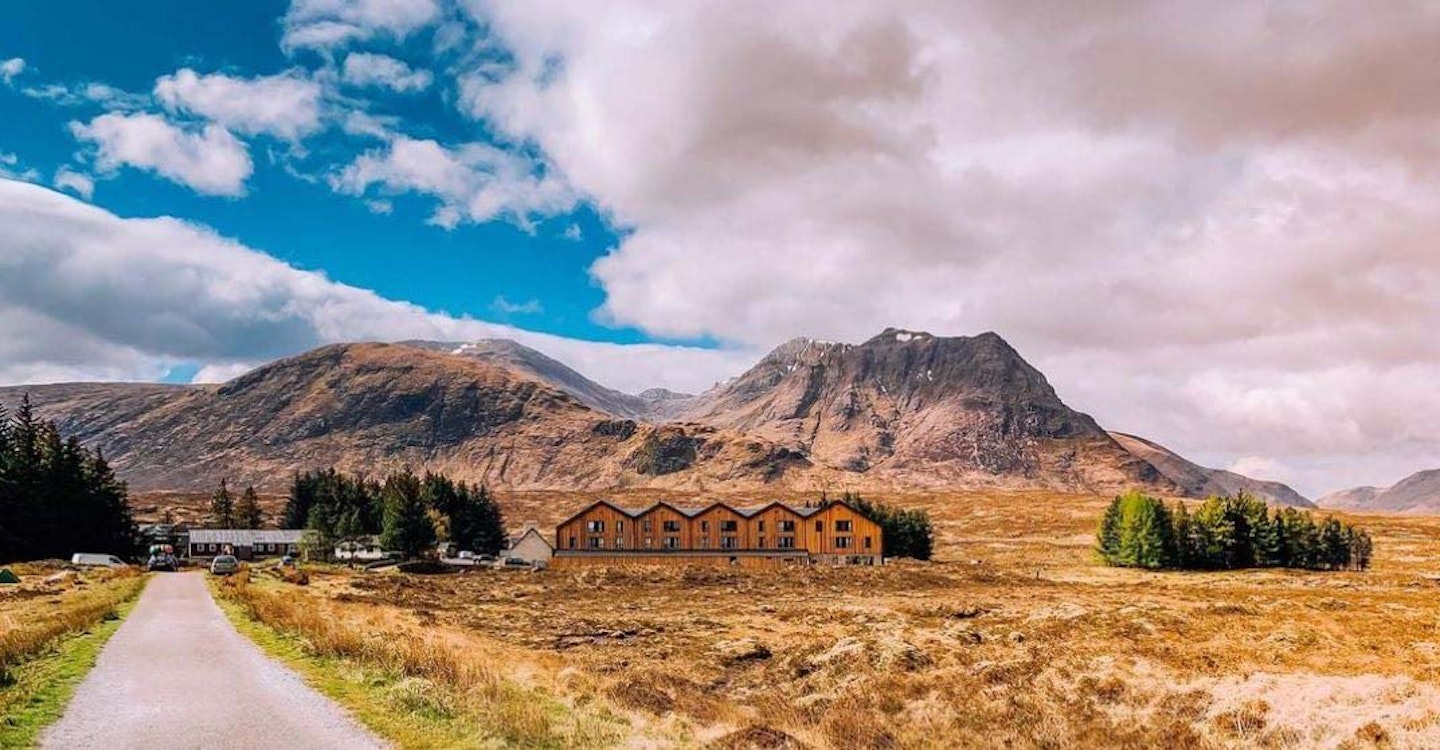 It's hard to imagine a room with a better view than this. The hulk of Buachaille Etive Mor that guards Glen Coe is one of the most photographed mountain vistas, and the newly refurbished Alpine-style lodge of Kingshouse Hotel and Bunkhouse has a grandstand seat.
Every room has a view and there are huge windows in the bar and restaurant, where you can sit by the fire and soak it all in.
You can get cheap lodgings in the bunkhouse if you're walking past on the West Highland Way, it's dog friendly, and there's quality locally sourced food, beers and single malts… what's not to love?!
Trail's Best Places to Stay in Scotland:
Glen Affric Hostel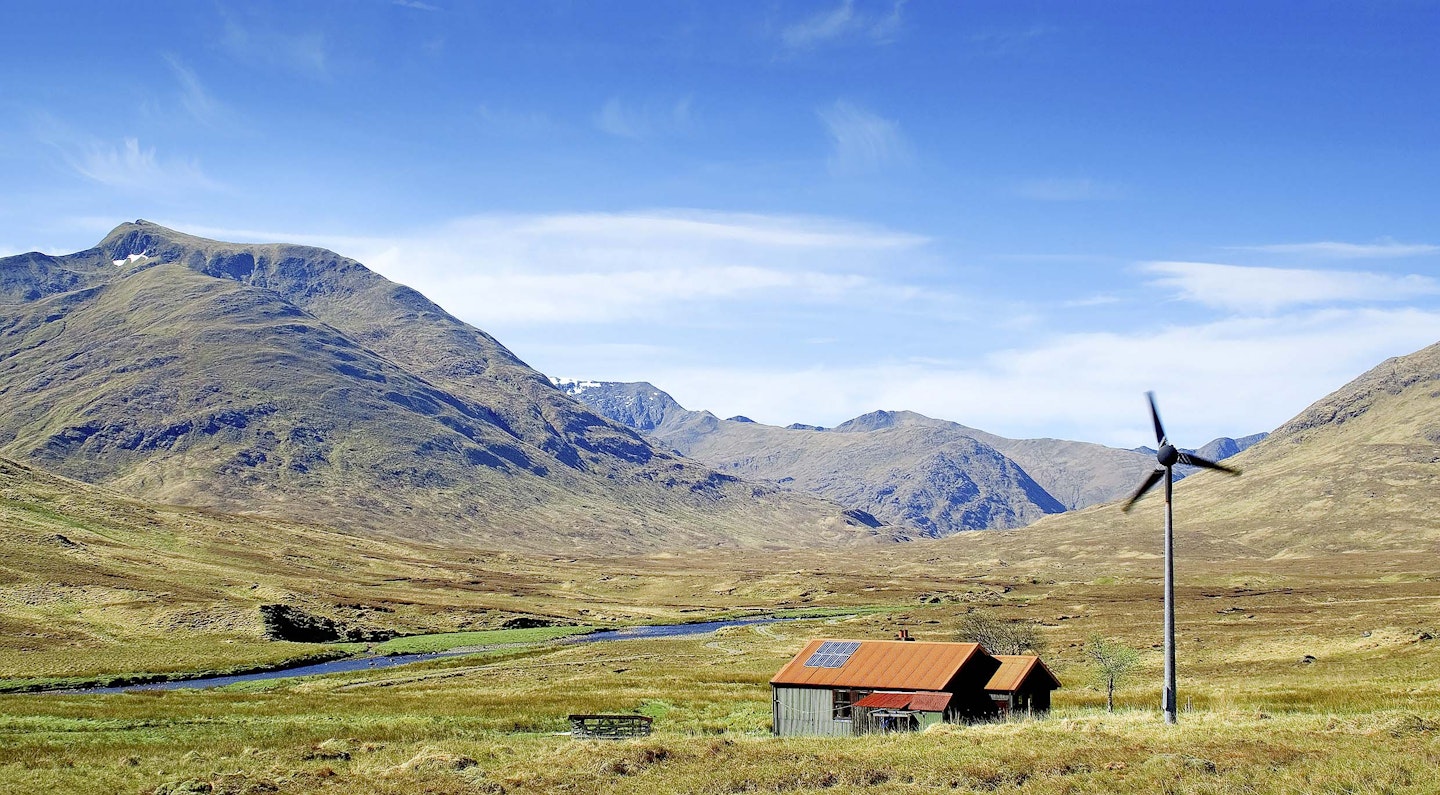 The 14km walk-in to this remote hostel leads you through wonderful pine forest, with views over the blue waters of Loch Affric to the towering Carn Eige and Mam Sodhail. After a few hours walk you'll find the welcome sight of a little green hut beside the River Affric, surrounded by 15 Munros. Inside is simple accommodation with fires to warm yourself by and a tiny shop to replenish supplies. Booking essential.
Trail's Best Places to Stay in Scotland:
Allt Slapin holiday cottage, Torrin, Isle of Skye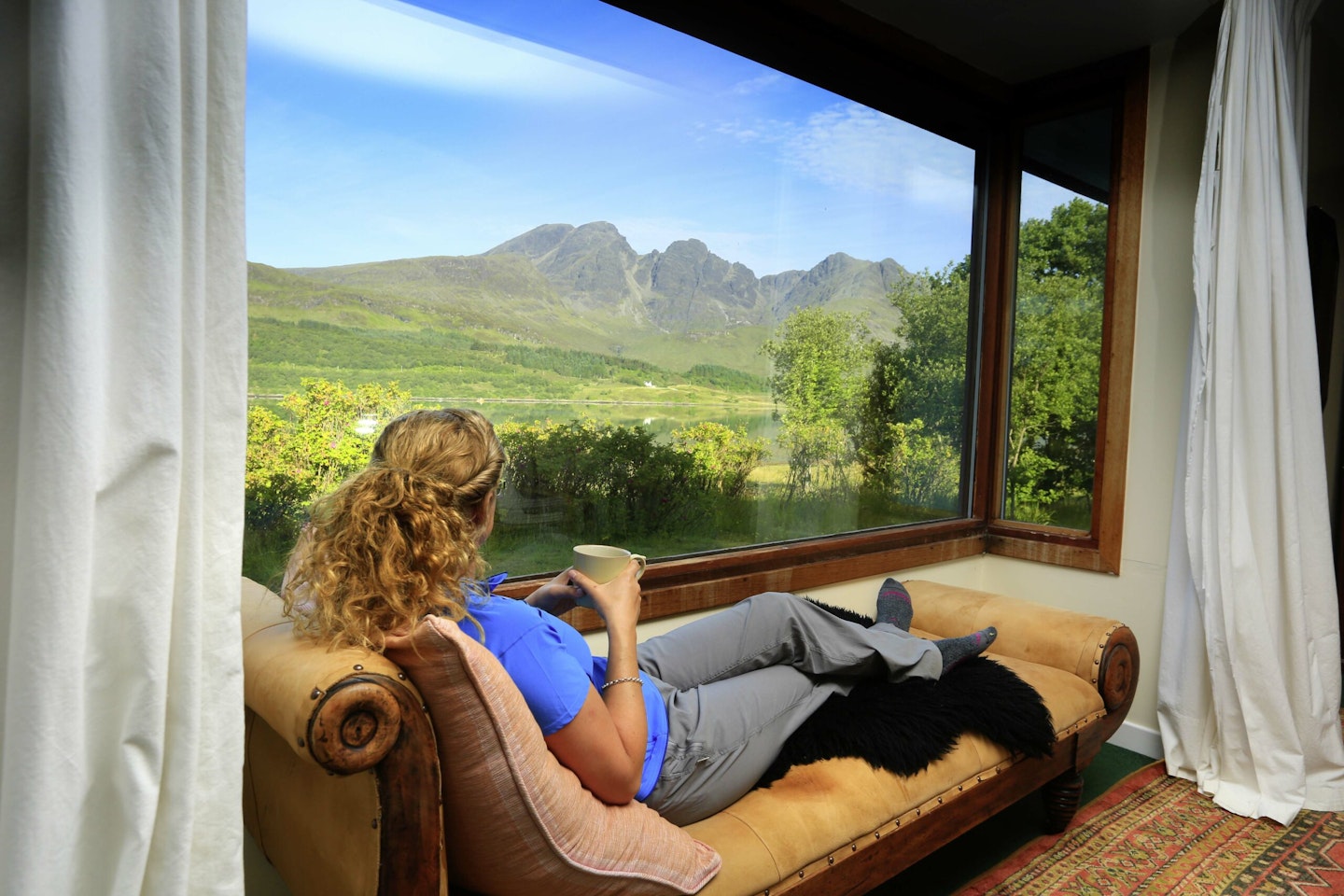 You don't even have to get off your backside for a view of the Black Cuillin mountains from Allt Slapin holiday cottage on the Isle of Skye.
It's comfy but fairly basic accommodation, but WOW what a location! Sandwiched right between the Red and Black Cuillin from the living room window you can gaze up at the staggering peaks of Blabheinn, and the Beinn Deargs from the kitchen.
The back garden slopes down to the pebbled shores of Loch Slapin, where you can relax and watch otter's feed and play.
It's an incredible base for your Skye adventures, where you can forget the crowds of tourists around Skye's honeypot sights.
Trail's Best Places to Stay in Scotland:
Sligachan Hotel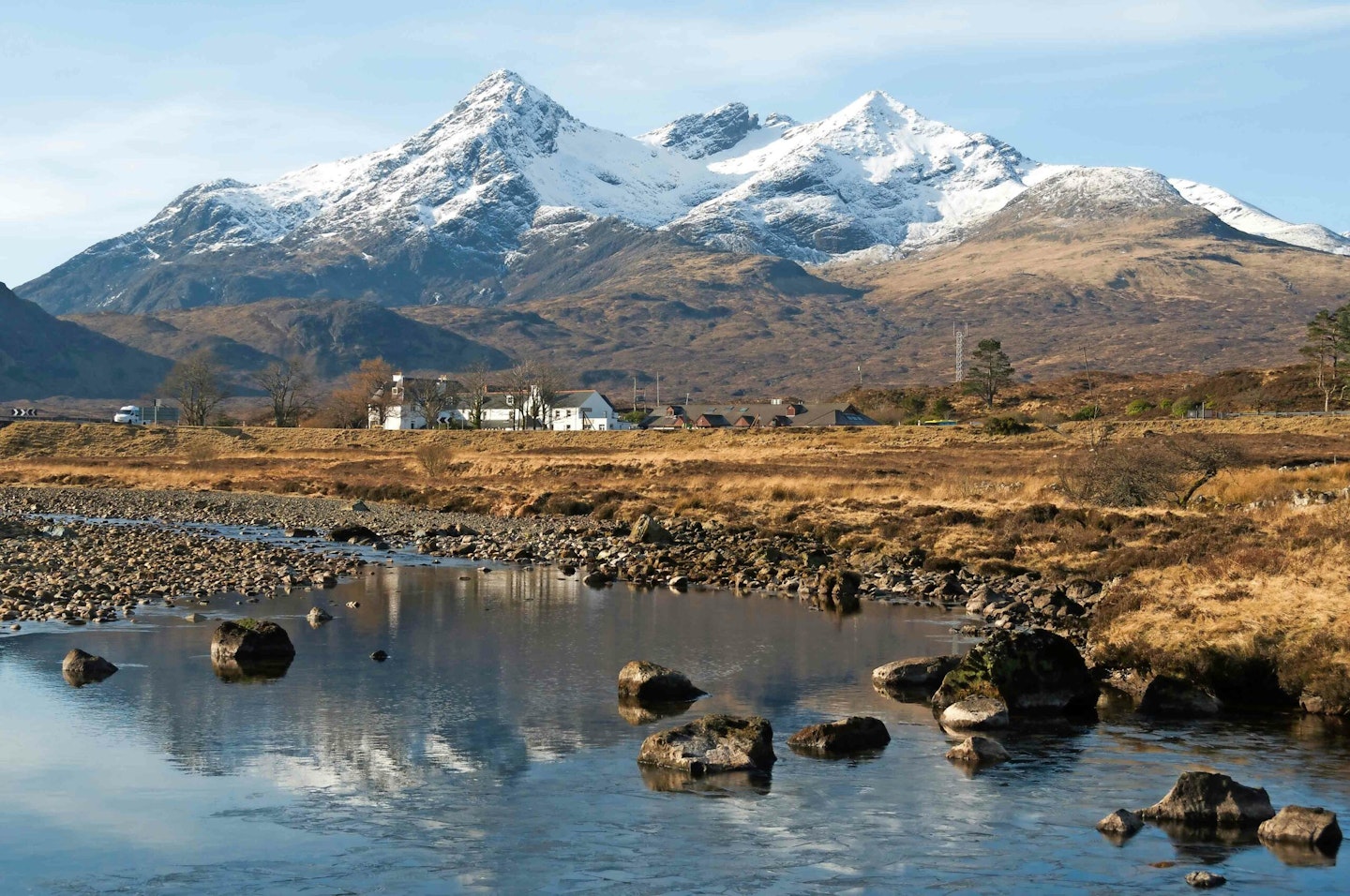 Wild, remote and spectacular, the location alone is enough to sell the Sligachan Hotel.
Steeped in mountaineering history and nestled between the Red and Black Cuillin on an Isle of Skye loch shore, it's everything a walker could hope for.
Choose between standard rooms or more lavish alternatives like the Pinnacle Suite (pictured), but beware the impressively stocked Seamus' Bar (open April-Oct). Trust us, it could play havoc with your mountain plans with 400 malt whiskys and local ales to choose from!
Trail's Best Places to Stay in Scotland:
Duchray Castle, Loch Lomond & The Trossachs National Park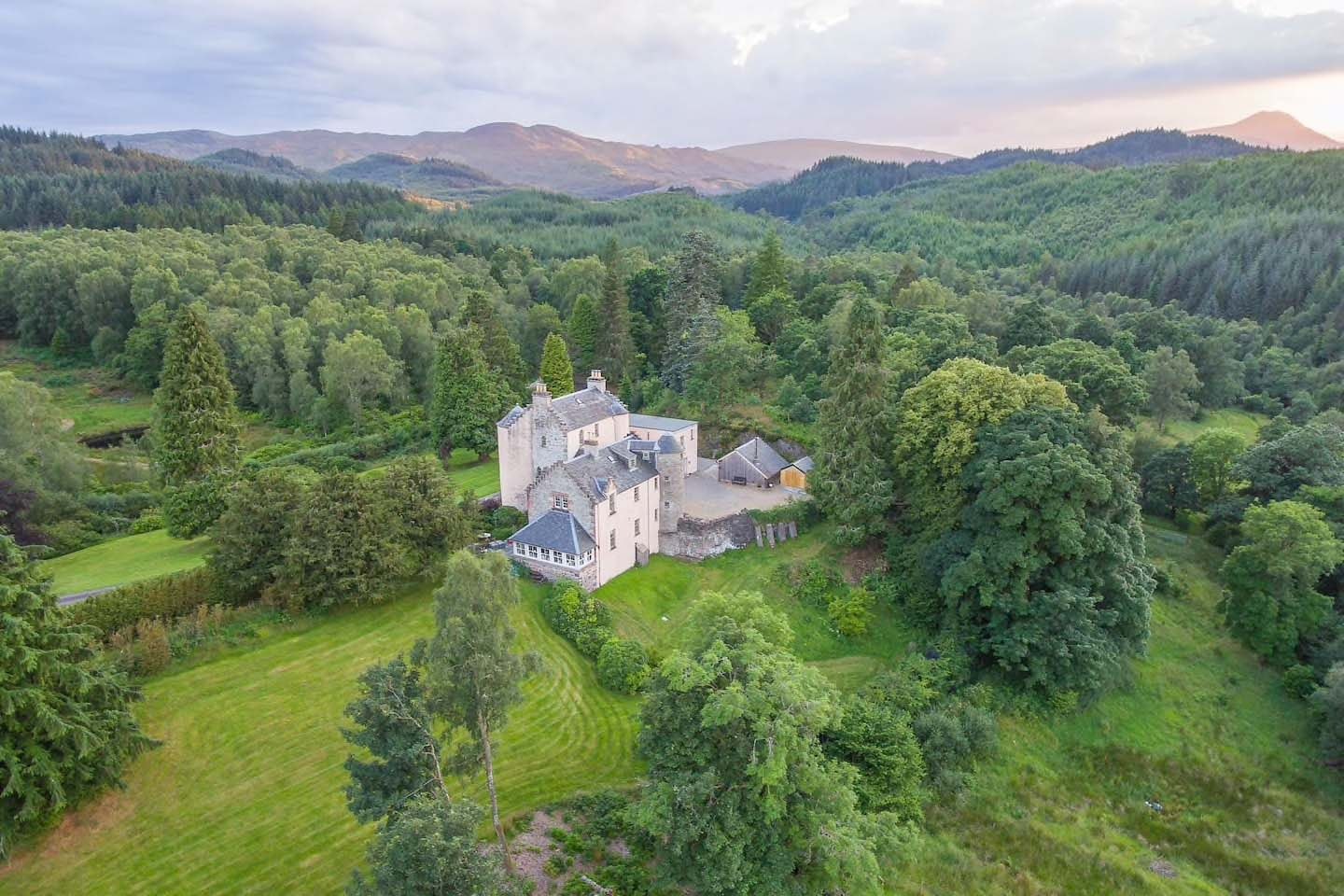 Deep in the Queen Elizabeth Forest Park, several miles from the nearest tarmac road and nestled between Ben Lomond and Ben Venue, is a castle straight from the pages of a fairy tale. Best of all, it can actually be yours for a week or two.
Not only will you have your own mini loch, spiral staircase, turrets and vaulted dining room, but the hillwalking opportunities are endless.
Wildlife here is abundant and heating is provided by a renewable bio-mass heating system.
We've done a few calculations, and sleeping a group of eight in the four bedrooms works out at £64 per person per night.
Need a smaller option? The separate West Wing (sleeps four), or the Lodge (sleeps 5), but still gives you access to these, frankly, amazing surroundings…
Trail's Best Places to Stay in Scotland:
Barns Tower, Peebles, Scottish Borders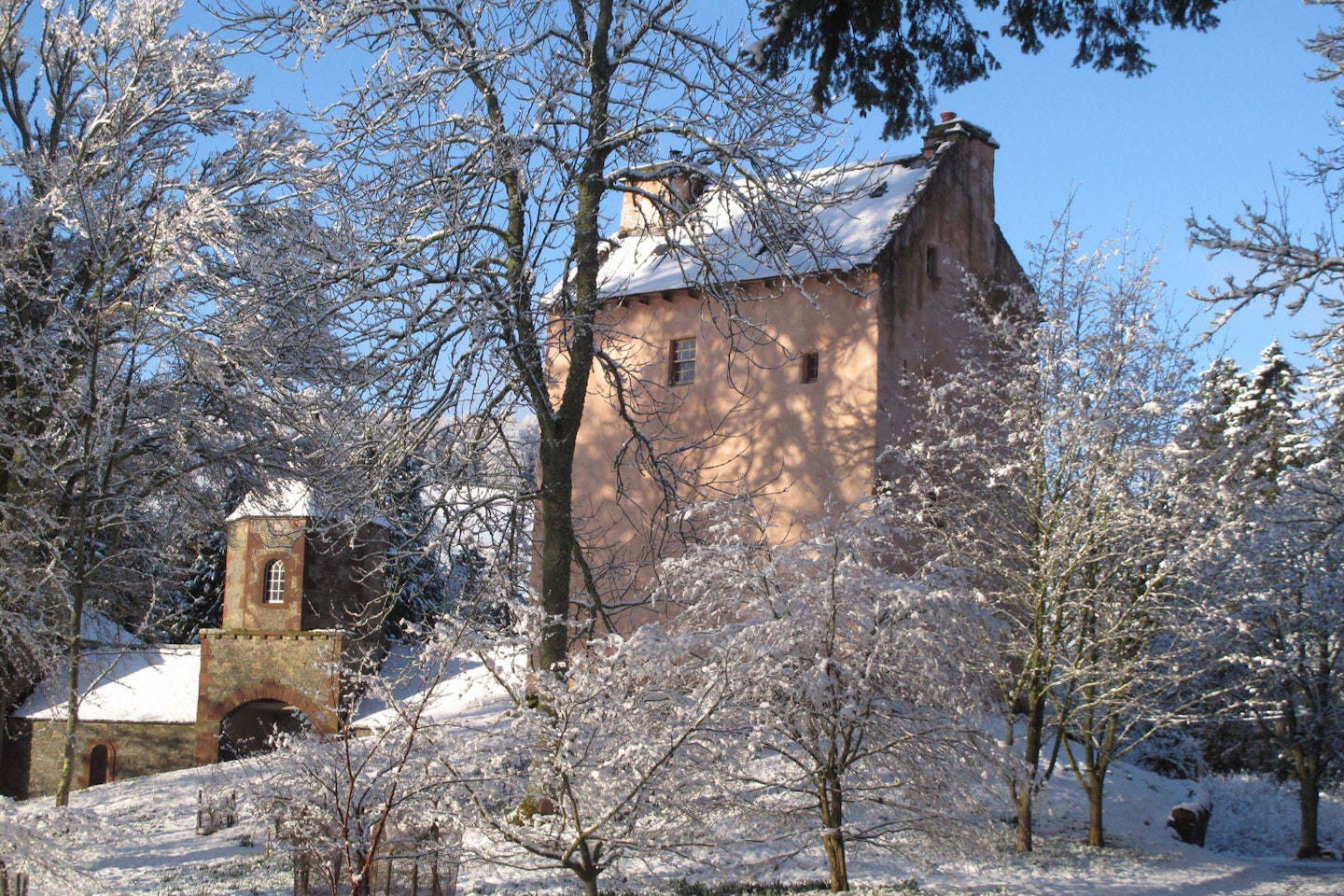 Enter the 14th century Defence Tower through the latticed wrought iron gate and wind your way up the spiral staircase into a homely haven.
This is the rustic kind of luxury that's quite at home with walking boots by the door. Forget the outside world, with open fires in the kitchen and living room in winter, and a safe swimming hole down by the river in summer.
A gorgeous bedroom for two at the top of the tower has a roll-top bath, a sleigh bed and beamed rafters. There's also a cute alcove box bed perfect for kids, and a pull-out bed in the living room.
This is no ordinary self-catering accommodation, and if you've ever dreamed of staying in a proper castle, this is the next best thing!
Despite its remote feeling the tower is only 3.5 miles from Peebles, which gives you options to dine out, nip to the pub and even the takeaways deliver to Barns Tower.
As well as miles of hillwalking, you can head to Glentress for some world-class mountain biking.
Trail's Best Places to Stay in Scotland:
Red Squirrel Campsite - Glen Coe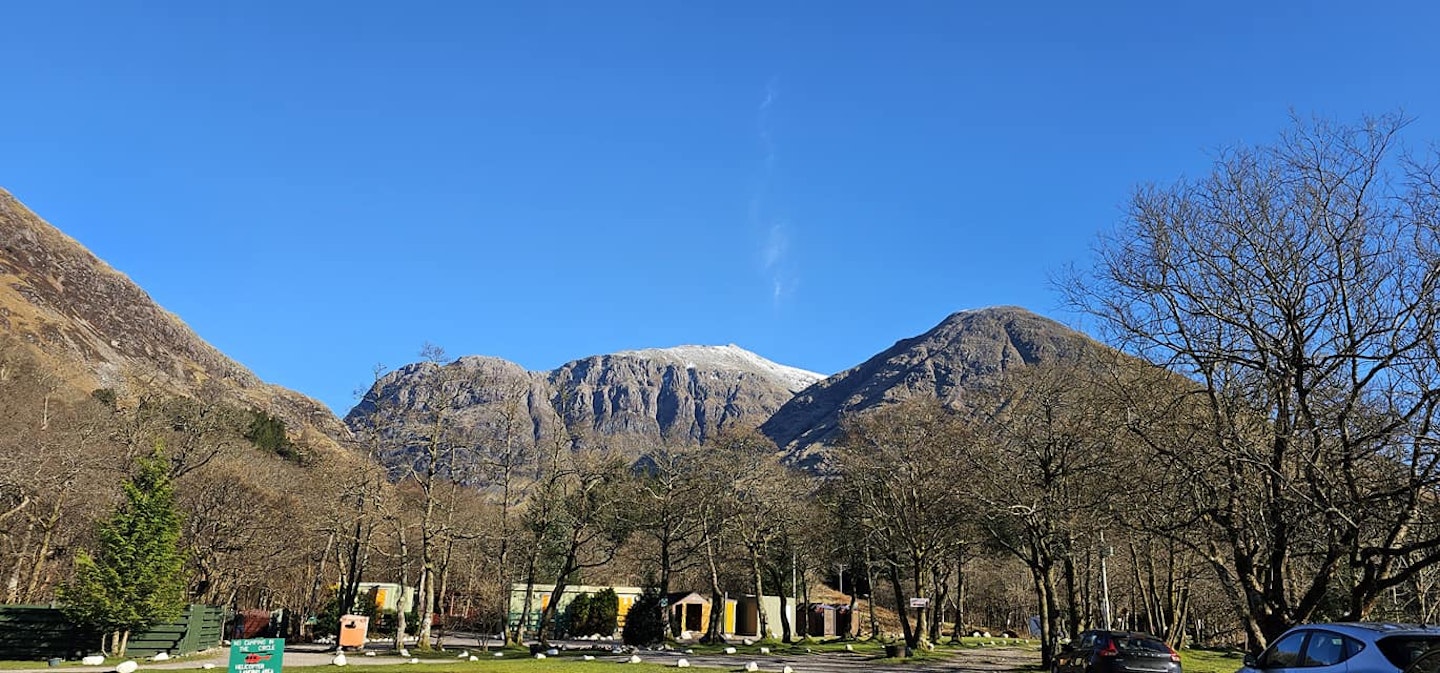 There are few mountain regions in Britain more epic than Glen Coe in the Scottish Highlands, and this campsite sits right in the heart of it.
You're based directly on the River Coe, with a swimming hole allowing you to take a well-earned dip after a day spent exploring the iconic surrounding peaks that include Buachaille Etive Mor, Bidean nam Bian and the Aonach Eagach ridge.
And if those names don't set your pulse racing, Ben Nevis is just a few miles down the road too…
Small campfires are allowed on site, the legendary Clachaig Inn is a short stumble away, and if the weather turns sour there's also the excellent Ice Factor indoor climbing wall down the road in Kinlochleven.
Trail's Best Places to Stay in Scotland:
Seal Shore Camping - Isle of Arran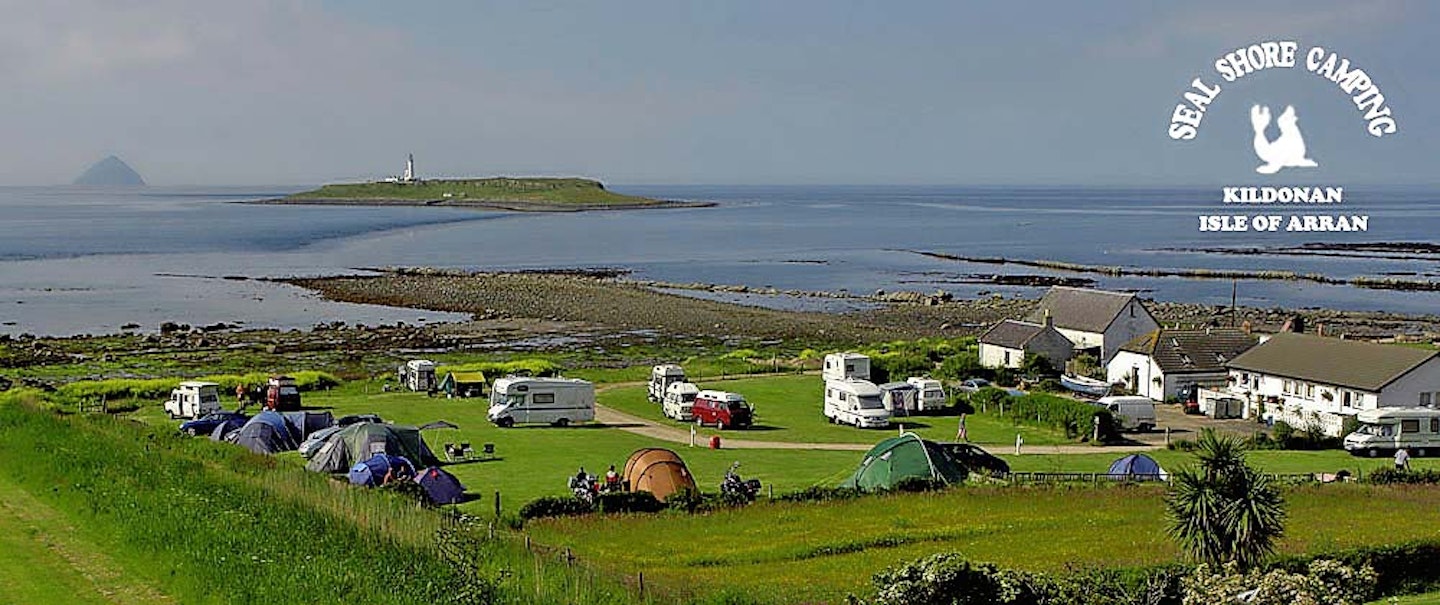 This small site sits just below the cliffs on the southern tip of the Isle of Arran, where its beach – just yards from the pitches – is lapped by Gulf Stream-warmed waters.
It's a truly magical location, looking across to the islet of Pladda and the Ayrshire coast. If you're lucky you'll see seals and otters from your tent, with a good pub serving food right next to site.
Arran itself is an often overlooked island, which is described as 'Scotland in miniature' thanks to its rugged mountains, silent glens, wildlife-rich forests and ever-changing coastline.
Trail's Best Places to Stay in Scotland:
Glenmore Camping, Cairngorms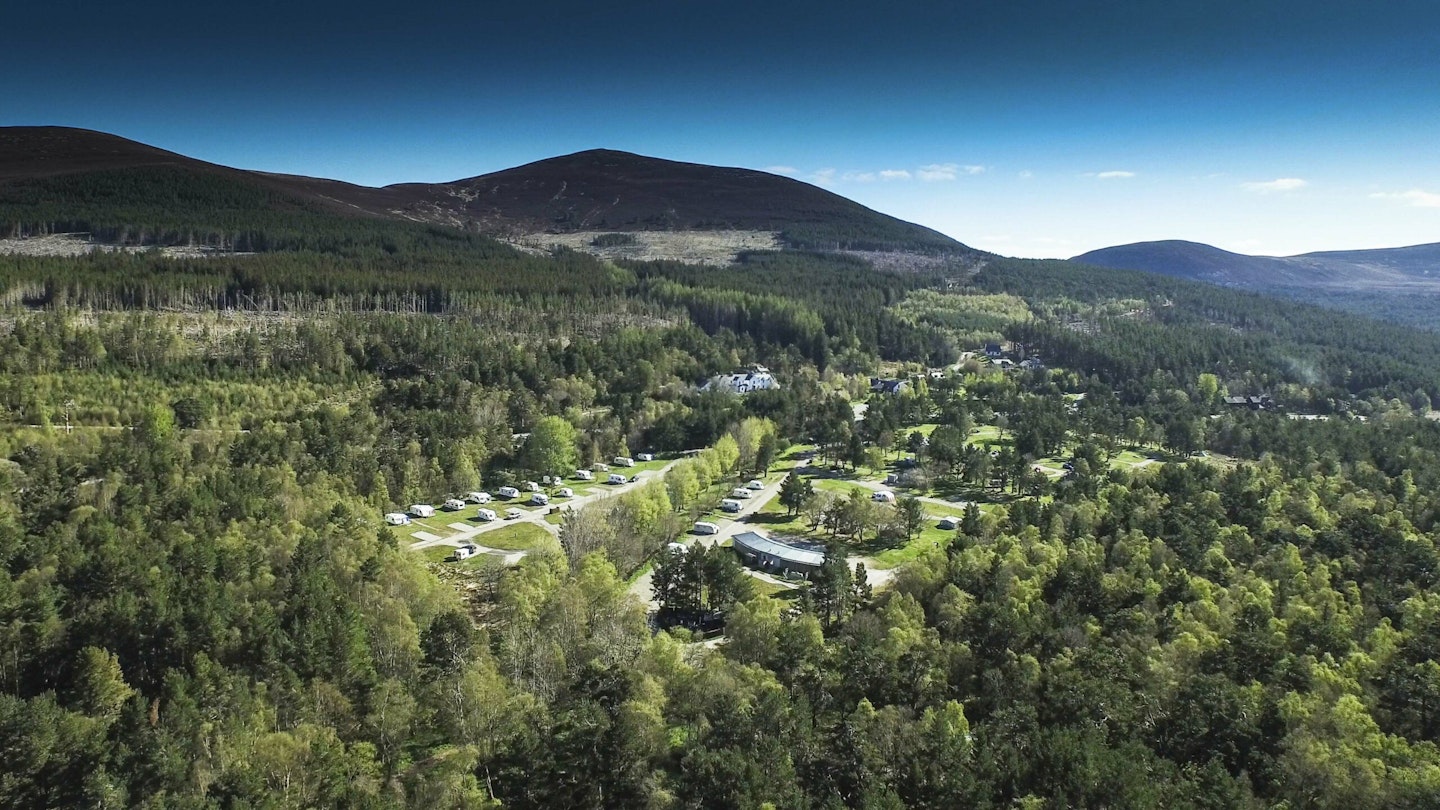 This is a stunning Camping and Caravanning Club site with great facilities and direct access to the beaches of Loch Morlich. The hulking shapes of the Cairngorm mountains loom above the forest of ancient pine trees you'll be sleeping in.
It's an amazing location to do some proper hillwalking in one of Britain's most testing mountain environments, with golden eagles and some of Scotland's finest wildlife spectacles for company.
There's also great mountain biking in the forest and a range of activities available at the nearby Cairngorm Mountain centre. Plus, the pubs, gear shops and restaurants of Aviemore are just down the hill.
Trail's Best Places to Stay in Scotland:
Glenbrittle Camping, Isle of Skye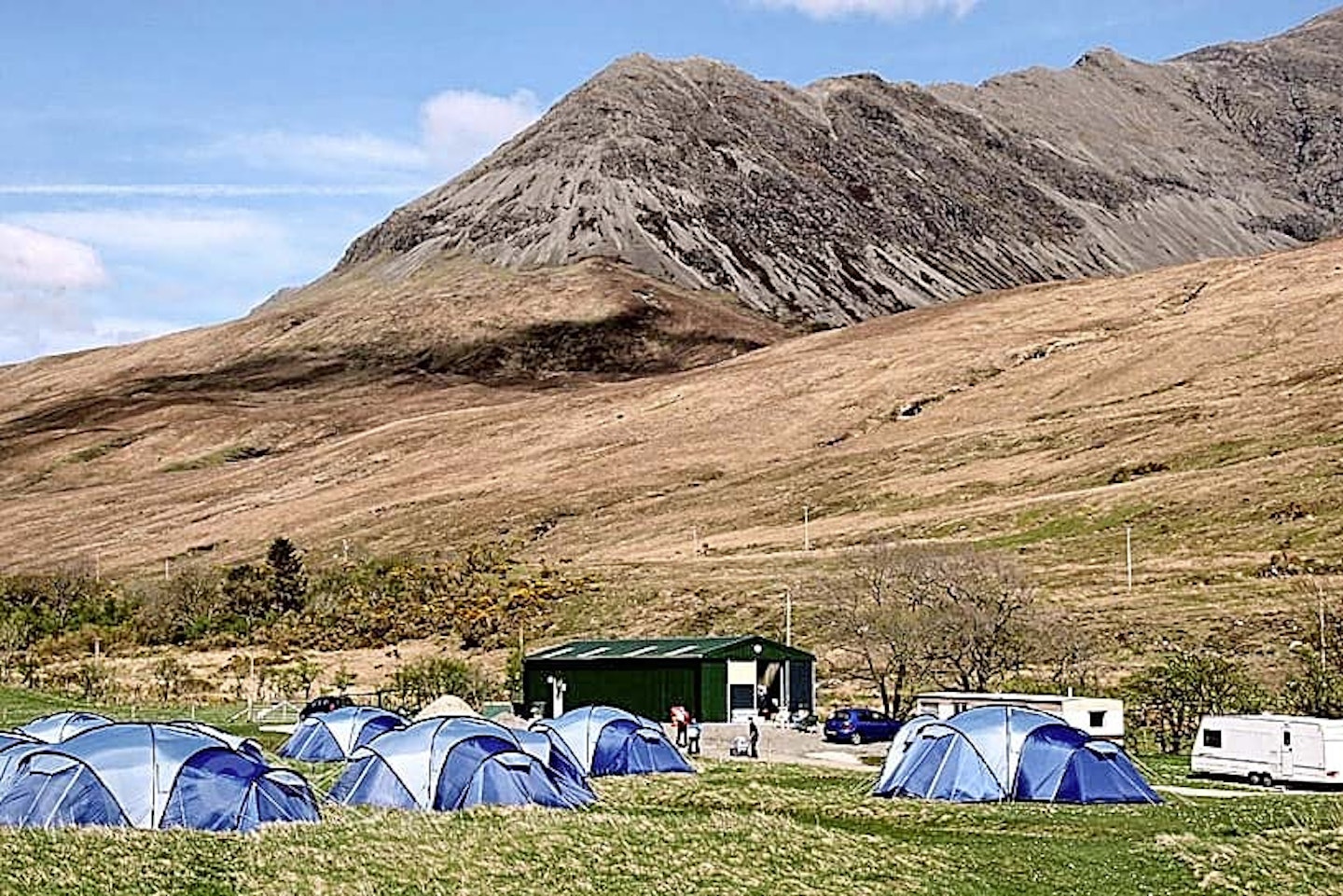 Miles away from the tourist hordes that flock to Skye's famous beauty spots, the multi award-winning Glenbrittle Campsite is all about location.
Right on the shore of Loch Brittle, a sea loch on the south-west coast of the island, with direct access to the iconic Black Cuillin mountains, you'll feel like you've left Britain behind for another world when you pitch your tent by the beach.
The site is open on a first come, first served basis from the end of lockdown until October with the Cuillin Coffee Café open daily. It's a fairly big site too, with space for 120 tents, which is a good because it is getting popular!
Booking: 01478 640404