IS THIS THE FUTURE OF WAKING BOOTS? FUSING THE TECHNOLOGY OF A RUNNING SHOE WITH THE PROTECTION OF A BOOT, HAS HOKA CREATED THE COMFIEST WALKING FOOTWEAR EVER?
Material Upper Full-grain waterproof leather
Lining eVent waterproof lining
Sole Rangi foam and Vibram Megagrip
Sizes Women's 4.5-9.5, Men's 7.5-12.5
Weight 1004g (pair, size 7)
Heavy. Brown. Stiff. These are the characteristics I've come to associate with a trusty mountain boot. So it was with some scepticism that I tried Hoka One One's new Sky Kaha walking boot.
Heavy, brown and stiff it is not. Hoka One One (pronounced oh-ney oh-ney – Maori for 'to fly over the earth') is now the world's fastest-growing running brand, owing to its revolutionary exaggerated cushioning in the sole. The Kaha has taken the principles of momentum, comfort and cushioning pioneered by its French trail running designers ten years ago, and put them into a boot that is light, bright and flexible.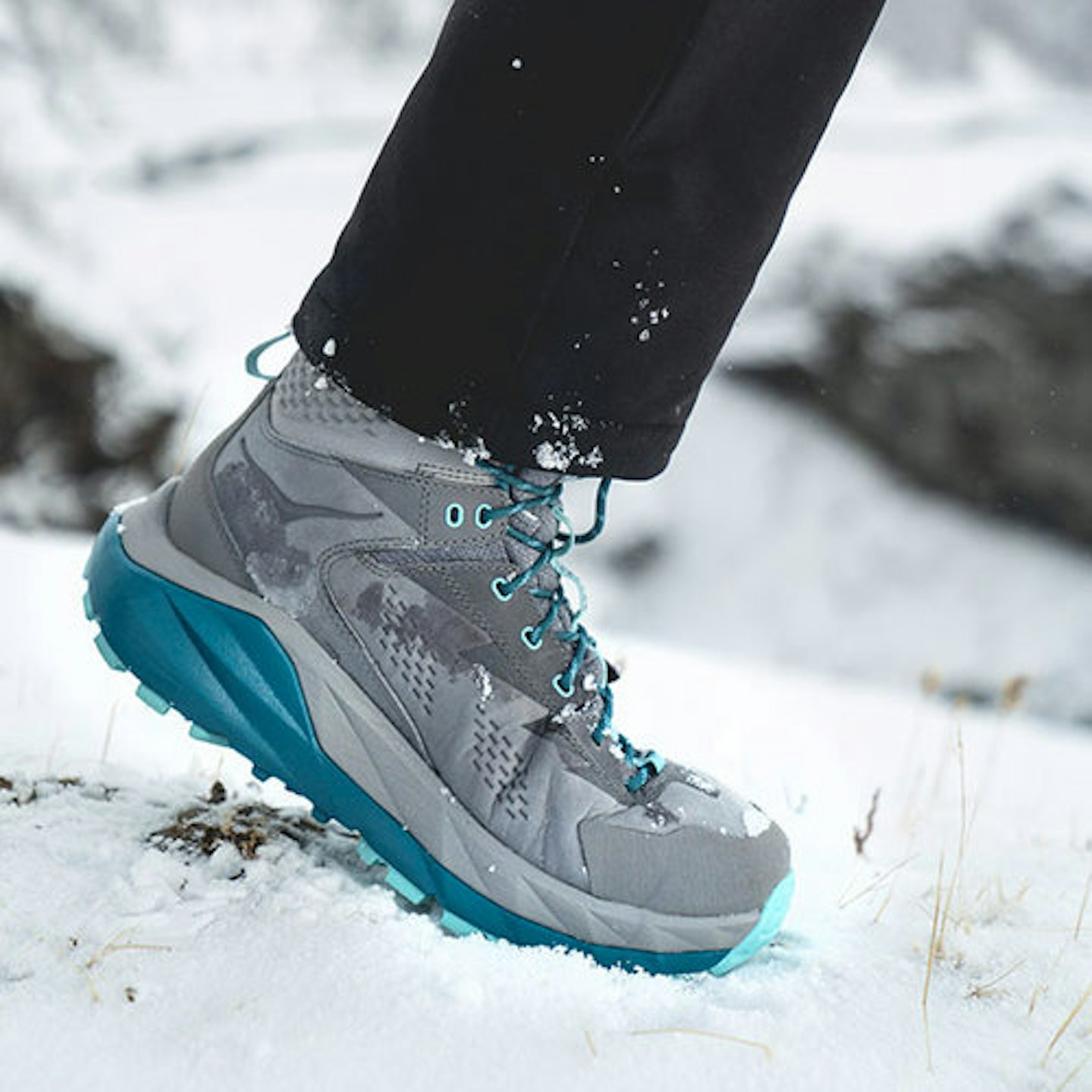 I'd not tried Hoka One One footwear before, and wearing Kahas for the first time I had to reset my expectations of walking boots. They looked different. And they felt very different.
The oversized sole cupped my foot and did indeed make me feel like I was walking on air. But it was more than the cushioning; the shape of the sole rolled my foot in a forward motion, adding a spring to my step. It was more like wearing trainers – on steroids. Not only are they the antithesis of the minimalist trend towards mountain footwear, but they somehow manage to cram an eVent waterproof lining, full-grain waterproof leather and a Vibram Megagrip high-traction sole into a very lightweight package (just 1004g a pair, compared to my trusty Alt-Bergs at 1512g).
Hoka chose Iceland to launch the product in Europe, on relatively easy mountain paths and in deep snow. Perhaps not the terrain the designers originally had in mind, but more than enough to covert me into a Hoka One One fan. The comfort level was outstanding. Most surprisingly after five hours of walking in the mountains, back in the bus I had none of the usual desire to take off my boots; it was like I'd already got my slippers on!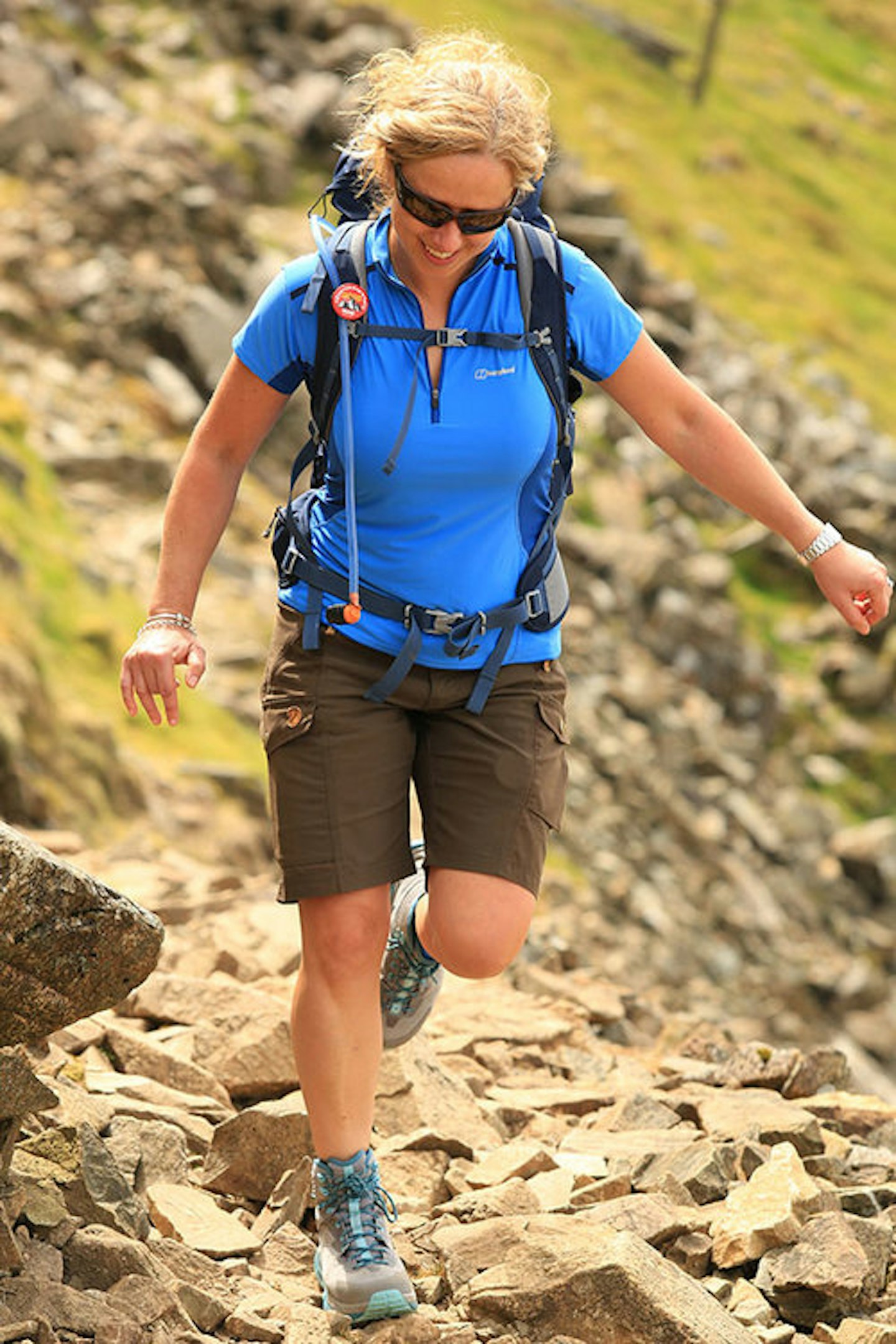 The boots lack a heel breast (the notch in the sole that aids braking downhill), as this is sacrificed for the deep midsole cushion. But this omission is made up for by the direction and spacing of the 5mm lugs, which along with the more flexible and sticky material of the sole provides increased grip.
In use, I found the sole super-sticky on rocky terrain, the softer material creating a larger contact area with the ground, like big fat off-road tyres. They aren't the ideal choice for scrambling as they lacked feel, precision and stiffness. However, on rock and snow I found the grip to be solid and stable.
Back home in Snowdonia the boots coped equally well on rough mountain terrain and provided a comfort level I've never previously experienced in a walking boot.
The materials used are good quality and feel well-made. How hard wear over time will affect the softer materials is unknown for now. It is likely a traditional brown leather boot will outlive a Sky Kaha; but if you're not a very heavy user the comfort factor may well be worth it.
VERDICT
An excellent addition to the hillwalking boot market, offering something totally different in looks and feel. You're likely to either love them or hate them. But if they fit you correctly, we bet you won't find a comfier boot for mountain walking.
For the latest reviews - including extra photos and products that won't appear online -
pick up a copy of the current issue of Trail magazine!