It's subjective of course, but modern takes on classic buildings is a prevailing style many of us enjoy, either by restoring an existing structure or starting from scratch. Have solid walls of stone or brick complemented with plenty of natural light, space, and insulation and you get a homey space that is also efficient and usable.
We see the same logic being applied to many leather walking boots these days: the classic look but with modern touches. AKU's Tribute II GTX is a case in point. It looks like a burly leather boot from the days when there was no alternative. But it uses Gore-Tex for waterproofing and only weighs 620g per boot.
To see if the relatively lightweight AKU Tribute II GTX leather boot is still up to the challenge of demanding hillwalking, Live For The Outdoors has been field testing it in the Yorkshire Dales.
Features and design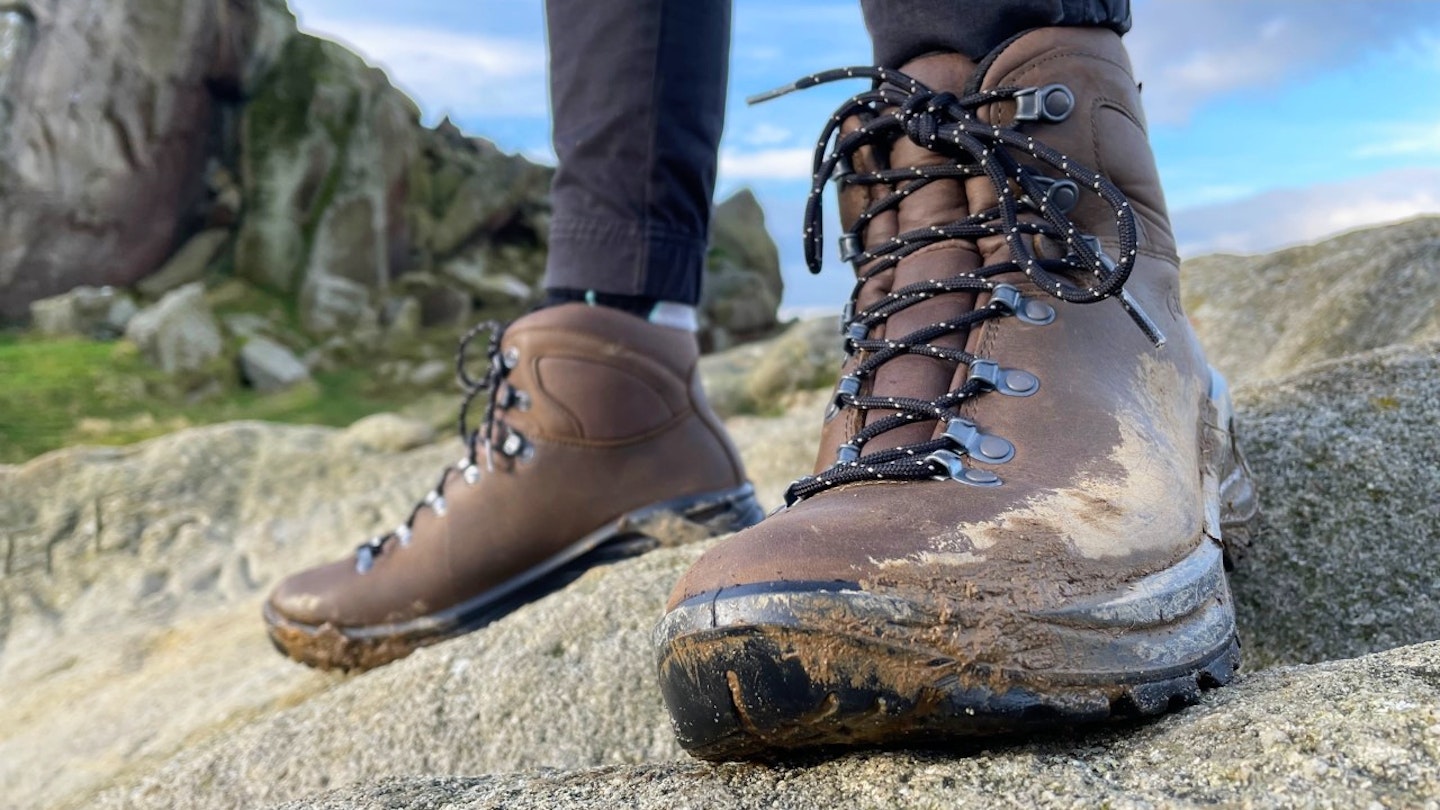 Sure, the Tribute II GTX is quite a lightweight leather boot but the sole retains a moderate amount of stiffness. Additionally, the chunky lugs on the Vibram sole have deep grooves that are intended to provide grip on soft or muddy terrain.
The upper is made from 2mm full grain leather, which is a bit thinner than the leather used on the more expensive Zamberlan 996 Vioz GTX, for example, but that's to be expected. The leather on the Tribute II GTX feels quite supple – particularly around the collar – but it's far from delicate. We have no qualms about labelling this a three-season boot. Aiding durability is its stitching pattern but there isn't a rubber toe rand or bulky toe cap.
This boot has a bellowed tongue that reaches almost as high as the top lace hooks and you can see the lacing system extends right from the top of the collar down to midway along the toe box. You can therefore get a personalised and secure fit.
AKU is still managed by the family that founded it and produces its footwear in Italy. All of the parts of the AKU Tribute II GTX boot are traceable and come either from Italy, Germany, or Romania. AKU uses water-based glue in its footwear and has dabbled in Zero Impact leather and low impact manufacturing with a few of its models but has yet to apply it across its whole range.
In use: performance and comfort
In the southern realms of the Yorkshire Dales, we plunged into soggy moorland, powered up and down steep slopes, trudged through mud, and even incorporated a bit of rock scrambling. The AKU Tribute II GTX performed impressively throughout.
You'll have no issue getting the right size because the AKU Tribute II GTX is available from UK3 to UK13, even in men's sizes. With the correct fit, out of the box comfort is very impressive. That's one of the biggest tricks some modern leather boots have managed to pull off – zero break-in time.
There was no water ingress while tramping through the quagmire that was Yorkshire moorland. Moving across this testing ground also showed that the AKU Tribute II GTX is a reasonably stable boot off track too. The moderate stiffness coupled with decent ankle support can be thanked for that. Although, a higher collar would improve it further.
This boot proved more than capable of dealing with hillside mud. It's got a decent heel breast and upon checking the underside, the lugs were shedding mud rather than becoming clogged with it.
In terms of climbing and rock scrambling, the AKU Tribute II GTX grips very well but doesn't communicate much feel of the surface you're climbing. In fairness, I'd recently spent a fair amount of time in super lightweight and flexible Vivobarefoot boots but nevertheless, the verdict still stands. The boot has enough stiffness to hold the foot securely on small toe holds but it takes some trust in the boot to realise that. The first couple of footholds were found quite cautiously before recognising this boot is up to the task.
The lack of toe rand is noticeable over time, as accumulative abrasion from hard surfaces will start to show. However, if you'll spend most of your time negotiating soft hillside terrain rather than scree, it's not something to be concerned about.
Breathability is sufficient. We didn't find the AKU Tribute II GTX became clammy to wear in late autumn with thick Merino socks. In early autumn or spring you could wear thinner socks and this boot would still be perfectly acceptable. But it certainly isn't as breathable as lighter synthetic walking boots and is a bit warm to be worn in summer.
Price and competition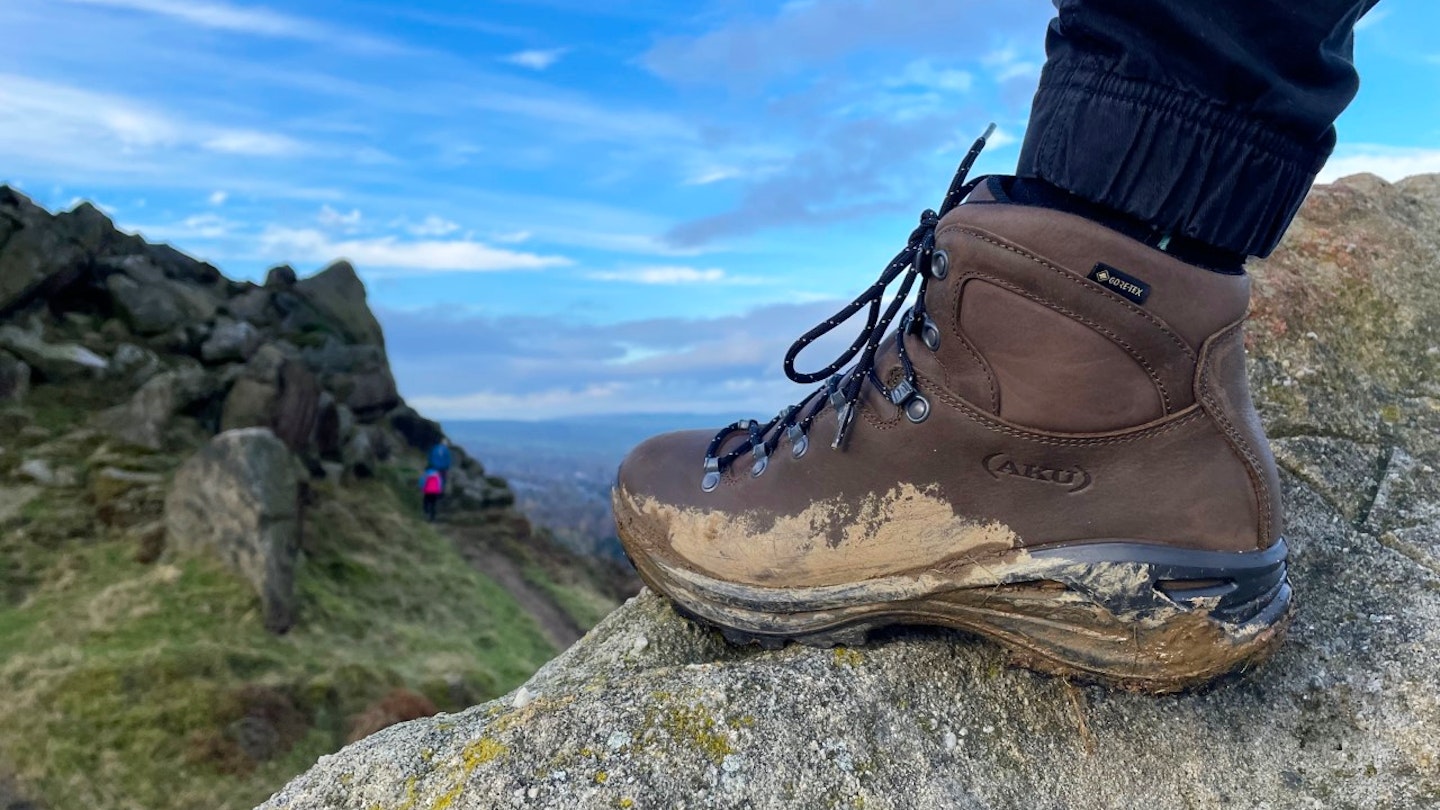 At the time of writing, RRP for the AKU Tribute II GTX is £189.95. That edges it out of the budget boot segment but not quite within the arena of £200+ higher-end models. The price accurately reflects the AKU Tribute II GTX's abilities. It's a versatile and durable boot that lacks some of the heavy-duty features seen on more expensive boots.
Competitors include the popular and wallet friendly Berghaus Supalite ll GTX or Scarpa's Terra GTX. The AKU Tribute ll GTX is the most expensive of the trio but also the best, certainly for fell and general hillwalking, which all these boots are intended for.
The Tribute II GTX has better lugs and a more aggressive heel breast, which makes it better in mud. It's also a bit stiffer, giving you greater stability over rough ground. With that extra stiffness comes the ability to cope better on rock, should the need arise, adding to the AKU ll GTX's versatility.
Verdict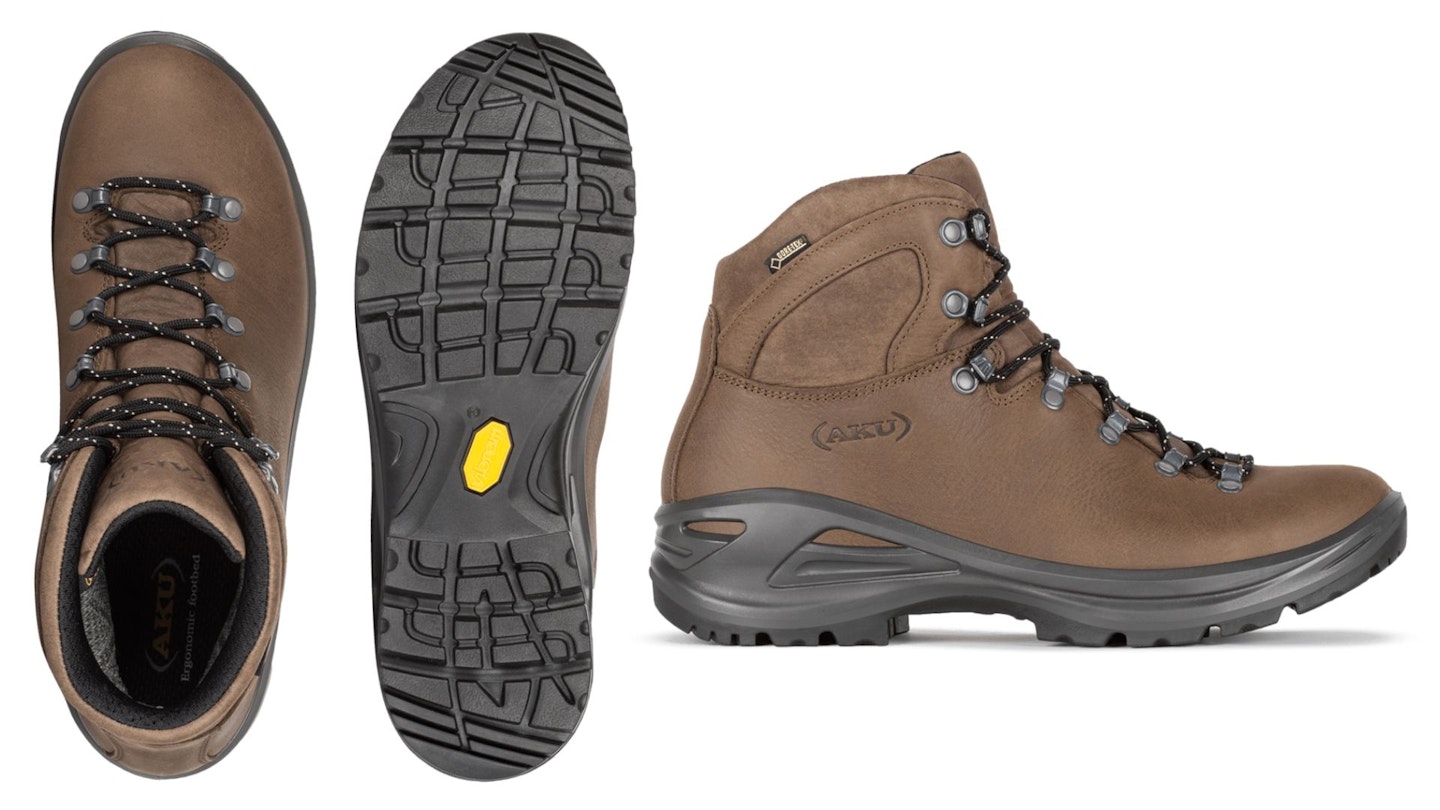 According to AKU, the Tribute II GTX is designed for 'gentle hiking in the hills and at mid mountain height'. Taking this description on board, these boots are somewhat undersold by AKU. We agree with the mid mountain height bit, but the Tribute II GTX is stiff and supportive enough to be used for the occasional multi-day hill walk too.
It's a well-made boot that should endure many years with proper care and is suitable for UK hillwalkers that don't venture into alpine territory or undertake winter treks. Though we were impressed by the overall build quality, a toe rand for a bit of extra abrasion resistance would be useful.
We like the fit, the ready-to-go comfort, versatility, and of course that classic leather boot look. For those after a reasonably priced, lightweight leather boot, this absolutely has to be one to consider.
Features 3/5 | Construction 4/5 | Comfort 5/5 | Performance 4/5 | Value 4/5
Overall score: 80%
Pros: No break in time, enough stiffness for rough terrain and gentle climbing, grippy over variety of terrain
Cons: A bit more expensive than competitors, brand sustainability could be improved
Upper 2mm full grain leather with Gore-Tex lining | Outsole Vibram | Men's sizes UK 3-13 | Women's sizes UK 3-9
Don't forget to subscribe to the Live For The Outdoors newsletter to get expert advice and outdoor inspiration delivered to your inbox!
For the latest reviews - including extra photos and kit that won't appear online - pick up a copy of the current issue of Trail magazine!