Well-engineered hiking packs are something to invest in. They're a piece of kit that will be one of your closest trail buddies. But if you were strapped to someone's back for many miles at a time, you'd want to be taken care of and cleaned properly too, so give your pack the TLC it deserves.
Sweat, dirt, and carrying grubby gear all contribute to the wear and tear of a rucksack. They can certainly be subject to unpleasant smells and accelerated deterioration because of these things, which is why it's so important to keep your rucksack clean.
Get half price on OS Maps! Subscribers to Trail, Trail Running, and Country Walking get half price on OS Maps for 12 months! Find out more here.
When to clean your rucksack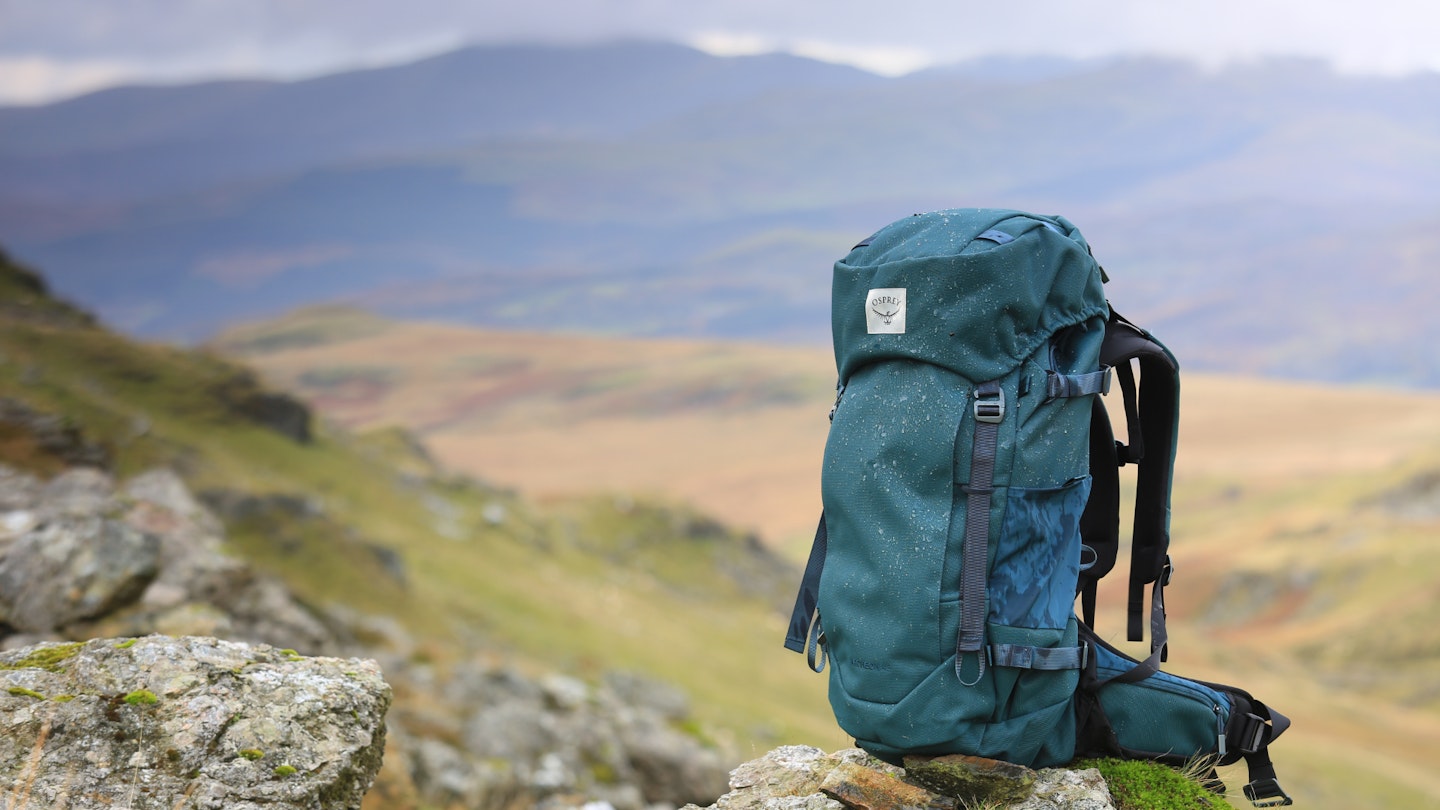 This varies depending on how frequently you use your rucksack and for what. A smaller rucksack used for light day hikes can be cleaned at the end of the season, unless it's had a particularly grubby outing that requires an earlier clean. A larger pack used for multi-day hikes should be spot cleaned after each trek, and you may want to give it a thorough clean at the end of the season.
How to clean your rucksack
Cleaning by hand is the easiest way to clean a pack and negates the risk of damaging it. Use a specialised gear cleaner for technical fabrics instead of regular laundry detergent. Normal detergents are harsh and can damage the Durable Water Repellency (DWR).
The cleaners we suggest are Grangers Footwear + Gear Cleaner and Nikwax Tent and Gear Solar Wash for spot cleaning, or Grangers Tent + Gear Cleaner for deep cleaning. These are effective water-based, PFC-free cleaners for tents and gear that don't harm the technical fabric or DWR.
Spot cleaning:
1. Make sure your pack has nothing in it and the zips are all open.
2. Spray the cleaner directly onto the areas of the rucksack you want to clean and rub with a damp cloth or sponge.
3. Rinse with water or a clean, wet cloth and put somewhere airy and out of direct sunlight to dry.
Deep cleaning:
1. Follow steps one and two of spot cleaning.
2. Place your rucksack in a tub or bath of lukewarm or cold water (not hot), if the care instructions allow.
3. Grab a bucket and put in Grangers Tent + Gear Cleaner and water at a ratio of 50ml (one cap) per 2.5 litres.
4. With a clean cloth or sponge, clean all parts of the submerged rucksack using the cleaning solution. Pay extra attention to contact areas (such as straps) and stains.
5. Once clean, rinse the rucksack thoroughly with water.
6. Dry your rucksack by hanging it upside down somewhere airy and out of direct sunlight.
Storage
Make sure that your rucksack is completely clean and dry before storing it at the end of the season. It's also very important that it sits somewhere dry and well ventilated to prevent mould.
Repairs
Rucksacks that are constructed to a high standard will last a very long time and if something goes awry, such as a strap, zip, or piece of stitching, it can certainly be repaired.
A lot of outfits offer repairs for outdoor gear, from small individual businesses to large nationwide retailers. Make the most of these services. They prolong the life of good gear and it's cheaper for you than getting a new pack.
Don't forget to subscribe to the Live For The Outdoors newsletter to get expert advice and outdoor inspiration delivered to you inbox!
For the latest reviews - including extra photos and kit that won't appear online - pick up a copy of the current issue of Trail magazine!