Dem bones, dem bones. While most producers of headphones and earphones do as much as they can to cancel noise, Shokz specifically aims to keep the ear canal open. In order to do that while maintaining top sound quality, Shokz uses bone conduction.
Shokz speakers sit in front of the ear, just behind your cheek bones and conduct sound waves through your skull, directly to your ear drums. It's a clever idea for athletes who want to get stuck into their jams while maintaining a sense of what's going on around them.
Shokz OpenRun Pro
The OpenRun Pro is Shokz's top of the line Sports model, sitting above the OpenRun and OpenMove models. The main advantage the OpenRun Pro has over the other is its sound quality. OpenRun Pro has the brand's latest nineth generation bone conduction technology called Shokz TurboPitch.
It sounds very high octane and intense, but what it really means is that the OpenRun Pro has impressive depth of sound. We found its bass, midrange, and high frequency audio quality to be excellent.
My other half called them the 'funny looking headphones' but there is no denying that we think they're superb for exercising and training. You almost don't notice you're wearing them, largely due to the absence of earbuds, but also because they're so light and comfortable.
Shokz OpenRun Pro: six things you need to know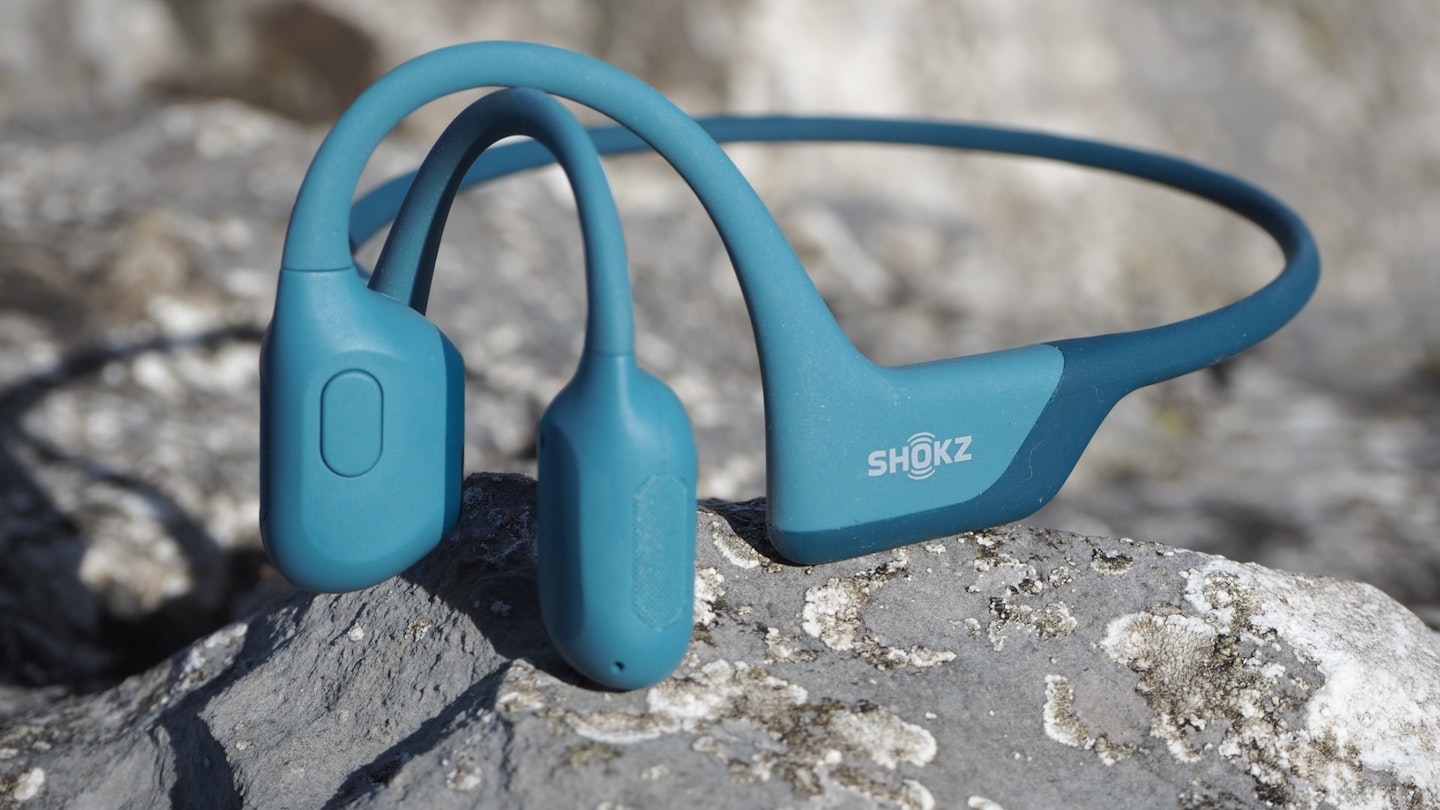 Open ear design
The premise of Shokz's bone conduction headphone design is so you can listen to music and make calls while still being able to hear your surroundings. A lot of effort is put into noise cancellation with most headphones and earphones but this can be dangerous when cycling or running with traffic around.
The OpenRun Pro (and all Shokz headphones) don't block the ear canal, instead using its bone conduction technology. It works a treat. The sound waves don't buzz or vibrate around your temple. It feels totally normal.
Impressive sound quality
If you hold an earphone bud slightly away from your ear it sounds tinny. To think that bone conduction headphones are similar is a mistake. We used the OpenRun Pro headphones for music and phone calls. I even got my science geek on, listening to BBC 4's The Infinite Monkey Cage podcast. All were crystal clear and with pleasing depth, even Brian Cox, but particularly music.
Shokz uses its Shokz TurboPitch technology to ensure healthy midrange and high frequency, while adding base enhancers to give the OpenRun Pro plenty of meat.
10 hours run time
The OpenRun Pro headphones have a 140mAh battery, which doesn't sound like much. But bear in mind this is just an audio device, not a smartphone with a battery-draining screen. As such, the claimed 10 hours of music and calls is realistic.
Recharging is fast too. These headphones have Shokz's USB-magnetic connector charging cable. You can get 1.5 hours of run time from just five minutes of charging. A full recharge takes about an hour. You'll know when the battery is low because Audrey will command that you plug the headphones in.
Sweatproof
The OpenRun Pro has an IP55 rating. This means it's mostly dust tight and can withstand water jets from any angle. That's the lab definition, in the real world it means you can use them in the drizzle and they will cope if you sweat a lot.
Lightweight yet tough
Shokz uses titanium in the wraparound headband of the OpenRun Pro. Therefore, it helps keep the weight down to under 30 grams but also robust. It's a secure and comfortable fit that ensures these headphones will stay securely in place. They're comfortable to wear for long periods of time too.
The use of titanium is twofold because the metal is an excellent sound conductor too.
Fit with a cycle helmet
Yes, you can enjoy your tunes while shredding mountain bike trails and roads because a cycle helmet doesn't interfere with the fit of OpenRun Pro headphones. (They don't work with full face helmets though.)
Simple operation
There are just three buttons on the OpenRun Pro. The volume buttons do their predictable bit and the volume up button doubles as the on/off button. On the left speaker, the multifunction button is play/pause, next/previous song, and answer/end call button. You just press it multiple times depending on what function you want. Other than remembering what a single, double, and triple press does, it's very easy to use.
Specs
Weight 29g | Bluetooth version 5.1 | IP rating IP55 | Battery capacity 140mAh | Battery life 10 hours | Charge time 1 hour | Colours available Pink, black, blue, beige
Trail verdict
For running, cycling, training et al, these are the best headphones. They're really comfortable to wear for long periods of time, tough, and of course let you stay aware of what's going on around you.
Other accessories for exercising
Description
Features a full-width polycarbonate lens and 3D Nose Fit pads so you can adjust the fit on your
Don't forget to subscribe to the Live For The Outdoors newsletter to get expert advice and outdoor inspiration delivered to your inbox!
For the latest reviews - including extra photos and kit that won't appear online - pick up a copy of the current issue of Trail magazine!