As a complete newbie to the sport, I decided to learn to canicross as a new challenge for this year. I couldn't think of anything better than running with an enthusiastic four-legged friend. Only one small problem: I didn't own a dog.
Luckily, canicross trainer Louise Humphrey lives in my local Leicestershire village and was more than happy to lend me her gorgeous black Labrador, Pickle. The energetic three-year-old has been running with Louise for two years and inspired her to set up Paws4Running, which trains owners to trail run with their dogs. This is possible from the age of one to 18 months, although it's always a good idea to get your vet to check your dog out before you start.
How to start doing canicross as a beginner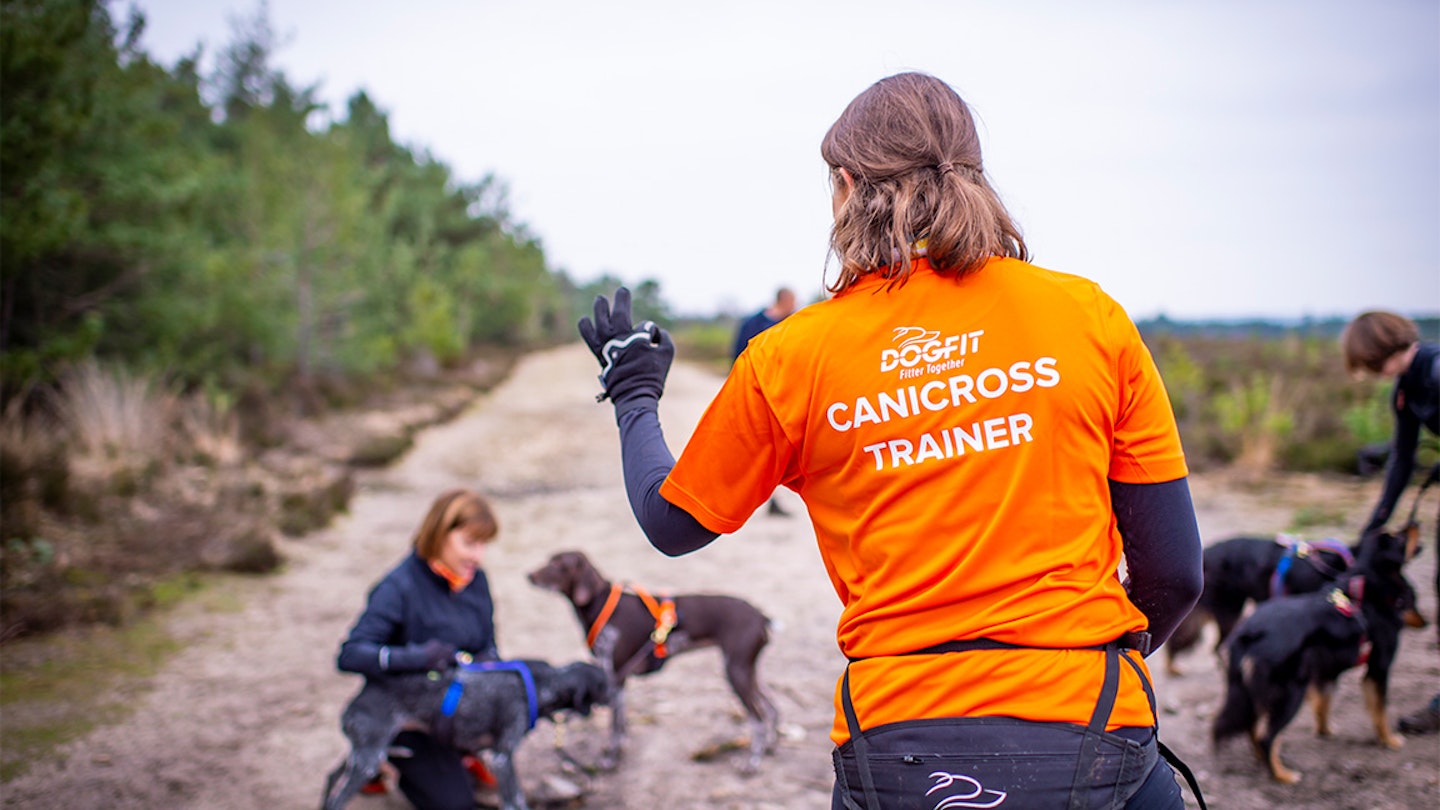 On meeting Louise, I am surprised to hear that it is possible to run with almost any dog, even small ones, with the only exclusions being flat-nosed breeds like pugs and boxers who struggle to breathe. Pickle, I discover, is the ideal size dog for runners who like a 'pull', meaning she literally pulls you along while you are running.
My session starts with learning some simple commands like "let's go" to start, "forward" to keep Pickle moving straight past any distractions, and "steady" to slow her down. So far, so great.
Minutes later, I find myself strapped into a belt which attaches to Pickle's body harness via a bungee lead. Pickle looks around nervously, confused at being connected to a complete stranger, while Louise goes ahead on her bike across the field. I clap my hands and say "let's go" and we are off!
There is definitely no hanging about once Pickle starts. She flies across the field chasing after Louise, and I go from standing still to interval training in seconds. We do a speedy 3.45 min/km loop around the field, and I manage to steer her around the corners by taking the lead and pulling it either left or right. Pickle definitely knows what she is doing, even if I don't.
Despite the quick pace, it actually feels relatively comfortable as Pickle is pulling me through the air and I simply have to pick up my cadence. It almost feels like cheating. We do a few more circuits with Louise reminding me to keep talking to Pickle all the time. Then it's time to go solo.
How do I train my dog to do canicross?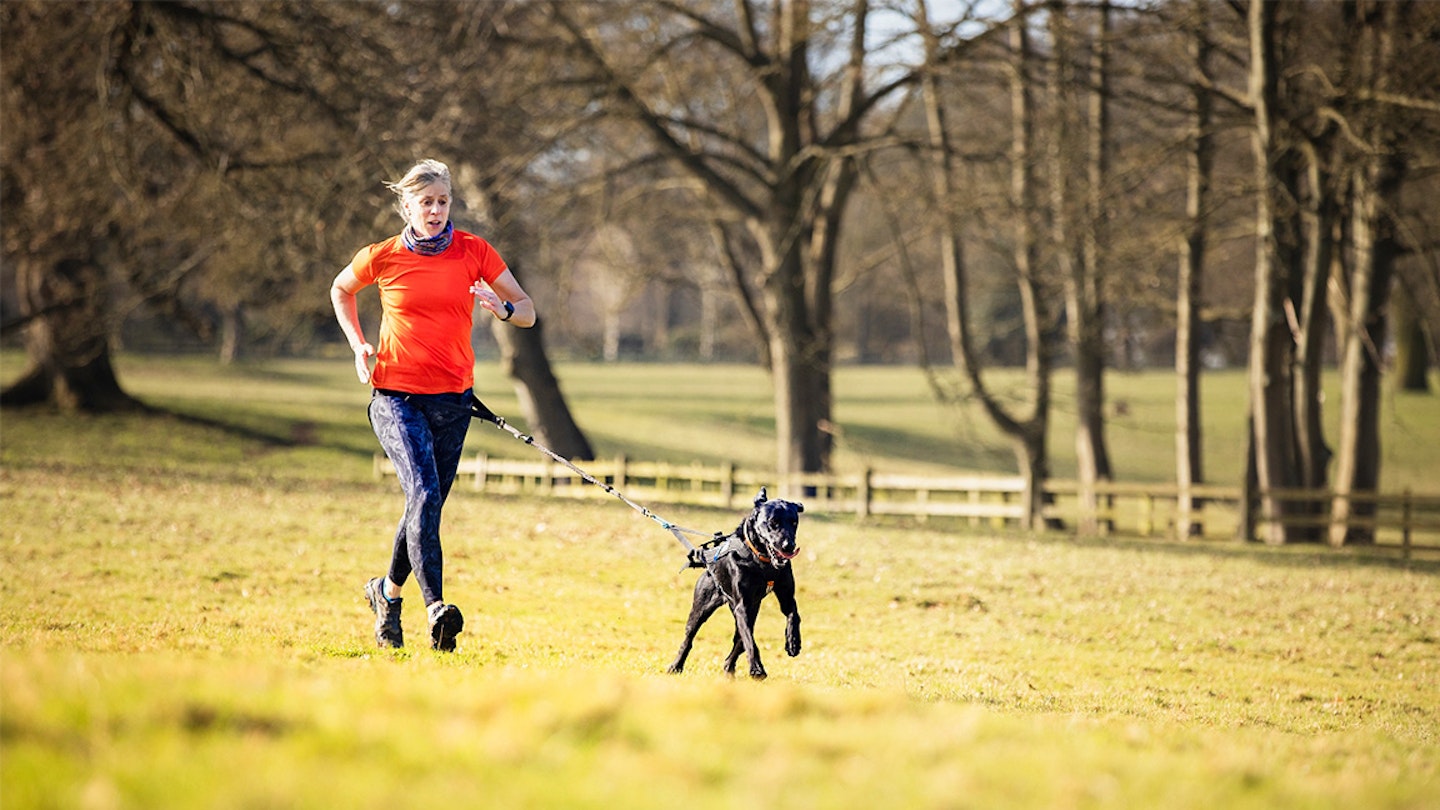 I decide to take Pickle to the canal towpath where she is on familiar territory and there is an easy out and back route. As it is off-road it is also easier on her paws than tarmac. We are both pretty excited at this stage and race off at 4.20 min\km.
Once we reach the towpath, we settle into a fast but steady 5 min/km, which is usually my tempo pace. I have been warned that Pickle may stop for a wee, drink, or to eye up a tasty-looking duck and I'm pretty sure I don't want to end up in the canal.
In the first few minutes I let her drink from the water and have a couple of wee stops, but after that we are down to business. Once Pickle is in the zone she treats running like work and concentrates on the path ahead. Every time she spots a duck or splash in the water, I tell her sternly "forward, forward" and she obeys. We even pass another dog, and she doesn't even look at it, let alone stop to sniff it; she just keeps on moving forward.
At the halfway mark around 3km we turn around and head back towards home. I notice that her pace has slowed down and we are cruising at 5.45 min/km. Now at a more leisurely pace I notice the belt is cutting into my legs and I have totally the wrong pair of shorts on.
Fortunately, we stop to go through a gate so I'm able to adjust the straps. I feel like I'm getting the hang of things as we take a short cut through a cornfield, but then suddenly Pickle, well, gets in a bit of a pickle. She doesn't seem to want to go in front of me and I'm not sure what is going on.
My commands fall on deaf ears, so I decide to run ahead and let her follow behind me. I later find out that along narrow paths, particularly ones that slope downhill, she has been trained to follow rather than lead. This is to prevent her racing downhill and pulling her owner over.
We come to a sty and she manages to squeeze under on the third attempt, but it is a good reminder that bridleways are a better option for the sport of canicross than footpaths. A few minutes later we are back at home and Pickle, who has to run on an empty stomach, looks ready for breakfast followed by a nap.
Like people, dogs have to train to build up their distance and our 6km run has tired her out. Louise is hoping that with several months' training herself and Pickle will be able to compete in their first ultra.
I leave Pickle and Louise completely buzzing, having loved the ease and companionship of the run. I never really wanted a dog before, but this encounter has changed my mind, as my eyes have been opened to a whole new world of training and competing.
Best dog breeds to run with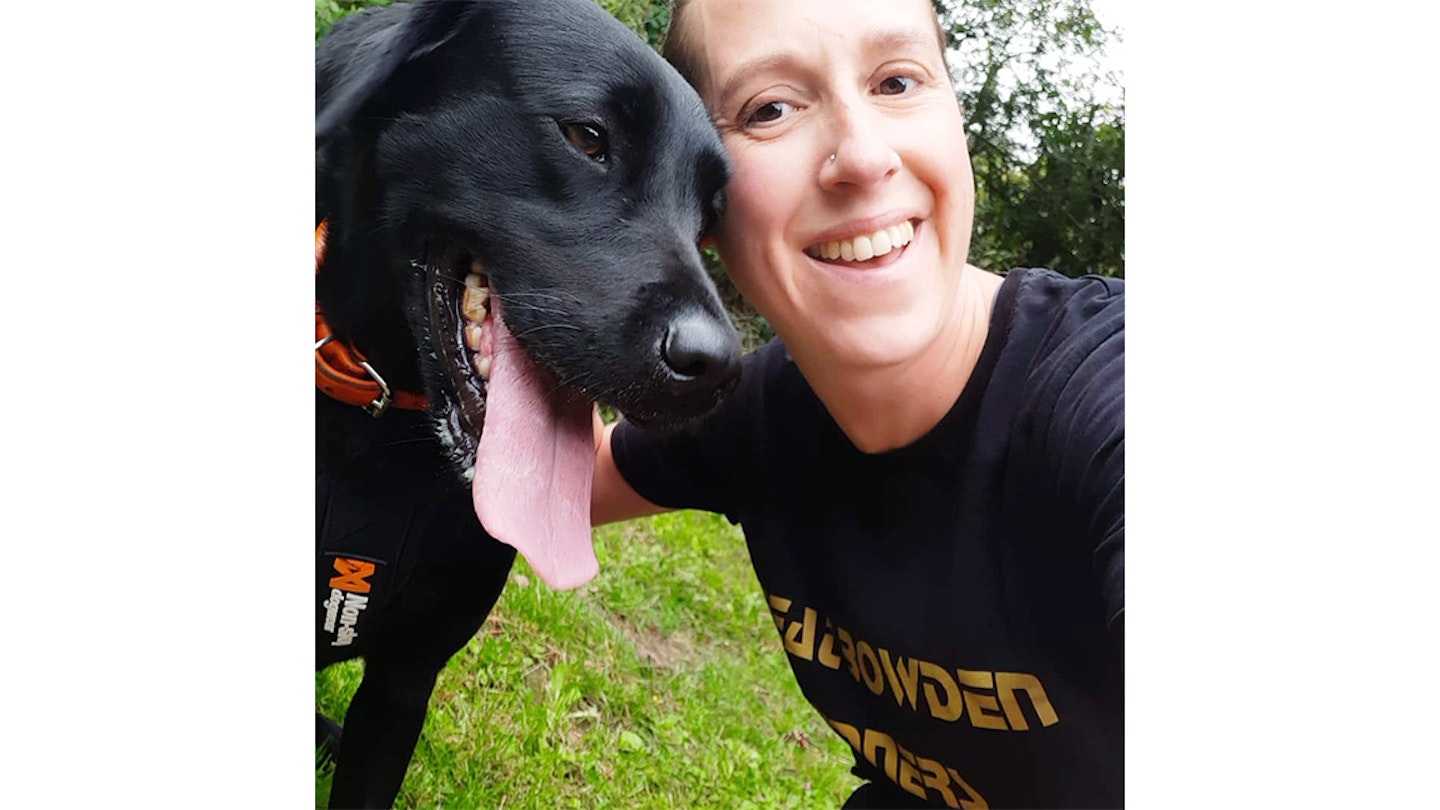 Our guide to dog breeds who are born to run (see below) wouldn't be complete without a mention of the finest sportsmen of them all: the greyhound. These Usain Bolts of the dog world will leave you behind over a short distance, able to reach 72km/h (45mph).
They love to chase and charge around, but not for long. Requiring just one hour of daily exercise, these loving dogs are only suitable for short-distance trail runners and must never be over-exercised in hot weather. Other than the greyhound, here's five dog breeds that just love to run…
Border Collie
Great companions for long-distance runners, they are intelligent and need the mental stimulation of command training and play. Happy collies will enjoy at least two hours' daily exercise.
Retriever
Labrador and golden retrievers make enthusiastic running companions over short to medium distances. Being the most unfussy eaters on the planet, they are prone to obesity, and if overweight, require a very slow build-up of fitness. Allowing them to stop and sniff is important.
Vizsla
These red-coated bounders love long trail runs. Requiring at least two hours' exercise each day and enjoying the mental stimulation of training and obstacles, they are ideal for taking out on the trails.
Jack Russell
A tiny tank of energy, their little legs will pelt alongside you on short to medium runs. Allowing them to stop and sniff, and pausing to throw them a ball to chase, will keep them happy.
Ridgeback
Demanding at least two hours of daily exercise, they are a great partner for a long-distance runner who has the patience to train them. Bred to help hunt lions in Africa, they are known for being able to exercise in hot weather, within reason.
Top image: Brighton Dog Photography
Don't forget to subscribe to the Trail Running Newsletter to get expert advice and inspiration delivered to your inbox!