Hundreds of you entered, thousands of you voted, and we can now finally reveal the winners of our 2023 Outdoor Photo of the Year competition.
Trail magazine launched the search for the 10th winner of its annual mountain photography award back in May, this year as part of the wider Outdoor Photo of the Year competition which also includes categories for best Countryside and Nature images.
And we're now delighted to announce that Martin Hornsey takes 2023's top prize in the Mountain category with this dawn cracker from Side Pike, overlooking Great Langdale and the Langdale Pikes.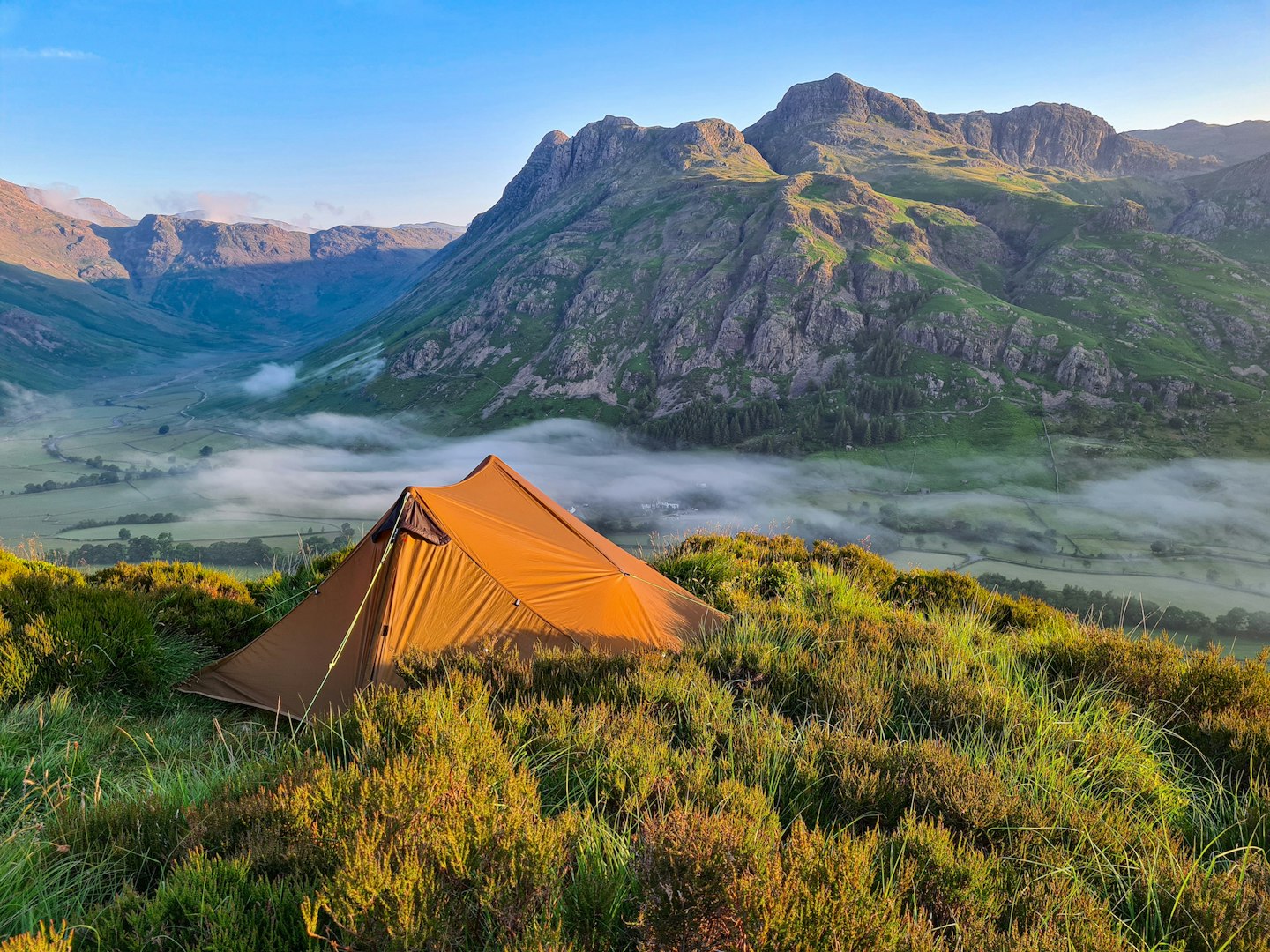 In a very close contest, Martin's image came out on top after impressing our judging panel and receiving a huge chunk of the votes in our online poll.
"Honestly I'm blown away," Martin told Trail magazine. "I hoped this pic may get noticed amongst the hundreds of other entries, but I never expected to win. Just goes to show you don't always need to have top-end camera gear to capture these magical moments – this pic was taken on my Samsung S20 phone!
"I'd already been out hiking and camping the previous two days, and it was a very hot summer's day, so I spent the afternoon swimming and relaxing at Blea Tarn. I could see Side Pike straight in front of me, and it looked like the perfect spot to spend the night, so I grabbed my pack and headed up.
"I had my alarm set early to capture whatever the sky would throw at me that morning. The lighting at dawn was lovely looking back over towards Little Langdale, with pinks and purples in the sky. I took a few snaps then got back in the tent to make a brew and pack my kit away. It was at this point, when I got back out of the tent, that the cloud began rolling into the Great Langdale valley. JACKPOT!"
"A wonderfully warm, early morning shot. Rich colours and a familiar landscape, which is totally accessible to all."

Louise Parker, competition judge
The standard was as high this year as it's ever been since Trail first launched the competition back in 2014, but one of the main things that really jumps out about Martin's image is the moment he's captured. A recognisable Lakeland landscape, waking up while most of the world is still sleeping around it.
"Photography for me goes hand in hand with wild camping," he says. "You're able to be out at the best times of the day, capturing the sights most people miss."
The top prize in Outdoor Photo of the Year's Countryside category goes to Edyta Rice, with the beautiful sunset image below of the Loup of Fintry cascades. This is one of the most impressive waterfalls in the Scottish Lowlands, plunging 94ft into the River Endrick.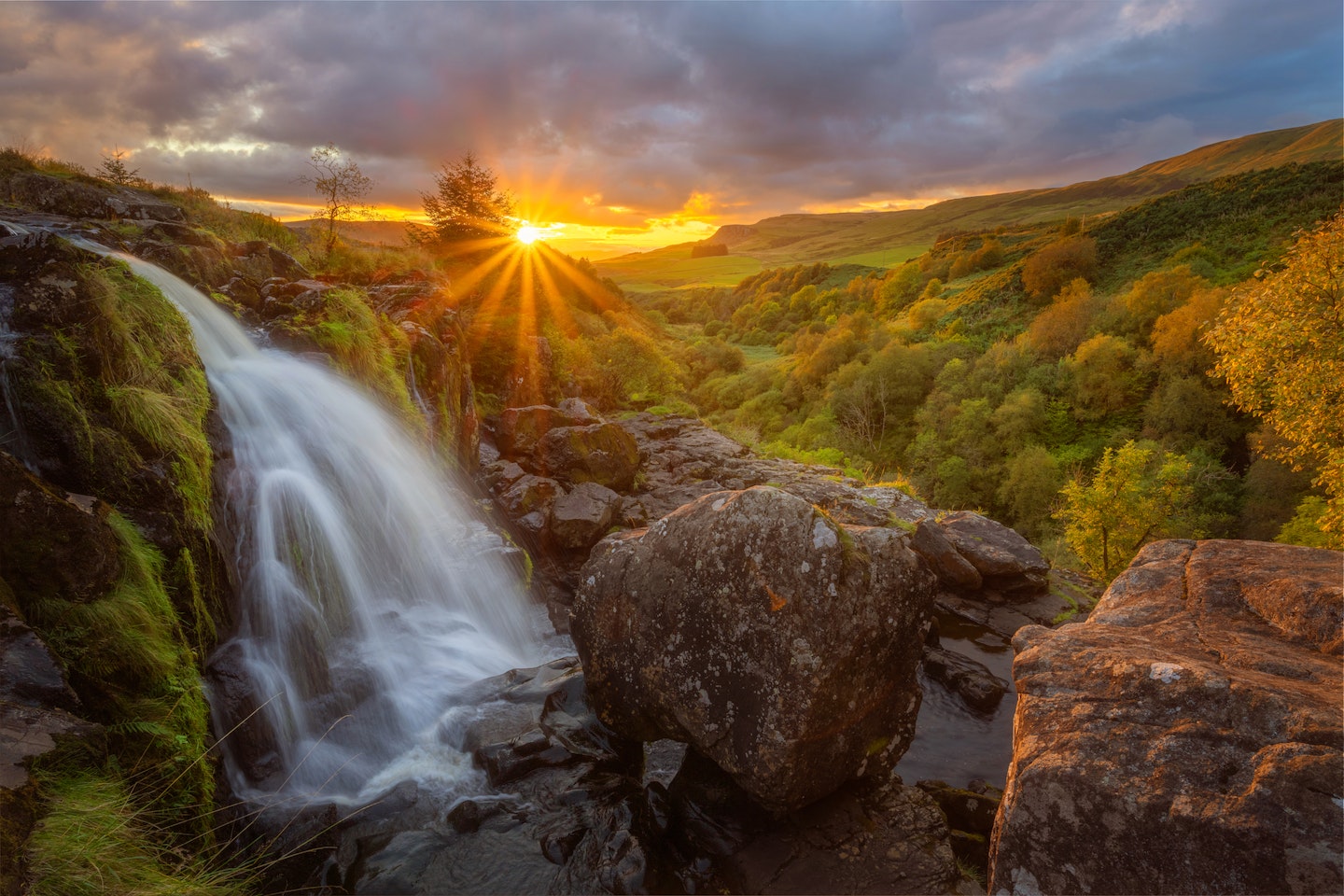 "That day the weather was overcast with imminent rain," says Edyta. "But I saw a little opening in the sky moving towards the falls and waited patiently until the golden rays of light lit up the scene.
"I shot this at 18mm, trying to frame my image so it showed this waterfall surrounded by beautiful Scottish countryside. Being attentive and patient allowed me to capture this moment, which I felt perfectly summarised the experience of that day: spotlights dancing over the sweeping landscape.
"One of the greatest benefits of combining walking and photography is the sense of connection with nature. Time spent outdoors helps me with emotional regulation through 'mindfulness' and enables personal growth, hence it brings me a lot of joy and happiness."
"A technical masterpiece fetching every atom of detail, depth and delight from the landscape at the Loup of Fintry falls in Stirlingshire. Loup means 'leap' in Scots, and that's what this image did for our hearts."

Guy Procter, competition judge
Our third and final Outdoor Photo of the Year winner is Sharron Diffley, who scooped top prize in the Nature category with this wonderful wildlife capture of a green dock beetle ready to take the plunge from the end of a leaf.
"I had finished cooking a full English breakfast for 30 people on Scout Camp (I've been a Scout leader for 15 years) and had gone for a walk around the campsite before starting on lunch," says Sharron. "Then this iridescent green beetle caught my eye shining in the sun. I'm over the moon at winning – it's one of those dream-come-true moments you never expect to happen.
"I find walking and photography particularly mindful experiences, where you get to surround yourself in the beauty of nature. When I'm concentrating on getting the perfect shot, everything else goes out of my mind, and I concentrate fully on my subject.  As a teacher in a busy school, surrounding myself in the peace of nature is a fabulous way to de-stress and relax."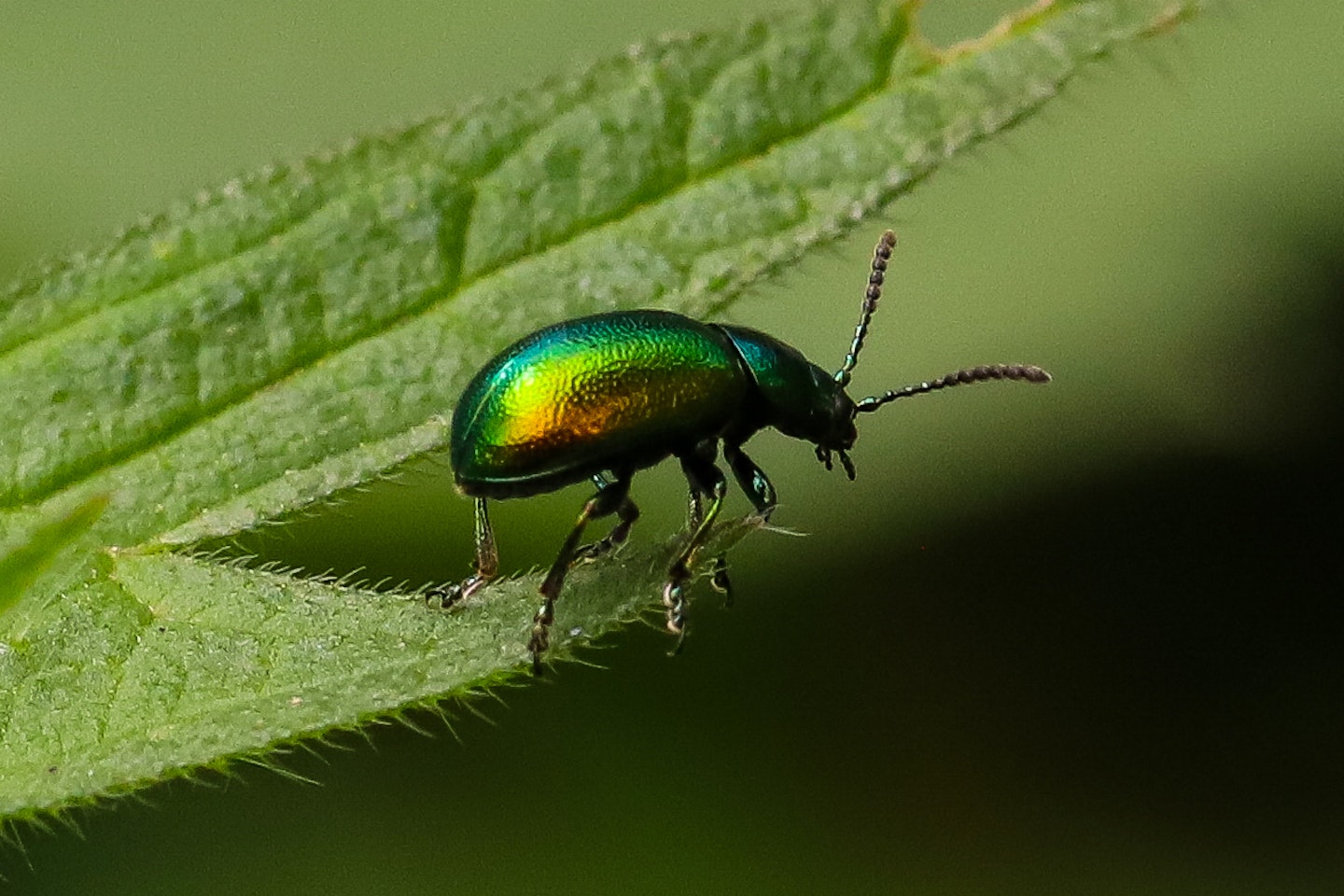 "A brilliant bit of wildlife photography that deserves extra credit for seeking out an unusual subject."

Matt Merritt, competition judge
The winners of each category receive a FUJIFILM X-S10 + 18-55mm Fujifilm camera, while each runner-up gets £150 to spend on booking a memorable outdoor trip with our partners at Macs Adventure.
Huge thanks to our competition judges Nadir Khan, Tom Bailey, Louise Parker, Guy Procter and Matt Merritt for narrowing down hundreds of entries into the shortlists recently published in Trail, Country Walking and Birdwatching magazines. And to everyone who voted for their favourite images in our online poll.
And finally, thank you to each and every person who entered Outdoor Photo of the Year 2023, making it the biggest and best version of the competition we've ever run.