Marathon Tours & Travel specialises in organising trips surrounding some of the world's most iconic marathons. They curate unique and memorable marathon experiences, combining the thrill of running with the exploration of awe-inspiring destinations.
Their offerings include a diverse range of destination marathons, from emblematic races like Boston Marathon, to running along one of the new seven wonders of the world, the Great Wall of China, to the frozen desert of Antarctica. Providing comprehensive travel packages with guaranteed race entry, Marathon Tours & Travel ensure seamless logistics, accommodations, and local experiences for participants.
Marathon Tours & Travel running trips
Patagonia Running Festival Marathon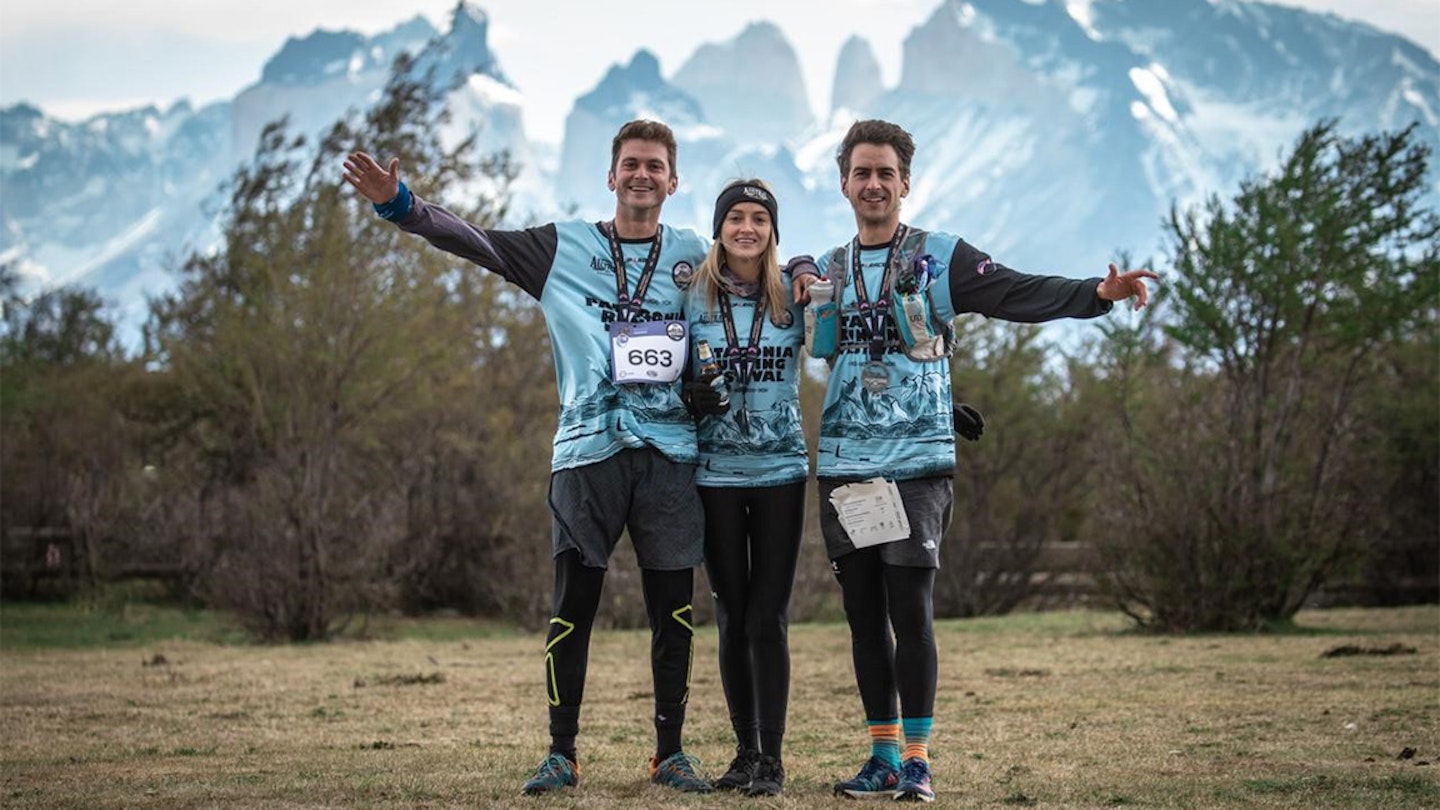 The Patagonia Running Festival Marathon is an annual event held in the breath-taking region of Chilean Patagonia, renowned for its stunning landscapes and challenging terrain. This marathon offers participants a unique opportunity to test their endurance and immerse themselves in the natural beauty of Patagonia. Runners tackle a scenic route that winds through the Torres Del Paine National Park, past rugged mountains, pristine lakes, and dense forests.
The trip combines the thrill of the marathon with an immersive travel experience. Choose between a package of 5-10 nights, where runners will get to experience the richness of the region, with meals, luxury accommodation, guides, excursions, and of course race entry included.
Races: 5km, 10km, half-marathon, marathon, ultra marathon
Where: Patagonia, Chile
Trips: 5, 7, or 10 nights
When: 7 October 2023
Ecomaratona del Chianti Marathon, Half & 10km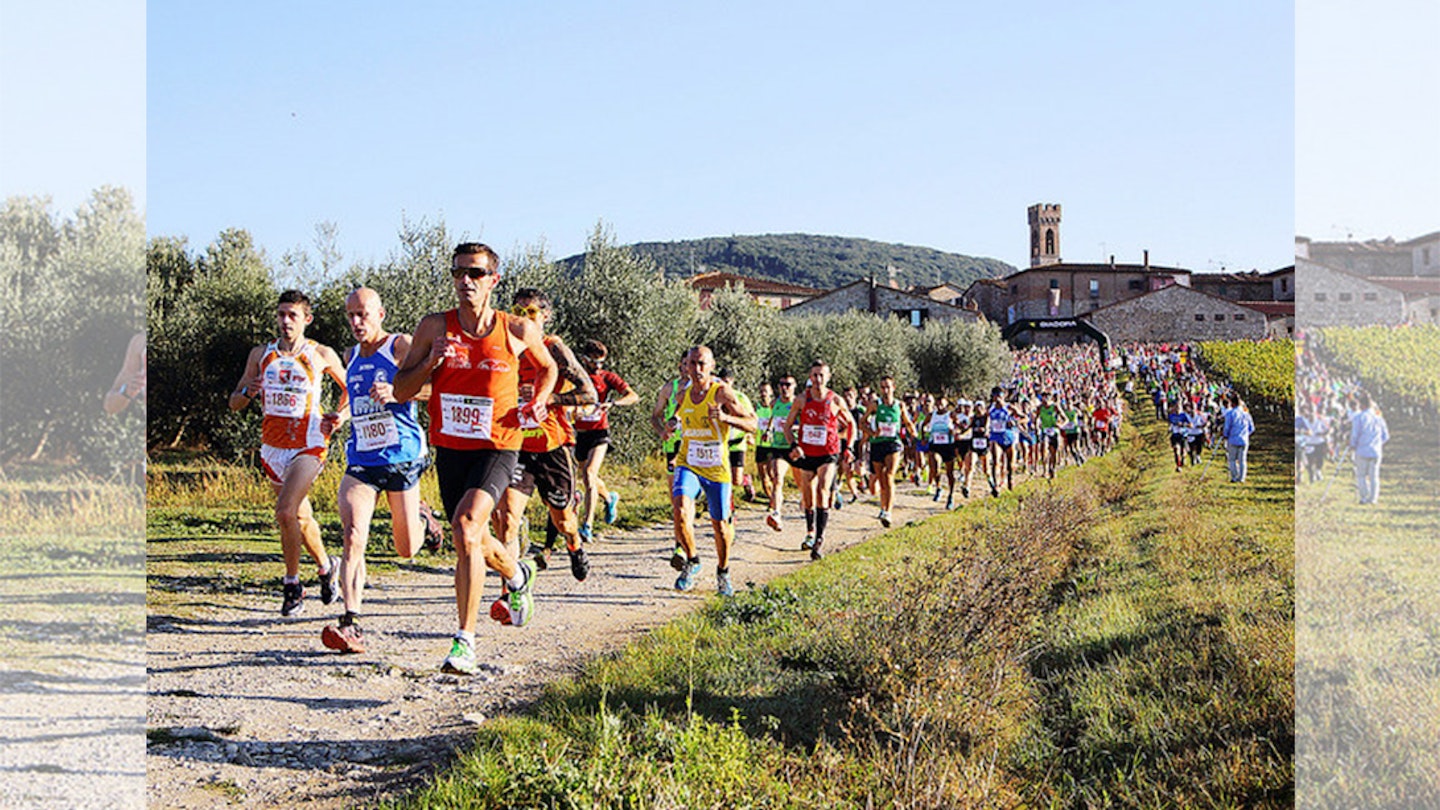 The Ecomaratona del Chianti Marathon is set in the beautiful rolling hills of Tuscany. With a focus on sustainability and environmental consciousness, the event attracts both local and international participants. The marathon route winds through the scenic vineyards, olive groves, and medieval villages of Chianti, with also a 10km and half-marathon route available.
The event promotes eco-friendly practices, such as waste reduction and the use of renewable energy sources so that participants not only enjoy the beautiful surroundings, but also contribute to the preservation of the natural heritage of Chianti.
Set in landscape that's inspired artists for centuries, Marathon Tours & Travel offers a five-night stay in the Chianti region. The trip includes expert guides, two accommodation locations in Siena and the Tuscan hills, and pre-race activities such as wine tastings and cultural tours. Runners have the opportunity to challenge themselves in the marathon or opt for shorter distances.
Races: 10km, half-marathon, marathon
Where: Chianti, Tuscany, Italy
Trip: 5 nights
When: 15 October 2023
Petra Desert Marathon & Half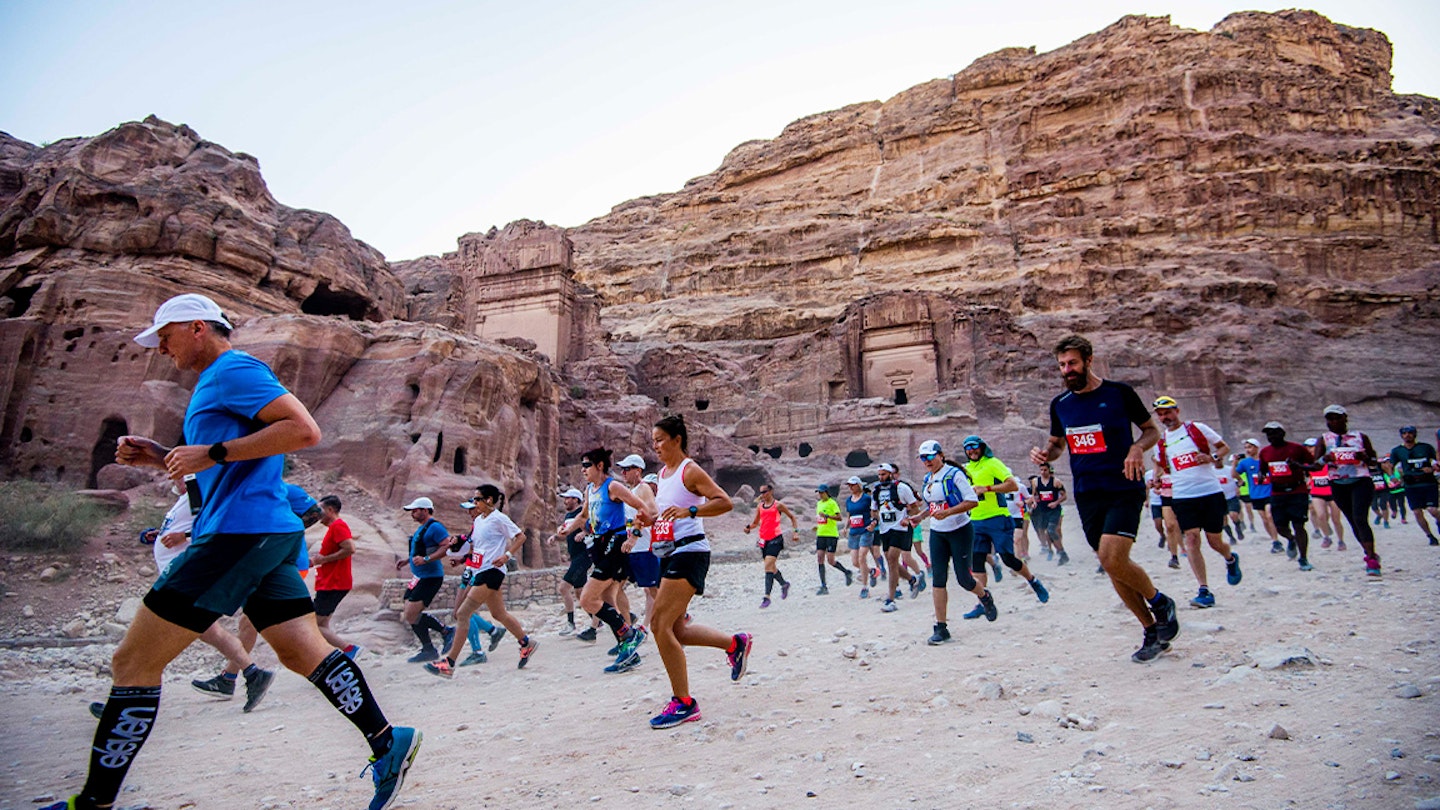 The Petra Desert Marathon is an annual international marathon held in Jordan's historic city of Petra, renowned for its ancient rock-cut architecture. The race takes participants on a challenging and scenic route through the captivating desert landscape surrounding Petra.
Starting in the ancient city, runners will be guided past 2000 years of history, ancient rock carvings, tombs, caves and through striking canyons. The half-marathon and marathon courses showcase the region's diverse terrain, covering dirt trails, dunes, and the rocky landscape of the Jordanian desert.
Marathon Tours covers the logistics for you, offering a six-day trip to Petra spanning across the race weekend. Runners will have the chance to immerse themselves in the rich culture and landscapes of the UNESCO World Heritage Site. Along with race entry to either the half or full marathon, the trip includes accommodation, some meals, tour guides, airport transfers, entry to Petra, and a choice of excursions.
Races: Marathon and half-marathon
Where: Petra, Jordan
Trip: 5 nights, with extensions available
When: 2 September 2023
Great Wall Marathon, Half & 8.5km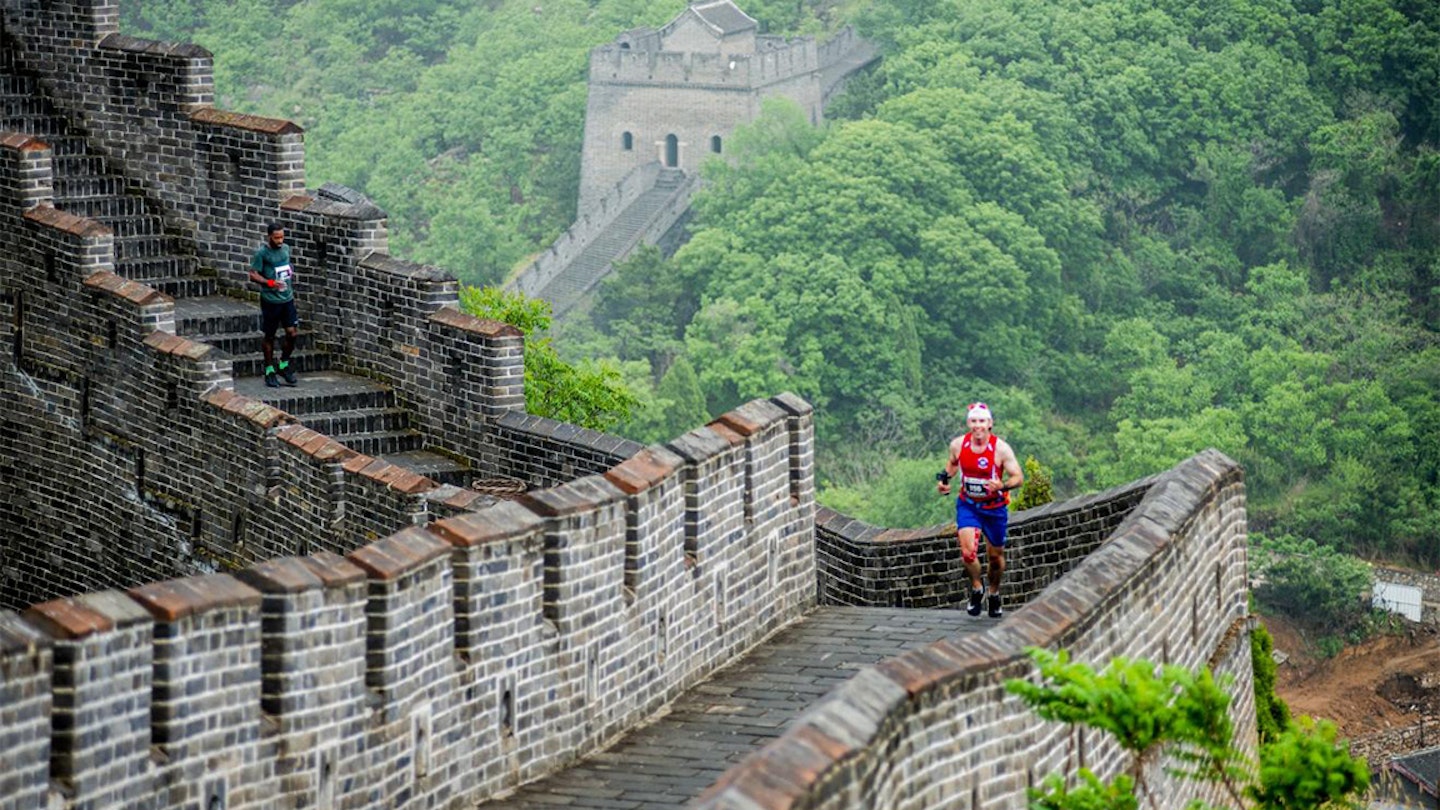 The Great Wall Marathon is one of China's most renowned marathons, known for its challenging and unique course. The race takes place along a section of the Great Wall of China, combining steep climbs, 5,164 uneven steps, and breathtaking scenery. The event offers multiple race categories, including a full marathon, half marathon, and a shorter fun run.
Marathon Tours & Travel offers a well-organised and supportive environment, providing expert guides, accommodation, and logistical arrangements surrounding the race. Explore the regions of Jixian and Beijing while immersing yourself in Chinese culture, with the cherry on the cake being the chance to visit and run along one of the new seven wonders of the world.
Races: 8.5km, half-marathon, marathon
Where: Beijing, China
Trip: 5 or 6 nights, with extensions available
When: 18 May 2024
For all other travel packages including the TCS New York City Marathon, the Bank of America Chicago Marathon, and more, check out the Marathon Tours & Travel website
Who are Marathon Tours & Travel?
Marathon Tours & Travel offer travel packages to some of the biggest trail and adventure running events around the world. From the jagged peaks of Torres del Paine National Park in Patagonia, to the UNESCO world heritage site of Petra, choose from a large collection of races that'll take you through varied and dramatic landscapes.
Alongside guaranteed race entry, travel packages include central accommodation, guide support, sightseeing excursions, hard-earned post-race celebrations, plus much more.
Competition time!
We are pleased to have teamed up with running travel specialist Marathon Tours & Travel to offer you the chance to win a £500 travel voucher for you to use on any of their travel packages.
ENTER NOW
Competition terms and conditions
The prize draw opens on 16.06.23 and closes at 23:59 on 16.07.23 any entries submitted after this time will not be valid or counted..
This competition is open to UK residents aged 18 and over.
There is 1 prize consisting of a £500 Marathon Tours & Travel voucher. This price can be used for any of the Marathon Tours & Travel trips but does not cover any travel expenses. This price is also non refundable, transferable and no cash alternative.
1 winner will be picked randomly from all valid correctly answered entries who have answered during the prize date. The winners will be contacted shortly after the closing date and notified by email and have 7 days to respond before an alternative winner is chosen.
Only one entry per person will be counted.
Prizes will only be delivered to an address within the UK. Should a prize winner's contact details change, it is their responsibility to notify us, or the contact person(s) detailed in the Competition's Specific Terms.
No purchase is necessary. To enter for free visit Marathon Tours & Travel running holidays | live for the outdoors
Full terms and conditions can be found at www.bauerlegal.co.uk/competition-terms.html
The prize is provided by Marathon Tours & Travel. We are not responsible for any aspect of the prize, including unsatisfactory quality or the entirety of the prize due to their own circumstances or restrictions. Prizes are non-transferable, non-refundable and no cash alternative will be offered.
Our employees (and their family members) or employees of any company involved in the Competition, including any Prize Provider, are not permitted to enter.
H Bauer Publishing is the promoter of this Competition, see: http://www.bauerlegal.co.uk/ for details of our registered office and company number.
Don't forget to subscribe to the Trail Running Newsletter to get expert advice and inspiration delivered to your inbox.