When snow and ice turn the mountains into beautiful white winter shapes, they also rob the ground of much of its friction. Boots that previously gripped the earth and rock quite comfortably can suddenly find themselves slipping dangerously on the frozen terrain.
Ice grippers and crampons might appear to be the sort of equipment that's reserved for those at the intrepid end of the hiking scale. But they are in fact useful for any hiker or climber who's venturing above the snowline. A pair of reliable ice grippers for use on tamer paths and trails, or crampons in the mountains, will give you back the traction you need to conquer those winter treks.
We've been out testing a collection of ice grippers and crampons to find the best options on the market.
What to look for in a pair of crampons or ice grippers
Terrain use: When there's a deeper covering of snow and ice, or on steeper ground, crampons with good-sized spikes are a minimum requirement. On easy gradient paths with only a thin film of ice, pull-on ice grippers will offer improved traction while being less unwieldy and easier to walk in than crampons.
Spikes: Walking crampons usually have 10 spikes, with most of those pointing down. Crampons for steeper terrain will offer 12 spikes with the front points being more horizontal. Grippers may have fewer spikes or use alternative means of boosting grip, such as chains or wire coils.
Crampon stiffness: This is limited by the part linking the forefoot to the rear spikes. It determines which footwear the crampon will fit and its intended use. For winter walks, flexible crampons are fine and fit a wider range of boots. For steeper or more technical terrain, stiffer crampons plus stiff boots are required.
Anti-balling: Anti-balling plates (or antibots) fit the underside of the crampon to prevent a build-up of snow. This is important because build-up can raise the spikes above the ice and reduce their grip.
Footwear compatibility: Ice grippers can be pulled on over almost any footwear. But crampons need to be used with boots that are stiff enough to take them. This usually means at least 3-4 season boots, although some of the most flexible crampons can be used with 3-season boots.
Crampon ratings: C1 are the most flexible and can be used with 3-4 season (B1) boots. C2 are suitable for winter mountain walking (B2) boots. C3 are the stiffest and most technical and used with mountaineering (B3) boots.
Attachment: Ice grippers usually pull over footwear on a rubber frame, or use minimal strapping. The most basic crampon attachment also uses straps. However, more technical models have a heel-clip to fit boots with a rear crampon welt. Specialised step-in crampons pair a heel-clip with a wire toe-bail to fit boots with welts at the rear and toe for challenging mountaineering.
The best ice grippers and crampons
Grivel G10 Crampons
Best for winter walking in the mountains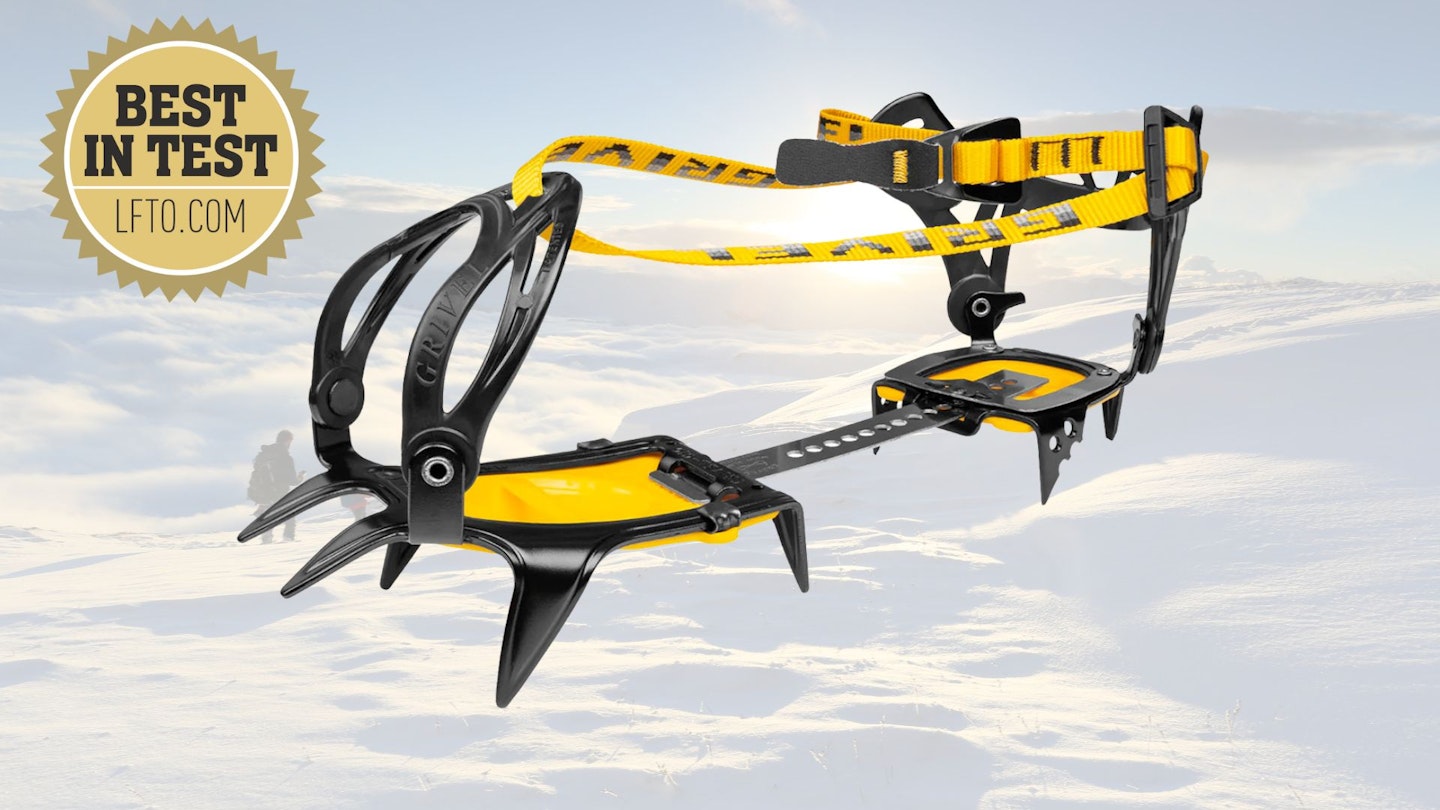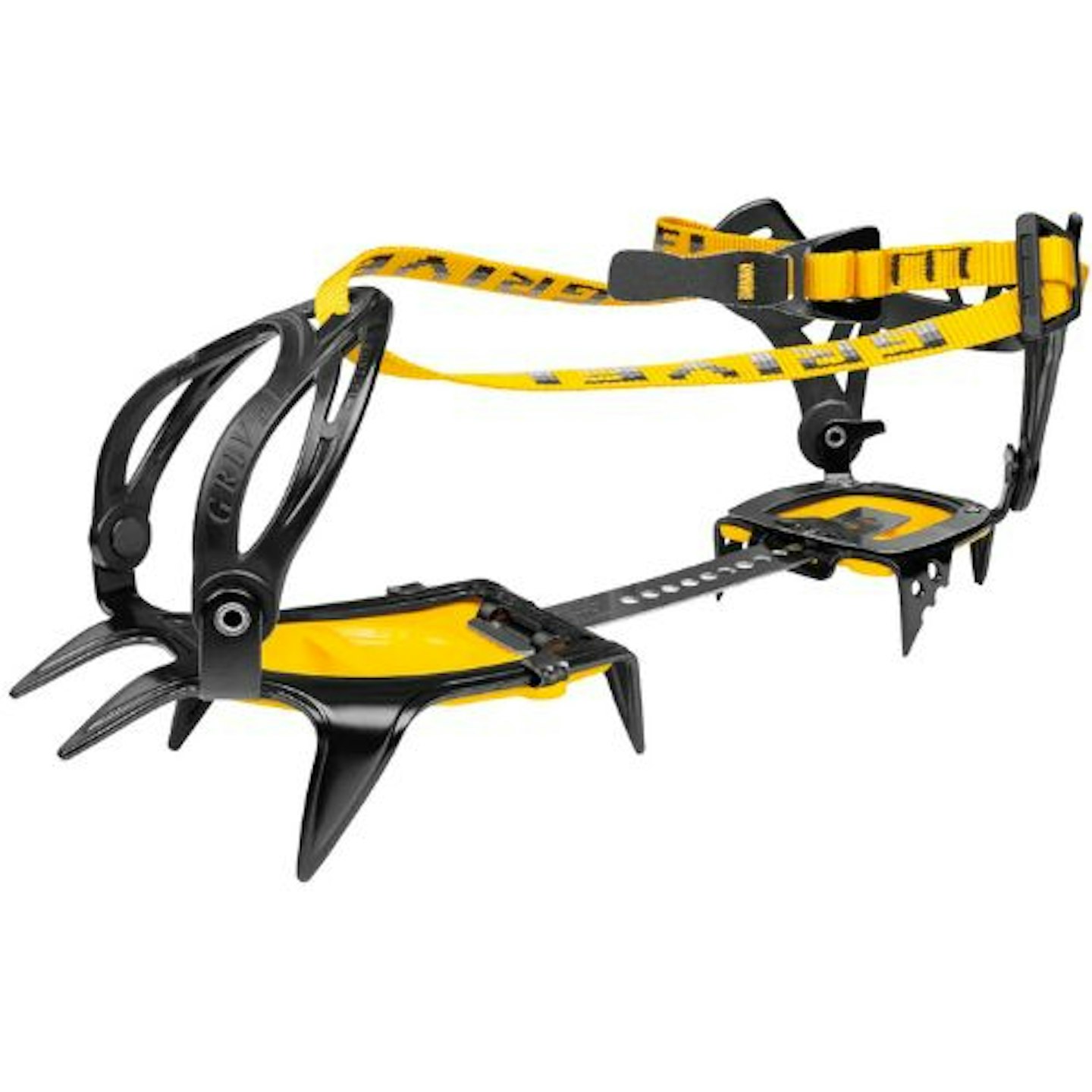 1 of 1
Grivel G10 Crampons
If you want to get stuck in to winter walking in the mountains without actually getting stuck in the mountains, you need a proper pair of crampons.
The Grivel G10 is a classic 10-pointed (six under the front part, four under the rear) walker's crampon. It's available in two fittings and is a great go-to.
The traditional full-strap New-Classic EVO model can be attached to any hiking boot that's stiff enough for use with a crampon while the New-Matic EVO replaces the rear strap with a heel-clip for increased security and ease of fitting on boots with a rear crampon welt.
Verdict: An impressive performing crampon that avoids being overkill for most winter hikers.
Overall score: 88%
Edelrid Spiderpick Crampons
Best for on-path hillwalking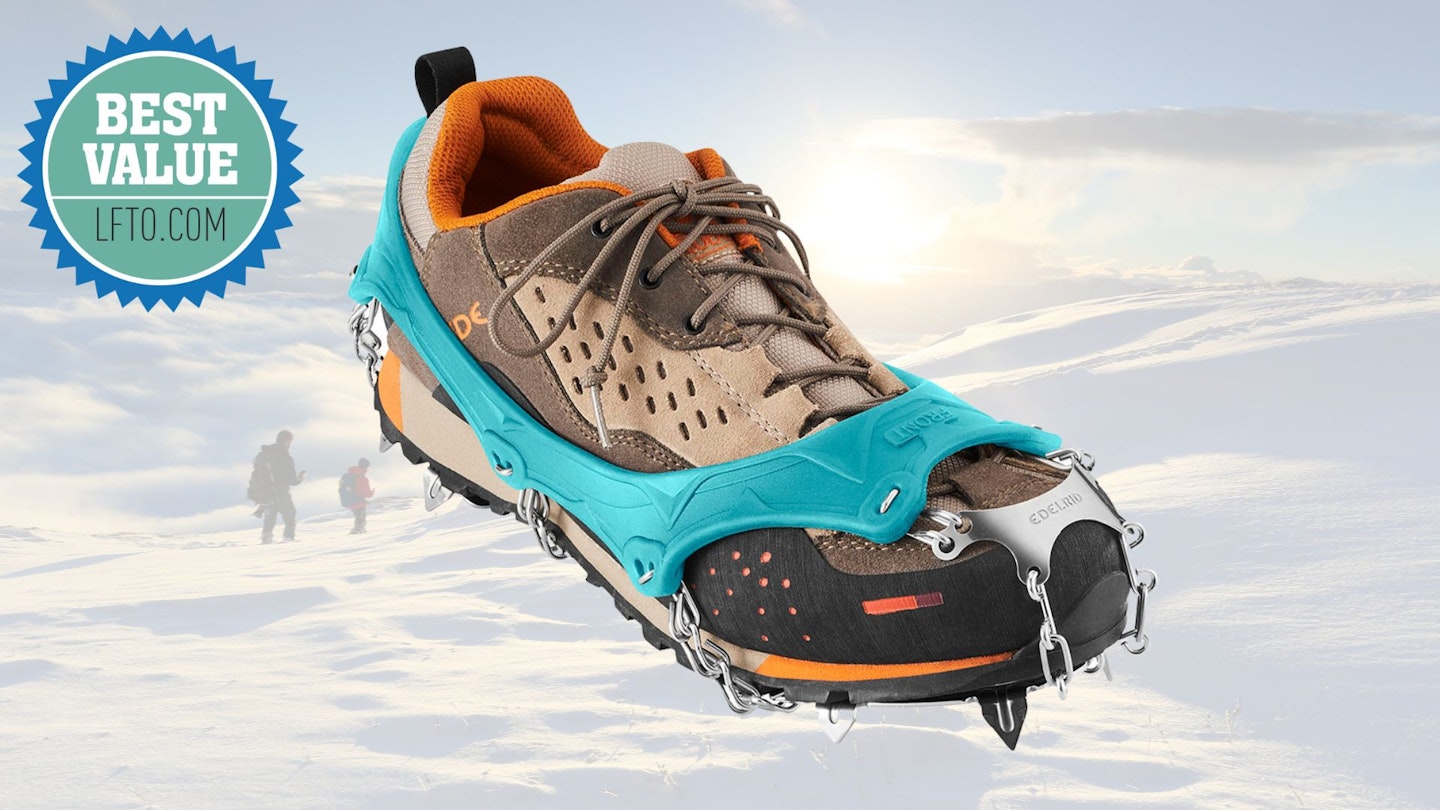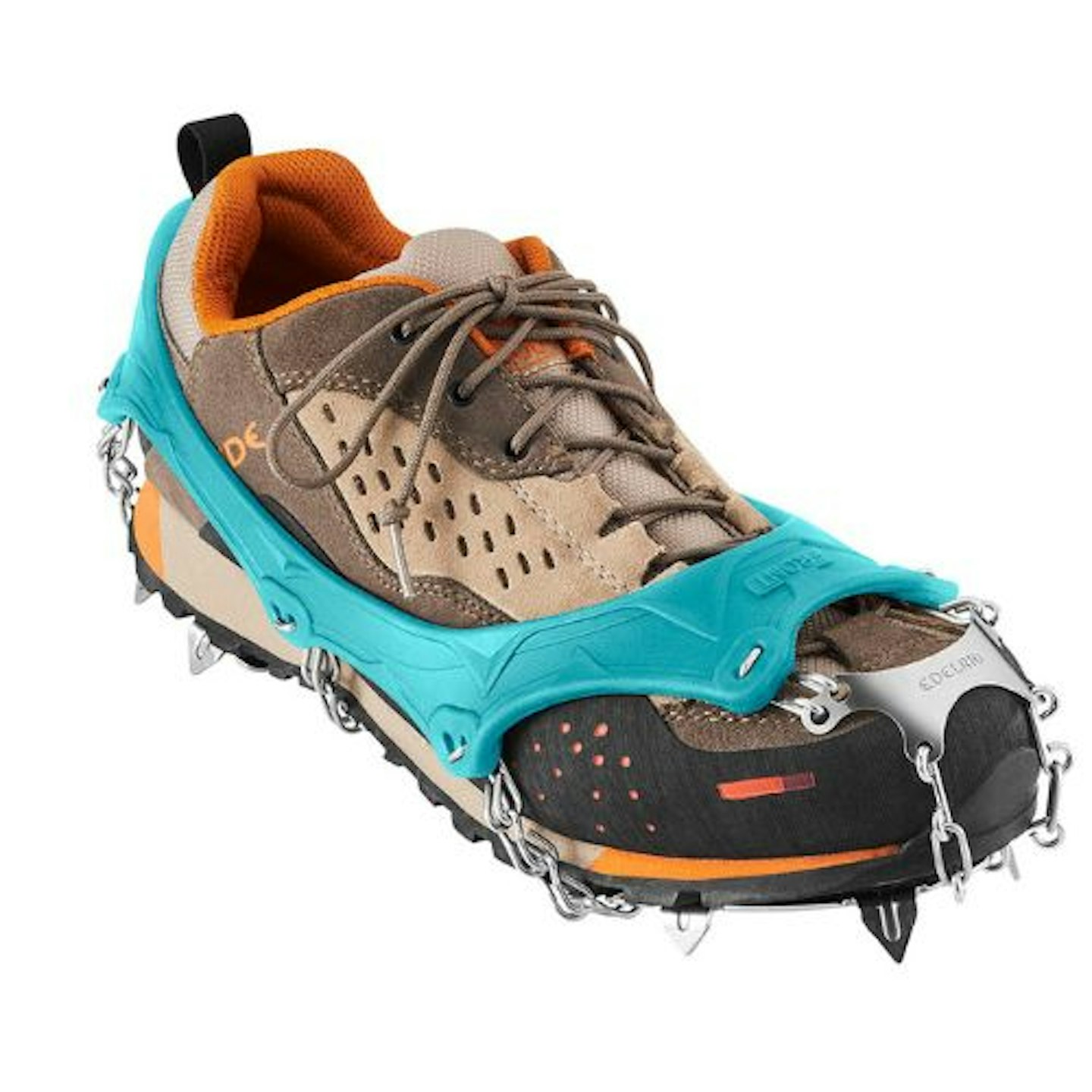 1 of 1
Edelrid Spiderpick Crampons
Think of the Spiderpicks as snow chains for your feet. Much like snow chains, these can be kept in reserve and utilised when conditions underfoot require a boost of grip.
Choose from one of their three sizes (S, M, L) and colours (green, black, blue) and you can pull these on over most types of footwear. But with their beefy undersole chains and more aggressive spikes, they're perhaps best used with chunky hiking footwear.
Though not suitable for steeper hillsides, the Spiderpicks open up winter trails that might otherwise be out of bounds.
Verdict: A great option for extra grip on the beaten path above the snowline - but that's all.
Overall score: 76%
Salewa Alpinist Combi Crampons
Best for technical mountain routes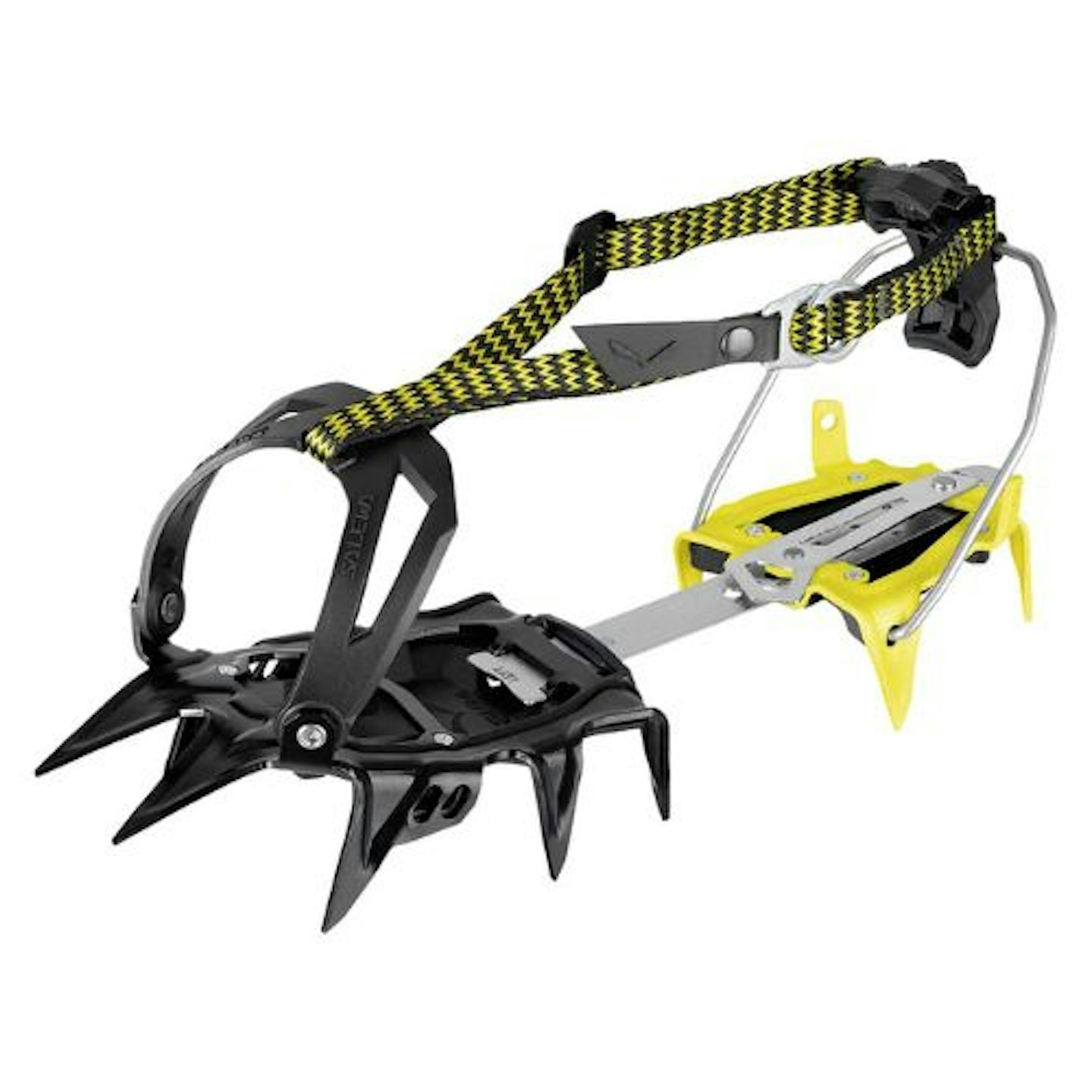 1 of 1
Salewa Alpinist Combi Crampons
When walking starts to become mountaineering, you need a crampon that can cope with the extra demands. This usually involves an additional pair of spikes for increased grip on both névé-covered surfaces and exposed rock.
In addition to 12 aggressive spikes and a reliable rear heel-clip and front toe-basket attachment combo, the Salewa Alpinist Combi features a clever strap adjustment which means you'll never have to worry about tripping over the loose end of the strap.
Verdict: Ideal for treks where you'll encounter trickier terrain, but the Grivel G10 crampons are better if you'll stay away from the steeper slopes.
Overall score: 85%
Black Diamond Sabretooth Crampons
Best for winter mountaineering and climbing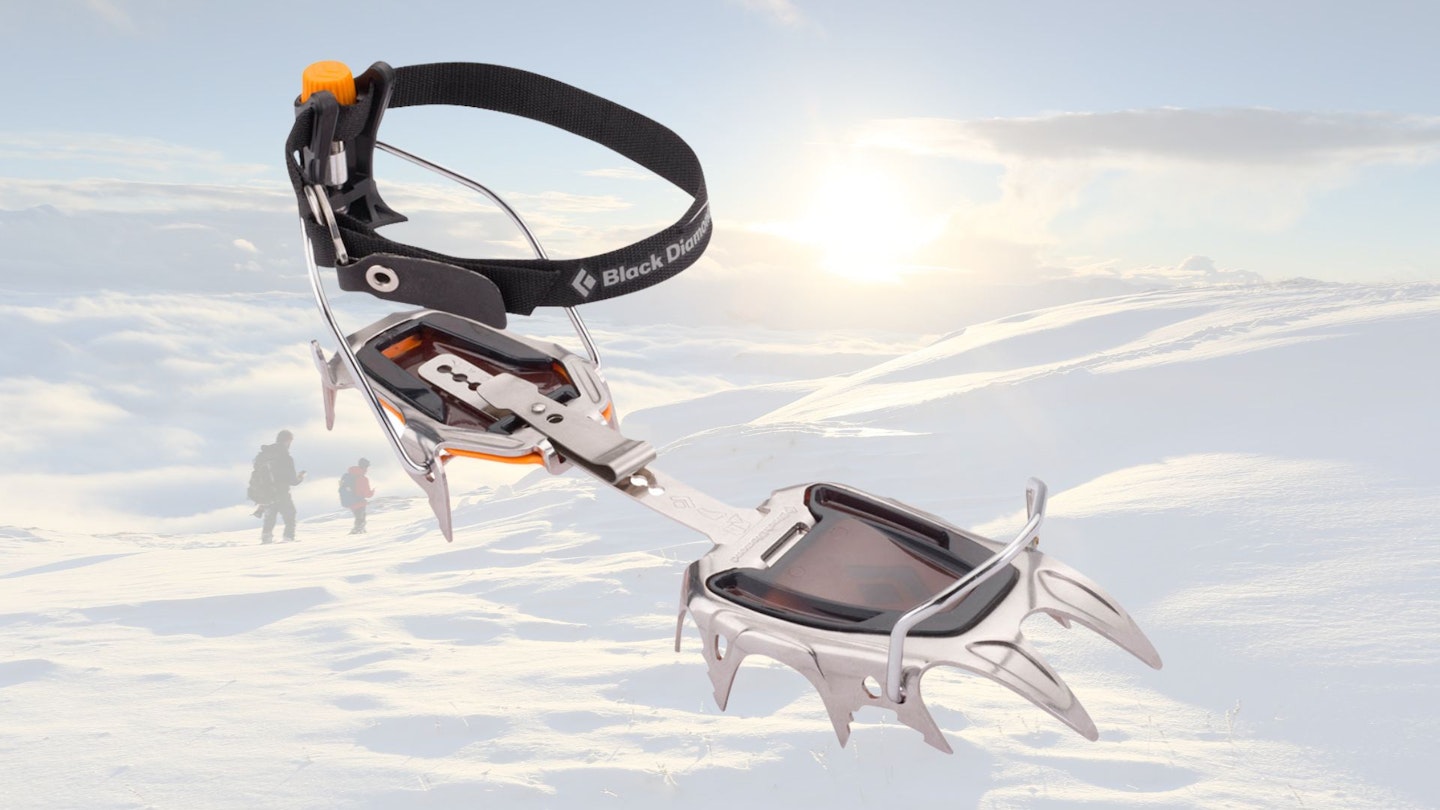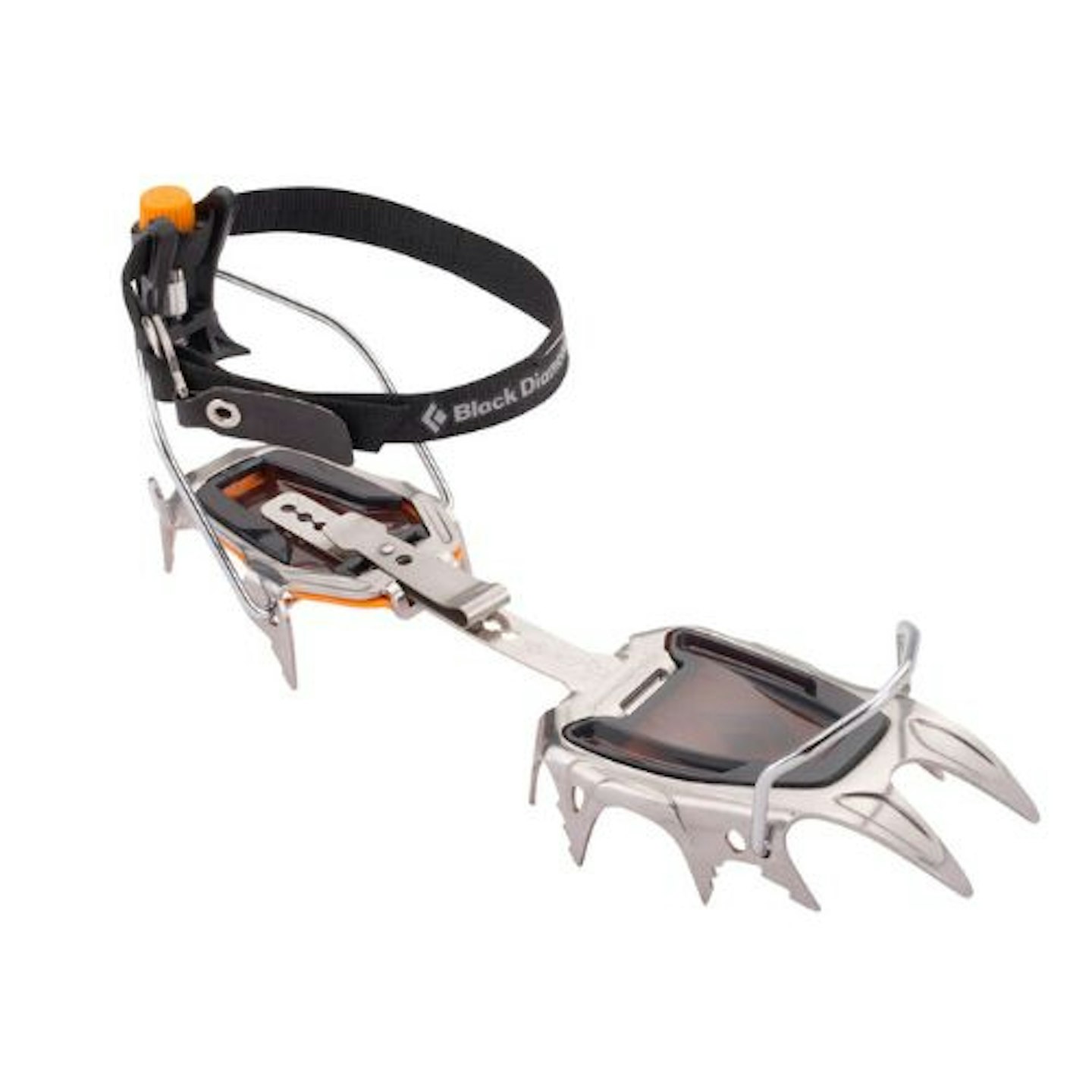 1 of 1
Black Diamond Sabretooth Crampons
When the terrain is closer to vertical than horizontal, a mountaineering/climbing crampon like the Sabretooth is what you want on your feet.
With no fewer than 14 spikes, including four forward facing points, these have been designed to bite and hold like a certain ancient feline.
They're available in two different models. The Clip version uses the toe-basket/heel-clip attachment method, while the Pro model uses a front toe bail for boots with a toe welt for increased precision and security when climbing.
Verdict: These are brilliant crampons for very steep and technical terrain, but they're predictably expensive.
Overall score: 85%
Quechua Adult Snow Crampons
Best for less serious, more horizontal ground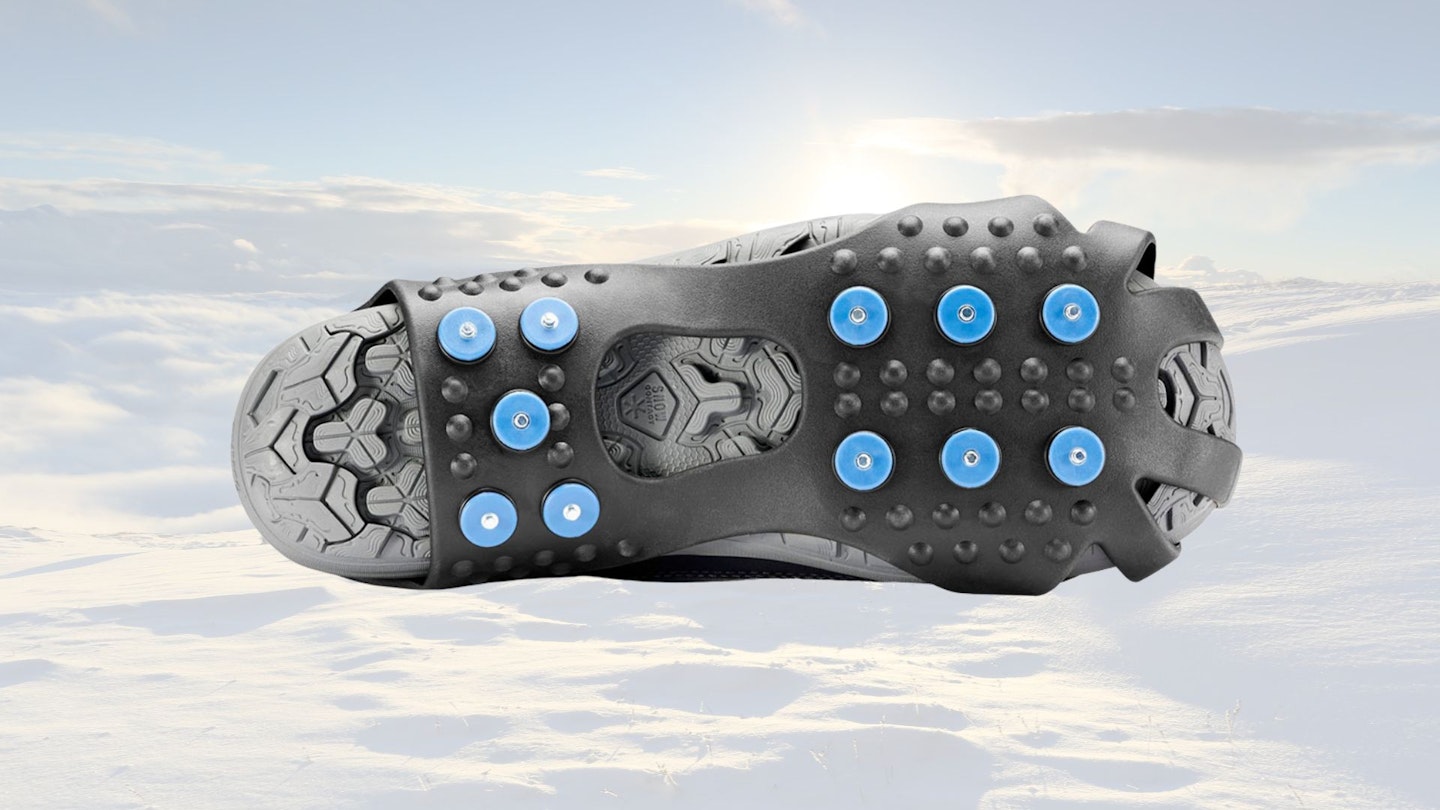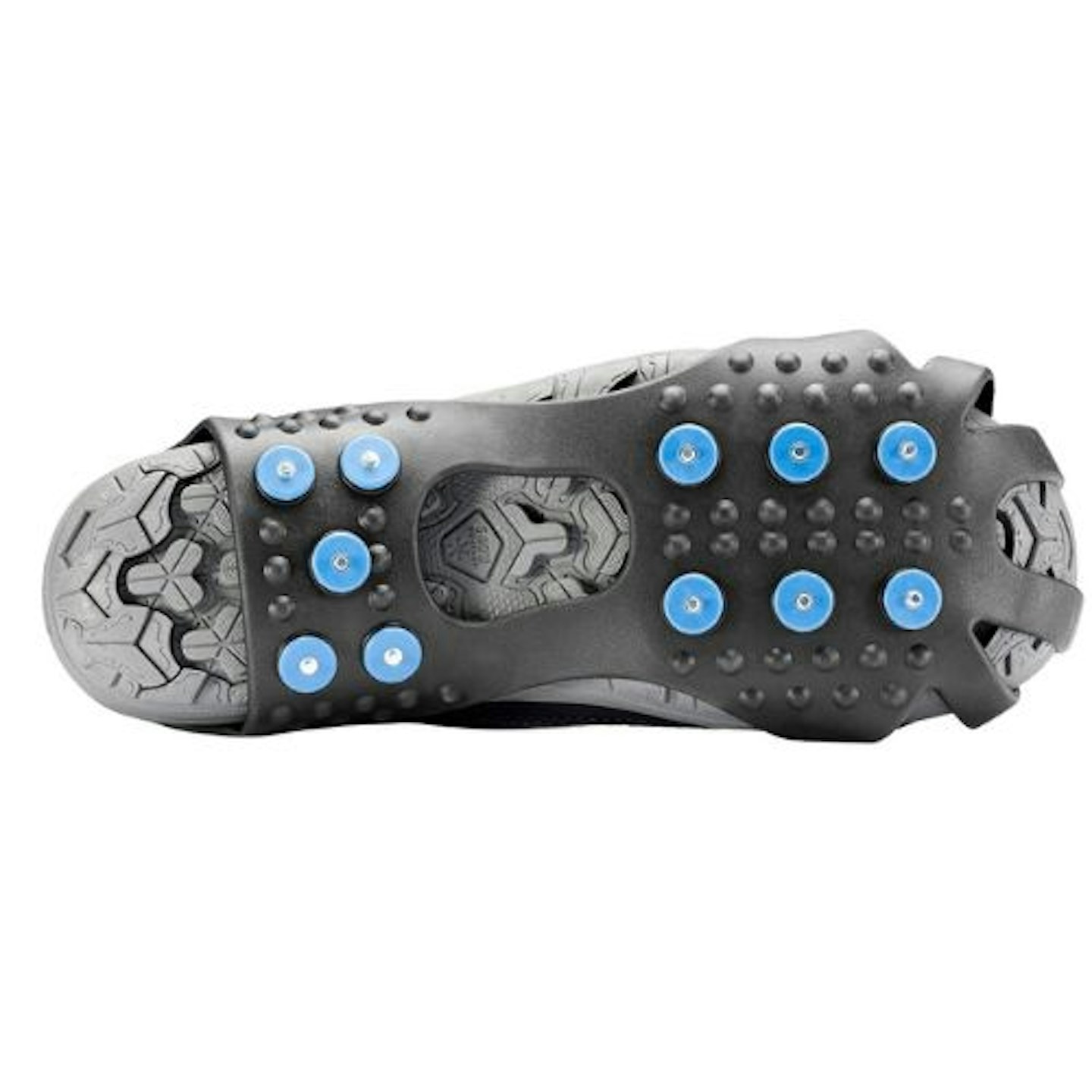 1 of 1
Quechua Adult Snow Crampons
This is a bit of a misnomer. It is not a crampon, and neither is it ideally suited to snow. At least, not deep, fluffy stuff. But on ice and hard-packed snow, the Quechua could be exactly what you need.
Available in four sizes (S, M, L, XL) the rubber frame can be pulled over almost any type of footwear, allowing the 11 micro spikes underneath to boost traction.
Make no mistake – these are not mountain tools. Even Quechua's website refers to use on flat terrain. But for easy winter strolls, these highly packable grippers are a bargain.
Verdict: An affordable means of gaining extra grip, but their use is quite limited.
Overall score: 70%
Get half-price digital OS Maps. Trail and Country Walking magazine members get 50% off an annual subscription to OS Maps for 12 months. Find out more here.
Don't forget to subscribe to the Live For The Outdoors newsletter to get expert advice and outdoor inspiration delivered to you inbox.