Some of the best mountain adventures come underfoot when you step off the well-worn footpath and tackle rockier ridges head on. In Alpine regions getting to the foot of crags often includes crossing glaciers or other large expanses of relatively level snow and ice, and it's this mix of terrain that Hanwag's Makra Combi boot is designed for. Equally this type of terrain can be found throughout Britain's highest mountain regions when the snow arrives in winter. So does this make Hanwag's Makra Combi a good choice for those heading onto more adventurous British mountain walks and scrambles?
The European Alpine styling of the mountain boot is produced with an upper made from suede, as well as a very durable Cordura synthetic material with a Gore-Tex waterproof lining inside. A high rubber rand encloses the boot for even more durability on rockier ground. Underfoot you get a Vibram Pepe sole unit with well-spaced lugs – wider at the toe – for better control when scrambling or climbing on smaller holds. The boot is stiff enough to be used with C1 flexible crampons, for crossing fairly level snow or glaciers.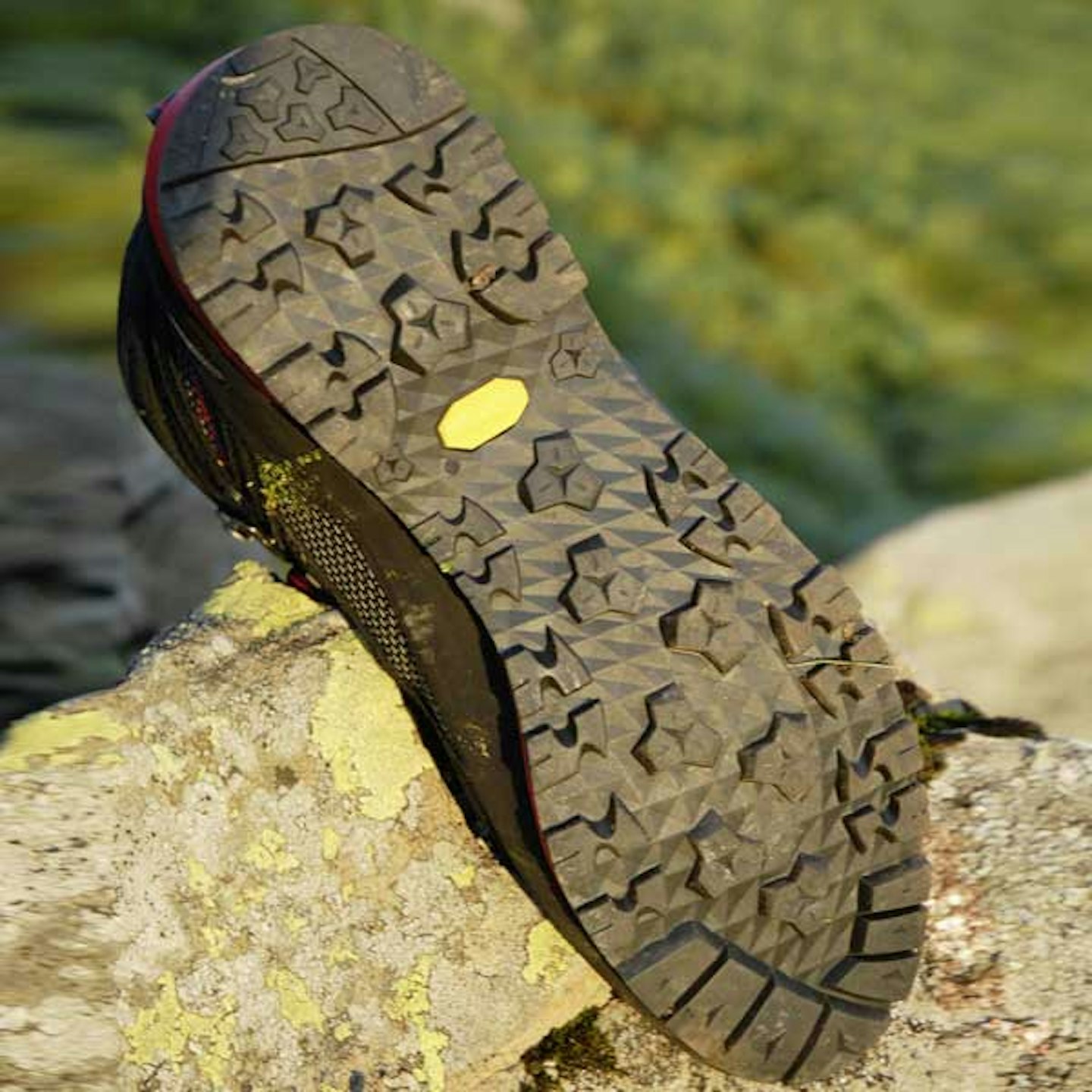 WALKING
The boot is built on Hanwag's Alpine Wide Last and has a slightly broader forefoot than some other boots of this style, which will be welcomed by anyone who has found other Alpine styles too narrow. On the foot, the fit did feel nice and precise with the big toe area feeling neat to allow more accurate placement on small footholds. Walking along the flat there is a noticeably smooth roll from heel to toe, with a slight rocking action at the flex point, and some good cushioning, which all helps to make a walk-in to the crags easy going. Stepping off the path is what this boot is about, though, and that's where its credentials begin to show themselves. The stiffness in the sole and upper make the transition from made path to scree path very stable underfoot and you can use the stiff edges and the stiff toe to get a really solid foothold on larger rocks. I could flat foot my way up the bigger slabs in a very secure way, as there is just enough flex in the forefoot to make this comfortable.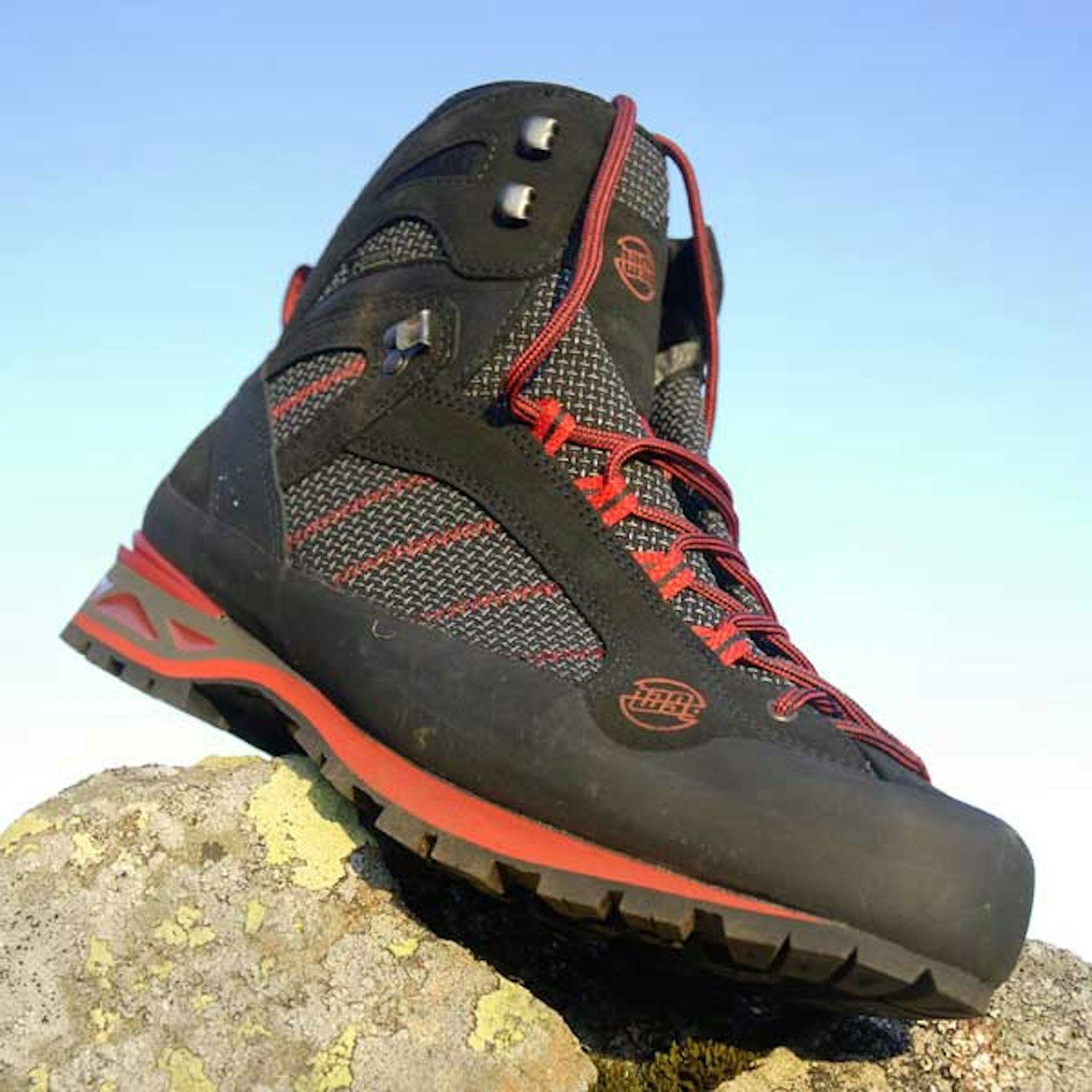 SCRAMBLING
Getting onto steeper rock, this boot performs at its best – with the stiffness and feel around the toe making it great for securely scrambling along rocky ribs. It does not feel too clumpy, nor is it too bendy, so overall it feels about right for scrambling. I have used boots with a little more feel under the forefoot but they tend to have less cushioning underfoot or are slightly stiffer, which makes them less suitable for walking on level ground. Like many more scrambling orientated designs, the sole lugs and heel breast are not quite as deep as walking boots, as you need that closer feel to the rock when scrambling. This does mean the boot is not quite as secure as a pure bog-trotting rambling boot on muddy grass slopes. But you can't have everything in one boot and this is a compromise worth making if you're heading onto rockier ground.
This boot does not feel particularly heavy and is light enough for scrambling along rocky ground. It tips the scales at 1562g for a size 11 pair, which is very respectable, compared to others. Some heavier boots have deeper sole lugs and a stiffer upper, making them more suitable for more challenging terrain. But for those needing a boot for scrambling I'd say the Makra Combi is a good weight. The price may sound steep at first glance, but it's within a similar range of other boots with its design and performance credentials. So clearly while this is not a budget option it sits well alongside other market leaders.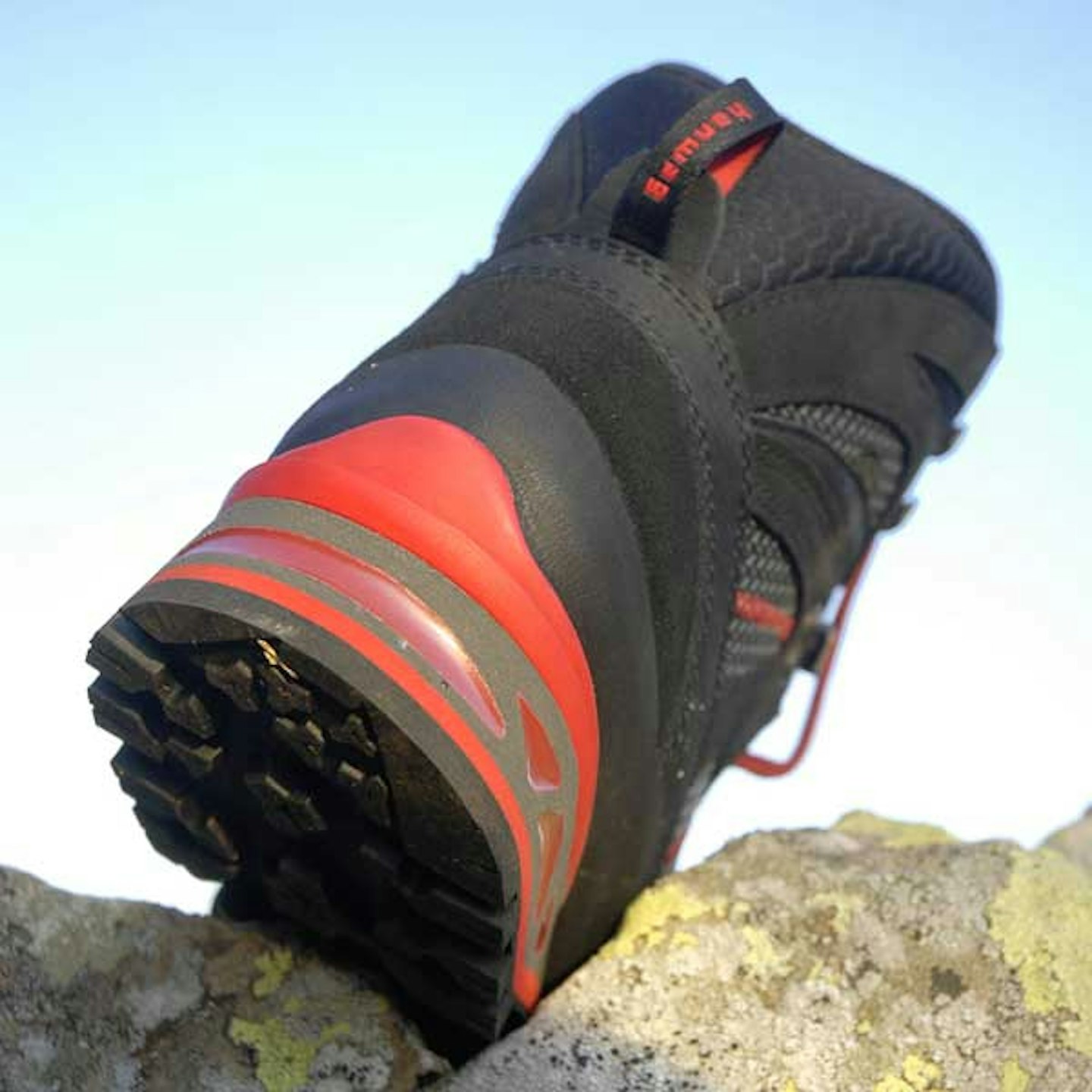 DETAILS
Weight 1562g (size 11)
Upper suede and Cordura fabric, Gore-Tex waterproof lining
Sole Vibram Pepe
Sizes 6-13 (men's); 3.5-9 (women's)
VERDICT
Excellent boot for its intended use of tackling scrambles, via ferrata and other rocky ridges, with the capacity to be fitted with flexible crampons for glacier travel and sections of level snow. Other boots are better for easier terrain, but of course they cannot offer the performance of the Makra Combi on rock.
Features ★ ★ ★ ★
Fit ★ ★ ★ ★ ★
Comfort ★ ★ ★ ★ ★
In use ★ ★ ★ ★ ★
Value for money ★ ★ ★
Overall score 88%