The best outdoor gear serves more than one specific purpose, being adaptable enough to tackle a range of situations, conditions or requirements. But usually with footwear you have to make a choice: do you want something that's fairly relaxed and comfortable for devouring the miles, or a precise technical shoe for more vertical ground?
Aku's Rock DFS GTX aims to make that decision redundant. Its DFS (Dual Fit System – nothing to do with sofas) lacing claims to offer both the easy-going fit of a walking shoe and the snug foot-hugging ability of more climbing-focused footwear. How? Well, we'll get to that below, but from our early testing it's fair to say that the system works, and works well. It's simple and effective, even if it does make the shoe a little fussy to look at.
In addition to this low GTX model (£189.90), there's also a Gore-Tex mid (£199.90) and an unlined shoe (£164.90). There are more DFS options being released in Spring 2022, so Aku clearly feels that the system works and is worth including on more of its footwear. And while it might be nice to see a little more refinement in future incarnations, if the same level of performance can be married to a neater finish, we're inclined to agree.

6 things you need to know...
Dual Fit System
The DFS uses a double lacing arrangement. Traditional laces provide a standard fit for general walking, while a second fast lacing system can be used to immediately tighten the fit, pulling the shoe in snug around the sides and top of the foot to "increase sensitivity and security" for climbing or scrambling.
Breathable upper
Developed and patented by Aku, with laboratory tests carried out by Gore-Tex confirming that it offered a level of breathability up to 11.5x higher than normal standards, the Air 8000 fabric in the Rock DFS shoes offers superb breathable performance for drier and more comfortable feet.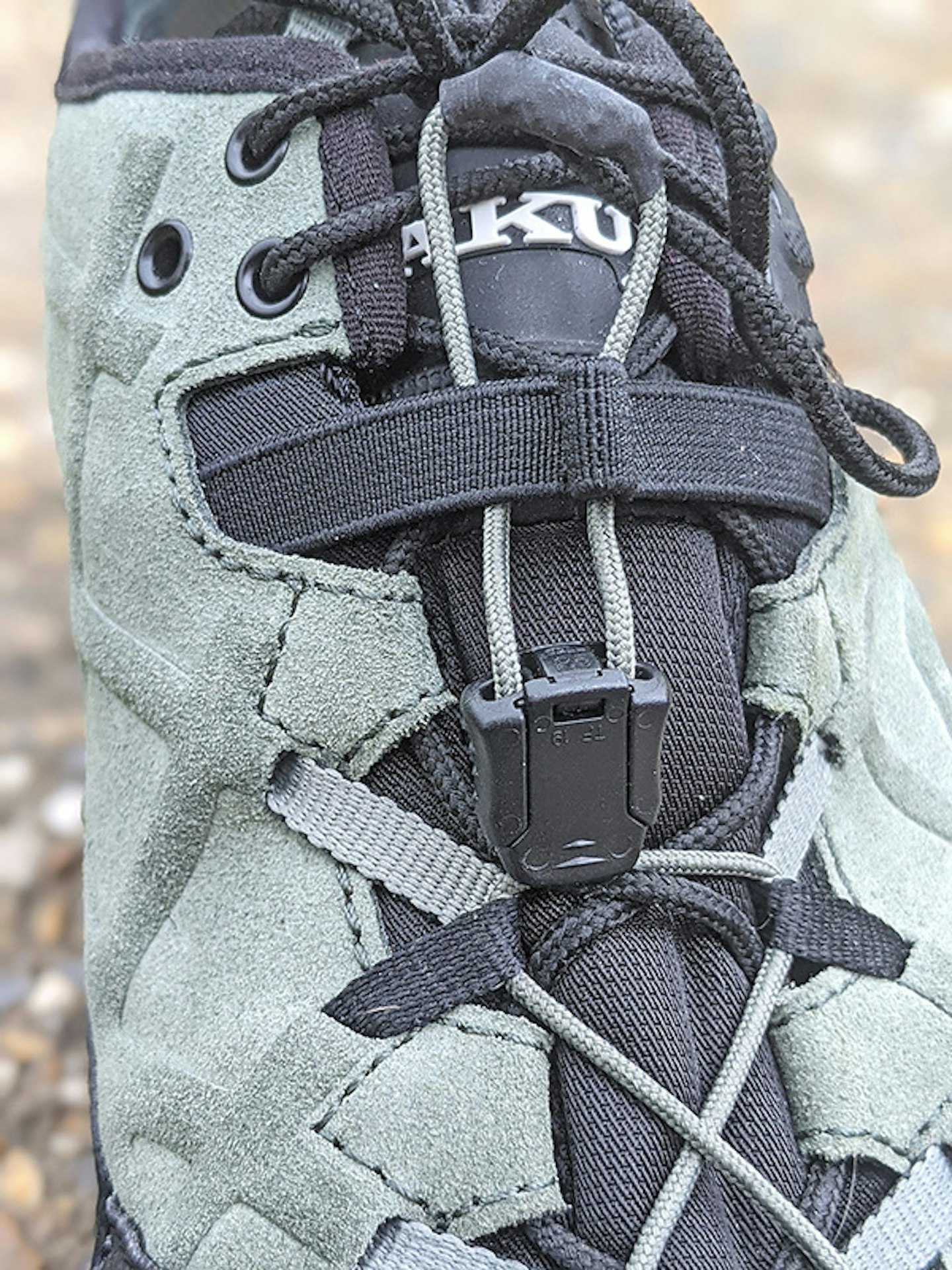 Tough rand
Because the shoes are designed as much for rocky scrambling as they are leisurely strolling, the full rubber rand offers increased protection when wedging the toe in tight cracks or scraping up rough ground.
Support & drive
Aku's Elica technology ensures an anatomical fit to provide better stability and weight distribution, reducing pressure points and encouraging better form. It follows the shape of the sole of the foot, offering shock-absorbing cushioning at the heel and promoting forward thrust at the forefoot.
Sticky sole
The rubber compound in the Vibram Approcciosa Megagrip provides first-class grip. It also has a specific design for more climbing-like activities, with a flattened area under the toe for precise foot placements.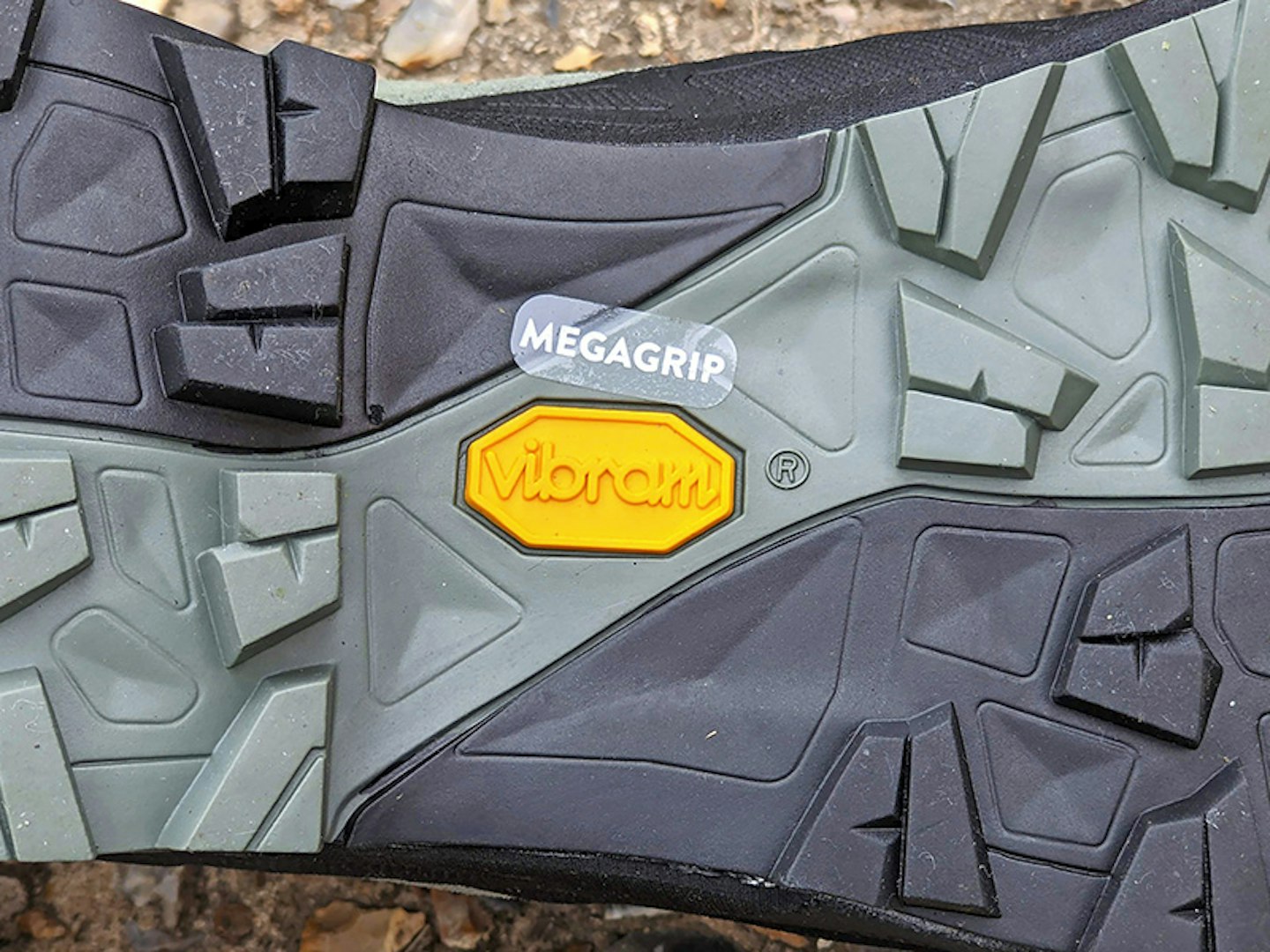 Serious stuff
Price £190 | Men's sizes 3-13 | Women's sizes 3-9 | Weight per shoe 420g (men's size 9) | Upper material Suede 1.6mm, microfibre, Air 8000, rubber rand | Waterproof lining Gore-Tex extended comfort | Footbed Ortholite hybrid (partially recycled) | Midsole Double density EVA and PU | Outsole Vibram Approcciosa Megagrip
Trail verdict
The DFS system works a treat to either grip the foot or offer a looser fit, but the mixture of lacing does make the upper a little busy.

For the latest reviews - including extra photos and kit that won't appear online - pick up a copy of the current issue of Trail magazine!