Unless you've been bivvying under a rock for the past few years, you'll have heard of Nirmal 'Nimsdai' Purja. Following his first Himalayan ascent in 2012, this Gurkha and Special Forces operative went on to forge an astounding career in high-altitude mountaineering.
To date he has summited Everest six times, K2 three times (including in winter), and holds several mountaineering world records; he summited all fourteen eight-thousander peaks in the Himalaya in six months and six days. What a guy. And now he's put his name to a rucksack: the Osprey Mutant Nimsdai 90.
Introducing the Osprey Mutant Nimsdai 90
Osprey created this mountaineering expedition pack for Nim's team's historic 2020 winter ascent of K2. This is one of the world's most demanding and dangerous mountains, particularly in winter. The Osprey Mutant Nimsdai 90 was redesigned, engineered and finessed until it fulfilled the exact needs of its extreme use.
The elite team of mountaineers provided regular testing and feedback. Osprey claim the lightweight high-capacity rucksack "pushes the limits of what an alpinist's pack is capable of".
The existing series of Mutant climbing packs is renowned for their attention to safety, comfort, and top-end performance. The Osprey Mutant Nimsdai 90 offers all these things in spades. And despite its technical intentions, this pro-spec pack uses bluesign approved recycled fabrics.
As well as delivering reliable durability in a lightweight package, this ensures it has a low environmental impact, helping to preserve the environments it was designed for exploring.
For me, I just want to have the best kit available on the planet. My kit has to endure extreme conditions and carry me to the top no matter what the challenge. With a positive mindset, the right kit and sheer determination, we can all achieve the impossible.

Nimsdai Purja, Elite Mountaineer
Technical specifications
Price: £275
Weight: 2.1 kg
Dimensions (HxWxD): 86cm x 42cm x 33cm
Fabric: bluesign approved 210D recycled nylon grid NanoFly, PFC/PFAS-free durable water repellence
Backsystem: Snow shedding backpanel with removable HDPE framesheet and aluminium stays  
Volume: S/M: 88L M/L: 90L
Features
Removable top lid with zip pocket; FlapJacket and stowaway pocket
Under-lid rope attachment, adjustable webbing strap
Upper and lower side compression straps with SR buckles
Front shield-pocket for snow-shoes or crampons
SR-buckle release ice-tool holders
Side ski carry loops
4 mm LightWire frame
Snowshed fabric
Ridged EVA foam
Stretch woven mesh over EVA foam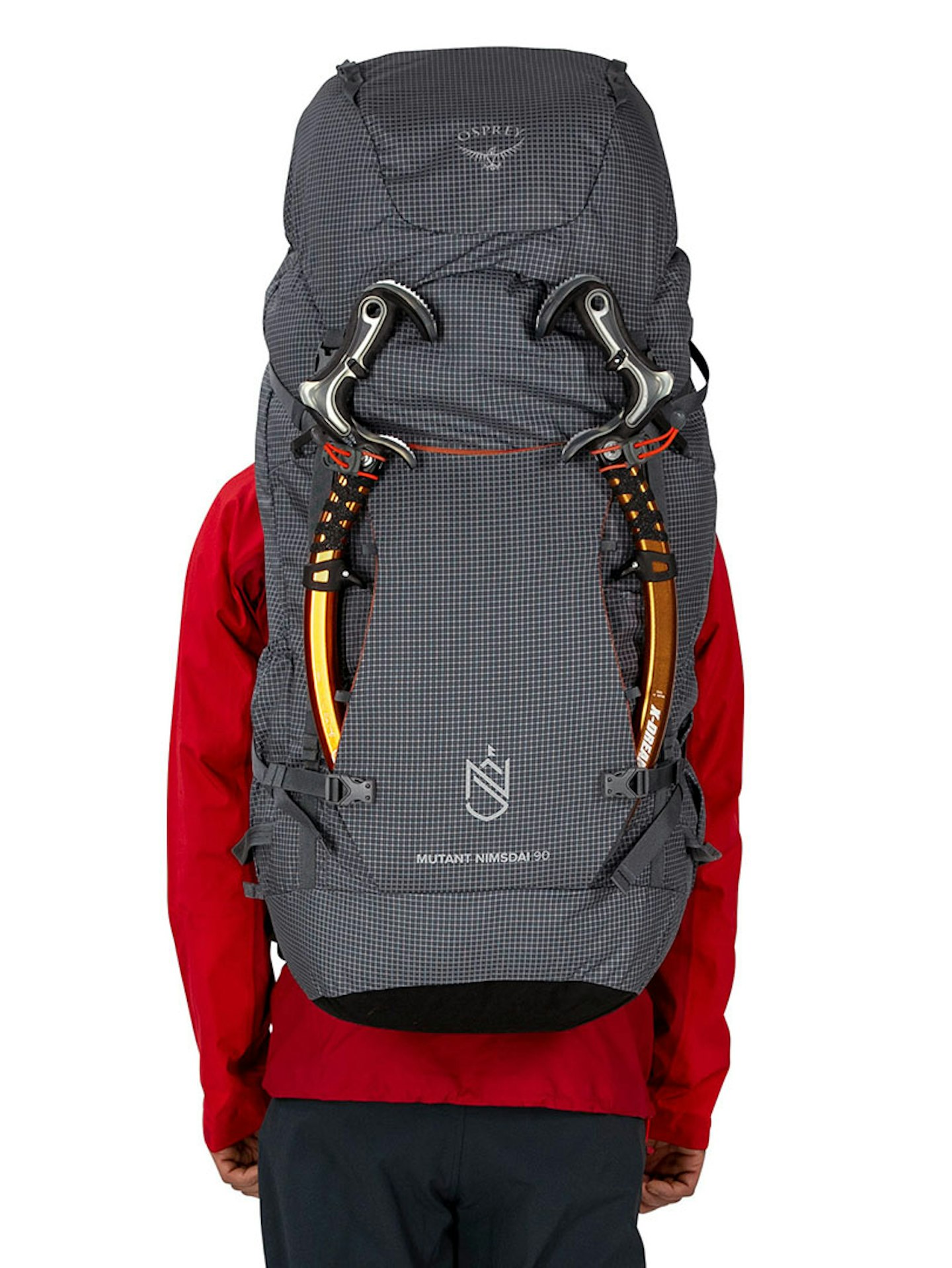 Is the Osprey Mutant Nimsdai 90 for me?
The problem with a pack designed for an elite mountaineer is that it's easy to assume that it offers nothing for those mere mortals like us who aren't yomping up 8000m mountains at record-breaking speeds. And to a point, that's true; the Osprey Mutant Nimsdai 90 would be overkill for some day hikes in the Lake District. But put aside the specific environments for which it was created and start looking at what it offers and you'll find there's lots here to appreciate.
The 90 lite capacity is huge, which while overkill for day hikes, is perfect for winter backpacking trips. In winter, everything is bigger – your sleeping bag, warm layers, and winter hardware. You'll soon fill the pack's cavernous volume. Designed to hold oxygen bottles, the side-pockets will also hold Thermos flasks, a rolled-up tent, or your trekking poles.
The storage options for crampons and ice axes, plus the attachable helmet hammock, are as useful in the Scottish Highlands as they are in the Himalaya. And if you really don't need everything that's on offer you can strip the Nimsdai 90 back considerably; the lid and waistbelt are both removable.
Alternatively, if you're really not sold on the Osprey Mutant Nimsdai 90, take a look at our reviews of other excellent backpacking rucksacks!
Verdict
There's no denying, this is an impressive pack. And while it will undoubtedly be overkill for most hikers, for those who continue to hike, climb and camp in the coldest conditions the Osprey Mutant Nimsdai 90 has the capacity to become a winter adventure essential.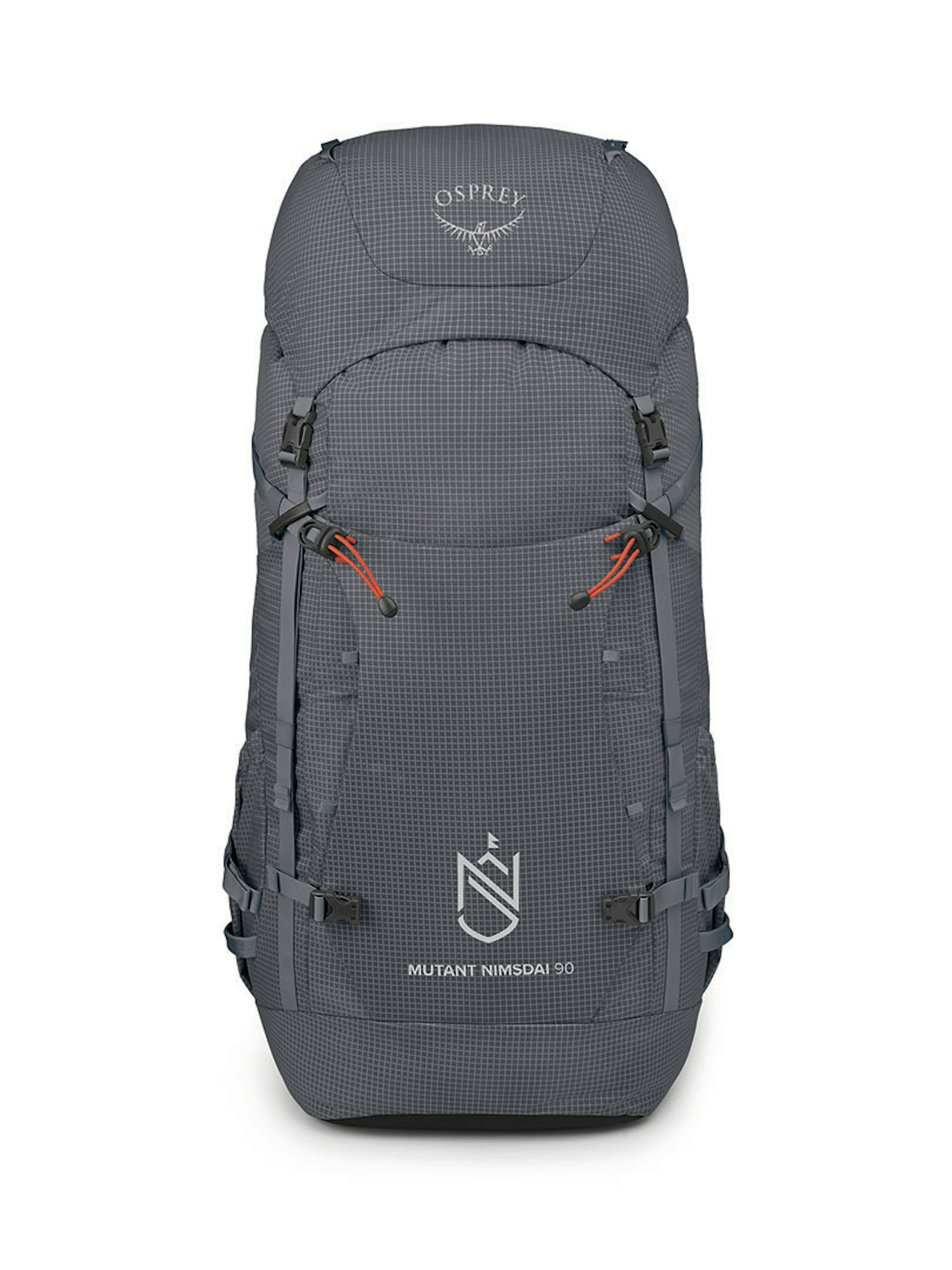 Don't forget to subscribe to the Live For The Outdoors newsletter to get expert advice and outdoor inspiration delivered to your inbox!
For the latest reviews - including extra photos and kit that won't appear online - pick up a copy of the current issue of Trail Magazine!