CAN GREGORY'S NEW RANGE OF LIGHTWEIGHT RUCKSACKS MAINTAIN THE BRAND'S REPUTATION FOR STRONG AND STABLE PERFORMANCE?
Price £185
Capacity 48 litres (men's Optic 48); 45 litres (women's Octal 45)
Back lengths S, M, L (men's Optic 48); XS, S, M (women's Octal 45)
Weight 1,221g (men's Optic 48 size M)
Since Wayne Gregory started designing rucksacks back in 1977, his brand has been obsessed with quality, comfort and durability. Gregory packs have always shouldered heavy loads supremely well, but with all that quality, comfort and durability comes the drawback of their heavier than average design. While many rucksack manufacturers have been shedding pounds from their packs, Gregory has remained the reliably strong and stable performer for carrying heavier loads. However, the company has now released a range of four lightweight packs that will test the brand's reputation, while potentially providing the hillwalker with lasting performance.
The Gregory Optic for men and Octal for women are available in two capacities, with each having three back lengths so there is something for everyone. The Optic 48 (tested here) and Octal 45 are £185 each, while the men's Optic 58 and women's Octal 55 are £200. The Optic 48 weighs in at 1221g, making it lighter than some options by a couple of hundred grams. But there are lighter packs out there at this capacity, so this is clearly not all about weight.
As is typical of Gregory, while reducing weight it has not stripped out all the performance benefits it is known for. It has introduced the Aerospan back system, which allows more airflow across the back by incorporating a mesh trampoline that holds the body of the sack away from the wearer. The padding is perforated to allow more airflow in body contact areas, too. The result of all this airflow is that this pack is less sweaty than some other lightweight designs.
Where many lightweight packs fail is in their ability to carry heavy loads without folding and bending on your back. Gregory gets around this problem by incorporating a tubular frame inside the pack that makes the back system very stiff and ideal for heavier loads. The hipbelt is also a little stiffer than some lighter packs to allow good weight transfer to the hips, so your shoulders are not having to take all the load.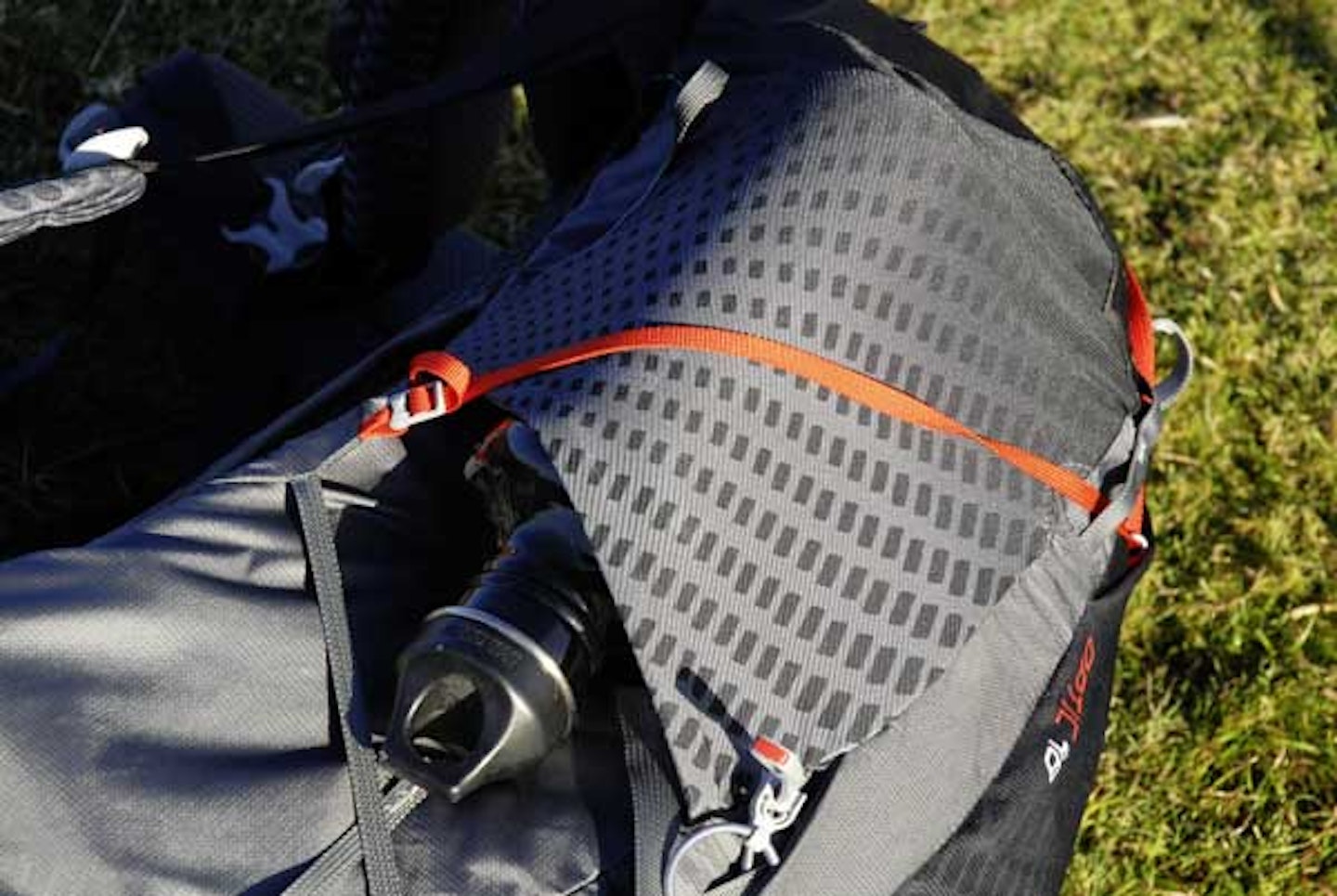 Loading gear is pretty easy as you get a single main compartment with a top opening and a floating lid for overpacking. The lid has internal and external pockets that are nice and large. Then there are two side stretch pockets and a front stretch pocket, and these all work well. Compressions straps, using narrow taping, are provided. The only slight niggle here is that if you are stashing items on the sides you have to thread them behind the compression straps as you don't get quick-release buckles, which is a small grumble but not a deal-breaker. If weight is very important then you can shave a few grams by ditching the 88g raincover. You can also remove the 86g standard lid and use the pack lidless, or fit the supplied, more basic, 36g lid that covers the top opening of the main compartment to prevent rain entering.
I used this pack in the Lake District and found it to be really comfortable and stable; it certainly competes well with other lightweight packs. Gregory recommend the maximum weight carried is 14kg, which is up to 2kg more than some other lighter packs, so here Gregory is maintaining its tradition of being slightly better for heavier loads.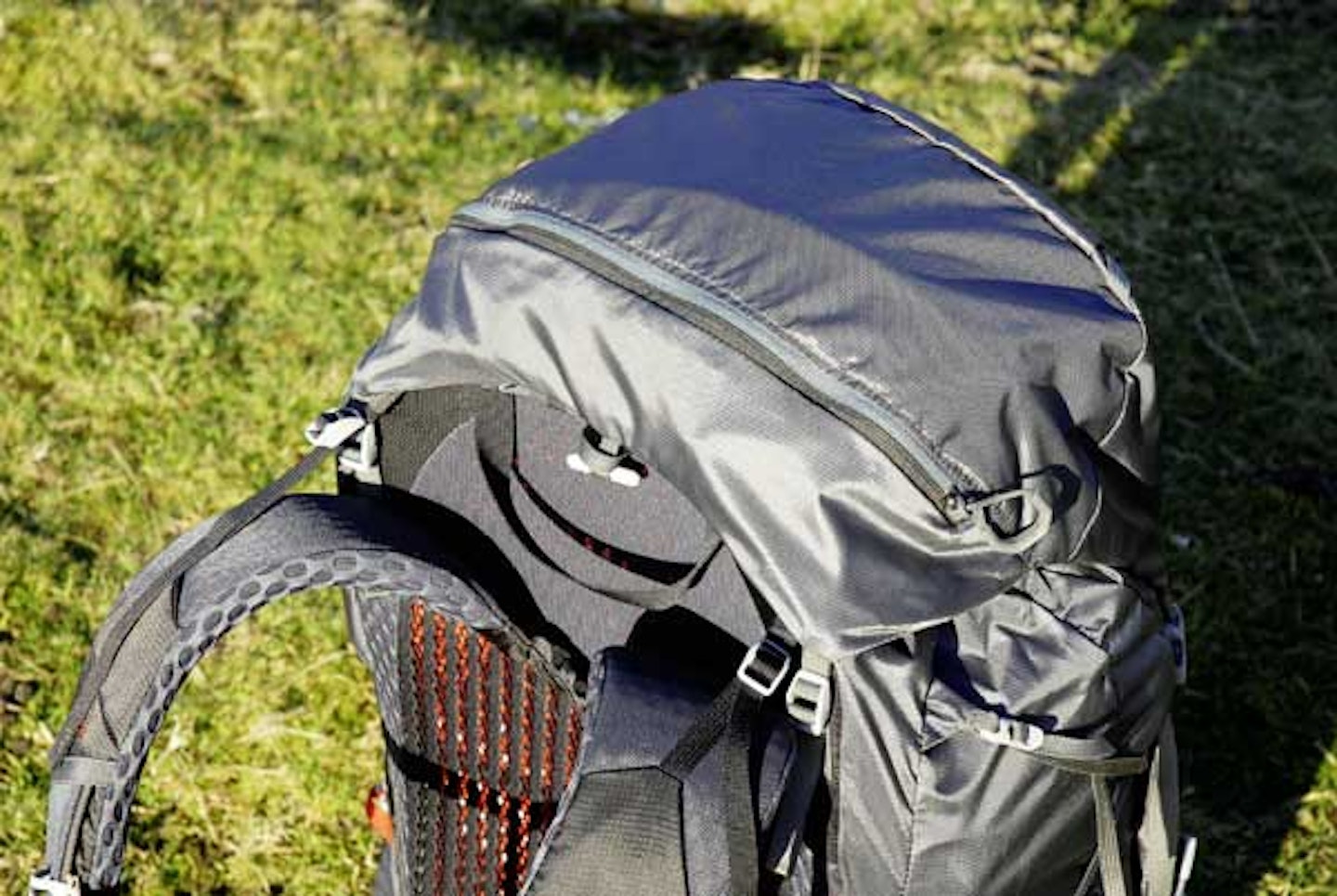 My main whinge is the exact same one I have with most packs with floating lids, in that you need to take care to ensure the lid doesn't drop forward when it is packed only half full. If you remove your waterproofs, for example, the result can be that the lid drops forward, or sideways, and may let water creep into the main compartment unless you are careful about adjusting the lid buckles.
The price tag of £185 does place this at the top of the league for rucksacks of this capacity, though, with sacks such as the popular and similarly designed Osprey Exos 48 weighing just 1190g and carrying a lower price tag of £130.
Or you could get a Gregory Stout 45 (See Trail September 2017) for £115 that weighs 1337g and is designed for loads up to 18kg, although it's made of polyester rather than the more durable nylon used on the Optic or Osprey Exos. It also doesn't have the airflow across the back of more expensive, lighter designs.
So, overall the Optic is an excellent lightweight pack with all the comfort and performance that Gregory is known for. Yes, the floating lid does irritate me a tad, and the price tag is challenging when compared to other options out there. So if you can live without its benefits you can save cash pretty easily.
All in all, if you want the strong and stable performance that Gregory are known for in a lighter design then this won't disappoint.
VERDICT
An overall excellent performance from a lightweight design, but the price tag makes it a considered purchase when compared to other rucksacks of this capacity.
Features 4/5
Fit 5/5
Comfort 5/5
In use 3/5
Value for money 2/5
OVERALL SCORE 88%