A high-quality, durable duffel bag can last a lifetime. However, bombproof construction isn't everything. Most big travel bags sorely lack organisation, and their cavernous main compartments inevitably descend into chaos. This is the problem that Db are determined to solve with the Roamer Split duffel.
Norwegian travel gear brand, Db, specialise in bags and packs for people who carry a lot of varied kit. Db's bags aren't as lightweight as hiking packs, but they're far better for organisation. Heavily endorsed by our photographers for their highly protective, compartment-heavy, clamshell tech organiser.
Lately, Db has been making a splash in the outdoor world for all the same reasons. The Roamer Split duffel is fantastic for keeping clean clothing away from muddy trail running shoes or snowy crampons. Plus, it looks cool as heck.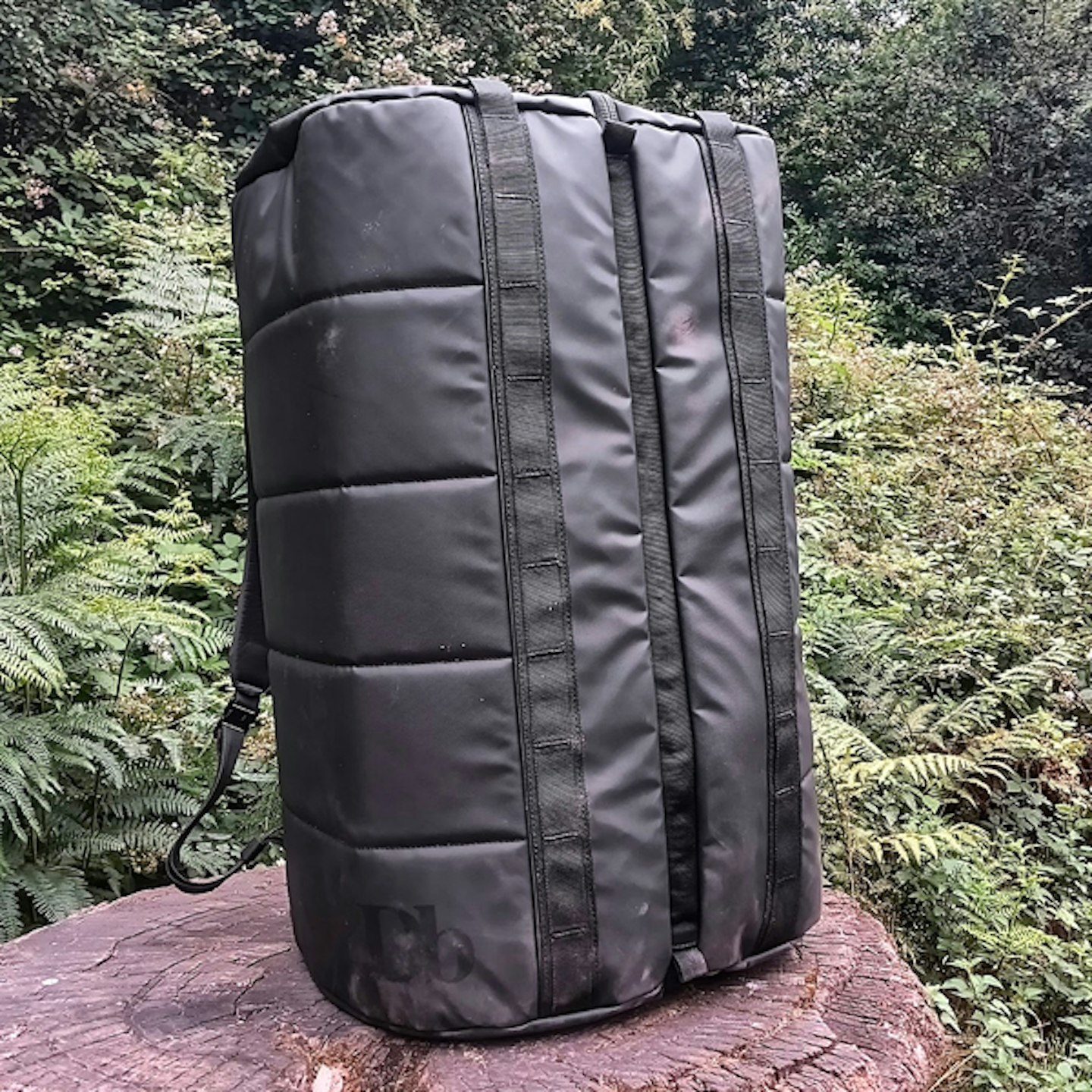 Live For The Outdoors
Pros
Excellent organisation
Adjustable shoulder straps
High capacity
Durable construction
Cons
Can't be packed down in storage
Tempting to pack too much heavy gear
Design and features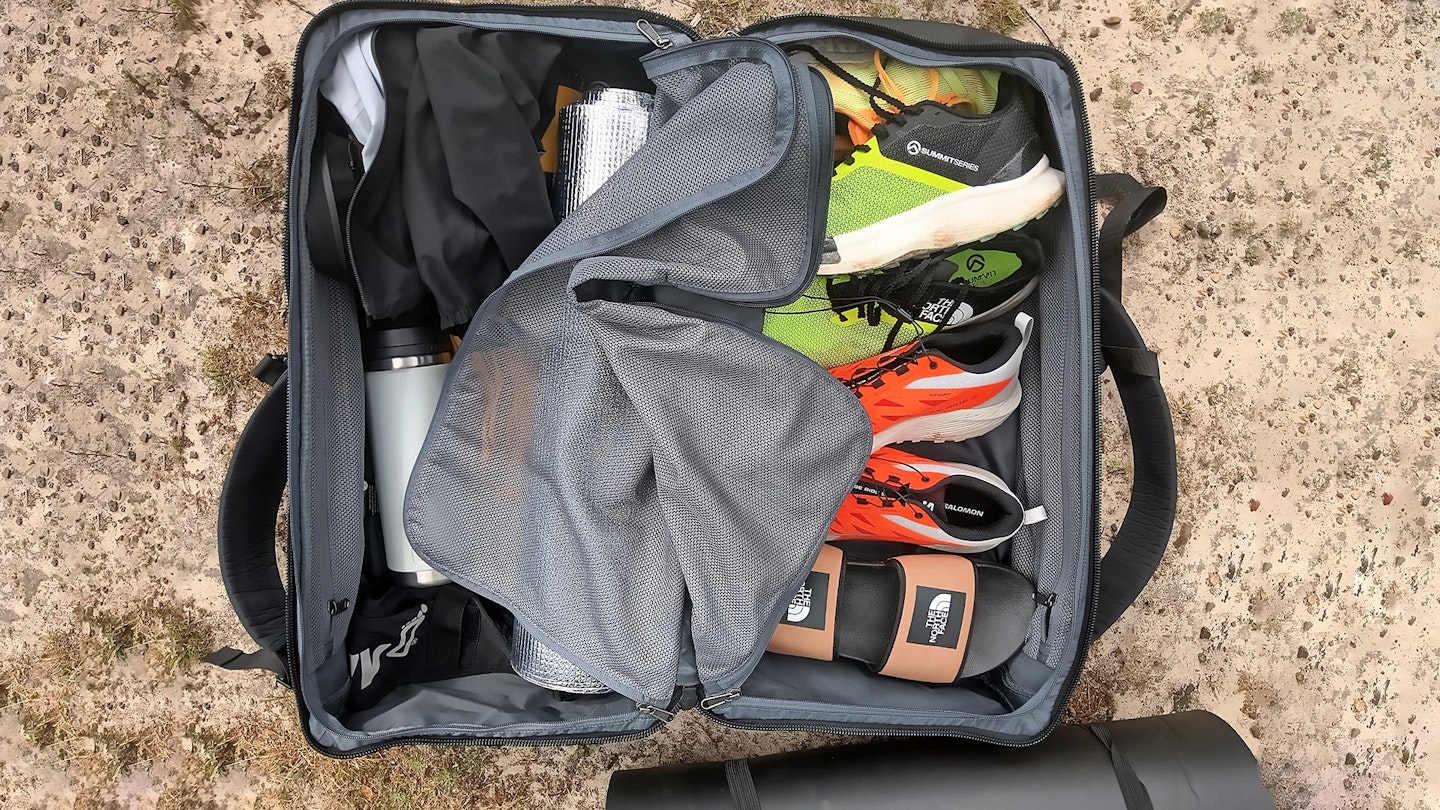 The star of the show here is obviously the split levels. When you unzip this duffel, it opens up like a big rectangular hot dog. Two equally roomy compartments lay flat, each with a strong mesh cover which zip over the top once you're packed. This layout is ideal for keeping gear and clothing separate. Or, for simply separating your clothes into dirty and clean sections over a long trip.
Pockets
You'll also find two convenient pockets within one of the large mesh covers. One sleeve is big enough to slip in a laptop or even a waterproof jacket. The smaller pocket is perfect for sunglasses, multi-tools, or anything else you may want quick access to.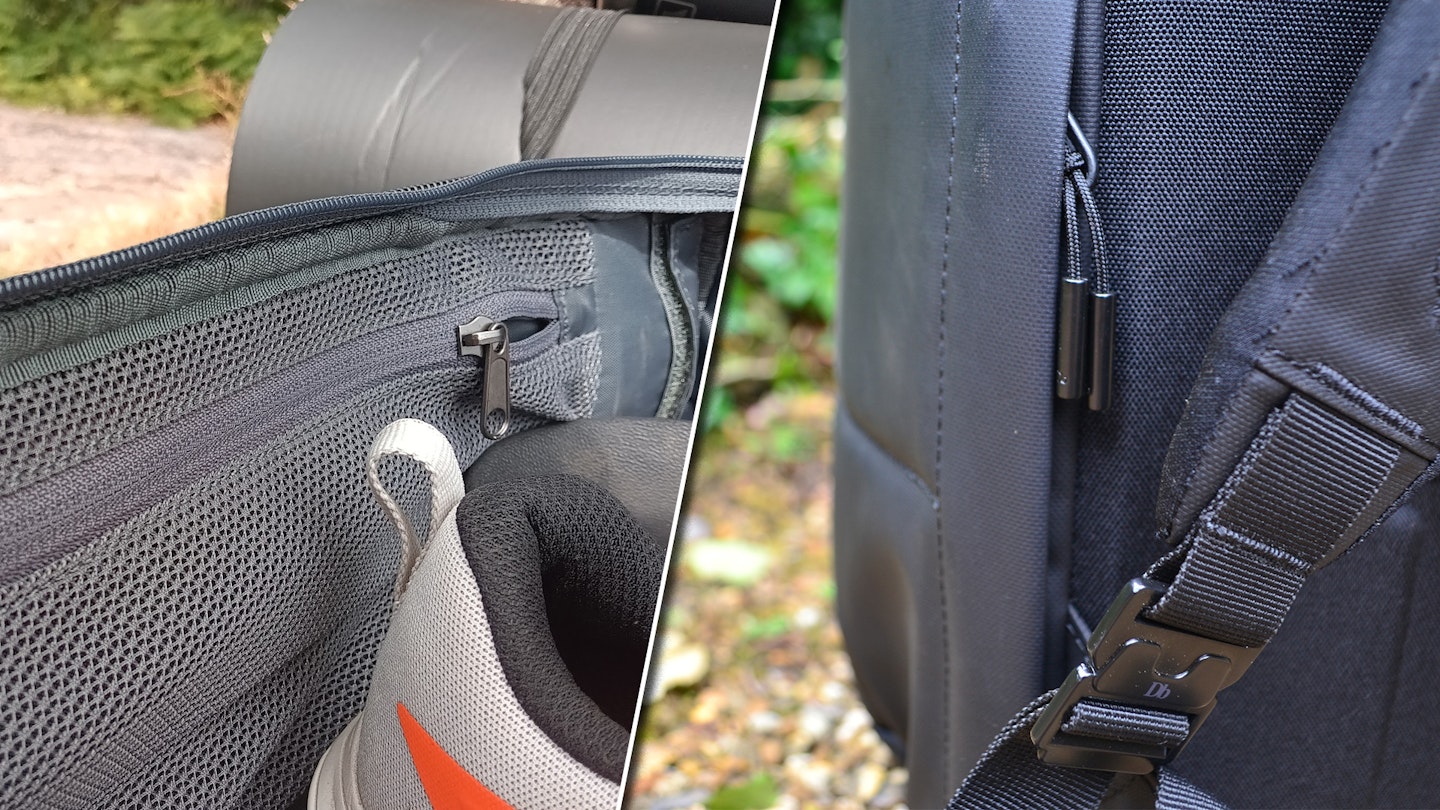 Each compartment is also lined with full-length zip pockets capable of storing hard-to-pack gear like hiking poles. They're about the length and width of an XL Toblerone from duty free. Finally, the coup de grâce, an impressively hidden pocket is accessible from the outside of the duffel. This is such a welcome feature for travel days when you want to keep your passport and wallet close by.
Construction
One design aspect that we've come to appreciate more and more is Db's patented Rib Cage construction. The Roamer Split literally has ribs running across it made from a durable and lightweight polymer called ABS. This skeletal structure ensures that the duffel holds its shape even when empty. We've found it surprisingly useful to have a freestanding backpack that never ends up with a big awkward bulge out one side.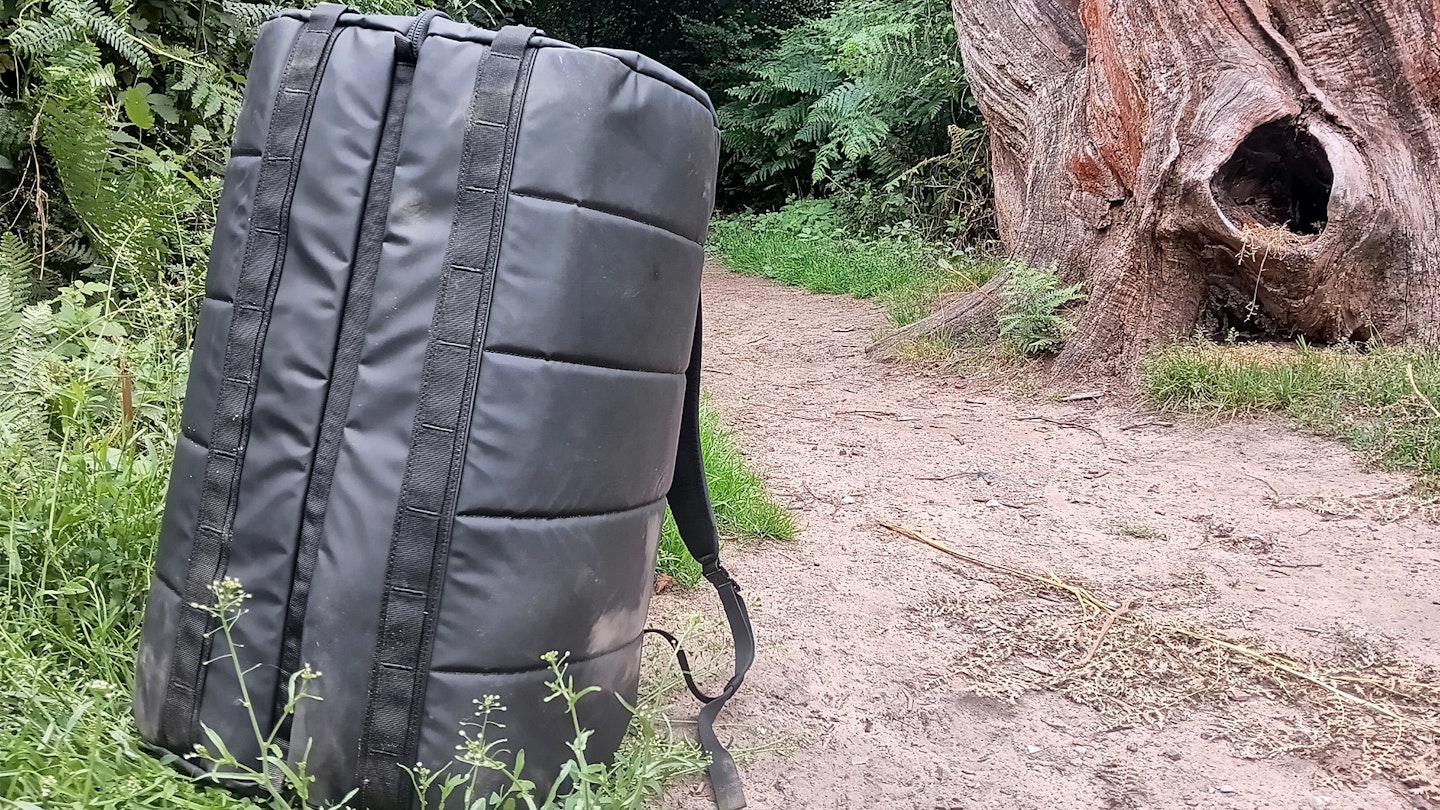 We're also fans of the backpack/duffel hybrid concept. Many duffel bags can be slung over your shoulders, but very few are built for this very purpose. The straps are reminiscent of a hiking backpack and fit comfortably over your shoulders. Plus, an additional sternum strap and two load adjusters at the top and bottom help find your most comfortable balance. The ribcage structure also helps the Roamer keep its shape and rest consistently across your back.
Performance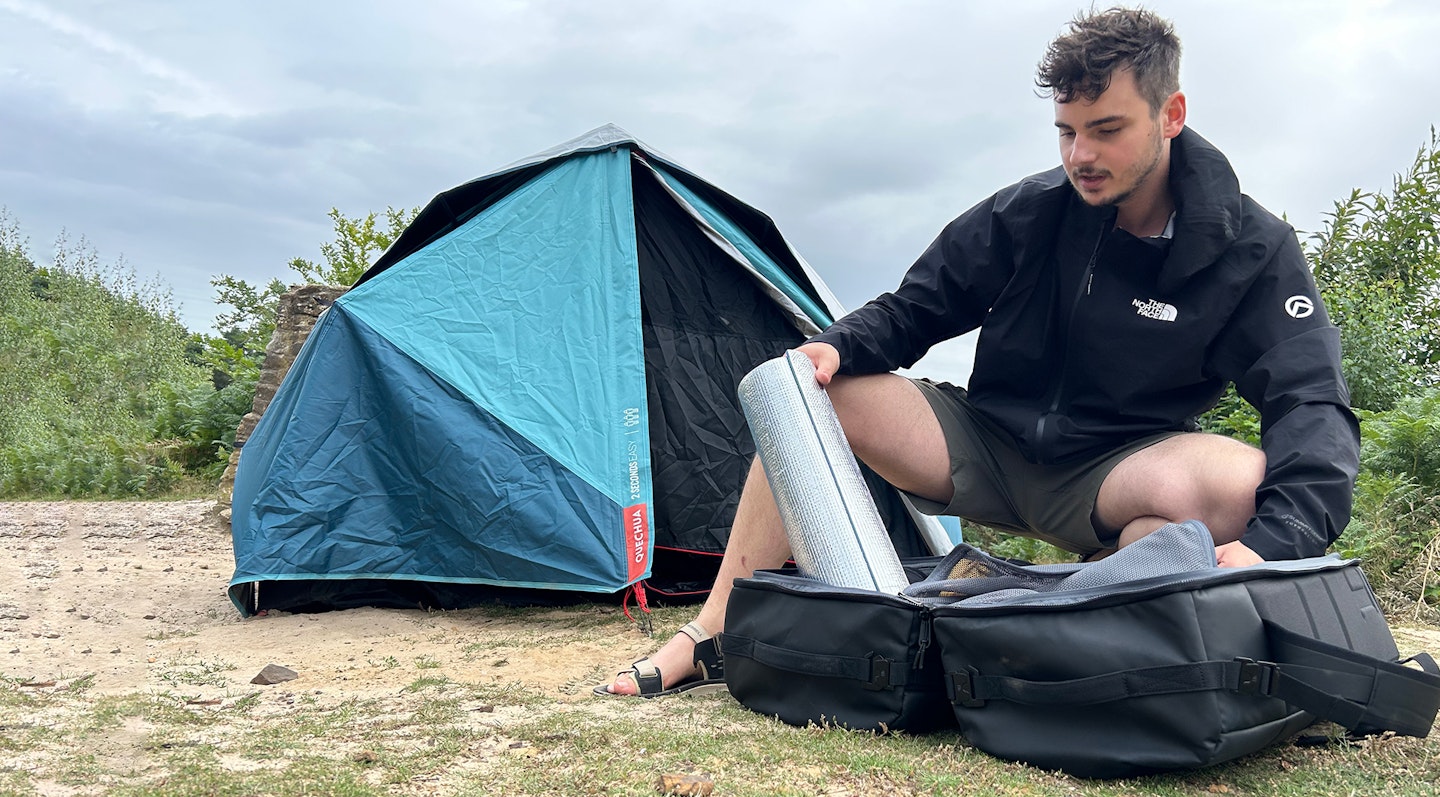 The Roamer Split duffel ticks a lot of our boxes. A lot of technical gear bags can end up being a bit too niche; there's nothing more annoying than having a big piece of kit that almost fits into a stiff compartment, but doesn't quite. Db opted to keep everything as large and wide-ranging as possible here. The result is a bag that's as fit for a weeklong ski trip as it is for an all-summer luxury cruise.
The fact that both compartments hold their shape when unzipped means it's very easy to gauge exactly how much will fit and how best to arrange your stuff. We all love a bit of Tetris!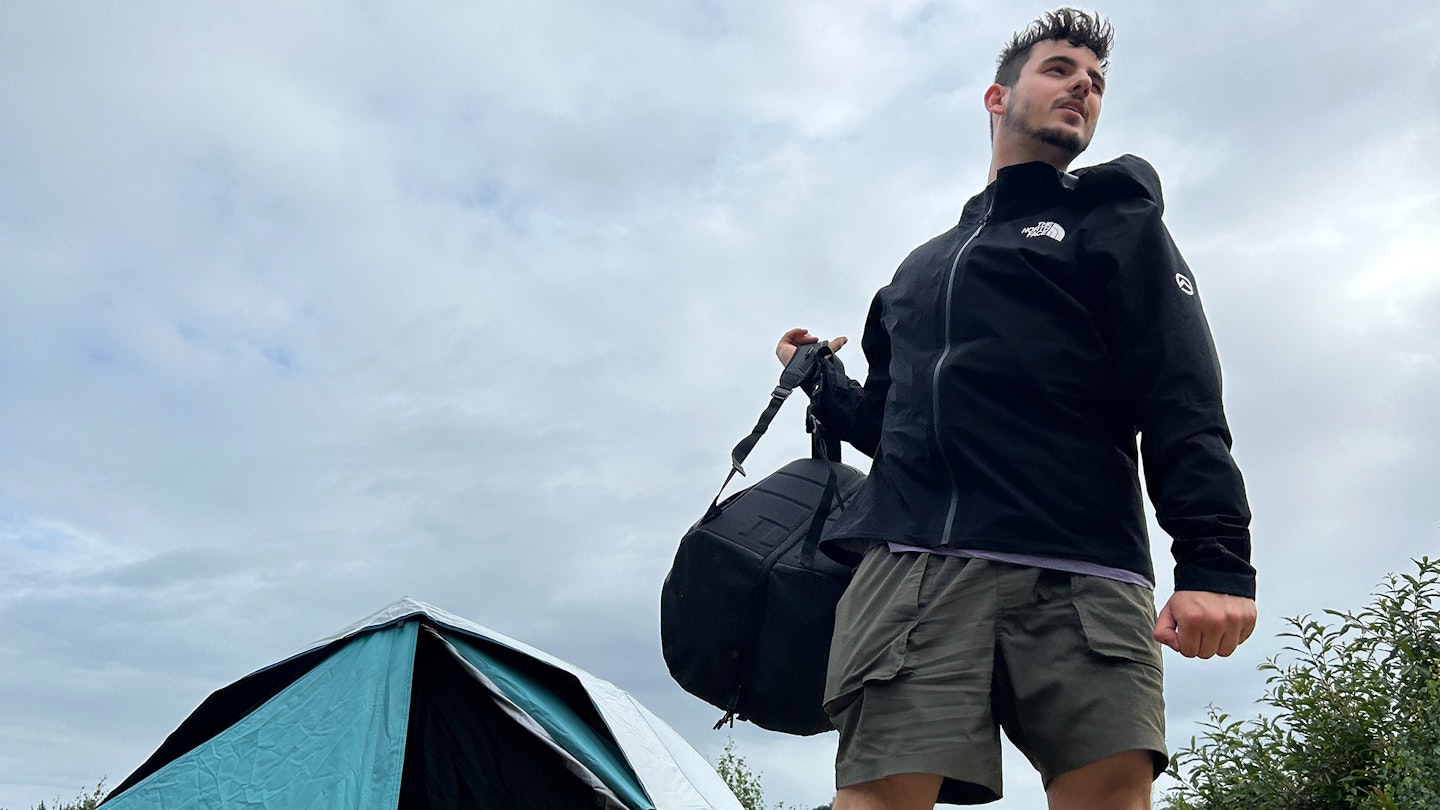 The secure mesh covers mean that if you start off organised, you'll be able to stay organised for your whole trip.
We also found the Roamer Split to be as rugged as the brand promise. This is a bag that we feel comfortable hurling into the back of a car – laptop and all. We'll also plop it down on pretty much any terrain without fear of tears or rips on the bottom panel. The outer material is very tough, which does come at the cost of some chunkiness.
Wearability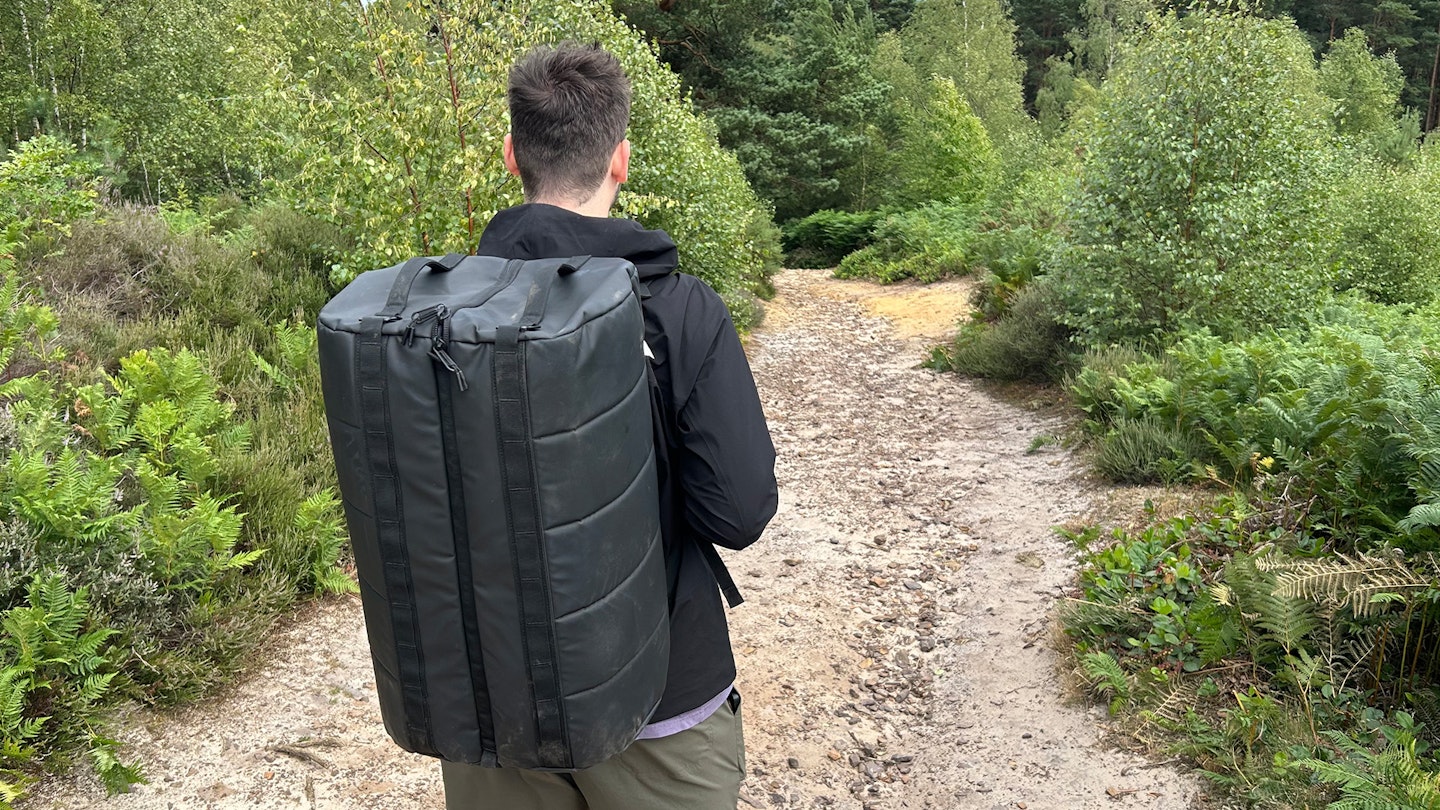 In a similar vein, while this duffel's shape-holding properties are generally a positive, we did find it slightly unwieldy at times. It's not the easiest thing to whip off your back and open for one or two little items – unless you have a decent amount of floorspace.
The shoulder straps, like the rest of the bag, look sleek and fit relatively comfortably. Our one wish would be for a bit more padding, but this only becomes an issue when you've packed in a lot of very heavy stuff. Which isn't difficult.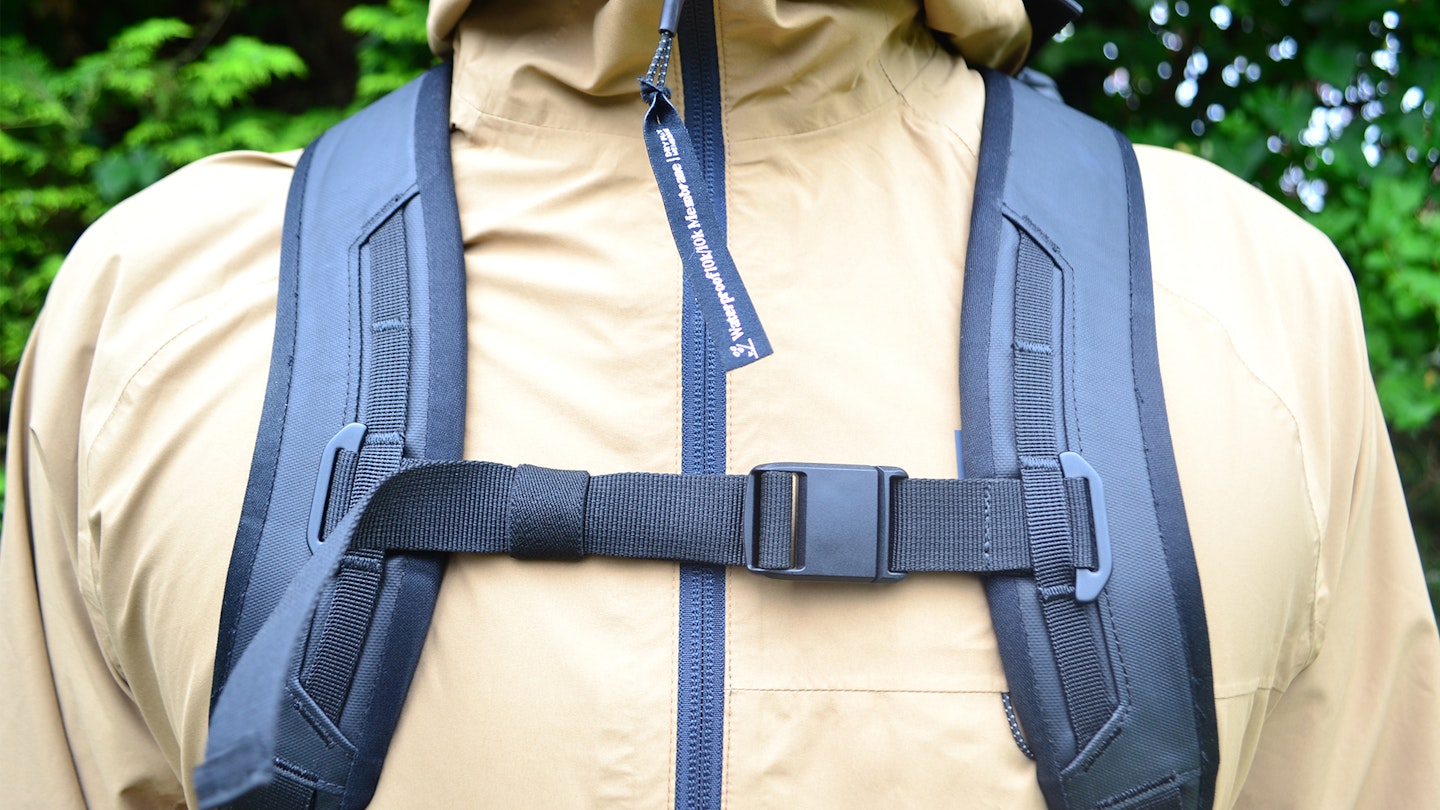 At 70L capacity, you could cram a whole vintage market's worth of clothes in here. And, if you did, it'd be easy to carry the Roamer Split for hours on end. However, the high capacity and tough construction does mean that you can get a staggering amount of weighty gear inside, so pack with caution to avoid back ache. The sternum straps are a big help with heavy loads.
Sustainability
Db are a fairly new company, and they are extremely transparent about their sustainability efforts. This includes discussing their shortcomings, which is actually nice to see from a growing brand that hasn't yet streamlined its production as efficiently as bigger powerhouses. That said, the Roamer Split duffel is constructed with 100% recycled nylon as its main material. The lining is also GRS certified and PFC free, the second most common material is polyester.
In fact, even the foams that form the ribcage use Recycled Polyethylene, giving this bag a decent amount of eco-credit, even though Db's material production still accounts for the majority of their CO2e emissions. It's also worth noting that this bag is likely to last for many years, which does make it a more sustainable choice than something less rugged.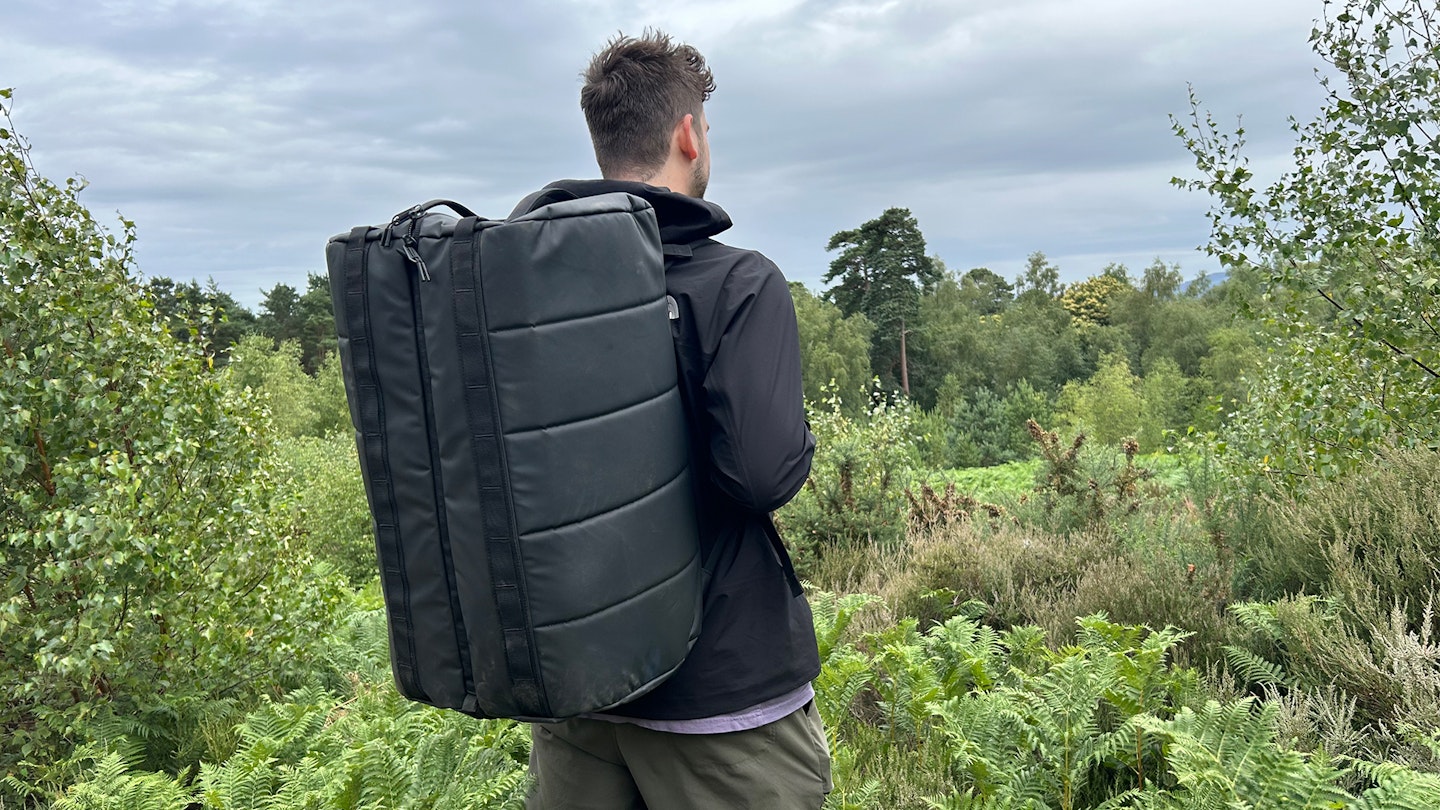 Price and competition
At time of writing, Db's Roamer Split costs £240.42. It is not a cheap duffel. But, echoing our point about sustainability, it is likely to be the only duffel you'll need for a very long time. That's due both to its durability but also the Split Roamer's versatility. There are so many different adventures which this duffel is ideal for, though you'll still get a lot of mileage out of the less expensive 50L version.
Plenty of duffels will do a fair bit less but for a lot less dosh. Something like the Vango Cargo 60 has a comparable (though still smaller) capacity, but can't even be slung over one shoulder, let alone function as a backpack. Ortileb offer an immense 110L duffel, but anything in the bottom half is virtually inaccessible unless you dump the contents.
The only other duffel we recommend that is more expensive than this one is the Osprey Rolling Transporter 120. Its capacity is mad, the construction is very durable, but it won't last 10 minutes on a muddy campsite or rocky trail, so if you're looking for something that can come with you anywhere you go, the Roamer Split is your best bet.
Verdict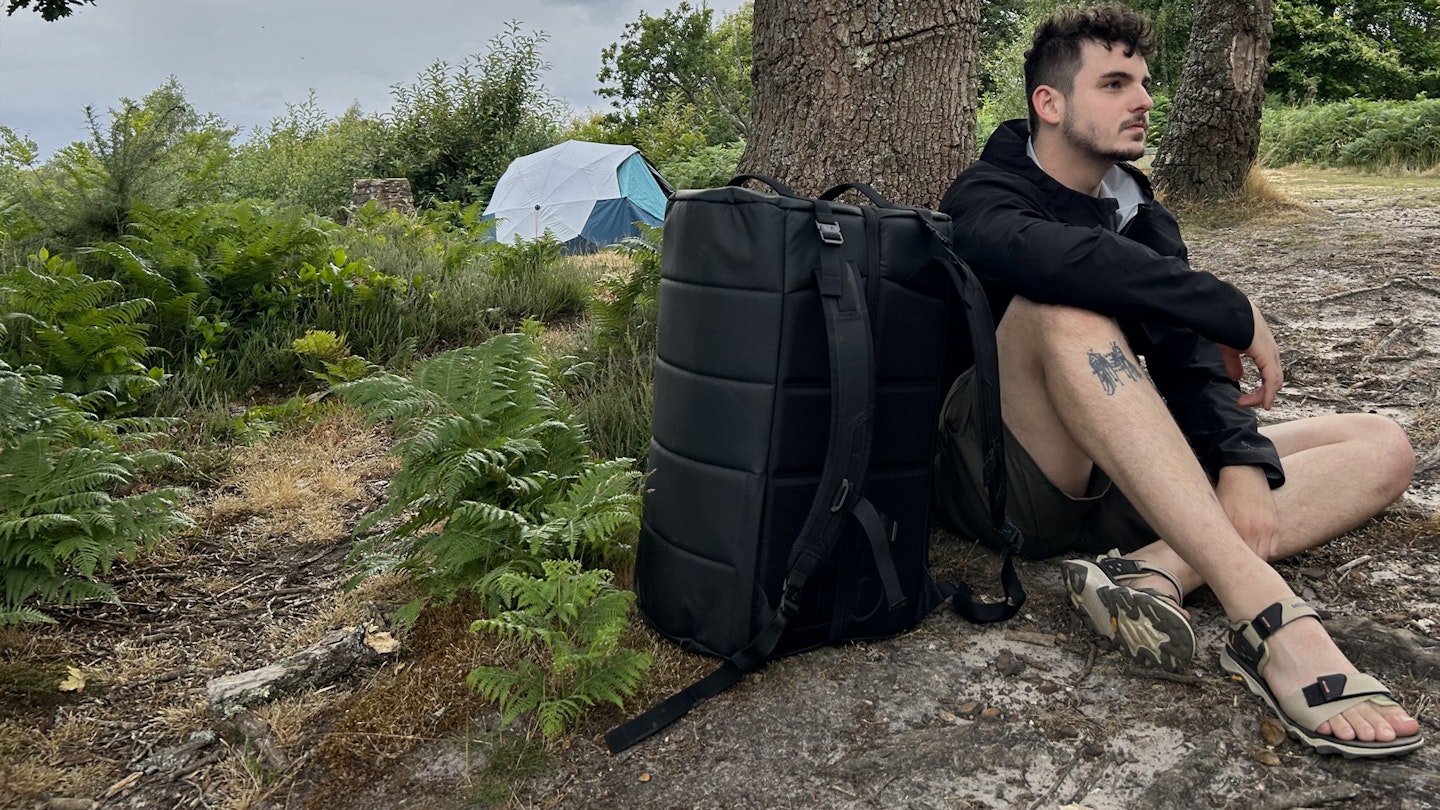 Db's Roamer Split Duffel is an excellent choice for anyone who values organisation while on the move. It's versatile and smartly designed to keep your gear and clothes protected and separate, while also ensuring that your essentials are nearby.
We like the 70L option for mid-long casual trips or slightly shorter excursions that require a lot of gear. Because the design is so unique and attractive, we can also see the 50L and 90L options working great for bigger or smaller adventures. This mid-range option has enough capacity to rival a four-wheeler suitcase, and is a heck of a lot easier to carry on cobbled streets or trails.
How we tested the Roamer Split
Our devilishly handsome reviewer, Milo Wilson, has just returned from a gear testing voyage in Annecy, France. This duffel was his one and only bag for the trip. He packed light on the way out, knowing that he was going to receive a pair of shoes to test – but he was caught off guard when presented with three pairs of shoes and an armada of running t-shirts, shorts, hydration packs, and jackets.
Luckily, the Roamer Split had no trouble accommodating the influx of gear, and our tester was able to zip around the mountains with an extra week's worth of active wear and 9(!) extra shoes without a hitch. He was also thrilled to be able to stand with his shoulders unburdened next to the free-standing split roamer, and slowly nudge it forward with his foot through jumbo-sized queues at Geneva airport.
Testing and reviewing outdoor gear was Milo's first job after graduating with a degree in creative writing in 2021. He's never looked back.
Get half-price digital OS Maps. Trail and Country Walking magazine members get 50% off an annual subscription to OS Maps for 12 months. Find out more here.
Don't forget to subscribe to the Live For The Outdoors newsletter to get expert advice and outdoor inspiration delivered to you inbox!