A versatile piece that you can rely on in a surprise weather-ambush. The Shroud Hooded Jacket has earned top-spot in the Trail Gear of the Year awards.
This offering from Mountain Equipment intrigues us. It demonstrates the potential for fleeces and common mid-layers to strike out as stand-alone gear. The Shroud is an exceptional insulation layer with a slew of handy features. the adjustable hood provides great wind and rain protection, and we're big fans of the spacious pockets.
Much like a grandad, the shroud is tough on the outside, but warm and fuzzy on the inside. It's this impressive dynamic that makes this one of the best hiking mid-layers for 2023.
The Shroud Hooded Jacket in Detail
Mountain Equipment describe this jacket as an "exceptionally warm technical layer", suitable for active use in severe conditions. Here's your outdoor-gear-jargon word of the day: Cycloknit. That's the name of the Shroud's main material; a grid-like structure of fleecy rectangles manufactured by one of the brand's Taiwanese partners. This fabric blurs the line between soft shell and fleece, combining a densely-knitted 'hard face' outer with a high-loft fleecy inner. The end result? Wind and weather resistance on the outside, warmth and comfort on the inside – the best of both worlds.
In particular we loved the added toughness of the face fabric. It imbued us with extra confidence in poor conditions and elevated the jacket to a higher level of performance. Alongside Cycloknit, lighter and lower-bulk Pontetorto Tecnostretch fleece inserts complete the 'zoned' construction, improving overall freedom of movement. Features include an elastane bound hood, YKK full-length front zipper, two zippered hand pockets and a Napoleon chest pocket.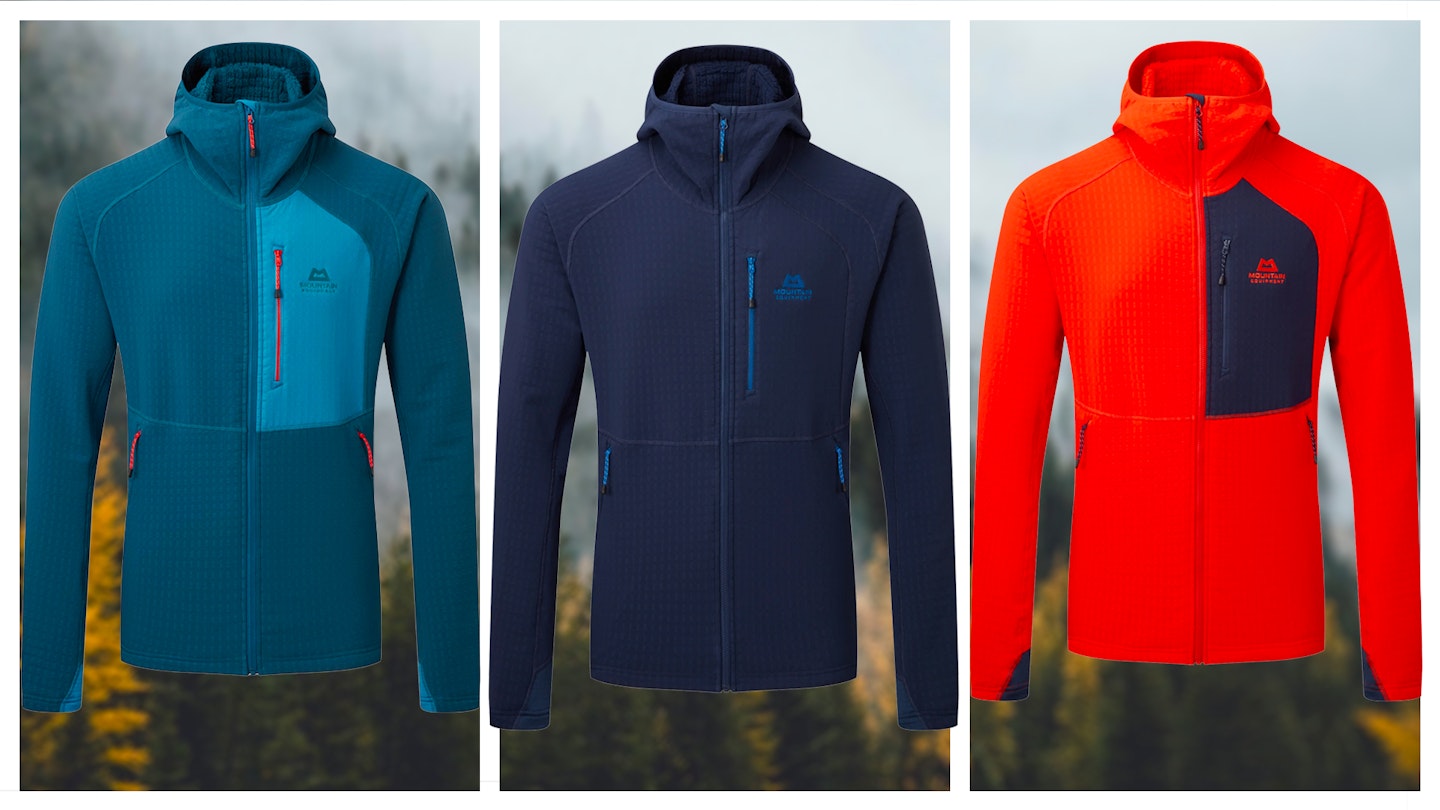 Our Three Favourite Things
Versatility
This technical, high-performing fleece is good at everything. Simultaneously, it's tough and warm enough to be used as a standalone outer, yet also sleek and fitting enough to be worn as a mid layer underneath a hard shell. It's an impressive balancing act. This sets it apart from many other fleeces, which are often either too boxy and chunky for use as a mid layer, or too thin and not warm enough for standalone use.
Zoned construction
Often, brands construct their jacket from one material used across all parts of the upper body. The problem with this is that the materials aren't bespoke to the needs of each individual body part. You may need more stretch and flex in the materials across your sides and under-arm, for example, and of course you've gotta keep that core warm. Excitingly, Mountain Equipment have solved this dilemma with zoned construction. The Shroud boasts a tough, insulating chest and core in addition to some stretchy, breathable fabric under the arms. We love this approach.
Protection
Most fleeces are neither windproof nor wind-resistant, and thus need to be paired with a windproof outer layer – such as a hard shell waterproof – in blustery conditions. This can often be a real inconvenience. The Mountain Equipment Shroud Hooded fleece jacket, however, keeps out plenty of wind, rain and snow courtesy of its Cycloknit material, which is akin to a 'hard face' outer. It's not quite as protective as a double-weave soft shell fabric, but it's not far off.
Trail Gear of the Year 2023 Winner