HOODS
The hood should fit your head snugly so it does not blow off, but also it must move with your head so you can see where you are going. The hood peak may become bent when the jacket is stashed in a rucksack, so look for a wired peak that can be easily reshaped to allow good vision even in the wind. Lower priced jackets generally have hoods that don't fit or move so well with the head and often lack wired or stiffened peaks.
FABRICS
On the high priced jackets you can expect to find that the fabrics used are the most waterproof and breathable available. In contrast lower priced jackets generally have fabrics that are less breathable and may be less durably waterproof in the long term too. Materials described as 2 layer will more clammy than those described as 2.5 layer and these will in turn be more clammy than a 3 layer fabric or any jacket with a loose lining.
ZIPS
Normal zips used on jackets are not waterproof so they are normally covered by an external single or double storm flap. Water resistant zips are commonly used on high priced jackets but these are not waterproof either. As these zips may leak, they are often fitted with an internal flap that is designed to channel away any water than enters this area.
POCKETS
Big pockets are great for storing maps, guide books and gloves, but they can also be used to protect your hands from wind and rain. Rucksack belts obscure access to some pockets so make sure they are well positioned to avoid this problem. Lower priced jackets often have pockets that are not easily accessed while wearing rucksacks.
VENTILATION
Even the best waterproof and breathable fabrics allow condensation to form, so it is important that you can increase ventilation of the jacket. A front zip can be used for venting, as can under arm zips, also called pit zips, while mesh linings in pockets can also increase airflow through the jacket. However, mesh pockets may also allow water to pass through the jacket.
SALEWA PUEZ 2 POWERTEX 3L £225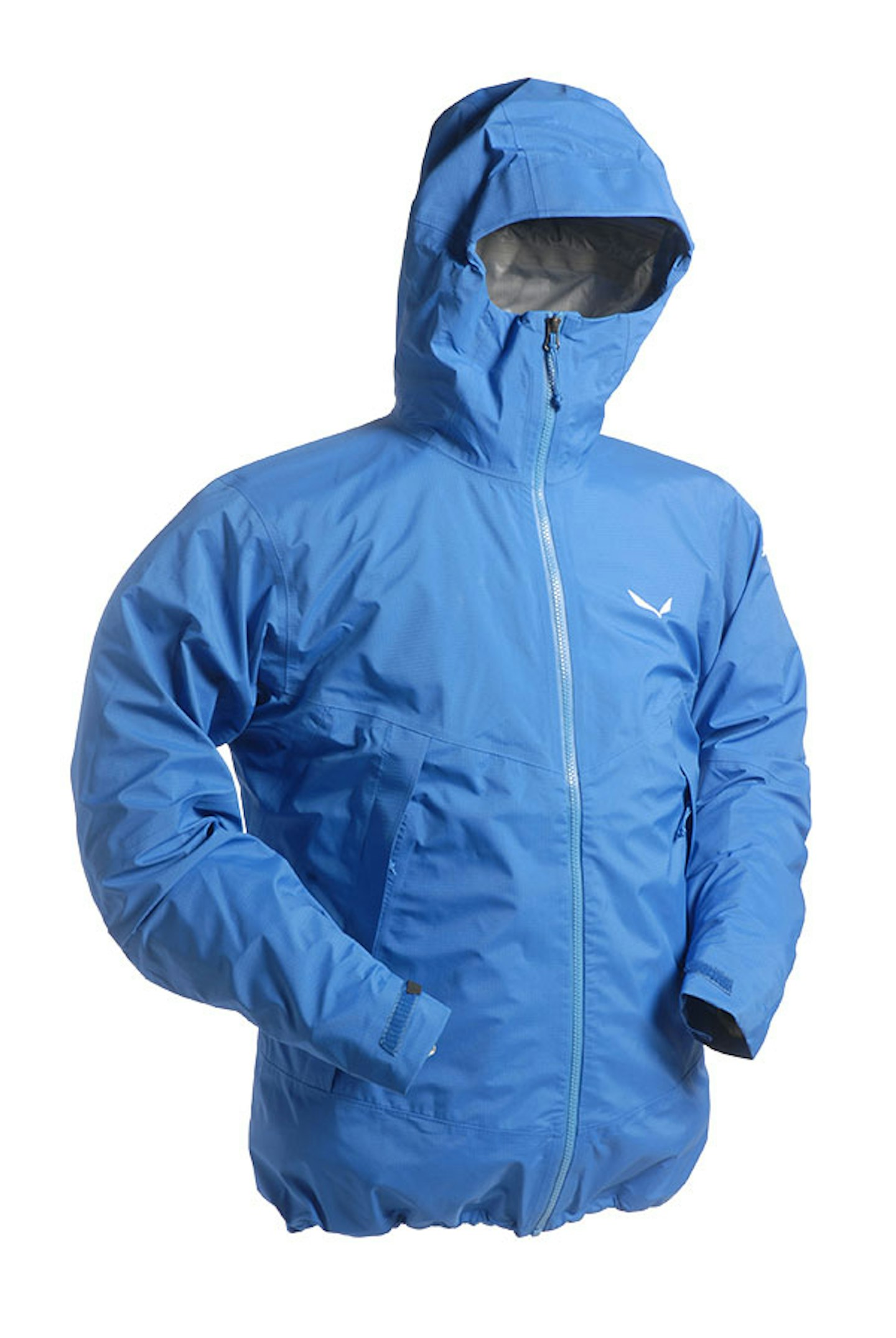 Materials 3 layer Powertex Performance Ripstop Eco DWR
Sizes S-XXXL (men's); n/a (women's)
Weight 411g (size L)
IT'S GOOD
What sets this jacket apart from many others is the lower weight while still providing the core features a hillwalker needs. So you get a jacket made from a 3 layer laminate like others here but it has a thinner construction so it is more supple and lighter. You get two good chest pockets like other jackets too and these are easily accessed above a rucksack belt and they easily take an OS map. The hood has a wired peak and it fits nice and close and moves with the head better than most. The body is not the shortest either so you get a little more protection around the bottom and groin than some.
HOWEVER
This jacket does lose some nice to have details. Firstly the sleeve movement is not quite the best, so you get so the cuffs tend to ride up a little more than the higher priced jackets here. Also there is no third external chest pocket. Then it is worth noting that this thinner material does feel a little colder as it tends to compress a little more than stiffer fabrics, so this is not the best for winter walks. The fabric is probably going to be slightly less durable than a heavier jacket but that should only concern the hardest of users, as for most walkers this is easily durable enough. Also there is no womens version.
VERDICT
A superb hillwalking jacket if you want something slightly lighter and don't need the best sleeve movement or a third external chest pocket.
Features 3/5
Weatherproofness 5/5
Condensation control 5/5
In use 4/5
Value for money 4/5
OVERALL SCORE 84%
ALPKIT DEFINITION £229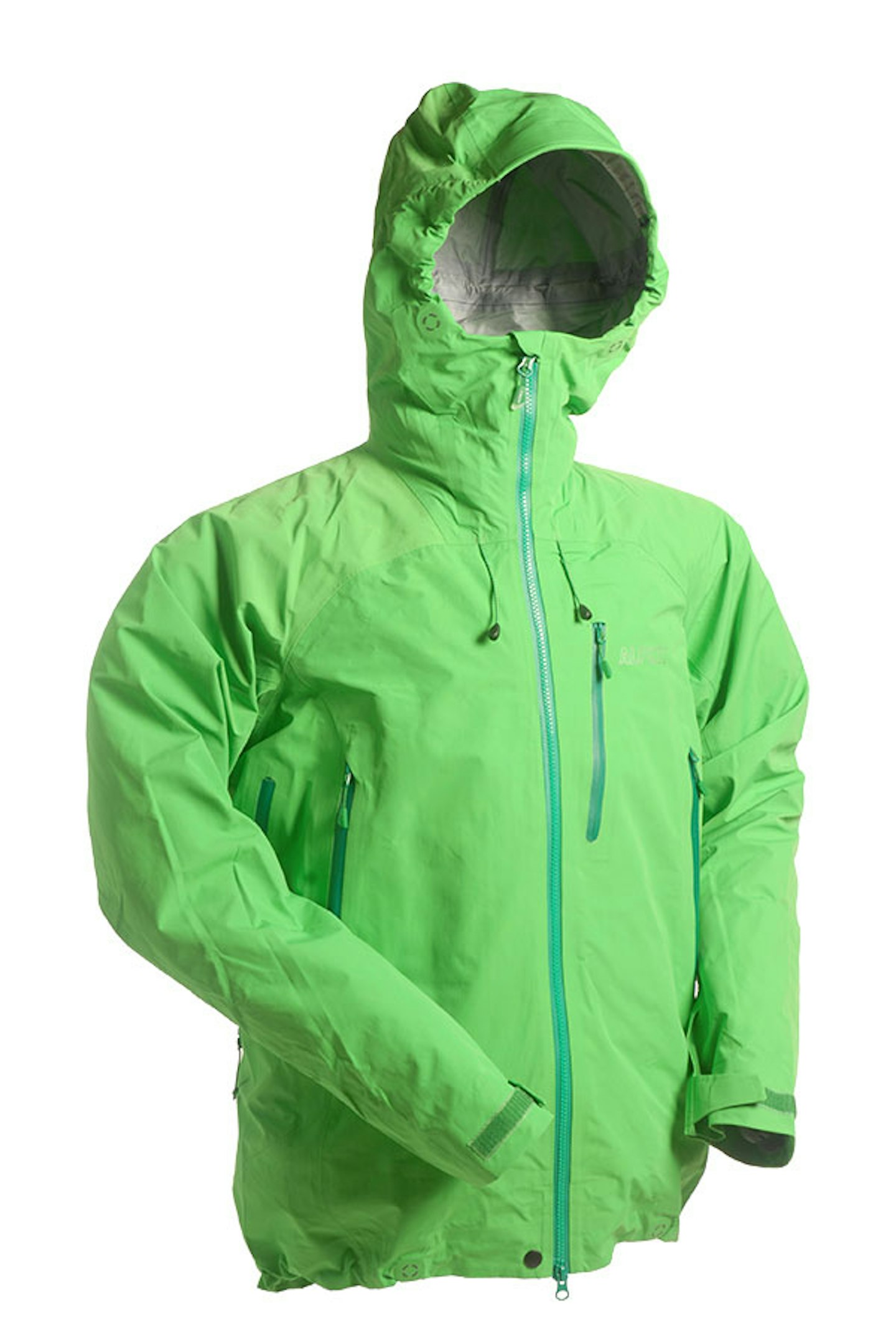 Material 3 layer laminate with nylon face and PU/PTFE membrane
Sizes S-XXL (men's); 8-14 (women's)
Weight 562g (size L)
IT'S GOOD
Like all Alpkit gear the Definition is extremely well priced for its features. It's made from a layer laminate like other jackets here and the material is also nice and stiff to resist battering winds. The fit is quite close particularly on the sleeves, but you can still easily raise your arms without the cuff or hem riding up during scrambles. The hood fit and movement is also exceptionally good and it has a wired peak too making it ideal for hillwalking. There are two main pockets plus a third Napoleon chest pocket and all these are easy to access while wearing a pack. You even get pit zips for extra ventilation.
HOWEVER
The third chest pocket is smaller than others and while its useful for a GPS receiver or phone it is not ideal for a map or even many guidebooks and this really lets this jacket down. The body is not the shortest but its not the longest either, so if you want a longer design others are better. Mountaineers may want an even more durable jacket with extra reinforcement but walkers will be fine with this as it is. If you did pay a lot more you can get jackets that have even better breathability and they may also be lighter but again only those in need of the absolute pinnacle jackets need bother.
VERDICT
The Ladakh GV offers a solid reliable performance that for many hillwalkers will mean they need look no further but some others have small worthwhile benefits.
Features 4/5
Weatherproofness 5/5
Condensation control 5/5
In use 4/5
Value for money 4/5
OVERALL SCORE 88%
RAB LADAKH DV £275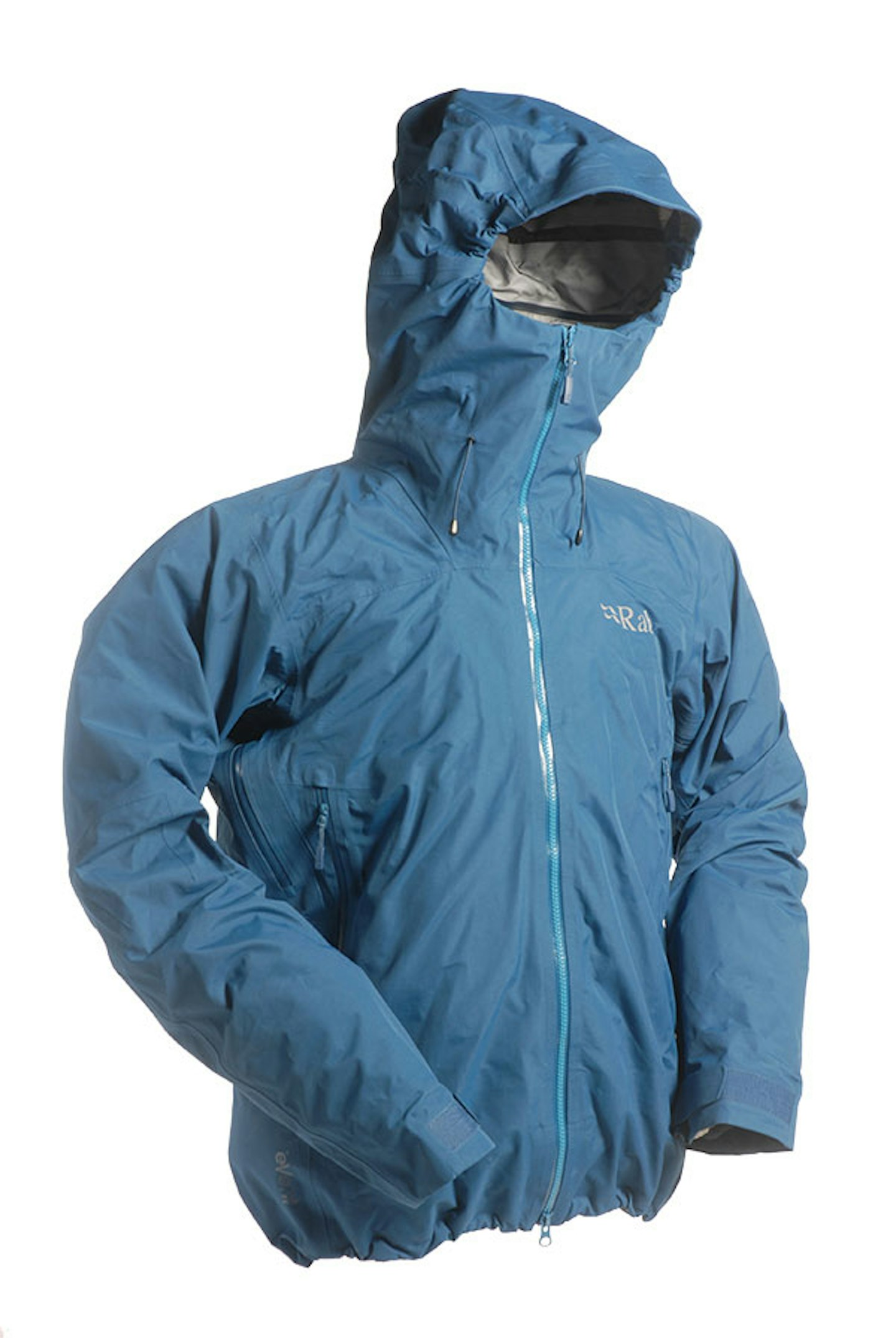 Material 3 layer Event
Sizes S-XXL (men's); 8-16 (women's)
Weight 561g (size L)
IT'S GOOD
It is built with 3 layer Event so you get top quality condensation control and durable waterproofness. But importantly this is quite a robust fabric, so it blocks the wind without buckling an important benefit for colder and winder mountain days, and also it's more durable than lighter jackets. The fit is slightly shorter than some options but fairly typical of modern jackets and the sleeves and hood fit particularly well. Waist and hem drawcords lock out draughts and you get good cuff and hood adjustment. The hood has a wired peak and turns effortlessly with the head. There are also pit zips for venting and a pair of huge chest pockets.
HOWEVER
You do only get two external chest pockets as there is no third Napoleon style pocket for a guidebook, map or GPS receiver, although there is an internal Napoleon chest pocket inside the main front zip. It's also quite a heavy jacket compared to what is available so if weight is your priority there are others to consider. It does have pit zips which you may not want and finding a jacket without them would lower weight and price, the two main factors that are drawbacks with this jacket. Some jackets are slightly longer and if you don't need a helmet compatible hood then others would suffice. So for some users it may be worth looking elsewhere for design details that better suit your personal preferences.
VERDICT
The Ladakh GV offers a solid reliable performance that for many hillwalkers will mean they need look no further but some others have small worthwhile benefits.
Features 4/5
Weatherproofness 5/5
Condensation control 5/5
In use 4/5
Value for money 4/5
OVERALL SCORE 88%
BERGHAUS EXTREM 500 VENTED £280
Material 3 layer Gore-Tex
Sizes XS-XXL (mens); 8-18 (womens)
Weight 584g (size L)
IT'S GOOD
This was new for 2018 and is an updated version of the Extrem 5000 that sees the addition of pit zips for improved ventilation when working hard and not wanting to remove the jacket due to wind or rain. It is made from 3 layer Gore-Tex so it is top of the breathability and waterproofness rating. Importantly it is also a little longer than some other jackets around the price point and that meant for me it protected my groin and bottom far better than some other jackets. Also you get a huge third external Napoleon chest pocket in addition to the two main chest pockets. The hood is stunning with a wired peak and excellent fit and movement while also being helmet compatible.
HOWEVER
Adding the extra length and chest pocket has added a few grams so this is a little heavy compared to some. Also there are of course lower priced jackets if you don't need all those features and the more heavy and robust 3 layer Gore-tex that is used here. If you were to spend more money then you would get even better condensation control and perhaps a lighter fabric but apart from that it is really hard to see why you would pay more to be honest. For me this is pretty much an ideal jacket for harsh mountain walking trips if you can accept the weight and price tag.
VERDICT
For this price band it is hard to find a fault with this jacket making it ideal for those who don't want to break the £300 price barrier for even better performance.
Features 5/5
Weatherproofness 5/5
Condensation control 5/5
In use 4/5
Value for money 4/5
OVERALL SCORE 92%
PARAMO ALTA III £295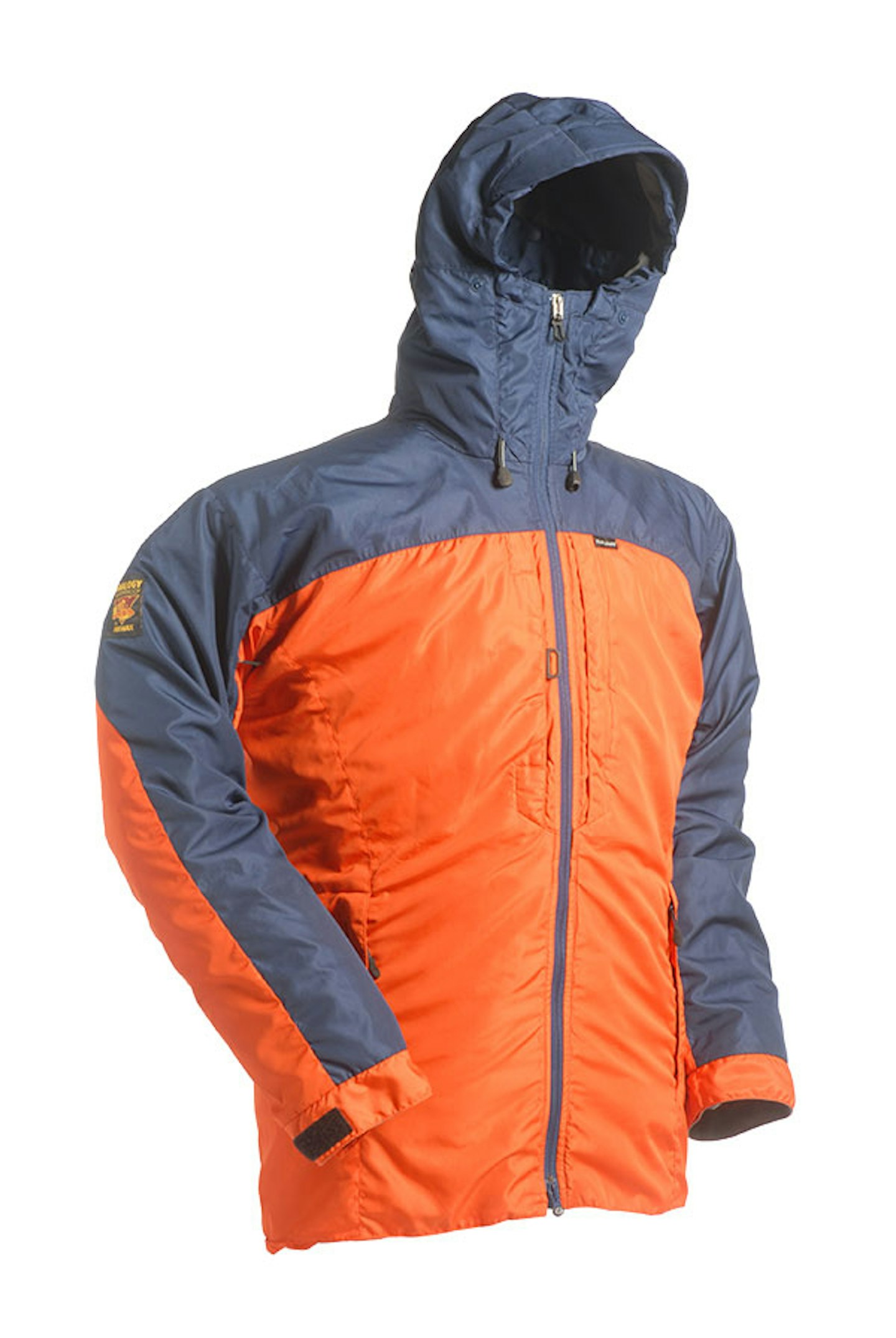 Material Nikwax Analogy
Sizes S-XXL (mens); XS-XL (womens)
Weight 832g (size M)
IT'S GOOD
A well proven fabric that provides superb levels of breathability and weather protection and in winter its extra warmth is a real bonus when heading into colder mountain weather as there is less need to carry additional insulating layers. The design is longer than most too so you get far far better bottom and groin protection than other jackets. The sleeves are well designed and so is the hood so both move really well with the body when scrambling. The hood also gets a wired peak for clearer vision and you get four external pockets, which are all easily accessed while wearing a rucksack.
HOWEVER
This jacket is warm which is a benefit on cold days but even on a warm winter day it can become quite hot to wear without venting extensively. Also it is quite heavy compared to others so if you stow it in your rucksack it is more of a load. The price is higher than others too, although for long term use it does work out at a good value as this jackets weather resistance is far easier to maintain than others due to its unique properties and construction. So overall there nothing wrong with the design but you do need to decide if the slight drawbacks mean other jackets are better options for your own walking needs.
VERDICT
Excellent design in many ways, with the fabric offering valuable benefits in cold weather in particular, but drawbacks are weight and warmth when the temperature rises but rain and wind persist.
Features 5/5
Weatherproofness 5/5
Condensation control 5/5
In use 4/5
Value for money 4/5
OVERALL SCORE 92%