A fear of heights or of falling is a normal, rational response to being in a risky situation. But if you find it's holding you back or preventing you from tackling more exposed walks or scrambles you long for, there are ways to loosen its grip.
A fear of heights is called acrophobia and a fear of falling is called basophobia. Both are common, with varying degrees of severity. Even some advanced climbers and mountaineers suffer from these. So by no means are you alone.
Here, we have some top tips to conquering heights from our mountain experts. By building your climbing confidence, you'll be able to tackle your scrambling goals like Crib Goch, access more interesting hiking routes, and maybe even begin venturing in challenging winter hikes.
Eight tips to help master heights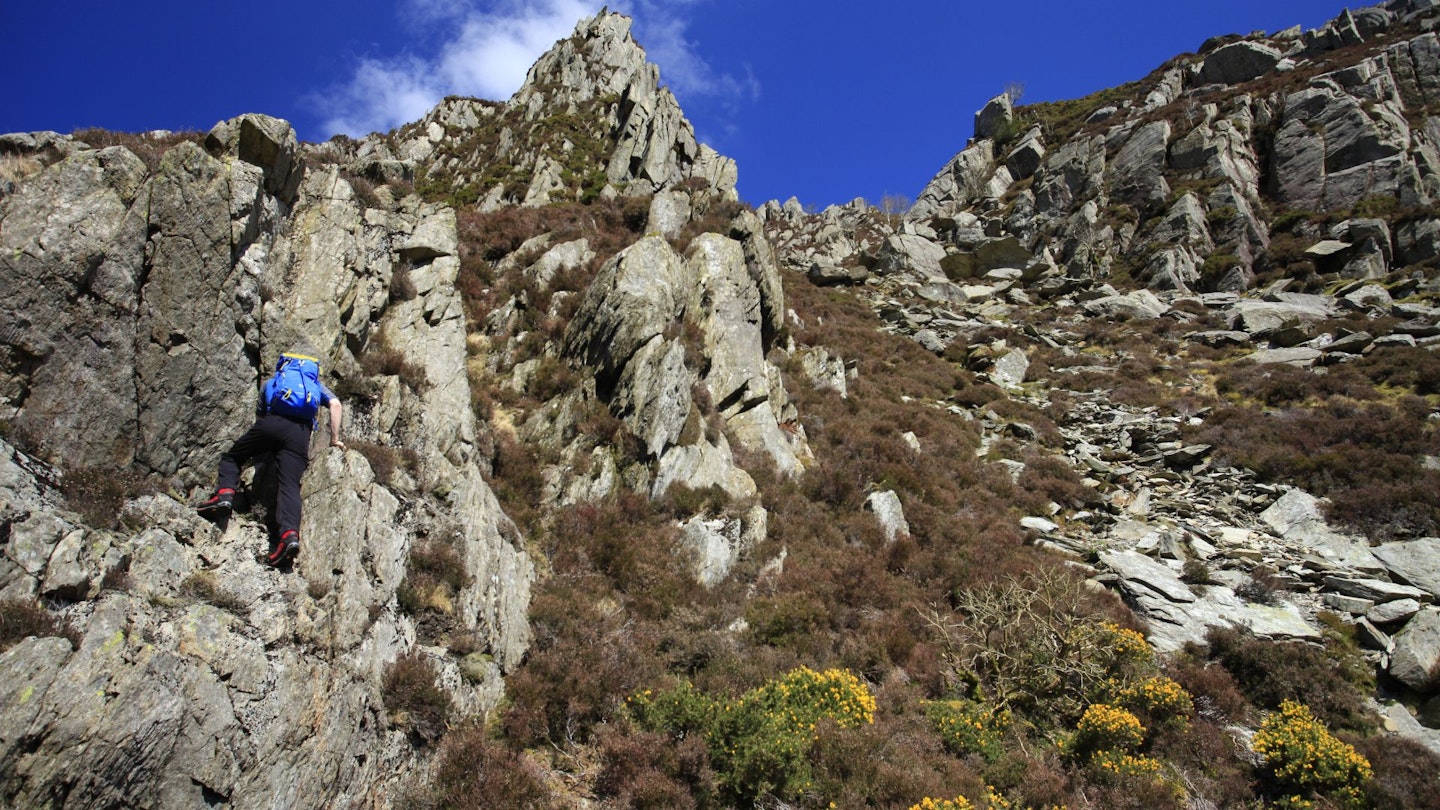 1. Don't beat yourself up
It's easy to feel disappointed in yourself when overwhelmed with a fear of heights. Instead try to speak to yourself in the same way you'd speak to someone else in the same situation, being supportive and encouraging.
2. Build your tolerance
Become familiar with exposure gradually, starting with relatively easy objectives and moving up from there, increasing the challenge slightly every time.
3. Go one step at a time
Try to focus on precisely where you are, putting one foot securely in front of the other and locating secure holds on a scramble. Move at your own pace.
4. Breathe
If you start to get freaked out, pause, take a deep breath in and long breath out. Do that a few times while you wait for any feelings of panic or dizziness to pass. Don't rush, but wait until you feel more relaxed before moving again.
5. Shake out the tension
Shake out some of the tension in your hands and shoulders, rub your face and relax your jaw before you get going again. Try to really bring your focus right back into your body.
6. Focus on the rock
Concentrate on the rock under your hands and feet – its temperature, texture and shape, the colour of the lichen, your breath as you move. Keep your attention tight in on your immediate surroundings and...
7. ...don't look down
If you need to check a foot placement when downclimbing a scramble for example – then look at the rock and then slowly down towards your feet. Try to be controlled and disciplined about where you look.
8. Learn to climb
Climbing or bouldering sessions at a climbing wall, with the safety of a rope or thick mats, can help you build confidence, improve your technique and increase balance and core strength.
Get half-price digital OS Maps. Trail and Country Walking magazine members get 50% off an annual subscription to OS Maps for 12 months. Find out more here.
Don't forget to subscribe to the Live For The Outdoors newsletter to get expert advice and outdoor inspiration delivered to your inbox!