It almost goes with saying that the summer is all about enjoying a lighter, more flexible shoe - whether trail running or hiking. After all, even the dampest British summer encourages runners to go that bit further and that little bit faster.
When we're testing summer shoes, we always look at breathability, flexibility and of course, that lighter weight – but not at the expense of support, stability, and protection. Rocks and roots don't go away in the summer. Grip perhaps is less of an issue, but of course, unless you ran in 1976 in the long, hot summer there is going to be a bit of mud and water you'll need to handle.
What to look for in summer trail running shoes
Carbon: For many of us, the summer is all about running that bit quicker and there's no argument carbon provides runners with more response on the harder, more uniform trails this season provides. Some will run faster, while some will benefit from the reduction in impact carbon provides. Yes, there's a cost but it's well worth the investment.
Breathability: In the same way you'd look for fabrics that breathe in t-shirts, go for materials that allow air and water vapour to escape from inside the shoe, while also allowing cooler air from outside to enter.
Weight: Of course, there's no definitive weight in a running shoe as more than any other product, it's very much individual. But, as a general rule, summer shoes are lighter and swifter feeling, so you'll be thinking of shoes that weigh less than 300g for that rip roaring 10km PB. If you're thinking long distance though, think about additional cushioning and therefore in some, but not all, additional weight, bringing the shoes into the mid-300s.
Toe box: The rocks will be there summer, or winter so look for protection in that department year round.
Drop: There's almost a generational gap here. Older shoe models work off an 8mm-12mm drop for a higher, more cushioned ride while many of today's shoes come in at around 4mm-6mm for a closer to the ground, faster feel. As with any shoe advice, it's always about what feels good personally. In theory, it's worth progression to lower drop shoes as they do feel quicker (half the job), but it can be at a cost for your calf muscles. There are lower drops as well with 0mm replicating barefoot. The jury is out at the moment as to what is best!
Midsole: EVA, PU, TPU or Pebax are the foams of choice for most brands. All offer softness and flexibility to different degrees.
Fit: There's the traditional lacing system of course, but the Salomon system and the Boa fit in a variety of brands including La Sportiva and Adidas do offer superb stability on rough, steep terrain. Consider the surfaces you'll be running. Tough descents and contouring lend themselves to this new fit system.
Lug length: Summer shoes will offer less in the grip department, so lugs around 3mm at the most, while winter shoes go all the way up to 6mm and even beyond on occasion. Rubber, of course, wears quicker so longer lug length shoes need to stay strictly off-road!
The best summer trail running shoes
Hoka Tecton X
Verdict: An excellent carbon shoe that very comfortable, though it's not best suited to the very technical trails.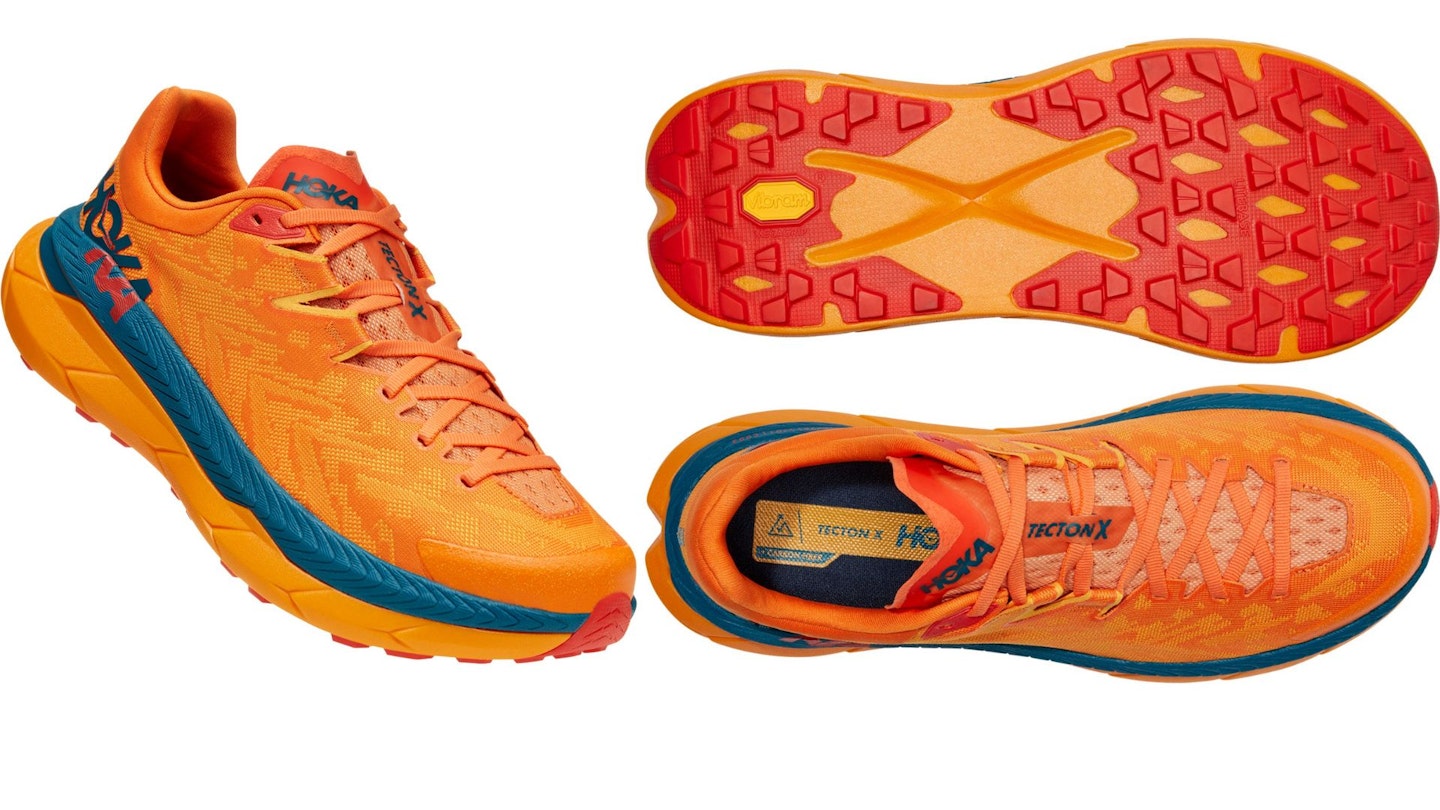 Pros: Carbon and all the speed and power that it provides
Cons: A little unstable for really technical trails
This is a real winner and the current leader in the off-road carbon world. Not surprisingly, it's our sister title Trail Running's shoe of the year.
It's difficult not to be too excited when the shoe's tech spec includes the description: 'dual-plated carbon'. That can mean you'll run a fair bit quicker – at least you will on smooth, even roads. But how's the performance off-road? Well, early reports suggest it's going to be a contender. You will, however, have to be very picky about where you run in them. Smooth paths are OK, more technical terrain possibly more of an issue.
The Hoka Tecton X shoes are very comfortable and the 3mm drop feels good. But because of the shifting and segmented carbon plates, the Tecton X doesn't roll smoothly on uneven surfaces. Pricing may appear a little steep, but that is super competitive for a carbon shoe and your legs will definitely thank you. We've taken them up Skiddaw and across Snowdonia with no issues!
Weight 255g (men's 11) | Lugs 4mm | Midsole Early-stage Meta-Rocker | Outsole Vibram Megagrip with Litebase | Men's sizes 6.5-13.5 | Women's sizes 3.5-9.5
Arc'Teryx Norvan LD 3 GTX
Verdict: Top-quality waterproof yet breathable trail running shoes, but they're not cheap.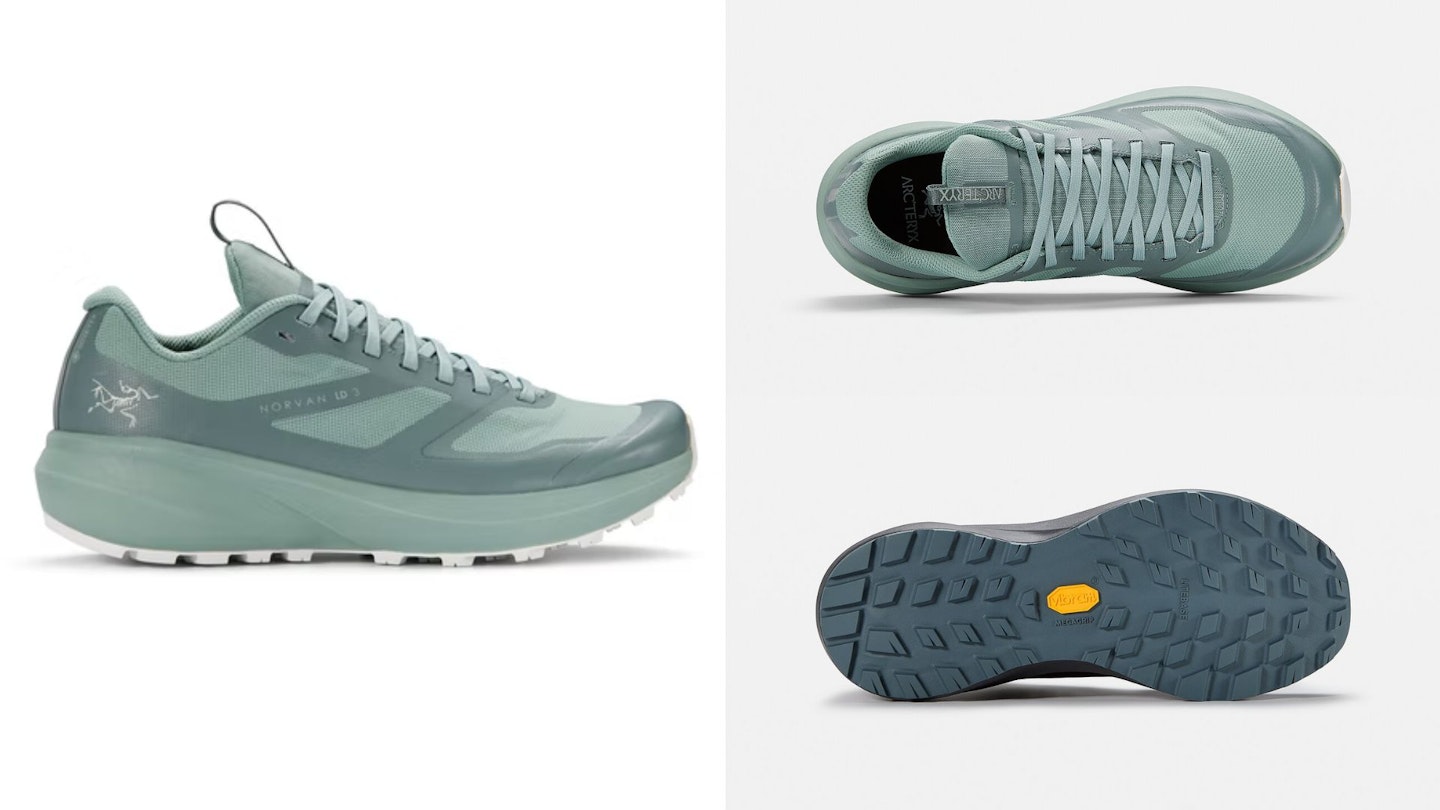 Pros: An all-rounder that is happy on high alpine trails, parkland, canal paths and even the odd venture on-road.
Cons: Possibly a little pricey.
This a shoe with a very definite fan base – us included. Not because it stands out in the style world, but rather it gets about business in an assumed fashion. If you can take a shoe out for five hours in the Alps with no issues at all, in our books that has to be a winner.
The Norvan GTX LD looks plain but most definitely isn't. The Cordura upper is breathable and waterproof, and the dual-layer internal construction minimises friction. The toebox is sized to accommodate splay, and the heel and forefoot stack absorbs shock. The grippy Vibram Megagrip outsole's aggressive 4mm lug pattern delivers security on pretty extreme – summer – terrain. It has a very user-friendly 6mm drop so takes no getting used to and is happy to head into the mountains from the get-go!
Possibly you might argue the price tag is a little high, but Arc'Teryx never skimp on build quality. It's a case of you get what you pay for.
Weight 260g (women's 5) | Lugs 4mm | Midsole InFuse | Outsole Vibram Megagrip Litebase | Men's sizes 6.5-12.5 | Women's sizes 3.5-8.5
Inov8 TrailTalon 235
Verdict: Superb value and marvellous for fast-paced trail excursions.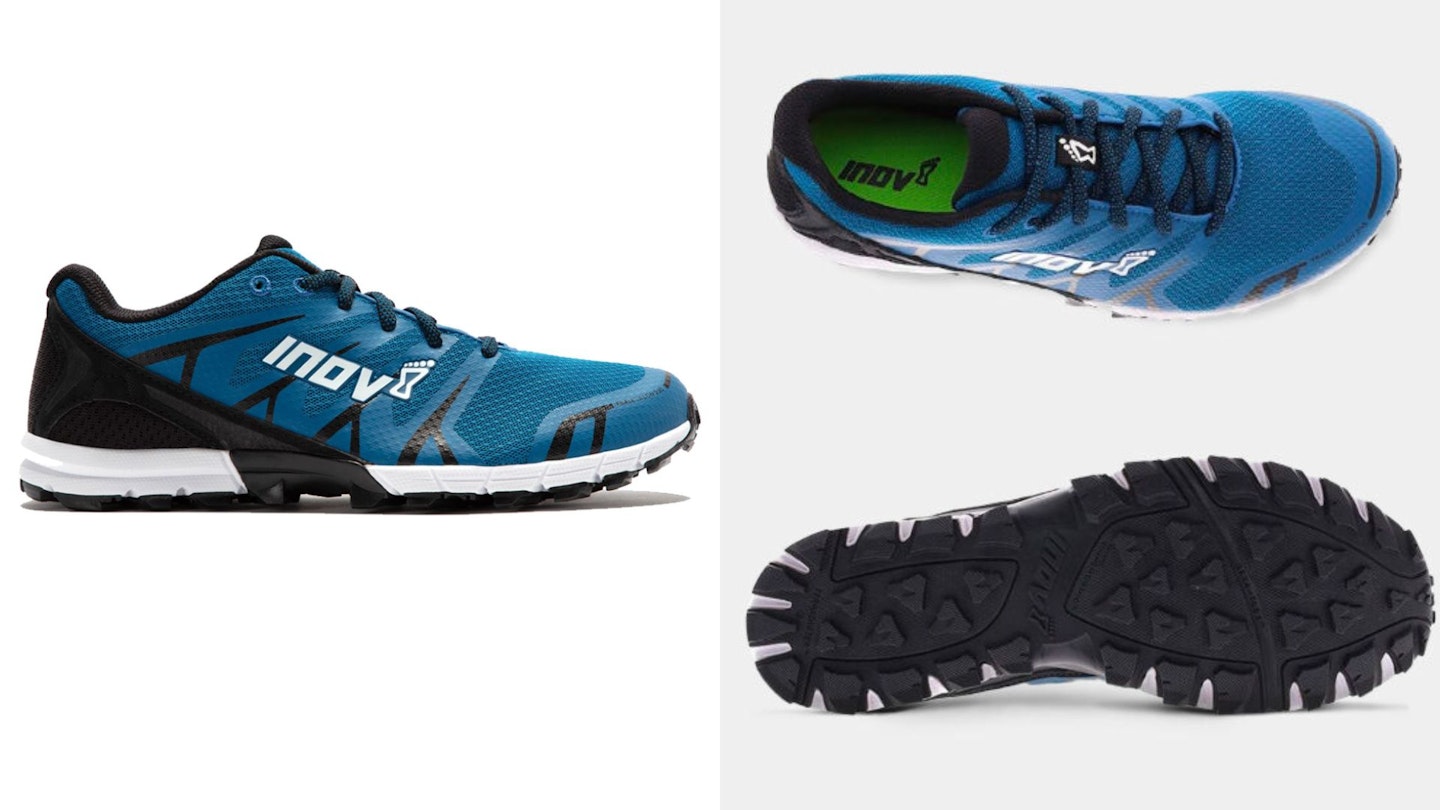 Pros: A traditional shoe that offers high performance in a style you're comfortable with
Cons: Definitely only a racer. You'd need another pair to train in
If racing – or at the very least feeling like you're moving at pace – is on the agenda, then you must, must welcome these shoes to your fleet. The shoe features Powerflow, which works by absorbing the energy caused by shock and impact forces through the heel strike phase of the gait cycle.
At this point, the midsole unit transfers the harnessed energy to the forefoot area where it pushes you off into your next step, providing energy return. That's all packaged in a low cut 4mm drop shoe (with 4mm lugs) that's almost a throw back to fell shoes of the past. A rubber toe bumper protects the toes from sharp rocks and stones. We love the attractive price, too.
Weight 240g (men's 10) | Lugs 4mm | Midsole EVA | Outsole Dual-density Frixion | Men's sizes 7.5-11.5 | Women's sizes 3-8.5
La Sportiva Bushido II
Verdict: Snug and grippy, these shoes are great for alpine trail running. But availability can be a bit scarce.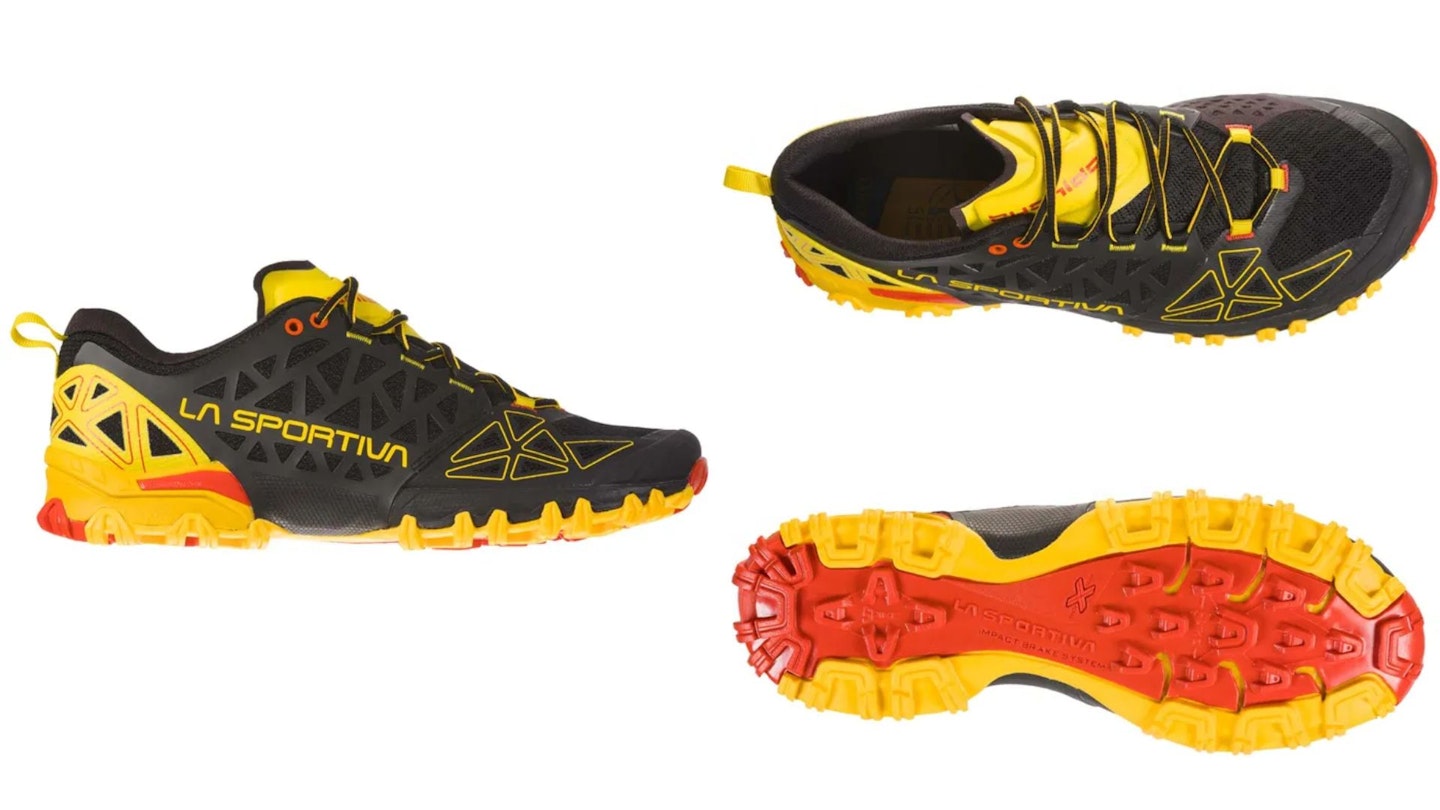 Pros: Rugged to the extreme, they'll cope with some pretty rough stuff
Cons: To really appreciate them, you do need to enjoy remote running
For all of you with something mountainous in mind, it's well worth giving this light, competitive shoe careful consideration. Built with sky running in mind, it offers a snug, stable fit that we testers confirm has great grip. True, the lug length is a modest 3.5mm so don't venture into deep mud in them, but they do have a very specific role – comfort and security on rocky, high Alpine paths. You have been warned!
The cushioning is good, but on the hard side so anything up to two or perhaps three hours is about all they can handle. We loved the fit thanks to the mesh upper that allows air in and out, regulating temperature. Thanks to importing issues, they are a little tricky to get.
Weight 300g (men's 9) | Lugs 3.5mm | Midsole Compressed EVA and Stability Control System | Outsole Frixion Red | Men's sizes 6.5-14 | Women's sizes 4-8
Scarpa Golden Gate ATR
Verdict: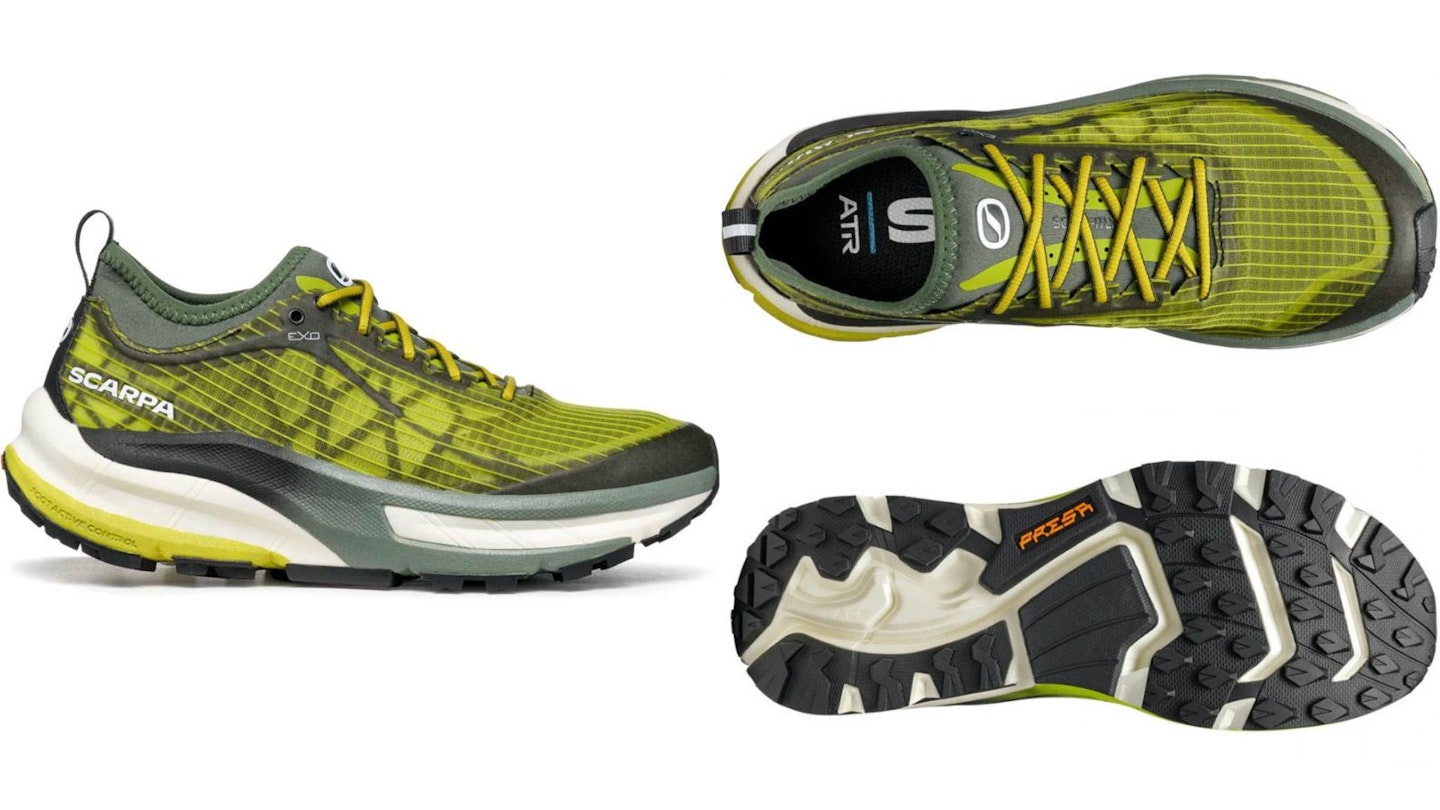 Pros: Wonderfully responsive, soft and happy to mix all sorts of trails
Cons: A touch heavy, but that's being ultra-picky
These test notes should tell you all you need to know: "first run in shoes, 12 miles off-road on river paths; responsive, comfortable. Nothing negative to report!" Further investigation reveals that these are slightly firmer feeling, sporting 4mm lugs for Scarpa's undoubted security on rougher ground, along with comfort on paved surfaces.
In terms of tech, what really stands out is the protective glove that sheds pesky bits of trail that wish to make their way into your shoe. For a shoe that works off a 4mm drop, the response is good – the result of the dual-density EVA mid-sole and rocker system.
They're at a great price point too, always a plus in our world. So too is the fact they drew plenty of admiring glances on a test run in the Canary Islands (where the terrain is super tough thanks to the volcanic rock).
Weight 331g (men's 11) | Lugs 4mm | Midsole EVA and rocker | Outsole RESA TRN-02, a durable, high-performance rubber | Men's sizes 5-14 | Women's sizes 4-14
Don't forget to subscribe to the Live For The Outdoors newsletter to get expert advice and outdoor inspiration delivered to you inbox!
For the latest reviews - including extra photos and kit that won't appear online - pick up a copy of the current issue of Trail magazine!