Who's up for a 7-day long-distance walking route, summiting 35 of the Lake District's best mountains and staying at seven of its best pubs? Good, because Trail magazine has made one.
Does anything beat that feeling of walking off a big mountain at the end of a long day, then putting your feet up in a warm pub by a roaring fire with a cold drink and a plate of hot food? We certainly don't think so, which is where the inspiration for our Lake District Peak to Pub Trail came from. Here's how to go and walk it...
ROUTE STATS:
Distance: 124.5km (77¼ miles)
Ascent: 10,217m
Total peaks summited: 35
Highlight peaks: SCAFELL PIKE, GREAT GABLE, HELVELLYN, HAYSTACKS, OLD MAN OF CONISTON, BLENCATHRA, SKIDDAW, CAT BELLS, DALE HEAD, HARTER FELL, HELM CRAG!
Wainwrights bagged: 33
Map of whole 7 days on OS Mapshere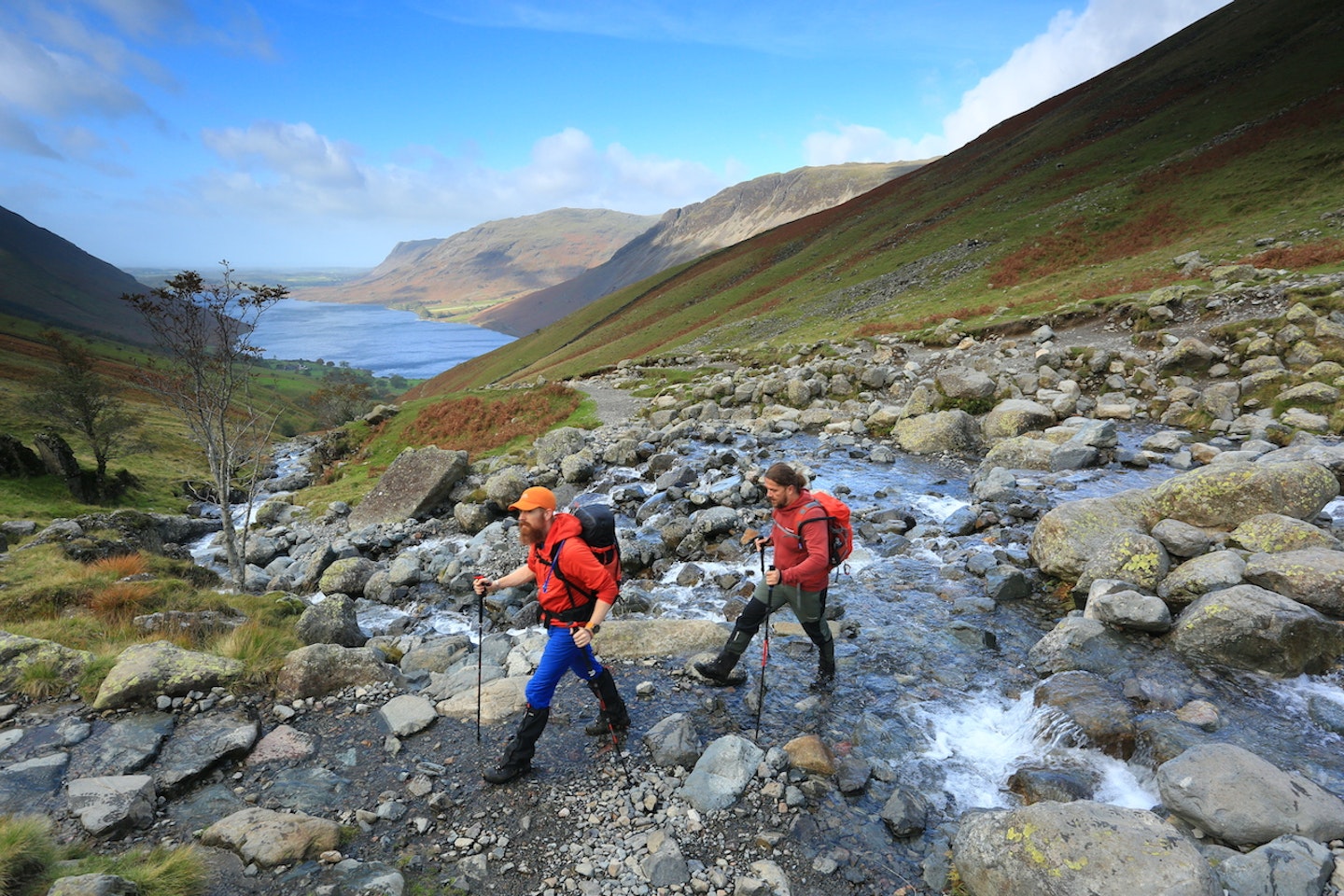 Day 1: Keswick to Buttermere
Distance 18.3km (11¼ miles)
Ascent 1372m
Peaks ▲▲▲▲▲▲
Cat Bells (451m) – Wainwright
Maiden Moor (576m) – Wainwright
High Spy (653m) – Wainwright
Dale Head (753m) – Wainwright
Robinson (737m) – Wainwright
High Snockrigg (526m)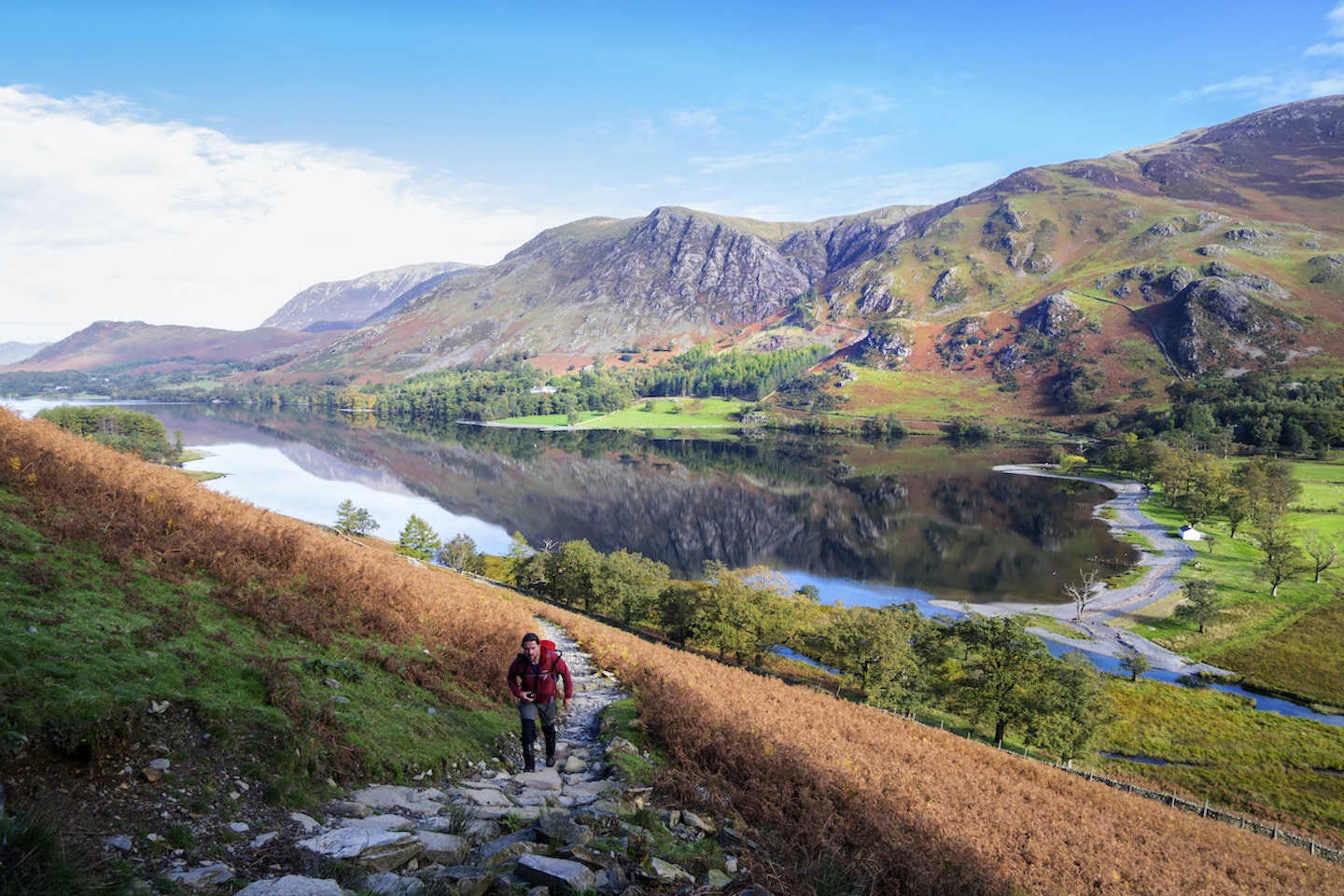 Day 2: Buttermere to Wasdale
Distance 13.4km (8¼ miles)
Ascent 1122m
Peaks ▲▲▲▲
Haystacks (597m) – Wainwright
Brandreth (715m) – Wainwright
Green Gable (801m) – Wainwright
Great Gable (899m) – Wainwright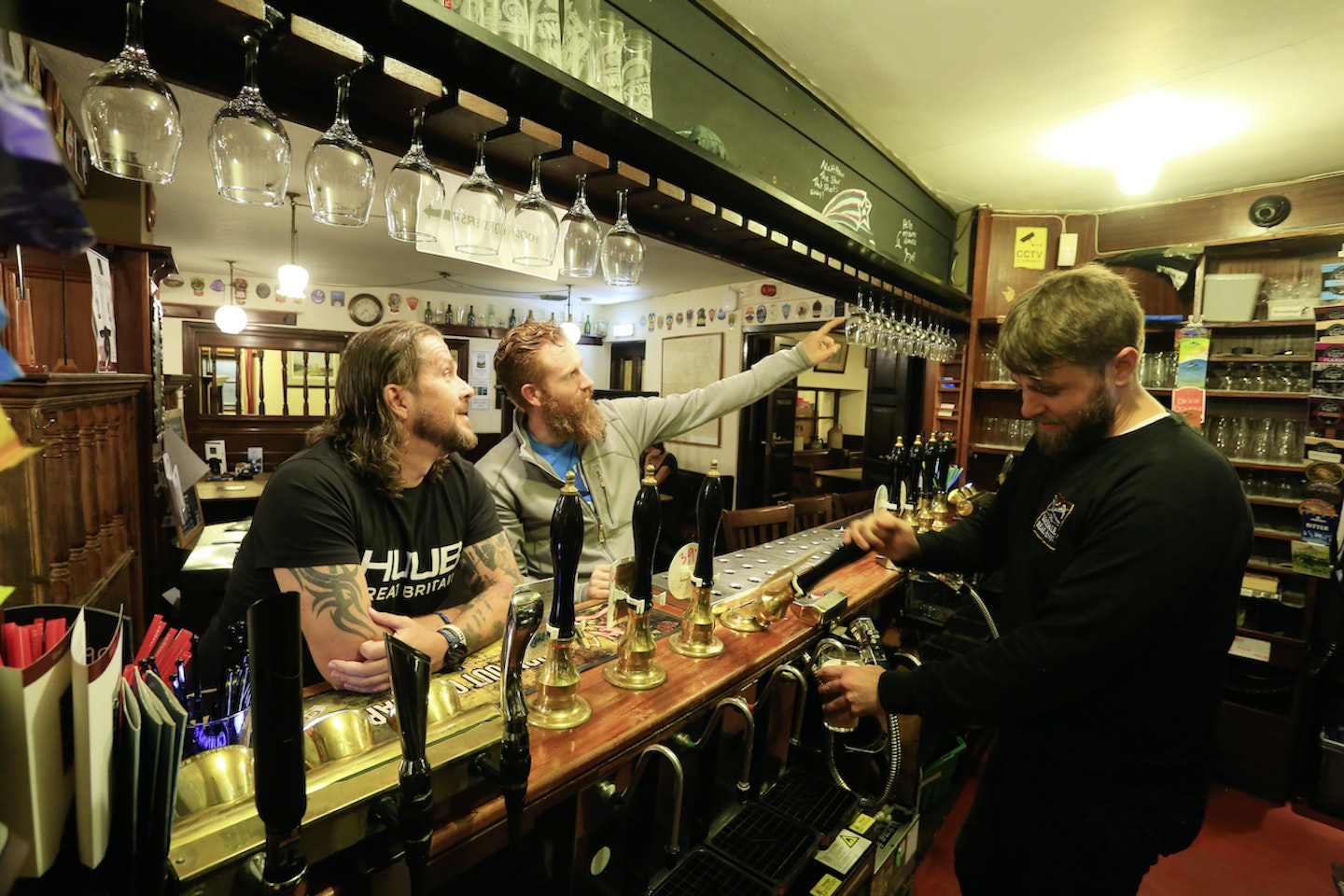 Day 3: Wasdale to Eskdale
Distance 14km (8¾ miles)
Ascent 1387m
Peaks ▲▲▲
Scafell Pike (978m) – Wainwright
Sca Fell (964m) – Wainwright
Slight Side (762m) – Wainwright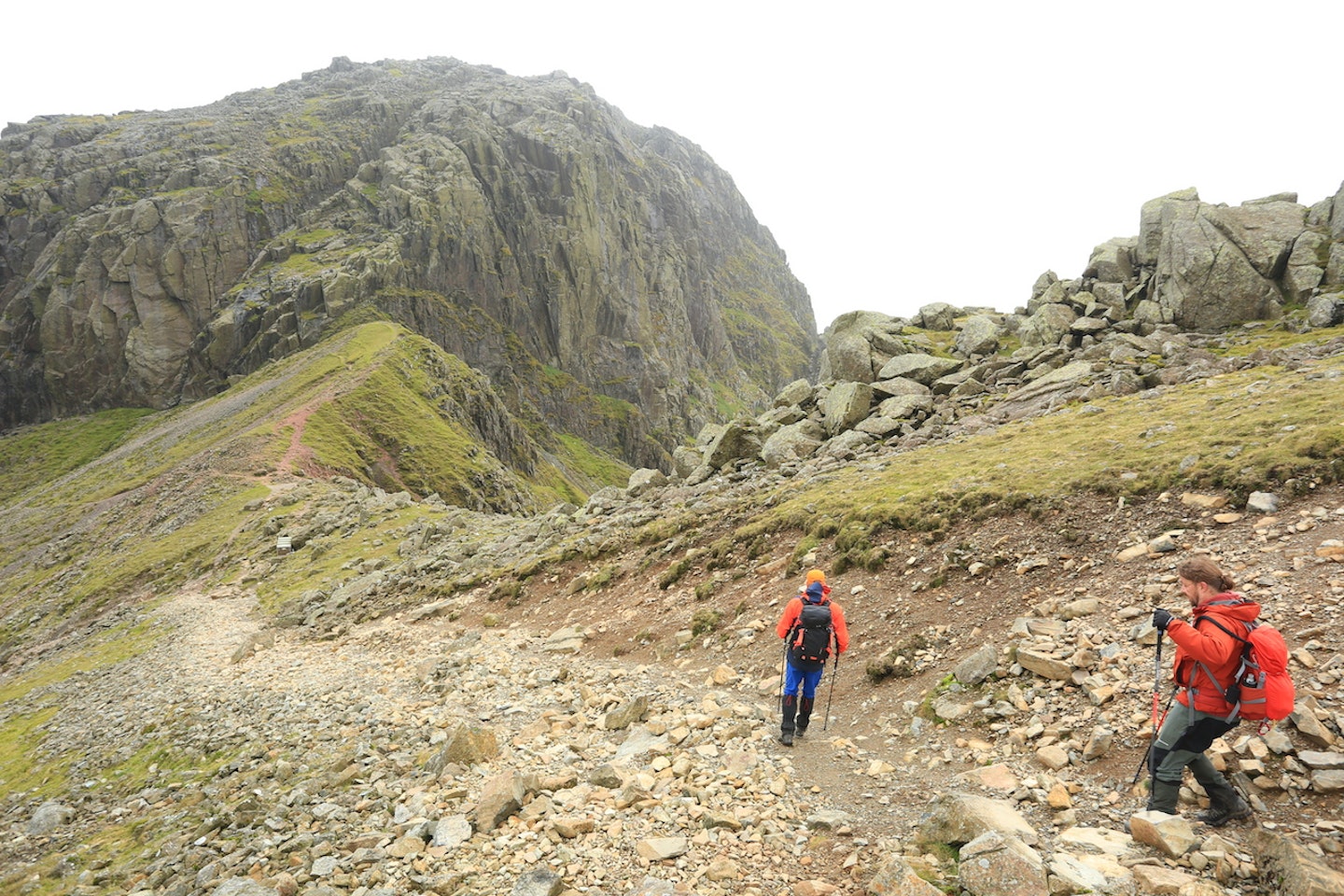 Day 4: Eskdale to Langdale
Distance 23.4km (14½ miles)
Ascent 1777m
Peaks ▲▲▲▲
Harter Fell (653m) – Wainwright
Coniston Old Man (803m) – Wainwright
Swirl How (802m) – Wainwright
Great Carrs (785m) – Wainwright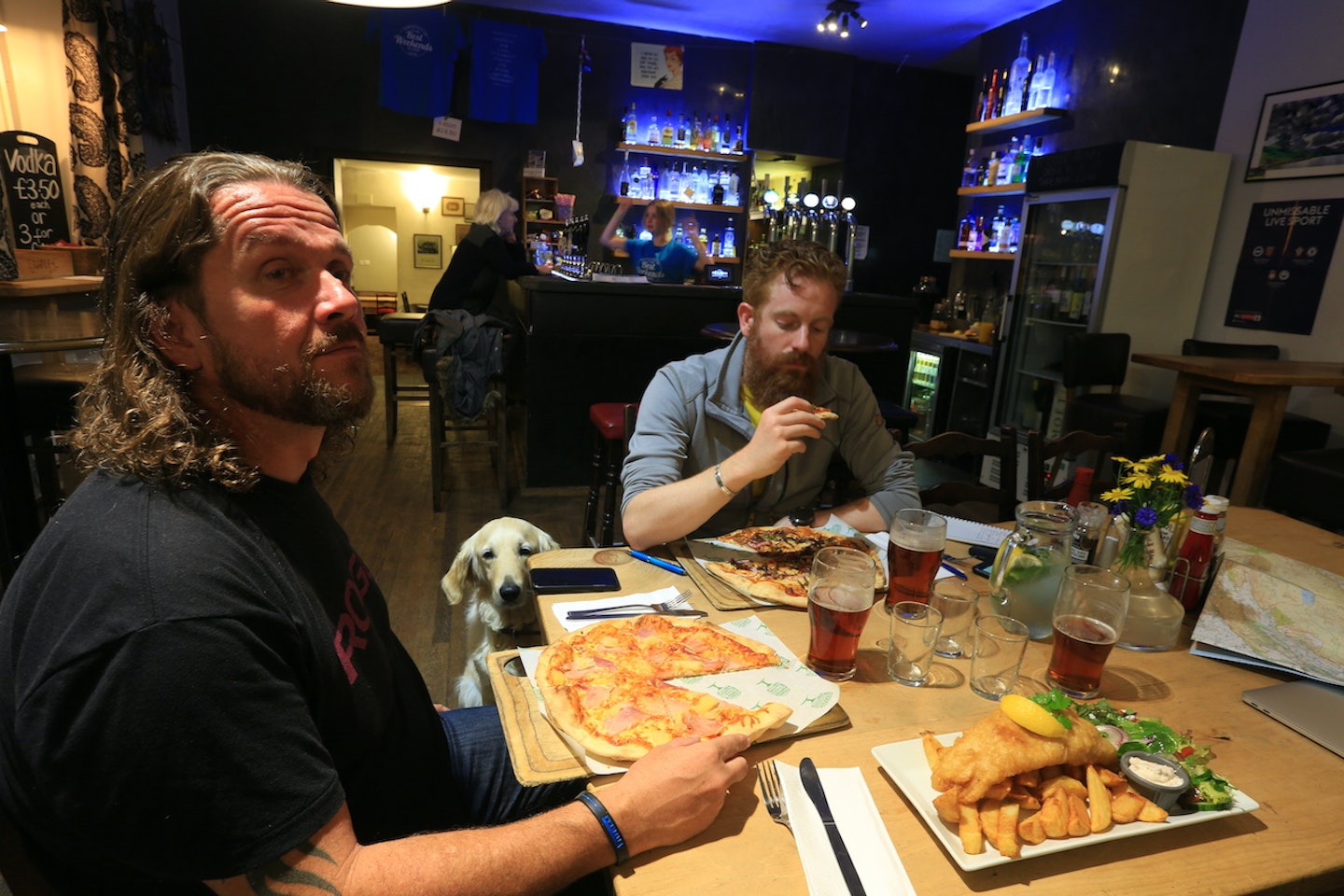 Day 5: Langdale to Grasmere
Distance 13.2km (8¼ miles)
Ascent 1023m
Peaks ▲▲▲▲▲
Pavey Ark (700m) – Wainwright
High Raise (762m) – Wainwright
Calf Cragg (537m) – Wainwright
Gibson Knot (420m) – Wainwright
Helm Crag (405m) – Wainwright
Day 6: Grasmere to Threlkeld
Distance 22.5km (14 miles)
Ascent 1638m
Peaks ▲▲▲▲▲▲▲▲▲
Dollywagon Pike (858m) – Wainwright
Nethermost Pike (891m) – Wainwright
Helvellyn (950m) – Wainwright
Whiteside (863m) – Wainwright
Raise (883m) – Wainwright
Stybarrow Dodd (843m) – Wainwright
Watson's Dodd (789m) – Wainwright
Great Dodd (857m) – Wainwright
Clough Head (726m) – Wainwright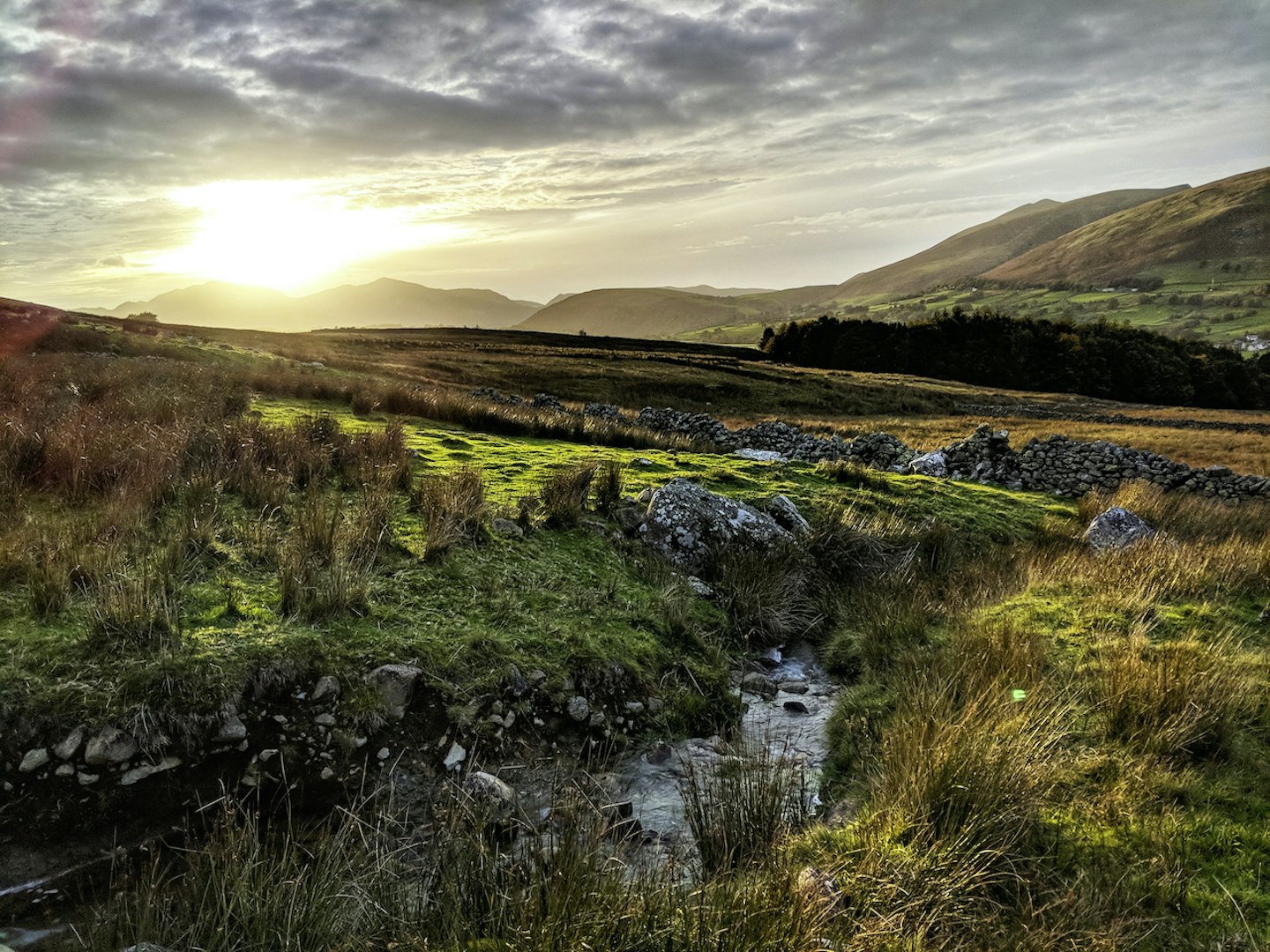 Day 7: Threlkeld to Keswick
Distance 19.7km (12¼ miles)
Ascent 1898m
Peaks ▲▲▲▲
Blencathra (868m) – Wainwright
Sale How (666m)
Skiddaw (931m) – Wainwright
Carl Side (746m) – Wainwright
LUGGAGE
This venture was meant to be a challenge, but it also had to be enjoyable. We enlisted a luggage transport service – the appropriately titled Trail Magic Baggage – to courier our overnight gear, leaving us with just daypacks to carry. Driver Ian collected our bags every morning then sent a text to notify us they'd been dropped off. The whole operation was reliable, and hugely convenient. Check out the range of services at www.trailmagicbaggage.com
PARKING & PUBLIC TRANSPORT
You can get to and from Keswick relatively easily by public transport, negating the need for a car. However, if you need to drive, parking for a week can be awkward and costly. Trail used YourParkingSpace – a website that allows drivers to rent unused driveway spaces and parking spots for a limited time. For more information, visit www.yourparkingspace.co.uk
THE PUBS:
Night 1 The Bridge Hotel
The hotel sits on the bank of Mill Beck – you could fish out of the dining room window. The interior has a polite country decor that seems a little well-to-do for the muddy-booted walker. But not only is the Bridge Hotel walker-friendly (with a wonderfully effective drying room), it's also dog-friendly. You can even stay in the Wainwright Room; the author whose name is synonymous with the Lakeland fells wrote some of his beloved walking guides while staying here. Out back is the Bridge Inn, and its flagstone floored, exposed beamed Walker's Bar could not have a more appropriate name, even if it was taken from its founder, Reverend Robert Walker, rather than its clientele. The Bridge Signature Burger is worth the walk from Keswick, and the views out of the windows are of the handsome southern Buttermere fells. There's also Wi-Fi.
Night 2 The Wasdale Head Inn
The Wasdale Head Inn is perhaps the most famous pub in the Lake District, regularly heralded as the birthplace of British rock climbing. Old black & white photos of the original Lakeland pioneers adorn the wood panelled walls of the hotel, along with displays of antique climbing gear. Ritson's Bar is nearly always busy, full of steaming climbers drying off and refuelling. England's highest peaks tower over it, and the country's deepest lake is a short walk away. Its position at the head of the remote Wasdale valley makes it a mission to get to, but the fact that so many make the journey tells you how important and much loved this place is. Oh, and Wi-Fi is now available in the bar.
Night 3 The Woolpack Inn
The Woolpack is 'one of Cumbria's most historic inns'. This makes the sight of a huge widescreen TV hanging on the wall something of a surprise. Indeed, the whole interior of the bar is extremely modern; a thoroughly pleasant place to be, just unexpected in an old pub building surrounded by rolling fells and sheep. The little snug next door has a woodburning stove and big, hard-to-get-out-of sofas, if you prefer a more traditional feel, but both are welcoming and the stone-baked pizzas from the main bar are something special. Free Wi-Fi is available throughout the building.
Night 4 The New Dungeon Ghyll
While not as characterful as its older neighbour up the valley, the New Dungeon Ghyll is arguably a nicer place to stay. If all you've seen of it is the Walker's Bar out front, you might not be aware that behind this cosy-looking pub is a 22-bedroom Victorian hotel set in 6 acres of gardens. But it's in the aforementioned bar that the walkers gather to eat, drink and socialise. And, if you run out of people to chat to, you can always nip over the road to the Sticklebarn tavern for a change of scenery. Chances are, though, that once you've settled yourself in with a pint of Hardy Tup and a homemade pie, you won't want to be going anywhere. There's also free Wi-Fi in all the public areas.
Night 5 The Traveller's Rest
The Traveller's Rest is an absolute gem. It can trace its origins back to a 16th century coaching inn, and inside you'll find open fires, exposed beams, and quiet little nooks to tuck yourself away in. The food is good with plenty of local fare on offer, and the drink options are plentiful regardless of whether it's a real ale, a malt whisky, a fine wine or something softer. If you're lucky enough to be staying, the bedrooms are cosy and immaculate, and some are dog-friendly too. From the cosy warmth of the interior the views through the windows are impressive, and only become more so from the beer garden. Wi-Fi is available in the bar and lounge.
Night 6 The Horse & Farrier Inn
Now this place is a bit special. True, that might be in part because Tony and I were put up in what very much looked like it could have been the honeymoon suite (twin beds, you understand), but regardless, it's clear that a lot of time and money has gone into making the Horse & Farrier an unrivalled placed to stay. It has, however, still retained its old-world charm and knows what walkers want from an inn; you'll find a drying room for guests and the main bar is dog-friendly. Alas, furry friends can't stay here, but the H&F's sister pub, The Sally, is just 50m down the road and will accommodate pooches. The food is great, the welcome exceptionally friendly, and all this at the foot of Blencathra. Free Wi-Fi is also available.
Night 7 The George Hotel
The George Hotel is the oldest coaching inn in Keswick and one of the oldest hotels in the Lakes. It's a cosy and welcoming place to be at the end of a day (let alone seven). One item on the menu has reached legendary status in its own right: the George Cow Pie. Thick short-crust pastry crammed full of even thicker chunks of beef, it's a challenge to eat the half portion, and only a fool would attempt a whole serving (after seven days walking I thought I'd try; I failed miserably). Free Wi-Fi is available, albeit sporadically due to the thickness of the walls.
Check out the video here: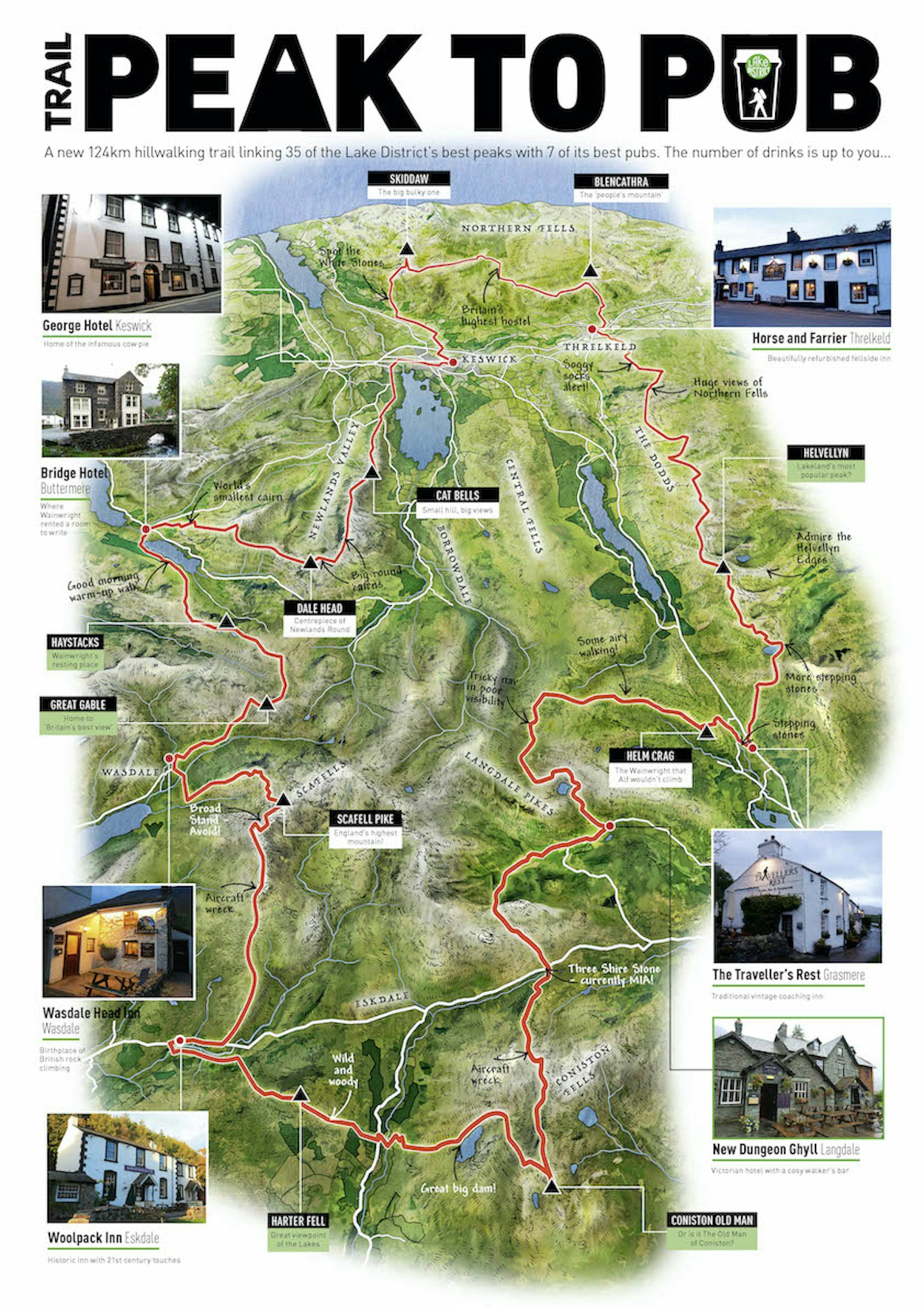 ** Adapted from the Trail magazine feature that appeared in the Spring 2019 issue.