Total distance 20km | Total ascent 1370m | Scramble rating Grade 3 | Go there on a long, dry, clear day when you've plenty of energy
Before we go any further, take a look at the stats above. Straight away this will give you some idea if this route is for you; it's a big day with a fair amount of distance to cover and height to gain. Plus, there's that not-so-insignificant matter of the scramble rating. Grade 3 takes this scramble perilously close to climbing territory, and given the exposure, big drops, and occasionally tricky moves this route throws up, it's a fair and accurate rating. But, and this is an important 'but', the moves that bump this scramble from a Grade 2 up to Grade 3 (and possibly even 'moderate' graded climbing) are early on and bypassable.
In fact, much of the early scrambling can be avoided with a lower traverse path but, and this is an equally important 'but', what would be the point of that? You see, along with Liathach and Aonach Eagach, An Teallach is one of the finest ridge traverses on the mainland of Britain and, if we're pushed to choose, it's probably the one that takes the gold medal.
To bypass its best bits would be a travesty. So by all means skip the very hardest climb, but then be prepared to tighten your laces, pull up your socks, gird your loins, have a bit of a word with yourself, and tackle the awesome An Teallach head-on. It's the stuff that mountain dreams are made of.
1.
There's no way around this – it's a long walk-in! From the Corrie Hallie parking area go south-west along the track. Just past Loch Coire Chaorachain fork right onto a path, heading towards Sail Liath. At a convenient point (there are several faint tracks) leave the path and head up Sail Liath's south-eastern spur to its summit.
2.
Drop into a narrow saddle and climb out to walk over Stob Cadha Gobhlach, then drop again to reach the base of Corrag Bhuidhe's south buttress. The first tier of this buttress is climbed easily on solid sandstone holds, but then things get tricky.
3.
The direct continuation up the ridge is where the higher grade kicks in. To avoid this, follow an eroded path along the south-west flanks directly below the rock until it reaches a slabby wall of rock. Climb up this and past a grass gully to regain the ridge.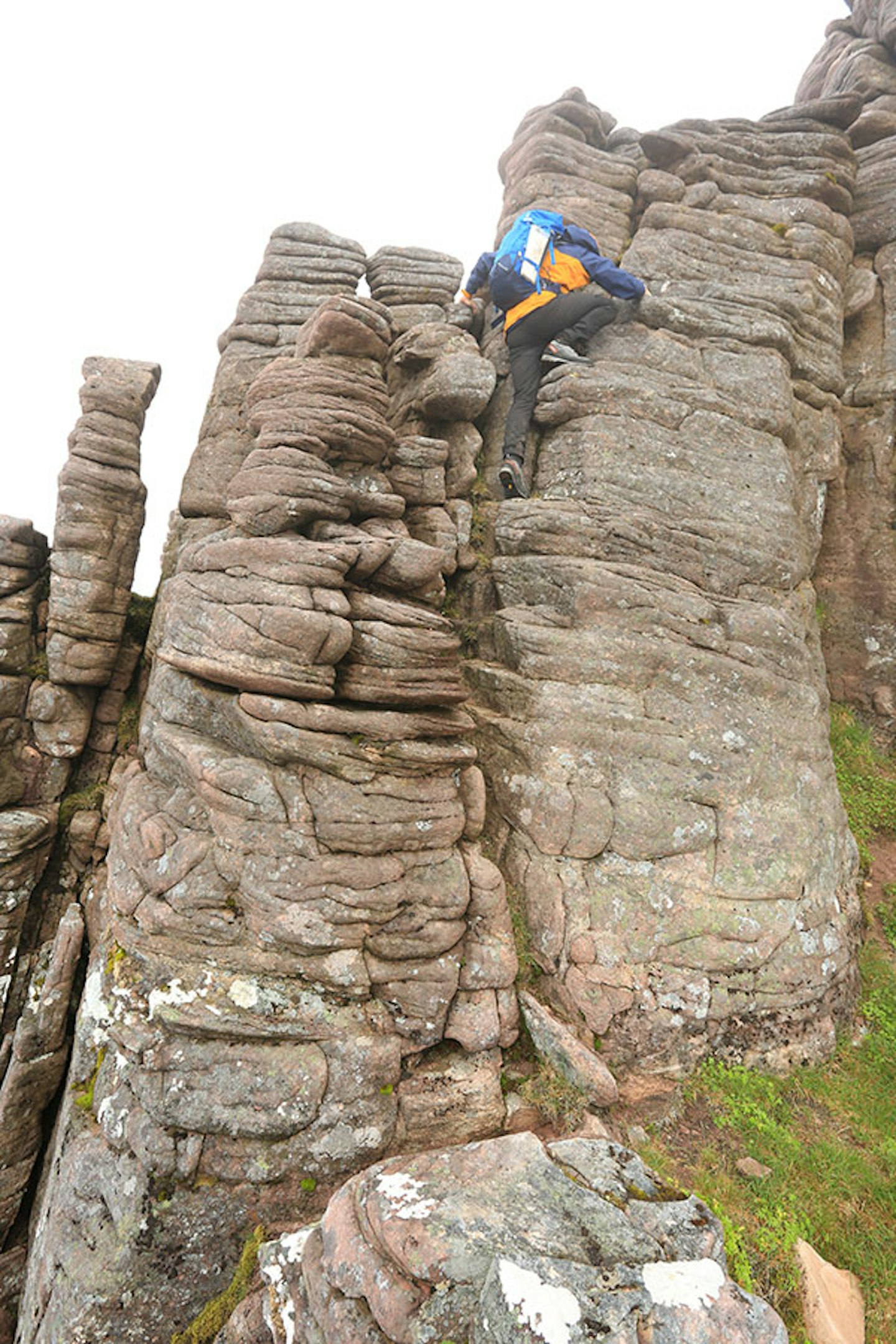 4.
Head north along the ridge, clambering over a series of rounded sandstone towers that look like unfinished pottery projects. Make your way around and over these pinnacles until you reach a level narrowing of the rock with big drops down to Loch Toll an Lochain. None of this scrambling is particularly tricky, but the exposure is vast and it requires full concentration – keep hands out of pockets!
5.
Lord Berkeley's seat rises like a shark fin from the ridge, although it looks more impressive from the other side. Climb up it, stopping at the top to dangle your legs over the abyss, but only if you're feeling brave. The rock slopes towards the drop and is overhanging, making this sit-down possibly the most terrifying moment of the whole traverse!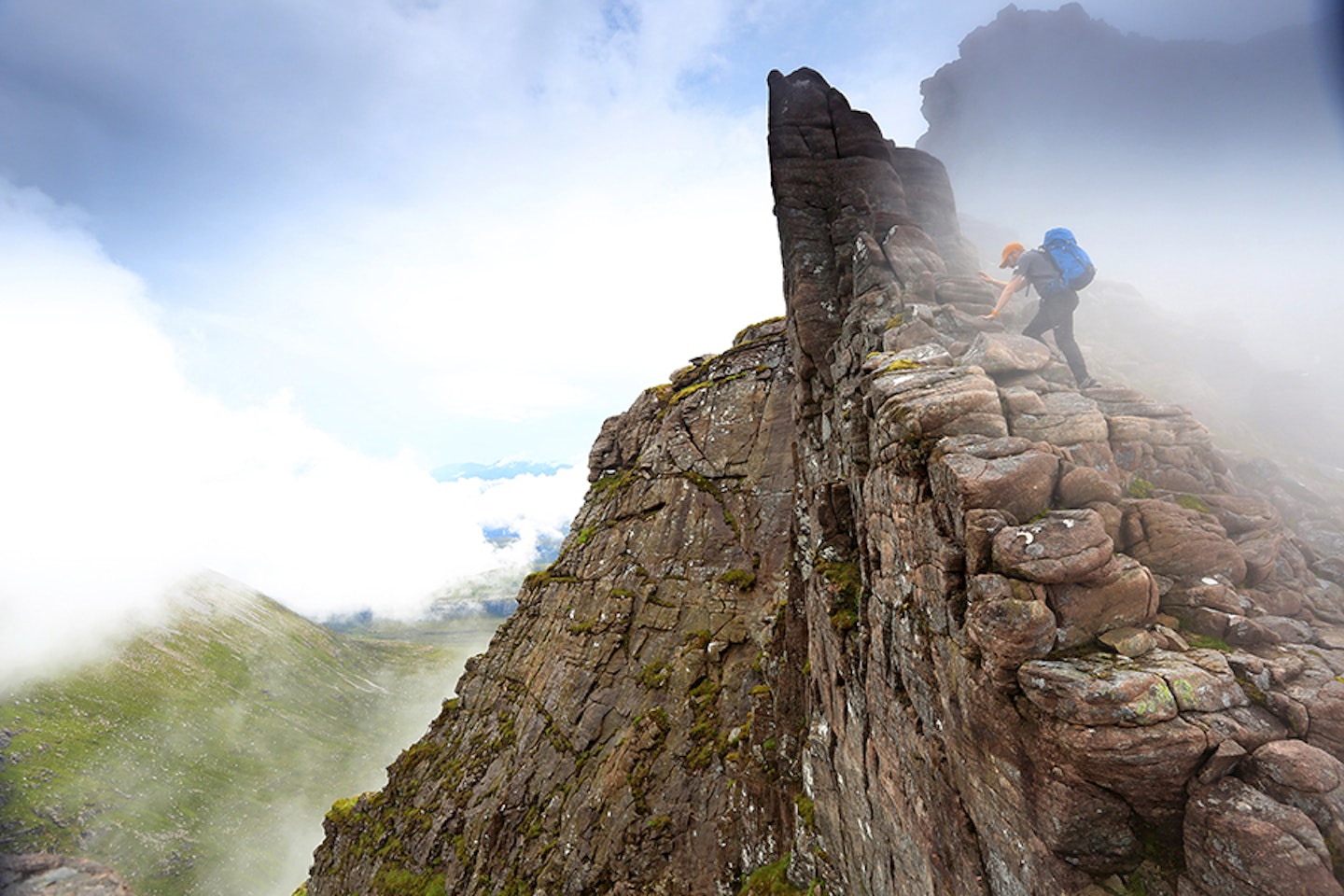 6.
Descend from Lord Berkeley's Seat to a small rocky col before tackling some easy scrambling (which can be avoided to the left) to the summit of Sgurr Fiona. From this Munro summit head north to make a long rocky descent to the col at the head of Toll an Lochain before climbing again to the trig-pillared second Munro summit (and An Teallach's highest point) of Bidean a' Ghlas Thuill.
7.
There are shortcut options involving a descent of Bidean a' Ghlas Thuill's eastern ridge, but these end the day with a boggy trudge through sodden ground. The longer, but arguably more straightforward route, is to descend north to Coir' a Mhuilinn and follow the path that leads out to Dundonnell. Unfortunately, unless you have a second car or another means of transport (we have left a bike chained up here in the past) this does leave a 4km walk along the road back to Corrie Hallie, but this is the perfect excuse for a quick refresher in the Dundonnell Hotel first.

Follow this route with HALF-PRICE digital Ordnance Survey Maps for the whole of Great Britain by subscribing to Trail magazine.