Distance 12km | Ascent 900m | Winter rating Grade 1 | Go there when the wind is low and the snow is solid
Striding Edge and Swirral Edge need little introduction. The horseshoe route from Glenridding up one ridge to the summit of Helvellyn and down the other is one of the classic Lake District walks.
In winter, although undoubtedly a more serious undertaking, it is perhaps even more spectacular. The summer route usually ascends via Striding Edge and descends Swirral, but in winter it's worth reversing that direction. Why? Well, where Swirral Edge leads up to join the summit plateau of Helvellyn it is narrow and steep, and when covered in snow and ice it can become a convex slope that's treacherously difficult to descend.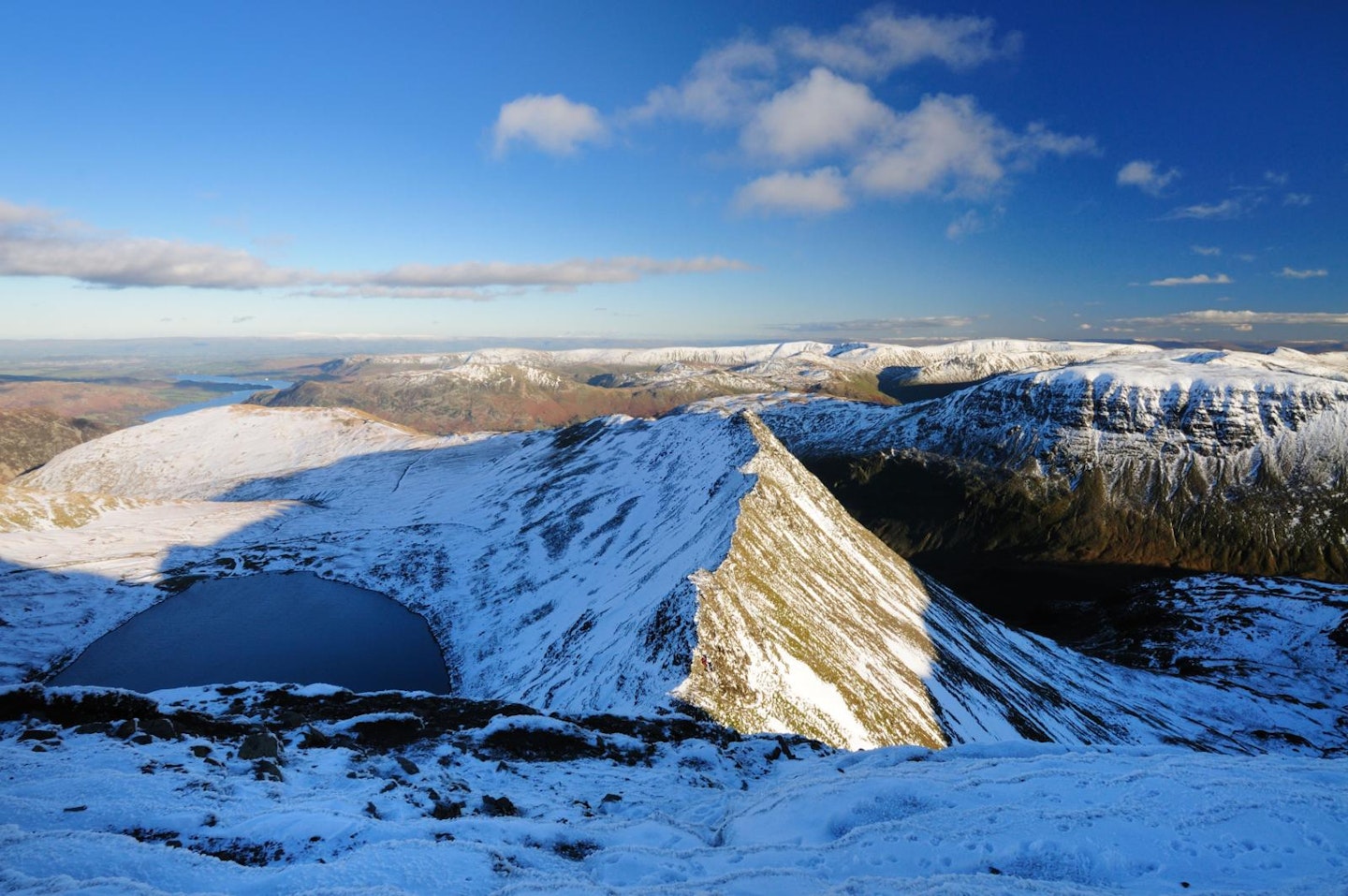 As such, it is best tackled in ascent, with the descent from the summit to Striding Edge, although still requiring high levels of concentration, potentially a less risky obstacle. Of course, in winter the conditions can change daily, and what may be an easy walk one day could be a hellish traverse the next, so it's important to stay informed about conditions and fully aware of your own abilities. Or to put it another way, as one of Trail's mountain instructor friends put it: "In the winter, listen to your sphincter".
Oh, and one last thing: Helvellyn is lucky enough to have its own team of Fell Top Assessors who visit the summit daily in winter to report back on conditions. Stay up to date at lakedistrictweatherline.co.uk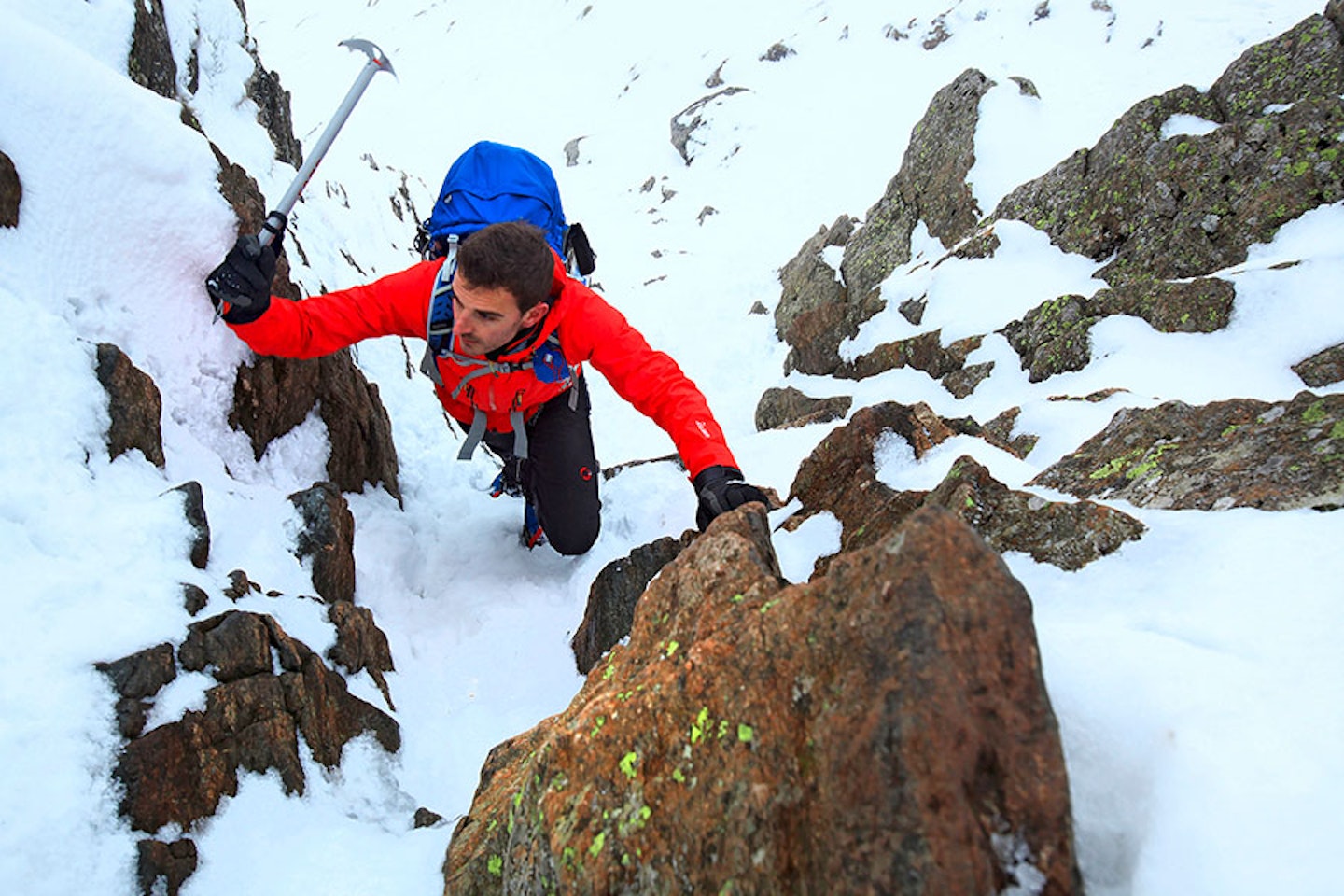 Striding Edge Winter Route Guide
1.
The walk in starts from Glenridding, climbing past the Helvellyn Youth Hostel alongside Glenridding Beck before heading up from Glenridding Common beside Red Tarn Beck to Red Tarn itself. From here, cut up to the saddle between Catstye Cam and Helvellyn and the start of Swirral Edge.
WINTER ADVICE: Pay attention to the snow around you while the ground is still easy. Is it consolidated and firm, or loose and crumbly? Is everything frozen, or is it thawing? Take a look up at the north-east face of Helvellyn and check for cornices hanging on its upper lip.
2.
If you haven't already, now's the time to get out your ice axe and put on your crampons – you don't want to be fiddling with these halfway along Swirral Edge. If the snow is very soft and you're sure it won't be frozen higher on the ridge, you might choose to go without crampons, but you'll still need your axe. The exact route you take will depend on how much snow there is and where it has drifted, but the initial climb is relatively easy-going and provides a good warm-up for the higher stuff.
WINTER ADVICE: Remember to always keep your ice axe in your uphill hand. If you find yourself switching sides of the ridge, swap your ice axe to the other hand.
3.
Where Swirral Edge merges into Water Crag and joins the summit of Helvellyn is where the ridge is at its steepest and most dangerous. Snow can build up here to form a convex bulge, and if wind scoured it can be dangerously slippery. This is where you need to really concentrate and move slowly and steadily, checking the placement of your feet and axe as you move up. It's not a long section, so it's worth taking your time over.
WINTER ADVICE: If in doubt, chicken out. There's no shame in a dignified retreat if conditions aren't great or you're unsure about your abilities. Knowing when to back off is one of the most valuable skills a winter walker or mountaineer can learn.
4.
Now you're on Helvellyn's broad summit plateau. Enjoy the spectacular views (hopefully) of the surrounding winter fells as you wander past the trig point and over to the summit cairn. Take a break in the wind shelter to eat, drink and fuel up for the descent.
WINTER ADVICE: The north-east edge of Helvellyn's summit is prone to cornice build-up, so don't be tempted to get too close to check out the view. The cornices sit above the steep, high crags, and if you fell through, it could well be fatal.
5.
While taking care to avoid any summit cornices, locate the eastern-most point of Helvellyn's summit where Striding Edge meets the plateau. Be sure to have your ice axe in hand before you begin the descent. Although not as steep as the top of Swirral Edge, the initial climb down requires care and concentration as you make your way to the continuation of the ridge below.
WINTER ADVICE: As you zigzag down this slope, remember to keep your axe in your uphill hand. If the snow is hard and frozen, keep your feet angled downhill to utilise as many of your crampon points as possible.
6.
The hardest part of Striding Edge is usually the downclimb of the chimney before the final ascent of Helvellyn. But because we're doing the route in reverse, the chimney comes as a climb and is more easily tackled this way – particularly in winter. You may need to scrape snow away to find the holds, but there are plenty of them for feet and hands. Once back on the apex of the ridge follow it carefully – sticking to the centre ground as much as possible – over High Spying How, Low Spying How and Down Bleaberry Crag to Hole-in-the-Wall.
WINTER ADVICE: The bypass path on Striding Edge's northern side may be covered by snow and made more dangerous by cornices and drifts. Don't count on being able to use it.
7.
From Hole-in-the-Wall, follow the wall towards Birkhouse Moor, then down towards the top of Little Cove. Descend alongside Mires Beck to Gillside Campsite and follow the road over the bridge and back into Glenridding.
WINTER ADVICE: Although there are well-marked paths on the map, bear in mind these could be hidden by snow. Where they are clear they may still be icy, so don't get cocky on the final leg of your journey!

Winter ridge survival kit
Always check the weather and avalanche forecasts and amend your plans accordingly.
Be aware of the shorter daylight hours and carry at least one torch.
Ensure you let someone know where you're going and when you'll return.
Never be afraid to turn back if conditions aren't right.
Only attempt a winter route if you have an ice axe, crampons, and the skills to use them.
Consider hiring a winter mountain leader if you're unsure of your own capabilities.
Useful winter resources
The British Mountaineering Council: thebmc.co.uk/winter-climbing-and-walking-skills
Mountaineering Scotland: mountaineering.scot/safety-and-skills/thinkwinter
Mountain Weather Information Service: mwis.org.uk
Scottish Avalanche Information Service: sais.gov.uk
Discover great hill and mountain walking routes like this in every issue of Trail Magazine