The mountains of north Wales offer a superb variety of hikes and scrambles, from Cadair Idris in the south to scrambles on the ridges of Tryfan and Snowdon in the north.
Trail magazine has rounded up a top ten selection of our favourite hillwalks in Snowdonia so you can get out there and see what we're raving about. Scroll down for some inspiration to find the perfect North Wales mountain route for you, then download our digital guide and follow it using OS Maps.
Don't forget Trail magazine members get 50% off an annual subscription to OS Maps.
1. Snowdon Horseshoe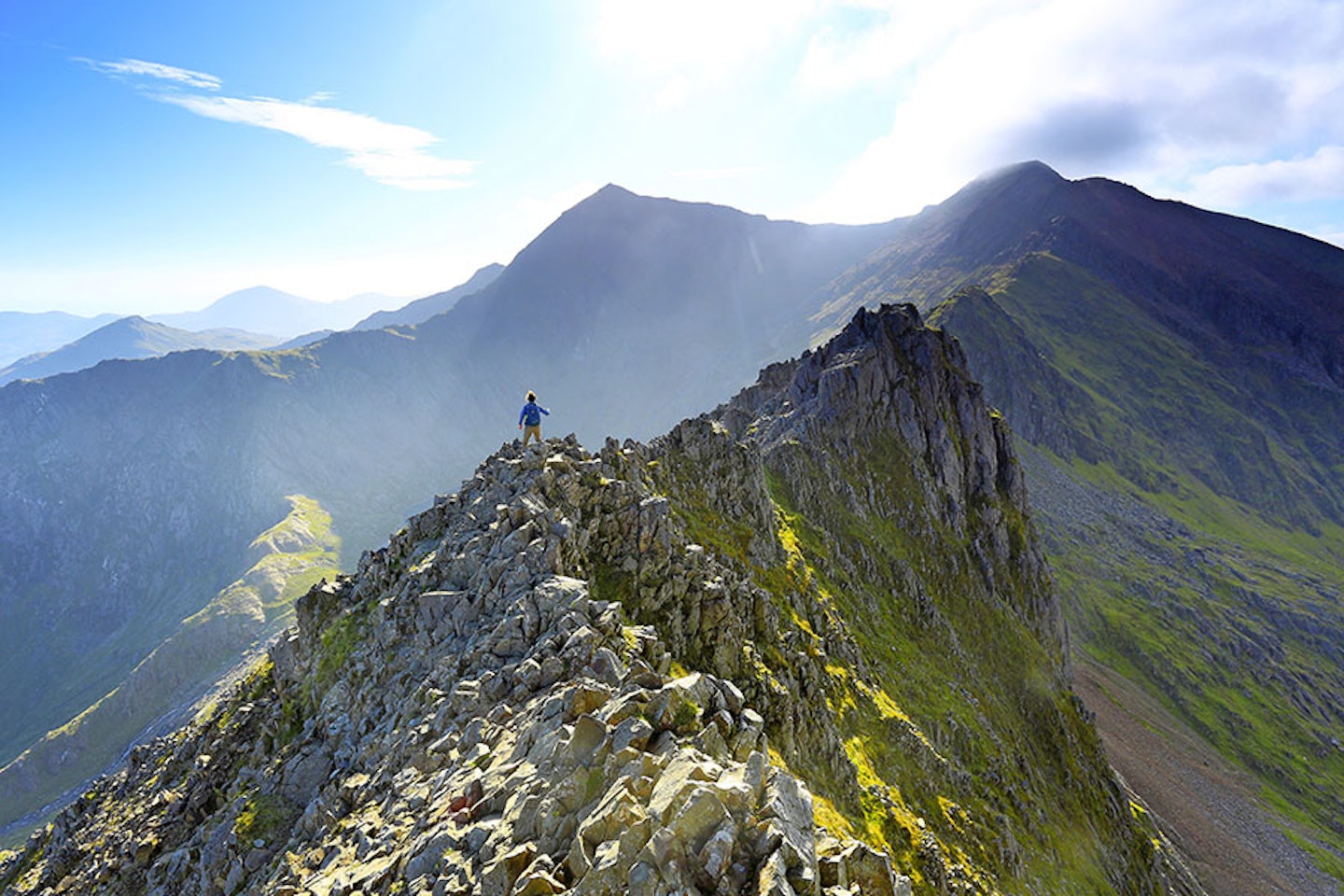 Walk and scramble this awesome circuit of England and Wales' highest mountain. This classic route is for the more experienced hiker as you'll tick off not only spectacular scrambles on Crib Goch and Y Lliwedd, but also multiple summits all in one great day walk. As you traverse the ridges that circle the perfect lakes of Glaslyn and Llydaw you'll understand why it's aptly named the Snowdon Horseshoe. A showcase of Wales' steepest slabs and most interesting terrain, it is a fantastic route to Snowdon's summit with less of the crowds than you'll find on the popular Pyg and Llanberis tracks. This 12km walk is a dot-to-dot of some of Snowdonia's best peaks and what's so fantastic is that no matter where you are on the route, you'll always have views ahead and behind of the mountains you've completed or are about to climb.

2. Tryfan and the Glyderau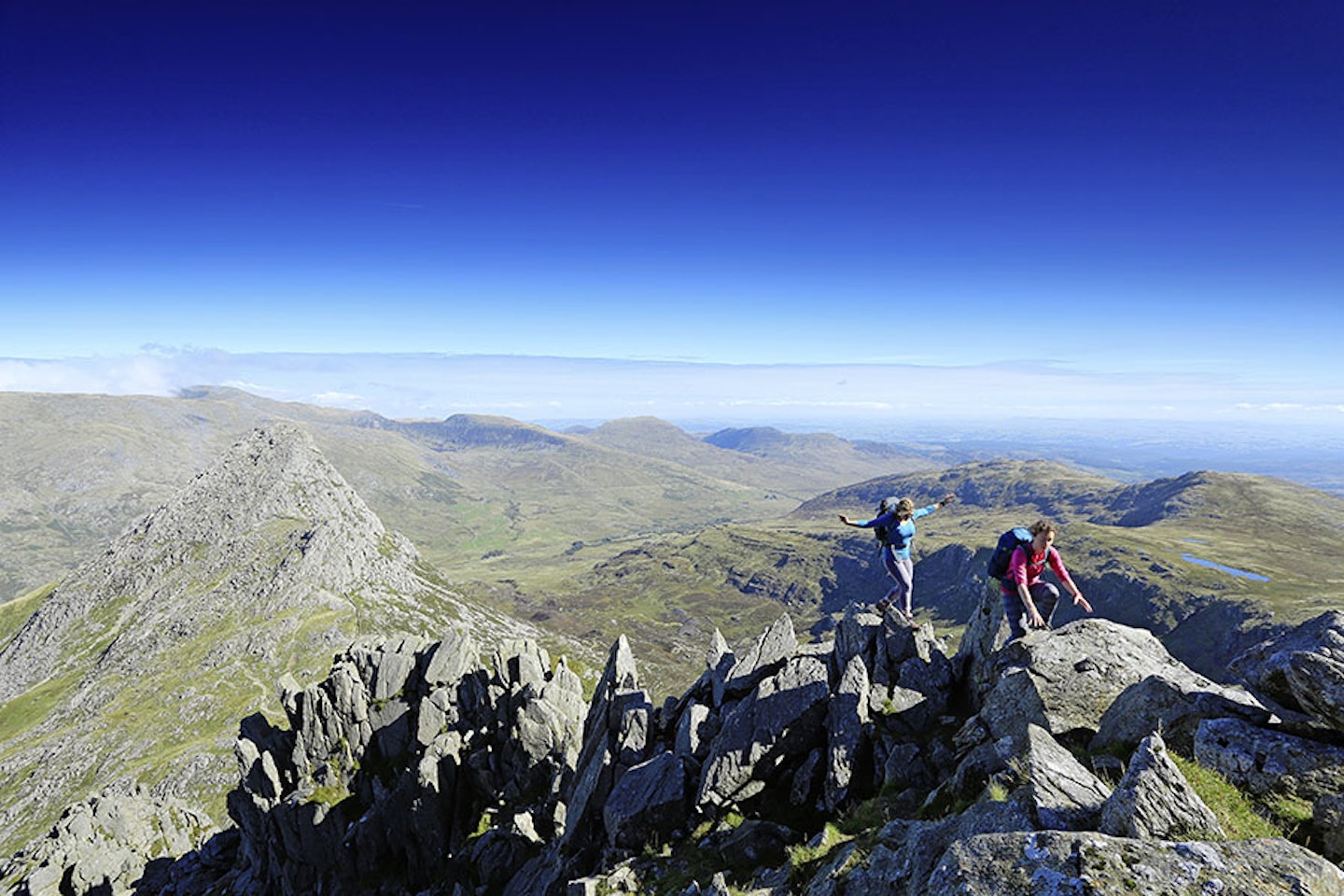 A serious rival route to the Snowdon horseshoe, this Ogwen valley circular is one of Wales' best mountain walks. If you're after a fantastic blend of scrambling and walking with plenty of rock features for epic photo opportunities, then this route is a winner. Enjoy thrilling scrambling across the triple-pronged summit of Tryfan and dare to leap the iconic Adam and Eve. From there, climb up high to Glyder Fach and onwards across the flat grounds to Glyder Fawr, which can leave you feeling as though you've landed on the moon. The Cantilever Stone and upright rock spikes of Castell y Gwynt make for eerie scenes. This walk of contrasts from plateaus to ridges is what makes it so compelling and if you don't fancy the Grade 1 scramble up Tryfan's north ridge and Bristly Ridge, both can be avoided.

3. Cadair Idris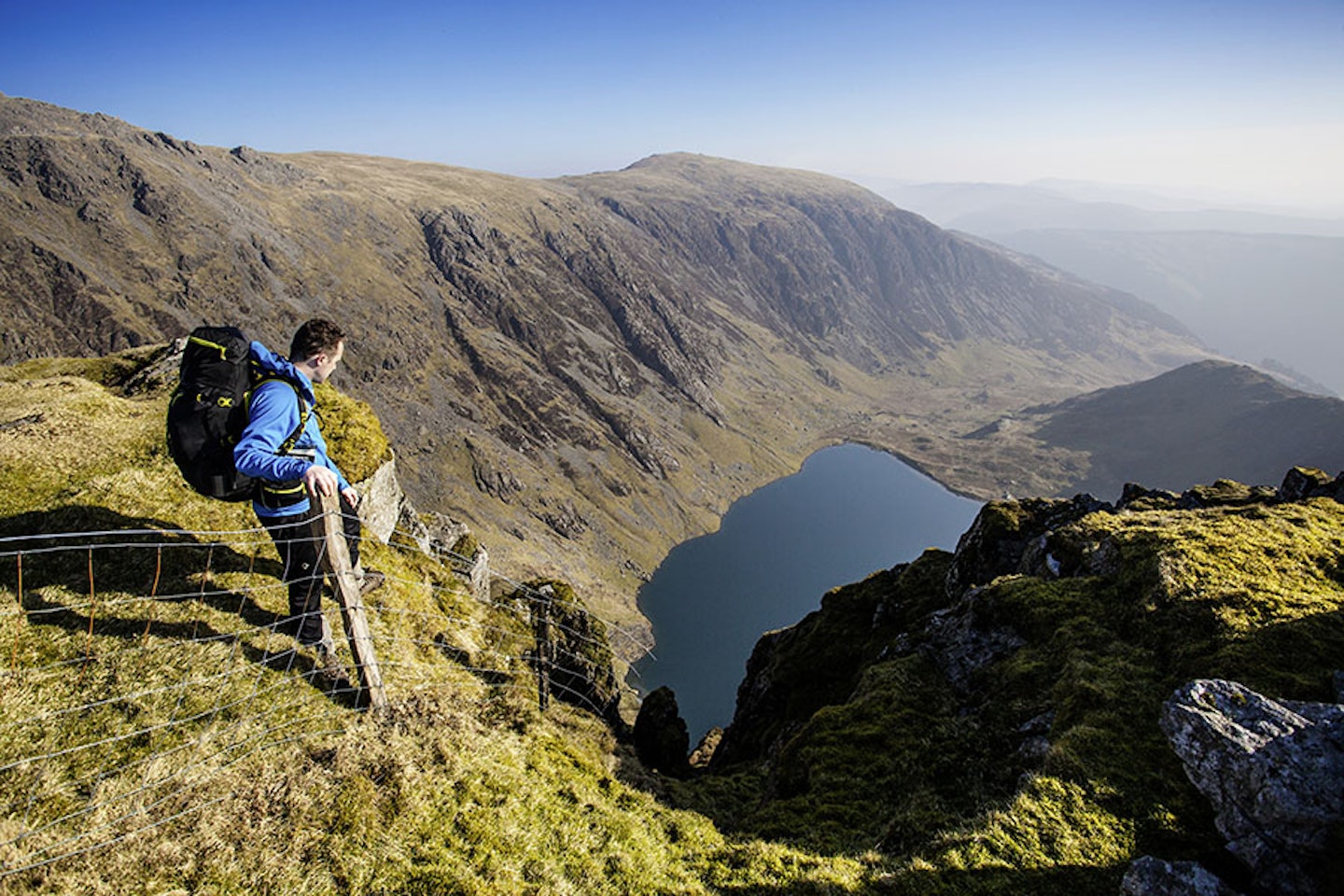 Cadair Idris, not far from Barmouth or Dolgellau, offers some of the best hillwalking routes in Wales. Southern Snowdonia's highest mountain is as versatile in its route offerings as it is in its scenery. There are multiple paths catering for a variety of hiking experience and all serve remarkable views. On a clear day, Penygadair, the highest peak of Cadair Idris' three summits, is the ultimate vantage point with views to the Brecon Beacons in the south and back to Snowdon in the north. You'll be blown away by the glaciated landscape and its supposedly bottomless lake of Llyn Cau. For an extra thrill, visit the mountain's adjacent valley of Tal y Llyn, home to the roar and stunts of practicing aircraft and known as the 'Mach Loop'.

4. The Nantlle Ridge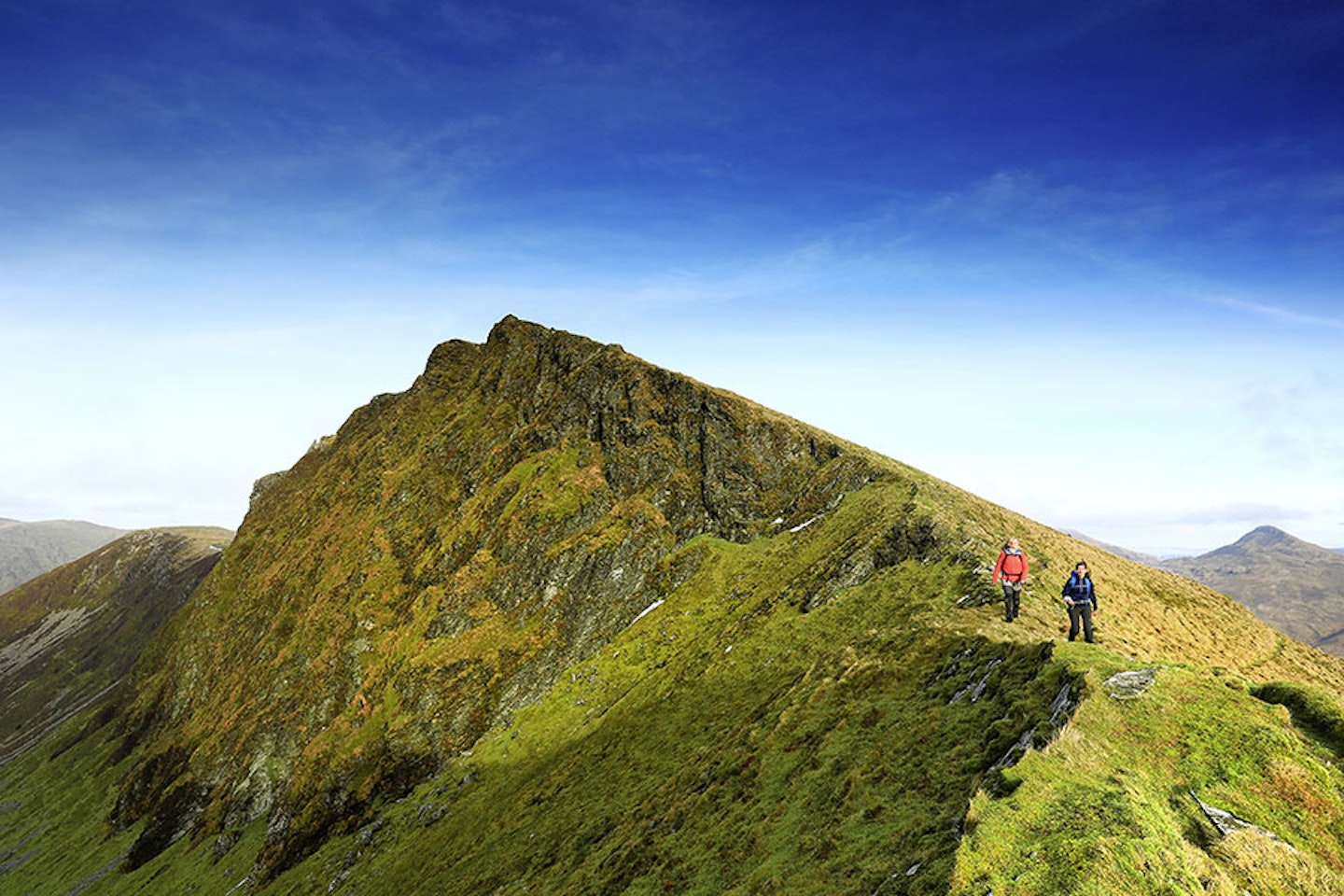 The Nantlle Ridge is a great option if you want a multi-peak route with some easy scrambling, and no crowds. Begin at Rhyd Ddu where the initial steep ascent to Y Garn at 633m will certainly get you warm. Take in the incredible sights of Snowdon as you stop to de-layer, then traverse along the arêtes and over the six remaining peaks and you'll soon realise it's at your discretion when and where to add excitement with a scramble. Sometimes the best mountain walks are those quieter routes with unrivalled vistas looking back over the most popular peaks, and the grassy Nantlle ridge is a good example of this. The ridge and its many 600-700m summits builds up a head for heights without much technical scrambling, making it an excellent hillwalk for those new to traversing ridges.

5. The Rhinogydd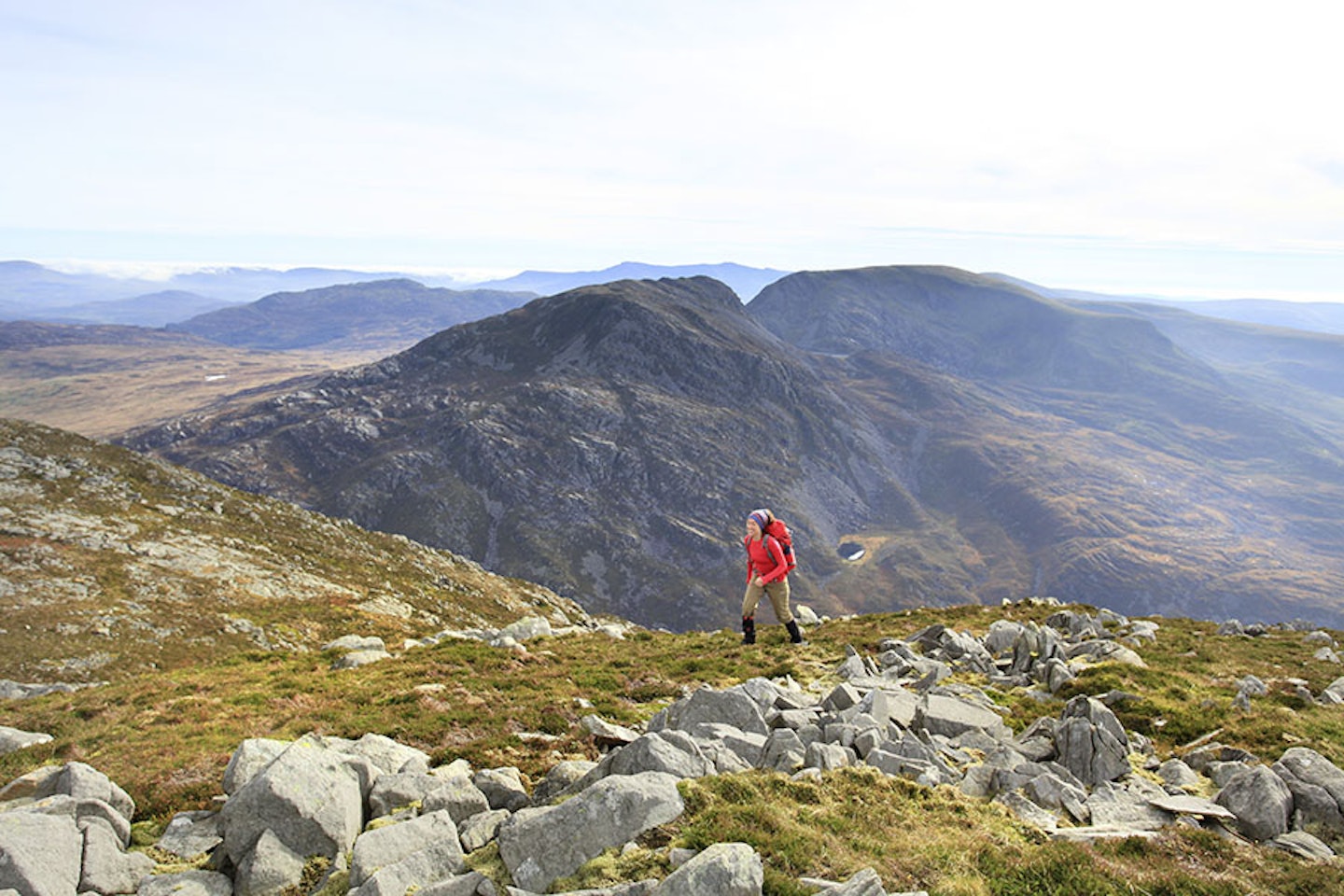 What the Rhinogydd lack in height is made up for in their rocky terrain and navigational challenge. Heather-cladded and rough trails to the range's best summits, including Rhinog Fawr, Rhinog Fach and Yr Llethr, demand hillwalking experience. A great route to get you going is to start along the Roman Steps, which ironically were laid down in Medieval times as a road used by horses transporting goods from Chester to Harlech Castle. This wild west range of Snowdonia certainly feels a little quieter without the visitor centres and usual road infrastructure that surround the popular massifs in the north. The range is home to some feral goats, and mountain ponies so rest assured you won't be entirely alone on this welsh scramble.

6. Cnicht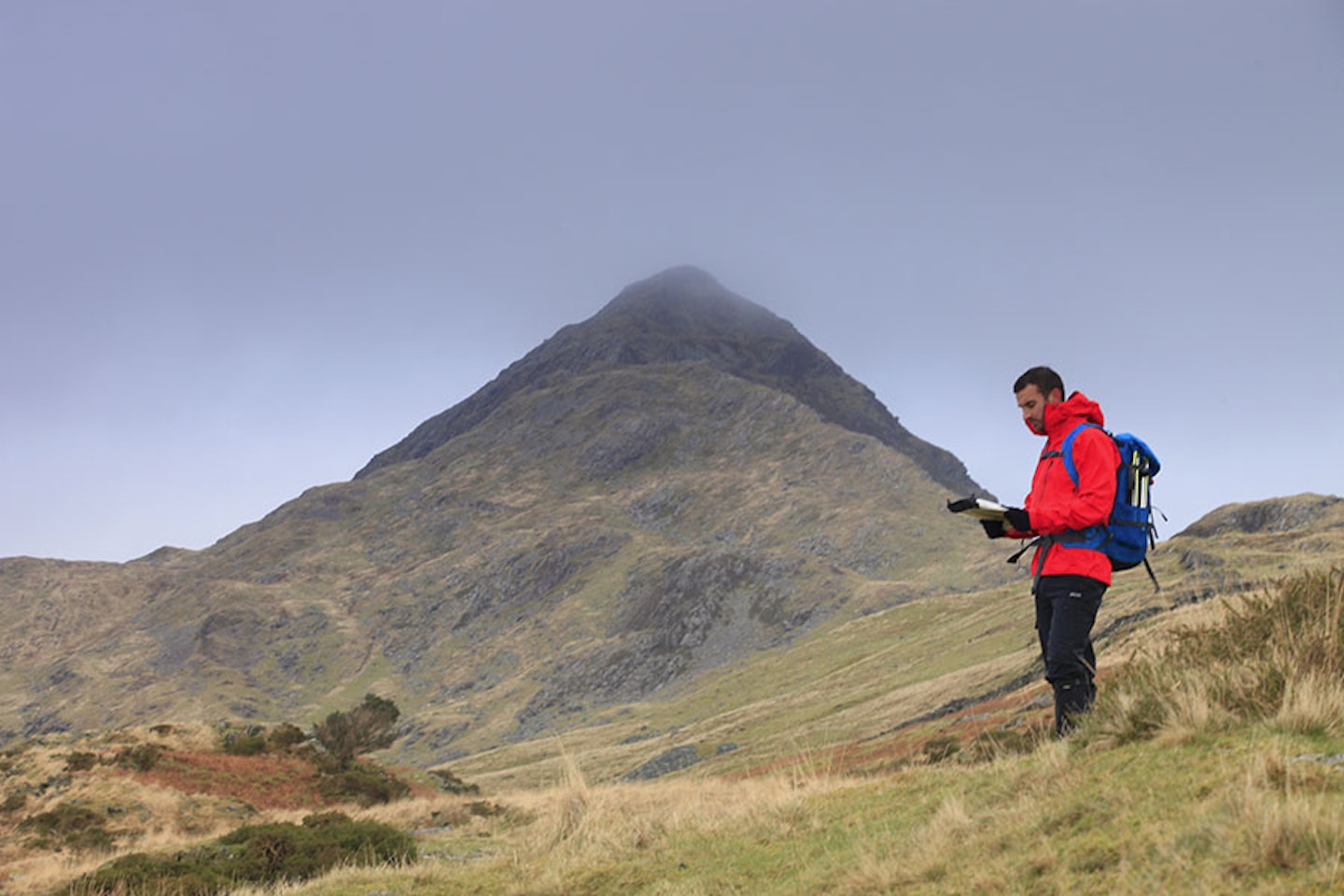 Walk the mini 'Matterhorn of Wales' without the technicalities demanded by its Swiss counterpart. Starting from the village of Croesor it's a straightforward 3km ascent, and after exiting the woodland you simply go straight up. This is well-marked Snowdonia hillwalking trail with good paths through, plus a steep rocky finish and classic views over to Cardigan bay and Porthmadog. Of course, you can double back on yourself to have it dusted off in half a day, but we recommend the circular route. Once summited, stay up high and continue with a walk along to Llyn yr Adar before taking a right-hand turn to drop down. As you descend and reach the disused quarry you, can't help but reflect on the former mining past of Wales. Take a right turn again to be guided back to the village by the Afon Croesor or, if you've got legs left in you, carry on to visit yet more impressive quarry remains at Rhosydd and Croesor, and another two summits in Moelwyn Mawr and Moelwyn Bach.

7. Moel Siabod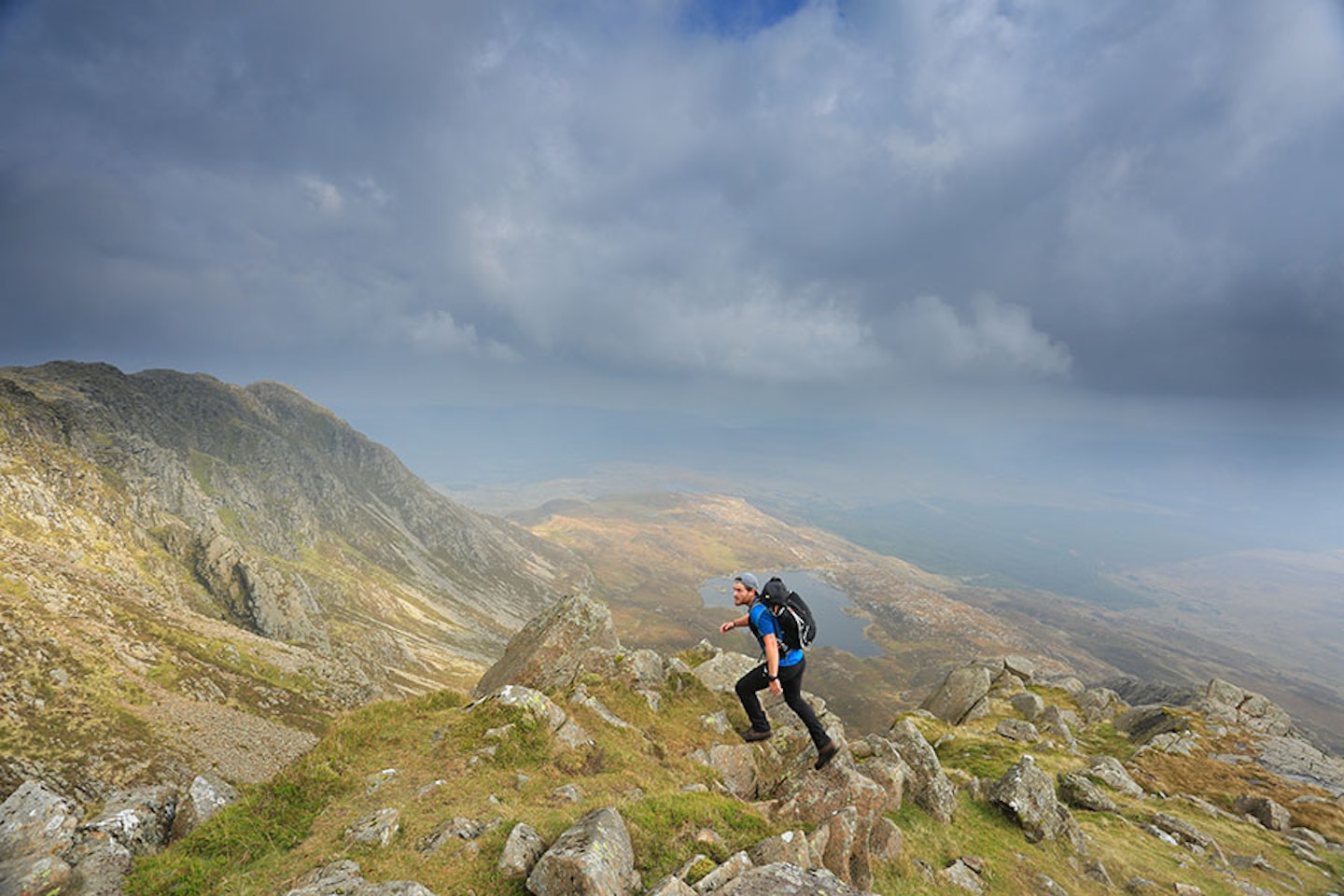 If it's a stunning mountain panorama you're after, then Moel Siabod should be your hillwalking route of choice. You can choose to mix in an excellent ridge scramble by taking on Daear Ddu, but if not the most popular path starts in Capel Curig and is perfect for ticking off the mountain in short time. Cross the footbridge and simply head onwards along the stony footpaths, but be wary that the route to the summit becomes a bit ambiguous nearer the top. Any of the walking routes up this 872m peak will earn you some of the best views of the Carneddau, Snowdon and the Glyderau. Jutted off to the side of the A5 with close parking in Capel Curig, Moel Siabod takes some beating as one of the quicker mountain walk options in the park.

8. Moel Hebog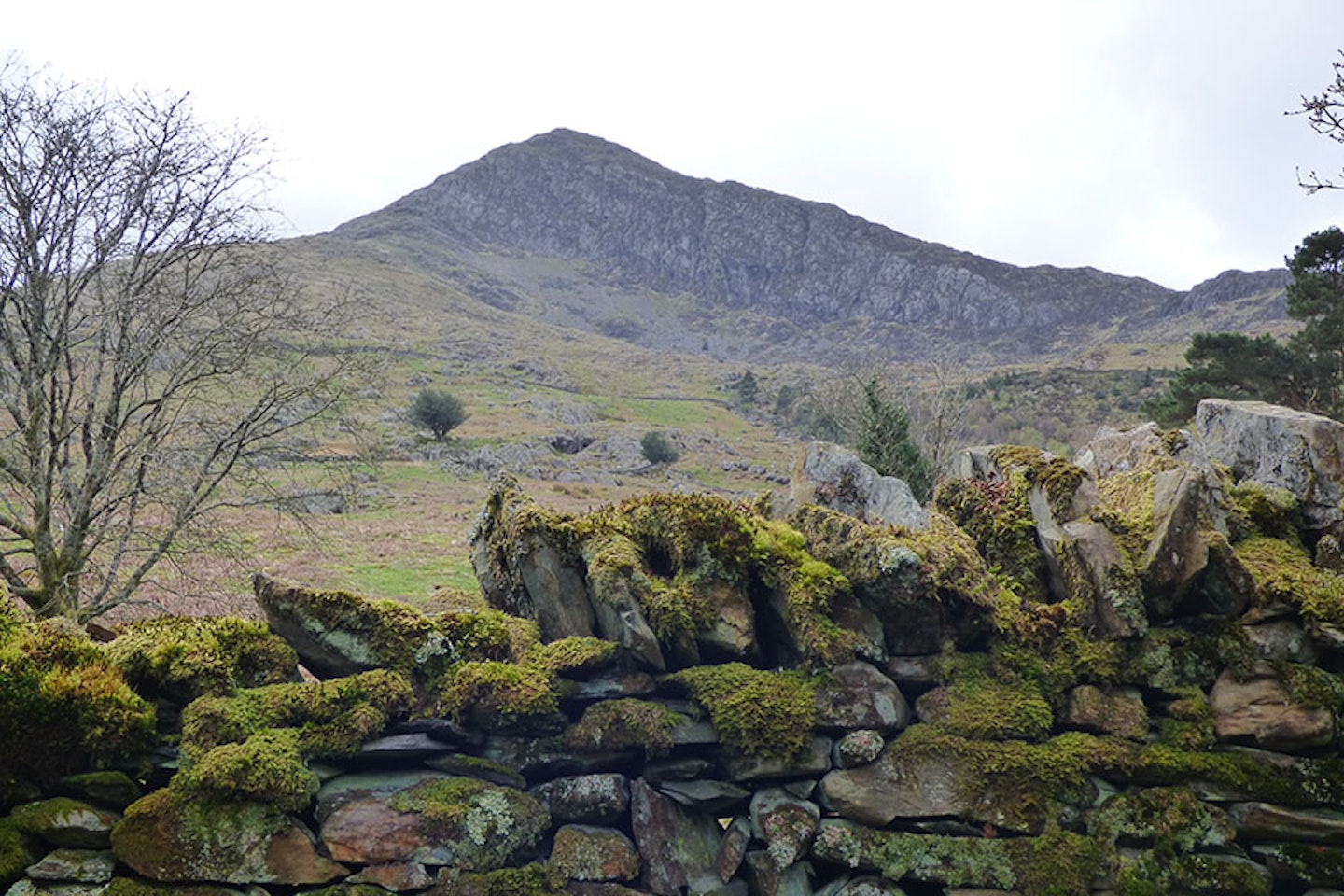 Tackle this shapely peak from Beddgelert, a village steeped in history and the legendary tale of its inhabitant Llywelyn the Great and his dog Gelert. It's not just the mythical tales that will leave you guessing on this mountain walk. There's much mountain trickery from the several blind summits on your ascent. Look out for Bardsey Island and Criccieth Castle once you've climbed to the top. Your best option is to progress onwards making for Moel yr Ogof and Moel Lefn before finishing the route with a woodland trail ramble back to your starting point through Beddgelert Forest.

9. Carnedd Llewllyn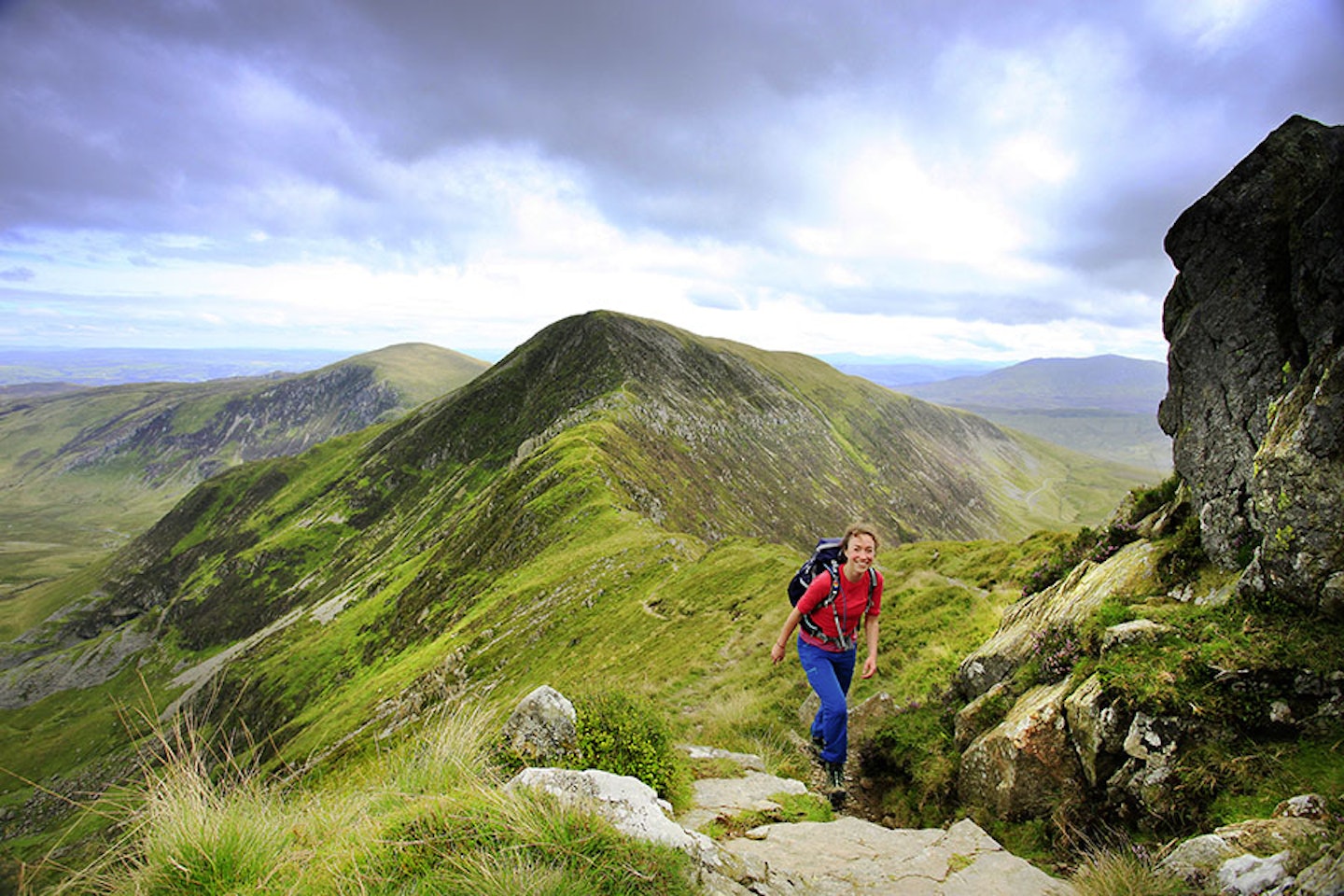 A runner-up by just 21m to Snowdon and taller than any of England's highest peaks, Wales' second highest mountain understandably makes for a mighty Welsh mountain hike with multiple route options. Take the route starting at Llyn Ogwen and before arriving at the 1064m high cairn and stone shelter, you will have tagged the two other tallest summits in this range, Pen yr Ole Wen and Carnedd Dafydd. The mountain's northern position in the park, bordering the county of Conwy, offers unique views of the Conwy Valley and The Menai Straits, all from the top of a range marking the highest continuous stretch of mountainous ground south of Scotland.

10. Yr Eifl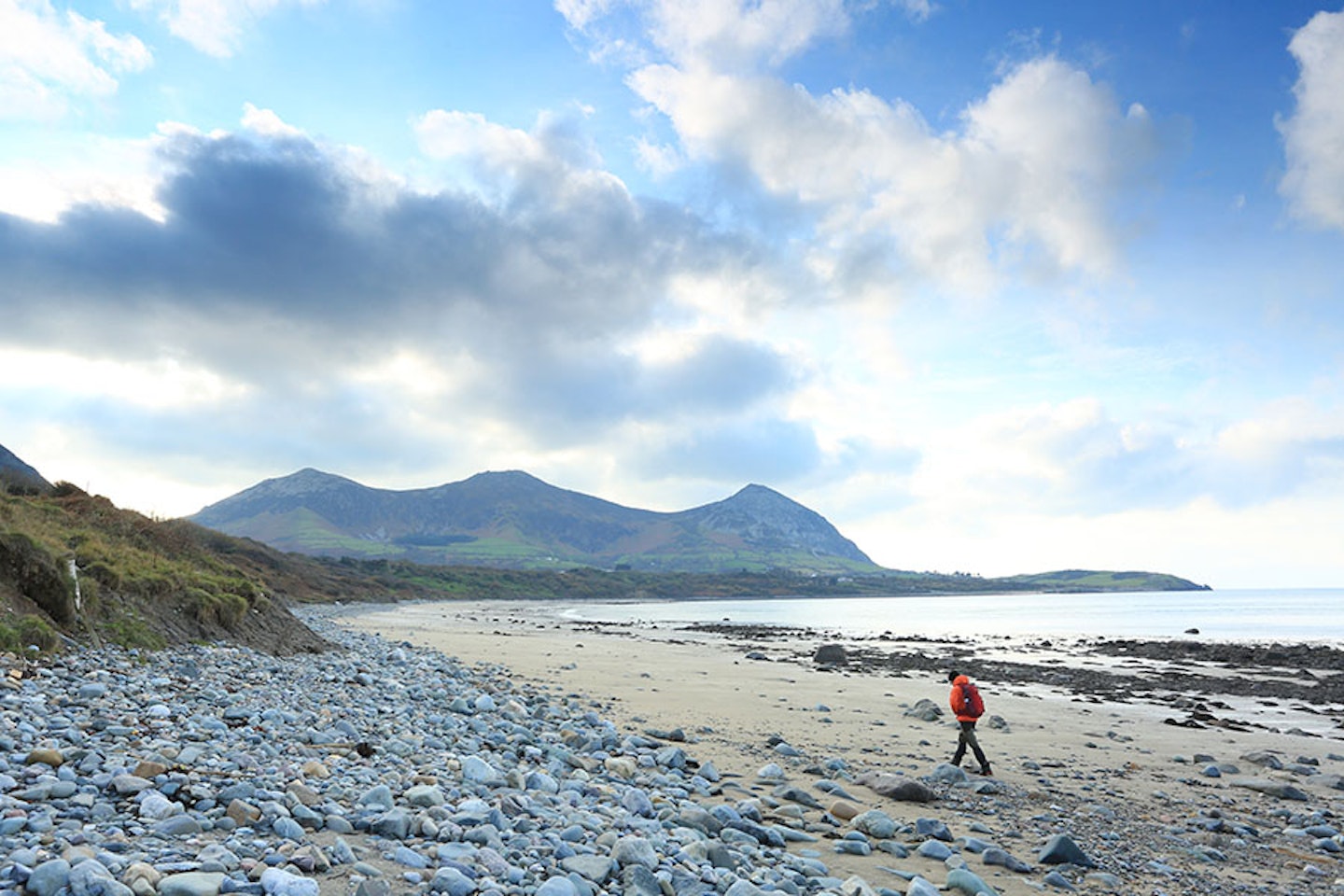 What's so special about walking across Yr Eifl's trio of summits is the way they show off Snowdonia's remarkable quality of being a National Park where the mountains meet the sea. This Llŷn Peninsula grouping gives vistas of Cardigan Bay and even out to the Isle of Man. While not quite reaching the magical 600m mark, the rough terrain region still gives the quality of a proper mountain walk. All three summits can be easily walked within a day as you largely follow ascents and descents on waymarked paths, with a little scrambling here and there. Watch out for the boggy dip before your final climb up towards the ancient hill fort at Tre'r Ceiri. Yr Eifl's coastal location with its solitude and sea makes it particularly spectacular and completes our top ten mountain walks in Snowdonia.

Get HALF-PRICE digital Ordnance Survey Maps for the whole of Great Britain by subscribing to Trail magazine.
Need help with OS Maps? Try the OS Maps online FAQ and OS Maps quick start guide for further assistance