Advertising feature with Berghaus
The longer, warmer days of summer are perfect for hiking in the hills and mountains, allowing you to stay out longer and travel further while also reducing the amount of kit you need to carry.
The unpredictable nature of mountain weather means you should never cut too many corners with gear because safety should always be your main priority. But here are some expert tips and hacks to help you shave a few grams off your backpack weight.
1. Tailor your kit to your walk
Are you going high into the mountains or staying low? If you're only tackling low-level terrain close to civilisation where there will be lots of people around, items like an emergency shelter and flare are probably unnecessary. However, this is the UK, and our weather is notoriously unpredictable, so there are essentials that you should always carry with you, including some form of summer weight insulation and waterproofs. Talking of which…
2. Get a dedicated summer waterproof
Rather than carrying a chunky cagoule in your pack all year, buy a lightweight waterproof jacket specifically designed for summer. You want a lighter jacket like the Berghaus Paclite Dynak Shell, which offers excellent protection from rain and wind and packs down small in your bag when don't need it. The Dynak is also planet friendly, with main fabrics that are bluesign approved and Standard 100 by OEKO-TEX® Class II Certified.
3. Only carry food you'll need
We're probably all guilty of carrying too much food on hill walks. So instead of packing a whole bag of trail mix or Haribo, remove and recycle the packaging, then split your snacks into smaller amounts and only take what you actually think you'll eat. Reusable zip lock bags are perfect for hiking because they're lightweight, scrunch down small, and can be easily sealed to avoid food scattering inside your pack. If you're planning to cook food on your trip, just carry one cooking pot and share it between you to save weight.
4. Take the load off your feet
As well as saving weight in your pack, you can also lighten the load on your feet. Hiking shoes and boots have come a long way in recent years, and even the more lightweight options now offer protection from weather and terrain. The new Berghaus VC22 range – new for summer 2022 – is waterproof and breathable with durable grip thanks to the OPTI-STUD Vibram sole unit. It's available either as a shoe or a mid-ankle boot option, with the latter offering enhanced support thanks to its knit collar for extra cushioning.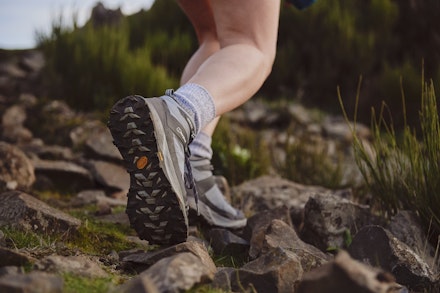 5. Adapt your map
Instead of carrying around a whole Ordnance Survey map that eats up space and adds weight to your pack, think about ways you can adapt your map without compromising on the essential navigational tools you need to stay safe. You should never go into the mountains without a printed map in your pack; so either look at a thin and lightweight option such as those made by Harvey Maps, or take advantage of the function to simply print out the specific to-scale section you need for your walk via the excellent OS Maps website. There are also lots of good mapping apps available for your smartphone (OS Maps, again, is a great option) which many people use as their main navigational tool, with a printed map stashed safely in their pack as back-up.
6. Share the load with a hiking buddy
This is especially useful with things like tent poles and pegs when backpacking, but works just as well on day hikes too. Do you both need to carry things like first aid kits, or could you just take one? Chat about it before your hike to see what you can split between you.
7. Only carry one pole
Many hillwalkers, including lots of mountain guides, just use one trekking pole on mountain walks for balance and support. This helps save space and weight in your backpack when they're folded up and not in use.
8. Downsize your backpack
Stick that big chunky winter rucksack in the loft and go for something lighter and more stripped back in summer, like the Berghaus Remote Hike 35. If you're carrying less gear, it makes sense to carry a smaller pack too. The Remote Hike is available in men's and women's models, with the female option including an adapted fit back system that's fully adjustable to ensure comfort. You also get a large front pocket, generous mesh side pockets and zipped hip-belt pockets so you can access what you need on the move.
9. Switch your bottle for a bladder
Water is one of the heaviest things you'll carry on hikes and if you aren't ready to start filtering water from muddy streams just yet, there is a way to shave a few grams without reducing the amount of liquid you take. Collapsible water bladders are far lighter than bottles and fold down easily for stashing in your pack once they're empty.
10. Reassess your kit after each hike
What worked and didn't work? Did you carry anything around all day that you now realise you didn't need? Was there something you didn't take that you ended up wishing you had? If the answer to either of those questions is yes, make a few adjustments when packing for your next walk.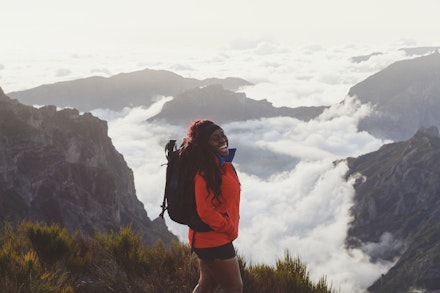 The new Trail range from Berghaus delivers lightweight and packable kit for spring and summer adventures. This high-performing gear allows you to do more with less, so you can stay out longer and maximise your time in the mountains. See the full range at www.berghaus.com