If you're anything like us, you're probably familiar with the feeling of spending hours poring over a map. Examining each and every detail, planning out that next hike or sometimes perusing with no plan at all but just staring in wonder at features, footpaths and fells!
So we make no apologies for the future hours lost once we introduce you to the OS Maps 3D mapping. If you've ever wanted to explore hills, mountains and valleys across the world in stunning detail, then you're in for a treat. Jump into OS Maps' 3D mode on your desktop or laptop, and you can go on virtual journeys – previewing routes with video fly-throughs, zooming from summit to valley floor and getting inspired for that next adventure.
As well as all the nerdy fun to be had engrossing yourself in 3D maps of anywhere in the world, there are, of course, great practical uses for OS Maps' 3D mode. The high resolution imagery, overlaid onto accurate topography, allows you see every step, incline, rocky crag and river crossing on a trail before you even step out the door. This is perfect when planning new routes, with the ability to visualise what you'll be facing when you're out and about, checking a planned route or searching for the best viewpoints.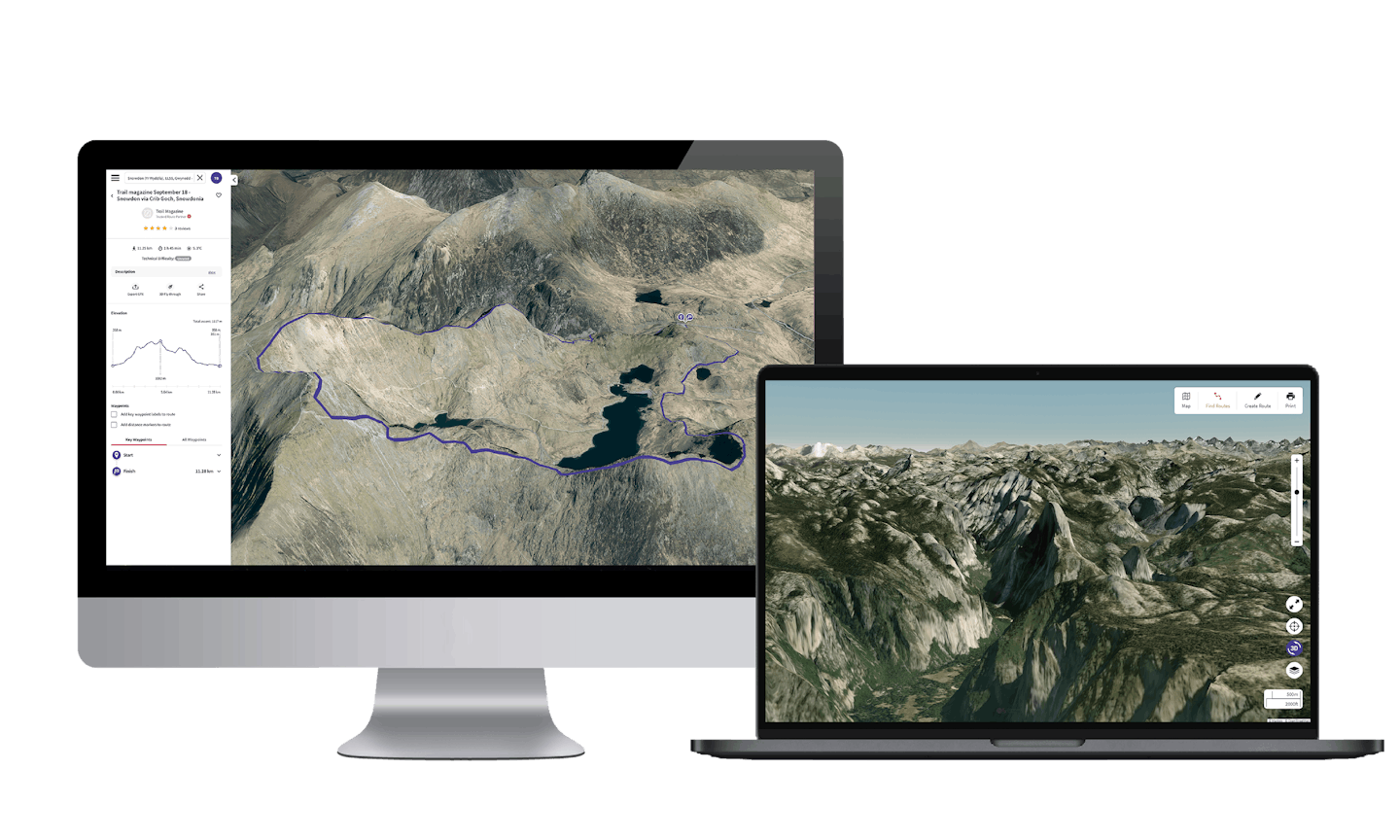 Bird's-eye and 360° ground-level mean every aspect and angle can be explored in great detail, and with 3D route flythroughs you can see it all with drone-like footage. It's also great for revelling in your achievements and reliving that last trip by watching when you get home!
With recent enhancements to the 3D offering, you're now able to overlay any map style onto the 3D model, including the iconic OS Explorer and Landranger maps. There's something very satisfying about seeing those contours come to life! You can also plot routes directly onto the 3D map so it's even easier to see (and maybe avoid!) those major inclines.
So for anyone thinking of their next hike, bike or run, or just looking for some inspiration on that next rainy day... settle in and let OS Maps take you from laptop to hilltop and back again!
DIGITAL OS MAPS
All 607 OS Explorer and OS Landranger maps on your phone, tablet and PC.
More than 1.5 million ready-made routes to discover.
Create and plot your own routes.
Preview routes, places, and terrain in 3D.
Unlimited printing and map downloads.
Visit os.uk/osm for OS Maps premium subscription options (50% discount with a Trail magazine subscription) or download the app from the Apple or Google Play App stores to get a 2-week free trial.